Anniversary gifts have, traditionally, a specific theme for each year that you've been married.
More recently people tend to buck the trend, deciding either to go with their own ideas or choose a "modern" gift by anniversary year. And then other people buck that trend by going back to the traditional gifts! Oh what fun 🙂
Here, we're going to talk traditional gifts by anniversary year, contemporary gift ideas, gemstone themes, and much more.
Our website is supported by our users. We sometimes earn a commission when you click through the affiliate links on our website. See our privacy policy & disclosures for more information.
Every

Anniversary Year Is Special

So there's the traditional anniversary gift for each year, plus a modern gift idea. You can also go with a yearly color scheme, a specific gemstone, or go your own totally original route.

Lots of options!

What I think this cool, though, is that people are turning back to the traditional anniversary gift ideas, but still putting a twist on it.

The ideas that have come out in recent years are just brilliant. And we have them all listed below!

Ok, fine, not "all" all, but a lot.

Every year that you're together is special. And it's unique, because the two of you and your relationship is one-of-a-kind. Let's find a gift to reflect that!
Gifts By Anniversary
Read on to learn about the traditional gifts by anniversary year, plus colors, gemstones, "contemporary" gifts, and other creative ideas to help the two of you celebrate your love on your special day.
Plus, at the very end, there's a chart! Yay charts.
1 Year Anniversary Gifts
The theme for your first anniversary is paper. This symbolizes the blank pages on which you write the newest chapters of your life together.
Best 1st Anniversary Gift: First Dance Print (Paper)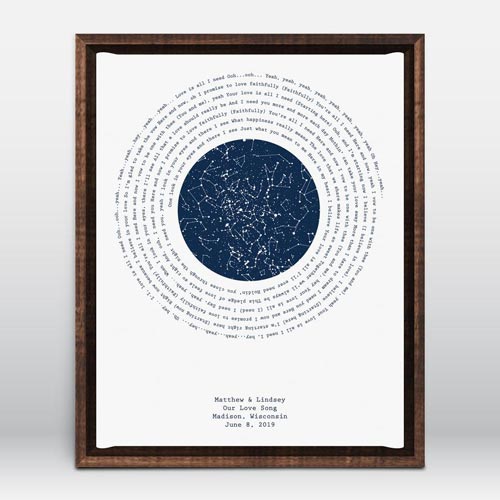 This one commemorates your first dance at the wedding while looking forward to the many dances you'll share in the future.
It's personalized with your names, includes custom printing of the lyrics from your special song, and – of course – it's made from paper, the traditional theme for your first anniversary gift.
More 1st Anniversary Ideas
2 Year Anniversary Gifts
Best 2nd Anniversary Gift: Personalized Catch-All (Cotton)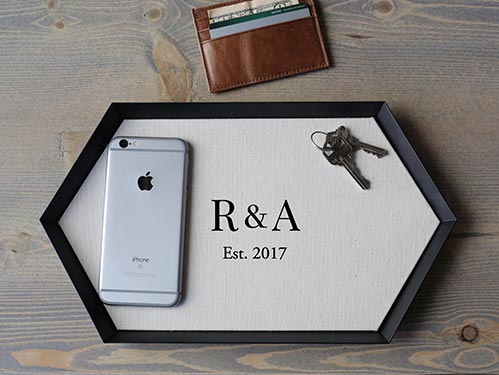 This custom "catch all" tray is a meaningful second anniversary gift for your husband. This stackable try is customized with your words on 100% cotton.
You can customize your tray with wedding vows, song lyrics, initials, or dates. This is a beautiful way to say "I'd do it all again."
More 2nd Anniversary Ideas
3 Year Anniversary Gifts
Best 3rd Anniversary Gift: Personalized Leather Wallet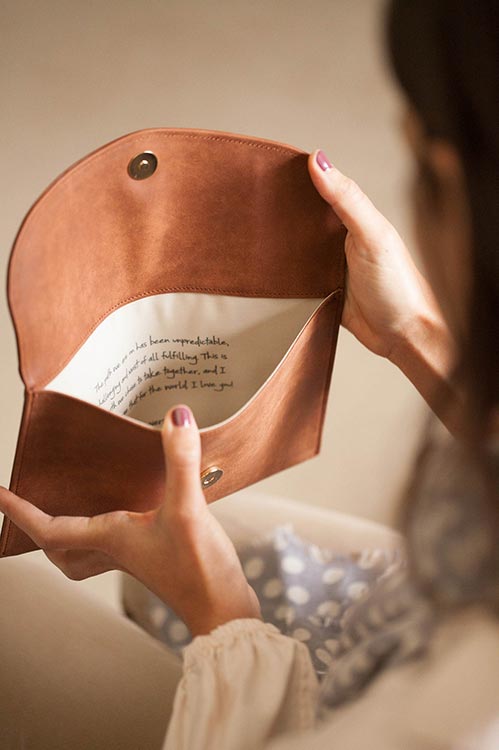 This handmade Italian leather clutch is a romantic way to remember your special day. This clutch will have your personal message imprinted inside!
Every time she opens this purse, she will read your heartfelt thoughts. This is a gift to be treasured for years to come.
More 3rd Anniversary Ideas
4 Year Anniversary Gifts
Best 4th Anniversary Gift: Dry Flower Frame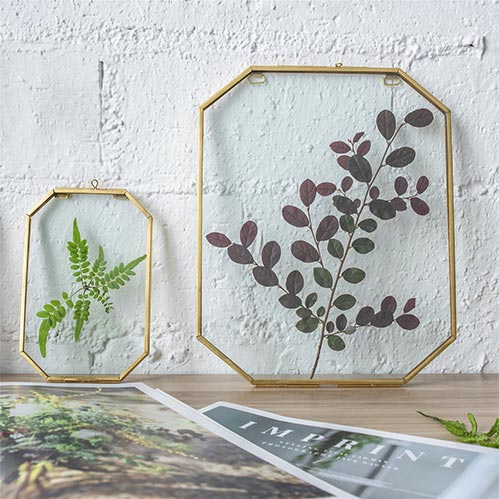 These frames are an ideal DIY herbarium frame, suitable for pressed flowers or dried plants. Be sure to get some flowers to press as well!
These are handmade long octagon double glass brass frames; and they come in three sizes; 8×10 inches, 5×7 inches and 4×6 inches.
More 4th Anniversary Ideas
5 Year Anniversary Gifts
Best 5th Anniversary Gift: Even After 5 Years… Jar (Wood)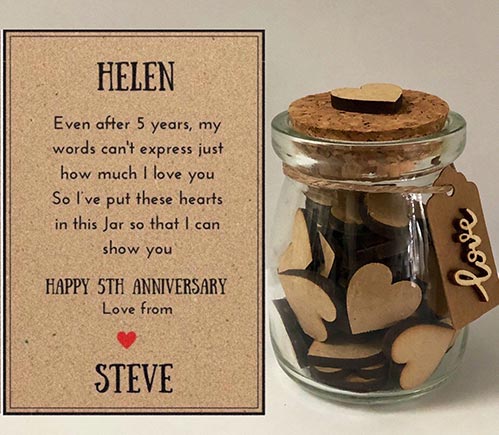 This adorable anniversary keepsake is perfect for the romantic at heart! Let your loved one know how you feel with the jar full of love. Leave the hearts blank, or write your own special sentiments on them.
More 5th Anniversary Ideas
6 Year Anniversary Gifts
Best 6th Anniversary Gift: Custom Branding Iron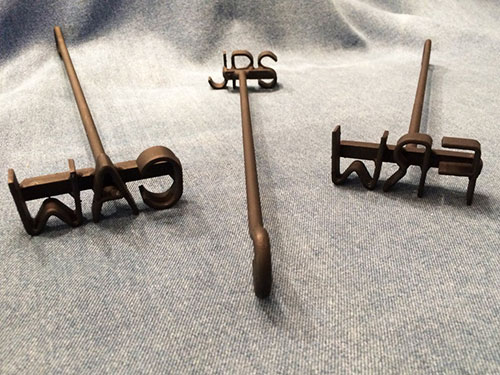 The traditional 6th wedding anniversary gift theme is iron, so a personalized branding iron is perfect way to demonstrate the permanence and strength of your love.
Use it to personalize your leather gifts from your 3rd year, create a special sear on your home-cooked anniversary steaks, or come up with something fresh and new for the two of you.
More 6th Anniversary Ideas
7 Year Anniversary Gifts
Best 7th Anniversary Gift: Copper Family Sculpture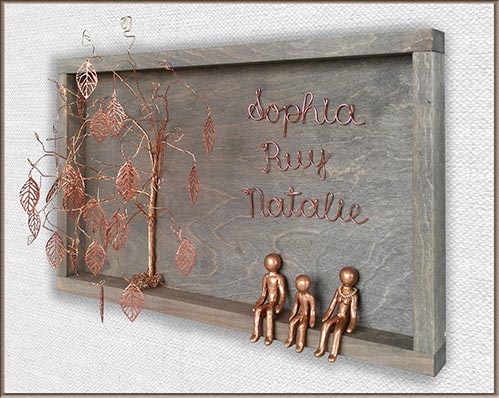 Copper is the traditional 7th anniversary gift. This customized family tree is a gift that will bring joy for years to come.
This handmade picture/sculpture is a sentimental way to reflect on your years together.
The figures on the picture are covered in copper paint and the trees and leaves are made from flexible copper wire. The picture frame measures 9 7/8″ H x 16 5/8″ W x 2″ D.
More 7th Anniversary Ideas
8 Year Anniversary Gifts
Best 8th Anniversary Gift: Bronze Wallet Insert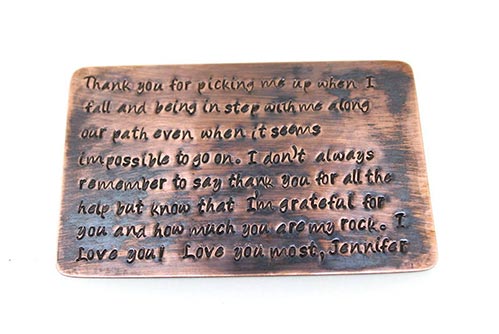 This keepsake will absolutely be cherished by your loved one.
This handmade, bronze wallet insert is the same size as a standard credit card. It will fit in any wallet. Whatever you want to be stamped, can be placed on the wallet insert (as long as it fits.)
A great way to immortalize your love.
More 8th Anniversary Ideas
9 Year Anniversary Gifts
Best 9th Anniversary Gift: Custom Photo Plate (Pottery)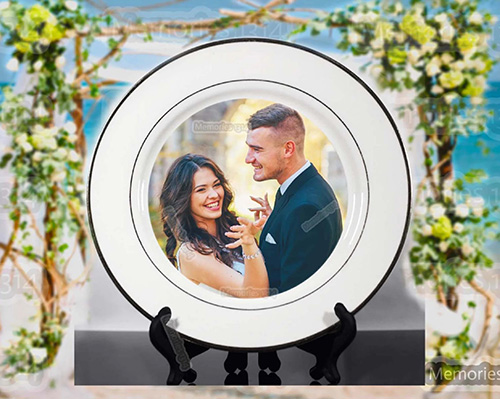 Here's one of our favorite gifts for any couple, and it has the ceramic theme going strong. The Custom Photo Plate features gold rims, gorgeous photo personalization, and includes a display stand, making it the idea 9th anniversary gift.
More 9th Anniversary Ideas
10 Year Anniversary Gifts
Best 10th Anniversary Gift: Diamond Decanter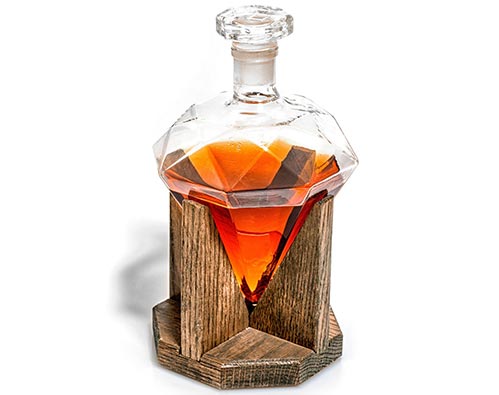 Here is an exceptional gift; handmade and engravable, it's a fun twist on the modern anniversary gift theme of diamonds.
This diamond-shaped decanter will exceed his expectations. To add the finishing touch, fill it with his favorite spirits. Holds up to 1000 ml.
This beautiful hand blown glass decanter is a must-have for any home bar.
More 10th Anniversary Ideas
11 Year Anniversary Gifts
Best 11th Anniversary Gift: Stone Necklace (Accessories)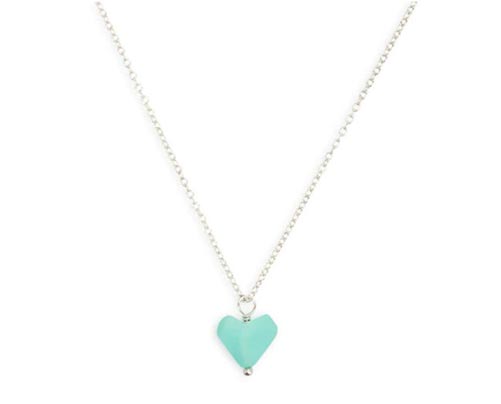 Sharon Nowlan's artistry is world renown. She was inspired by her son putting pebbles in her pocket at the beach, her artistry is now transformed through a line of endearing necklaces.
This necklace reads, "Love," and is meant to celebrate this beautiful and powerful emotion; especially on your anniversary. This is a gift your wife would ask for, and one she will treasure forever.
More 11th Anniversary Ideas
12 Year Anniversary Gifts
Best 12th Anniversary Gift: Butterfly Photos (Silk)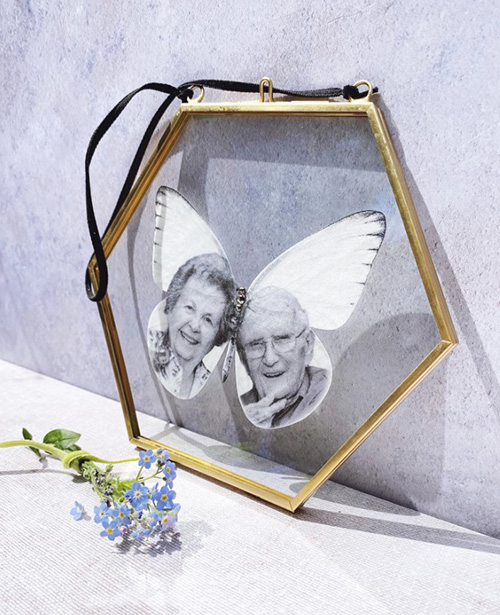 A gorgeous silk butterfly keepsake; personalized with an image of your choice and finished with sparkling Swarovski Crystals. This handmade memento is a beautiful way to capture your love. You can add a photo from your wedding to remind your bride of the love that has endured over the years.
More 12th Anniversary Ideas
13 Year Anniversary Gifts
Best 13th Anniversary Gift: Personalized Lace Heart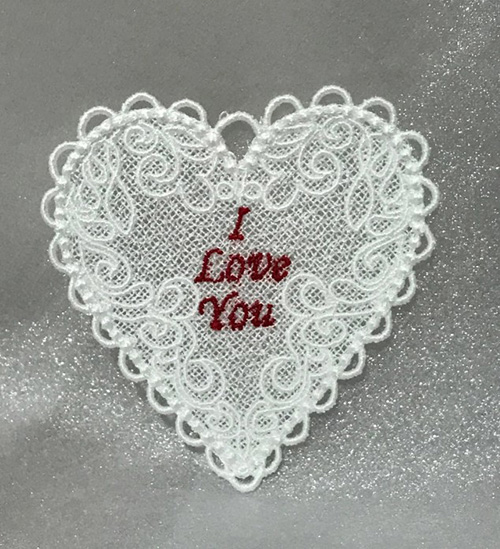 This Personalized Lace Heart is a work of art. With free standing lace, no machinery is used. Everything is hand-stitched, from the lace itself to the personalization lettering of your choice. What a great way to say "I love you" on your lace anniversary!
More 13th Anniversary Ideas
14 Year Anniversary Gifts
Best 14th Anniversary Gift: Custom Map (Ivory-color)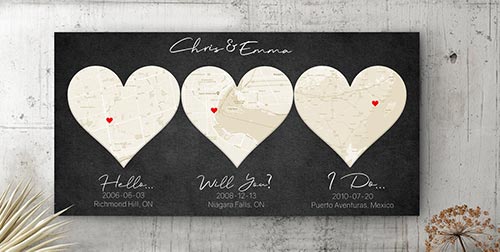 The traditional gift for the 14th anniversary year is ivory. But because the ivory trade has harmed the elephant population, we recommend choosing a gift that is ivory colored, something elephant-themed, or the modern gift of gold jewelry.
Our favorite 14-year anniversary gift is a large (ivory-hued) personalized canvas map with your specific cities, names, and dates.
You can choose from two paper print sizes or six canvas print sizes. Create a personalized gift that is sure to bring tears to the eyes of your loved one.
More 14th Anniversary Ideas
15 Year Anniversary Gifts
Best 15th Anniversary Gift: 3D Crystal Photo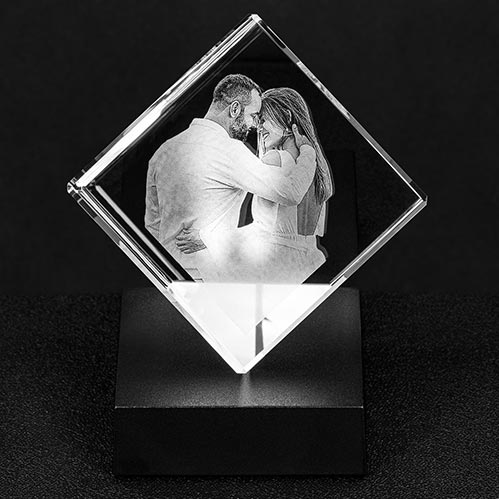 Customize your crystal with an image of a special moment that you and your partner shared. Crystal is the traditional 15th anniversary gift: this laser etched crystal is a perfect way to honor your love.
Choose from three shapes; with or without LED base.
More 15th Anniversary Ideas
16 Year Anniversary Gifts
Best 16th Anniversary Gift: Personalized Wax Candle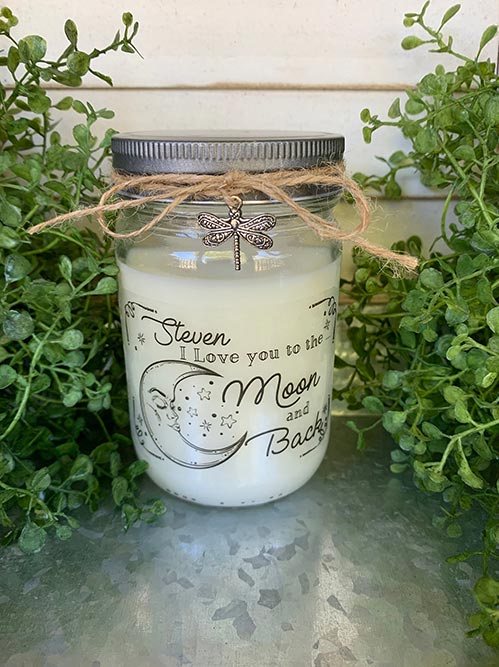 The traditional gift for your 16th anniversary is wax. An individualized candle is a beautiful way to commemorate this year. Simply add your loved one's name.
You can pick from eight scents. Your handmade, soy candle is sure to delight.
More 16th Anniversary Ideas
17 Year Anniversary Gifts
Best 17th Anniversary Gift: Rocking Chair Set (Furniture)
These ergonomic rockers (with a matching glass top table) provide comfort and tradition. Perfect for you and your loved one to relax on those long afternoons or evenings. Rock the hours away, making new memories and reminiscing about the old memories.
Choose from two colors; warm gray or cobalt blue. Perfect for any patio.
More 17th Anniversary Ideas
18 Year Anniversary Gifts
Best 18th Anniversary Gift: Elephant Reminder (Porcelain)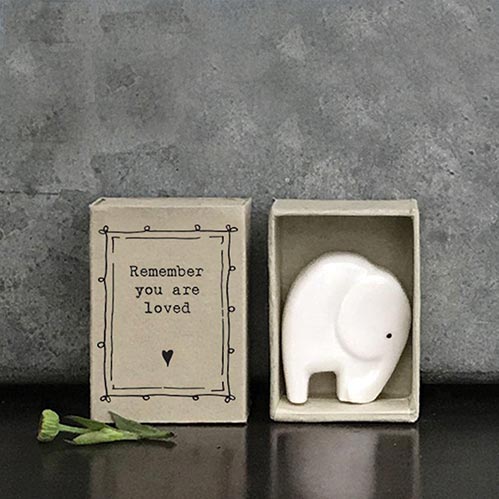 This little elephant is made from cream colored porcelain and is a cute reminder that "You are loved."
It's tiny, measuring at 1.25″ x 1″ x 0.50″, so you can get a several, or complement it with similar keepsakes. The same artist makes these cute little heart dishes that say "eighteen" along with a heart, and much more.
More 18th Anniversary Ideas
19 Year Anniversary Gifts
Best 19th Anniversary Gift: Bronze Rose
This handmade bronze rose is an exquisite gift for your 19th wedding anniversary. This long stemmed rose will tell her how deeply you meant your vows. It is a gift she will always cherish.
More 19th Anniversary Ideas
20 Year Anniversary Gifts
Best 20th Anniversary Gift: Churchill China Set
Made by Churchill China, this pattern is one of their most famous and timeless collections. Willow tells the story of two lovers turned to doves. These pieces are classic, making it a timeless gift for your 20th anniversary.
More 20th Anniversary Ideas
21 Year Anniversary Gifts
Best 21st Anniversary Gift: Brass Love Birch Cuff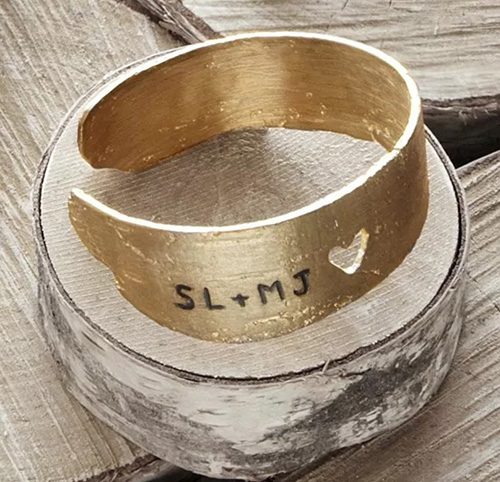 It's like carving your initials into a tree, except you're not damaging a tree. Instead, you're giving your beloved a beautiful bracelet she can wear anywhere. What's not to love?
For your brass anniversary, the Personalized Love Birch Cuff hits all the right notes. Hand-cast in brass from real birch bark that the artist collected along Lake Superior's shores, the rustic elegance of this gift is immediately apparent.
More 21st Anniversary Ideas
22 Year Anniversary Gifts
Best 22nd Anniversary Gift: Hand-stamped Copper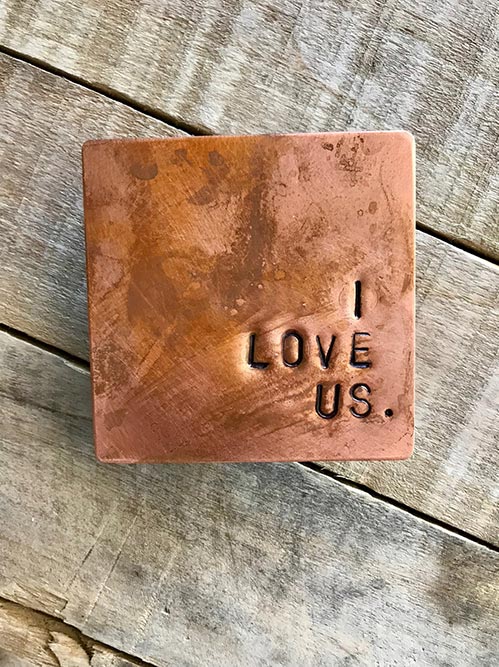 This copper piece is an adorable reminder to your partner of how much you care. Perfect to set on the bedside table.
This 18g copper accent piece comes in three sizes; 4×4 inches, 6×6 inches, or 8×8 inches.
More 22nd Anniversary Ideas
23 Year Anniversary Gifts
Best 23rd Anniversary Gift: Heart Tray (Silver Plate)
So cute! This silver toned jewelry dish is adorable. A nice place for rings and other treasures.
Made from high quality stainless steel; a combination of art and fashion. A gift she is sure to love.
More 23rd Anniversary Ideas
24 Year Anniversary Gifts
Best 24th Anniversary Gift: Gold Opal Necklace
Watch her heart melt when you present her with this exquisite 1-carat opal necklace. Accented with a .05 carat, white round brilliant cut diamond. Set in 14 karat gold for the maximum sparkle at every angle.
This is an anniversary she will never forget.
More 24th Anniversary Ideas
25 Year Anniversary Gifts
Best 25th Anniversary Gift: 25th Anniversary Frame (Silver)
What could be better for a 25th-anniversary gift than this two-tone, silver-plated picture frame? A gift the happy couple will proudly display for years to come.
More 25th Anniversary Ideas
26 Year Anniversary Gifts
Best 26th Anniversary Gift: Skylight Picture Frame
The Skylight Picture Frame is an all-time favorite.
So easy to use! Just three easy steps. (1) Plugin. (2) Create a Skylight email. (3) Email photos to the frame's address and they will appear instantly.
No one will ever have to miss an important occasion again, and the whole family can share the memories.
More 26th Anniversary Ideas
27 Year Anniversary Gifts
Best 27th Anniversary Gift: Willow Tree Sculpture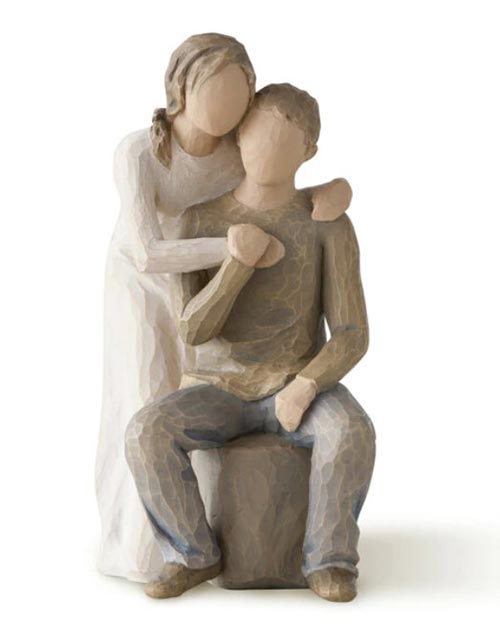 A charming sculpture to symbolize your love for each other. The statue represents an emotion, or it marks a memory. Each piece is designed to be open to interpretation from the viewer.
Created by Susan Lordi, the Willow Tree collection is a hand crafted statue. Made from Resin, and measures 7″ high.
More 27th Anniversary Ideas
28 Year Anniversary Gifts
Best 28th Anniversary Gift: Fresh Orchid Flowers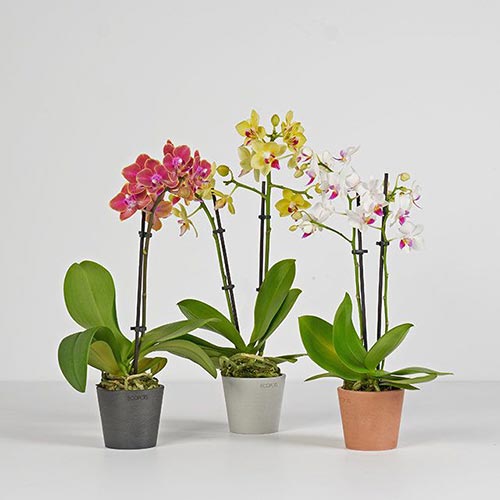 Orchids are known to bring good wishes and luck. One of the farmers will be personally responsible to select three eco-friendly, one-of-a-kind mini orchids.
These exotic flowers are a beautiful reminder of your love.
Each orchid comes in its own lightweight, break-proof pot, made from recycled plastic.
More 28th Anniversary Ideas
29 Year Anniversary Gifts
Best 29th Anniversary Gift: Gliding Chair (Furniture)
This Windsor glider and matching ottoman is a comfortable way to say "I love you." Relax and enjoy some much deserved down time.
You have a choice of fabric and wood colors. Generous seating room with padded arms and storage pockets.
More 29th Anniversary Ideas
30 Year Anniversary Gifts
Best 30th Anniversary Gift: Pearl Ornament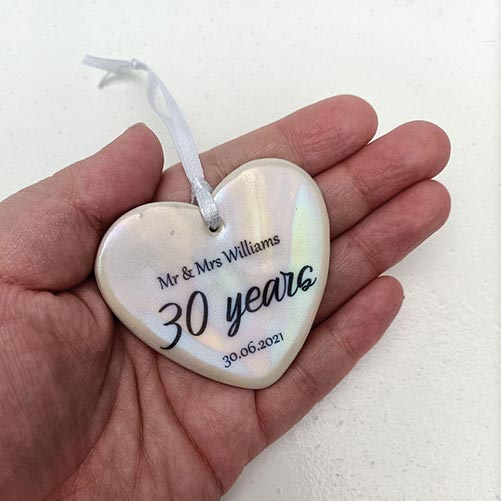 This is a handmade, ceramic pearl heart; made to commemorate 30 years of marriage. This small keepsake is a nice way to honor anyone's anniversary.
This can be hung on a mirror or window. Even place it in a trinket dish or bowl.
More 30th Anniversary Ideas
35 Year Anniversary Gifts
Best 35th Anniversary Gift: Personalized Framed Art (Coral & Jade colors)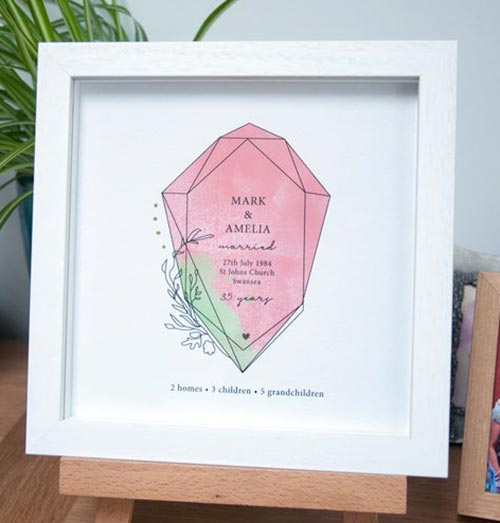 This handmade 35th anniversary gift is a sweet way to mark this important date. Individualize with the couple's name and information.
This picture measures 8×8, and you can order it framed or unframed.
More 35th Anniversary Ideas
40 Year Anniversary Gifts
Best 40th Anniversary Gift: 40th Anniversary Ruby Clock
This is an elegant 40th wedding anniversary clock. A flower image in ruby color signifies the Ruby Wedding Anniversary. This is a free standing mantle or table clock.
The clock measures 7.75″ x 5.75″.
More 40th Anniversary Ideas
45 Year Anniversary Gifts
Best 45th Anniversary Gift: Sapphire Compass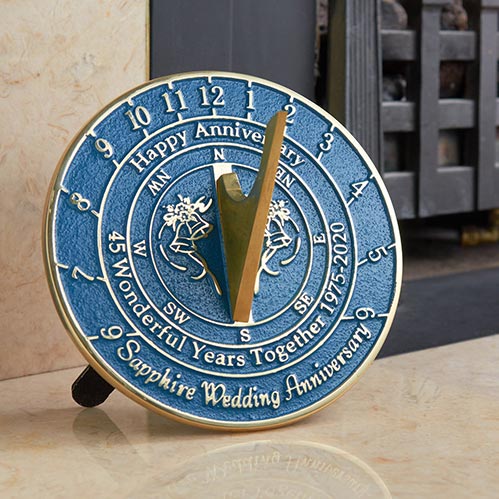 This unique sundial is handcrafted from brass. The blue color signifies the Sapphire Wedding Anniversary of 45 years.
This gift is durable and elegant. The sundial will last for years and years to come.
More 45th Anniversary Ideas
50 Year Anniversary Gifts
Best 50th Anniversary Gift: Gold Plate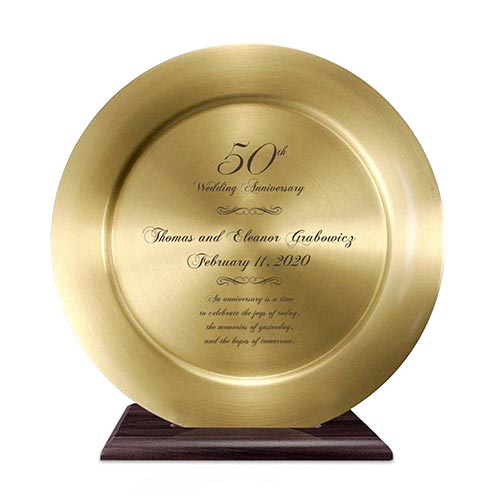 50 years of marriage deserves an extraordinary gift! This plate is handmade from solid brass and laser engraved. You can personalize with the couple's names, date, and a special message or quote.
A delightful way to commemorate a milestone anniversary.
More 50th Anniversary Ideas
55 Year Anniversary Gifts
Best 55th Anniversary Gift: Silver Token with Emerald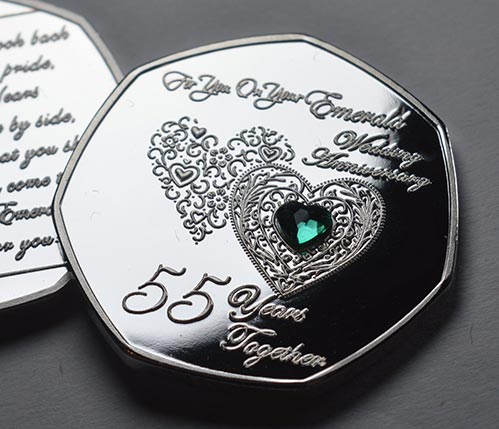 An elegant way to memorialize 55 years of togetherness. This heptagon shaped coin is finished in .999 silver with an inlaid Diamante gemstone.
It weighs 8g and has a diameter of 1 in. Both sides are fully and beautifully embossed.
More 55th Anniversary Ideas
60 Year Anniversary Gifts
Best 60th Anniversary Gift: Engraved Plaque (Diamond)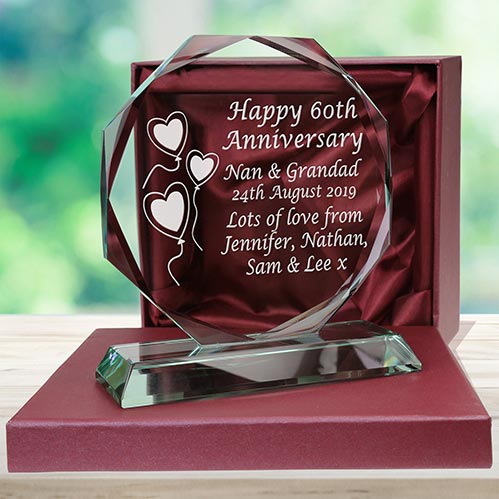 This cut glass keepsake is a great gift idea and comes engraved with heart balloons. Add the anniversary couple's names and dates to make it a gift that is sure to impress.
This gift measures 4.75″ x 4.75." This cut glass keepsake (designed in a diamond style) will make a perfect accessory to your loved one's décor.
More 60th Anniversary Ideas
65 Year Anniversary Gifts
Best 65th Anniversary Gift: Blue Rose Necklace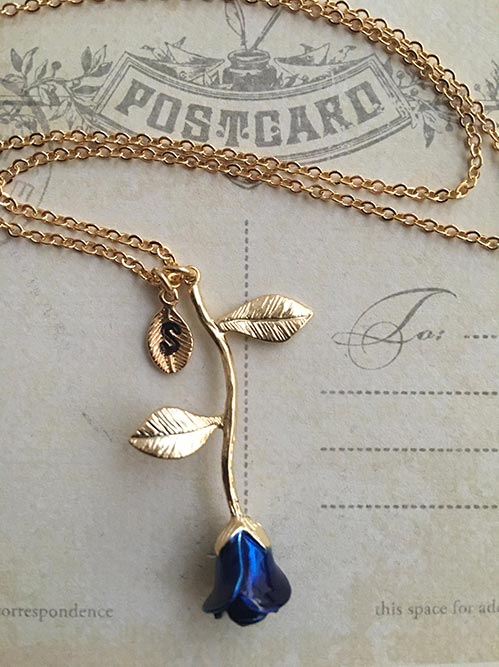 Your wife is sure to appreciate this thoughtful 65th anniversary gift. She will feel your love every time she looks at or touches this spectacular rose.
The dainty long-stemmed rose is an original design. It is customized with a tiny rose-leaf charm that is hand stamped with the initials of your choice. The roses are hand-enameled and plated in gold. The leaves are hand stamped and plated in 16kt gold. The chain is approximately 18″, and 16k gold plated.
A gift that will be to passed down from generation to generation.
More 65th Anniversary Ideas
70 Year Anniversary Gifts
Best 70th Anniversary Gift: Personalized Blanket
A warm way to wish a "Happy Anniversary" to that special couple. With this blanket, you can cuddle up in a favorite chair and enjoy a cup of hot chocolate.
Choose from five colors and tailored with names and dates.
More 70th Anniversary Ideas
75 Year Anniversary Gifts
Best 75th Anniversary Gift: Photo Collage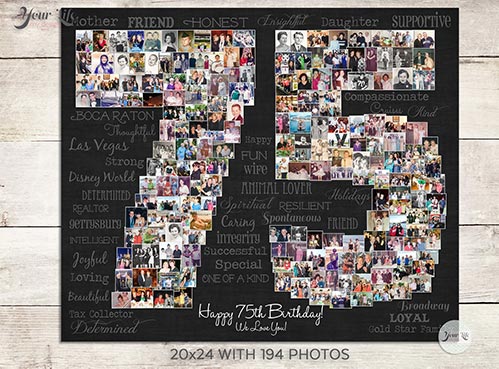 Make beautiful memories with this photo collage to commemorate 75 years of happiness. A great way to display and share pictures. Imagine all of the places you've been, the people you've met, and the love you've shared!
What a great addition to hang on your wall of memories. Your family will have a million questions to ask about all of these photos.
More 75th Anniversary Ideas
80 Year Anniversary Gifts
Best 80th Anniversary Gift: Wood Candle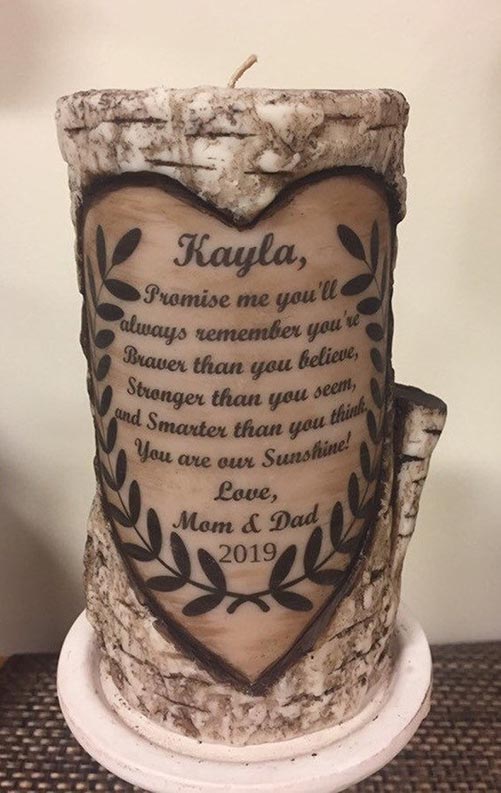 The oak tree symbolizes strength and stability. You know you have both of these qualities if you have reached your 80th year of marriage.
This unique candle will bring the beauty of nature into your home. Include a special poem or your loved ones' names to add meaning to this gift.
Made from soy wax and stands 9″ tall by 3 1/2″ wide.
More 80th Anniversary Ideas
85 Year Anniversary Gifts
Best 85th Anniversary Gift: Wine Subscription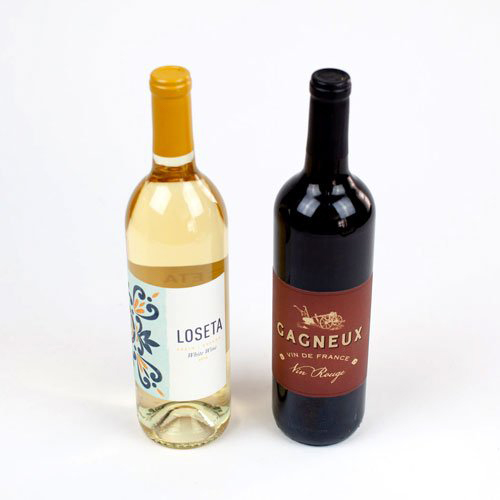 Who wouldn't love to be enrolled in a monthly wine subscription?
If you are celebrating 85 years of marriage you deserve a hearty "CHEERS!"
Every month, you will receive two full sized bottles of wine. These are premium wines from around the world. Sit back and enjoy, you have earned it.
More 85th Anniversary Ideas
90 Year Anniversary Gifts
Best 90th Anniversary Gift: Marble Coasters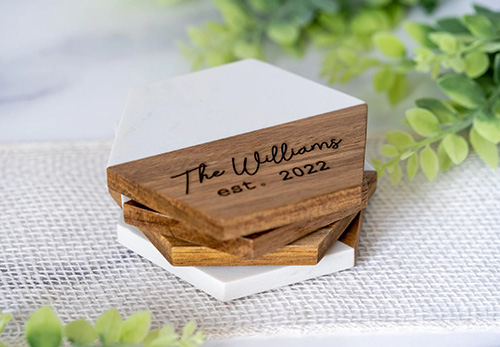 What do you get for the bride and groom of 90 years? How about these laser engraved wood and marble hexagon coasters? These make a great anniversary gift. Keep your tables free from glass rings and water stains.
More 90th Anniversary Ideas
What are the traditional wedding anniversary gifts by year?
… and color, jewelry/gemstone, modern gifts, etc.
| | | | | | |
| --- | --- | --- | --- | --- | --- |
| Year | Traditional | Modern | Color | Jewelry | Flower |
| 1st | Paper | Clocks | Gold | Gold; Peridot | Carnations |
| 2nd | Cotton | China | Red | Garnet; Rose Quartz | Cosmo |
| 3rd | Leather | Crystal; Glass | Jade; White | Pearl; Moonstone | Fuchsia |
| 4th | Fruit/Flowers | Appliances | Blue | Blue Topaz | Geranium |
| 5th | Wood | Silverware | Blue | Sapphire | Daisy |
| 6th | Iron | Candy or Wood | Purple | Amethyst | Calla Lily |
| 7th | Copper | Stationary | Yellow; Off-White | Onyx | Jack-in-the-Pulpit |
| 8th | Bronze | Linen; Lace | Bronze | Tourmaline | Clematis |
| 9th | Pottery | Leather | Terracotta | Lapis Lazuli | Poppy |
| 10th | Tin | Diamond Jewelry | Silver | Diamond | Daffodil |
| 11th | Steel | Accessories | Turquoise | Turquoise | Tulip |
| 12th | Silk | Pearls | Oyster-White | Jade | Peony |
| 13th | Lace | Furs | White | Citrine | Chrysanthemum |
| 14th | Ivory; Elephant | Gold Jewelry | Ivory | Opal | Dahlia |
| 15th | Crystal | Watches | Red | Ruby | Roses |
| 16th | Wax | Silverware | Silver | Peridot | Statice |
| 17th | (none) | Furniture | Yellow | Carnelian | Red Carnations |
| 18th | (none) | Porcelain | Blue | Cat's Eye | (none) |
| 19th | (none) | Bronze | Bronze | Aquamarine | "Bronze" Mum |
| 20th | China | Platinum | Emerald-Green | Emerald | Day Lily |
| 21st | (none) | Brass | Orange | Iolite | (none) |
| 22nd | (none) | Copper | Green | Spinel | (none) |
| 23rd | (none) | Silver Plate | Silver | Imperial Topaz | (none) |
| 24th | Opal | Musical Instruments | Lavender | Tanzanite | Lavender Bouquet |
| 25th | Silver | Silver | Silver | Silver | Iris |
| 26th | (none) | Pictures | (none) | Jade | (none) |
| 27th | (none) | Sculptures | (none) | Jet Stone | (none) |
| 28th | (none) | Orchids | Lavender | Amethyst | Orchid |
| 29th | (none) | Furniture | (none) | Garnet | Celosia |
| 30th | Pearl | Diamond | Green | Pearl | Lily |
| 35th | Coral | Jade | Coral | Emerald | (none) |
| 40th | Ruby | Ruby | Red | Ruby | Nasturtium |
| 45th | Sapphire | Sapphire | Blue | Sapphire | Blue Iris |
| 50th | Gold | Gold | Gold | Gold | Yellow Rose |
| 55th | Emerald | Emerald | Emerald-Green | Alexandrite | Calla Lilly |
| 60th | Diamond | Diamond | Diamond-White | Diamond | Orchid |
| 65th | (none) | Blue Sapphire | Blue Sky | Blue Sapphire | Blue Hydrangea |
| 70th | (none) | Platinum | Platinum | Smokey Quartz | (none) |
| 75th | (none) | Diamond | Diamond-White | Diamond | White Roses |
| 80th | Oak | Pearl | Ruby Red | Ruby | (none) |
| 85th | Wine | Moonstone | (none) | Moonstone | (none) |
| 90th | Granite | Marble | Diamond-White | Diamond | (none) |
Now that you've figured out the gift, what do you actually do on your special day?
Here are 101 Romantic Things to Do On Your Anniversary. You're welcome.
Oh, and don't forget the card! Take a look at these 101 Happy Anniversary Wishes for inspiration on what to write inside to convey your love.
Read Next: 43 Popular Gift-Giving Occasions
Pin It