A twenty-seventh anniversary, eh? Well, this calls for a celebration! While you're chilling the champagne, lighting the candles, and signing that perfect card, here are some fabulous ideas for the best 27th anniversary gifts ever.
Deciding what you want to give to that special couple or your significant other can be tough, especially after twenty-seven years! So we've done the research for you and come up with some seriously great options.
Below, we've got it all for you: from sweet and romantic, to practical and useful. Shop according to what you know they love most!
Table of Contents
Our website is supported by our users. We sometimes earn a commission when you click through the affiliate links on our website. See our privacy policy & disclosures for more information.
This is part of our series on Anniversary Gifts by Year.
27th Anniversary Themes
What is the traditional & modern 27 year anniversary gift?
This is a super unique one! It's sculpture.
Why are sculptures the traditional & modern 27th anniversary gift?
The 27th anniversary is known as the sculpture anniversary because sculpture represents the meticulous craft that goes into a long enduring marriage.
What is the 27 year anniversary gemstone?
Jet Stone. It's sleek, black and absolutely stunning.
Why is jet stone the twenty-seventh anniversary gemstone?
The Romans viewed it as a gemstone that possessed metaphysical powers and brought good luck. Who are we to argue?
What is the 27th anniversary flower?
There is none for this year! So maybe go with their favorite or their wedding flowers.
What is the 27 year anniversary color?
Again, this is a free space! Go with their faves or what would suit their decor best.
10 Best Twenty-Seventh Anniversary Gifts
1. You & Me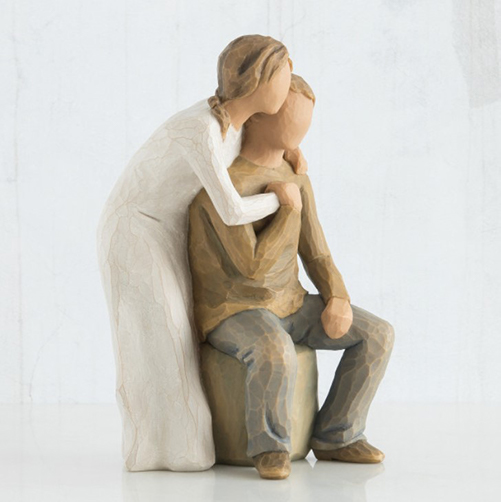 This romantic and simplistic figurine from Willow Tree is just the thing for a sweetly sentimental gift. Whether it's for your partner or for your friends who are celebrating twenty-seven years of wedded bliss! The soft, muted hues of grays and creams will fit perfectly into any decor or style.
2. Personalized Tree Trunk Sculpture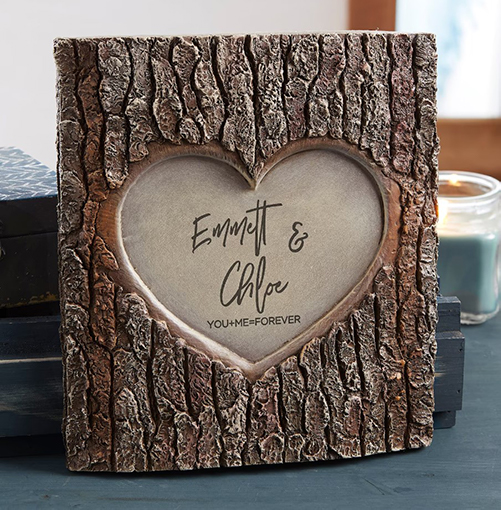 There's nothing more romantic than carving you and your sweet honeybun's initials into a tree! But let's be honest, defacing nature is a no-no. This personalized tree trunk sculpture turns your romantic dreams into reality — and you can keep it in your house, too. Such a cute gift for a cute couple.
Related: Romantic Plaques & Quotes for Soulmates
3. 3D Crystal Photo Statue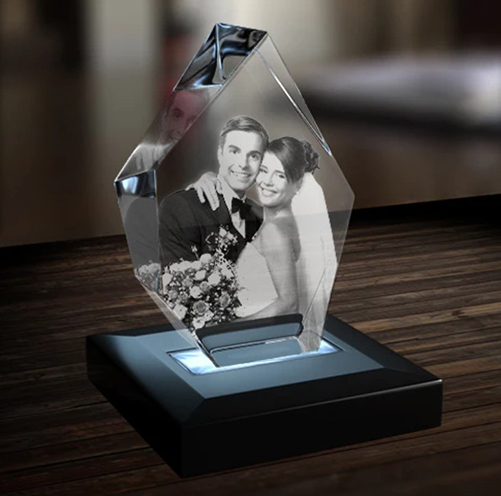 These 3D crystal photo statues are just the thing when you're looking to display your favorite photo in a less ho-hum way! The images really pop when you look at them, and you can choose your favorite shape. An easy gift that really impresses.
4. 27 Years of Loving You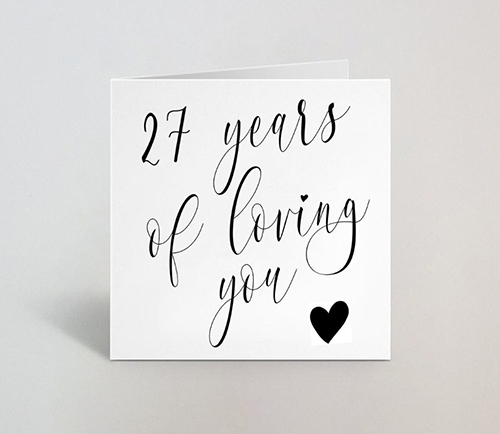 This pretty little card really says it all, doesn't it? Definitely beautiful and sentimental enough to keep for many years to come, it will make him or her feel incredibly special and loved (as they should be).
5. Minimalistic Ceramic Couple Sculpture
This modern and minimalistic ceramic couple sculpture is great for the 27th anniversary, with its sleek and contemporary design. Perfect for the up-to-the-minute couple — and that jet black color really goes with the theme as well!
6. Our Family Tea Light Holder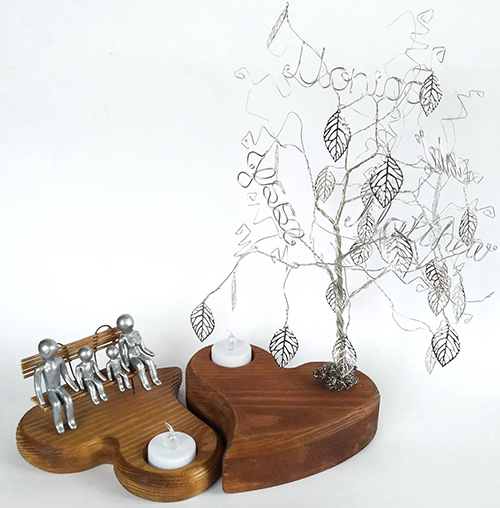 This sweet sculpture will get a lot of oohs and ahs and questions about where they found it. They got it from you, of course! You can customize it so it's just right, and the combination of wood and candle light, silver and wire, is just so whimsical and cheery.
7. A Couple in Love Handmade Statue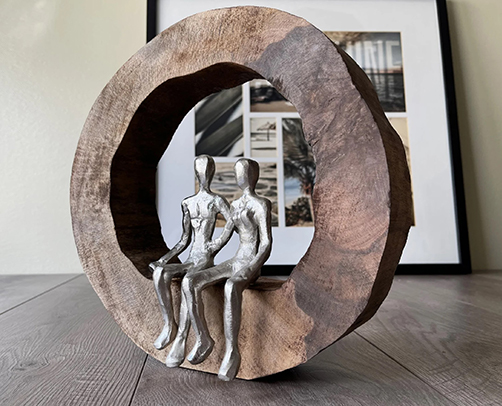 This rustic, yet totally modern statue is a real eye-catcher! Your couple will love the romance behind this little work of art. The only difficult part is deciding where to display it! Made of brass, metal, and wood, this sweet sculpture is sure to become a family heirloom.
8. Wedding Vows Origami Sculpture Art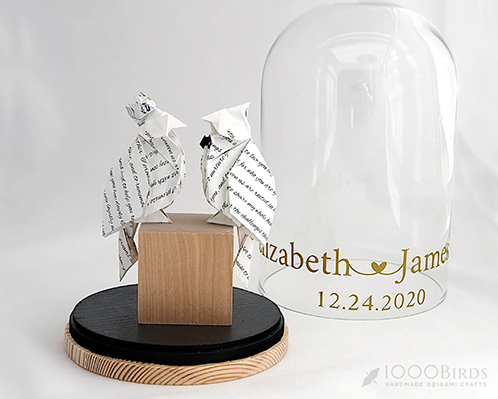 Can't find a gift for the couple who has everything? The couple who is difficult to shop for? Then this origami sculpture art is for you! Well, it's for them rather.
Completely unique and one-of-a-kind, these sweet lovebirds are made from their actual wedding vows and nestled under a dome that has been personalized with their names and date.
9. Red Rose Elegance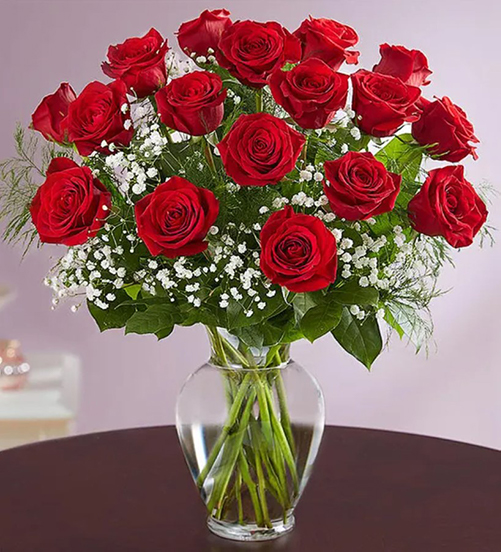 There's a reason long-stemmed red roses signify undying love and devotion and the pinnacle of romance! These deep red roses will bring a tear of affection to his or her eyes, and they will be the centerpiece of the anniversary party. Don't forget to dry and press one or two!
10. Personalized Dancing Wire Art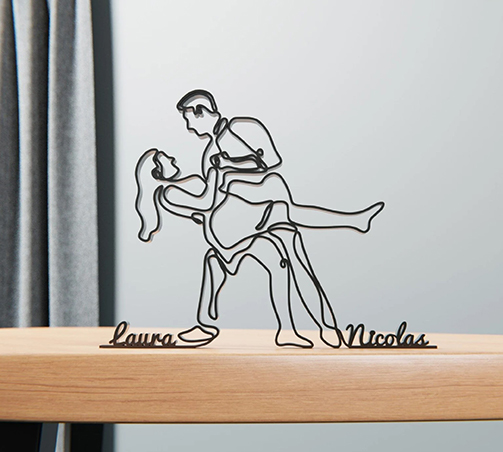 Does your couple love to dance and paint the town? Then this personalized wire art sculpture is just the ticket! Totally unique and unusual in all the right ways, this little work of art will be quite the talk of the living room. So cute and fun!
Traditional & Modern 27th Anniversary Gifts (Sculpture)
11. Rainbow Glass Heart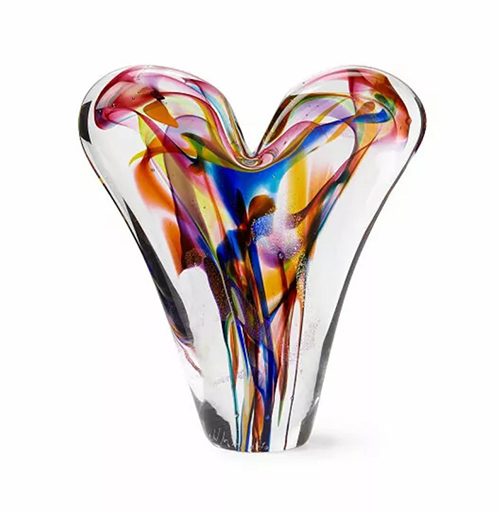 Passion and drama engulfs this exquisite sculpture from artist David Goldhagen. A stunning work of art for the sophisticated couple, this rainbow heart will instantly transform the room they choose to keep it in.
12. Personalized Wooden Sculpture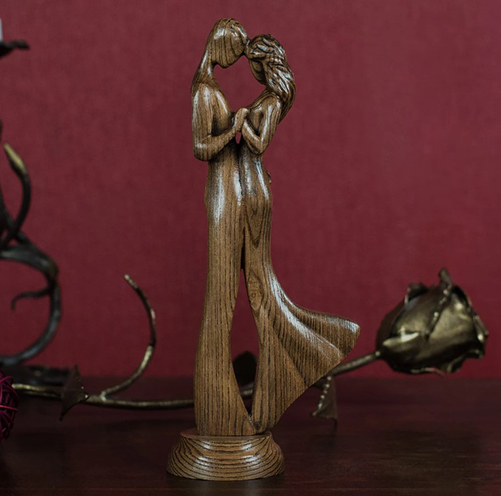 A sweet couple engaged in a lovely, romantic dance — what could be better? This personalized wooden sculpture is small, but packs a punch of romance and devotion. You can even have it engraved with their names if you like, giving this gift a truly unique edge.
13. Modern Bronze Embrace
Made of a pinkish bronze, this modern sculpture is great for the 27th anniversary. Contemporary in style, but also timeless, it will look lovely on a bookshelf or end table. The gentle kiss takes the viewer away to a land of romance!
14. Kissing Lovers
This resin sculpture with its pretty bronze finish is perfect as a centerpiece for an anniversary party! The kissing lovers design is so romantic and sweet. It's a keeper for sure, and the recipients of this gift will be so grateful for your thoughtful present.
15. Hand Casting Kit
For the utter romantics and young-at-hearts, this hand casting kit is so fun and unique! Cast your hands together for all time, and then display the end result in a totally one-of-a-kind sculpture that you can keep for forever.
16. Engraved Cardinal Pair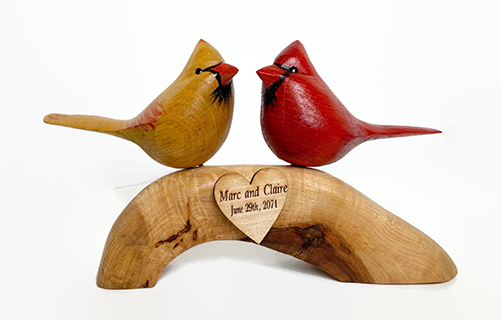 These adorable cardinals! I mean, how cute are they? Hand carved in oak, and personalized with your names, this sweet pair will be catching everyone's eyes. Old-fashioned, but in all the right ways! Great for a romantic couple who hates to be apart.
17. Loving Pair of Elephants
These elephants are simply the best! So loving and romantic, but whimsical and a bit quirky. This sculpture will bring a smile to everyone who sees it. Great for animal lovers, or simply for the young-at-heart.
18. Hand Heart Sculpture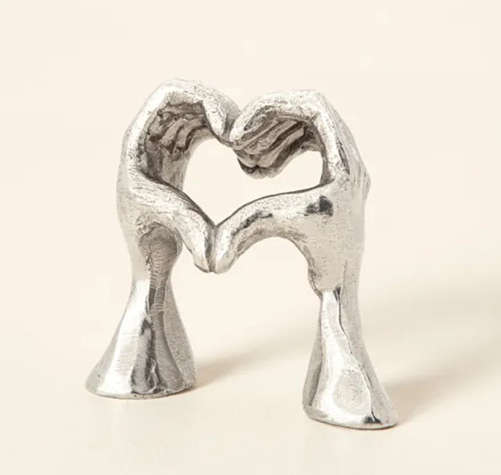 This desktop sculpture of heart shaped hands will remind him or her on a daily basis how much they are loved and thought about! Simple but elegant, small but eye-catching. This little work of art will be much appreciated for its thoughtfulness.
19. Personalized Silver Ring Sculpture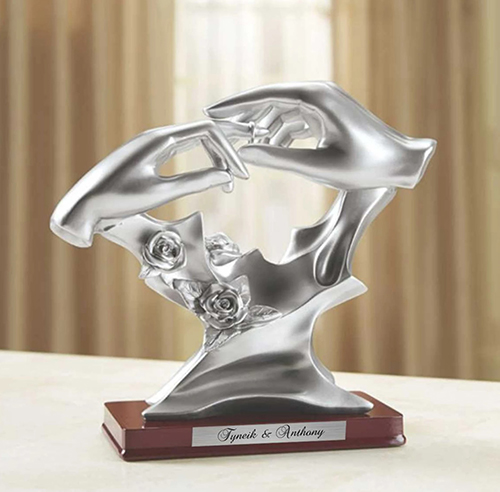 This handmade sculpture is so unique! Romantic, too, with its soft lines and elegant design. You can even have it personalized with your names! This lovely silver sculpture will look great in any home design and will really draw your eye.
20. Kissing Cardinals Metal Sculpture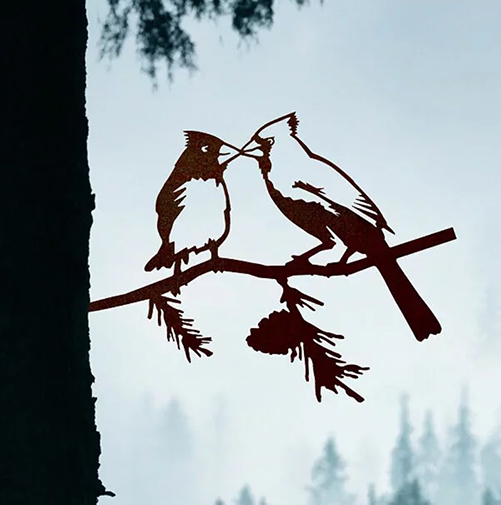 This tree ornament sculpture is great for nature lovers or bird watchers! The two little lovebirds are happy as clams — just like your favorite couple who are celebrating their 27th anniversary! We think each time they see it, they'll want to smooch as well. Pucker up!
27 Year Anniversary Gifts for Her
21. Jet Stone Earrings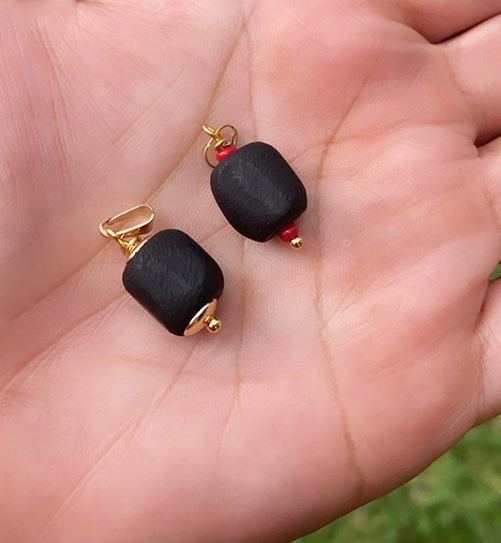 These jet stone earrings are perfect because they go with just about any outfit or style! They'll light up her pretty face, too. Unusual and unique, they'll be her go-to for jewelry in no time. Made of genuine azabache.
22. Engraved Gold Rose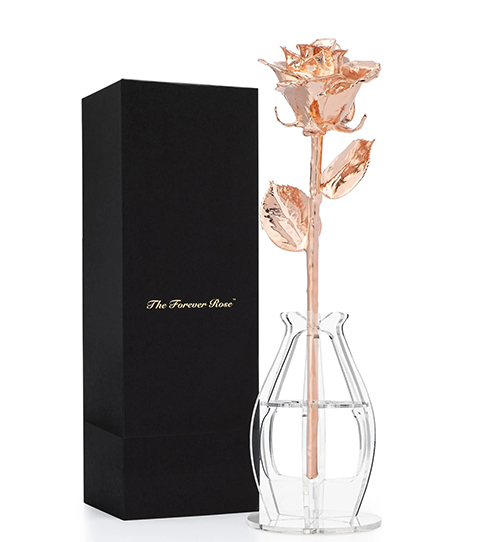 This engraved gold rose is only for the absolute romantic! Made to last forever (and then passed down to the next generation), it will stand out amongst her collections as an absolute favorite. Hand engraved with a message of your choosing!
23. Jet Stone Hearts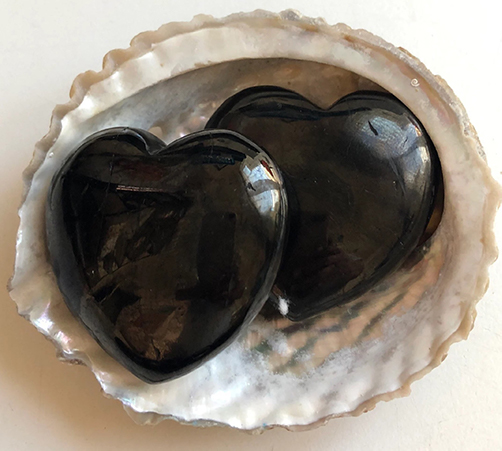 These healing hearts are a stunning shade of the blackest of blacks and really are gorgeous and romantic. They'll look wonderful tucked into a romantic shadow-box or placed on a bookshelf or jewelry tray. A cute little way to show how much you love her!
24. Aegean Cotton Bath Robe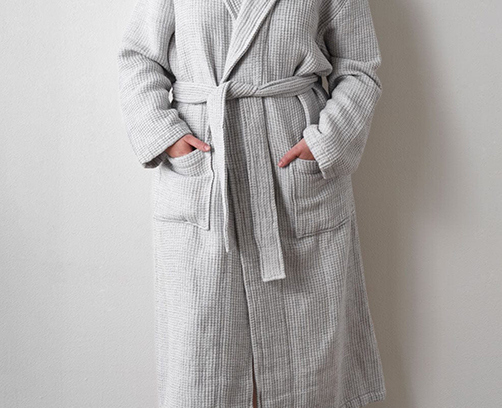 Loomed in Turkey, this Aegean cotton bath robe is organic and made for snuggling! Soft and comfortable, with oversized pockets and generous sizing, she might not ever want to get dressed!
Related: Relaxing Self-Care Gift Ideas
25. Personalized Throw Blanket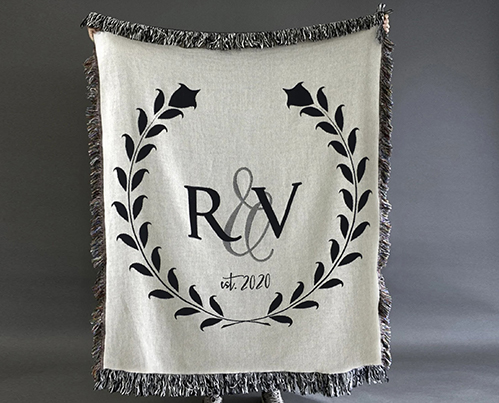 Get her a blanket that is completely unique and personalized just for her! This throw blanket is sophisticated, yet has a homey feel. She'll love cuddling under it with you!
27th Anniversary Gifts for Him
26. Custom Mixtape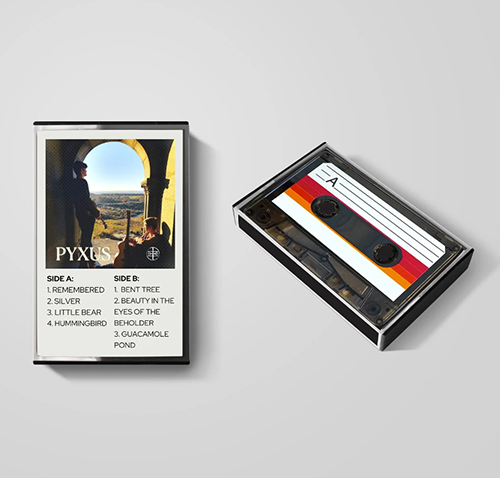 What was better than a custom mix tape back in the day? Um, nothing, that's what! Give him a throw-back gift, old-school style with his own custom mixtape! He'll love playing the songs you choose and seeing a favorite photograph on the front. How fun!
27. Bake Him Chocolate Heart Cookies
You know what they say: the way to a man's heart is through his stomach! Bake him some DIY heart shaped chocolate cookies and watch him propose all over again! He'll gobble these up in no time flat.
28. Jet Stone Bracelet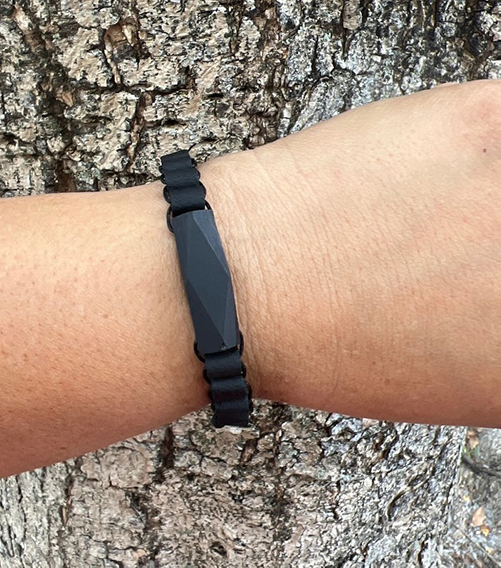 Men can wear jewelry, too, and this jet stone bracelet is a case-in-point! He'll love wearing this on date night with your favorite shirt and jeans, or even pairing it with his suit and tie for work. All his friends just might want one too!
29. Jerky Flower Bouquet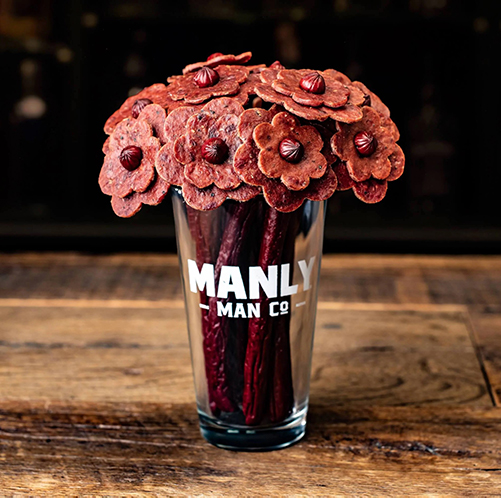 Face it: he doesn't really want a dozen roses, no matter how romantic they are! What he would really like a bouquet of? JERKY!
This jerky flower bouquet is over the top and just right. He's gonna swoon! Or drool…
30. Take Him on a Romantic Experience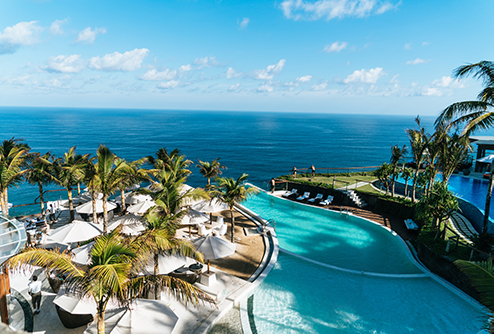 The only thing better than unwrapping a gift is experiencing an adventure together! Get the camera ready and go on the romantic experience of a lifetime. You won't be sorry! Choose from all sorts of destinations and ideas. Be sure to book that time off and don't forget to write!
Trust us, Tinggly is the way to go.
27th Anniversary Gifts for Couples
31. Custom Bobblehead Figurines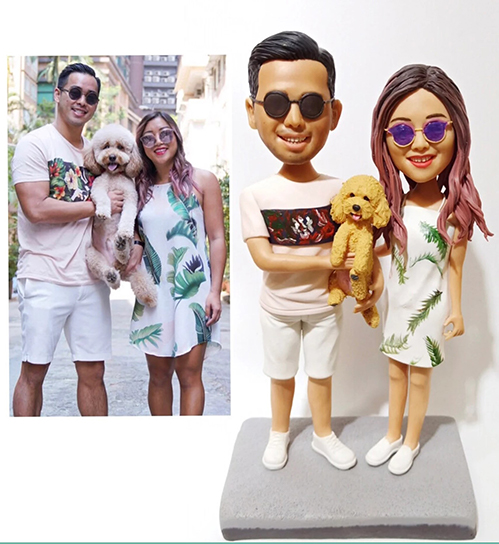 There isn't much funnier than your face on a bobblehead — unless it's yours and his/hers! These custom made bobbleheads are going to make everyone who sees them laugh and laugh. And then they'll say, "Where can I get one?!"
32. Personalized Wine Glasses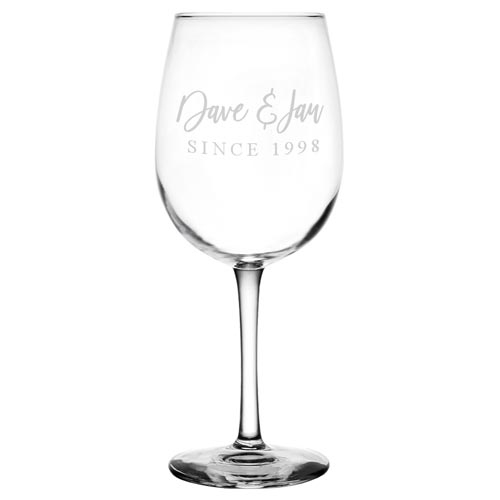 These personalized wine glasses are just the thing for when you want a thoughtful gift but don't want to spend a fortune! Your favorite couple will love toasting the next twenty seven years together with these pretty and useful wine glasses that are engraved with their wedding date.
33. Adventure Challenge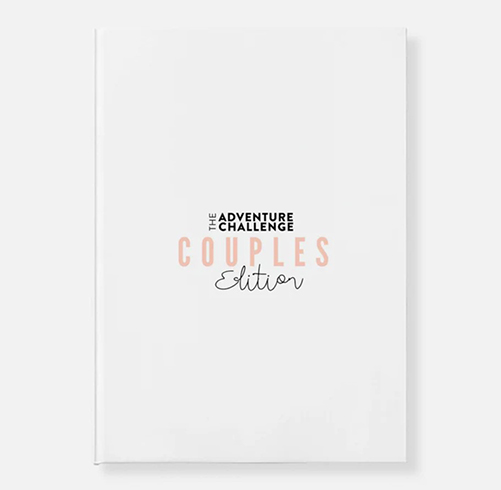 Love the idea of date nights, but hate trying to think of something to do that isn't your old, boring dinner and a movie? Then you'll love the Adventure Challenge! Snuggle up and get ready to laugh and reignite your passion for one another with this best-selling and romantic book/game. 
Related: 101 Romantic Ideas for Your Anniversary
34. Engraved Bottle Opener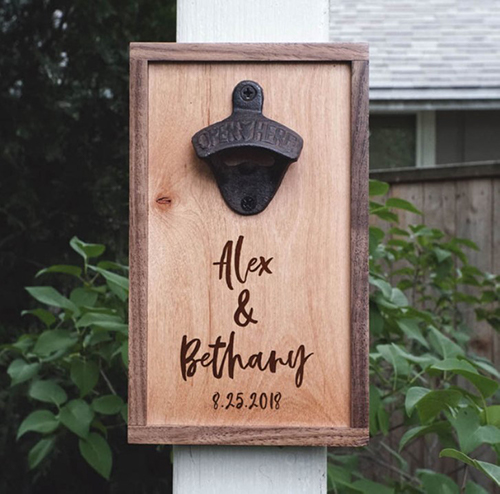 Engrave this fabulous bottle opener however you like! Keep it simple with their initials and wedding date, their nicknames, or however you choose! They'll love knowing where their bottle opener is at all times, too, instead of fumbling for one in the junk drawer.
High quality and made to last a lifetime, it's a gift that keeps on giving with every bottle pop!
35. Owl Couple Figurine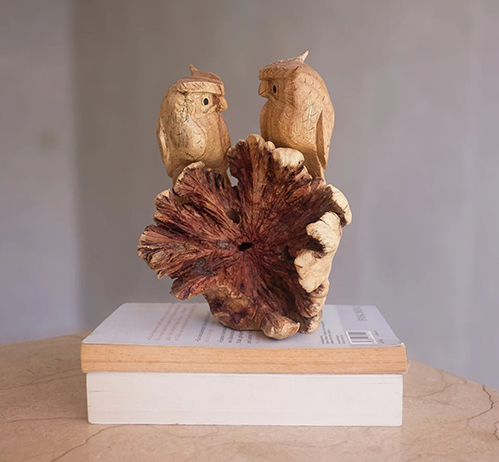 Made of burl wood, this owl couple is so cute and quaint! Perfect for a getaway cabin or a farmhouse, this sweet figurine is a great gift for your favorite couple as they celebrate their twenty seven years of wedded bliss.
Unique Twenty-Seventh Anniversary Gifts
36. Custom 3D Statue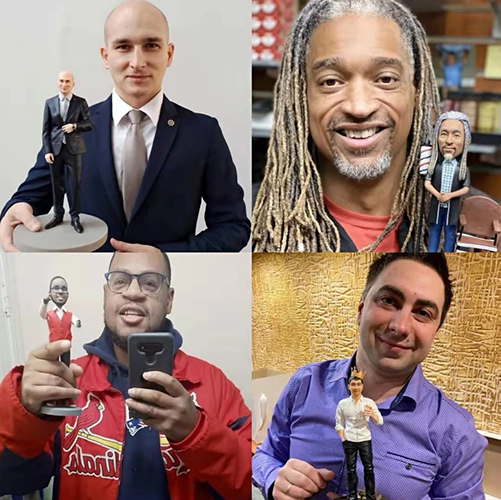 When you want something totally unique for that couple who is nearly impossible to shop for, then take a look at these amazing custom 3D statues! Everyone who sees it will be blown away by the details. Whimsical and fun!
37. Hansa Vase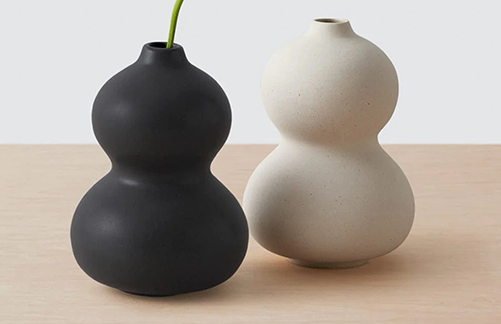 These Hansa vases are handcrafted in India and are simplistic, yet sophisticated! They'll look great in any stylish home — even without flowers inside they are simply beautiful! A great gift for a world-traveled couple.
38. Personalized 3D Bust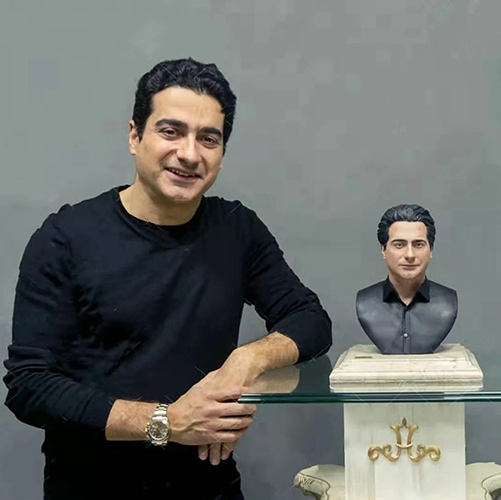 If you've ever wanted to see yourself immortalized in a 3D bust (as one does), this gift is for you! Whether you go for funny and humorous, or downright sophisticated, this personalized 3D bust is sure to get a lot of compliments.
39. Antique Brass Established Home Sign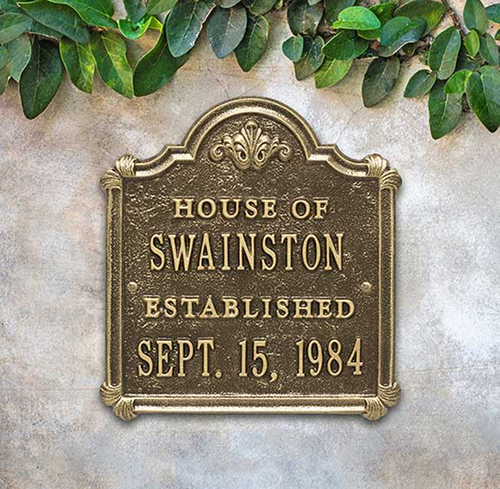 This antique brass established home sign comes in seven different color options, so you can make it absolutely perfect before gifting it! A great anniversary gift (or house warming gift), this sophisticated sign will instantly transform a front porch into something special and beautiful.
40. Personalized Picture Frame Lantern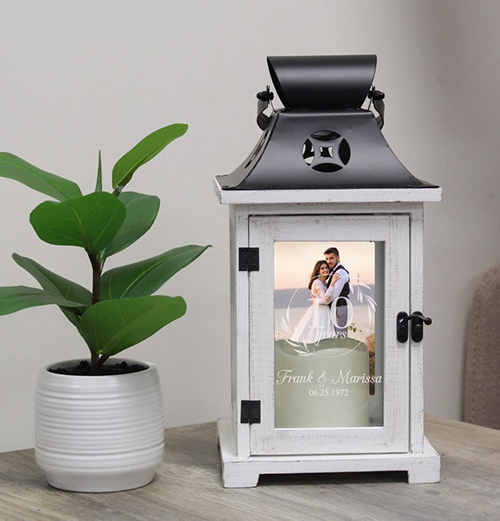 This personalized picture frame lantern is so pretty, and it practically embodies the farmhouse style perfectly! Anyone can display some photos in a normal frame, but this pretty lantern really makes those photos stand out. So lovely!
Read Next: 30th Anniversary Gift Guide