Congratulations, you've successfully made it to your 25th wedding anniversary!
Marriage is a wonderful blessing, but it takes a lot of work to sustain. When it's done right, it's well-worth commemorating with a meaningful 25th anniversary gift.
After all, your marriage is at a quarter of a decade. Twenty five years is truly an amazing feat! So the gift you choose is the perfect way to show your spouse how much you care about your relationship, and it will serve to deepen your connection.
But how do you pick a unique gift after so many anniversaries?
Never fear! We've created a long list of our favorite 25th anniversary gifts so that you can pick the present for your spouse that will convey all the love you have towards them.
Our website is supported by our users. We sometimes earn a commission when you click through the affiliate links on our website. See our privacy policy & disclosures for more information.
All About the 25th Anniversary
Table of Contents
This is part of our series on Anniversary Gifts by Year.
25th Anniversary Themes
What is the traditional & modern 25 year anniversary gift?
Silver.
Why is silver the traditional & modern 25th anniversary gift?
Silver is traditionally given as it is long-lasting and radiant, just like the 25 years of love that you've shared together.
What is the 25 year anniversary jewelry type?
Silver is the traditional material for jewelry on the 25th anniversary. For those looking for a specific gemstone, tsavorite has emerged as a popular choice.
Why is silver the twenty-fifth anniversary jewelry material?
Silver is one of the most treasured materials, and it has been linked to the 25th anniversary because of its elegance and endurance.
What is the 25th anniversary flower?
Iris, which symbolizes faith, hope, courage, wisdom and admiration.
What is the 25 year anniversary color?
Silver.
10 Best Twenty-Fifth Anniversary Gifts
1. 25th Anniversary Picture Frame
This delicate silver frame is perfect for a 25th anniversary gift because it will capture the two of you "then and now."
The frame has space for two photographs, including one labeled "Our Wedding Day." It has a romantic dove and bell design that is reminiscent of a wedding. This can sit in your home as a daily reminder of enduring love and happy memories.
2. Silver Anniversary Card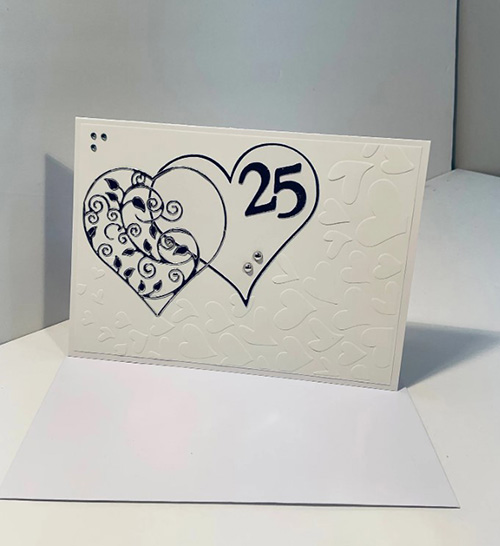 This handmade anniversary card provides a thoughtful and affordable way to celebrate your anniversary. Pair it with a gift, orlet the incredible personalized artwork (combined with your love note inside, of course) serve as your gift to the spouse who has everything.
The card is laser cut using your choice of colorful paper for both the card and the background insert. Your names are personalized along the tree branch besides two heart ornaments, which hang above the happy couple sitting on a park bench. Beneath the message "Happy 25th Wedding Anniversary" stands out in crisp, clean lines.
Be sure to write a thoughtful anniversary message inside! For inspiration, here are 101 anniversary quotes, messages, and sweet little nothings.
3. Personalized Wine Glasses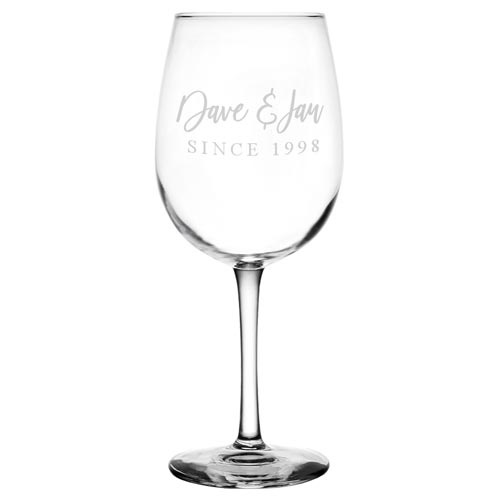 If wine is an important part of your marriage, then this gift is a great choice! These are custom engraved wine glasses, where you can write your own unique message and choose from a range of fonts.
Some message ideas are "Celebrating 25 Years of Love," "25 Years of Loving (Name)," or "Happy 25th Anniversary!"
4. Stained Glass Iris Flower Art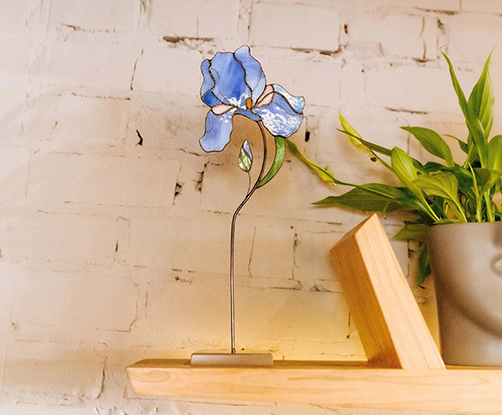 How gorgeous are these stained glass, Iris suncatchers? We can't get enough of them! Perfectly suited to stand alone as a centerpiece, or in a vase surrounded by living blooms, these pretty pieces are true works of art.
Crafted with the same techniques used by famous glass maker Louis Comfort Tiffany, their beauty aims to please.
5. Personalized Heart Bud Vase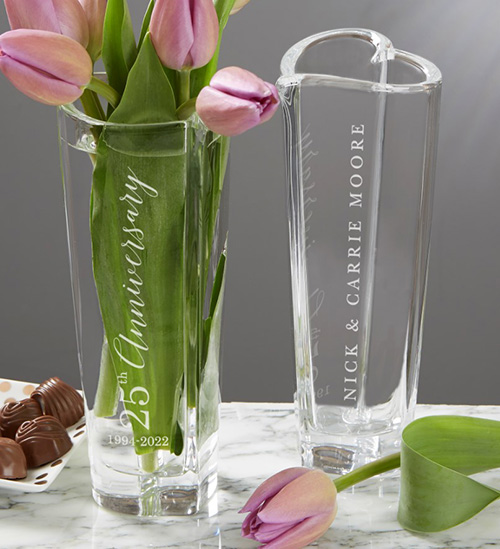 This heart-shaped crystal vase is an elegant gift that is both romantic and useful. You'll be able to personalize the vase with both your names as well as the years you have been together.
The vase is also laser etched with "Happy 25th Anniversary" and the years you've been married. Now, each time you give your sweetheart flowers, she can put them in this stunning vase and be reminded of your union.
6. 25th Anniversary Lasting Love Sculpture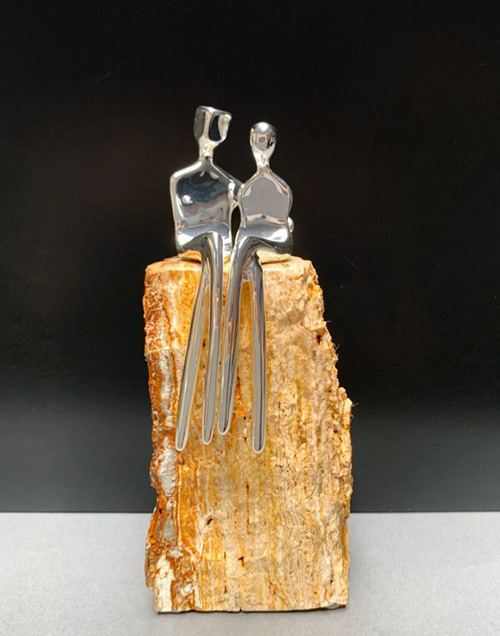 This handcrafted silver-plated sculpture symbolizes your eternal bond. It depicts a man with his arm lovingly wrapped around his woman, as they sit together.
It is the perfect representation of the protectiveness and deep friendship that a couple share. This elegant anniversary gift arrives in ornate gift packaging with an interesting leaflet about the sculpture and artist.
7. 25 Years Family Tree Framed Print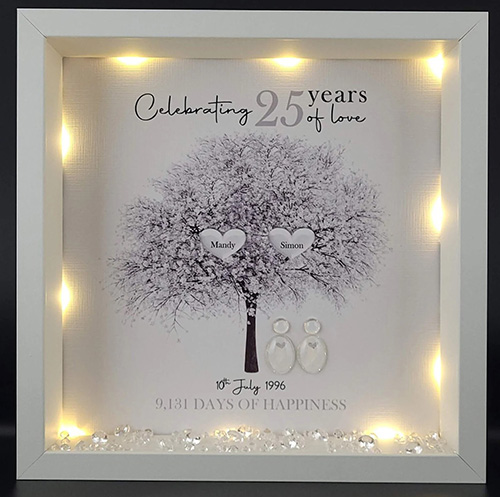 This gift is sure to tug at the heartstrings. It is a print of a family tree, with two spaces for the couple's names, and the date of their union.
There is also space to write how many days you've shared together as a couple, for example: "2700 days of happiness." You'll have the option to buy the print with surrounding fairy lights too.
8. 25 Years Ornament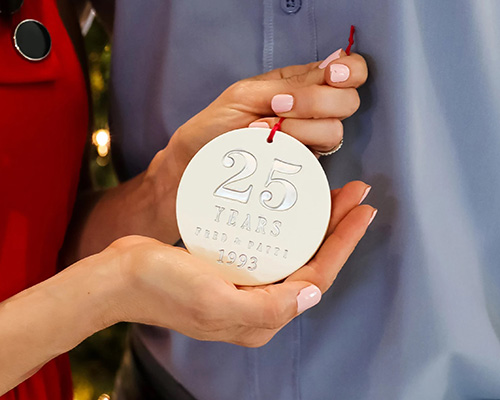 This 25th anniversary circular ornament is a simple yet romantic gift for your partner. On the ornament there is space to write the couple's names and the year they were married along with the message "25 Years."
You get the option of having the writing in gold, silver, or white. The ornament hangs on a cord which can be either red or ivory. A timeless token of your love!
9. Custom Stamped Silver Metal Sign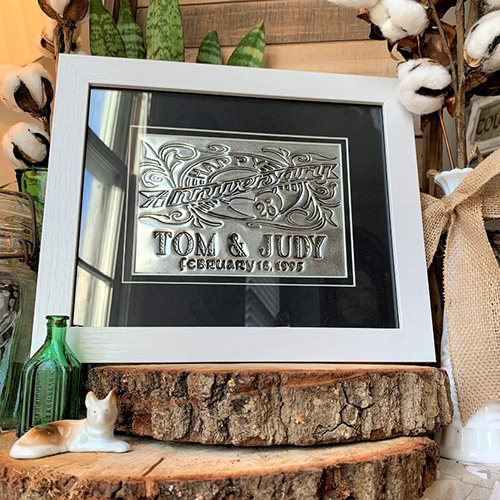 Here we have a gorgeous silver sign that reads "Happy Anniversary" along with you and your beloved's names and the date you got married. It has an intricate, handmade design that will look lovely in any home, as a reminder of a shining, long-lasting partnership.
10. 25th Anniversary Music Box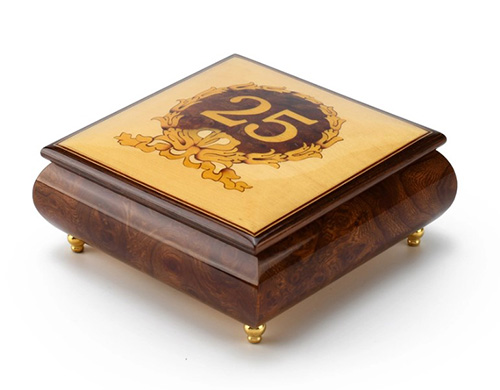 Women love romantic jewelry boxes, so this gift is sure to be a success. It is handmade in Italy with high-quality wood and it plays a custom melody of your choice when opened.
It also comes with the option of a personalized engravement, where you could write an anniversary message. Each time your wife goes to put on her jewelry, she will be reminded of the love you share.
Traditional & Modern 25th Anniversary Gifts (Sterling Silver)
11. Sterling Silver Keepsake 25th Anniversary Plate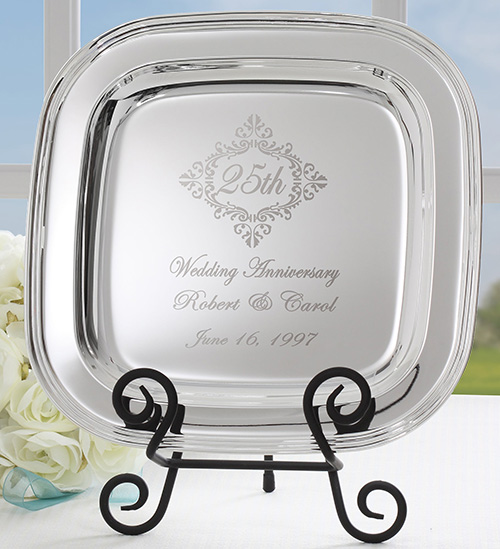 This ornate silver tray is a thoughtful gift to commemorate your anniversary. On it, you can have an engravement where you can include the couple's names and the year of the marriage.
It's attractively engraved in a decadent font, providing the sophistication your 25th anniversary deserves. The tray has a delicate ribbed edge and will complement any room which it is displayed in.
12. Still Do Stamped Vintage Spoons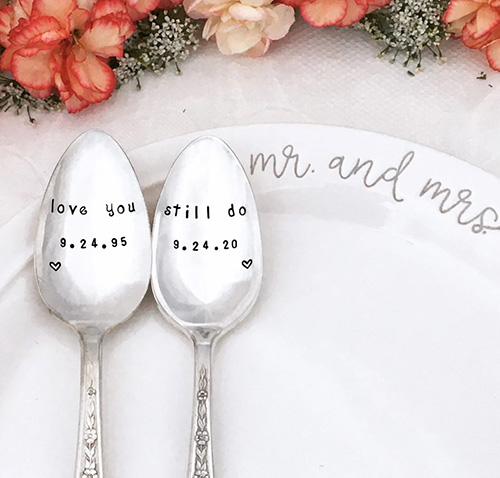 This adorable set of two matching spoons will make a thoughtful gift for your sweetheart, reminding one another that the love you promised on your wedding day lives on and has only grown.
On one spoon, there is an engraving that reads "love you," while the second spoon says "still do." Underneath the writing, you can include the marriage date, and next to this is a delicate love heart.
Not only do the spoons look great, but they will serve as a daily reminder of the bond you and your spouse share.
13. Engraved Bracelets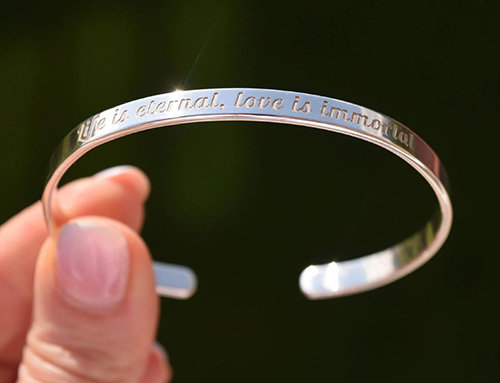 Next we have a lovely sterling silver bracelet. On the bracelet, there is an engraving which reads "Life is eternal, love is immortal."
This is a thoughtful gift made from high-quality silver, designed to be worn every day. Choose where you want the engraving to go: on the inside, outside, or on both sides of the bracelet.
14. Silver Custom Soundwave Wall Art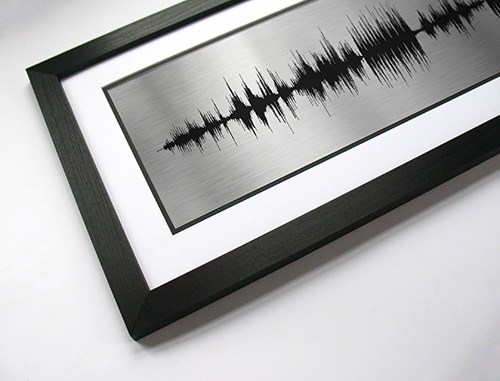 One of the cutest parts of a marriage is having your song. With this gift, your song can be translated into a soundwave that is engraved into a silver plaque.
The title of the song is also engraved underneath the soundwave. Having a keepsake of the song you and your partner love is a great way to celebrate your anniversary.
15. 25th Anniversary Swarovski Crystal Keepsake
This circular ornament features two gorgeous Swarovski crystals, surrounded by adorable silver hearts. Above the hanging hearts you'll see "25th Anniversary" proudly proclaimed.
It's a timeless gift that arrives in delicate packaging. This ornament will bring life to any room it is placed in, and will serve as a reminder of the beauty of your marriage.
16. Hermann Miller Royal Family Silverware Collection
From the Herman Miller Royal Family Silverware Collection, this 72-piece silverware set is as beautiful as it is useful.
Each piece is made with stainless steel and boasts a gorgeous accent of gold engraving. Your new anniversary set arrives in a luxurious case with a buckle and combination lock. In total, the set will cater up to 12 people, so it's perfect for dinner parties.
17. Personalized Sterling Silver Tray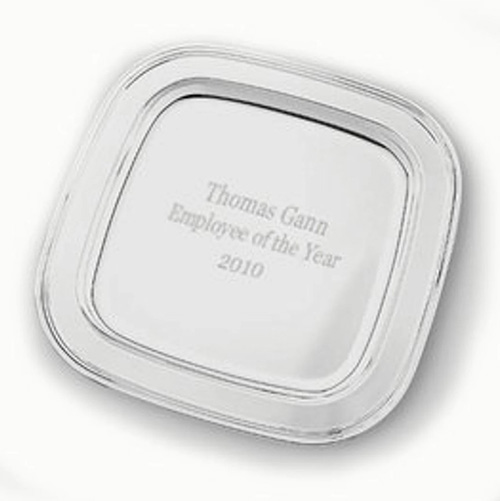 In keeping with the Silver Anniversary theme, consider giving this delicate sterling silver tray. You can write up to five lines of custom text on the tray, so you could include your names, your wedding date, and possibly "25th Anniversary" or anything else you might like.
This is a lovely decoration for the home and a cute memento of your wedding anniversary.
18. Forever Rose
Every woman loves roses, so why not get her a rose that never dies? This ornate sterling silver rose can be kept forever, as a romantic decoration and reminder of your affection. It arrives in a delicate gift box and comes with a silver stand.
19. Personalized Bookmarks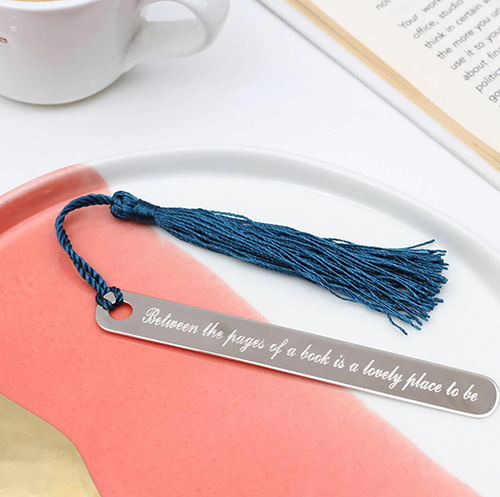 This is the perfect 25th anniversary gift if your spouse loves reading. This sleek silver bookmark can be engraved with a message of up to 60 characters, so you can include a reference to your 25th wedding anniversary or spell out a special message of love.
Now whenever your sweetums goes to read the latest and greatest book, they will remember the unbreakable bond you share.
Related: Best Gifts for Book Lovers
20. Handwritten Necklace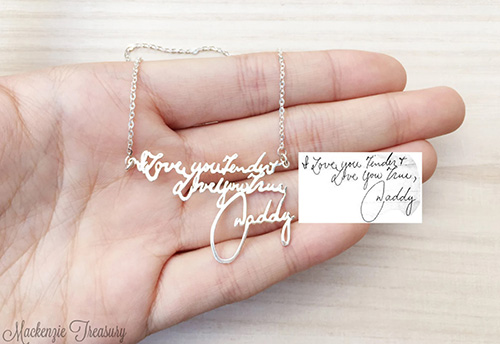 If your spouse loves wearing jewelry, this unique gift is sure to amaze. The 925 Sterling Silver necklace is created from your handwritten note and signature!
You simply write a short message, such as "Love you always, Jim", then take a picture of the note and submit it along with your order. The result is a one of a kind, thoughtful accessory to celebrate your union.
25 Year Anniversary Gifts for Her
21. Engraved Sterling Silver Ring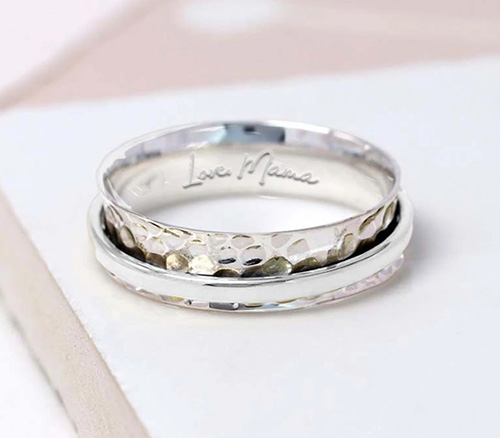 This elegant sterling silver ring includes a free personalized engraving of your choice. You could write "25 and counting," or "I love you," and each time your partner wears it, they will remember the 25 years you have spent happily married!
22. Sterling Silver Iris Earrings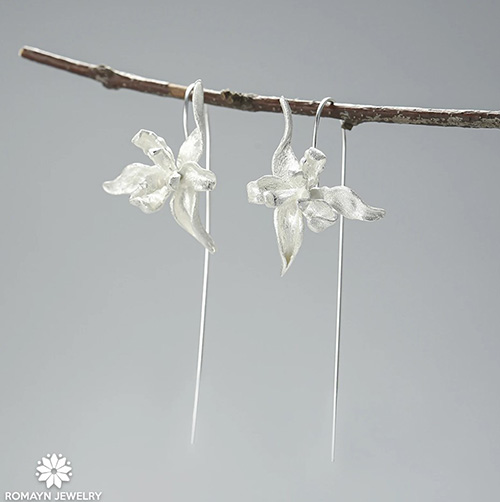 These gorgeous handmade earrings depict a delicate iris in honor of the traditional 25th anniversary flower theme. The set features a dangle design, which is both flattering to the face and elegant to pair with any outfit, adding a pop of gold.
23. Personalized Anniversary Photo Wine Label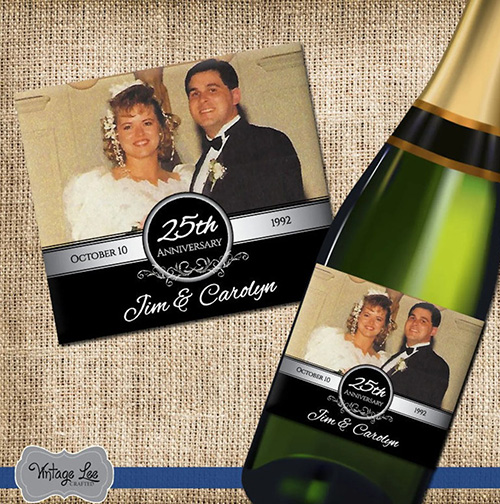 With this creative gift, you can send in a picture from your wedding day which will be printed onto the label design, as well as both names and the date of the marriage. It's a perfect memento from your special day that can be put on your favorite vintage or a celebratory bottle of bubbly!
24. Engraved Sterling Silver Locket Necklace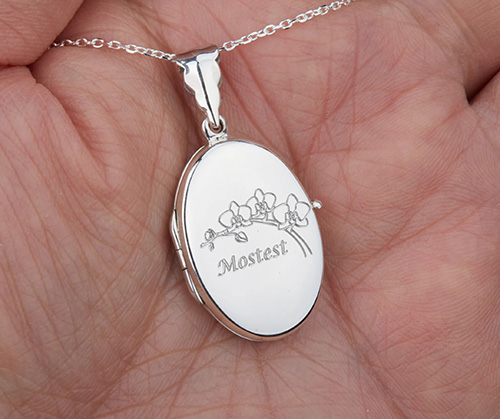 The locket necklace is a classic, timeless design that every jewelry-wearer will love. On the front, it has a lovely floral pattern, and there is an option to engrave initials here too. For the inside, you can send in a photo or even a fingerprint that can be engraved into the locket.
25. Iris Floral Mug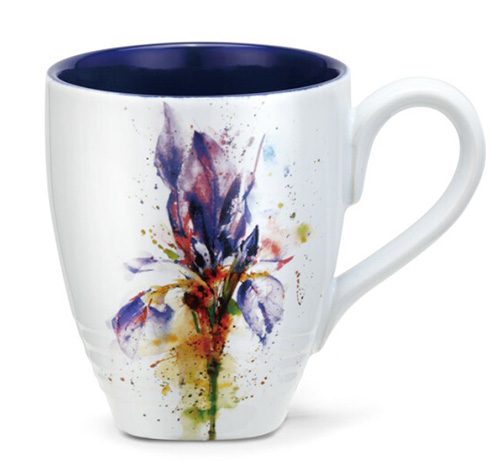 The Iris Floral Mug was designed in Oregon by celebrated artist Dean Crouser from an original painted work. Its rendering of an iris blossom is bursting with color and detail.
This is the perfect gift for your sweetheart who loves to sip on coffee or tea, as they will be able to use it daily and be reminded of your affection for one another in everything that the iris symbolizes about your relationship: faith, hope, courage, wisdom and admiration. This mug is a compliment indeed!
25 Year Anniversary Gifts for Him
26. Personalized 25th Anniversary Bottle Opener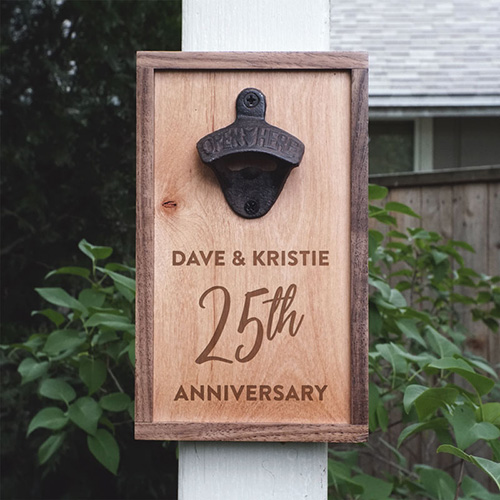 This lovely, handcrafted bottle opener is made in the USA using solid wood and has space for a short personal engraving – any text, any message you would like to convey to your husband, get it personalized onto the space below the cast iron opener.
Use your creativity and romantic sensibilities to compose the perfect anniversary message to your beloved. This gift will look beautiful placed in any home as a keepsake of your unwavering love for one another.
27. Hooked for Life Personalized Fishing Lure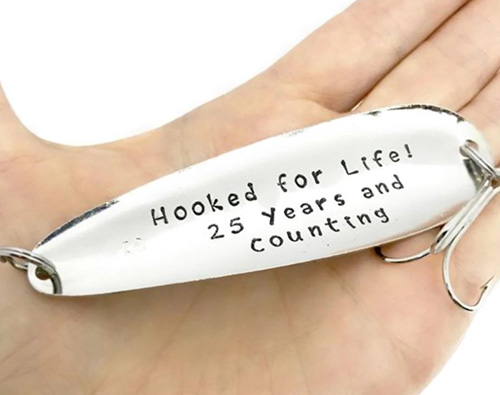 If your partner enjoys fishing, this personalized fishing lure will be a fantastic gift for them. It has a lovely silver design and reads "Hooked for life – 25 Years & Counting."
This thoughtful, sweet present shows your spouse how much you appreciate him for all he is, including his love for fishing.
28. Engraved Sterling Silver Bracelet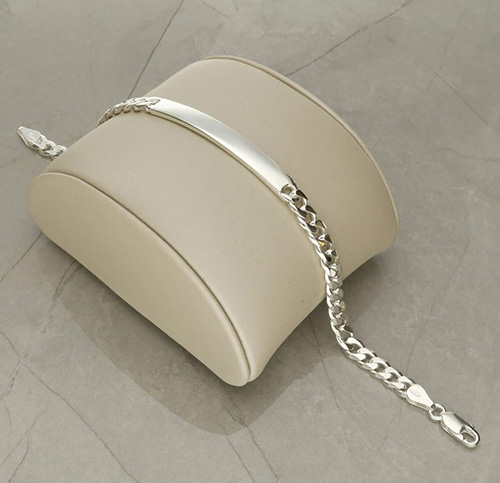 This stylish silver bracelet is a great gift for your husband. It has a simple, yet elegant design and has space for a short personal engraving, such as "25 wonderful years." This accessory will pair well with any outfit, and when he looks at it, your husband will remember the deep love he has for you.
29. Engraved Collar Stays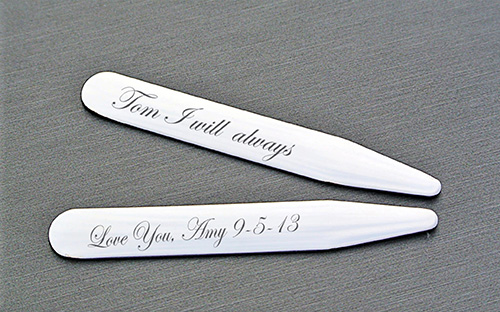 Personalize a set of collar stays with a special message, just for him! You'll keep him looking great (as he always does) and he'll get a sweet reminder of your love for him whenever he dresses up.
These stays are made from stainless steel, so they're affordable, but they have the silver tone in keeping with the 25th anniversary gift theme. For genuine sterling silver stays, see here.
30. Handwritten Money Clip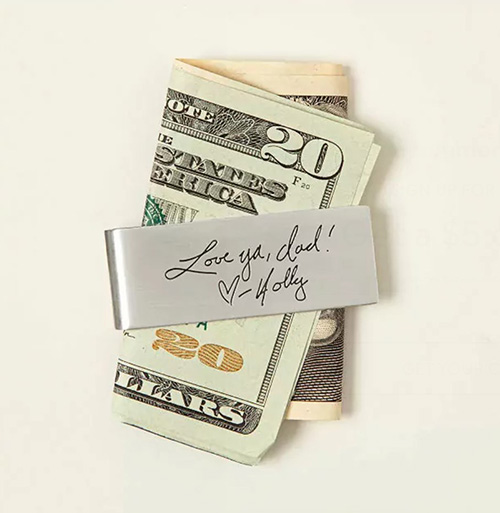 This sterling silver money clip includes an engraving of a short-handwritten note that your loved one can admire. The engraving copies your handwriting exactly, adding a personal touch to the clip. Not only is it a cute memento, but it securely holds money in a stylish way.
25 Year Anniversary Gifts for Couples
31. Happy 25th Anniversary Personalized Tea Light Holder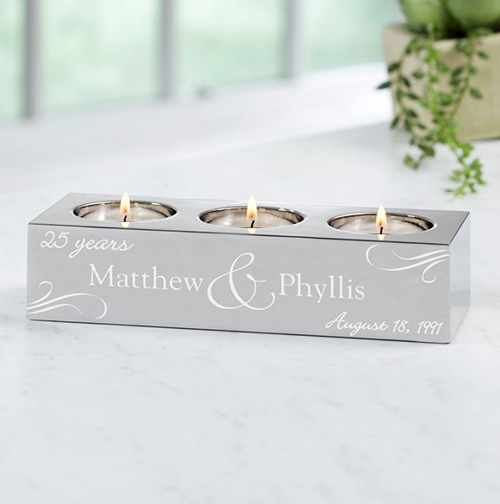 If your loved one enjoys the warm glow of candlelight, this 25th Anniversary Tea Light Holder will surely bring them joy. You can personalize the gift with your names and wedding date.
As their tea lights shine, your beloved will be reminded of the light your love has brought into their life. Plus, there's nothing wrong with having a little romantic lighting on your anniversary, wink nudge.
32. Matching 25th Anniversary Shirts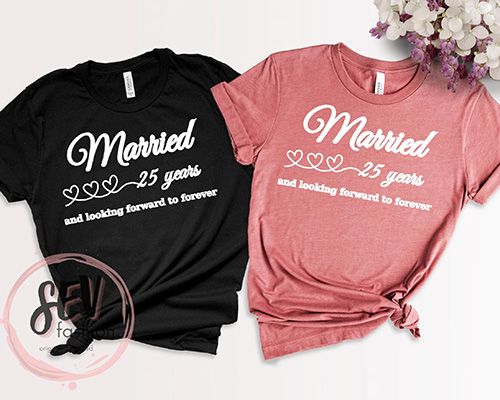 These adorable t-shirts are a gift that you can both enjoy. The shirt reads "Married 25 years and looking forward to forever." Be sure to get two, one in each of your favorite colors! This is a sentimental present that you can both wear to show off your love to the world.
33. Personalized Anniversary Glass Clock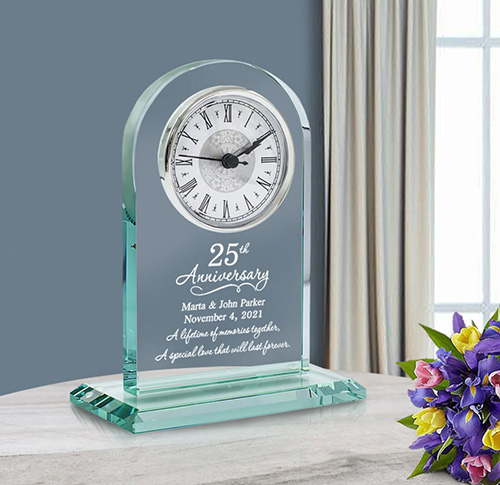 This decadent glass clock will add class to any room that it is placed in. You can add an engraving of your names, wedding date, and customized message underneath. Above the personalized engraving, the clock reads "25th Anniversary." This gorgeous keepsake will serve as an everyday reminder of your everlasting partnership.
34. Romantic 25th Anniversary Vacation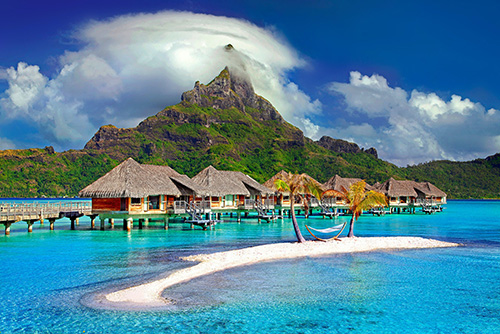 If you want to give someone an amazing experience, instead of one present, then these packages would be perfect. Each package includes a range of different experiences including vacations, food tastings, and more. This gift offers the chance to make memories and fall in love all over again.
35. It's Been One Sweet Ride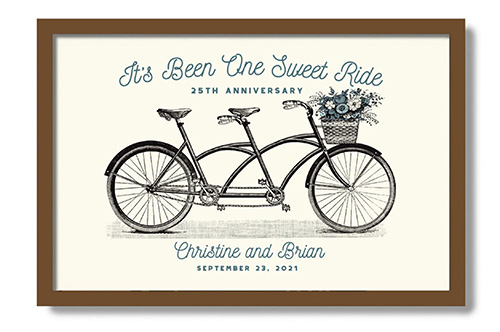 This is an adorable print of a bicycle, along with the message "It's been one sweet ride." You can also add in your wedding date and names. It is a simple, yet elegant decoration for your home that commemorates the time you have enjoyed together.
Unique Twenty-Fifth Anniversary Gifts
36. Personalized Couple Hobby Blanket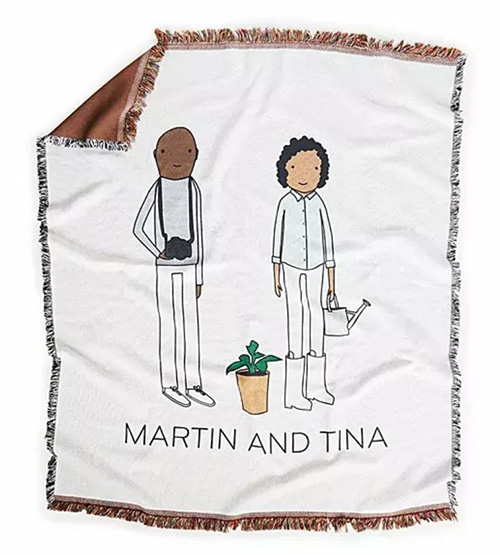 This cute blanket will keep you warm and commemorate your union. You can create the two characters for the blanket, and tell the seller any hobbies that you have (such as painting, gardening, bicycling, etc). The seller then creates a one-of-a-kind blanket that celebrates these hobbies and the love you share.
Related: Couple's Gift Guide
37. Custom Engraved Lovebirds Bamboo Cutting Board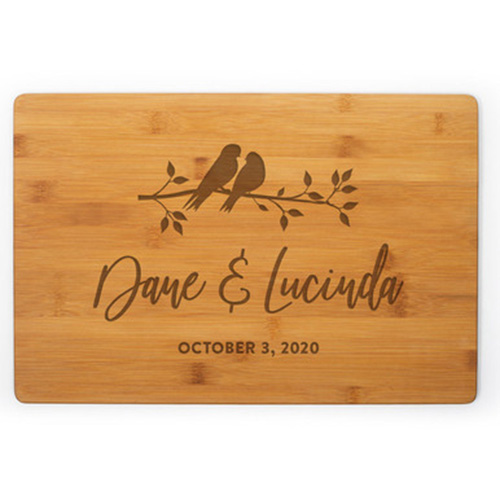 If you enjoy cooking with your spouse, this sweet anniversary gift will definitely come in handy. This cutting board is made from gorgeous bamboo wood, and it includes an engraving of two birds sitting on a branch, with space for names and wedding date or any other text you like.
38. Personalized Anniversary Wind Chime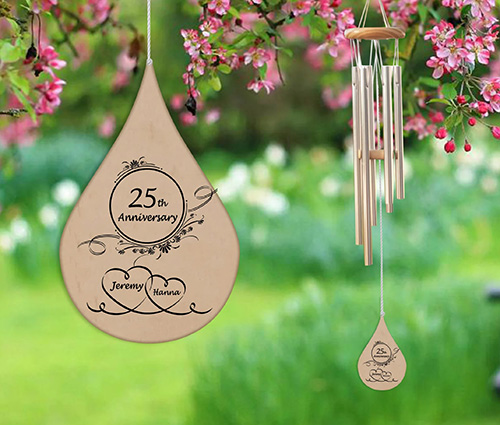 This pretty silver wind chime has space for an engraving of your names inside adorable swirly hearts. Once hung outside, you will be able to regularly hear its sweet sound and reminisce about the sweetness of your marriage.
39. 25 Years of Love Wine Bag & Stopper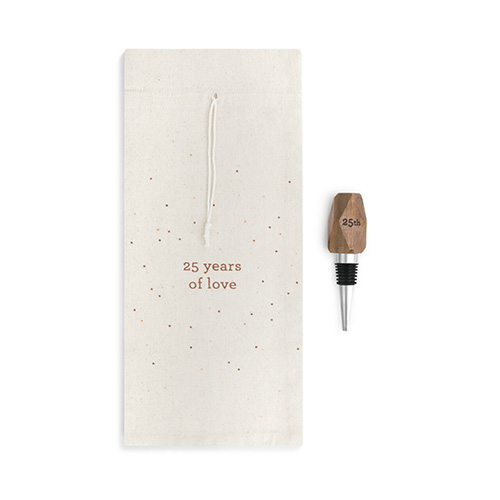 If you enjoy drinking wine with your partner, then this wine bag and stopper is a fantastic choice. The bag has a peaceful white design with the words "25 years of love" and the cute wooden stopper reads "25th." Each time you enjoy a bottle of wine, this memento will add a special touch of romance.
40. Precious Moments 25th Anniversary Porcelain
Finally, we have a romantic bisque porcelain figure of a couple getting married. These adorable figurines are hand painted and represent the happiness of your wedding day. On the front of the gift, there is a delicate pink heart noting the number of years you've been together. This gift would make a peaceful decoration for any home.
Read next: 101 Romantic Things to Do on Your Anniversary
Pin It