It's a big one, y'all! A 70th anniversary is a huge reason to celebrate with your happy couple.
It's safe to say it is a rare blessing to reach a 70th wedding anniversary. These are the couples that really make us say "Wow, what an honor! And what an accomplishment!" They've dedicated their lives to one another, and have endured an entire lifetime of anything and everything the world could hurl at them.
Honoring them with the perfect gift is a wonderful way to congratulate them on 70 years of strength, love and fortitude. But what do you get for that special couple to let them know what an inspiration they are, how much you appreciate them, or just how much you love them and their incredible bond?
Well, we've collected some great ideas for gifts plus themes, traditional and modern options, and more! Coming up with that super special gift can be difficult on your own, so let us help you out. Here's our best 70th anniversary gifts, as well as some fantastic ideas for 75th-90th.
All About the 70th Anniversary
Table of Contents
This is part of our series on Anniversary Gifts by Year.
70th Anniversary Themes
What is the traditional & modern 70 year anniversary gift?
Platinum is both the traditional and modern 70th anniversary gift.
Why is platinum the traditional & modern 70th anniversary gift?
Platinum, valued for its rarity and purity, also symbolizes true love and strength.
What is the 70 year anniversary jewelry type?
Known as the "stone of endurance," the jewel type for the 70th anniversary is smokey quartz.
Why is smokey quartz the seventieth anniversary jewel type?
Smokey quartz is said to represent stability and a firm foundation. Without stability and a strong foundation, no marriage would be able to last such an incredible length of time.
What is the 70th anniversary flower?
While there is no official 70th anniversary flower, peonies and chrysanthemums are both widely accepted as suitable for this occasion.
What is the 70 year anniversary color?
Platinum.
10 Best 70th Anniversary Gifts
Our website is supported by our users. We sometimes earn a commission when you click through the affiliate links on our website. See our privacy policy & disclosures for more information.
1. Platinum Colored Personalized Blanket
This platinum colored personalized blanket is the bee's knees! Instead of the cold, impersonal gift of real platinum (not that we're knocking that idea!) a super plush and comfy throw is the way to go for your loved ones.
The added touch of personalization makes it extra special and sentimental.
2. Personalized Silver Photo Album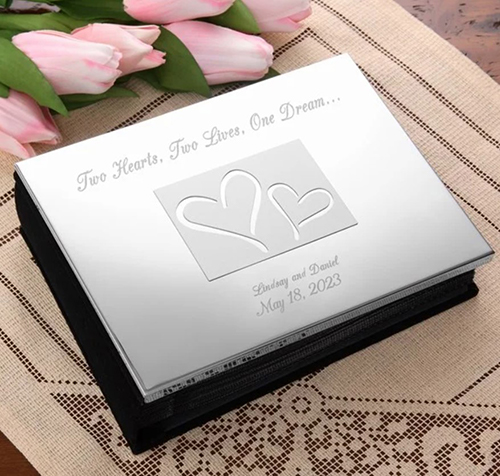 Organize their epic photo collection for them (what a great gift idea), and put them in this beautiful, personalized silver album! They'll love snuggling up together on the couch and thumbing through all of their precious memories together.
3. Custom Quote Family Plaque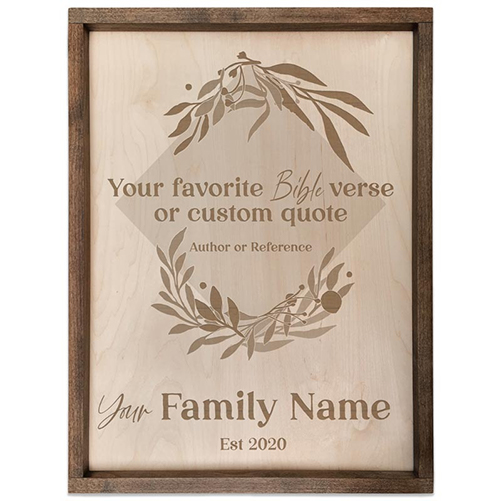 Pick a Bible verse, their wedding vows, or their family creed and turn it into a one-of-a-kind custom plaque! You can make it silly or sweet. The possibilities are endless with this truly original and unique gift that will make their family wall of photos stand out in all the good ways.
4. And They Became One… Tea Light Candle Holder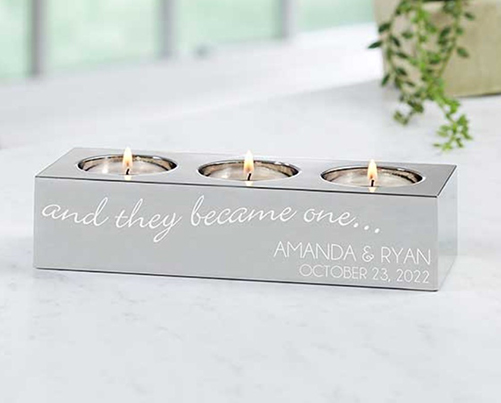 This tea light candle holder will make their wedding anniversary dinner sparkle and shine with just the right amount of romantic ambiance! Personalized with their names and date, all you need to add are some lovely candles and maybe a matchbox from the restaurant where they first dated!
5. Personalized Walking Stick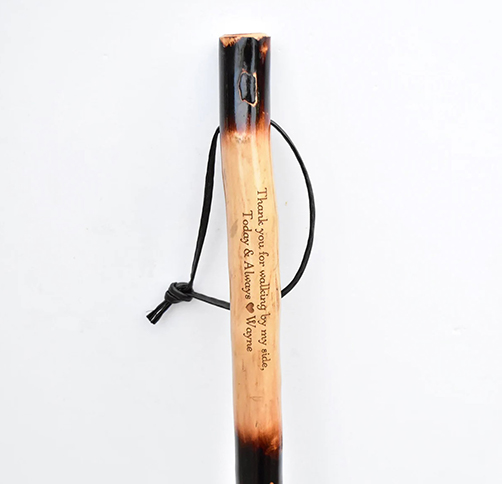 They may have been married longer than a lot of people have even been alive, but that doesn't mean their long, romantic strolls are a thing of the past! This gorgeous walking stick will keep them on the garden paths or hiking trails for many more years to come. The added personalization makes it truly special!
6. To Have & To Hold Personalized Message in a Bottle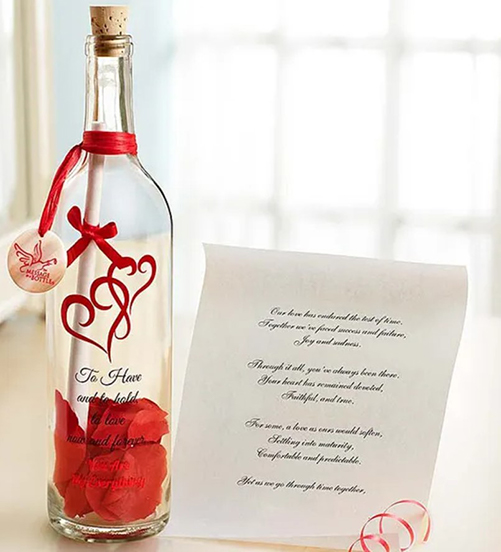 Give your sweetie a one-of-a-kind message in a bottle! There's nothing more romantic, we think. Tell her of your love in a tangible way that will make her teary-eyed with happiness. A keeper for sure!
7. Good Morning Anniversary Mugs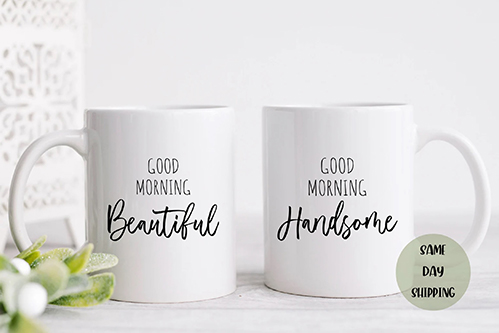 These cute mugs are just the thing for their morning coffee together. Especially when you do the math to figure out just how many morning coffees they've shared! A sweet little gift that is just right for your parents or grandparents anniversary.
8. Anniversary Wine Bottle Label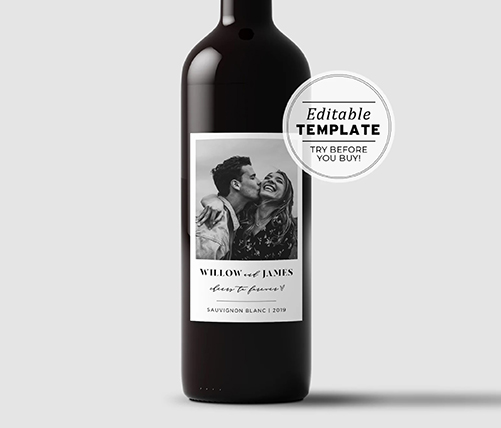 How adorable are these personalized wine bottle labels? We love the idea of buying a few for the anniversary dinner celebration. They will really be the hit of the party! So gosh-darn cute — kinda like your loved ones!
9. Personalized Your Song Platinum Wall Art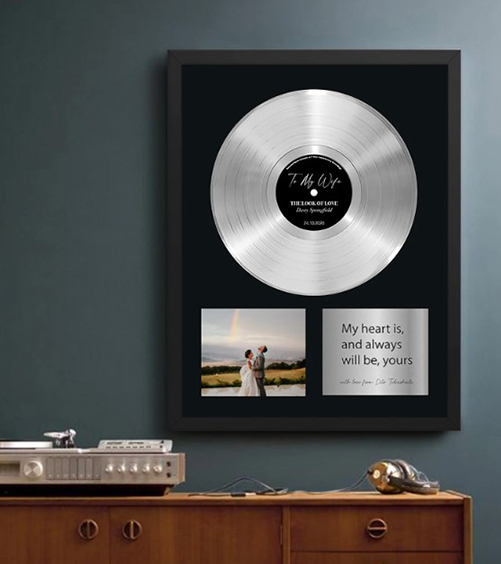 Are they hard to shop for? Well, search for that perfect gift no longer. We've found it in this amazing, personalized platinum wall art. You get to pick the song, the photo, even the engraving. Truly a unique and utterly charming gift that will wow them.
10. His and Her Platinum Rings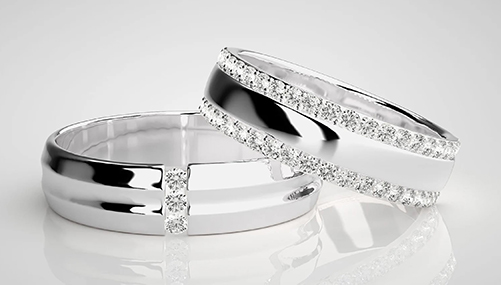 Maybe it's time for new wedding bands! We think the 70th anniversary is a great year for some new bling, and aren't these ones charming? They sparkle just the right amount without being too in-your-face or over-the-top.
They'll love holding hands wearing these new rings.
Best Modern 70th Anniversary Gifts (Platinum): Platinum Dipped Forever Rose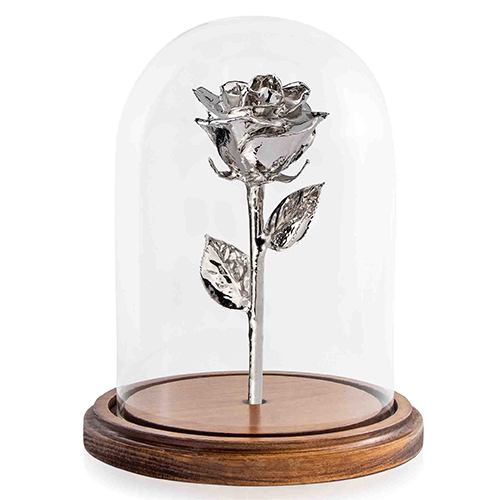 When you're looking for something completely unusual and romantic, look no further than this platinum dipped Forever Rose!
Everyday roses wilt and fade, only to be thrown in the garbage, but this rose really will last as long as their love. It will look beautiful in their home, whether placed on the coffee table, in a shadow box of precious memories, or propped on a bookshelf.
Best 70th Anniversary Gifts for Her: Photo Throw Pillow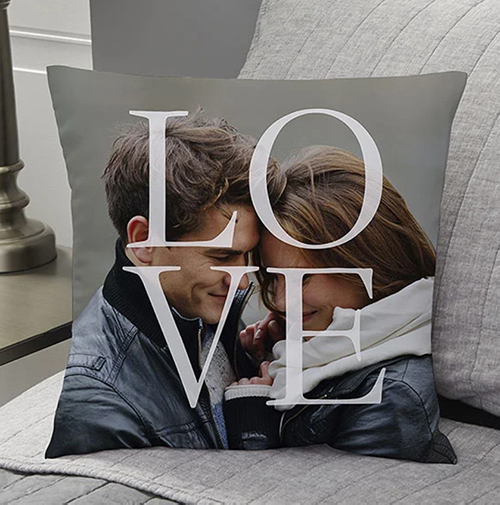 This personalized photo throw pillow will make them smile each time they see it! Made just for them with a photograph and with the word "love" front and center, it's a gift that anyone will adore and cherish.
70th Anniversary Gifts for Him: Cigar Club Subscription
If he's a cigar aficionado (or simply wants to become one), a cigar club subscription is right up his alley! He'll love getting to find new flavorful cigars each and every month, delivered right to his door.
These cigars are not your typical store faire either — they come from all over the world and are truly unique and special.
70th Anniversary Gift for Couples: Silver Foil Heart Snapshot Portrait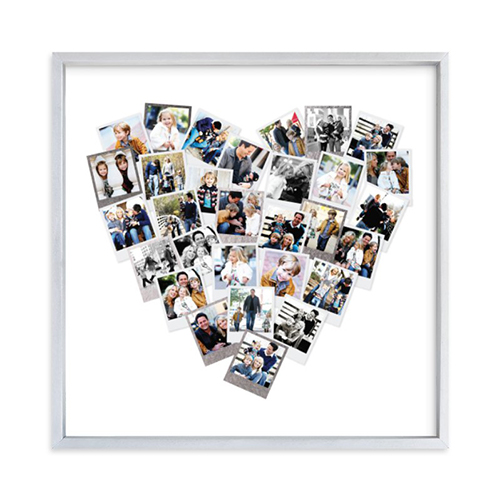 You can choose the wood for the frame in this pretty work of art! The silver foil heart shape hits all the right notes, and picking out all of the photographs is half the fun. They'll be delighted at first glance, and then even more so when they look more closely at each and every snapshot. 
Unique 70th Anniversary Gifts: Platinum Dinnerware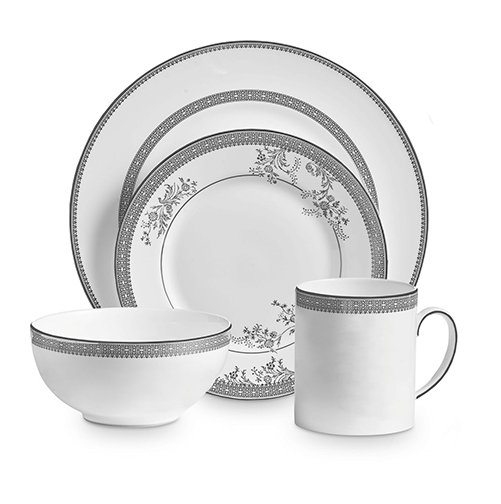 This elegant set of platinum dinnerware is a beautiful 70th anniversary gift. It's made with Fine Bone China, graced with an elegant floral design, and adorned with platinum accents. It'll take their breath away just looking at it!
75th Anniversary Gifts
Best Seventy-Fifth Anniversary Gift: Diamond Photo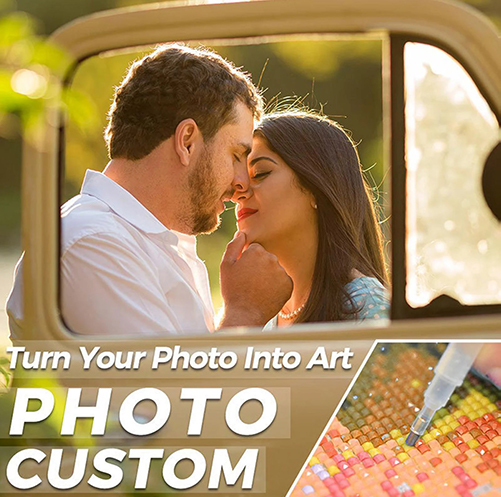 This "cross-stitch" of rhinestone diamond crystals is so fun. Whether you give it to them as-is, or you want to get down with your crafty self, the finished product is a beautiful rendition of their favorite photograph. Totally unique and one-of-a-kind!
Best Modern 75th Anniversary Gift (Diamond): Diamond Heart Music Box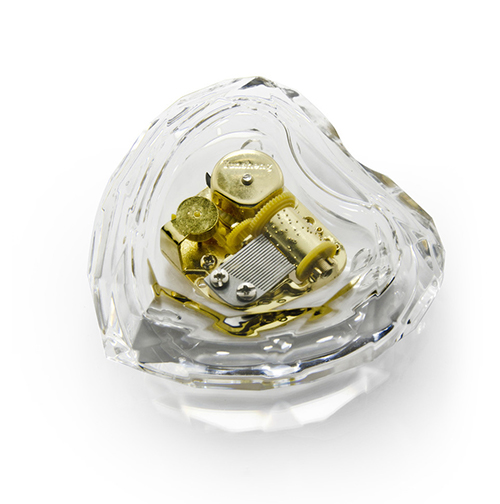 There's something timeless, vintage, and even a bit "steampunk" about this pretty diamond heart music box, isn't there? And to make it extra special and even more charming, you can pick from a variety of songs for it to play.
We bet you can find their wedding song, or the song they fell in love to!
Best 75 Year Anniversary Gift for Her: Diamond Anniversary Ring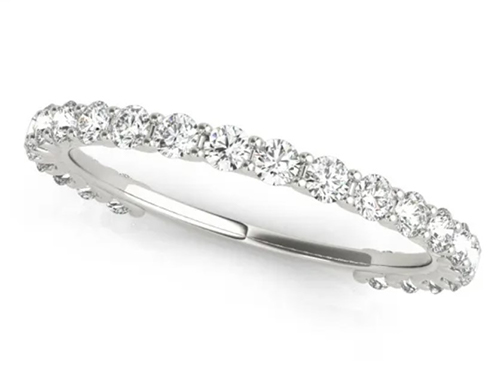 When it's time to get her a new ring for those fingers you love so much, look no further than one from Clean Origin! They have the sparkliest and most gorgeous bands around. The only hard part is picking out your favorite one.
75 Year Anniversary Gift for Him: Engraved Watch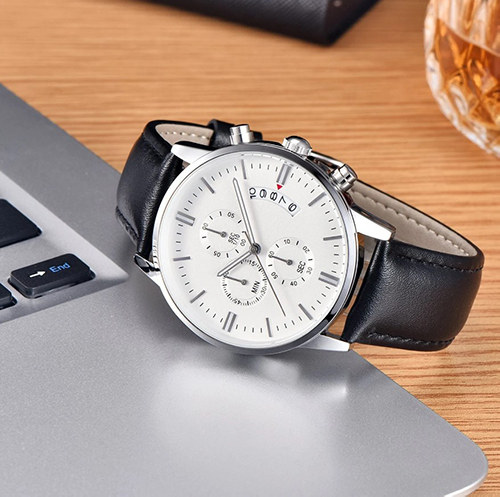 This watch is a stunner! No one will want to keep glancing at their cell phone to get the time when they're wearing this handsome wrist watch.
It's even engraved with a sweet sentiment by you. A perfect anniversary gift for him that he will cherish and wear everyday.
75 Year Anniversary Gift for Couples: Digital Picture Frame
Digital picture frames really do make the best gifts! They're so easy to use and you can upload new photographs whenever you like, from wherever you are.
When the couple you love lives far away — or just are always eager for new photos of their great-grandkids — this digital frame is sure to charm them. They'll love seeing new faces pop up frequently to brighten up their world.
Unique 75th Anniversary Gift: Personalized Engraved Diamond Initials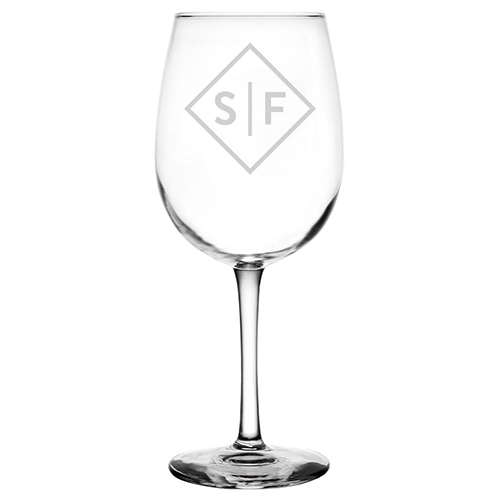 Get them some glasses that will really light up the room and sparkle! These personalized, engraved diamond initial goblets will be the hit of the anniversary party, and they'll be used so often — maybe even each and every night as they toast one another.
80th Anniversary Gifts
Best Eightieth Anniversary Gift: Personalized Oak Candle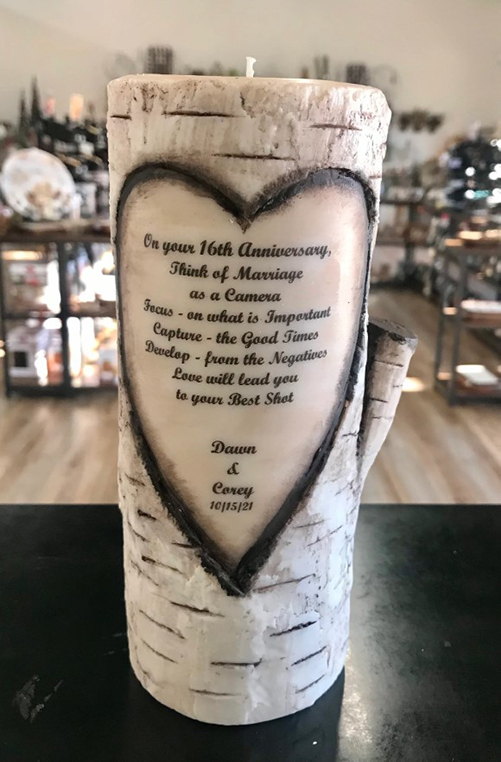 This pretty candle really does look like oak! It's personalized however you choose it to be, and will be their new favorite piece of decor. It will add a glow to their room and make it oh-so cozy on a cool winter's day.
Best Traditional 80th Anniversary Gift (Oak): Handmade Oak Mug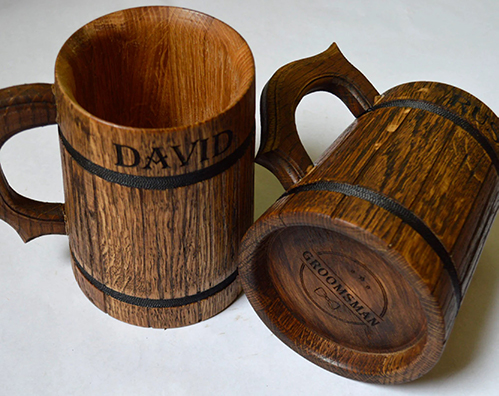 This oak anniversary mug is personalized and so unique. It's totally rustic and masculine, but will blend well with all of her kitchen supplies as well. He'll love sipping cider or beer out this special mug, or even just his morning cup of coffee. And it's handmade!
Related: Personalized Gifts for Him
Best Modern 80th Anniversary Gift (Pearl): Pearl Picture Frame
Help them celebrate 80 beautiful years with this equally beautiful photo frame! Delicately adorned with pearls, crystals and lacelike silver motifs, this gift is pretty as a picture and will look lovely on their mantle or side table.
Best 80 Year Anniversary Gift for Her: Chocolate Oak Finish Music Box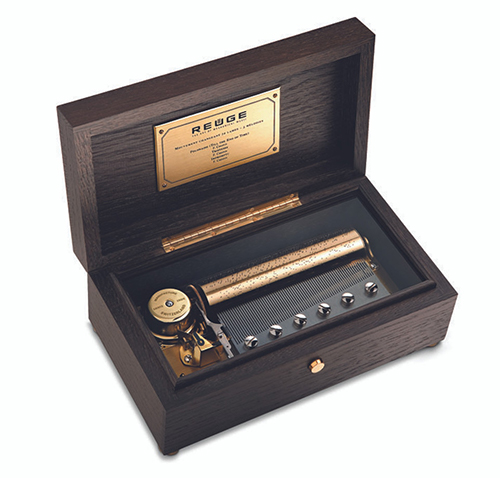 This gorgeous music box is as rare and special as she is! She'll love knowing her rings and bracelets are safe and secure and looking amazing in this stunning box. You can pick your own song as well, making it extra special and one-of-a-kind. Definitely a stunner.
80 Year Anniversary Gift for Him: Smoked Oak Wooden Chess Board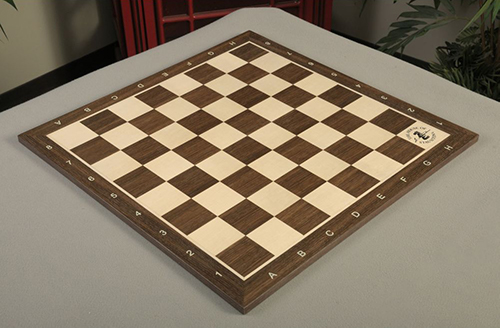 If he's a Chess lover, he'll be charmed to bits with this smoked oak, wooden board. All his friends will want to play him when he owns this handsome chess board. A great board for teaching the grandchildren to play, as well!
80 Year Anniversary Gift for Couples: Champagne & Truffles Gift Box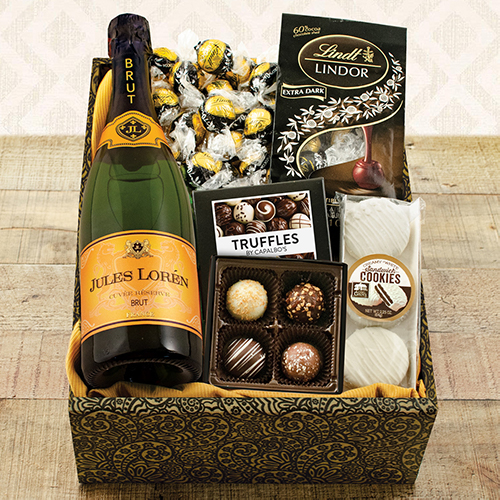 When in doubt, go for champagne and truffles! Who wouldn't love this stunning gift box full of the most delicious delectables? They can toast to each other and their love with the yummy bubbly, and then feed each other some mouth-watering chocolate truffles. So romantic.
Unique 80th Anniversary Gift: Tree Planted in Their Honor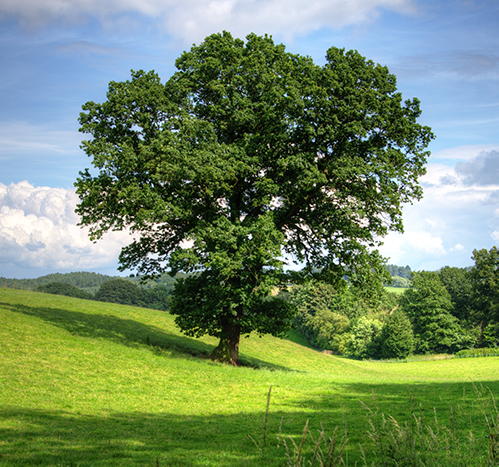 Some couples are hard to shop for… enter in this lovely idea: planting a tree in their honor! They'll love knowing that their love is in continual bloom somewhere as the prettiest of trees. Who wouldn't love that?
85th Anniversary Gifts
Best Eighty-Fifth Anniversary Gift: Wine Label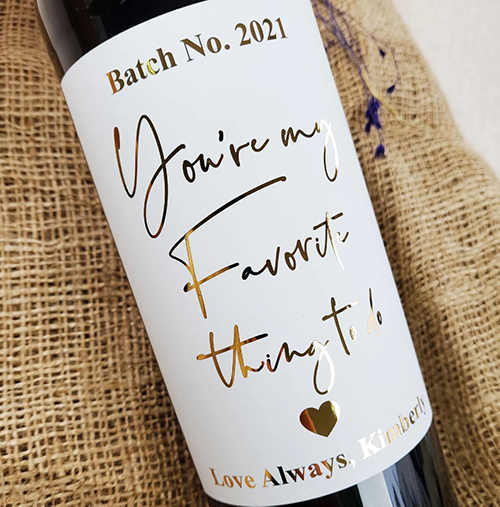 You can get just one, or you can purchase multiple! It only depends on whether you're gifting a bottle of wine to go with their dinner-for-two anniversary celebrations, or if they're having a full-on party.
These labels are so cute, we can't hardly stand it.
Best Traditional 85th Anniversary Gift (Wine): Wine Subscription Gift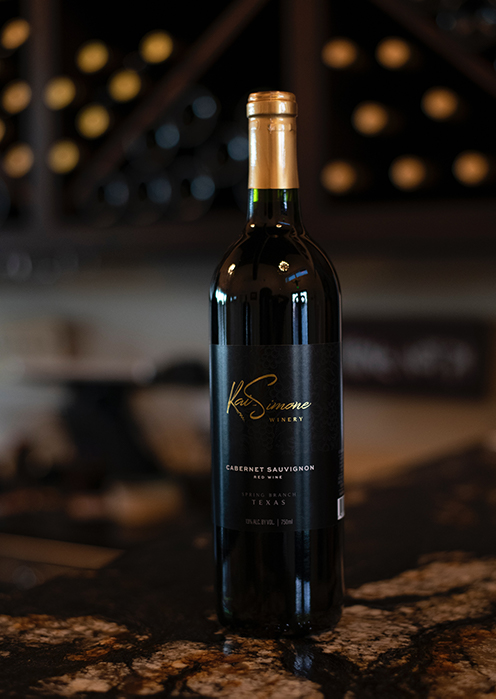 If they love a good bottle of vino (and who doesn't?) they'll love a wine subscription gift. Delivered right to their door will be the most exciting and sippable of wines, picked out according to their taste buds. How fun is this? Maybe they'll share!
Best Modern 85th Anniversary Gift (Moonstone): Moonstone Necklace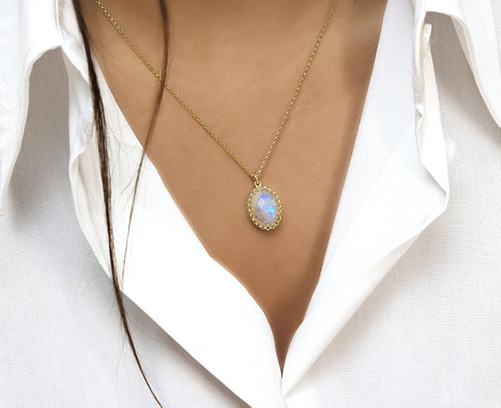 This moonstone necklace is so pretty and unique! The moonstone is a rare jewel and we love how it reflects light. This pendant can be dressed up or down, depending on her outfit and mood. It will look just as good with jeans and a sweater as it will with her favorite fancy dress!
Best 85 Year Anniversary Gift for Her: Swan Heart Music Box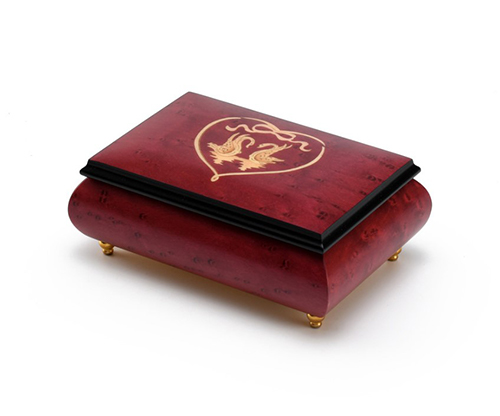 This music box has swans in a heart and is so romantic! It has a red wine stain and is handcrafted in Italy, making it extra special. She'll feel like the apple of your eye (as she is) when you give her this lovely box.
85 Year Anniversary Gift for Him: Fun Ice Cream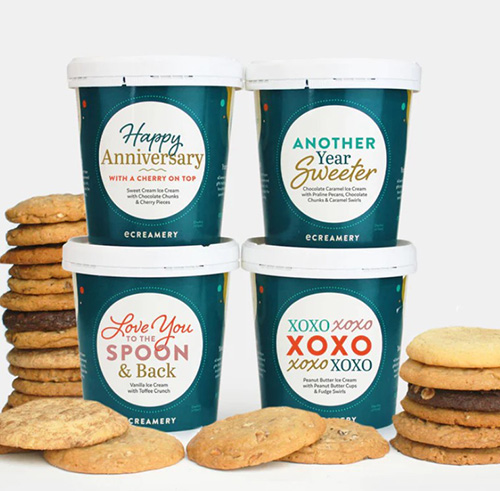 I scream, you scream, we all scream for ice cream! If he has a sweet tooth (and c'mon, who doesn't?) then this tasty treat would make such a terrific gift. These personalized pints are customized with your own little messages of congratulations, then delivered right to his door. Bon apetite!
85 Year Anniversary Gift for Couples: Love the Wine You're With Lantern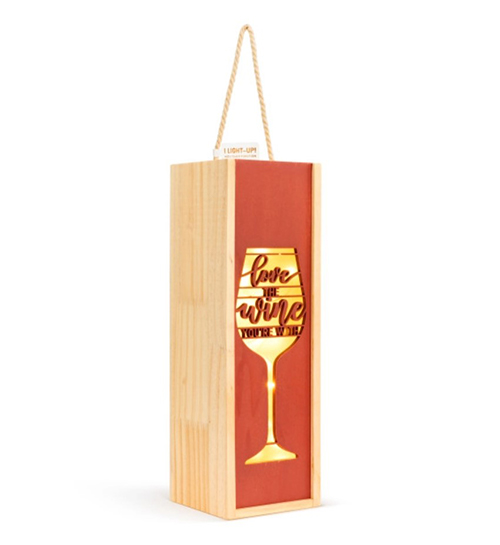 It's a wine bag but it's also a lantern! This gift is funny, charming and witty, but also really useful and functional. Add a bottle of wine for them to share, then they can "light up the night" by using it as a lantern for the rest of the celebration.
Related: The Couple's Gift Guide
Unique 85th Anniversary Gift: Nostalgic Puzzles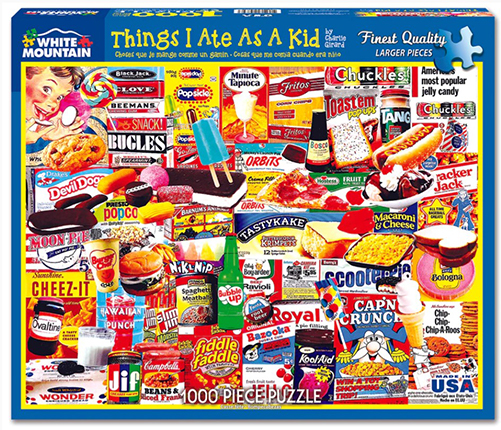 Pick out their favorite decade with these super fun, nostalgic puzzle sets! It might be hard to choose just one — they're all so cute. Doing a puzzle together is so much better than zoning out in front of the television, and they'll love the finished product.
90th Anniversary Gifts
Best Ninetieth Anniversary Gift: Marble Coasters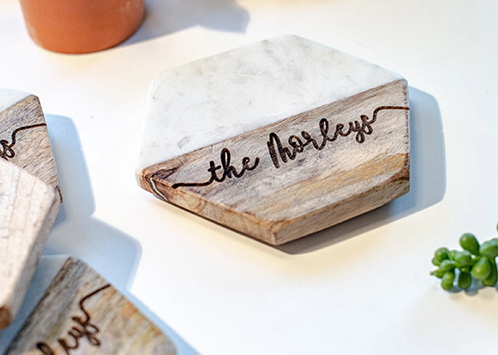 These coasters do their job (keeping those nasty water rings off your table) perfectly, all while looking amazing while doing it! They'll enjoy having somewhere safe to set their coffee, tea, or wine, and their guests will too.
Best Traditional 90th Anniversary Gift (Granite): Granite Heart Token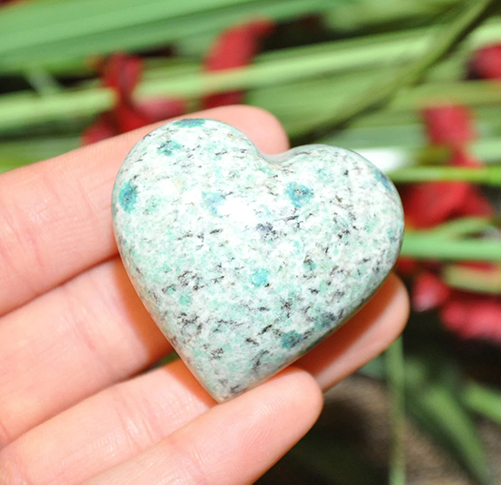 This little granite heart is a charming and simple way to say I love you. Sweet and utterly adorable, your recipient will feel your love each and every time they look at this keepsake token.
Best Modern 90th Anniversary Gift (Marble): Black Marble Keepsake Box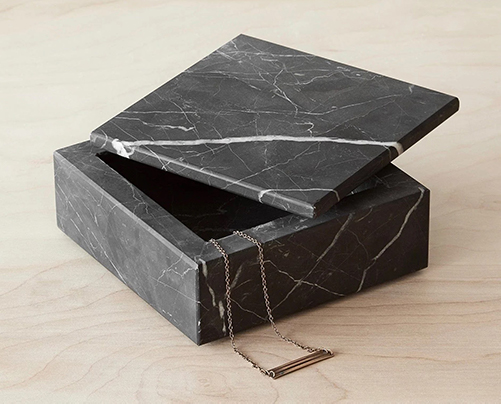 90 years together means a LOT of memories! But where to put some of your favorites? Enter in this black marble keepsake box. It has a timeless appeal with its smooth and sleek look, thanks to the marble. But it still has charm and style, too.
Best 90 Year Anniversary Gift for Her: Family Birthstone Necklace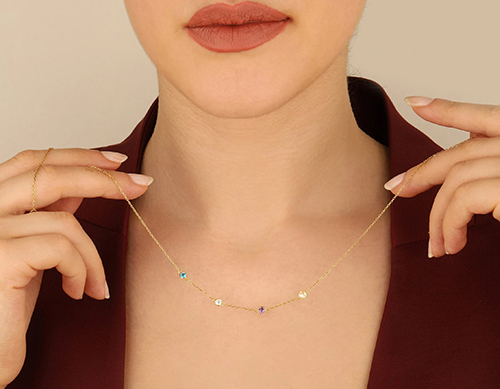 Recognize all of her children, grandchildren, and even great-grandchildren with this pretty, family birthstone necklace! It's understated and minimalistic, making it great for the woman who doesn't want to make a splash, but still likes a bit of daily sophistication.
90 Year Anniversary Gift for Him: Cashmere Luxury Clothing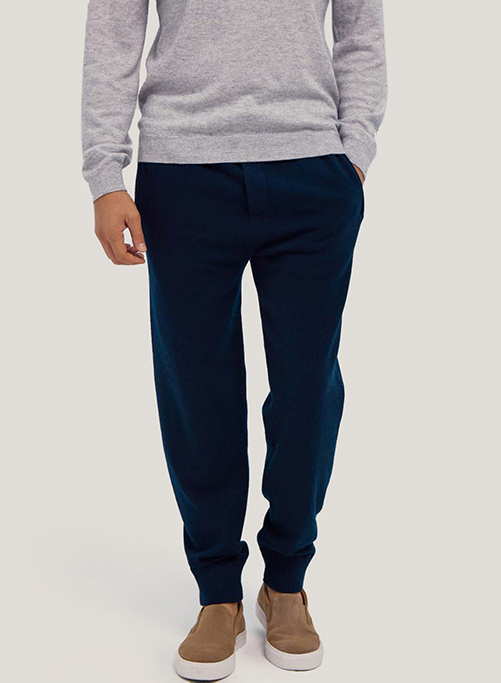 Pamper him with some luxury cashmere clothing! Pick out his outfit for him, and watch him scoop you up for a night out on the town! Choose from scarves or jackets or the best-fitting trousers. He'll look and feel like a million bucks.
90 Year Anniversary Gift for Couples: Heated Sherpa Blankets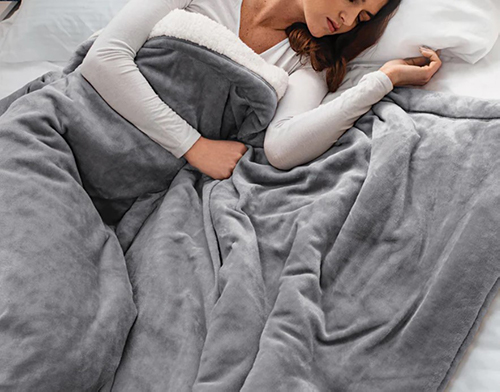 Allow them to snuggle up and go through photographs of their long life together, all while under the cozy warmth of a heated sherpa blanket! This gift is perfect for those two cuddle-bugs. Great for date nights at home, too.
Unique 90th Anniversary Gift: You & Me Personalized Message in a Bottle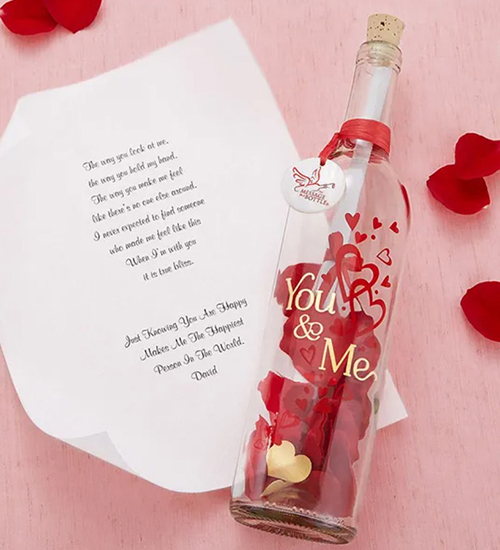 A message in a bottle is just so utterly romantic! How charmed will your loved one be by reading your words, all artfully tucked away inside of a bottle? Totally a keeper of a present that will really wow them.
Read Next: 101 Romantic Things to Do on Your Anniversary