Turning 60 is a big deal! They're young enough to still know how to party, tell the best Dad Jokes and Fish Stories, but old enough to really school you in trivia, tall tales, and maybe even backyard football.
So, you want to find the very best 60th birthday gift ideas. Well, don't worry a bit.
When your favorite Mom, Dad, Uncle Taylor, Great-Aunt Zoe, or tail-gating buddy are turning the big six-oh, we've got you covered with some amazing ideas.
Our website is supported by our users. We sometimes earn a commission when you click through the affiliate links on our website. See our privacy policy & disclosures for more information.
10 Best 60th Birthday Gift Ideas
We'll start with the Top 10 gifts for *all* 60 year olds, then get into ideas specifically for women and men later on.
1. Retired! Personalized Bottle Opener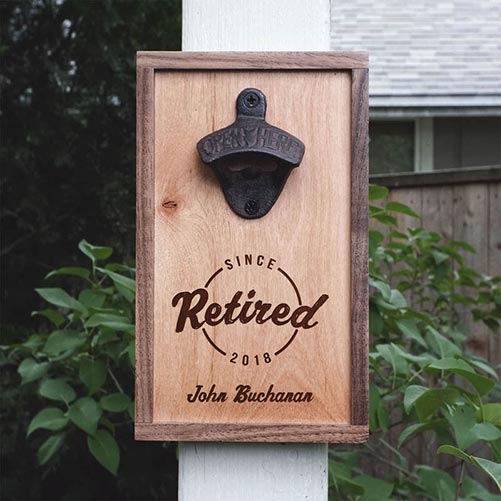 Sixty is about the age where most people retire – or hope to! If the sixty-something-birthday-celebrant in your life has recently retired or has retirement in view, this is the perfect gift.
From Northwest Gifts, our solid wood bottle opener is handcrafted in the USA and personalized to order. Not just for retirees, either – we have dozens of additional, fully personalized designs for any theme or interest.
2. Custom Cribbage Board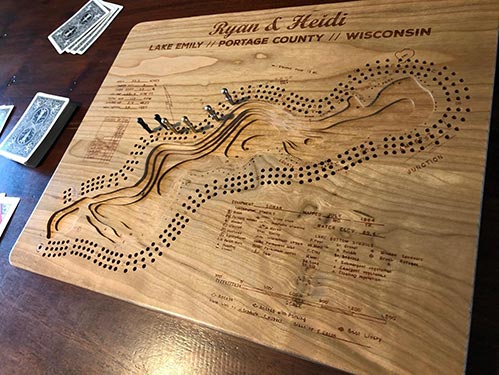 You know how The Queen's Gambit made Chess cool again, and boards all over started selling out suddenly? Well, we think they should make a cribbage movie!
After all, it's cutthroat, addictive, and is a much better alternative to turning on the television each evening. This custom cribbage board will be a perfect gift (you could pair it with a new deck of cards).
Is your gift late? Read: Happy Belated Birthday – What to Do & Say When You've Blown It
3. Portable Espresso Machine
One of the best things about being *ahem* longer in the tooth than some youngsters, is you have the time to travel.
When they're stuck in a weird Airbnb who didn't bother to supply a coffee maker (the audacity!), it'll be no problem at all, because you – oh, gift giver supreme – got them this portable espresso machine.
Streamlined, efficient, and easy to pack, this will be the start of a great day of sight-seeing on their journeys!
4. Commissioned Art Portrait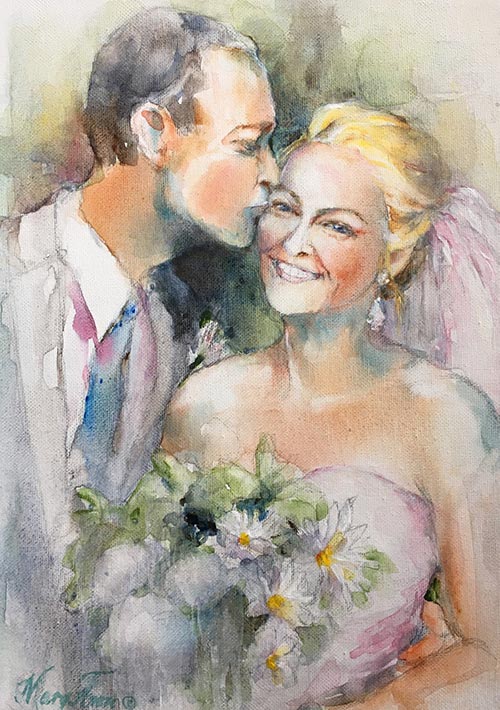 For the art snob in your life – er, I meant to say, the classy artistic type, this commissioned art portrait will really wow them.
Gorgeous, unusual, and made to be treasured for a lifetime, this is one that will surely make their jaws drop in awe. This is one of the most meaningful and treasured 60th birthday gift ideas on our list.
5. Tabletop Glass Fireplace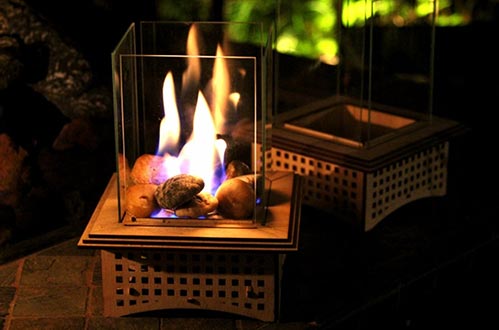 What's cozier than an evening fire? We can't think of anything. This tabletop glass fireplace is both stunning to look at, and practical too (those marshmallows aren't going to roast themselves). Don't forget the gel fuel!
6. Personalized Wine Glasses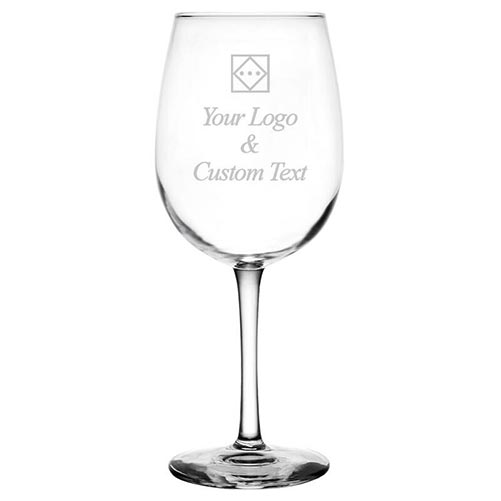 Replace those mismatched thrift shop wine glasses in her cupboard with these personalized and dreamy-looking goblets! You can personalize with their name or be more sentimental with something along the lines of Nonna or Sissy.
Related: 10 Greatest Gifts for Aunts & Uncles
7. Give an Adventurous Birthday Experience Gift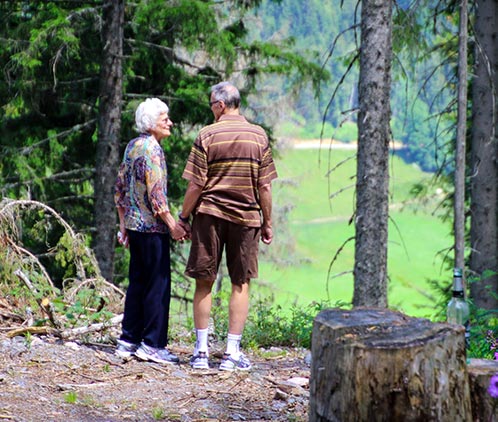 Just because they're turning sixty doesn't mean they have one foot in the grave already! Give the adventurous type a birthing experience that they'll cherish for years to come with these birthday adventure packages.
These make great birthday gifts because you buy the gift box, which gets delivered to the recipient, and then they get to choose their adventure. There are options all over the globe – jet skis in the Gulf of Mexico, rock climbing in the Rockies, historic tours galore, fine dining, bungee jumping, hang gliding, dune buggies, and oh so much more.
And if you don't want to be left out, make sure there's room for two.
8. Oh Crap Look Who's 60 Embroidered Toilet Paper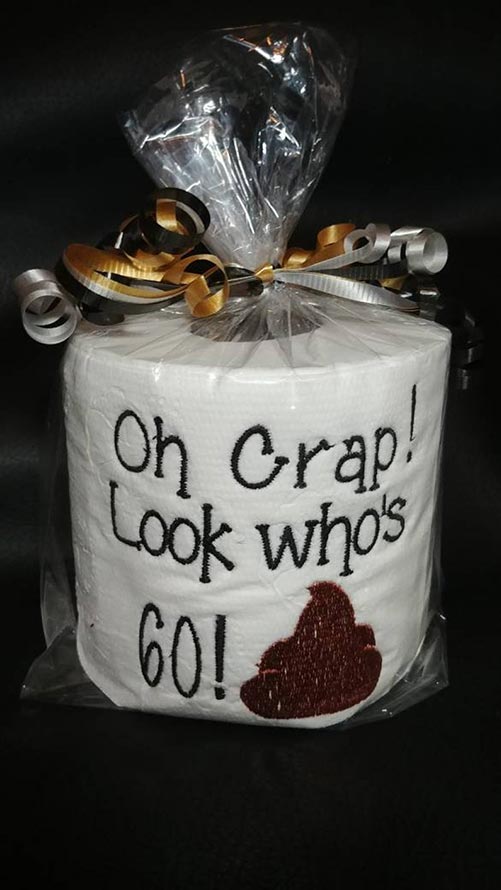 Make 'em laugh right outta the gate with this hilarious embroidered toilet paper! If your gift recipient is the joker of the house, they'll get a kick out of adding this to their powder room.
More: 100 Gag Gifts That Create Laughs & Memories
9. Mini Bonsai Tree Growing Kit
Who's to argue with Mr. Miyagi, am I right? There's something soothing and pretty in this mini Bonsai tree kit. We feel Zen just looking at the pictures; imagine how peaceful their home will look with this in it.
Related: The Gift of a Tree: 5 Tree Gifts That Make a Difference
10. Personalized Blanket With Their Pet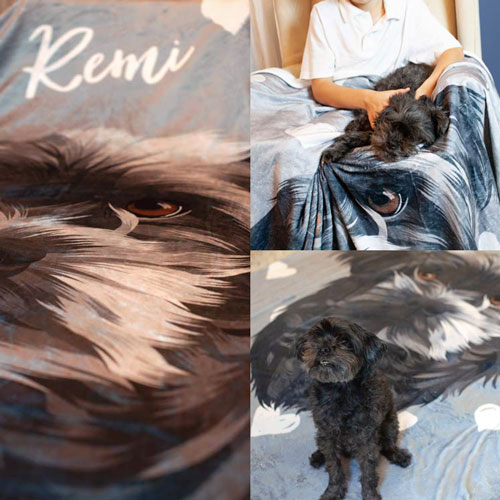 The only thing better than snuggling up with your fluffy pet is snuggling up with this personalized (and still fluffy) blanket! For the mommies and daddies of fur babies you just can't go wrong with this one.
Here is our review to pique your interest more (trust us, it will).
10 Best 60th Birthday Gifts for Women
1. Personalized Handwritten Recipe Cutting Board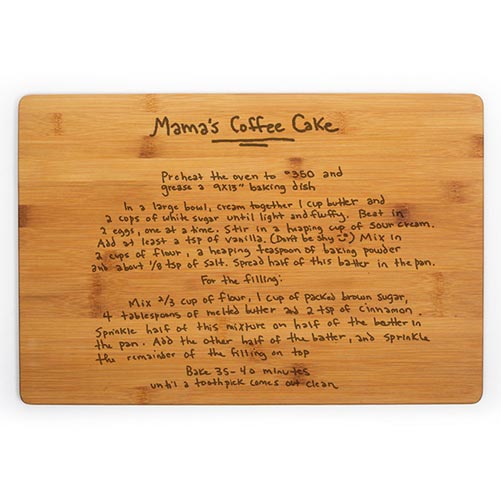 If she has a handwritten recipe handed down from mother to daughter for years, or she's used the same snipped out recipe for chocolate chip cookies from a Better Homes and Gardens issue circa 1984, or you just want to share your very own, this personalized cutting board will bring her to tears (in a good way, of course).
2. When Pigs Fly Hanging Planter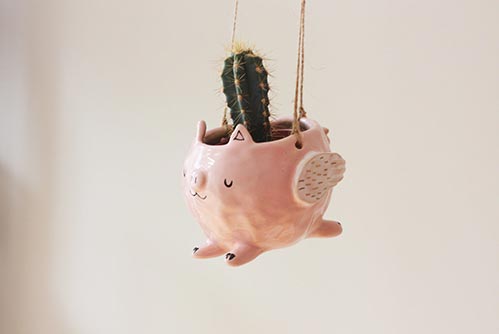 We've all said it! Bring the expression to life with this adorable hanging planter. She'll get a kick out of it every time she goes to water her spider plant or fresh herbs. And bonus: she'll think of you too.
3. Floral Embroidery Kit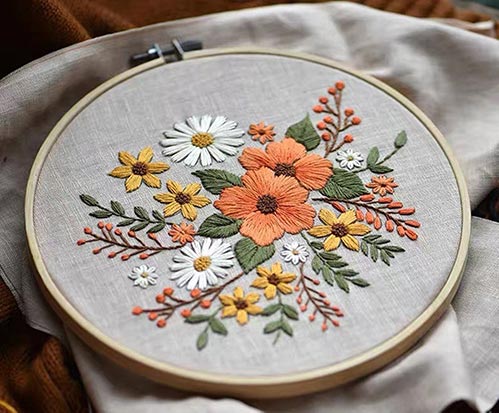 Now that she's officially, you know, OLD, it's time to settle down and learn how to embroider. (You'd probably better get her a creaky old wooden rocking chair, too.) Kidding!
But seriously, embroidery is fun. And so is this kit! For those who love to have something to do with their hands at all time, these beginner's embroidery kits are the perfect gift to welcome them into their sixties.
4. Travel-Inspired Candles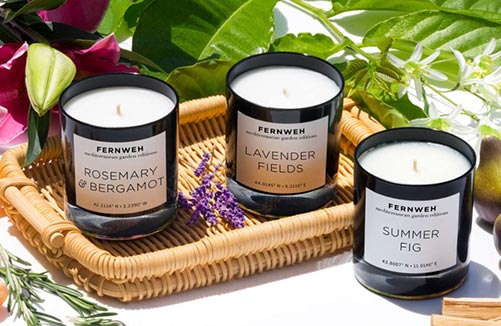 Whether she actually does travel, or is more the "armchair: traveler, these deliciously-scented travel-inspired candles are sure to please. She's going to want one in each room of her house, so buy more than one.
And actually, you know you want one too, so… load up that cart. You won't be sorry (and she'll be happy too).
Related: 60 Best Self-Care Gifts So Everyone Can Chill
5. Best Mom Ever Personalized Bird Feeder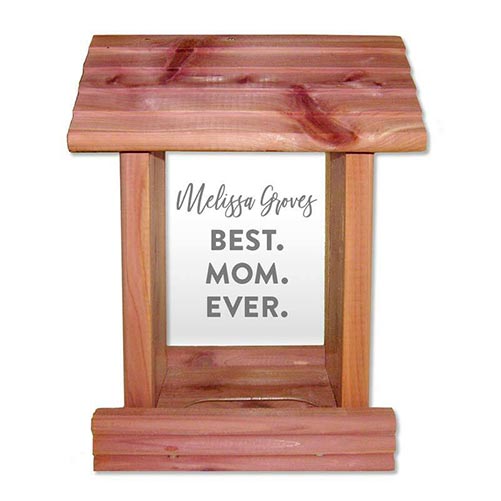 For the gal who loves her birds, this personalized bird feeder is going to make her chirp with delight (see what I did there? Chirp? A little bird humor for you).
You can go sentimental and sweet for your personalization, or funny and witty: that's the beauty of getting something personalized!
6. Custom Bobble Head Doll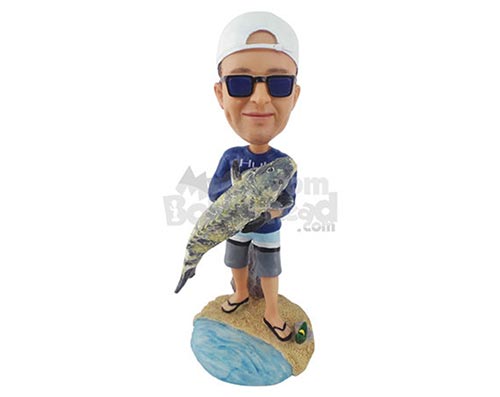 I mean, have you really arrived in life if no one has made a bobble head doll out of your likeness? It's the gift she never knew she even wanted!
This is going to make her laugh and will have a place of honor on her desk. Get ready to hear "where in the world did you get this?!"
7. Plant a Tree in Her Honor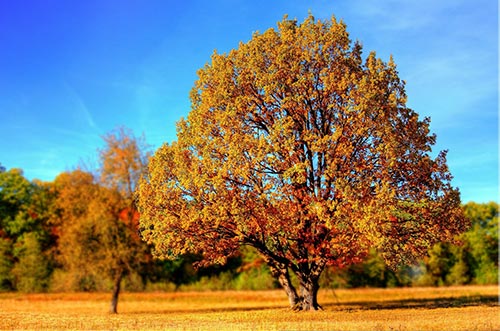 Some people just don't like gifts. We know. It's an odd thing, but true. If your 60 year old just doesn't need or want anything to unwrap on their big day, try this: planting a tree in her honor is a lovely gesture that just might melt her heart.
8. Flowers Delivered Monthly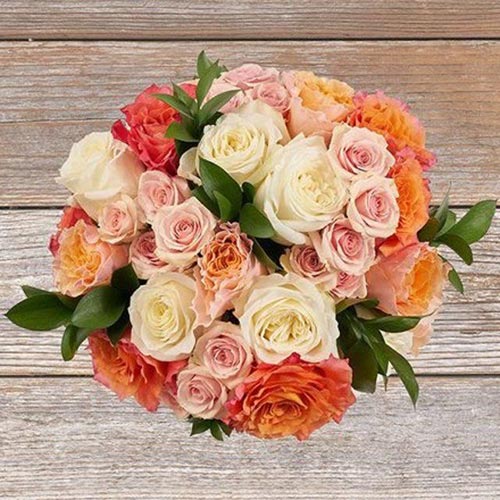 Sure, you could bring her flowers once. You know, like the harried husband in the flower aisle at the supermarket on Valentine's Day.
Or you could really go all out and remind her how much you love her every single month of the year with this flower subscription! She's going to flip.
9. I Carry Your Heart Wooden Keepsake Box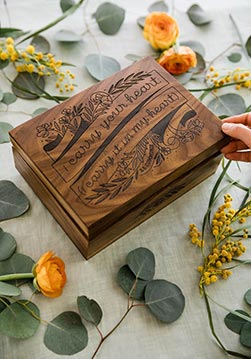 Not in a creepy, evil stepmother way. In a good way! This sweetly sentimental and romantic wooden keepsake box will be treasured forever. She can keep anything from letters to jewelry to her rock collection.
10. "…That Makes Me 60" Makeup Bag
Organization is key for a lot of women, and when you have a makeup collection you need this cute and stylish makeup bag to keep it all in! She'll be excited to clean up the clutter once she gets this.
10 Best 60th Birthday Gift Ideas for Men
When the guy in your life is turning 60 (or sixty-something) then you want to be sure to find a meaningful and interesting gift. Here are ten of the best.
1. Personalized Wooden Watch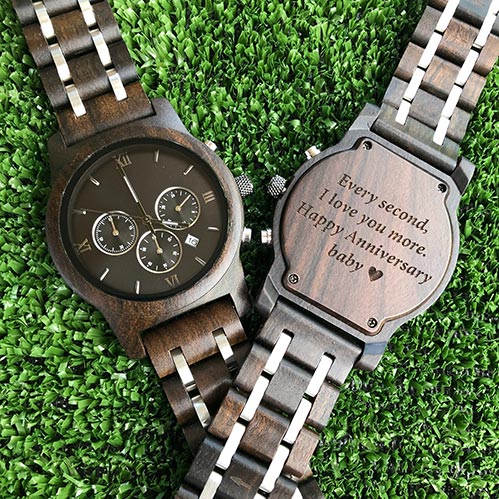 Watches are making a comeback and when they're as classy looking as this one, who can blame them? It's unusual (but not weird), sentimental (but not smarmy), sophisticated (but not too artsy-fartsy). It hits all the right notes and is sure to please!
2. Monthly Cigar Club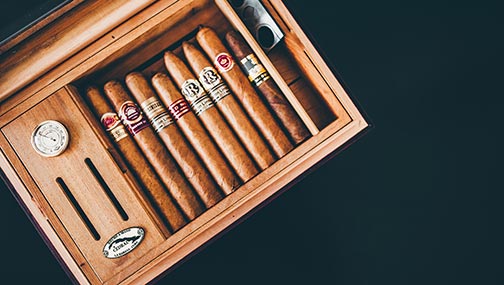 If your special 60-year-old enjoys the occasional cigar, bless his socks off with a special delivery – each and every month – of unique, small-batch, hand-crafted, artisan cigars. Delivered to his door.
Curious? Here's our review!
3. Personalized Pint Glasses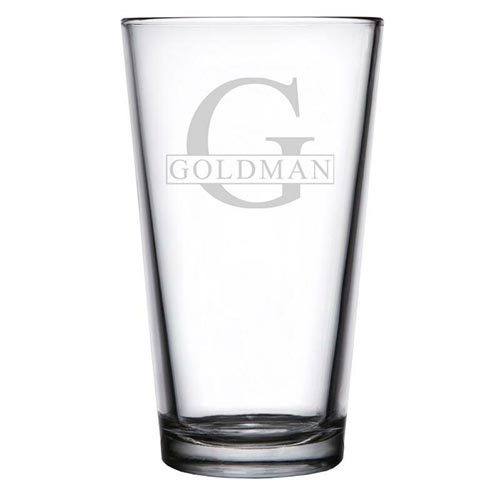 A whiskey sour or a vodka cranberry never looked so good as it will in these personalized pint glasses for him. Either with his own name, or go creative with something along the lines of Best Gramps, or Boss Man.
He's going to love sipping his favorite beverage in one of these.
4. Rare Beer Club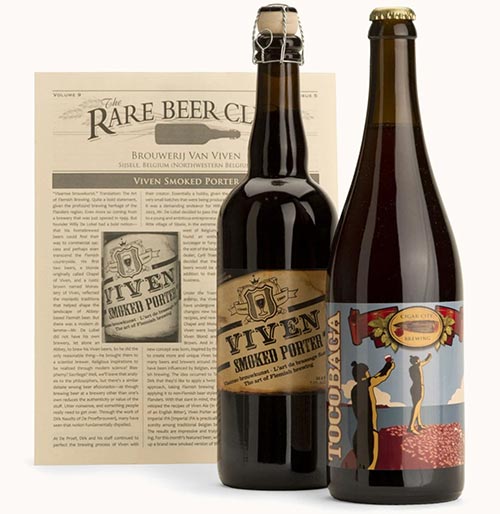 Speaking of his favorite beverage… maybe it's time that he finds a new one.
The Rare Beer Club is just what it sounds like. It's a subscription club where you get to enjoy rare beers. Each month's delivery (yes, beer delivered to his door – if that's not the ultimate beer lover gift, then I don't know what is) includes two large bottles of small-batch microbrews in weird and exotic (yet delicious) styles. Here's our review!
5. Personalized Brass Compass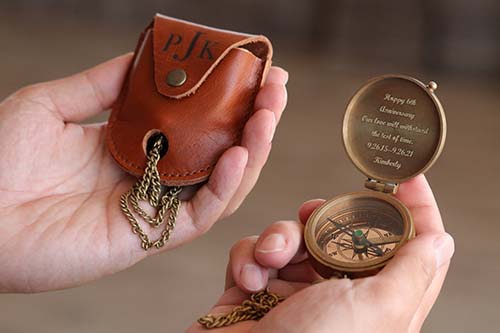 For the young at heart, this personalized brass compass is something he never knew he needed until now! If he loves a good stroll through the woods, or is a real adventurer, he will appreciate and adore this shiny tool.
6. American Flag Golf Ball Display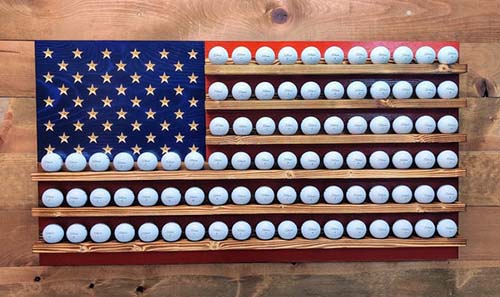 Speaking of things you never knew you wanted, this American flag golf ball display really hits it out of the park! (Get it?) It will clean up his garage and look good doing it. This is snazzy in all the best ways (and practical too). Aren't the best gifts snazzy and practical?
Related: 21 Best Golf Gifts for the Golfer Who Has Everything
7. Personalized Whiskey Barrel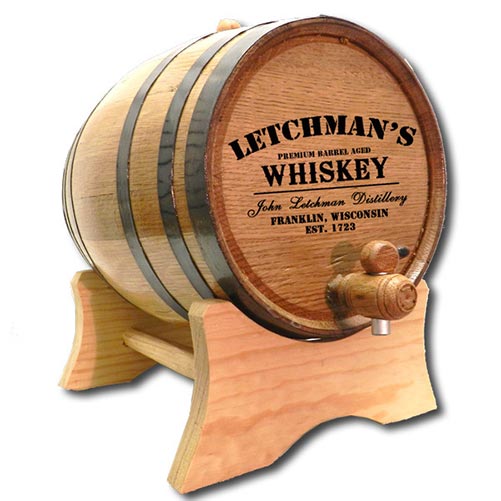 Sure, he has a wine barrel coffee table already (or maybe not), but does he have a personalized whiskey barrel? This is way better than gathering around the water cooler, and is a real conversation piece that he will treasure for a long time.
8. Whiskey Glass Set
Maybe he's not quite ready for a full-on whiskey barrel. Give him this then: a whiskey glass set that will looks stellar on his counter.
He can sip his favorite whiskey (or bourbon or even white wine, we won't tell) from his new set of glasses. And bonus: it's set, so he might just set one aside for when you're thirsty.
9. History By Mail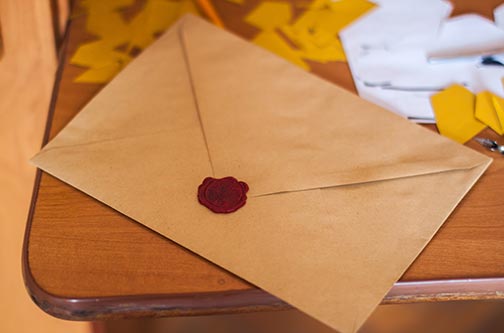 Sixty year olds remember when you actually used to get mail. Like, mail. Not just bills. Remind them of how fun checking the post office box is with this amazing history by mail subscription. Plus, they can dazzle you with all the information they learned (you're gonna feel so smart).
10. Personalized Rosewood Pen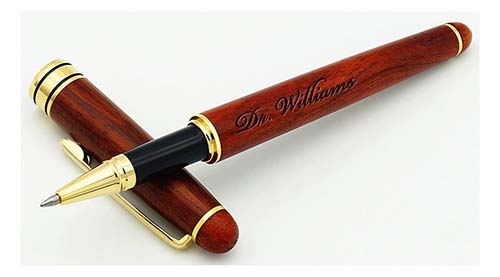 For the writer in your life, try this personalized rosewood pen. It's beautiful and might just cure his writer's block, too! This smooth writing instrument will need a place of honor on his desk.
10 Creative 60th Birthday Party Ideas
Let's take a look at some creative birthday party ideas for your special 60 year old!
Have a murder mystery party!
There are plenty of options to choose from, but make sure to have your guests really dress the part (that's half the fun!). Here are some good murder mystery stories, complete with separate characters for each and every one of you.
Have a swingin' sixties party! Tie-dye and Beatles music, flower power, peace and love, art, music, and civil rights … you can go about a million directions when you recall the 1960s.
Have a retirement party. Even if they plan to work another 12 years, that doesn't mean you can't celebrate their work achievements a bit early! Everyone likes cake.
Throw an empty nest party. If their last grown child finally moved out of the basement, it's definitely time to celebrate! Have them pose for funny pictures without their kids for a change.
Have an ice-cream social. Who doesn't like ice-cream? This is a party for all the ages and is sure to be a hit. Supply lots of different flavors and toppings, sodas for floats, and maybe borrow or buy a milkshake machine.
Have a drive-in movie night. 60 year olds remember fondly the drive-in movies "back in the day." So throw your own! All you need is a projector, a large white sheet, some mosquito spray, snacks, and their favorite flick.
Have a pet parade. If they and their friends love their fur babies, this is a fun way to spend their birthday! Give prizes for best dressed, naturally, and provide both people and pet approved snacks.
Have a book party. For the bibliophiles out there, a book party is a dream come true. Have guests gift a copy of their favorite book, inscribed of course, and maybe with some notes in the margins? Make invites in the shape of bookmarks.
Host a potluck. Sure it's simple, but they're timeless for a reason! The important part is getting everyone together, not planning an elaborate catered event. Plus, nobody makes *insert your favorite food here* like *insert your favorite family member here.
Have a beach party. Honestly, you don't need the beach! Provide beach balls, beach umbrellas, flipflops, igloos with sodas or adult beverages, and some rocking music to celebrate their 60th birthday. Don't forget the Bermuda shorts and maybe a surf board for a great photo op.
Read Next: 21 Amazing Last Minute Birthday Gifts
Pin It