Can you believe it's been forty blissful years since you walked down that aisle? It hardly seems possible, but is it ever a reason to celebrate!
Forty years together means you have pretty much seen it all. You've been there, done that, and got the t-shirt.
Not to mention the family and friends you've made along the way (some quite literally, haha)! It's all coming together in a beautiful fashion, and we think you deserve a party.
And what's a party without the perfect gift?
Whether you're shopping for your beloved spouse or for a close friend's anniversary, these are the best 40th anniversary gifts that fit all the traditional themes – and some creatively modern ones, too.
Our website is supported by our users. We sometimes earn a commission when you click through the affiliate links on our website. See our privacy policy & disclosures for more information.
All About the 40th Anniversary
Table of Contents
This is part of our series on Anniversary Gifts by Year.
40th Anniversary Themes
What is the traditional 40-year anniversary gift?
Ruby.
What is the modern 40-year anniversary gift?
Also the ruby! You still can't improve on the class and beauty of the ruby.
Why is the ruby the traditional & modern 40th anniversary gift?
Rubies are thought and believed to have an eternal flame of love. Much like your marriage!
What is the 40-year anniversary stone?
Ruby. (We know. Try to look surprised.)
Why is ruby the fortieth anniversary stone?
It's that eternal inner flame once again!
What is the 40th anniversary flower?
Nasturtium.
What is the 40-year anniversary color?
Red. Just like… rubies! (And nasturtium flowers, which come in red, orange, and yellow.)
10 Best 40th Anniversary Gifts
Our website is supported by our users. We sometimes earn a commission when you click through the affiliate links on our website. See our privacy policy & disclosures for more information.
1. Custom '40' Photo Collage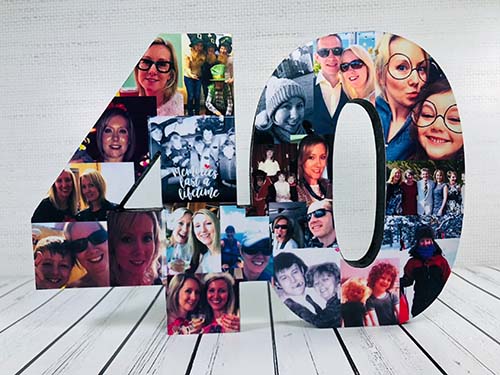 Bring a bit of modernity to your forty years together with this cute and customized frame! Scattered strategically into the shape of the 4 and the 0 are dozens of photographs of your years together. This will look adorable on your wall or propped up on the table during your anniversary celebration.
2. 40th Anniversary Ruby Clock
This 40th anniversary clock is so elegant! It features ruby-colored flowers and boasts a vintage-looking appeal, all while blending in beautifully to any decor and style.
The inexpensive price tag might lead you to believe it could be on the tacky side in person, but it's actually quite lovely and refined. Plus the piece is free-standing, which means it is perfect for the entryway table or a nightstand.
3. Framed Wedding Vows & Photo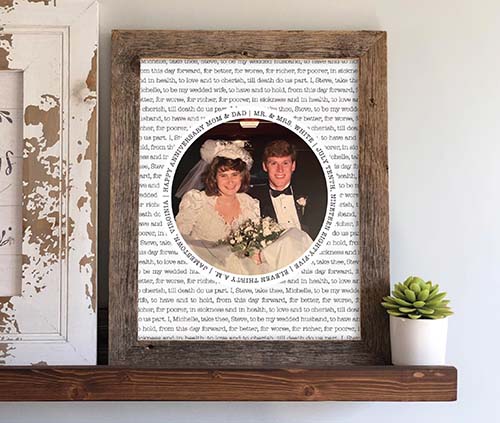 What's more romantic than this framed photograph of their wedding day alongside their vows? We can't think of anything!
Encompassed by a rustic wooden frame, this beauty is set with a lovely font highlighting their vows (which they've fulfilled beautifully, by the way). A favorite photograph of that special day, now forty years in the past, is nestled in the center.
But it feels like just a moment, doesn't it!
4. Happy Ruby Wedding Anniversary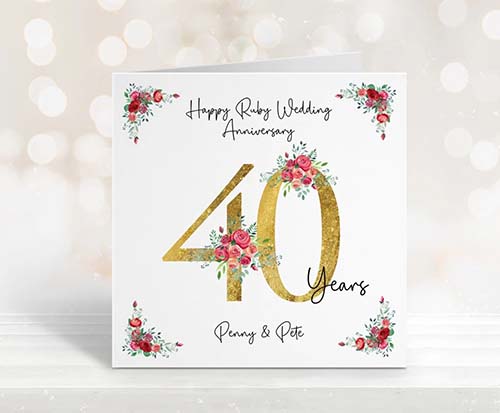 This pretty card is totally personalized, making it unique and all the more genuine. It's definitely one that won't accidentally be tossed in the trash with the envelope, but instead framed and hung on the wall!
Related: 101 Best Happy Anniversary Quotes
5. I Wrote a Book About You
This little book is just as fun for you to make as it is for them to receive! Full of fill-in-the-blank prompts and cute memory jogs, it's 64 pages of sweet personalization. A perfect gift for your perfect SO.
6. 40th Anniversary Ruby Picture Frame
This 40th anniversary ruby picture frame is just right to bring to the party. They'll love finding a special photograph of the two of them together to slip inside this silver frame.
Whether it goes up on the family photo wall, or sits on the bedroom dresser, this will bring a spot of shiny sweetness to the home.
7. Personalized Message in a Bottle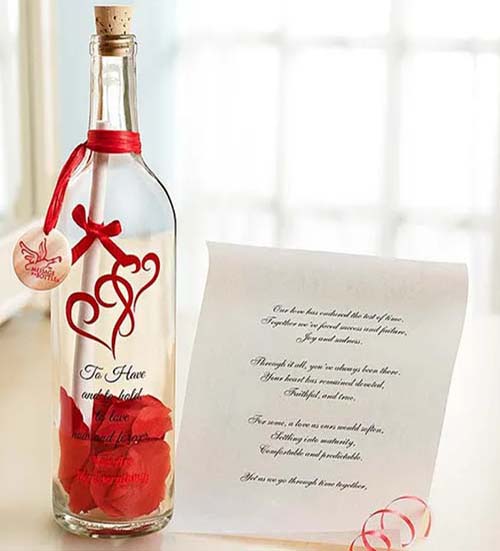 What a clever way to say I Love You! Or whatever else you want to say… literally! Leave no doubt where your loyalty and love lie with this fabulous message in a bottle. For the person who is so tricky to shop for – this is it!
8. Photo Bracelet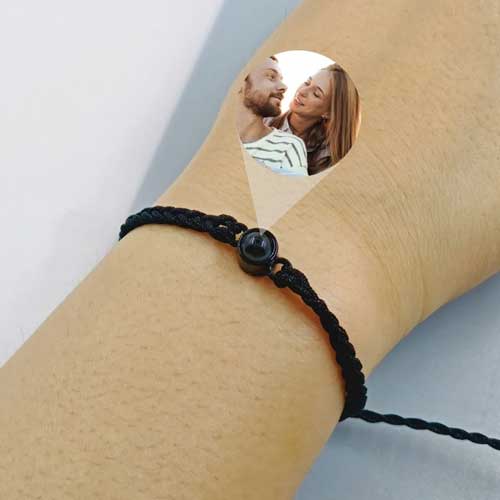 Techies, get ready to be entranced! This photo bracelet has a favorite picture of your better half hidden away inside, invisible to the naked eye. Only when you view it through a special, see-thru lens or shine a light through it to project on the wall will it be visible to others. So fun!
9. 40 Years of Love Personalized Cross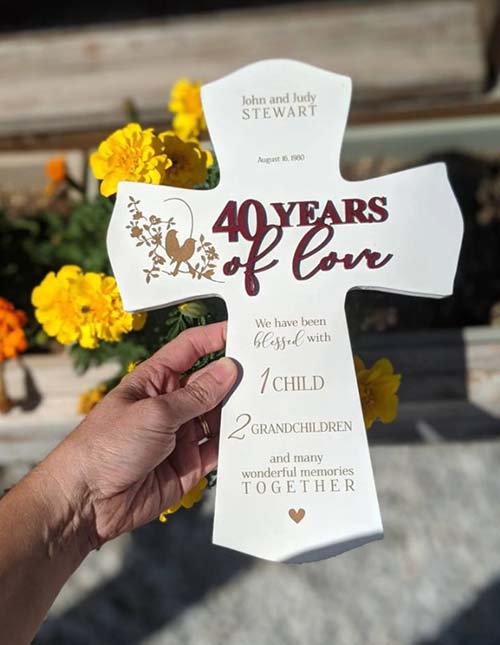 If they are well aware that they made it through forty years of marriage only by the grace of God, then they will love and appreciate this pretty personalized cross!
Customized with the children and grandchildren, and held together by Christ's symbol of His love for us, this lovely cross will absolutely shine in the home.
10. Heart Roses with Ruby Red Heart Necklace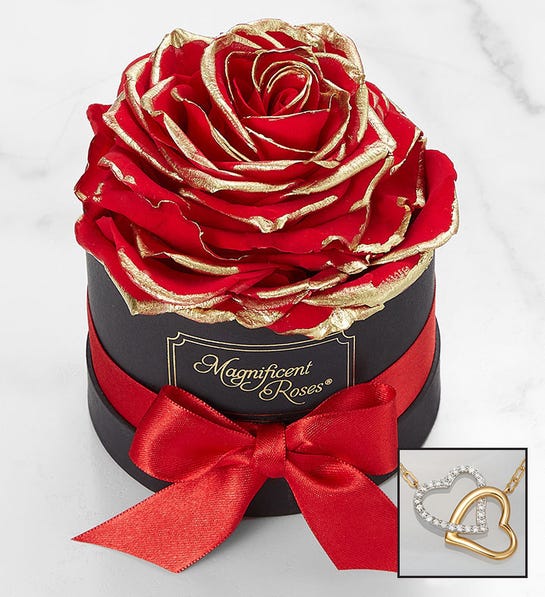 There isn't anything more romantic than a bright red rose… unless of course, you add in a beautiful necklace! Flowers and jewelry are classic gifts for your sweetie for a reason. She won't be disappointed with this gift!
Traditional & Modern 40th Anniversary Gifts (Ruby)
11. Ruby Stone Bracelet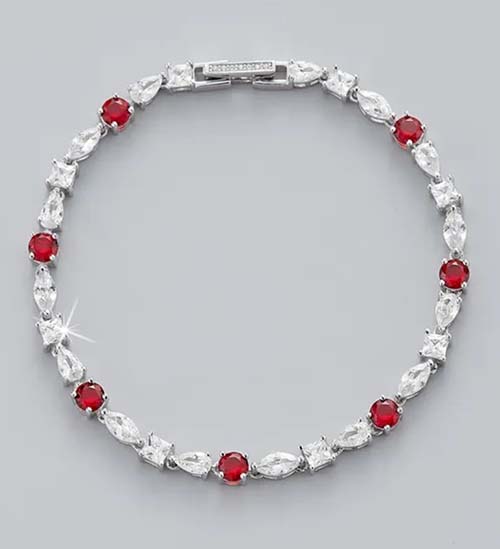 A radiant beauty, just like she is! This ruby stone bracelet shimmers and shines and will look beautiful on her wrist. She'll definitely be ready for a night out on the town to celebrate when you give her this stunning piece of jewelry.
12. Red Wine Heart Outline Musical Jewelry Box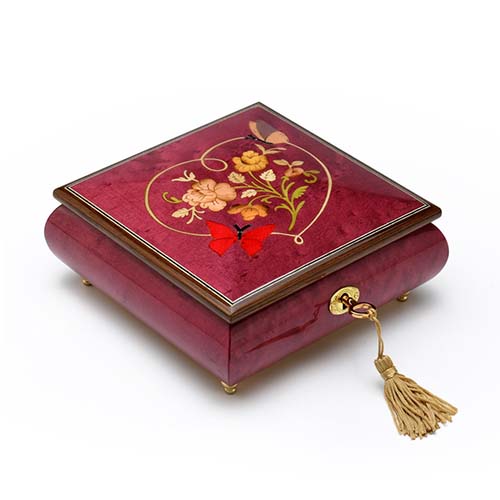 Made of rosewood and gold and handcrafted in Italy, this little jewelry box is a stunner. You can choose the tune it plays, and she'll love hearing it each time she looks for her most special pair of earrings. It's truly sophisticated and comes with a fully functional lock and key.
13. Glass Ruby Floral Sun Catcher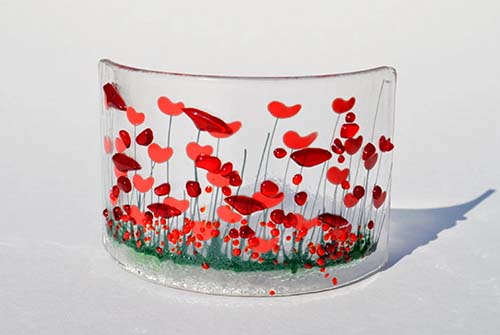 You might put this pretty poppy sun catcher in the sunniest of windows to reflect the light, or you could perhaps add a candle or fairy lights tucked behind the curve to bring some whimsy to your home. Either way you go, you have a sunny and sweet little piece of art.
14. Personalized 40th Anniversary Ornament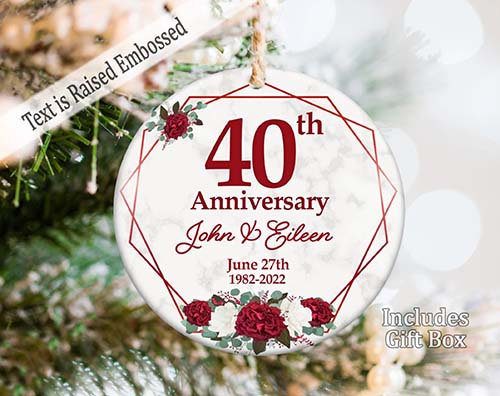 This just might be your sweetheart's new favorite Christmas ornament the moment she unwraps it. And, since you've had forty Christmases together, that's saying something!
Made of glass with beautiful red lettering, it's fully customizable to your specifications.
15. Ruby Red & Floral Dish Set
This pretty ruby-red, floral dish set is a real show stopper. It's an everyday use item, meaning your spouse will have daily opportunities to stop and reflect on all the wonderful years together with each batch of eggs or sip of coffee. The feel is vintage, yet modern too, with its deep jewel tones and square plates.
16. Wax Stamp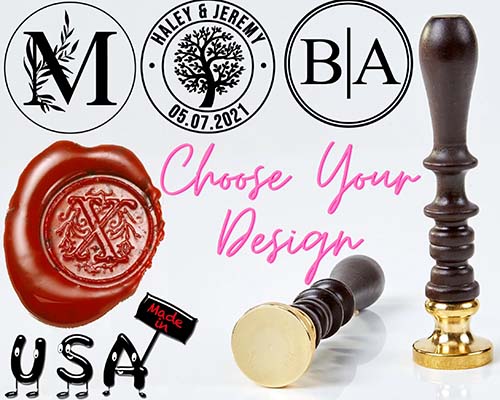 You can choose your own design or initials with this fun retro wax stamp set! They'll love sending thank you cards sealed with their very own seal on the envelopes. A truly unique gift for the couple who is difficult to shop for!
17. Ruby Red Photo Album
Help your beloved keep those memories organized and displayed with a beautiful new photo album!
We aren't sure what's more fun — flipping through the finished product together, or finding all those old forgotten photographs and placing them inside.
18. Glass Heart Suncatcher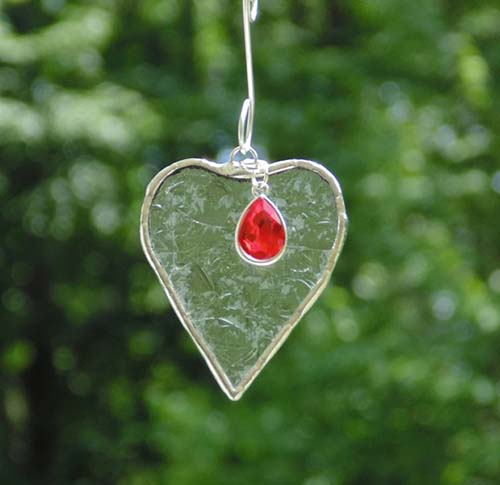 This pretty glass heart suncatcher is a real eye catcher. Hang it from your kitchen window, the back porch, your car, or even your Christmas tree to catch a little bit of light and romance.
19. Balloon Arch Surprise
Leave no doubt where the 40th anniversary party is with this fabulous balloon arch surprise!
They'll love how special it makes their home look, and it brings a bit of whimsy and fun to the festivities. Not to mention how it echoes a wedding arch while still using the 40th anniversary themes.
20. Custom Ruby Paper Cut Out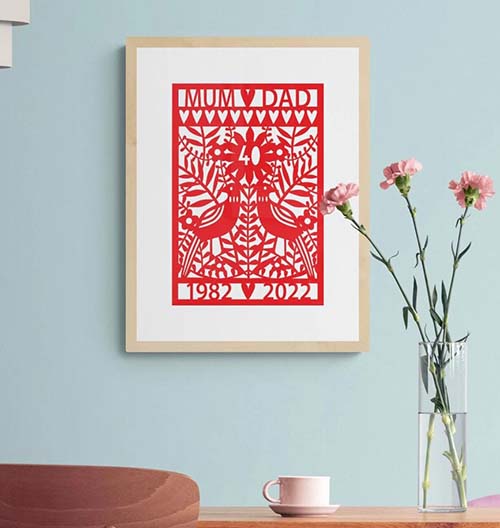 Handmade of ribbon and paper, this cute cut out will really wow them. They'll love the finishing touches, the extra special customization, and the vibrant ruby-red color. Definitely a gift to cherish and pass down over the years.
40 Year Anniversary Gifts for Her
21. Ruby Earrings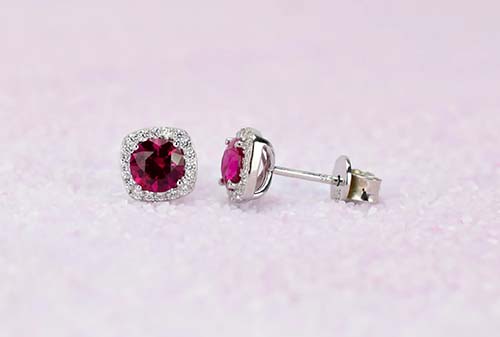 If she's hard to shop for, don't fret! These ruby earrings are sure to be loved and worn often, from her everyday wear to a night out on the town (which you're sure to do once she opens these).
22. Customizable Ruby Kimono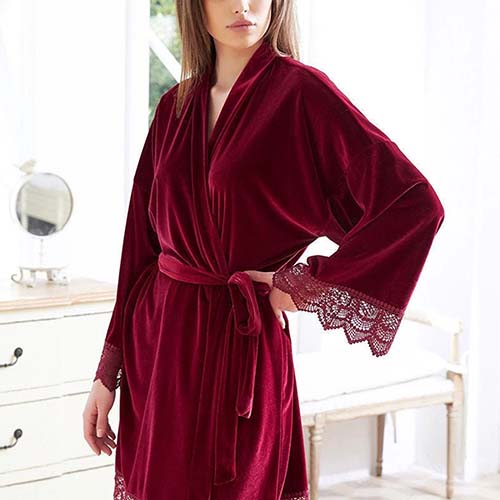 What's more stylish and sophisticated than a monogrammed robe? Only a monogrammed robe in the softest material and a jewel-toned hue, that's what!
This customizable robe is truly decadent, and the sewn initials of your lady just send it over the top romantic.
23. Grow Her a Garden of Nasturtium
Beautiful nasturtiums will bloom and grow just like your love has. Okay, okay, that's a little cringey, but you know it's true! Growing her a garden that will make her think of you each day – we call that uber-romantic.
24. You and Me, Meant to Be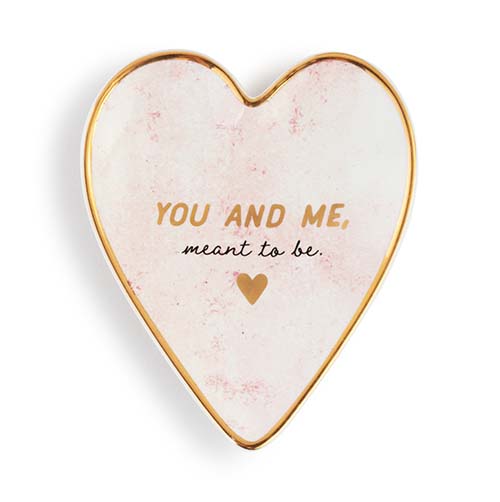 This little trinket dish is perfect for keeping near the bedside to put her rings and earrings in while sleeping, at the front desk to place her keys into, or on her cosmetic counter. The possibilities are endless!
25. Personalized Heart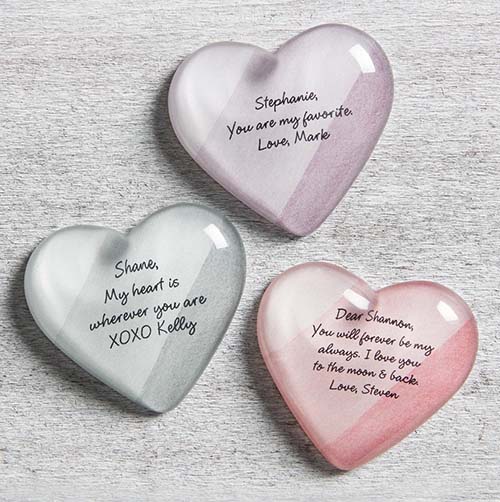 She'll love whatever little heartfelt expression you choose when it's written out on this adorable, personalized heart stone!
Handy as a paperweight, adding into a shadow box of wedding memories, or simply sitting on a shelf for all to admire, this is a cute and sweet presentation of your love for her.
40 Year Anniversary Gifts for Him
26. Rustic Wooden Watch Box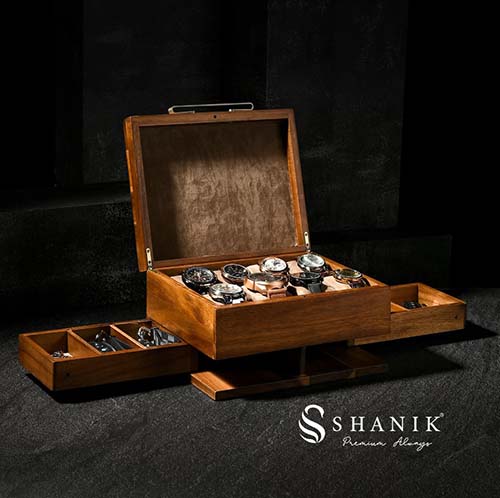 This watch organizer is so stunning, isn't it? For the man who loves accessories like cufflinks, wrist watches, bracelets and rings, this beautiful box will be treasured and much-used.
Made of wood and velvet, you can even have it engraved with his initials (or your special nickname for him, wink-wink).
27. Meat Card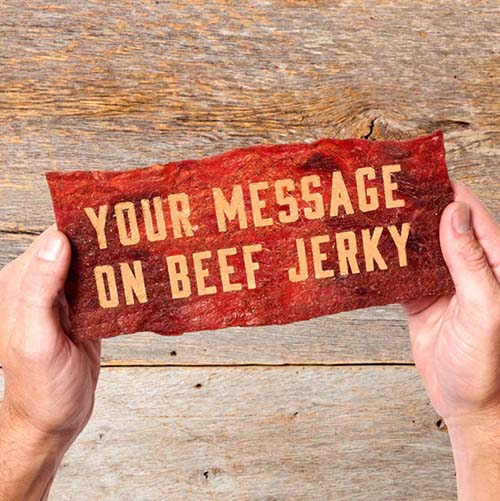 Let's face it, if you gave him the choice of a romantic bouquet of flowers, a box of chocolates, or a giant piece of jerky with a message of your choice on it… he's gonna pick the meat. Every time!
Your beloved husband of forty years will get a kick out of this gourmet jerky, and he'll equally enjoy snarfing down your "letter" to him.
28. Personalized Minimalist Wallet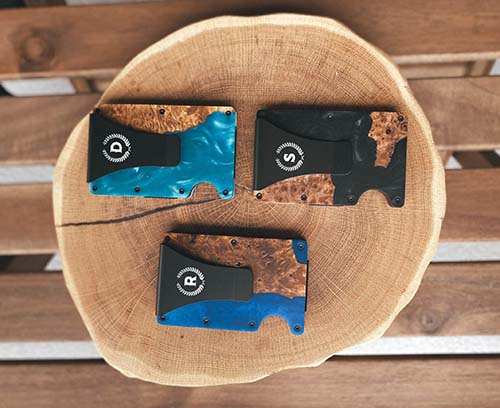 Now he can carry his cash, credit cards, and pictures of his grandkids all in minimalistic style. He'll love having a streamlined wallet that doesn't bulge and crack or take up too much room in his back pocket. These wallets are just the thing!
29. Leather SmartWatch Bands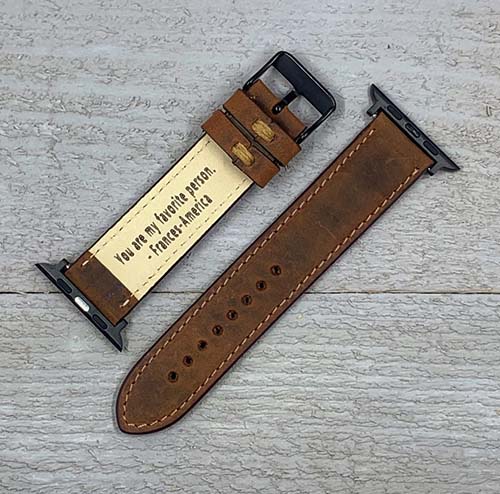 These SmartWatch bands bring a bit of vintage and sophisticated charm to the modern look of a SmartWatch! You can have it engraved however you like: with a romantic and mushy sentiment, or with his name.
30. Gone Fishing Hanging Bottle Opener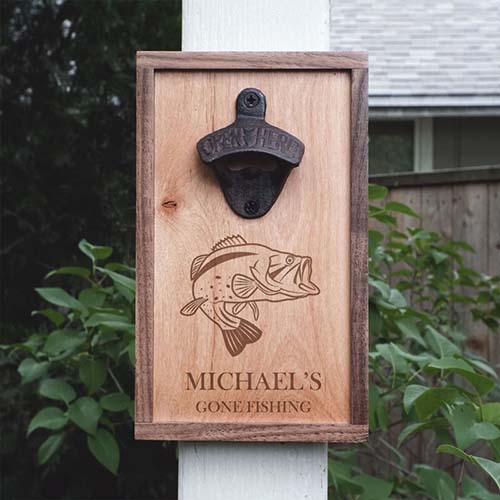 Here's one bottle opener that he won't have to search high and low for each time he wants to crack open a cold one!
He'll love the sturdy wood wall mount that will last at least as long as your marriage already has, and the personalization really sends it over the top as a special gift.
40 Year Anniversary Gifts for Couples
31. Personalized Etched Wine Glasses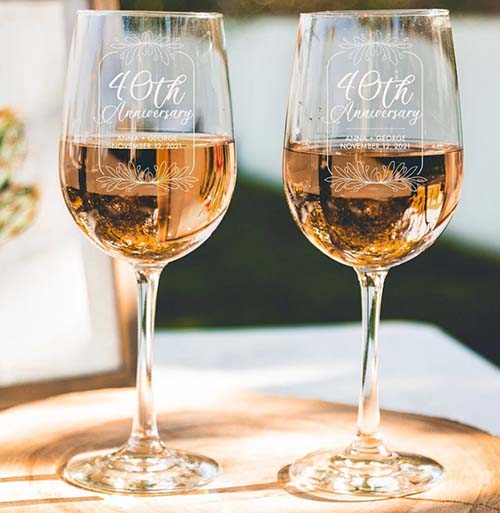 These wine glasses will make all the toasts and cheers extra special when the dear couple raises them on their anniversary night celebration. These will get a place of honor in the china cabinet, for sure. Maybe pair with a bottle of wine to make an extra delightful gift package.
For more beautiful, custom wine glasses – check out these engravable wine glasses!
32. Custom Anniversary Candle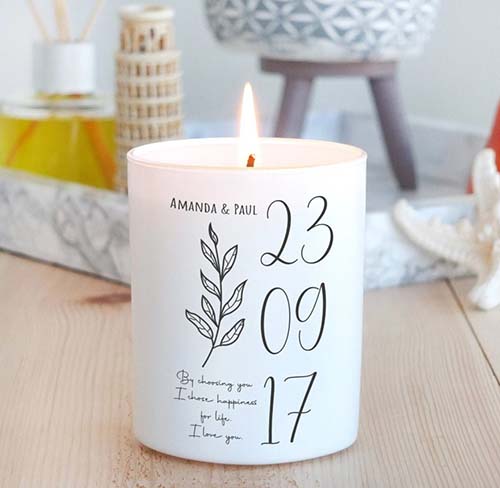 This custom anniversary candle is ever so charming! They'll love the simplistic look from the delightful illustration, to the personalized words, to the lovely scent. And long after the candle flickers out, they'll have the sweet jar to keep!
33. Engraved Bird Feeder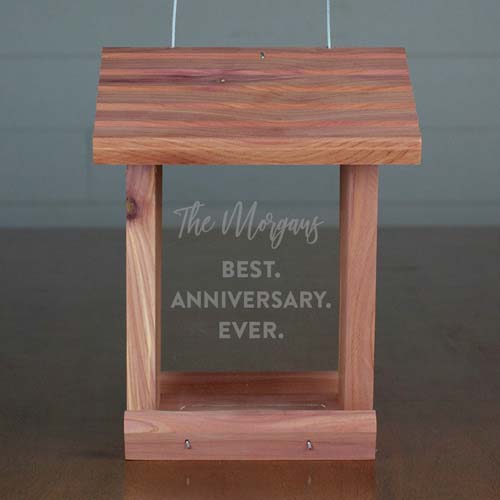 Now that the retirement years are here, indulge their love of porch sitting and bird watching!
The sweet couple of forty years will love this pretty bird feeder that is engraved with their very own names and wedding date.
And the birds will love the generous size of this American made feeder, especially once it's filled with seed.
34. Celebrating 40 Years of Love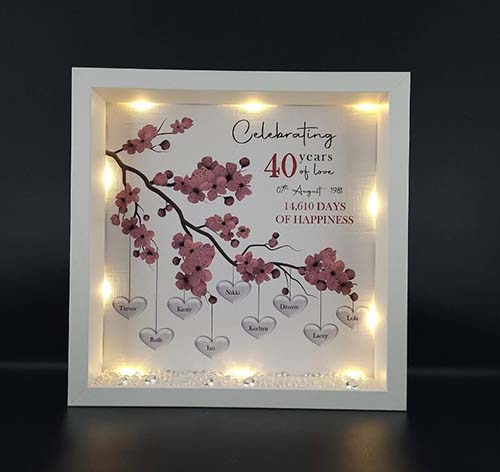 This piece of art will instantly make them say "awww!" It brings a bit of whimsy and cheer to a family wall, with its pink and red florals, simple white frame, and the charming addition of each offspring inside a little silver heart. It even has crystals and optional lights to make it extra special.
35. Anywhere With You Wall Art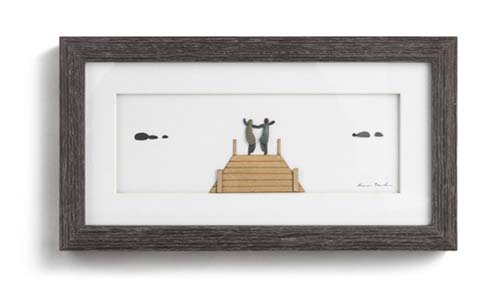 Artfully handcrafted, this adorable print is totally unusual and unique in all the right ways! It's a standout in a world of blah paintings, nondescript art, and bland frames.
Unique Fortieth Anniversary Gifts
36. Then & Now Custom Photo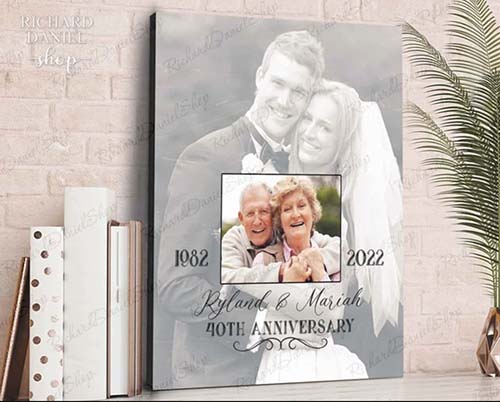 There's just nothing cuter than seeing an older, vintage photo reenacted by the older versions of yourself, is there? A photo like this blends the two together in the sweetest way possible, and they will love this totally unique gift.
37. Box of Ruby Red… Snacks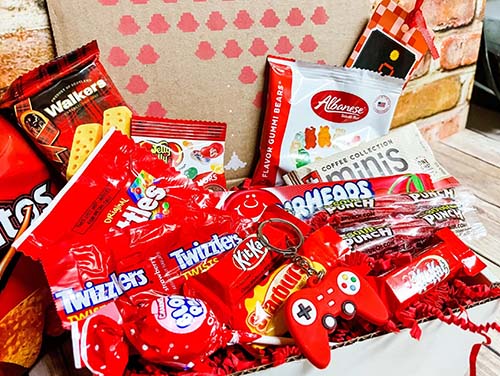 You can purchase a boxed set of ruby red snacks, or put together your own! The munchers in your life will totally appreciate this unusual but oh-so-delicious gift.
When you're stuck on what to get the couple who has everything, consider the one thing that everybody needs: More snacks!
38. Personalized Champagne Anniversary Vase
And you thought the fun was over when the last sip of champagne was consumed! Not so when you see this beauty: an upcycled bottle transformed into a vase for your loveliest bouquet of blooms. Personalized too, making this gift one-of-a-kind.
39. I Cerealsly Love You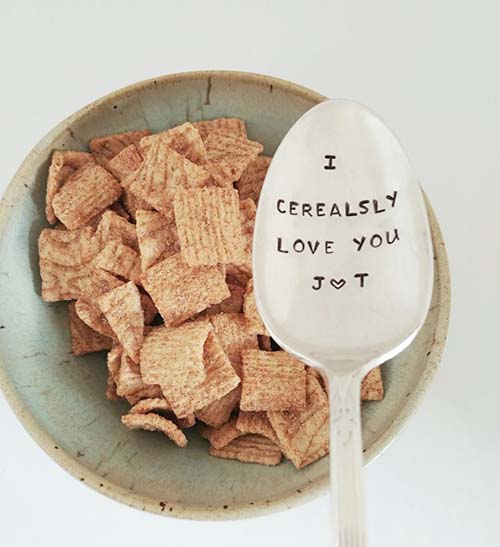 Keeping it simple and adorable in its sweetness, this cereal spoon is just the ticket for breakfast cereal and ice cream lovers.
Maybe get two (unless you like sharing). Also perfect for stirring coffee, warm spoonfuls of soup, and fetching out the teabag.
40. Cute Minimalist Portrait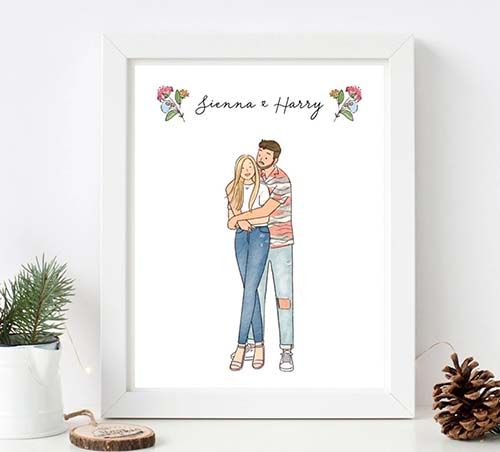 Such an adorably modern way to add some art into your life! This minimalist portrait will even include your pets, should you have any. The watercolors are always a blast, and really pop against the white backdrop (or whatever background you choose. That's half the fun!).
Read next: 101 Romantic Things to Do on Your Anniversary