Congratulations on your 55th Anniversary! Fifty-five years of wedded bliss. Fifty-five years of squabbles and bickering. How about a healthy mix of the two? Any strong and lasting marriage has mastered many things, but among them — balance.
The 55th wedding anniversary is characterized by genuine love, faithfulness, endurance and rarity. Such beautiful meanings, along with your lasting commitment, deserve to be honored and celebrated.
While sentiments of affection and appreciation are always good ideas, gifts are wonderful symbols of how much your sweetheart means to you.
Whether you are looking for gift inspiration for your spouse, friend, or loved one, we've put together a list of our very favorite 55th anniversary gifts that are sure to spark those beautiful remembrances of enduring love.
All About the 55th Anniversary
Historically, every wedding anniversary milestone is celebrated with one or two unique symbols, a flower, a color, and several attributes and characteristics. We've got all of your bases covered here, so read on.
Our website is supported by our users. We sometimes earn a commission when you click through the affiliate links on our website. See our privacy policy & disclosures for more information.
Table of Contents
This is part of our series on Anniversary Gifts by Year.
55th Anniversary Themes
What is the traditional & modern 55 year anniversary gift?
Emerald.
Why is emerald the traditional & modern 55th anniversary gift?
Emeralds are said to represent eternal commitment, with lore stating they may even change color if unfaithfulness is ever present.
They also signify rebirth and growth, proving that even after years of marriage the couple is still capable of growing in their love and fondness for one another.
What is the 55 year anniversary gemstone?
Big stretch here… it's emerald.
Why is Emerald the 55th anniversary gemstone?
Just like emeralds, a marriage that has lasted fifty-five years is a precious and rare find.
What is the 55th anniversary flower?
Calla Lily. Similar to their gemstone counterpart, they represent growth and rebirth.
What is the 55 year anniversary color?
Emerald green. Who would have guessed?
10 Best 55th Anniversary Gifts
Here are some of our top picks for those lucky enough to be celebrating such a milestone.
1. 55 Years Together Silver Coin With Emerald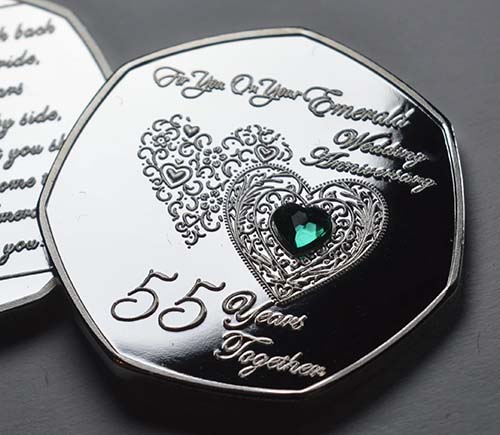 This beautiful coin is as lovely as the couple it's celebrating! Tying into the Emerald Anniversary theme, it also has a sweet sentiment stamped front and back. Plated in .999 silver, it's just the right amount of sparkle and splendor.
2. 55th Anniversary Picture Frame
A classic keepsake that will be cherished for years. This stunning anniversary picture frame has 'Then and Now' openings for favorite pictures of the special couple. They'll love displaying it in the bookcase or on the mantle for all to see.
3. Calla Lily Bouquet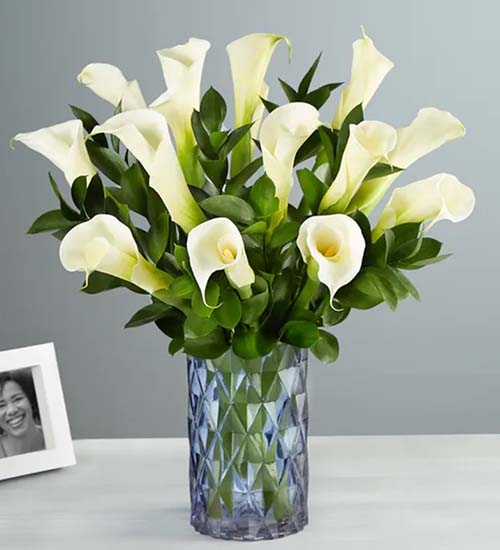 Flowers are and always will be a wonderful idea. This gorgeous Calla Lily bouquet is the perfect reminder of fifty-five years of love and growth together.
4. 55 Years Personalized Ornament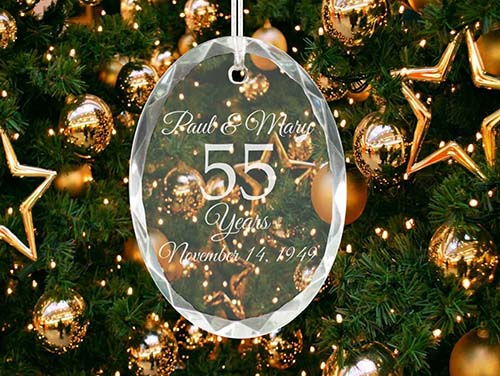 Who says ornaments are just for Christmas? Enjoy this stunning, anniversary ornament during the holidays or all year through. Etched with personalized anniversary year, names and wedding day, this oh-so-sweet memento is sure to delight.
5. Emerald Green & Gold Leaf Coasters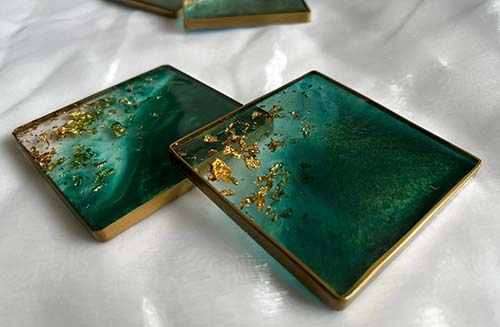 How fantastic are these emerald green and gold leaf coasters? Perfect for the 55th anniversary couple, they'll add a touch of elegance to their home. And they're so lovely you may want to order some for yourself!
6. Celebrating 55 Years Stemless Champagne Flutes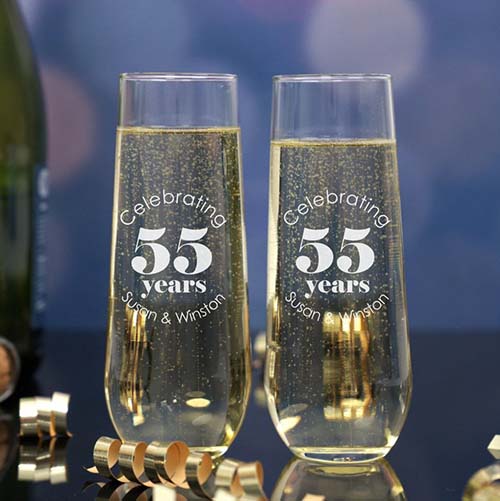 A modern twist on the classic champagne flute, these stemless beauties are an excellent addition to any glassware collection. The personalized etching adds that extra special touch for their extra special day!
7. 55th Anniversary Cushion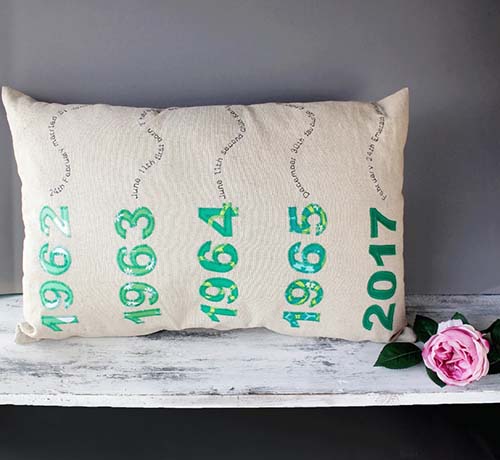 What a fresh and fun idea to celebrate their 55th! Each cushion is embroidered with the year they were married, their current anniversary year, and up to three important dates in between. Too cute, this one.
8. Personalized Lovebirds Bamboo Cutting Board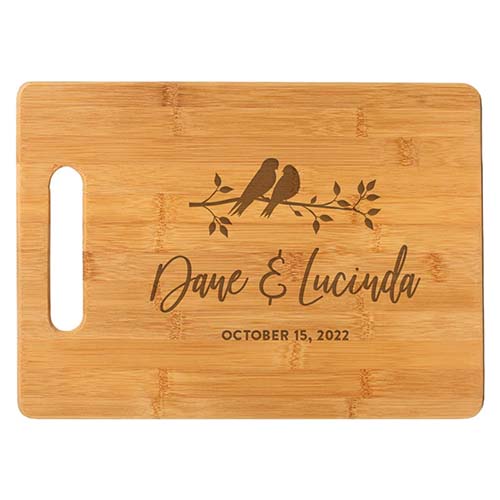 After fifty-five years, they've spent a fair amount of time in the kitchen together. Whether it was carving Christmas turkeys or chopping veggies for get-well stews, the hours were long and full of memories.
Help them commemorate all those precious times with this sweet lovebirds cutting board. Display on the wall, or put it to use making more memories!
9. 55th Anniversary Throw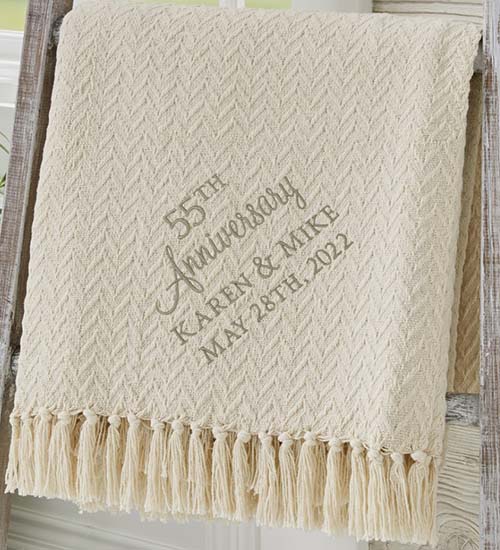 Help them stay warm and cozy on cold nights with this beautifully embroidered throw. The neutral color fits easily into any decor, and you can choose the embroidery color. We suggest the emerald green to suit the 55th anniversary theme.
10. Sea Glass Stones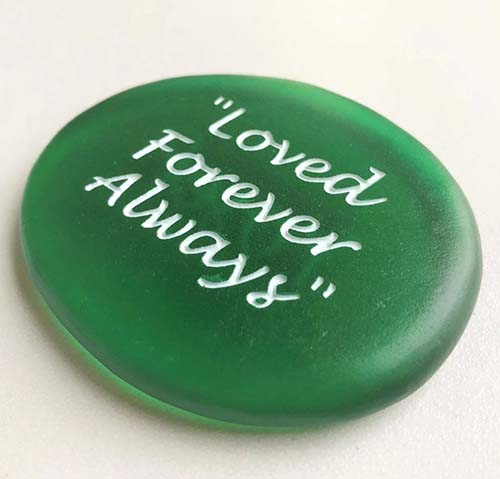 These delightful sea glass stones are perfect for that seaside-loving couple in your life. Emerald green just like the ocean, they can be personalized with a message in the font of your choice. Such a lovely keepsake to be cherished for years to come.
Traditional & Modern 55th Anniversary Gifts (Emerald)
11. Emerald Gemstone Tree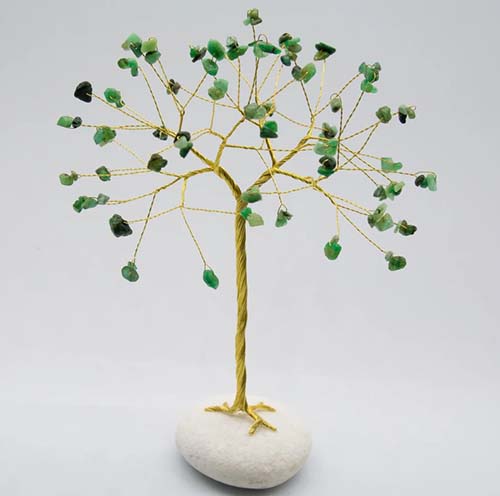 So unique and so pretty! This little gemstone tree is a fitting visual of fifty-five years of strength and growth together as a couple. Each tree is handcrafted with love and is truly one of a kind. They'll love showing this one off to family and friends.
12. Geode Emerald Charcuterie Board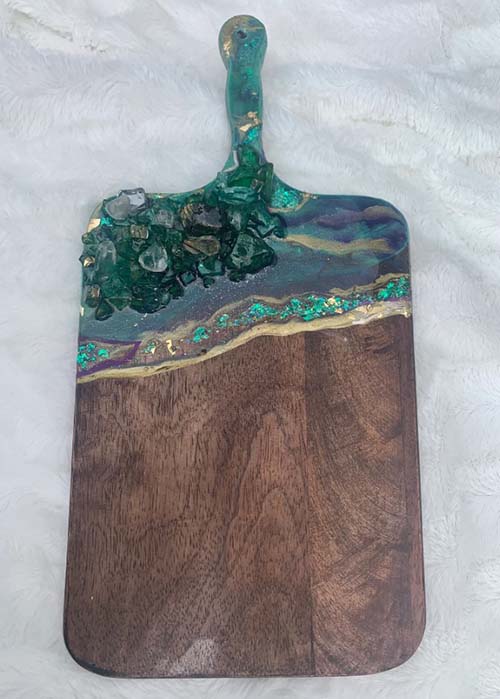 If there's one thing they've probably mastered by now it's entertaining. Help them dress up their food service a little with this emerald geode charcuterie board. Wonderful for display, serving up delicious cheeses and fruits, or using in place of a tea tray.
13. Wifey & Hubby Matching Robes
For the couple that loves lounging around with their morning coffee, enjoying brunch on the balcony, or just likes pampering themselves! These matching robes are luxuriously silky and leave no doubt that they belong to one another. Can you say classy?
14. Emerald Drop Earrings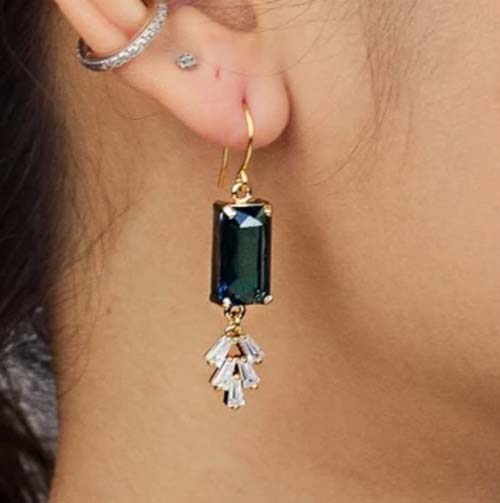 These emerald drop earrings are the perfect excuse for a special night out, or even a romantic, candle-lit dinner in. A beautiful and timeless design, these are sure to bring a sparkle to her eyes.
15. 55 Years Emerald Keepsake Plate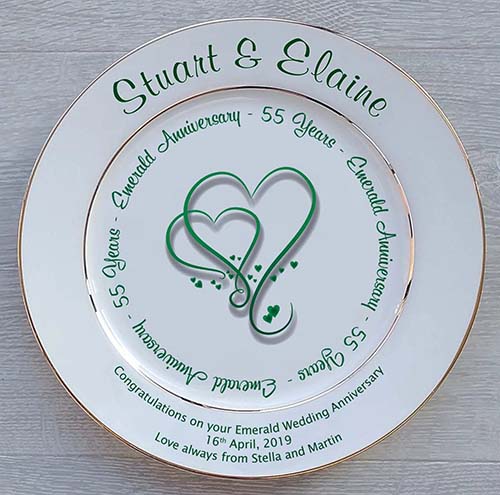 An elegant alternative to a plaque or ornament, this 55th anniversary keepsake plate will look wonderful displayed in their china hutch or mounted on the wall. Sweet hearts as precious as the sweethearts are nestled in the center with your personalized message below.
16. Personalized Emerald Tumblers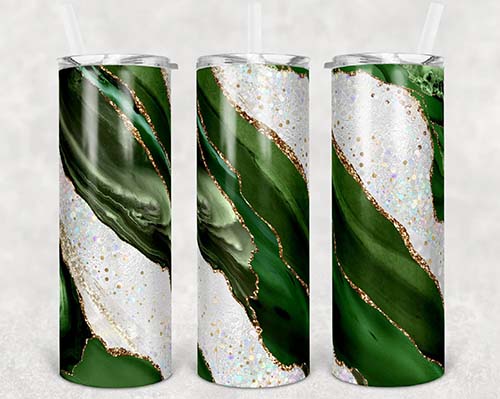 A fun option for the couple that seems to always be on the go! These brilliant emerald tumblers will keep them hydrated on all of their adventures. Available in 20oz or 30oz with free personalization.
17. Happy Emerald Wedding Anniversary Card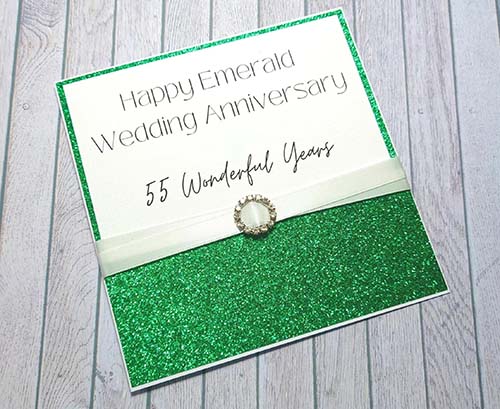 This stunning card is definitely one they won't want to toss! A gift in-and-of itself, it's lovely enough to be displayed for years to come, or kept in that "special mementos" box.
18. Have Your Wife Painted in This Emerald Dress Custom Portrait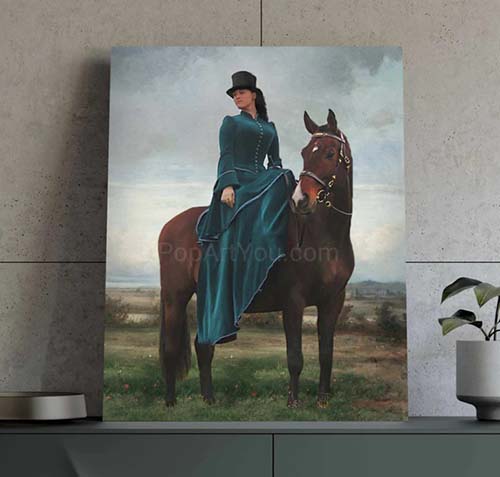 Stun her with this exciting and elegant custom portrait! After all, what woman doesn't want a classy portrait of herself astride a mighty steed? She'll be speechless. This beautiful piece would make and excellent centerpiece above the fireplace or another place of prominence. And talk about a conversation starter!
19. Emerald Green Bookmark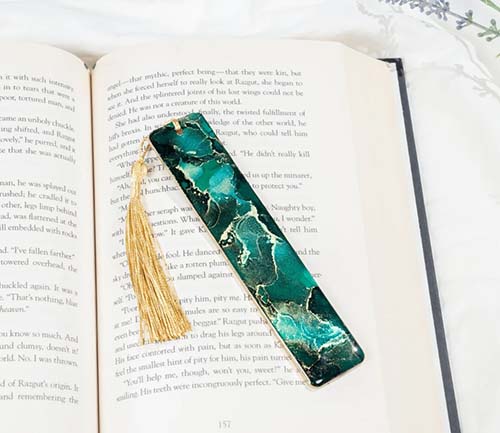 Just right for those book lovers in your life. Beautifully designed and handmade, they're sturdy enough to last through the years, just like their marriage. Each bookmark is crafted with love and care, and is adorned with a golden tassel.
20. Handmade Emerald Green Soy Candle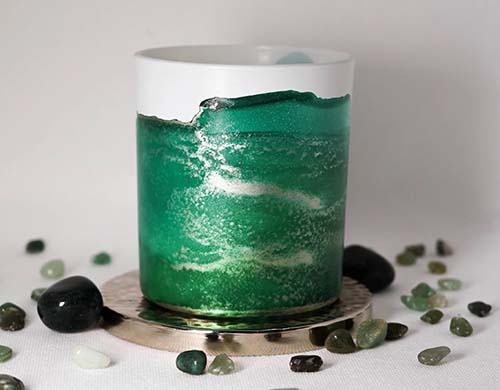 For a simple gift that is practical in every way — this handmade soy candle with an emerald green holder is the perfect thing to give! They will love lighting it up, smelling it's sweet scent, and remembering the last 55 years spent with you.
55 Year Anniversary Gifts for Her
21. Hexagon Alexandrite Ring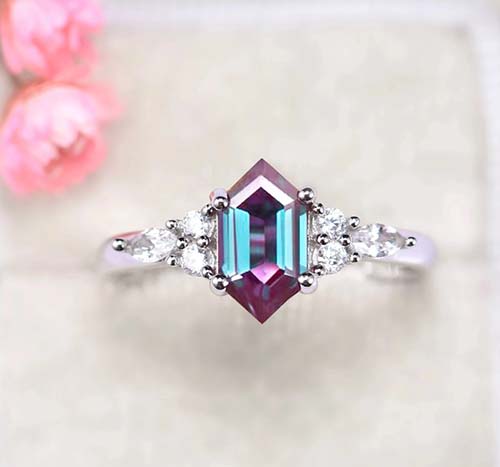 Alexandrite, also known as green chrysoberyl, is a popular alternative for those who love emeralds but want a little more variety. The deep greens accented by rich purples of this stone are so brilliantly set, and this ring is sure to delight her each time she wears it. And, of course, remind her of you!
22. Happy Ever After Anniversary Bell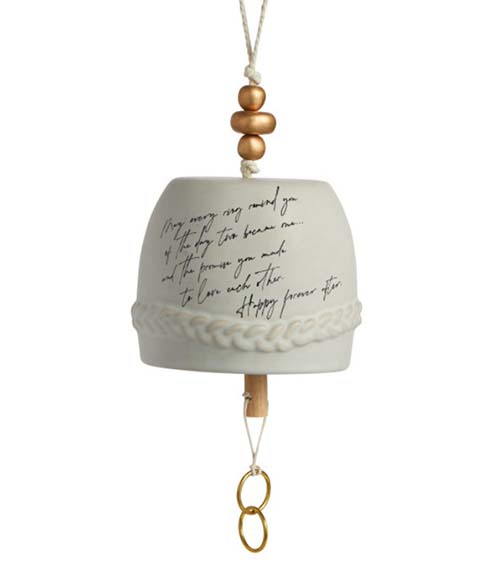 How darling is this 'Happy Ever After' bell? The soft rings of this bell are said to bear sentiments of faith and love, two things that abound in any strong marriage. Make it extra romantic with a special love note from you on the back!
23. Emerald & Gold Bracelet
Ready to knock her off of her feet? This bracelet is an absolute stunner! So dainty and elegant, but wonderfully crafted of quality materials to bring her years of enjoyment. A perfect choice for her 55th anniversary surprise.
24. Green Canary Enchanting Music Box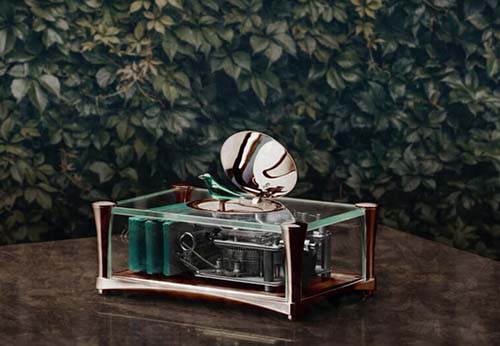 Spoil her with this extravagant music box. She'll feel like a princess in a fairytale when she sees how enchanting this automaton canary is as it sings to her. An incredible piece of craftsmanship and artistry, there really isn't anything like it. Truly magical!
25. Calla Lily Figurine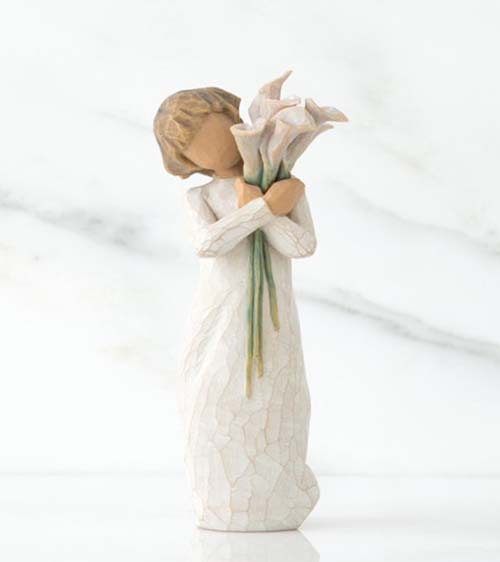 This precious Calla Lily figurine is perfect for her nightstand or dressing table. Calla Lilies, like emeralds, represent that beautiful growth you share. She'll reflect on all of your cherished memories each time she sees it.
55 Year Anniversary Gifts for Him
26. Raw Emerald & Gold Necklace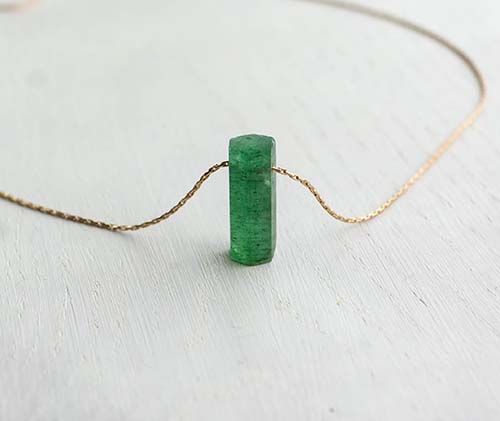 This simple and sleek, raw emerald pendant is suited to the man who loves classy pieces. Available in several different finishes to suit his personal style, each piece is handcrafted. An excellent option for that special 55th anniversary celebration.
27. Personalized Docking Station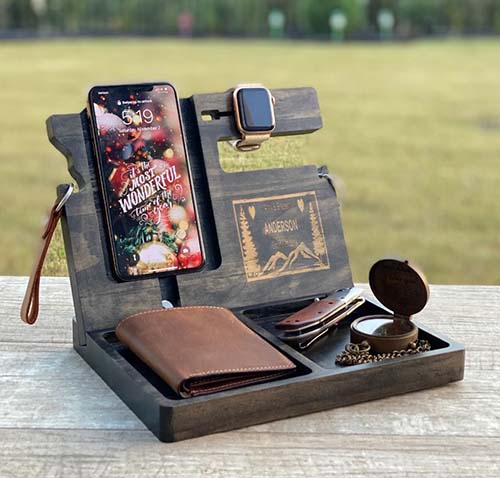 How cool is this personalized docking station? Keep all of his trinkets and necessities organized and ready to go with this handy display. You can have it customized with his name, or with your anniversary dates! He's going to love it.
28. DIY Bacon Roses
Most men don't think of bouquets as gifts suited to themselves as much as their significant others… But these meaty bundles are total game changers! For that meat-lover in your life, these make a delicious anniversary surprise.
For a pre-made version of this gift — check out these!
29. Emerald Green Leather Wallet
A classy wallet for a classy man! This emerald green, leather wallet is as functional as it is sleek. Sturdy enough for everyday use, it also keeps all of his important information safe with RFID protection.
30. Custom Handwriting Compass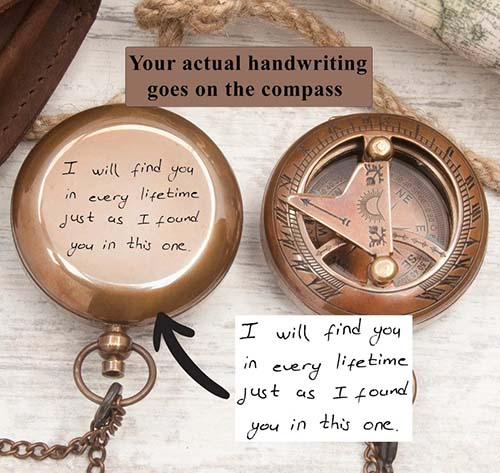 For those who love hiking or being in the great outdoors, this compass will ensure he always makes it back to you. What's even more special is that it can be engraved with a special note in your own handwriting!
Related: 50 Manly Outdoor Gift Ideas
55th Anniversary Gifts for Couples
31. Celebrating 55 Years Customized Photo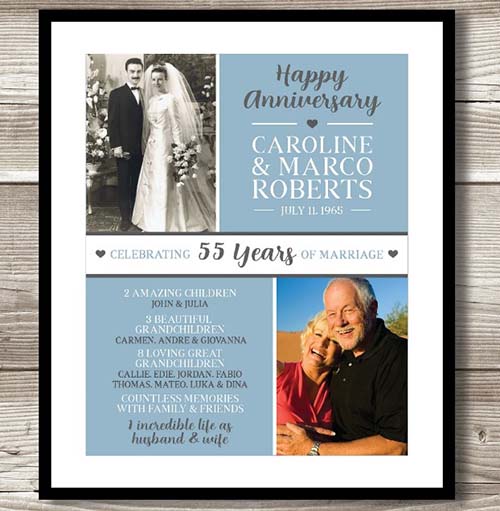 This "Then and Now" personalized photo layout will look lovely displayed in their home. It comes in an easy to download format and is available in four different size options. Pick the perfect frame to suit their decor and you'll have a unique, custom gift they'll cherish for years.
32. Personalized Wine Bottle Display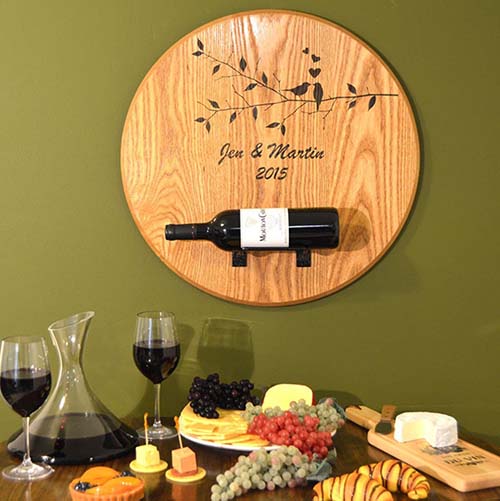 Add some flare to their kitchen with this custom wine bottle display. Add their anniversary dates, names, and a fun design motif to make it just for them! Maybe toss in one of their favorite vintages for that little something extra.
33. DIY Wedding Day Shadow Box
Fill a shadow box with sweet keepsakes from their wedding day. They'll be so touched by such a thoughtful gift. For an extra special touch, include emerald to fit into the 55th anniversary theme, and watch as it all comes together.
34. Celebrating Our 55th Wedding Anniversary Candle Holder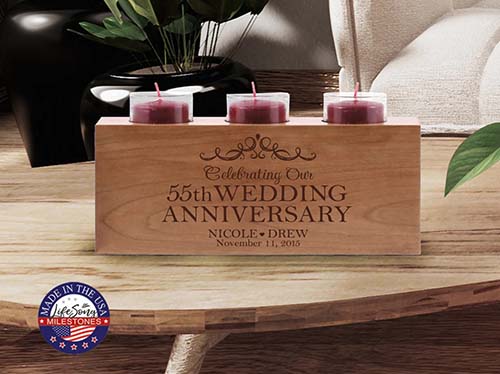 This handcrafted, cherry wood votive holder is so pretty and an excellent addition to their already cozy home. A wonderful centerpiece for any mantle or hearth, it will glow with the same warmth that characterizes their love for one another.
35. Still Having a Hoot After 55 Years
Make them chuckle with these adorable T-shirts. The clever play on words will keep friends and family giggling each time they see them. Many things may have changed over the years, but all of those smiles are golden and timeless.
Unique Fifty-Fifth Anniversary Gifts
36. We Go Together Like… Engraved Coasters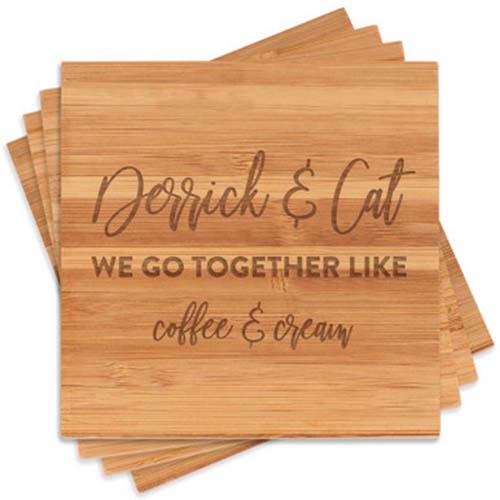 These cute coasters are a great idea for any couple. Choose whichever fun pun you feel best suits them, and watch the smiles stretch across their happy faces.
37. 55 Years Pebble Art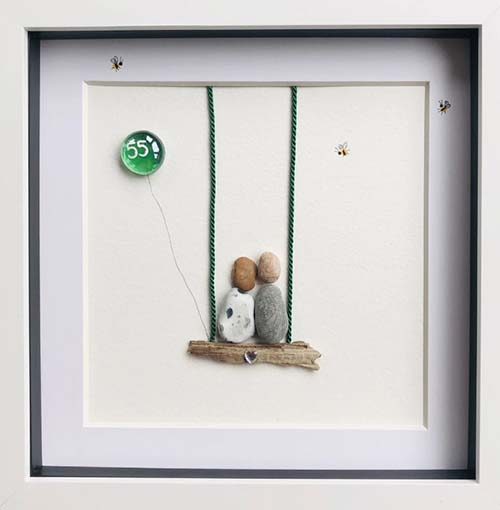 How clever is this emerald-themed pebble art. This sweet piece will bring plenty of smiles and spark memorable conversations for years to come. A unique memento for a momentous occasion.
38. Keychain Photo Album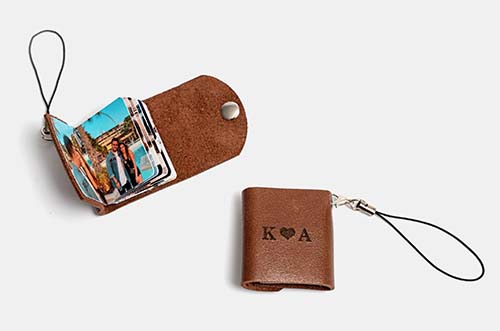 Allow them to keep their favorite collection of photos together with them wherever they go! This darling, leather keychain photo album is a keepsake they will cherish and enjoy for years.
39. Yours for All Time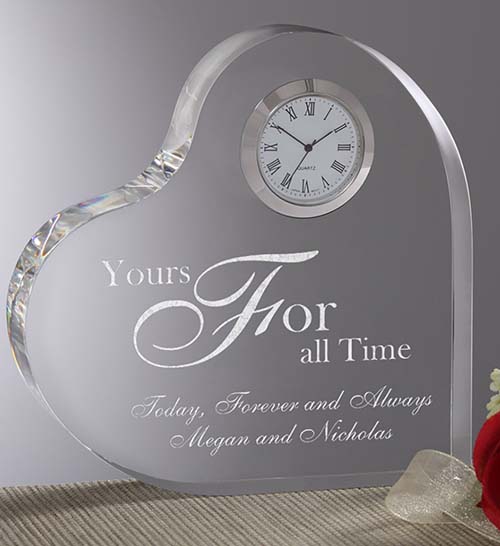 Such a special gift for the special couple! This beautiful clock will surely earn a place of prominence in their home as it rings in literal hours of delight. Made of solid Lucite and custom engraved for that extra touch.
40. Emerald & Gold Personalized Keychain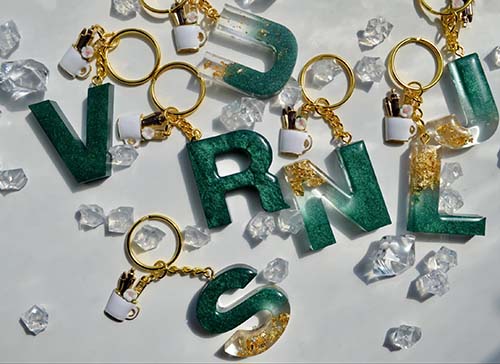 Add a little class to their keyring, briefcase, purse, luggage… Options are endless! Handcrafted of resin and gold leaf, each piece is a unique piece of art. Small but so tasteful, this is a quaint gift they'll love.
Need more anniversary gift suggestions? Head over to Gifts by Anniversary: Traditional & Modern Gift Ideas by Year for lots of great ideas!
Read Next: 60th Anniversary Gift Guide