If you're on the hunt for the best 2 year anniversary gift ideas, we have one great big happy word for you: Congratulations!
After all, you know what they say (whoever "they" are):
The first year of marriage is the hardest.
So if you've made it to year number two, it is seriously time for a party! And a great party needs a great gift.
Read on for some excellent choices for your beloved (or as a special 2 year anniversary gift for your favorite married couple).
Our website is supported by our users. We sometimes earn a commission when you click through the affiliate links on our website. See our privacy policy & disclosures for more information.
All About 2nd Wedding Anniversary Gifts
This is part of a series on Anniversary Gifts by Year.
What is the traditional 2 year anniversary gift?
Cotton.
Why is cotton the traditional second anniversary gift?
It's versatile, comfortable, and strong, just like your marriage! Woven together with dainty strands, cotton (and your relationship) bonds and becomes stronger together than the individual parts.
What is the modern 2 year anniversary gift?
China.
Why is china the modern second anniversary gift?
It's beautiful, yet fragile, just like relationships.
What is the 2 year anniversary stone?
Garnet (or rose quartz).
Why is garnet the second anniversary stone?
Garnet is a fiery red color, and you guessed it, red signifies passion and heat. The romance is still going strong by anniversary number two!
What is the second anniversary flower?
Cosmo
What is the 2 year anniversary color?
Red
10 Best 2nd Wedding Anniversary Gifts
Let's talk about gifts! Here are our 10 favorites, followed by sections with traditional and modern themes, gifts for him, for her, and other creative gift ideas.
1. Personalized Large Cotton Tray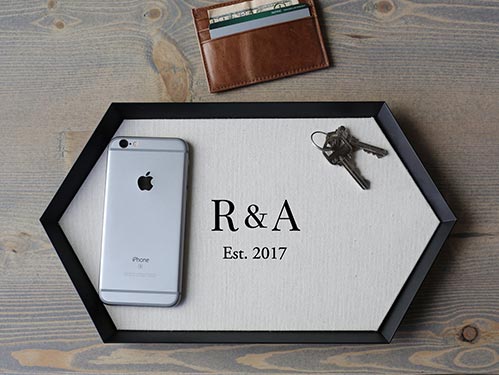 This pretty and sophisticated cotton tray is personalized with their very own initials. It's the perfect place to store just about anything: keys, cosmetics, jewelry, coasters, a vase of flowers, mail, magazines, or will look simple and stunning all by itself on the coffee table!
2. Couple's Vacation Package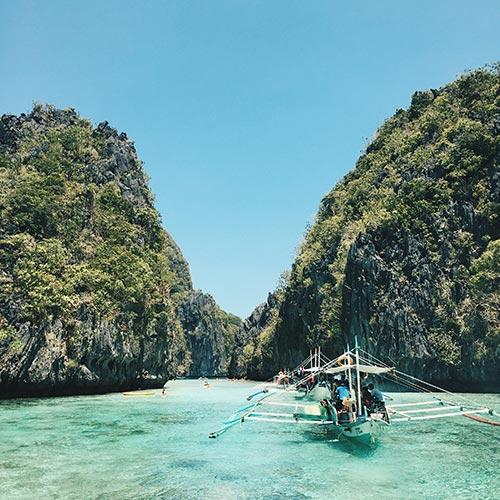 Especially fabulous for the newlyweds who didn't go on a honeymoon right away, a getaway will soothe their weary-but-still-in-love souls.
Help them make memories and have the time of their life (cue Dirty Dancing theme), with an experience and vacation they'll never forget.
You may also enjoy: 101 Romantic Things to Do on Your Anniversary
3. Cotton Anniversary Custom Tray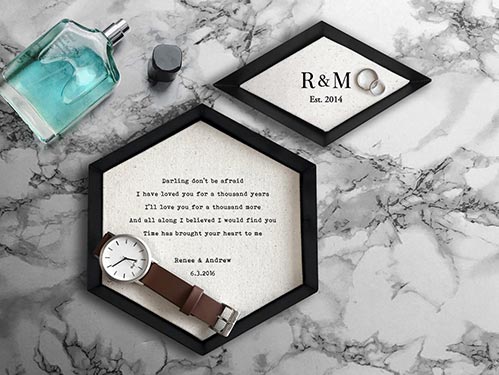 A little more in-depth than the one above, this pretty cotton tray will be treasured for years. It might just be too lovely to use as an actual tray (we wouldn't want any drips or crumbs on it): wouldn't it look great hanging on the wall?
4. 2nd Year Anniversary Toilet Paper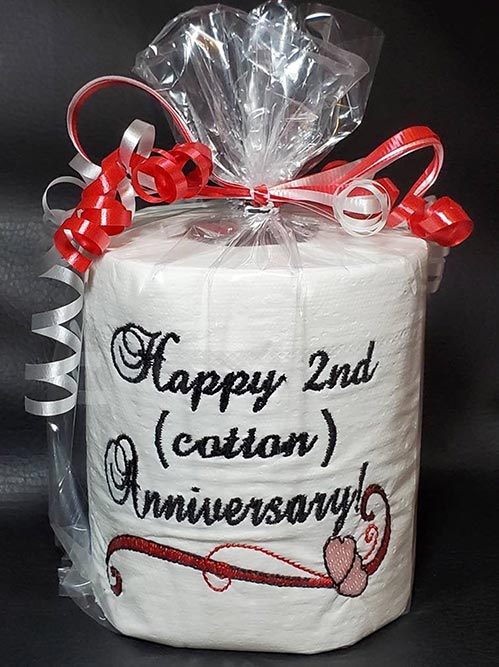 If you can't afford a luxury cotton-themed gift, why not make them smile with this alternative: a funny roll of cotton toilet paper?
We imagine this will be sitting on the back of commode for a long while, making everyone who sees it laugh.
5. Romantic & Fun His-and-Hers Pillow Covers
So adorable! These soft pillowcases are so sweet and will make any bedroom décor pop. You can also get it in body pillow size, which is super fun.
6. Custom Engraved Oval Plaque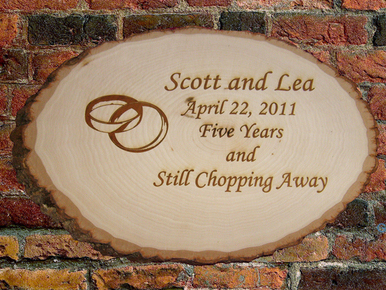 This oval plaque, made from natural wood, will be just the thing for their living room wall or hanging up on the porch. Engraved with their names and date of their wedding, it is sure to be valued many, many anniversaries later.
7. Framed Burlap Canvas
Burlap is close to cotton, isn't it? This sweet and playful framed canvas is simply adorable. The colors are neutral enough to go with anything, too, making it an easy choice when searching for an anniversary gift.
8. String Art State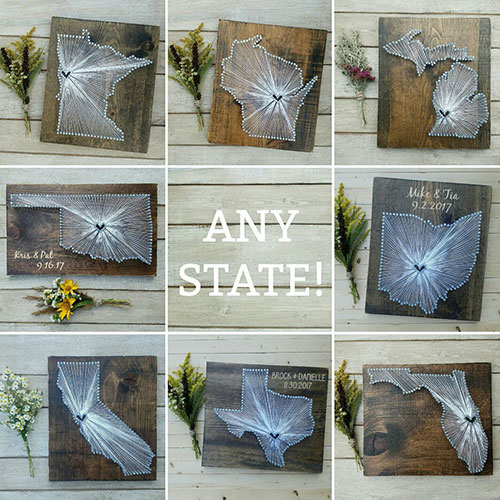 So clever and unique! These string art pieces are carefully woven together with (you guessed it) cotton strings, forming the shape of the state they live (or were married) in.
We guarantee they don't already have one of these (you can't say the same for some of the other gifts they'll be receiving).
9. Cotton Stem Coasters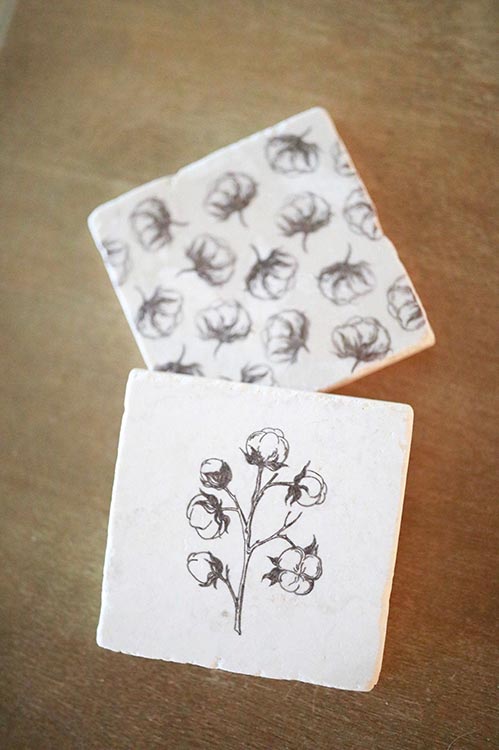 These marble coasters are so pretty, with their engravings of beautiful cotton plants. The charming art and useful function will make these a perfect gift for your spouse. Not leaving beverage rings on the table never looked so good!
10. Royal Portrait Canvas Painting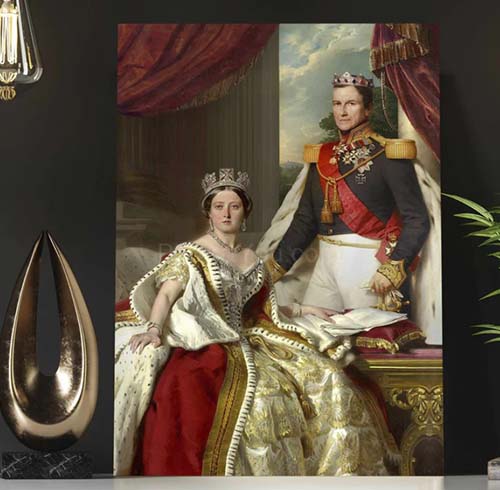 Take that gorgeous photograph of the two of you on your special day and make it even better by transforming it into a real canvas piece of art. They'll be blown away with a true heirloom!
P.S. Canvas, as you know, is made from cotton. So it's ideal for a second anniversary gift!
You may also enjoy: 9 Beautifully Personalized Photo Anniversary Gifts
Traditional 2nd Anniversary Gifts (Cotton)
Let's focus in on some great gifts that stick to the traditional 2nd anniversary theme of cotton.
11. Wedding Day Calendar
A sneaky and adorable way to make sure you both never forget your big day, this cute anniversary calendar will brighten up any living space. Personalized of course, with your names and date, this is sure to bring a smile every time your hubs or wifey lays eyes on it.
12. Cotton Flower Painting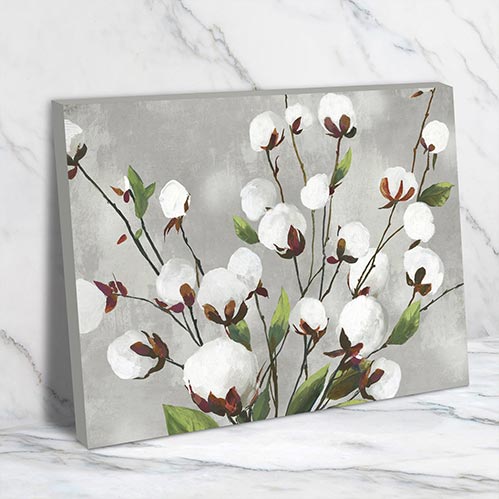 Timeless in its simplicity, this floral painting of cotton blooms really stands out amongst the crowd. The soft colors won't clash with your décor and it's a lovely homage to your second anniversary.
13. Married 730 Days Pillow
Math is hard. Make it easier with this charming pillow! The sentiment rings as true as your vows.
14. Couple's Hammock
What's better than spooning with your loved one? Spooning in a couple's hammock, of course!
This boho style hammock will cheer up any yard, and all it needs is him and her and a relaxing afternoon to make it complete.
15. Monogrammed Robe Set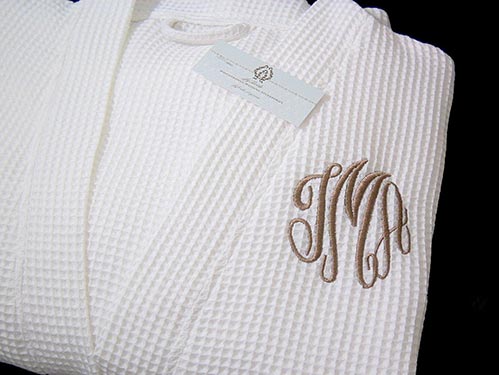 Perfect for lazy Sundays or to pack on vacations, these him and her monogrammed robes are made of soft cotton. They're classy, affordable, and will never go out of style.
Modern 2nd Anniversary Gifts (China)
China dinnerware is the contemporary theme for year two. Here are some thoughtful and creative gifts that incorporate elegant ceramics.
16. Bone China Place Setting
This gorgeous Wedgwood 5 piece Hibiscus set of china will make her jaw drop. The colors are so vibrant! She'll want to add to it until they fill up that china cupboard completely.
17. White Folia Bulb Vase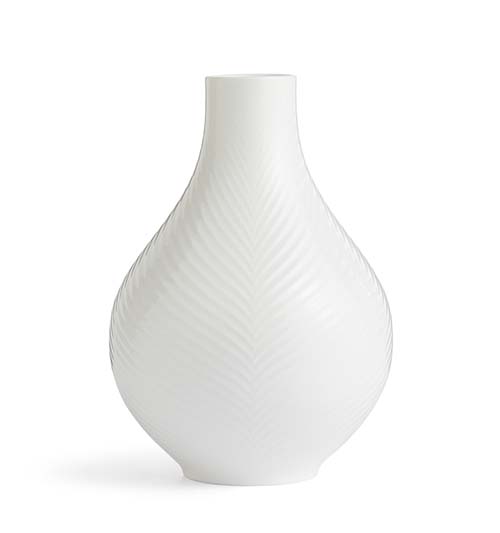 China can be used for much more than just dinnerware. Consider this lovely White Folia Bulb Vase, crafted from bone china to serve as stunning centerpiece. Fill it with a bouquet of Cosmos flowers for a perfectly paired 2nd anniversary gift for the love of your life.
18. China Tea Pot
This old-fashioned teapot is so sweet with its white and pink petals. It really feels like a grown-up gift for the couple who isn't just starting out anymore, but who knows where they're going (and would like a cup of tea when they get there).
19. Earrings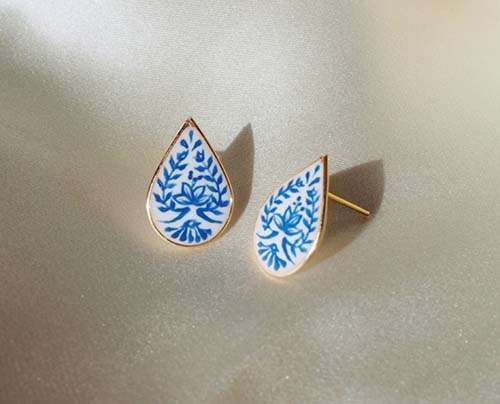 She'll get so many compliments with these china earrings! The love birds really complete the scene, and the blue and white is such a timeless combination.
20. China Mug
For the armchair travelers, these Mr. and Mrs. mugs are just too great to pass up! Whether the two of your are coffee connoisseurs or tea sippers, your spouse-of-two-years will love a set of these great cups.
2 Year Anniversary Gifts for Her
Let's talk about best Year Two anniversary gifts for your beautiful wife.
21. Garnet Necklace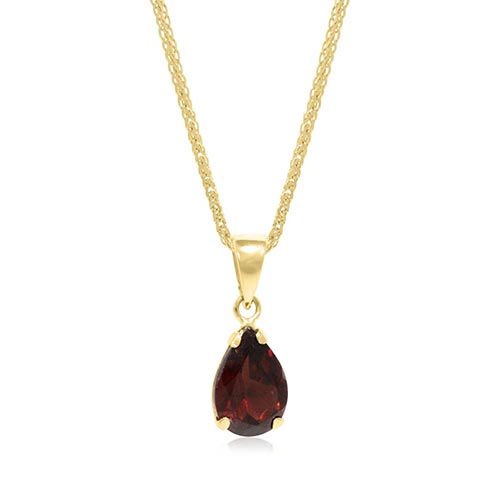 The deep red of the garnet perfectly captures the fiery moments of your marriage. This drop necklace is going to look amazing nestled against her little black dress, or even tucked into her work scrubs. She'll feel so special putting this on!
22. Personalized Clutch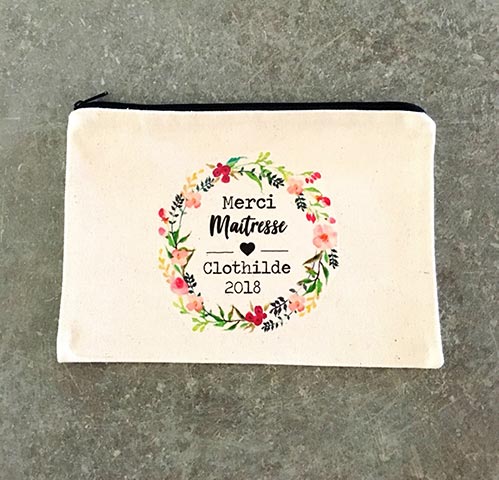 Made of cotton, this zippered little clutch will have a million uses, from holding money to cosmetics to hair ties, or even used as a little purse! She'll wonder how she ever got along without it.
23. Reusable Cotton Face Pads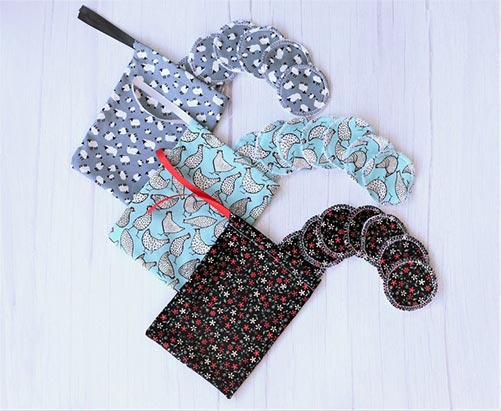 Eco-friendly and oh-so cute too! Cotton reusable face pads are such a simple and easy way to save money and save the earth. Whether she uses them to remove makeup or nail varnish or what-have-you, she'll love this set. It also comes with a washbag so you don't lose them all in the washer/dryer!
24. Galaxy Rose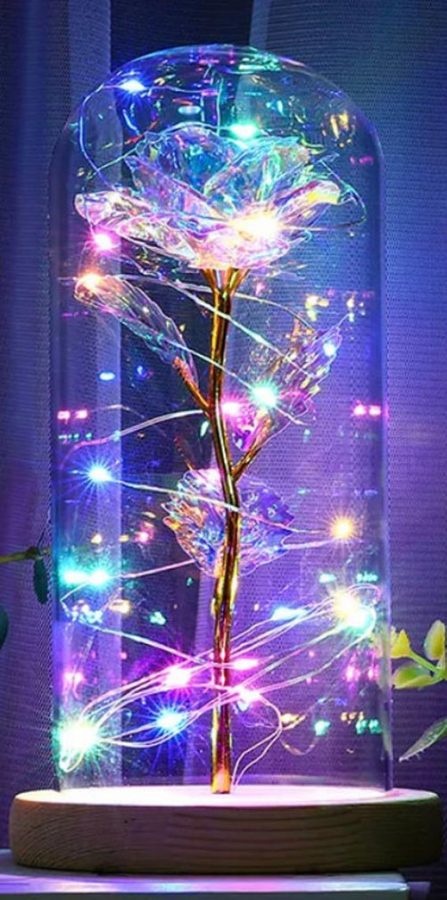 A little sci-fi, a little Beauty and the Beast, this galaxy rose will really wow her! It will definitely get a place of honor either on her nightstand or shelf. What a conversation piece!
25. DIY Necklace for Her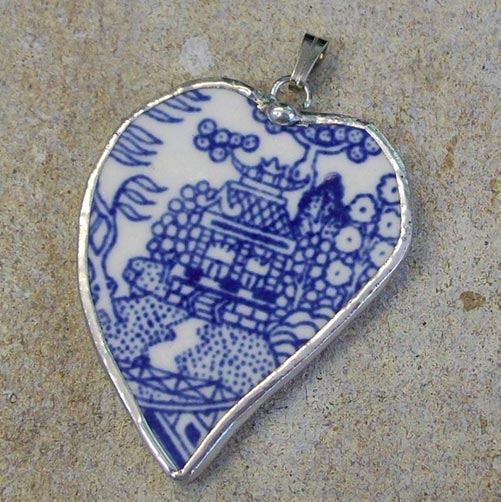 This downloadable PDF will help guide you in making her a unique broken china necklace that she will love forever, and probably wear everyday! Making your own anniversary present really brings a whole other level of thoughtfulness to a simple gift.
2 Year Anniversary Gifts for Him
He's special, he's handsome, and he's all yours. As you enter year two, find the perfect anniversary gift for him below!
26. Monogrammed Robe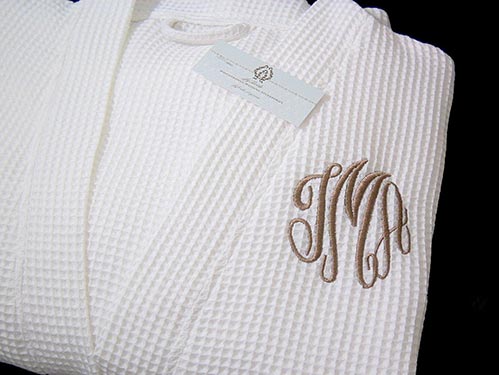 He'll feel like a million bucks, and maybe a little like James Bond, or the Most Interesting Man in the World, when you get him this monogrammed robe!
Naturally made of cotton (naturally!), it's comfortable and just the ticket for a relaxing weekend. Don't be surprised if he asks for his drink shaken not stirred while wearing this!
27. Personalized Tray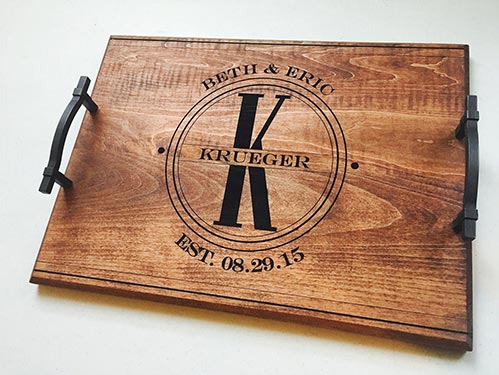 Useful and good looking! Isn't that what you said about him, after all? This personalized wooden serving tray is rugged and rustic, but also streamlined and classy. He's going to love it!
28. Garnet Bracelet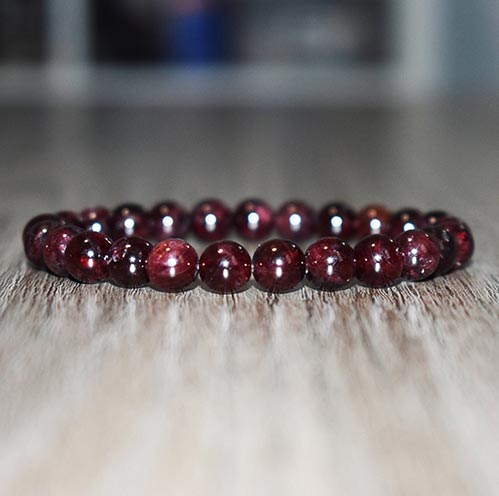 Jewelry isn't just for the ladies, you know! This stunning garnet bracelet is going to look fabulous on his wrist.
29. Beer Subscription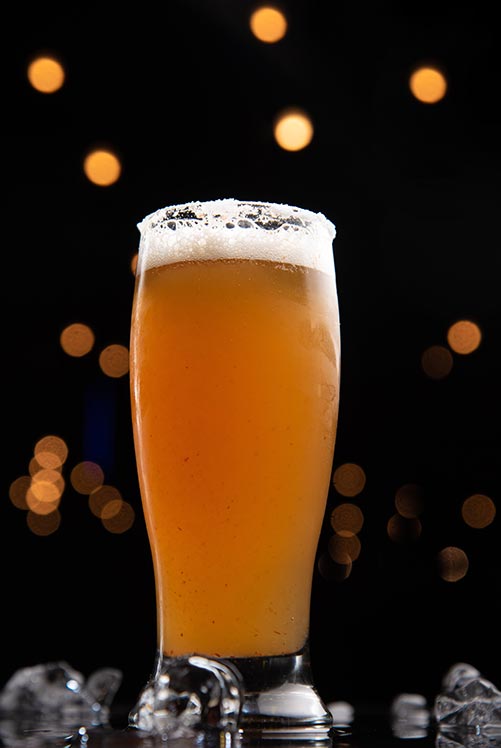 If he isn't into tea, beer is always a popular alternative! It's the gift that keeps on making him smile, with every pop of the top!
30. Custom Duffle Bag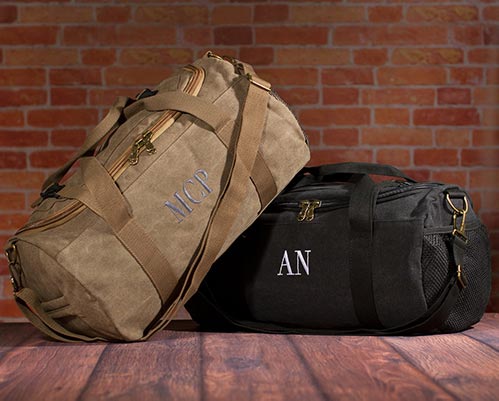 If he's the traveling type, or simply the going-to-the-gym type, he'll love this customized duffle! Choose your color and your initials and he's good to go! High enough quality to last for years and years.
2 Year Anniversary Gifts for Couples
Let's talk about gifts for couples. Whether you're giving a gift to a special couple in your life on their 2nd anniversary, or maybe you want to give your spouse something that shows your "togetherness," these are some of our favorite gifts for the perfectly paired couple.
31. 2nd Anniversary Game Shirt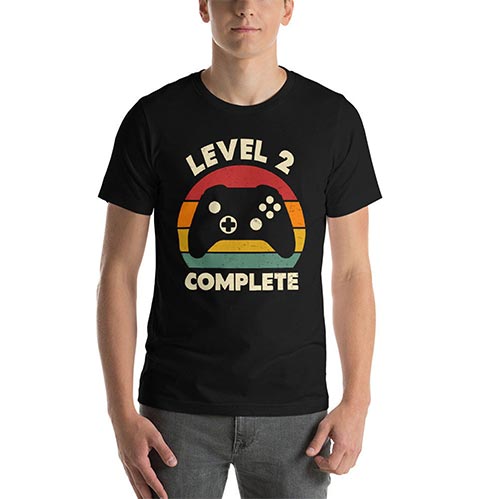 It make take other people a minute to figure this out, but give a set of these to the gaming enthusiast anniversary couple and they will "get it" immediately!
Perfect for the gamers in your life, this will be their new favorite matching tees.
Related: 60 Great Gifts for Gamers
32. Fire Extinguisher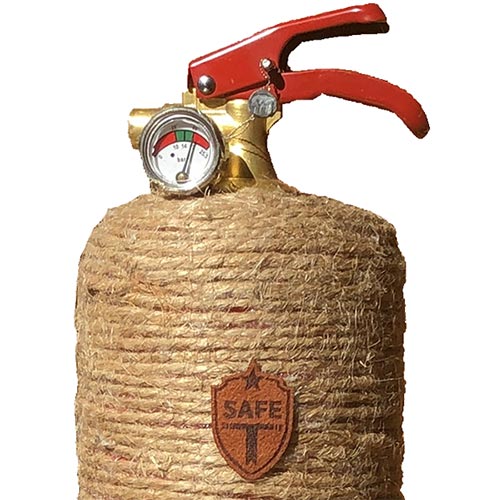 Hemp is the new cotton, right?! Why not get them something useful and necessary? This fire extinguisher really fits the bill! It's beautiful, so they'll want to keep it in plain sight where it will be ready (heaven forbid!) should they ever need to use it.
33. Make Your Own Chinese Ceramic Tea Pot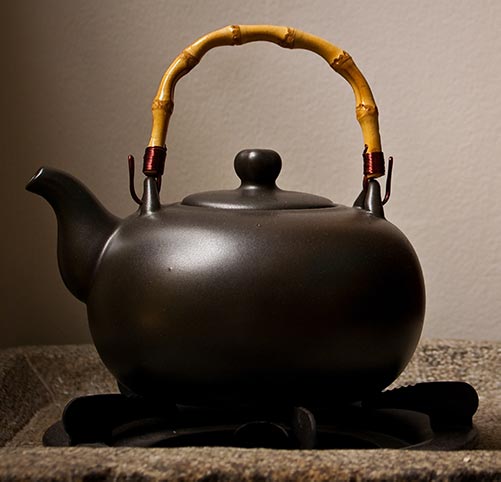 Make your teapots together and cherish the memories! It's a romantic activity and a gorgeous keepsake that you can use for tea time. Cheers!
34. Engraved House Portrait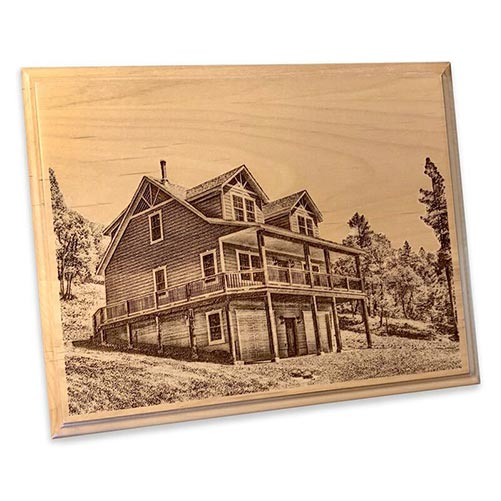 Such a wonderful way to memorialize their first home together, whether it was their starter home or their dream home, this engraved house portrait is made of alder wood.
35. Personalized Mug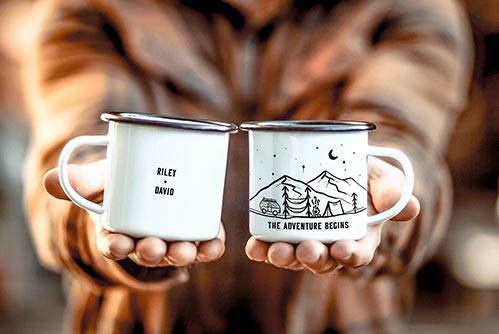 So sweet with its illustration and personalized names! Perfect for the camping, hiking, and outdoorsy couple. They'll swear everything tastes better when sipped out of these mugs.
Unique Second Anniversary Gifts
Here are some truly original ideas. Sometimes it's best to think outside the box, so… enjoy!
36. Date Night Jar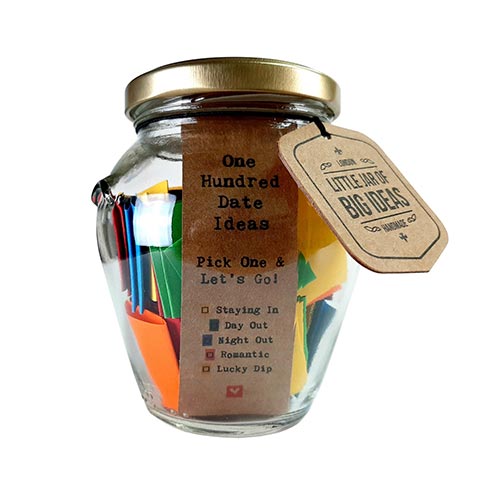 Sometimes its so hard to figure out what to do and where to go for date night, isn't it? How many arguments and squabbles have happened over where to go to eat when you both get hangry?!
Take that option right out with this cute date night idea jar. Color coded so all you have to do is choose from the rainbow.
Related: 101 Romantic Things to Do on Your Anniversary
37. Trees for a Change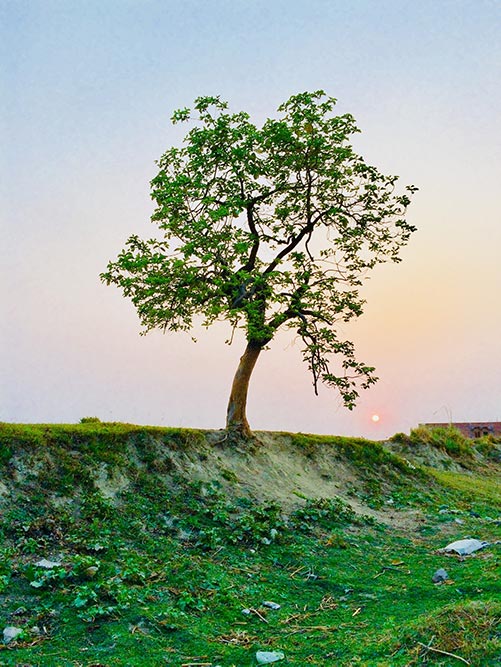 Dedicate a tree to their love as a green and eco-friendly alternative to a gift! No gift wrapping or scotch tape required and it quite literally will last forever! You can't say that about a blender.
38. Family Illustration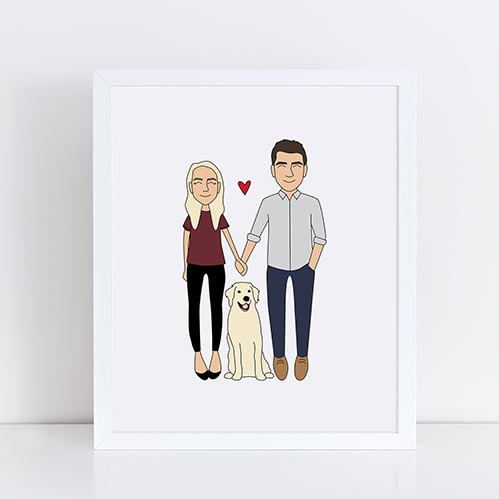 Make them say "Awwww!" when they unwrap this adorable print of them. Add in the family pet or a hobby and this will be their favorite gift of the year.
39. Ginger Jar Lamp
You've only been married for two years so you know full well how you're still collecting furniture and knickknacks. Why not add something useful and pretty, like this blue and white ginger jar lamp? It fits the china theme, too!
40. Tea Garden
They might not have the time or the know-how to start a full-on backyard garden, but anybody can get the hang of this herbal tea starter!
Read Next: All the Best Anniversary Gifts (By Year)
Whatever gift you pick, make sure you include a card with a well-thought-out and romantic note to your beloved inside. For ideas on what to write, be inspired by these 101 Happy Anniversary Wishes.
Pin It