Has Mom, Dad, Grandpa, or Grandma made it to the century mark? Then it's time to think about 100th birthday gifts!
But what in the world could you get for them that they don't already have? I am glad you asked. We've put together a nice list for your celebrated centenarian.
You will enjoy browsing and picking out that perfect gift for the beloved 100 year old in your life.
10 Best 100th Birthday Gift Ideas
Our website is supported by our users. We sometimes earn a commission when you click through the affiliate links on our website. See our privacy policy & disclosures for more information.
1. Personalized Bobble Head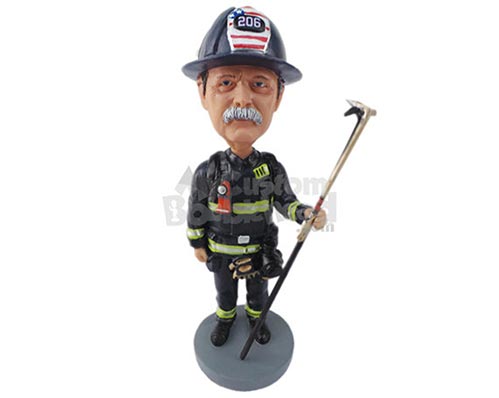 When someone has made it to 100, why not give them a custom collectible bobble head? This statue is an adorable gift idea for the person who has everything!
This is a unique way to honor your loved one; it will surely bring a smile to their face.
These handcrafted polyresin statues measure 5.5 to 7 inches in height and weigh about 1 lb.
2. Plant a Tree in Their Honor
Give a gift of a tree and help restore a forest! Gifting a tree is a special and unique present that will last for years and years.
With Trees for a Change All Occasion Tree Gifts, you can choose from several options (from a single tree to an entire grove) to suit your budget.
A tree will be planted in a U.S. National Forest in honor of your loved one. Once the tree is planted, your loved one will receive online access to photos of their tree.
They will get data about its geographic location. Your loved one's name will be recorded on the online Tree Gift Registry as well.
Related: The Gift of a Tree: 5 Tree Gifts That Make a Difference
3. Flowers of the Month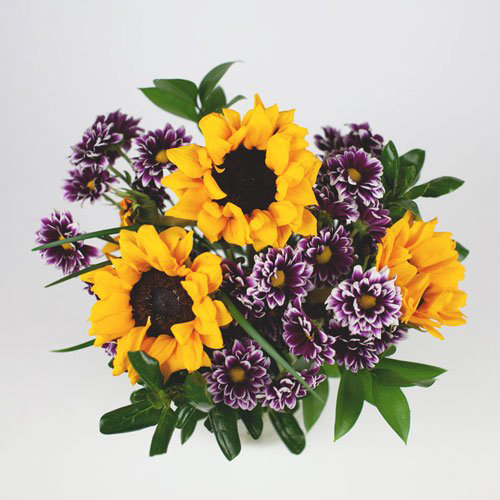 Delight your loved one with a monthly subscription of beautiful flowers!
Each month your loved one will receive a new and different selection of flowers. Exotic flowers are shipped from all over the world in specialty packaging. Freshness is guaranteed.
You can choose from 3, 6, and 12-month clubs with new selections each spring, summer, fall, and winter. A beautiful gift that keeps on giving.
Now, why would you send a monthly delivery to a 100-year-old? Because flowers are delightful, first of all, but secondly it's a subtle, meaningful way to say, I expect that you'll be sticking around for a while.
4. Photo Map of the USA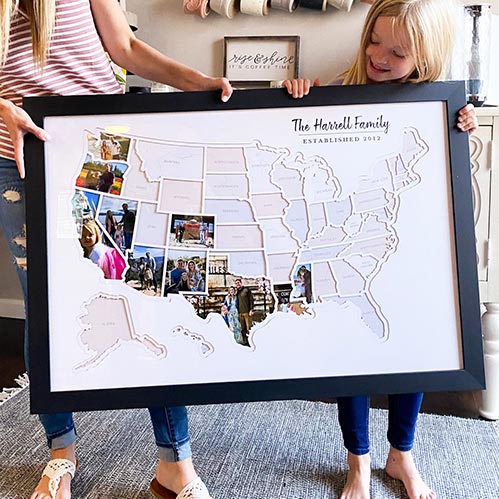 This is a fabulous way to keep track of your family adventures! ?
This is a gift that keeps making memories; add pictures as you go, and you can keep those memories alive on this United States travel map.
This handmade map measures 24″ tall by 36″ wide and will fit into any décor. It's sure to be a great conversation starter.
5. Making the World a Better Place Custom Mug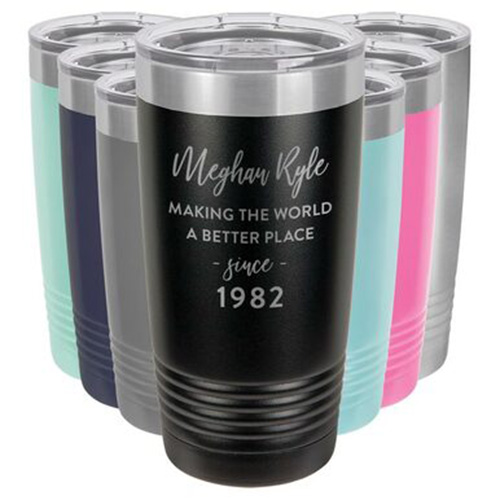 Keep your drinks piping hot or icy cold (for hours) in our personalized tumbler! This personalized birthday tumbler is always a hit, as you proudly proclaim that your loved one is making the world a better place since [100 years ago].
Your loved one's name will be laser etched onto this stainless steel travel mug along with their birth year. Our tumblers are double walled and vacuum sealed, built to last for years.
Choose from four sizes, seven colors, and two lids. This gift is sure to please!
6. My Home Town Personalized Puzzle
A unique jigsaw centered on your centenarian's hometown. This is a 400 piece puzzle covering an area of 7½ miles (east-to-west) by 5 miles (north-to-south). Wherever your home is lies a piece that is shaped like a house!
Puzzle building is relaxing and a great way to pass the time.
This puzzle's assembled size is 12¼" x 18½" inches. Custom made when you place your order.
7. Family Tree Sign with Personalized Name Tags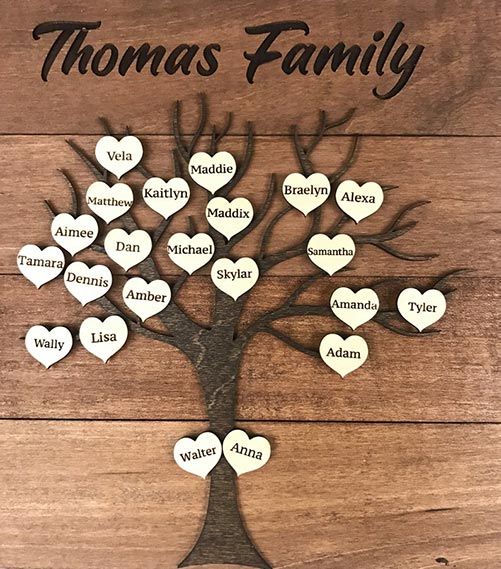 This custom-made family tree is adorable. Choose from "hearts", "leaves", or "acorns". It is easy to add on as the years go by! You can include up to 50 names—a great way to show your family pride.
Handmade from wood; easy to hang hardware is included.
A beautiful addition and suitable for any household décor.
8. Personalized Stemless Glass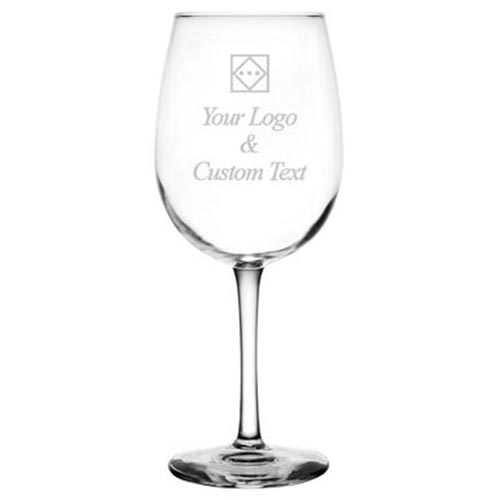 These custom engraved wine glasses hold up to 16 ounces with laser etching is included. Stylish and personalized, wine glasses will add class to any occasion.
Add your loved one's name and birthdate to make this gift extra special!
"CHEERS!" to your centenarian.
9. Personalized Smushy Face Pillow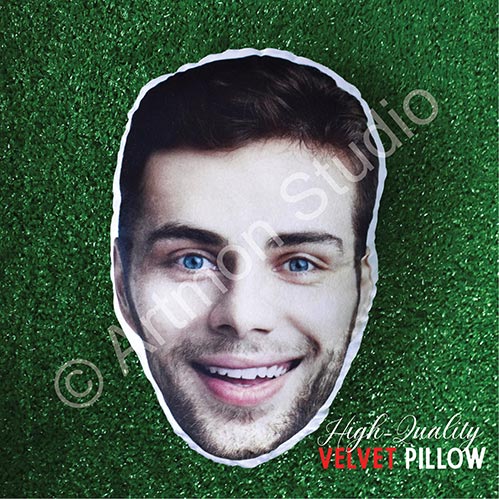 How do you make someone who is turning 100 years old laugh?
Easy. Have them unwrap this personalized pillow.
You can keep your loved one company any time with this personalized pillow. Imagine their smile when they see a pillow with "your" face on it. Your loved one will always be able to keep you close and take comfort from that.
Choose from seven sizes and four styles, with your face, their face, or anyone's face!
10. Cute Mug & Warmer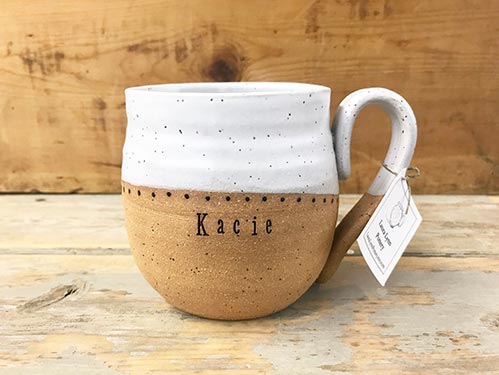 This handmade clay stoneware mug holds up to 16 oz and is simply gorgeous! Add your loved one's name or anything that can be said in 15 characters.
Choose from four primary glaze colors; and two clay colors. Your 100-year-old birthday girl (or boy!) can enjoy a steaming drink of coffee, tea, or hot chocolate on those chilly mornings in this truly exceptional mug.
As a bonus, be sure to include this nifty mug warmer to keep that beverage hot all day long.
10 Best 100th Birthday Ideas for Women
Ok, now that we've covered our picks for the 10 best birthday gifts for any 100 year old, let's take a look at some more fun and meaningful gifts specifically for women, and then (further down), for men.
1. Birthday Flowers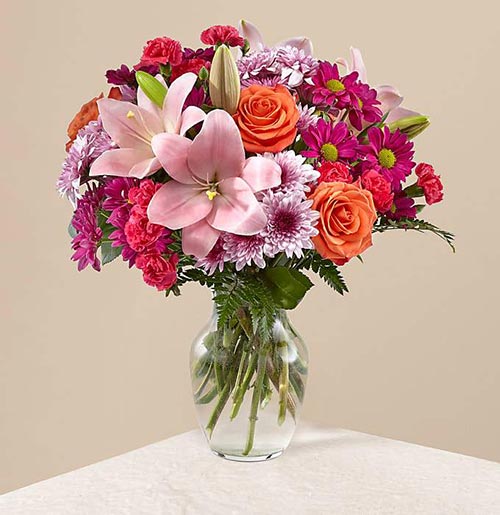 Choose from dozens of beautiful and vibrant bouquets to treat your loved one! Pick her favorite color, scent, and flower.
Flowers are sure to brighten her day and add splendor to her surroundings. Show Mom or Grandma that you are thinking of them on their special day.
2. Scents of the World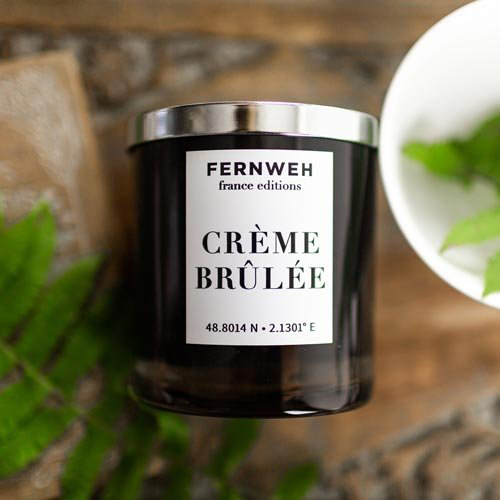 These exotically scented candles are made in small batches and hand-poured. These candles come in two sizes' burning from 60 to 110 hours.
Indulge her senses with these soy-based candles. These candles will inspire her imagination to take a journey and have new adventures. She can take a trip to another land and never leave her home.
3. Custom Blanket with Their Pet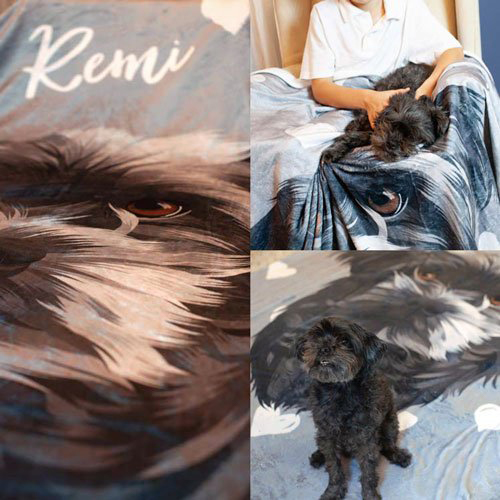 These sweet blankets are perfect for any pet lover! Put her favorite fur baby on a blanket that she can snuggle up in. These blankets are nice for a nap or bedtime. She will simply adore it ❤️
This is a wonderful reminder of your love for her, as well as her love for her pet.
4. Family Birthstone Necklaces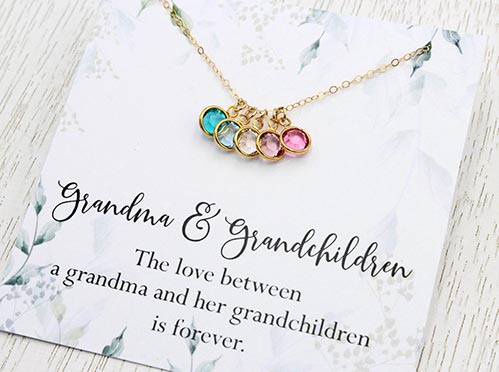 A sweet reminder to your special grandma. Her grandchildren can be kept close at all times with this customized birthstone necklace.
You can add as many charms as needed to complete this family necklace. This is a gift that will please Grandma for times to come!
The charms are made from Swarovski crystal for a beautiful sparkle. Order from a 15″ to a 20″ chain in silver, gold, or rose gold.
Related: 30 Best Gifts for Grandpa & Grandma on Grandparents Day
5. Personalized Best Centenarian Ever Tumbler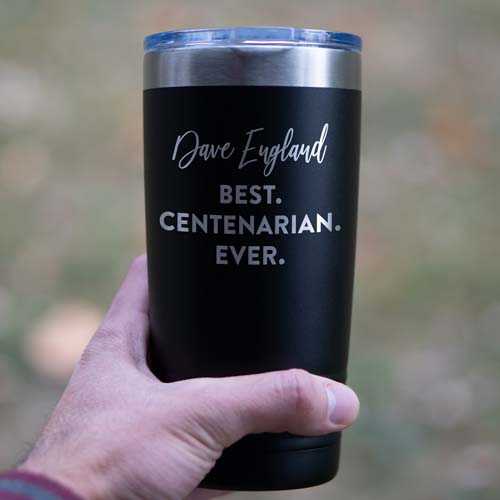 This personalized tumbler is a great way to honor your beloved grandma! Her drinks will always be "just right" in our Polar Camel tumbler. Keep beverages steaming hot or icy cold for hours.
Just add her name and birthdate to make this gift extra special.
Offered in seven colors, you are sure to be able to find her favorite one. Our mugs are made from durable stainless steel.
6. Beautiful Portrait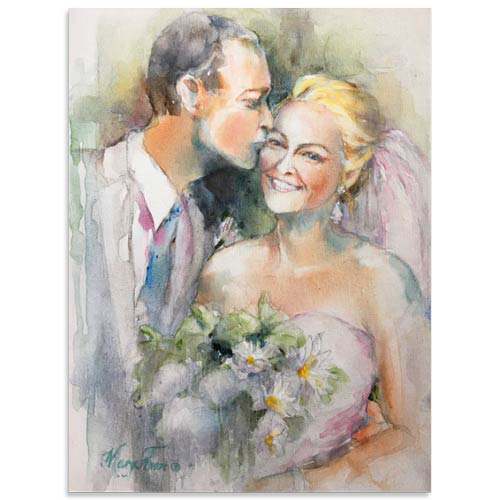 Honor your grandmother with one of these elegant portraits by Mary Ann Simmons.
The best portraits are from life or from the photos you love. Everybody's life has a story! Preserve a story in an original watercolor painting that will be passed down from generation to generation.
7. Pink Salt Lamp
The Himalayan Pink Salt Lamp makes a great nightlight!
They give off a soft pink glow, and Himalayan rock salt lamps have long been thought to boost mood, improve sleep, ease allergies, help people with asthma breathe better, and clean the air, among other benefits.
These lamps make a nice addition to any room and any décor.
8. Geode Bookends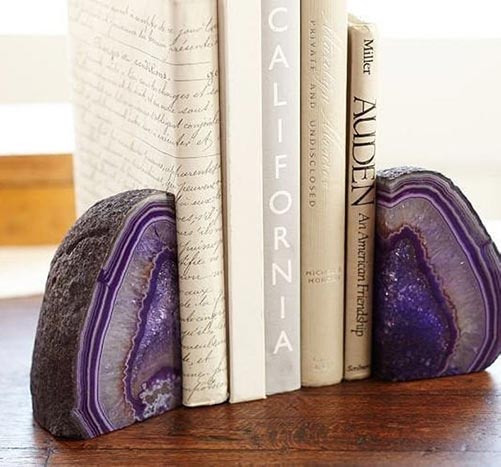 These are one-of-a-kind geode bookends! Pick her favorite color from ten different color choices. These geode bookends are sure to please the reader in your life.
The bookends are handmade, carefully cut, and polished. Sizes will vary but typically measure 7″ W x 3″ D x 6″ H and weigh 6 – 8 pounds.
9. Personalized Robe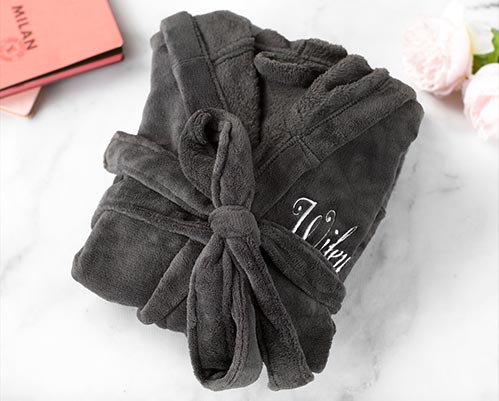 Give her the gift of comfort with this cozy robe. This personalized fleece robe comes in three colors. Get her name or initials embroidered for a special touch that she'll love!
This hooded robe is a "one size fits all." She'll enjoy its warmth and luxury so much; she may never want to take it off.
10. 100th Birthday Necklace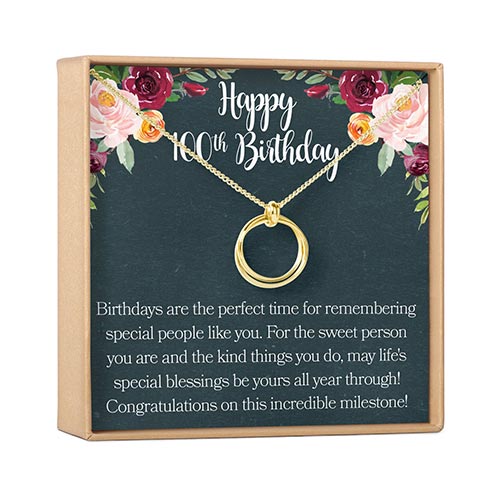 This elegant and classic design is a great way to celebrate her birthday! Honor that special lady with a gift she will treasure.
Choose from gold, silver, or rose gold finish. The pendant is hung from an 18″ chain.
Make her smile.
10 Best 100th Birthday Ideas for Men
As promised, here are our top picks for 100th birthday gifts for men.
1. Men's Slippers
Keep Dad's or Grandpa's feet cozy warm in these 100% leather slippers. The rubber sole grips so there will be less chance to slide on the floor.
These slippers are not just for bedtime use. These can be worn all day to keep him comfortable.
Pick from twelve colors to find just the right one. Comes in sizes 7-18.
2. Best Dad Personalized Bird Feeder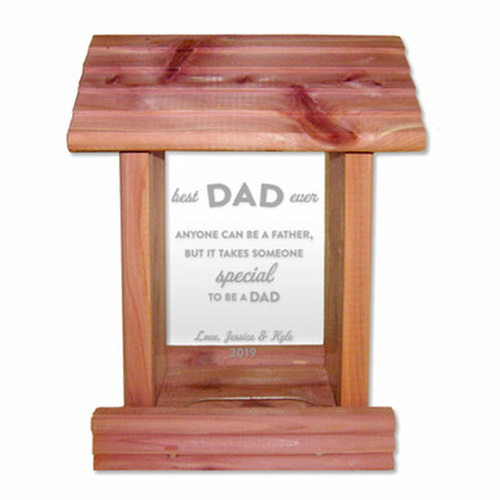 This is a great way for Dad to enjoy watching the birds! Sipping his coffee in the morning will be a delightful adventure as the birds come to visit this feeder ?
This birdfeeder will last for years and is sure to make Dad happy!
Made from aromatic cedar wood and acrylic panels; measures 7″ x 4-3/4″ x 10-1/2″.
Related: 10 Bird Feeder Gifts for Backyard Bird Watchers
3. Portable Radio
This retro AM/FM radio will bring back some good memories for him. It looks like the one he used to listen to his favorite tunes on!
Plug and play or use 4 AA batteries to make your radio portable. This analog radio is easy to use and lightweight; the sound is full and has excellent quality.
The simple tuning knob means it will be a breeze to find the station you are searching for. (Probably "oldies," right?!)
4. Candy From Their Favorite Decade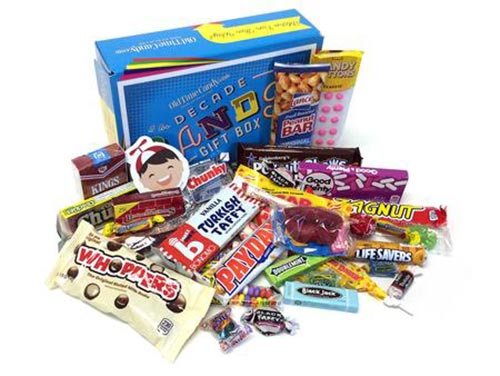 Candy from his favorite decade is a way to delight that sweet tooth he has ?
This is a two-pound assortment with over 35 pieces of candy including, 12 or more full-size candies. Perfect for sharing, if he wants to.
The candies come in a colorful gift box that measures 9.5 x 7 x 3 inches—a yummy gift for sure.
5. History By Mail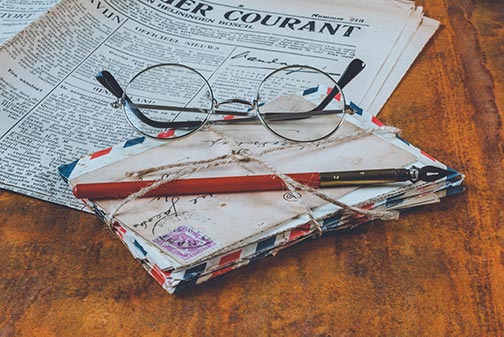 He'll enjoy this history club as he receives one historic document delivered monthly.
Researched from the best history archives in the world. Themes delve deep into historical inventions, American wars, foreign diplomacy, and much more.
Read for yourself – in the original words and handwriting! – what the people who shaped our history had to say.
A thoughtful gift for any history buff!
Related: 21 History Buff Gift Ideas, By A History Geek
6. Framed Burlap of the Year You Were Born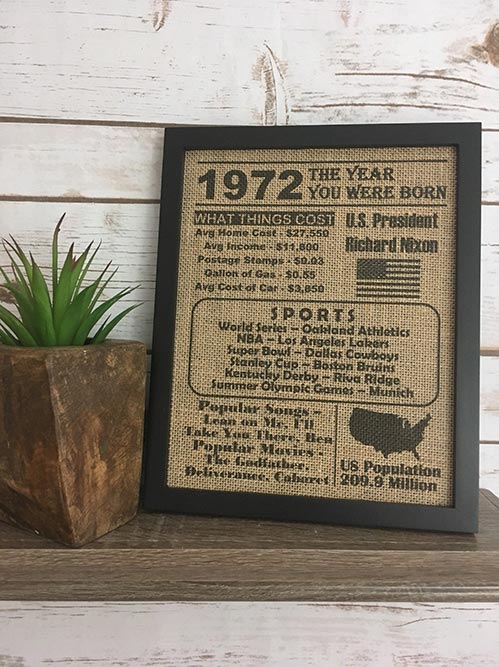 This burlap printed Year You Were Born sign is a gift he's sure to like!
This custom-made print includes the year of birth, the average cost of Items such as a home, postage stamp, and car, the US president, popular songs, and movies. It also includes the US population and important sporting winners of the year in which the person was born.
Framed and ready to hang, this 100th birthday gift measures 11″ x 14."
7. Took 100 Years to Become this Awesome Mug
This mug is a cute and sassy way to serve up Grandpa's coffee. He'll delight in letting you read the description on his mug!
The white ceramic mug holds up to 11 oz. of brew.
8. Personalized Wallet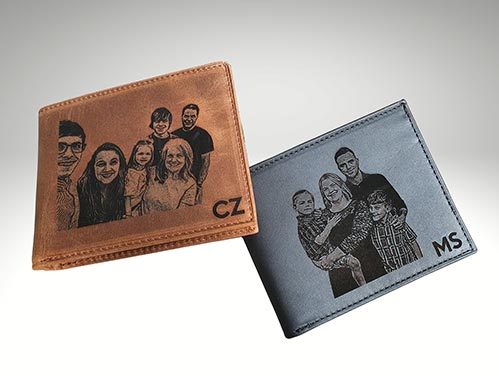 A very considerate gift for Dad or Grandpa. You can engrave initials, name, text, word, logo, symbol, image, or photos on this custom wallet. Pick from two colors of genuine leather.
This is a memorable gift that will be appreciated.
9. Whiskey Glass with Cigar Rest
This is an old-fashioned whiskey glass with an indentation for a cigar. Perfect for that whiskey and cigar expert.
This tumbler will hold up to 12 oz. of his favorite libation. Join him in a drink to his health and longevity.
10. Deep Tissue Foot Massager
Your dad or grandpa will enjoy pain relief with this calf, ankle, and foot massager. Deep Shiatsu massage helps to improve blood flow and reduce inflammation.
From gentle to firm, the foot and leg massager offers three levels of intensity. This is a relaxing way to end a long day.
100th Birthday Quotes
"May your special day be filled with sunshine, smiles, laughter, and love."
"May every minute of your 100th birthday be filled with the immense joy you've shared with your loved ones for 100 years."
"Wishing you a day filled with happiness and a year filled with joy. Happy birthday!"
"The day is all yours — have fun!"
"Today, the flowers are bloomier, the sun is sunnier, and life is awesomer – all because it's your birthday!"
100th Birthday Party Ideas
Celebrating 100 years calls for a party!
Bourbon and Cigar party – for him.
Mani-Pedi party – for her.
A photo party – have everyone bring pictures of the birthday celebrant. Collages and slide shows will be a great touch.
Enjoy a family meal. Invite every family member and make your loved one's favorite foods.
Have a birthday parade. Coordinate friends and family to drive by, honk their horns, and wave.
Need more party ideas? We have 150 more right here!
100 years old is a huge milestone. Make sure to let your loved one know that they are loved, treasured, and appreciated.
No one can ask for more than the love of their family.
Read Next: 100th Birthday Wishes & Cards