You know what they say, 40 is the new 30.
At least, I'm pretty sure someone said that once. A very wise person, no less!
For this absolutely monumental birthday milestone, a generic gift card or gift certificate to some chain restaurant just won't do.
Nay nay, your freshly minted 40 year old deserves more. We've got you covered. Read on for 40th birthday gift ideas that will be the toast of the party.
10 Best 40th Birthday Gift Ideas
Our website is supported by our users. We sometimes earn a commission when you click through the affiliate links on our website. See our privacy policy & disclosures for more information.
1. Massive Bell-Shaped Glamping Tent
20 and 30 year olds camp. Those over 39 1/2 glamp.
The young pups can sleep under the stars in any old sleeping bag, but the 40 somethings want style and substance.
They'll have it in spades with this groovy and chic glamping tent.
2. Travel/Experience Birthday Gift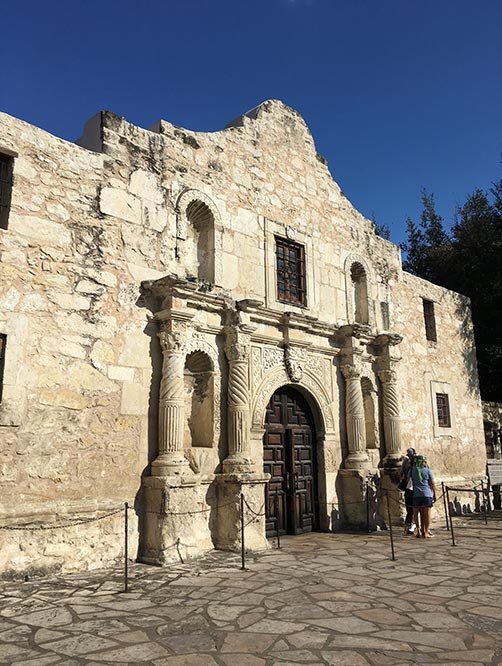 40 is the perfect age to explore the world!
You're young enough to have energy and stamina for those hikes along the beaches and bikes along the coasts, but old enough to appreciate a relaxing afternoon at the art gallery or vineyards.
Tinggly is a unique service that is essentially a gift certificate for an experience. The recipient redeems the gift for, say a Napa Valley Wine Tour or a Shark Experience in Florida.
There are thousands of options, so they can easily find something near (day-trip style) or far (if they want to spring for air fare).
And if you're clever, their plus-one will be you.
Related: Create Lasting Memories with These 50 Ideas
3. Decorative Fire Extinguisher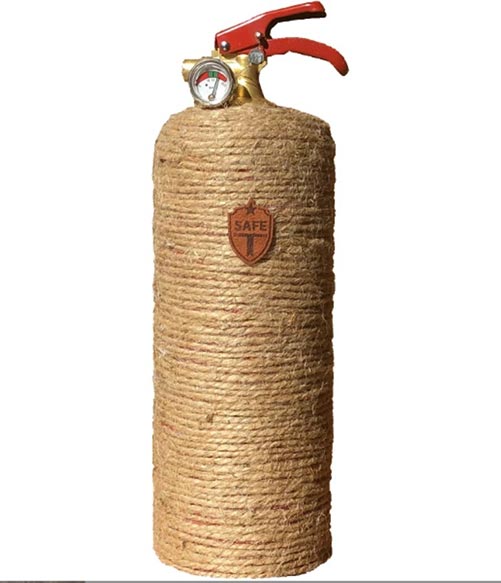 A decorative fire extinguisher is something they never even knew they wanted or needed until now. It's not just about safety, it's also fun and cute!
We guarantee no one else will show up with such a useful and decorative gift than this twine wrapped life-saver!
There are plenty of designs available, including hand-crafted art, cute quotes, animals, cars, wine, whiskey and more.
4. Personalized Birthday Comic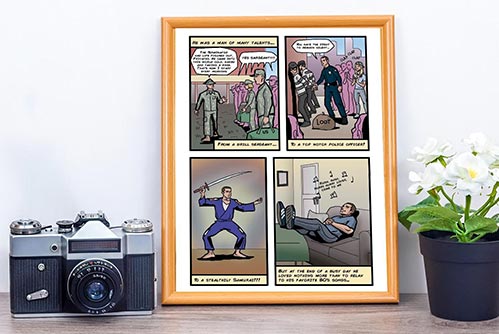 Just itching for its spot on the wall in the middle of the living room or gaming room, this clever personalized piece of art will be the subject of many conversations at many a dinner party for years to come!
Everyone wants to be their own superhero after all.
5. White Sand Salt Water Beach House Sign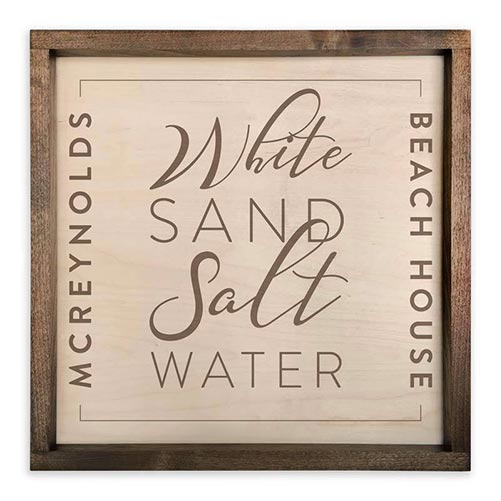 With its neutral tones of taupe and sandy hues, this charming sign will look flawless with any décor, no matter the style or trend.
Personalized with his or her own name it'll never be re-gifted (not that they would ever want it to be!).
Handcrafted from solid wood in Oregon, available here.
6. Customized Glass Coffee Mug Set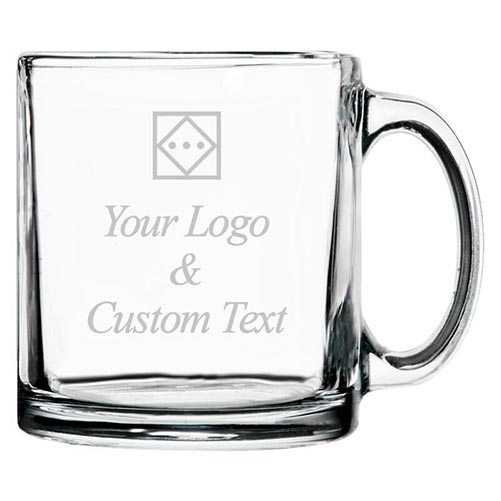 Tea, coffee, and whiskey drinkers alike will love this custom mug. It's streamlined and classy, even if all they drink is hot cocoa with mini marshmallows.
You can even add their business logo or some meaningful clipart – think a horse for the horse lover, a trout for the fishing enthusiast, and so on.
7. Backyard Games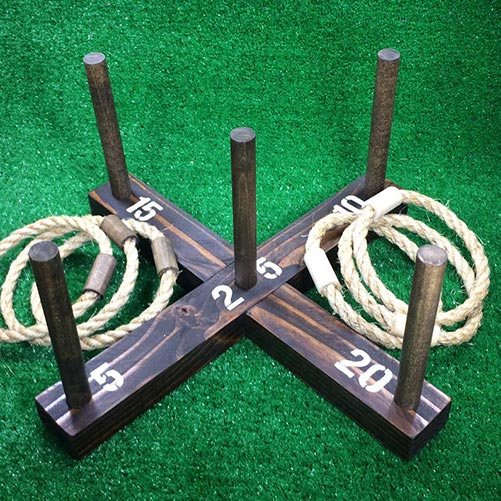 No one loves a good backyard game more than the 40 year olds!
They've lived long enough to know it's always a good time for a party, and outdoors is where it's at. Plus it's not too draining to travel to your own backyard for a spot of fun.
This ring toss game will be the hit of every tailgate, BBQ, and potluck for years to come. Other ideas include oversized "Yardzee," cornhole, a giant backyard Jenga tower set, and much more.
8. BEST EVER Personalized Bird Feeder Birthday Gift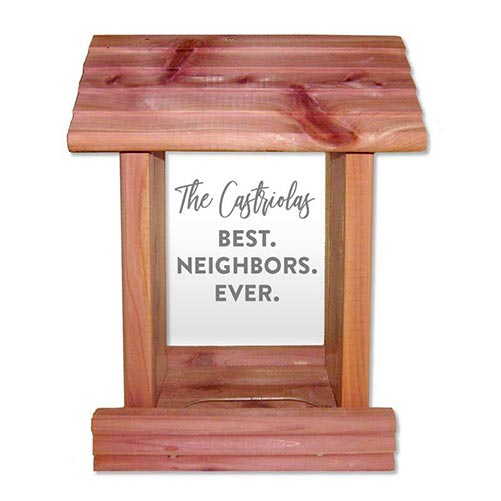 Feed the birds and look stylish while you do! This custom personalized bird feeder is just the ticket for the bird watcher in your life, or just for someone who spends a lot of time on their porch.
You can add whatever text you like but we think Best. Neighbors. Ever. is pretty clever. Adapt it to best wife, husband, sister, coworker, beer pong specialist, or whatever else floats your boat.
9. Jaws Board Game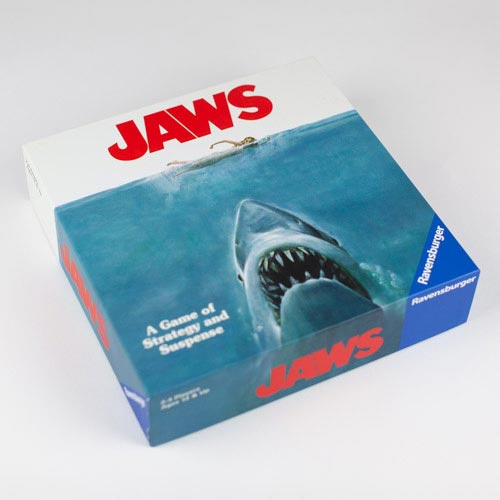 The thing about 40 year olds is, they know a good classic horror flick when they see it.
Jaws is no exception, and this game of 'strategy and suspense' will be the favorite of Game Night in no time.
Can't you just hear the theme music now?
10. Vintage Home Bar Plaque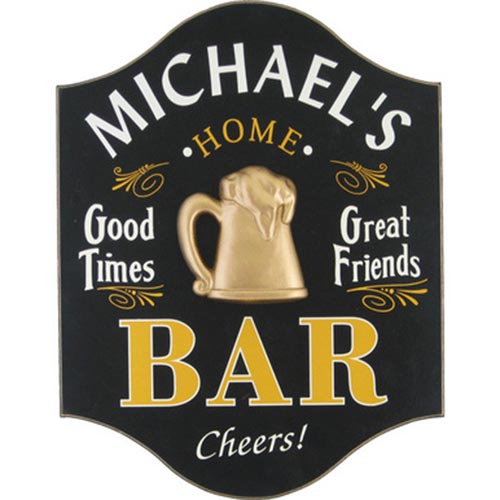 Your 40-something friend will love this personalized gift! It's too charming and eye-catching for words.
With a vintage vibe and popping colors, this personalized sign will stand out in all the best ways mounted over any bar, kitchen island, or dining room table.
10 Best 40th Birthday Gifts for Women
Whaddya know, here are some amazing 40th birthday gifts just for her.
1. Tabletop Glass Fireplace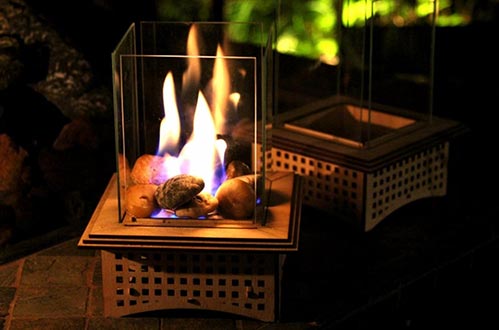 Nothing is better than a warm fire, unless it's a warm fire in her own backyard with someone to snuggle (maybe that's you), a glass of wine, and great conversation!
This gorgeous fireplace with its smooth streamlined glass, classic shape, and pretty river rocks will steal her heart.
Don't forget the gel fuel!
2. Rustic Wood Bath Tray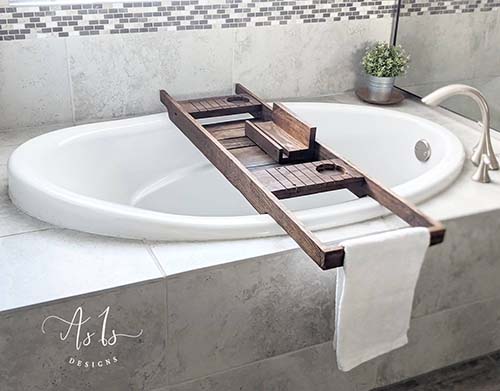 You've got to admit, the ladies have bath time down to an art form. Help her relax in style with this rustic bath tray.
For added brownie points, add a yummy smelling candle, some detoxifying salts or bubbles, and maybe a paperback from her favorite author.
Don't like what you see above? Well don't worry, there are tons of cute designs to choose from! Click here to check them out
3. Vintage Geography Casual Shoes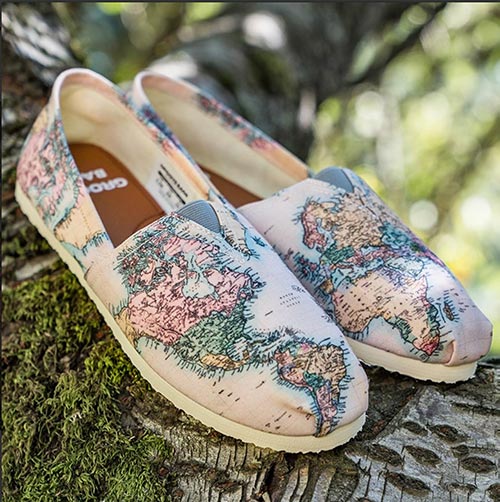 One of the best things about these pretty shoes is the fact that with all those colors and the laid-back style, they'll match any and every outfit!
The other best thing about them is all the compliments she'll receive. Get used to hearing, "where did you get those shoes?!"
Oh, and this is not the only design, by a long shot. Groovebags & Custom Kicks provides an amazing array of themes in their online store, plus matching bags, leggings, phone cases, and more.
We reviewed a fun pair of "crazy cat lady" shoes from Groovebags here.
4. Custom Engraved Cutting Board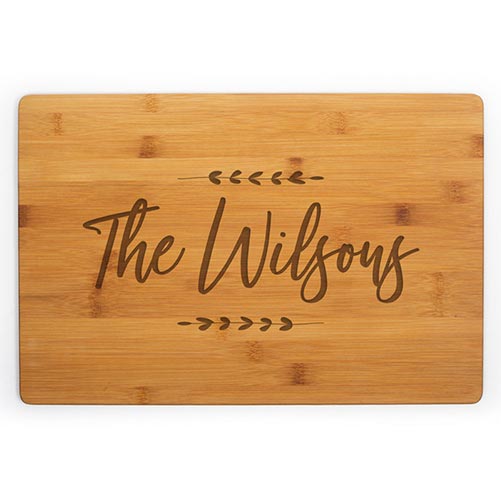 For the 40 year old chef or charcuterie-building champion in your life, this classic and classy custom chopping block is the perfect gift.
The ideal size for slicing onions, smashing garlic, or dicing apples, it also makes a great piece of kitchen decor when it's not being used. Or she keeps it on the coffee table with a vase of flowers as a conversation piece.
5. Very Big Hug Blanket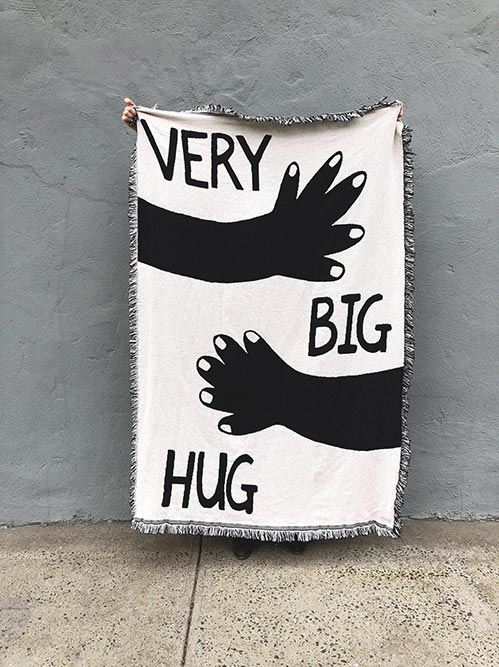 You simply can't be in a bad mood when you're wrapped up in one of these oversized and charming VERY BIG HUG blankets!
Perfect for someone who lives too far away to hug in person, it's cozy and warm, and they will think of you each time they cocoon themselves inside.
Handmade from 100% cotton right here in the USA.
Related: 55+ Self-Care Gift Ideas
6. Family Birthstone Necklace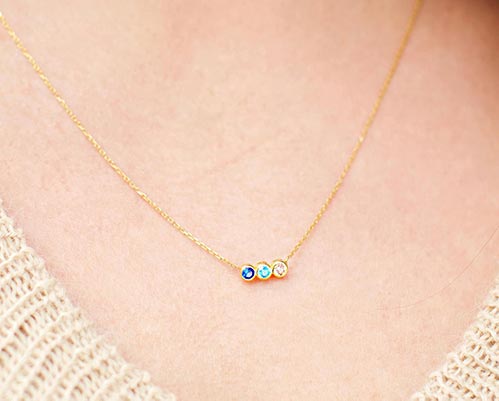 Customizable with all the birthstones of her family, this lovely necklace will have her swooning.
It's the perfect 40th birthday gift for her because it goes well with any outfit, from the most casual of jeans and tees, to a night out in a little black dress.
7. Personal Development Course for Her Hobby or Passion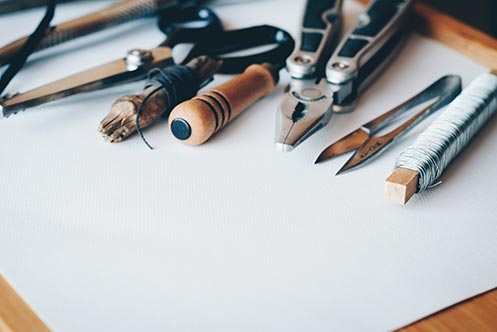 When it comes to gifts for your favorite 40 year old, an experience cannot be beat! At Udemy, you can choose (and easily gift) a special course that guides her in a new hobby or deeper in a lifelong love.
With a little creative questioning you can easily find out what they love to do more than anything, or – and this is a good one – what they've always wanted to try.
For added fun, make it an experience for two and take the class with her for an at-home adventure of the mind! Plus it will be an excuse to hang out more together and share her passion.
8. Handmade Ceramic Owl Hanging Planter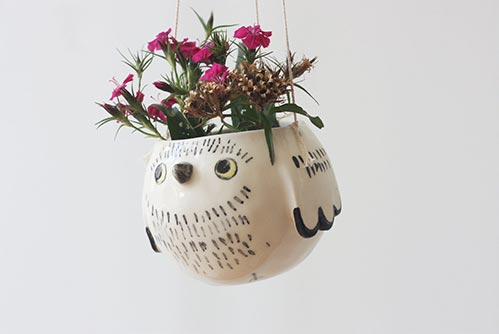 Plants are calming and what is more calming (and flat-out adorable) than this cheerful owl planter?
It can be hung or placed on a shelf and filled with her favorite flowers, herbs, or plants. Why stop at buying one, when three or four would make the most charming flock on the block?
9. Personalized Family Name Scripture Plaque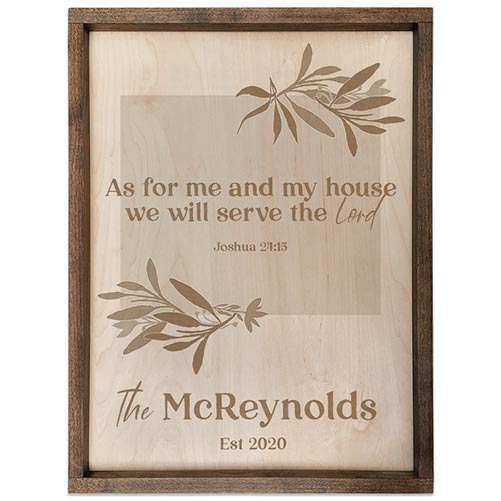 Leave no doubt as to what your family believes and practices with this pretty and personalized plaque.
Handcrafted from solid wood in the USA, you can choose from several designs styles plus many different verses or custom quotes.
It's an ideal housewarming gift too… really, you don't have to be 40 to love this one.
10. DIY Camper-Shaped Birth Feeder Kit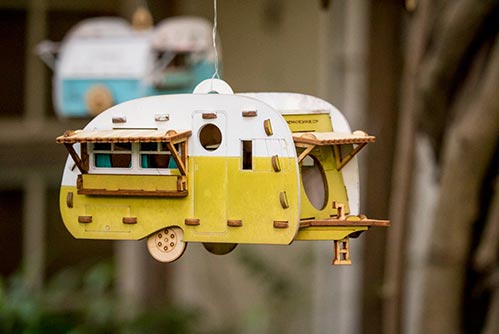 If you have someone in your life who loves birds and/or the RV life, this oh-so cute camper-shaped feeder will have them clapping their hands in delight.
With popping colors like teal and yellow, and even little curtains in the windows, the birds will be the luckiest in the neighborhood and probably invite all of their aviator friends.
If you prefer a simpler (and customizable) design, you may like this Personalized Bird Feeder!
10 Best 40th Birthday Gifts for Men
Guys turn 40 too. If you shopping for a man in his forties, these are the types of things he'll love to receive as a birthday gift.
1. Birthday Bottle Opener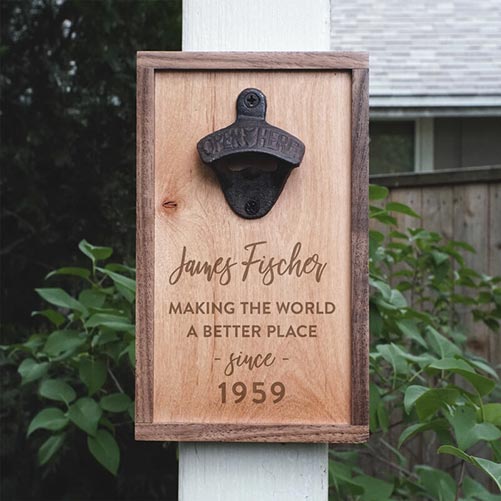 You can go sentimental or snarky with this awesome looking personalized bottle opener sign!
Practical and good looking (hey, just like him!) this will be treasured in any backyard or den.
2. Personalized Fishing Tumbler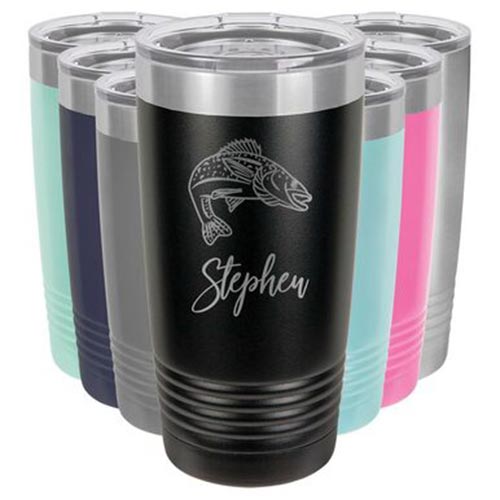 It's important to stay hydrated when you're out fishing on the lake or ocean, and this is the vacuum-sealed and insulated way to do so!
No one will mistake his uber-cool mug for their own once you personalize it with his name.
3. History By Mail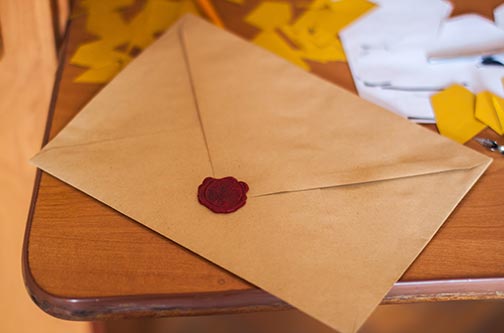 For the history buffs, you can't go wrong with this historical document delivery service!
Choose your monthly plan and be prepared to hear about the most amazing moments in history as they learn fascinating facts and tidbits about the world, all wrapped up with antique-looking stamps and papers.
4. Designer Walking Stick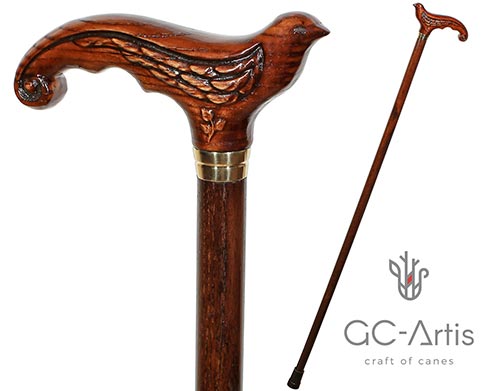 Hiking has never been more stylish and svelte than with this designer walking stick. Handmade from solid wood with a swallow adorning the handle, it's the ultimate 40th birthday gift for him.
It's so cool that he won't care how it implies he's getting super duper old. Be prepared to beat off the compliments with a stick (get it?) due to this gem!
5. Personalized Whiskey Barrel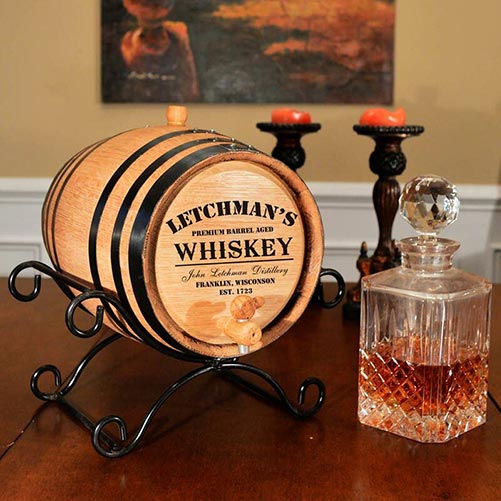 It's everything he never knew he needed.
Maybe he's always wanted to age his own whiskey, or maybe the thought never occurred to him before. Either way, this authentic personalized whiskey barrel is an amazing birthday gift.
Fabulous looking on any kitchen counter or sideboard, his friends are going to be jealous of this and want one of their own.
6. Personalized Throwing Axe
Because nothing says I love you like an ax!
Wait. Does it really? We think yes.
Laser engraved with anything you like, from the romantic to the funny, this personalized throwing ax is the gift that keeps on giving… chop after chop.
7. Man Crates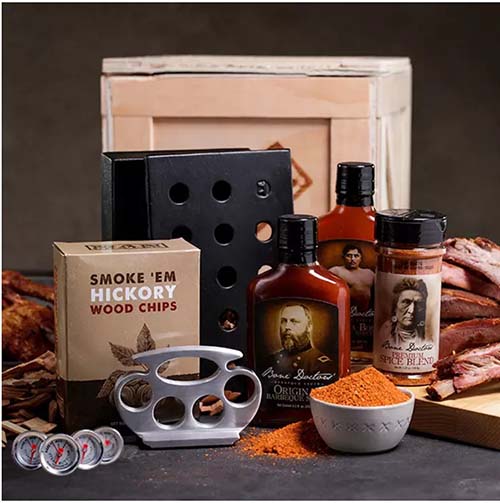 A box arrives at your door. No, wait… it's not a flimsy cardboard box; it's made from wood. It's a small crate! The label has your name on it. How do you open…? Oh, ok, here's a crowbar. You cram the metal bar into a crevice and exert brute – and oh-so-manly – force. The nails chirp and creak as the box splinters open. Inside, you see…… (What will your fun-loving 40th birthday boy find? Click here to find out!)
8. Spray Paint Can Organizer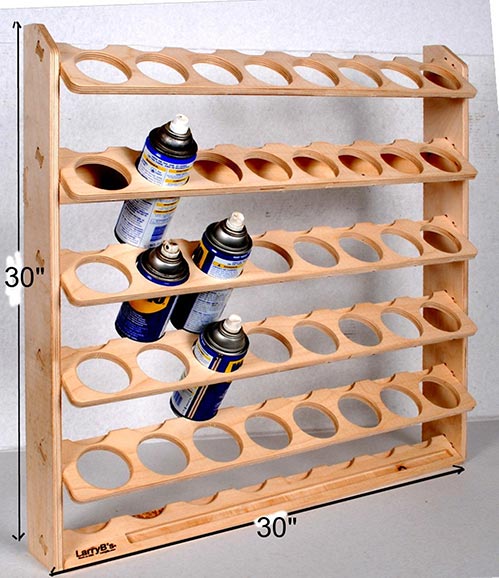 Help him keep his garage or man cave neat and tidy with this clever spray paint organizer.
There's nothing worse than knowing your have a specific color but not being able to find where you put it. Well, worry no more! He'll be able to reach for any color any time after receiving this thoughtful birthday gift.
9. Giant 42″ Fire Pit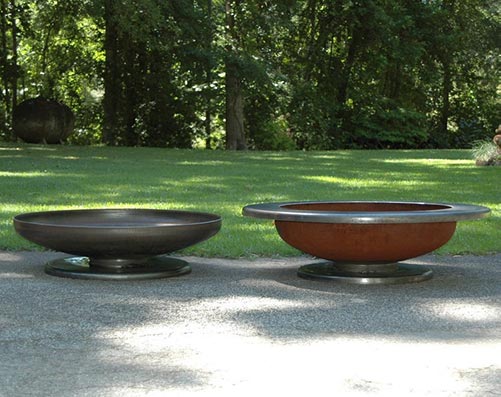 Because bigger is better when it comes to fire! Just ask any pyro.
Um, we mean any 40 year old male. They'll agree: this massive firepit is the only firepit you'll need. And it doesn't hurt that it looks great.
Pass the s'mores and hot dogs, it's gonna be a party.
10. Premium Hardwood Kubb Game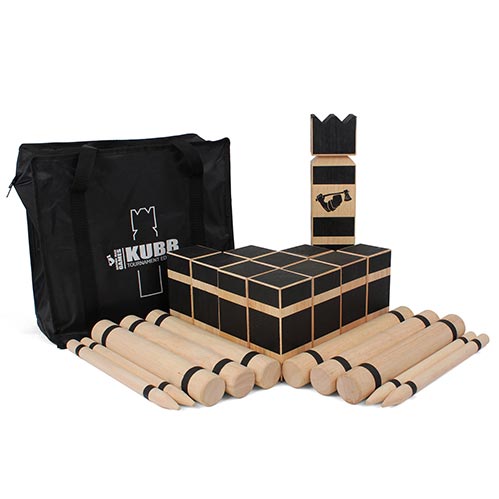 It looks and feels vintage, yet it's timeless and updated as well.
This black and white premium Kubb game will be his new favorite obsession. Who even needs an Xbox anyway?
10 Creative 40th Birthday Party Ideas
Make their 4th decade a fun one with these original 40th birthday ideas.
1. A Classic Over The Hill Birthday Party
Go all out with the gag gifts, like hemorrhoid cream, reading glasses, a walker, and a toupee. Or have your guests dress like the over-95 crowd.
Serve dinner at 4:30 for the early bird special and be sure to kick everyone out by 8!
2. Have a 4-TEA Party
Host an elegant high tea for your 40 something gal, complete with scones and clotted cream, sophisticated blends of teas, sugar cubes, and cucumber sandwiches.
Decorate with pictures of the royal family, and even hire some string instrument players for some background music. Encourage guests to wear hats!
3. Plan a Destination Party
The good thing about someone turning the big 4-0 is there is plenty of time to plan an elaborate destination party!
Whether on a cruise ship, or renting a van or RV for a road trip together, this is one party they'll never forget.
Don't forget the selfies and the hashtags for this one.
4. Forty Years of Memories Party
Take a walk down memory lane by putting together a slideshow and/or photo album of 40 years of their life.
Bring out the old-school party favors and decorate the way they remember life when they were a kid. Re-enact a favorite memory or re-enact an old picture together.
Similar but different idea: learn what was happening at this moment in time 40 years ago and have a party that goes with that theme.
5. Have a Drive In Movie Night in the Backyard
Rent a projector (or buy one because you're going to want to do this again), hang a large white sheet, pop some corn, and pass around some blankets.
You'll have a great time with friends and family as they watch his or her absolute favorite flick in your own backyard. It will be a 40th birthday to remember!
Tip: you can also rent a popcorn trolley, or stock your own candy booth.
6. Have a Cocktail Party
Play bartender (or hire one) for the night and have fun making tasty drinks for the guests.
Finger foods are a must, as is some jazz music in the background, or maybe the band Pink Martini? Schmooze and mingle till the sun comes up.
7. Have An Elaborate Dinner Party
Sure, pizza and beer are fun, but how often do you get to dress to the nines and have a gorgeous sit-down dinner party with your favorite people on earth?
Whether you pick out the meal plan and do the cooking or you hire a private chef, 40 only comes around once and we think you should make the most of it. Be swanky!
8. Have a Progressive Party
Especially if several of your friend group is turning 40 this year, why not spread the love around?
Appetizers at one home, drinks at another, dinner someone else's, desserts at the next, and so on. It's a fun way for everyone to get a turn playing host and hostess, and carpooling is fun too!
Better yet, hire one of the teenagers to uber you around. Designated driver and the couples can canoodle in the backseat.
9. Have a Picnic Under the Stars
Picnics are always fun, but have you ever had one at night?
For the romantic one in your life, try this: hang lanterns in the trees along with fairy lights or Christmas lights, spread a table with a flowing cloth, plenty of candles, and a dreamy spread of their favorite foods.
Make sure to dress warmly and bring some blankets for snuggling. Bonus points if you bring them there blindfolded for a swoon-worthy birthday surprise!
More ideas: Adapt these 101 Romantic Things to Do for your 40-something's birthday celebration.
10. Have a Wake
For the funniest person in your life with the best sense of humor about getting older, throw a wake!
"In loving memory of your 30s…"
Have guests dress in black, decorate with black balloons and black paper goods, play somber music, and share stories about your practically-dead loved one.
When you can't stay serious any longer, the real party starts… Throw off the black and get down to some serious partying!
Read Next: 40th Birthday Wishes
Pin It