So what options are there for 28th anniversary gifts? Really?
Often when we think of special anniversaries with unique themes and gifts, we aren't thinking of the in-betweeners (that's not really a word, but you know what I mean). We tend to only think of the big numbers — the 10s, 25s, 50s — as being important enough to receive such catered gifts.
But what if I told you that most years (milestones and in-betweeners alike) have their own themes? And that twenty-eight is no exception? Yup, it's true! So we've prepared this list of the very best 28th anniversary gifts we could find.
Whether it's you and your honey bunny's anniversary, or your dearest of friends, scroll on for some wonderful ideas for traditional and modern 28th anniversary gifts!
All About the 28th Anniversary
A lot can be accomplished in twenty-eight years. You may have spent these years together raising a family, building a business or brand, traveling the world, or all of the above! But honestly, kudos to you if you've dedicated your time any one of these.
As a couple who has striven alongside one another for nearly three decades, well, you deserve to be celebrated! Through the laughter, tears, long days and even longer nights, you've stood by your love. Let's make the 28th anniversary just as special as your relationship.
Table of Contents
Our website is supported by our users. We sometimes earn a commission when you click through the affiliate links on our website. See our privacy policy & disclosures for more information.
This is part of our series on Anniversary Gifts by Year.
28th Anniversary Themes
What is the traditional & modern 28th anniversary gift?
Both the traditional and modern 28th anniversary gift is orchids.
Why are orchids the traditional & modern 28th anniversary gift?
Orchids are highly coveted, both exotic and graceful. They represent love, beauty, and strength as well. Fitting, huh?
What is the 28 year anniversary gemstone?
Amethyst.
Why is amethyst the twenty-eighth anniversary gemstone?
They say amethyst's energy is at its highest when coupled with loving relationships. Amethyst indicates the need for balance. It means that one is passionate about their own life as well as the lives of others.
What is the 28th anniversary flower?
Like the gift, it's orchids!
What is the 28 year anniversary color?
Lavender.
10 Best Twenty-Eighth Anniversary Gifts
1. Orchids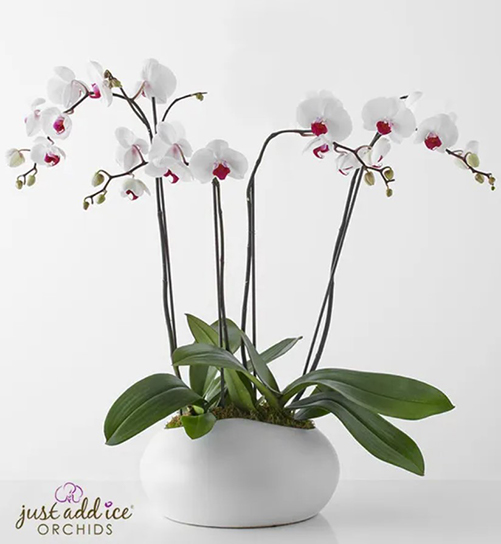 When in doubt, start here with a blooming bouquet of perfection: live orchids! They smell as delicious as they look and you know that will be amazing, because they look divine. They're simple, but oh-so elegant. Your spouse or close friends will be entranced!
2. Engraved Cutting Board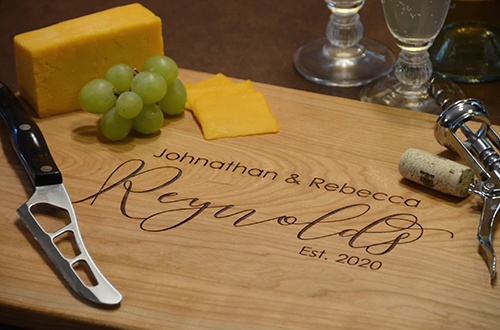 Personalize this wonderful cutting board however you like! There's no wrong way. Consider the happy couple's names and wedding date, or get even more personal with "Best. Wife. Ever." or "The Johnsons, Established (year here)," or "My Favorite Wife Got Me This Cutting Board."
It will last for many years to come, and is sure to become a favorite kitchen item in no time.
3. Amethyst Crystal Heart Tree
This beautiful, amethyst crystal heart tree will light up any room instantly! A wonderfully romantic gift, this would be amazing for your sweetheart on your 28th anniversary.
Made with care and precision, this heart sculpture is like a work of art — not only for your living room space, but for your own hearts as well. This pretty tree is definitely one of our most unique 28th anniversary gifts.
4. Star Registration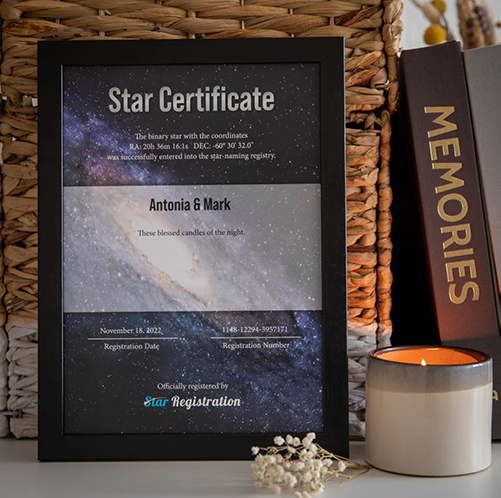 For the star gazers, the dreamers, and the young-at-heart this amazing gift of a star registered in their name simply cannot be beat!
What's more romantic than sitting under a blanket of heaven's stars with your honey bear? This is one gift that they/he/she will be raving about for years to come.
5. Couples Date Night Books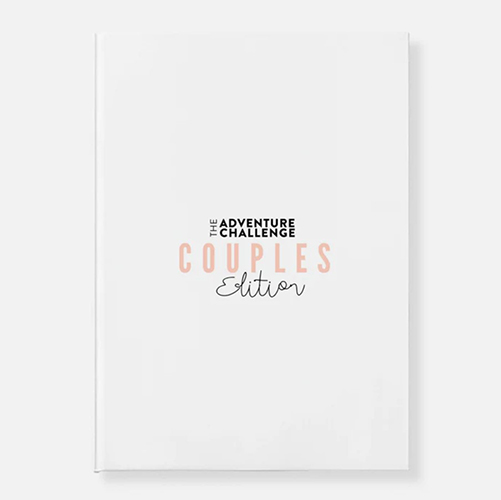 Scratch off adventure date nights? Yes, please! No longer will you find yourself asking, "What do you want to do?" only to hear, "I don't know. What do you want to do?"
These clever little books take all the guesswork out of Saturday evening, and give you so many fun, sexy, and clever little outings. You'll look forward to date nights each and every week!
6. Orchid Wind Chime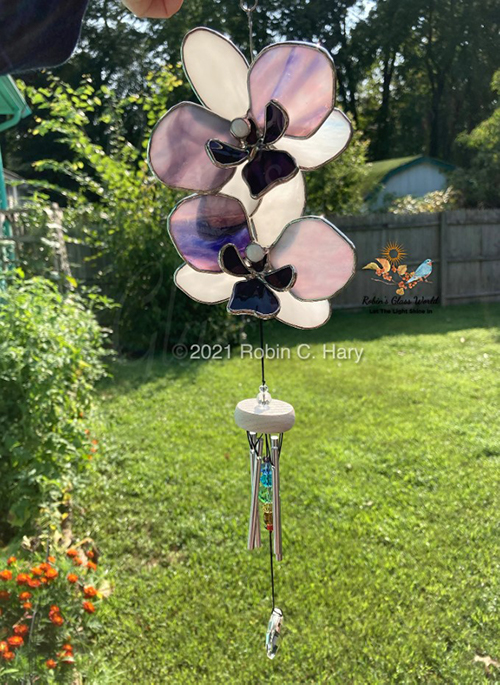 Handmade of stained glass, this orchid wind chime is a great gift for the nature lover! We can practically hear the tinkle of the chimes from here. The pretty colors and shimmering lights will bring an elegant touch of beauty to any porch or backyard.
7. QR Code Song Desk Art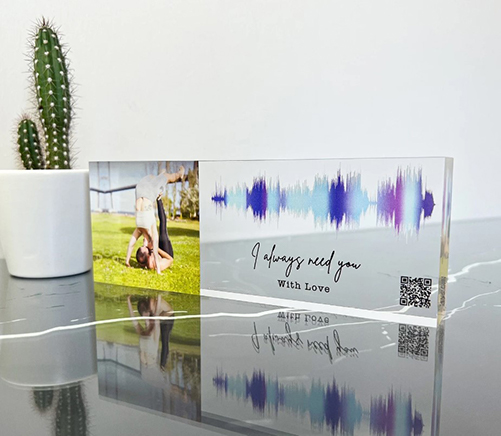 Talk about modern romance! This amazing QR code song art is one for the record books when it comes to a gift! Your spouse will be blown away by the thoughtfulness of this lovely work of art. It's also strikingly contemporary so it will blend right in with even the most modern of decors and styles.
You can pick your colors, your photograph, and even your song (or personal voice message) to make it truly one-of-a-kind.
8. Personalized Couple's Portrait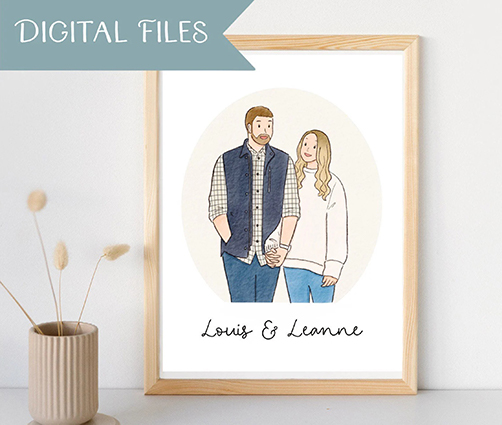 Take a favorite photograph (Wedding comes to mind! After all, it is an anniversary.) and turn it into a real work of art with a professional portrait. So adorable and whimsical, the style is just lovely and will make everyone who sees it melt. Such a fun gift idea, and affordable too!
9. Relationship Memories Photo Book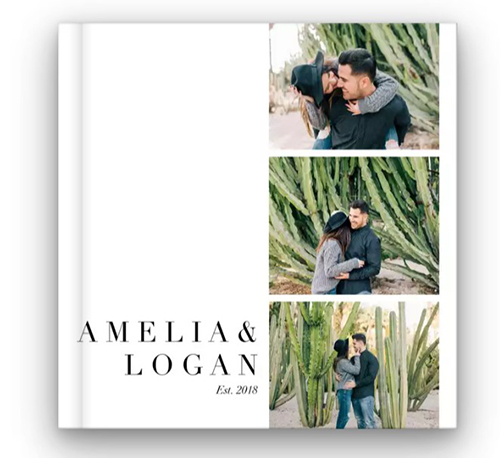 There's nothing more important than preserving your memories, unless it's thumbing through them together on your anniversary! This beautiful hardcover photo book is an instant classic for your coffee table.
It's completely unique to you and your love story, from the first page to the last. A wonderful gift for your spouse, or to give to your friends as they celebrate 28 amazing years together.
10. Personalized Wooden Bottle Opener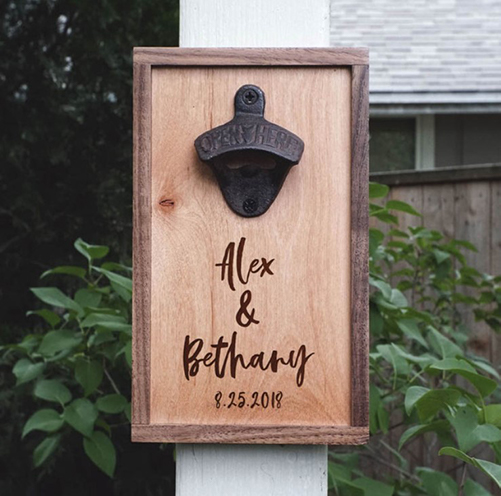 This wooden bottle opener is so sturdy and functional! It's going to be a favorite addition to any kitchen or back porch in no time at all. You can have it personalized however you like, from clever and witty to sweetly sentimental. We love the look of the rustic wood with the iron opener — it's a real crowd pleaser!
Traditional & Modern 28th Anniversary Gifts (Orchid)
11. Orchid Silhouette Print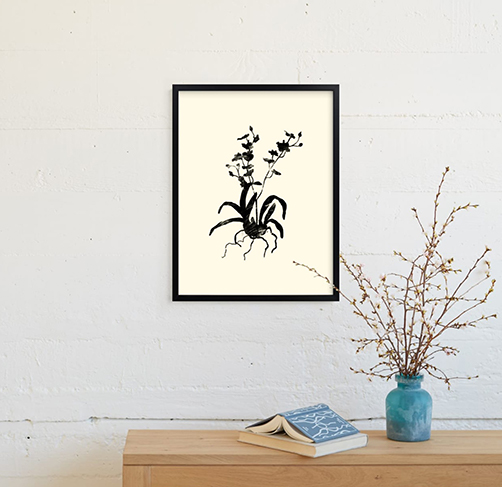 This pretty print comes in black or green. It will look stunning on a family wall of portraits, in your home office, or in the lobby at work. It has a modern vibe, but is still classical, warm and welcoming.
You can even add an Italian, handmade frame in the wood of your choice! If your couple is sophisticated and modern, this artwork is an easy choice .
12. Blue Orchid Flower Trinket Box
For a gift that is truly unique and will wow the recipient, look no further than this pretty orchid trinket box! It is as stunning as she is, but hey, don't forget about him! A place to put his own necklace or cufflinks might be so appreciated! This is truly a one-of-a-kind and thoughtful present for your loved one.
13. Plant Them a Orchid Garden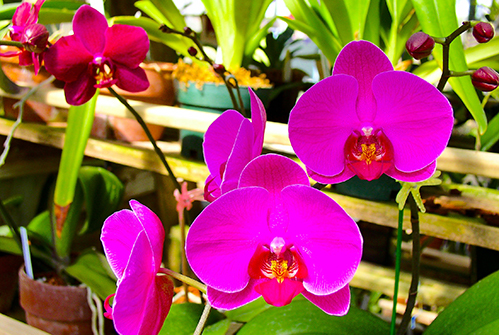 Go all out with how much you love them by planting them an orchid garden of their very own! If you have a green thumb and love to plan ahead, this gift really is the gift that keeps on giving long after they've "opened" it.
So thoughtful and sweet — go, you! You've just become the best gift giver in the land. (There should be a sash or a crown or something, right?)
14. Orchid Lego Building Set
Okay, they really DO have a Lego set for every occasion! We're blown away by the dainty prettiness of this orchid Lego building set. How much fun will it be to build?
You can rearrange however you like, making this orchid truly exquisite — not to mention, completely unique! Afraid of flowers that wilt and die? This is a much more fun option that will last literally forever!
For any building enthusiasts or kids at heart, these sets make great 28th anniversary gifts.
Related: Complete List of Lego Architecture Sets
15. Orchid Stained Glass Suncatcher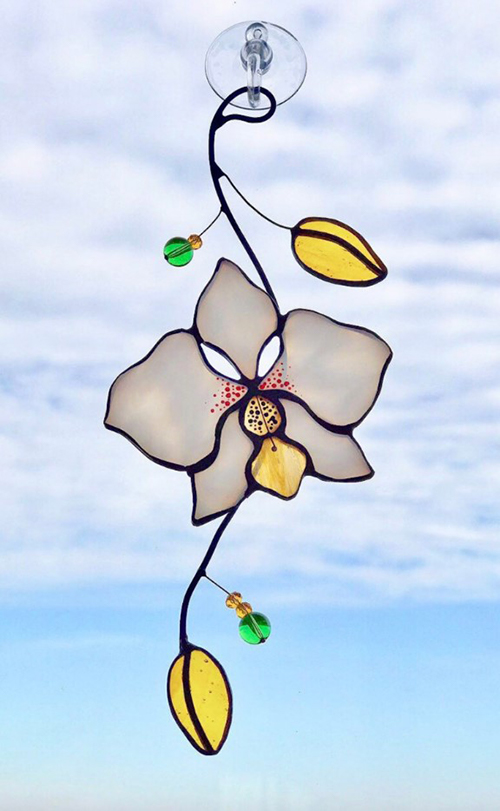 Catch the sun with this darling, orchid stained glass suncatcher! Hung from your sunniest window, this little work of art will bring instant cheer and happiness to the room.
A little gift that really packs a punch! Each time they see it, they'll think of you and we think that's a win-win when it comes to gift giving.
16. Orchid Paperweight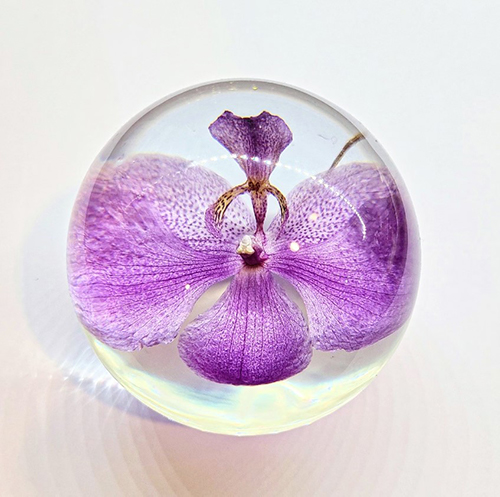 For the home office or the spouse who works a lot a great paperweight is worth, well, its weight! These sweet orchid styles are just right for 28th anniversary gifts, and are great when you want something practical and functional, but still pleasing to the eye.
And they're actually made with real preserved orchids! How beautiful!
17. Purple Orchid Puzzle
Puzzle lovers, we've got you! This purple orchid puzzle will delight puzzle enthusiasts with its vibrant lavender colors and 1000 pieces. As a puzzle lover myself, I always, ALWAYS go for the 1000 piece puzzles.
They're challenging, but don't make me feel hopeless! Maybe include some puzzle glue for the option of displaying this beautiful orchid on the wall after putting in the last piece.
18. Red Orchid Ornament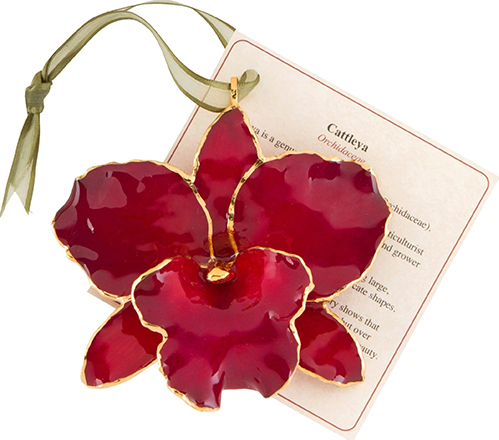 Handmade and trimmed with real gold, this beautiful and stunning red orchid ornament is a wonderful gift for the 28th anniversary. Each one is just the teensiest bit different making yours one-of-a-kind. A pretty little keepsake to remember this year, and how special it was for the both of you!
19. Maintenance Free Orchid Terrarium
They had me at the words, "Maintenance free!" This girl doesn't have a green thumb to save her life. If you're anything like me, this adorable orchid terrarium is just the thing to bring some nature and blooms into your life. It's handmade and doesn't need any water, light, or food. Say whaaaaaa? *scampers off to buy two.*
20. Hand Painted Orchids Wine Glasses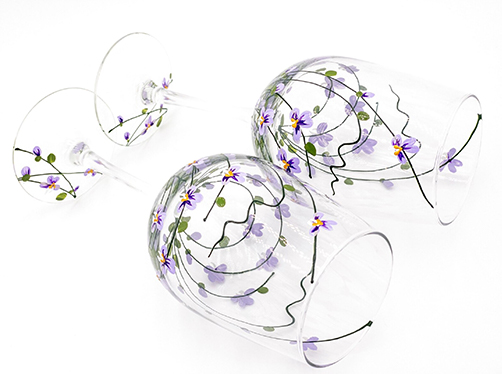 Let them toast their 28th anniversary in style with these pretty, hand painted orchid wine glasses! A wonderful way to say 'Happy Anniversary' that won't wilt, die, or get eaten up like some other anniversary gift options.
So pretty, with the dainty flowers and the pops of bright purples. Pair with their favorite (or local) bottle of wine for a just-right present.
Related: Best Flower Gifts for Nature Lovers
28th Anniversary Gifts for Her
21. Amethyst & Gold Minimalist Bracelet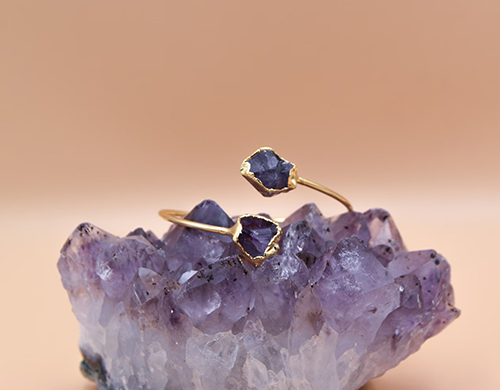 She'll love this amethyst and gold minimalist bracelet simply because of how gorgeous it is! Personally I can't wait for my own 28th anniversary to helpfully nudge my husband in this direction… The simple design means it goes with just about any outfit, from casual jeans and a tee to a little black dress.
22. Personalized Photo Keychain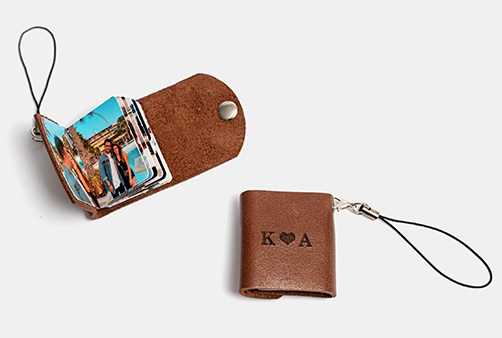 This keychain is lovely enough to look at even before you unsnap it and see the delightful photos inside! For the woman on the go (who perhaps is always misplacing her keys), this gift is touching and totally practical.
It's romantic but also functional, which is a win-win. She'll love seeing which photos you hand picked for this unique and sweet keychain.
23. Ultra Plush Robe
Wrap her up in decadent softness and plush luxury with a robe like this one! She'll love having Sunday brunch with you, all hugged in ultra plush fabric. 
Movie night, couple's spa dates, romantic get-aways, walking out to the hot tub together… She's going to find this absolutely irreplaceable in no time at all!
24. 14K Heart Necklace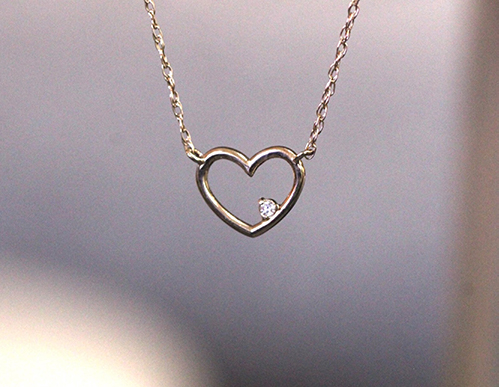 There isn't much more romantic, timeless, and from-the-soul like a 14k gold, heart-shaped necklace. She'll love the touching thoughtfulness behind this gift, and will love wearing it on the daily. It's simple and minimalist in style, but is sure to get a lot of compliments from everyone around her!
25. Cuvee Rose & Truffles Gift Basket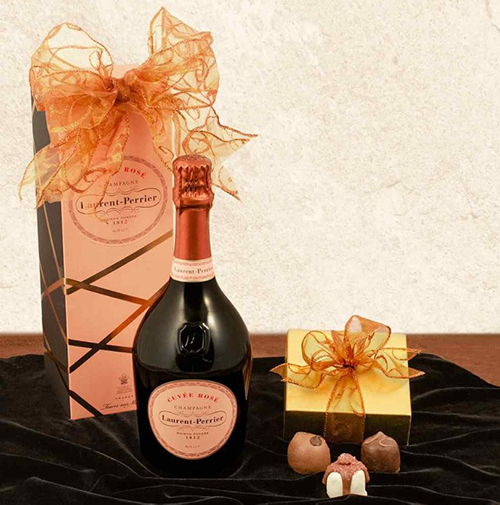 Some bubbly champagne and some decadent truffles? This is a gift box that will melt her heart (and maybe get you some kisses). If you're lucky, she might even share!
There's a reason why chocolates and a grown-up drink are just a classic gift for her — they're a sure way to her heart!
28th Anniversary Gifts for Him
26. Amethyst Pocket Heart
A simple little way to remind him on the daily how much you adore him. Easy to slip into his pocket or wallet, or to keep on his desk at work, this sweet amethyst heart is attractive yet still manly enough for him to proudly show his friends.
An adorable way to say 'I Love You', and a comforting reminder when he's had a hard day.
27. Personalized Grand Bouquet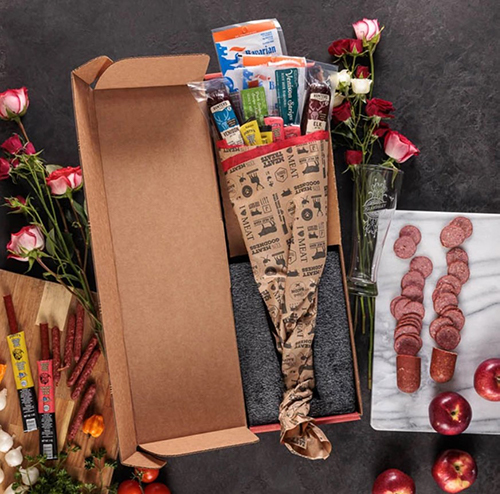 While he might like flowers, they probably aren't high on his list of 'Favorite Gifts Ever.' Besides, not every guy likes the pressure of keeping something alive! If this describes your man, he is going to go bananas for this personalized grand bouquet!
Nothing to make him sneeze or wilt petals on the kitchen table: instead he will be surrounded by tasty jerky, delicious treats, and the best booze all packaged in the most clever way by the geniuses at Man Crates.
28. Tree in Their Name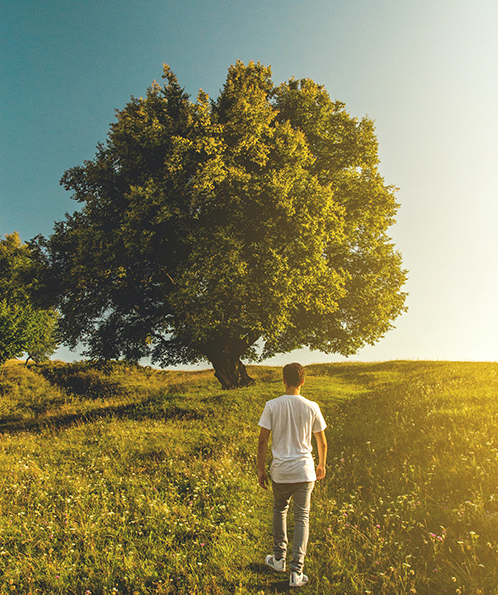 If he's just plain impossible to shop for (I know the pain, I have one of those guys myself!) then planting a tree in his name is just the way to go!
He'll love knowing somewhere there's a beautiful sapling growing into a strong tree. All because he exists and you love him! A fun and unique way to show you care — and there's no wrapping or plastic to throw away.
Related: Eco-Friendly Gift Ideas
29. Engraved Leather Belt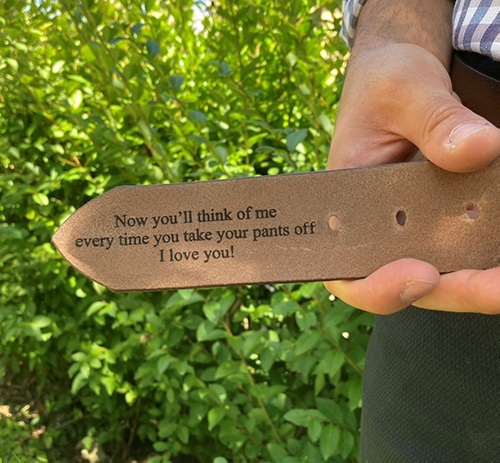 Keep his britches up in style! This engraved leather belt is a sure-fire way to make him happy. A good belt is hard to find, am I right? But this one, made of genuine leather, will take the cake. You can be as cheeky as you like with the engraving, too! Wink-wink, nudge-nudge.
30. High-End Chess Set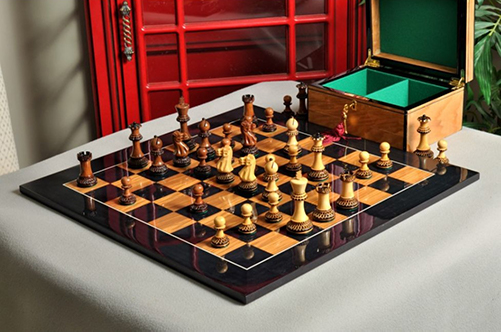 For the game lover, this high-end chess set aims to please! He'll love challenging you or the kids and grandkids to one of the most beloved games of all time.
Super well made and so handsome to look at, this is one board game that won't get stuffed in a cupboard, but instead will stay out all the time to add to the decor!
28th Anniversary Gifts for Couples
31. Together is the Best Place to Be Blanket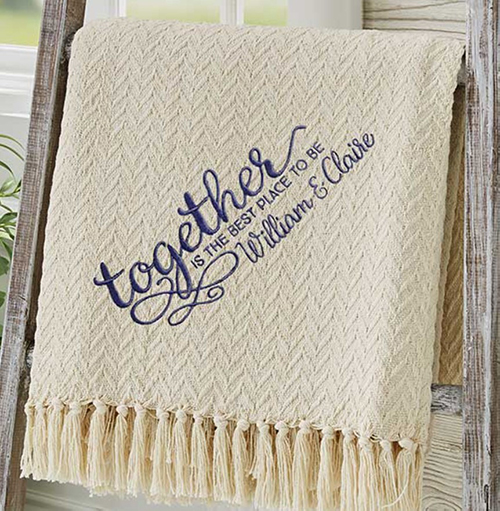 It's cute because it's true! Together really is the best place to be. This snuggly, plush blanket will be a favorite addition to their stay-at-home date nights.
Perfect for cuddling while watching movies, or sharing on the porch swing on cool autumn nights, this blanket will be much appreciated for years to come.
32. Romantic Classical Painting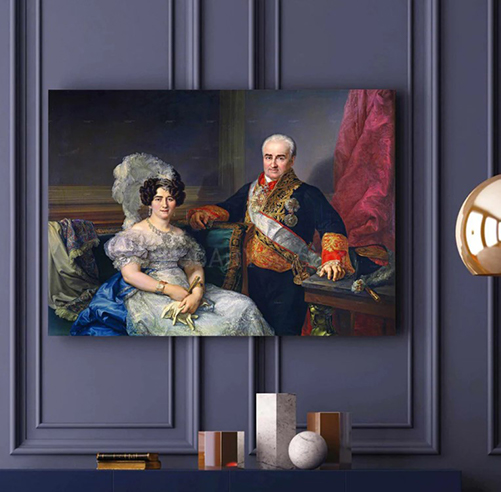 Make them giggle with a romantic, classical painting of the two of them! They'll get a kick out of this fun present that will make them look like a queen and king. And it will make you like royalty, too, for purchasing such a great gift! Even the peasants will love this painting.
33. Personalized Throw Pillow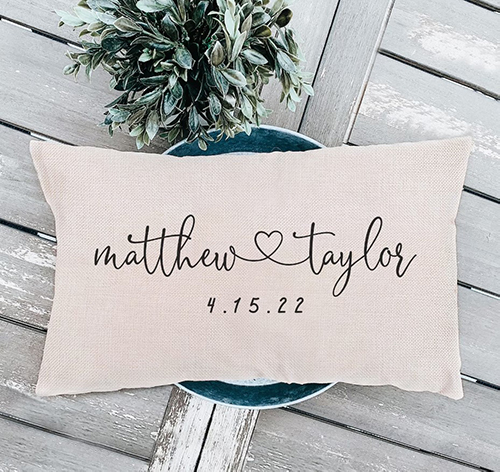 Transform their couch, porch swing or bed with a pretty and personalized throw pillow like this one! The simple design is very farmhouse and would look great in anything from a cabin in the woods to a beach getaway house. Or even just a suburb in a cul-de-sac. Totally classic and won't go out of style!
34. Chocolate Subscription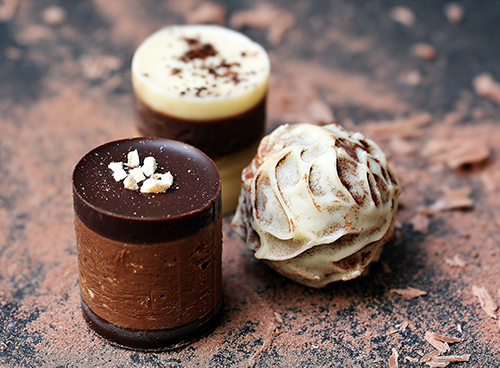 If they're chocoholics, they'll love this amazing chocolate subscription! Talk about the gift that keeps on giving all year 'round (but better than the Jelly of the Month Club, right Cousin Eddie?).
This subscription will delight them and fill their bellies with the best and most decadent of chocolates.
35. Round Family Name Sign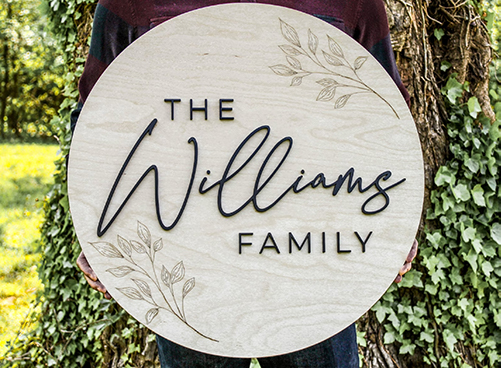 This botanical sign will instantly bring the family home together in a unique way! Hung outside or inside, the delicate botanical etching and raised calligraphy really catch the eye.
The style blends in beautifully with any decor, and we love the size (although you can personalize that, as well). You can even pick your own stain color for the wood!
Related: Personalized Gifts for Couples
Unique 28th Anniversary Gifts
36. To the Moon Art Heart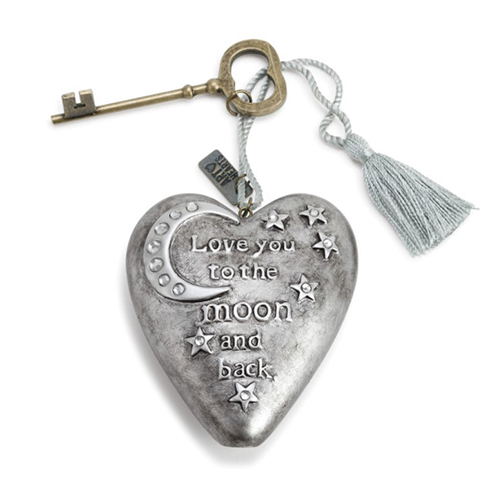 For the utter romantics this 'To the Moon' art heart is perfectly perfect in every way! A sweet little keepsake for her or him, the pewter heart can be hung from a variety of places: the car rear-view mirror, the Christmas tree, in a sunny window, from the ceiling fan pull… The list goes on!
37. Personalized Ice Cream Delivery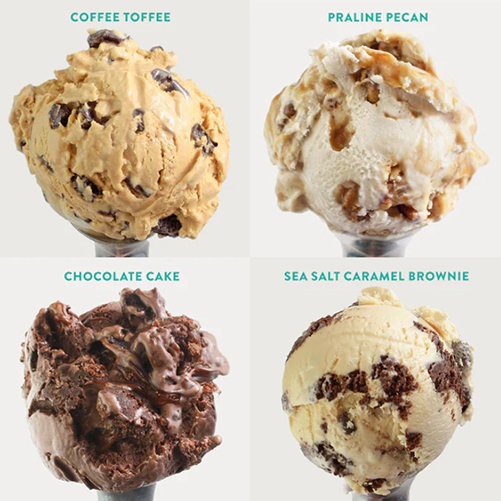 Give them both what they secretly crave. I scream, you scream, we all scream for ice cream! This clever, personalized ice cream delivery will surprise and delight them with its yummy selections of flavors and witty labels (you can create your own!)
38. Amethyst & Gold Cheese Board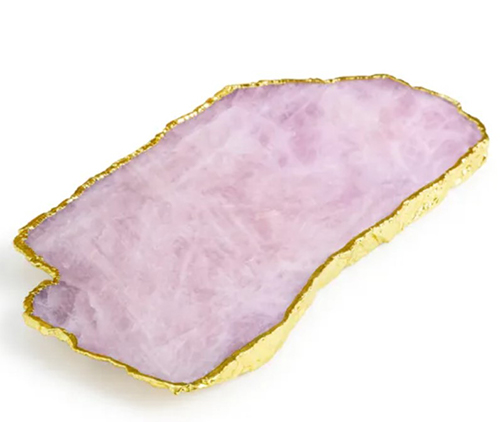 What's yummier than a cheese board? We'll wait… Okay, now we can agree there is NOTHING yummier than a cheese board! But you can make it even more lovely to look at when you plate it all on this beautiful amethyst and gold board.
A keeper, for sure! Just toss in some local cheese or meats for an instant charcuterie board that they will swoon over.
39. Orchids Carved Lantern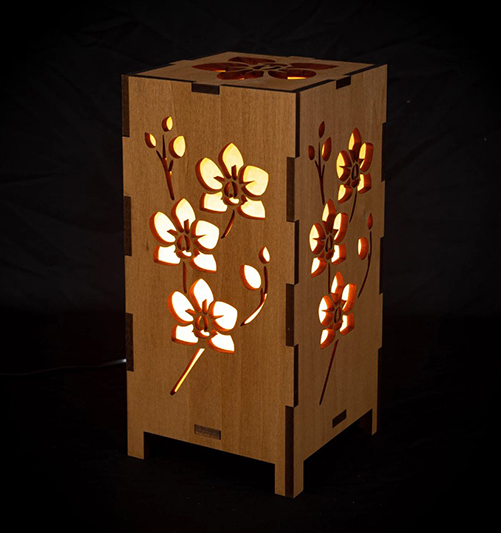 What a lovely lantern! I never knew I needed one. And now? Let's just say I'm bookmarking this page!
A pretty way to pay tribute to their 28th anniversary, it's totally functional and useful but also just a dainty and picturesque way to spruce up your decor. You can pick out your size and even include an LED light for instant ambiance.
40. Personalized Picture Frame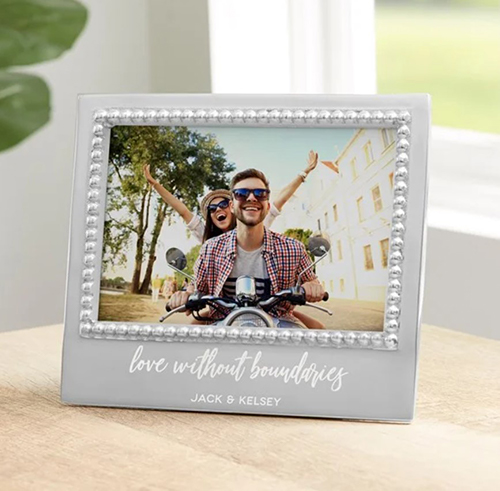 Commemorate their wedding day with a copy of their favorite photo and some personalization! This pretty picture frame strikes all the right notes and will be a hit for the happy couple. A classic gift for a classy couple! It's handcrafted with a string of pearls, making it both romantic and timeless.
Read Next: 35th Anniversary Gifts