Your beloved deserves the best 12th anniversary gifts. After all, it's just one more year to a Baker's Dozen and your marriage's teen years!
So, you've solidly arrived in the pre-teen stage with your marriage. Either that, or your friends have, and you want to celebrate with them. You know the ones: the ones who need a kickin' gift for making it so long in a world full of divorce.
Whether it's you and your sweetums, or the couple who makes it look so easy, we've done some great digging into the fabulous world of the 12th anniversary. Read on to learn about the traditional anniversary gifts for year 12, plus contemporary and creative ideas as well!
Our website is supported by our users. We sometimes earn a commission when you click through the affiliate links on our website. See our privacy policy & disclosures for more information.
All About the 12th Anniversary
The 12th wedding anniversary special for many reasons.
You're two whole years past the anniversary that gets all the lovin' (the 10th). Your marriage is nearly a teenager (where did the time go!?). You're almost halfway between 10 and 15, the first two truly monumental anniversary years.
So celebrate with a sweet, creative, and romantic gift! Here is what we have in store for you today:
12th Anniversary Gift Themes
This is part of our series on Anniversary Gifts by Year.
What is the traditional 12 year anniversary gift?
Silk.
Why is silk the traditional twelfth anniversary gift?
Silk is elegant and smooth, but also oh-so very strong. Just like your marriage! With 12 years under your belts, the rough edges are getting smoothed over and you're beginning to enjoy the weightless trust that comes with building a strong life of love together.
What is the modern 12 year anniversary gift?
Pearls.
Why is pearl the modern 12th anniversary gift?
Pearls represent honesty, purity, and wisdom. These are important virtues in any marriage!
What is the 12 year anniversary stone?
Jade.
Why is jade the twelfth anniversary stone?
It's not just the stone that represents luck, but it also means prosperity, longevity, and knowledge.
What is the 12th anniversary flower?
Peony.
What is the 12 year anniversary color?
Oyster-white.
10 Best Twelfth Anniversary Gifts
Now that you know a little about the traditional and modern gift themes, let's take a look at the goods!
1. Heart Snapshot Photo Anniversary Gift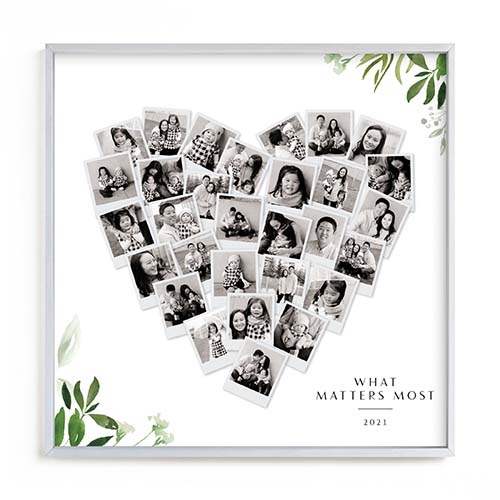 Honestly, we think you can never go wrong with a photo collage of the world's best couple! Photos are always a sweet and endearing idea, and this beautiful heart-shaped framed print is made even more special with the addition of your date on the bottom. It's going to look perfect hanging over the bed – so romantic.
2. Luxury Handmade Silk Kimonos for Couples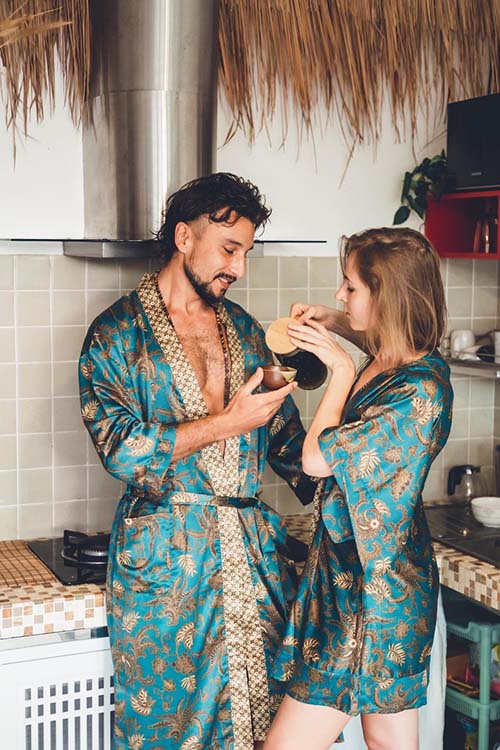 These green and gold matching kimonos are made of silk and are so comfy and chic! This is the perfect anniversary to really get something lavish and decadent, and these beauties are just the thing.
The silky softness will make the two of you feel like a million dollars, even if your eyes are puffy and the coffee hasn't finished brewing yet. Use the traditional 12th anniversary gift theme of silk as an excuse to get a set of these lovely kimonos!
3. Gift of Experiences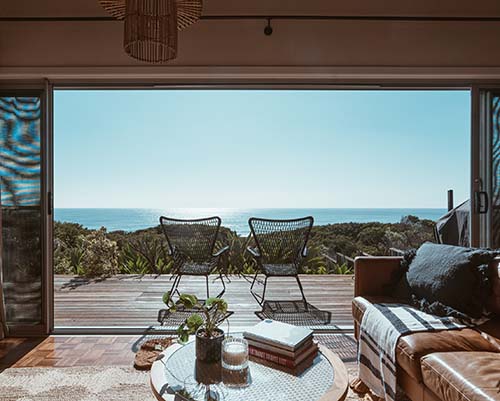 It's just a fact: an experience is always the best gift. The memories! The photos! The adventure!
Giftory is a unique company that provides vouchers that allow the recipient to choose their favorite from hundreds of experiences and excursions all around the globe.
You purchase a gift certificate, they get a gift box with instructions for how to redeem. All that's left is getting there, so they can choose something within easy driving distance or use it as an excuse to take a romantic travel vacation together. Brilliant!
While most gifts end up in the back of the closet or lost in a drawer, you just can't go wrong with a wonderful excursion. The journey is the destination, after all!
Or is it the other way around? Well, no matter.
With this anniversary experience, the sky is the limit. Are the mountains calling? Maybe the tropics? The ocean? You pick.
4. 12 Years Down – Anniversary Card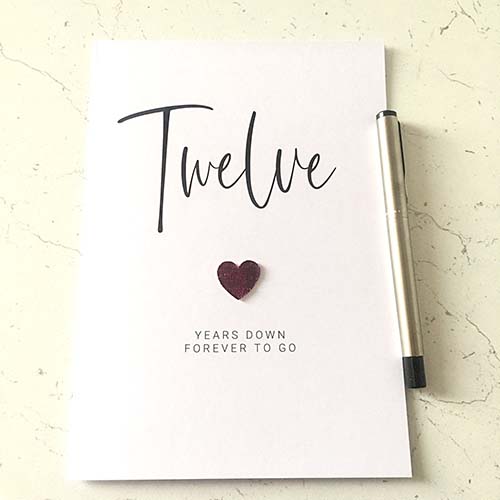 This pretty card is definitely not one that will be promptly thrown in the trash! No way. We see this sweet card framed and hung up for at least the next twelve years.
5. Silk Butterfly Portrait
For the couple who kinda already seems to have everything (including that great love story), this sweet silk butterfly frame is just the thing to delight them! They'll love seeing their favorite photo turned into a silken butterfly. And if they're having a party to celebrate, this definitely needs to be the centerpiece, don't you think?
6. Happy 12th Anniversary Mug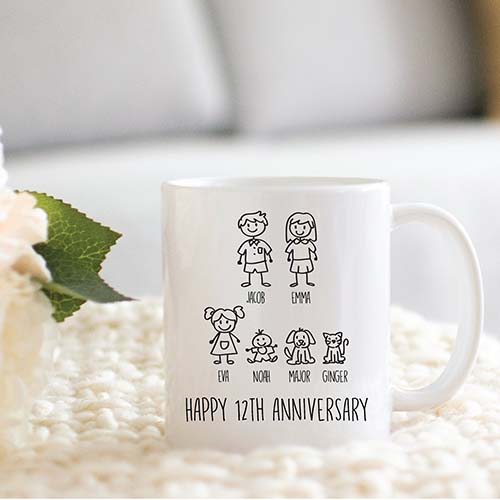 Totally personalized and customized with their family, whether the kiddo kind or the furry variety, this cute mug will be treasured for years to come! A great gift from the kids to their parents, or from you to him/her.
7. Jade Lovebirds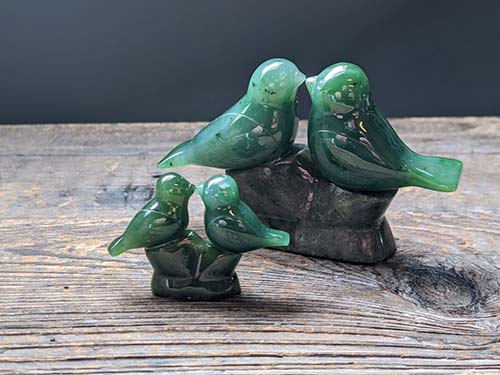 These sweet lovebirds are made of jade and are so precious! They'll love finding the perfect spot for these little beauties, whether on the nightstand or the windowsill or the desk. The green hue is gorgeous, and the lovebirds remind us of someone… it's you!
8. Personalized Sweethearts Bird Feeder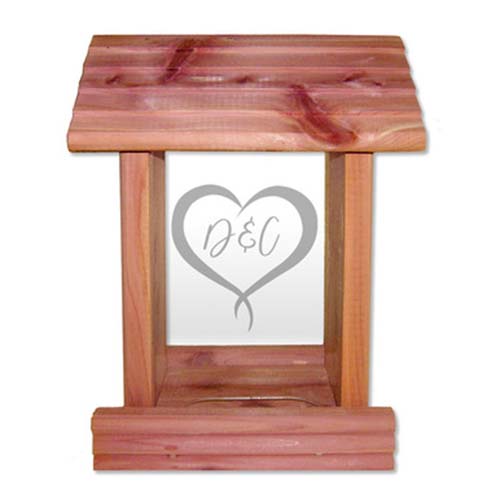 This sturdy and pretty bird feeder has a large compartment for all the seed and is made even more perfect by the etching of the heart with your initials. They'll love hanging this in the garden or on the front porch, and the birds will be truly appreciative as well!
Handcrafted from genuine cedar, so each one is truly unique, this feeder is made in the USA and will withstand years and years of weather.
9. Peony Flower Soy Candle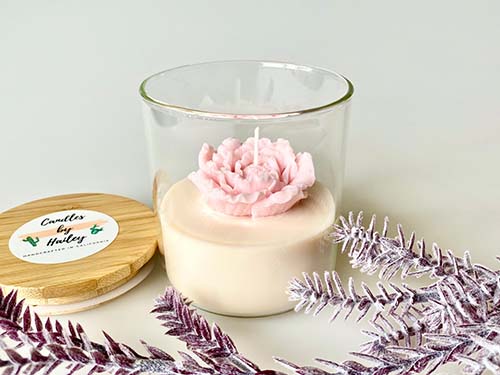 This pretty candle is made of soy, is so aromatic, and is scented with peony, making it perfect for the 12th anniversary! It's almost too pretty to burn… but you'll want to, because it will fill the whole house with a heady and sweet scent, almost like you're standing in a garden.
10. Engraved Champagne Flutes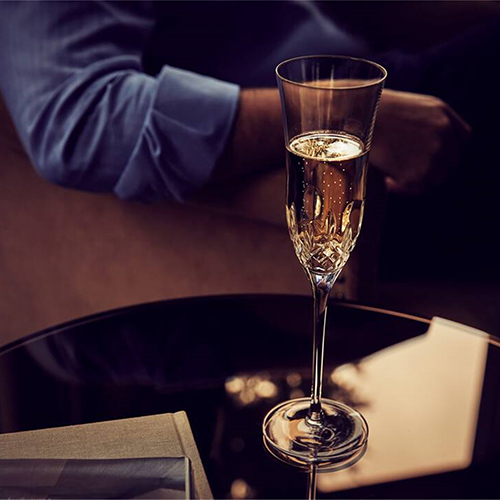 These crystal champagne flutes are sure to steal the show. Waterford crystal is known for creating nothing but the best quality, most elegant pieces, and these beauties are no exception.
Have them engraved with the happy couple's names or wedding date, and they'll be toasting the night away in class.
Traditional 12th Anniversary Gifts (Silk)
Let's take a look at some beautiful silk anniversary gift ideas.
11. Life Is a Journey Best Traveled Together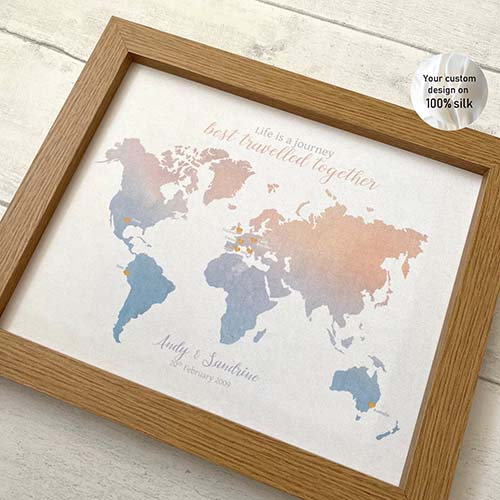 Painted with watercolor on silk, this is truly a one-of-a-kind gift – especially after you personalize it with all of you and your significant other's adventure destinations! Once it has your names and date on the bottom, it is even more touching and unique, making this one a real no-brainer. Perfect for her or him!
Related: 40 Best Gifts for People Who Love to Travel
12. I Still Do 12th Anniversary Silk Coasters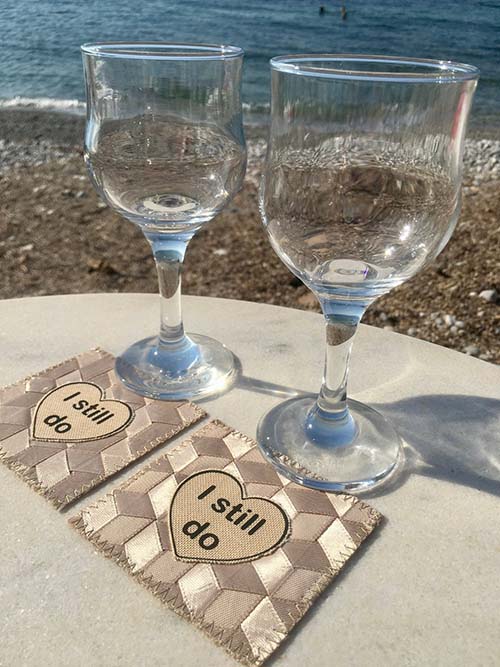 Just a little reminder that you'd do it all over again! These cute coasters are just the thing to add to your romantic anniversary dinner. The sentiment is so sweet and true – and they might tear up reading it. And the bonus? They're made of silk, which is just flawless for the 12th anniversary.
13. Matching Silk Satin Pajamas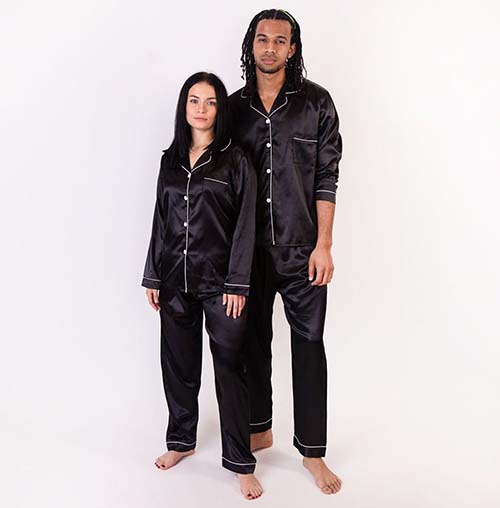 If you're off to a cruise or a vacation for your 12th (and if you're not, shouldn't you be?! What are you waiting for?) these matching silk pajamas are going to be the first thing packed! So smooth you'll never want to get dressed – and who says you have to? It's vacation! Or Stay-Cation. We like those too.
Pick your favorite color(s) and they'll even monogram them for you!
14. Natural Silk Pillows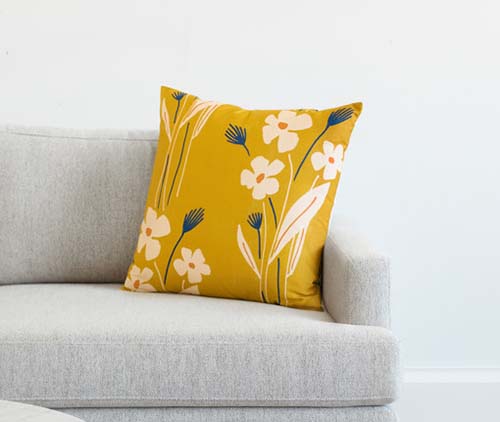 These pretty silk pillows will really transform your living room or bedroom! With their bright pop of colors and their silky smoothness that begs for an afternoon nap, you'll want to get several.
Bonus: These pillow covers are sourced from a global community of independent artists.
15. Silk Scarf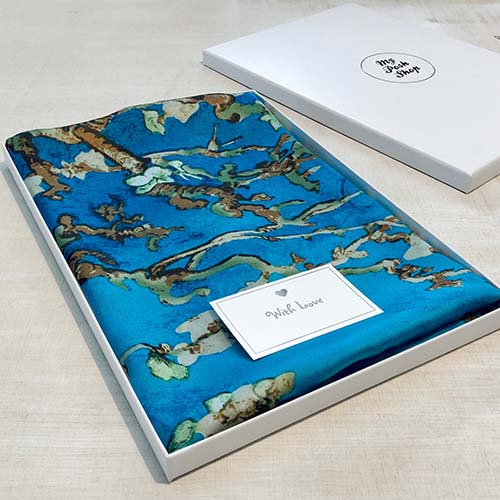 This elegant silk scarf is painted to look like almond blossoms, by Van Gogh, and will be her new favorite accessory. The bright cheery colors will make her little black dress really stand out in all the good ways. We think a date night is definitely in order with this beauty! Would also look so pretty in her hair, too.
Modern 12th Anniversary Gifts (Pearl)
For a gift with a contemporary flair, go with something pearl-themed. Here are our favorite pearl anniversary gifts.
16. Freshwater Pearl Earrings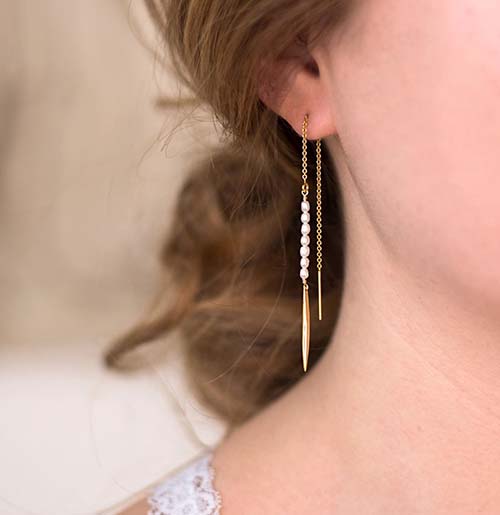 These dangly pearl earrings are so delightful! Get ready for lots of compliments and queries about where she found them. Just the right amount of sparkle and shine, the pearls stand out and will match any and all outfits.
17. "Girl with a Pearl Earring" Print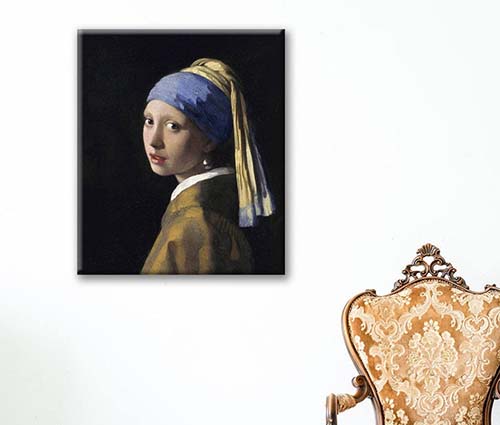 A clever way to show you're in the know with 12th anniversary items, this Girl with a Pearl Earring print is a delight! A classic for good reason, it will bring a sophisticated note to your living room or office. The colors too, will really transform a dull room into something special.
18. Silver Plated Pearl Frame
Such a great way to frame your favorite photo of your wedding date, this pretty pearl studded frame is perfect. He or she will love having this to look at fondly at the end of a long day. It has a vintage vibe to it, but is still timeless and modern as well. Just like her!
19. Grow Your Own Pearl in Oyster Kit
Is she hard to shop for? Is she patient, believing the best things come to those who wait? Then do we have a gift for her! With this amazing box she can literally grow her own perfect pearl in five years. Such fun!!! Especially if you plan to open the oyster on your 17th wedding anniversary. That is soooooo romantic.
Each pack includes a combination of one 6mm- 8mm oyster pearl, one rhodium plated chain fine metal necklace, one fine metal pendant, and an oyster opening tool (to protect your nails when opening the oyster shell). This is one way to show that you plan to be together for a long, long time!
20. String of Pearls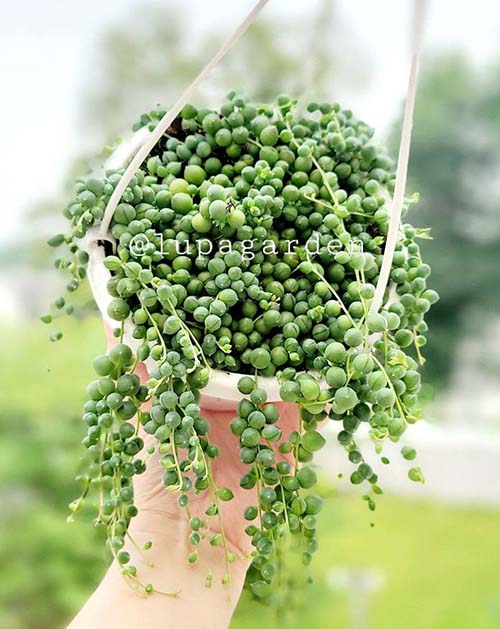 Plant lovers, get ready to squeal with delight! This string of pearls hanging basket is the prettiest we've ever seen. Some of the most beautiful things can only be found in nature, and this gift abounds with natural beauty.
Make sure you do your research with this plant, including checking that you live in the proper environment for it before ordering.
12 Year Anniversary Gifts for Her
Let's take a look at some of the best gifts just for her.
21. Jade Necklace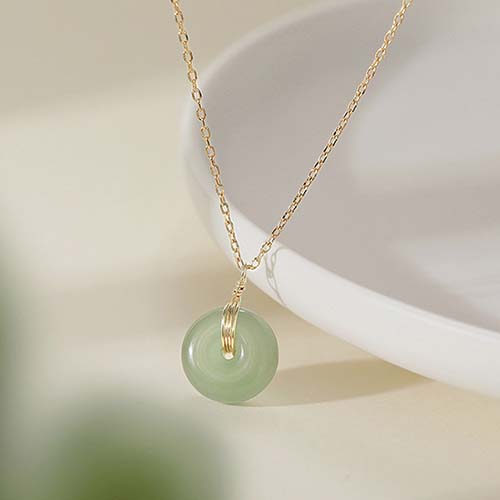 This jade pendant is just the thing to make her smile! The dainty gold chain sets off the pretty green just perfectly and will match any outfit she chooses to put on. She'll love the way it makes her feel dressed up, even on a jeans and tee shirt kind of day.
22. Silk Eye Mask & Hair Set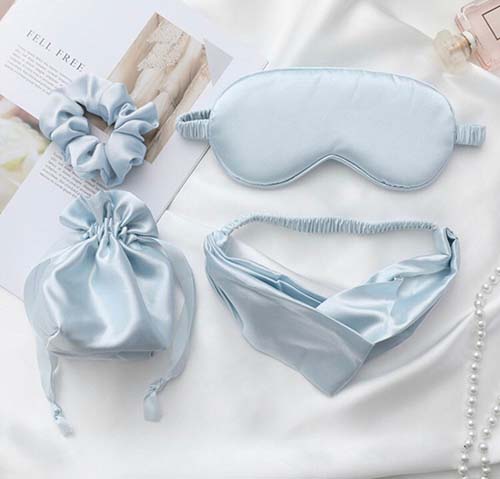 Make her feel like a pretty princess each night/morning with this silk set! The eye mask, headband, scrunchie, and bag will be her new favorite nighttime accessory. Posh and chic!
Would be a fun gift to toss into her overnight bag for a special night out at a bed and breakfast, too.
23. Silk Flower Bouquet Replica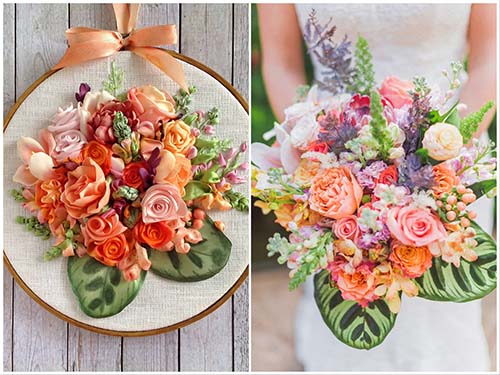 Replicate her wedding bouquet in the most stunning (and long-lasting) of ways, with this gorgeous embroidered work of art! She will be wowed and impressed and fall in love all over again, when she opens this and realizes why it looks so familiar: it's her very own wedding bouquet from 12 years ago.
24. Jade Hair Sticks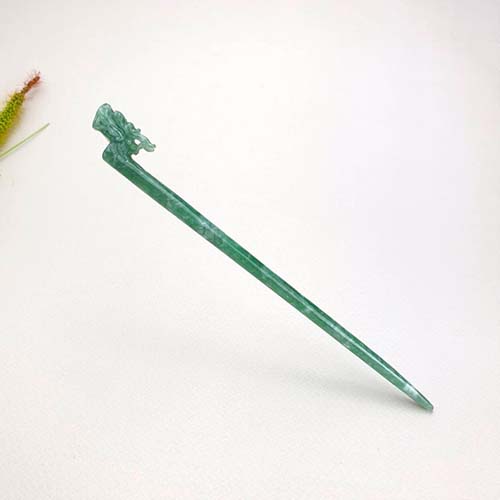 If her hair is one of your favorite things about her, she'll love twisting and twirling these pretty jade hair-sticks! A totally unique and yet sweetly romantic gift for the woman of your dreams. The dainty jade dragon brings a charming and chic look to her pretty style.
25. Initial Pearl Bracelet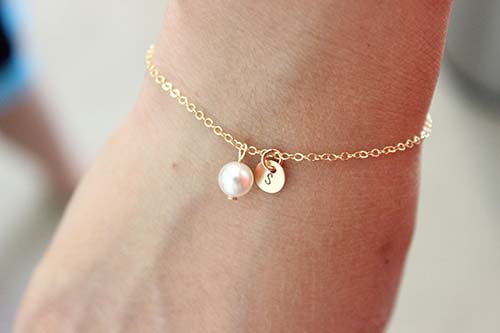 Personalized with her initial, dangling next to a flawless pearl, this gold charm bracelet will make her clap her hands. It's so pretty and dainty and will be her new favorite way to dress up an outfit.
12 Year Anniversary Gifts for Him
Guys appreciate anniversary gifts too, and he deserves a good one for sticking around twelve years. Here's to your next twelve wonderful anniversaries together!
26. Hex Jewelry Stand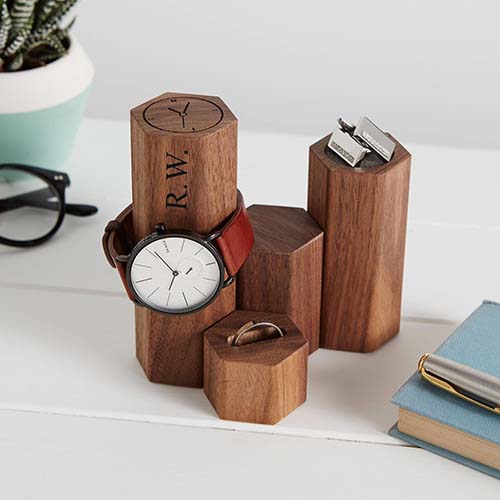 This jewelry stand is totally unique and is the perfect gift for him… especially if he loves accessorizing as much as you do! He'll love having his ring, watch, cufflinks – you name it – all at his fingertips, literally. Made even more special by the additional of personalized engraving.
27. Monogrammed Pocket Square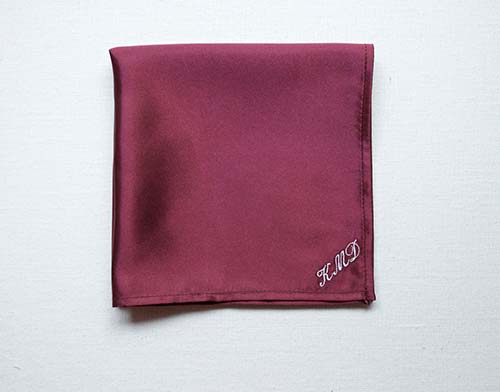 Give him something as classy as he is! Consider this silk monogrammed pocket square. He'll love dressing up for dinner with you and bringing some sophistication to his date night ensemble.
28. Personalized Silk Tie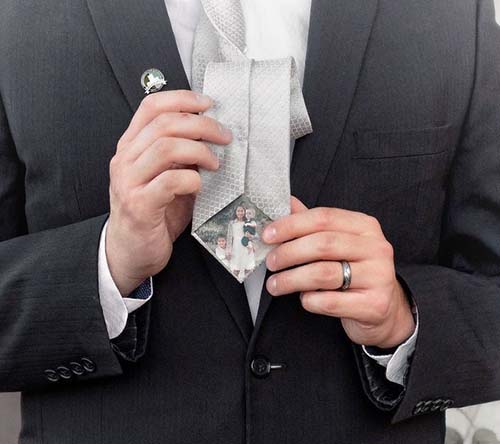 No, he doesn't want another tie for a gift! Wait. This one is different. It's totally unique and one-of-a-kind by the addition of your favorite photo on the inside! He'll love having you and your children – or fur babies – close to his heart.
29. Happy Anniversary Gift Chocolate Box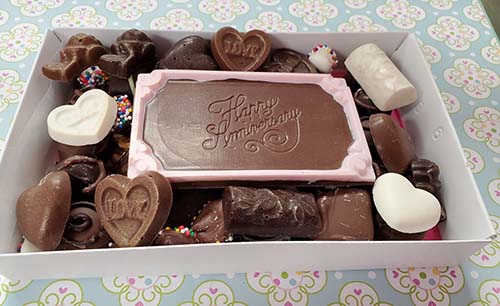 Give him what he really wants (hint, it isn't flowers) – something delicious and edible! This box of chocolates isn't just any box of chocolates: they're handmade and the makers will totally take requests (like: no nuts, all nuts, all dark, no white, etc). And nestled atop is the cutest way to say Happy Anniversary we've ever seen!
30. Silk Cufflinks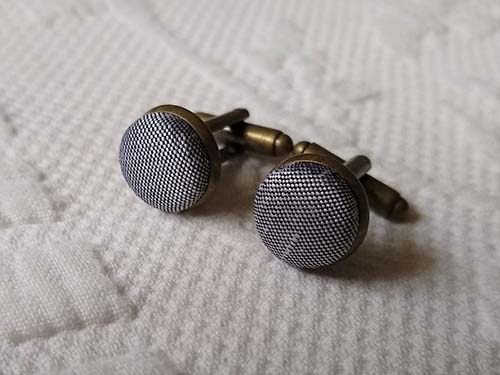 These silk cufflinks are just the thing for your well-dressed man! Complete his suave and swoon-worthy look with these little beauties. He'll feel like a million bucks!
12 Year Anniversary Gifts for Couples
Now let's think about gifts for the two of you! Or, if you've been invited to a special 12th anniversary party, here are some great gift ideas for your favorite married couple.
31. Flip to Decide Coin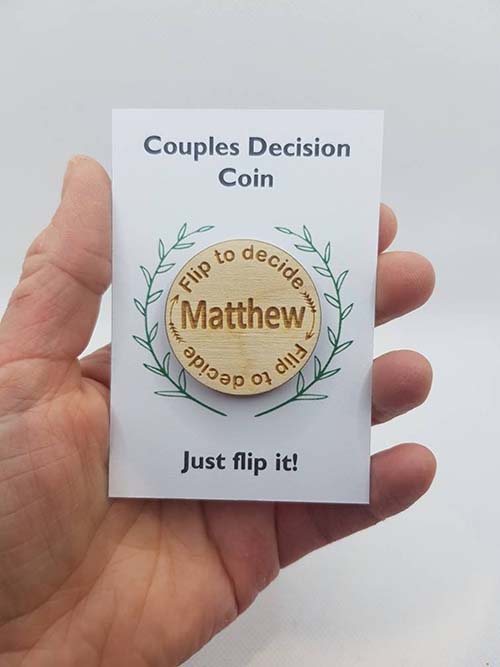 "Where do you want to go to eat?" "What movie do you want to watch?" "Should we stay in or go out?" ACK! The decisions!!! Why is it so hard? Well, if that's you two every date night, get one of these clever and cute coins.
Sure, it starts as a gag gift but the next time you run into that same old tired debate… Well, all you have to do is toss it!
32. Personalized Pearl Ornament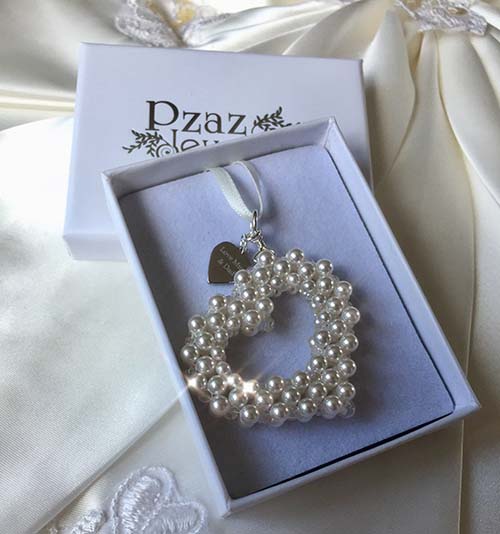 This sweet pearl ornament will look just as good dangling from a sunny window as it will from the Christmas tree, the car windshield, or the ceiling fan pull! Crafted from pearls into a sweet swirly heart, this hits all the right romantic notes.
33. Royal Portrait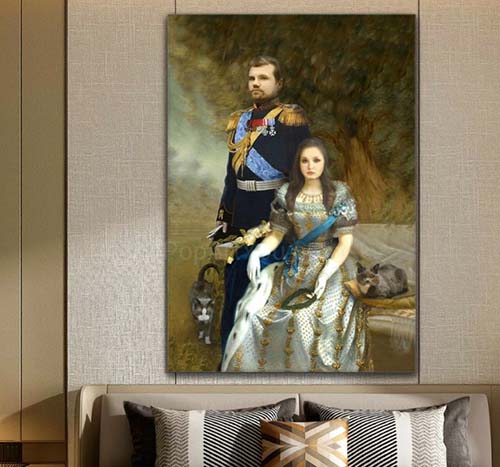 When you just can't find the perfect gift that hits all the right notes, don't despair, because we've found it! He or she will adore this hilarious portrait of the world's best couple, all done up in royal (and over the top) style. This is one that will never be topped!
34. Silk Family Tree Frame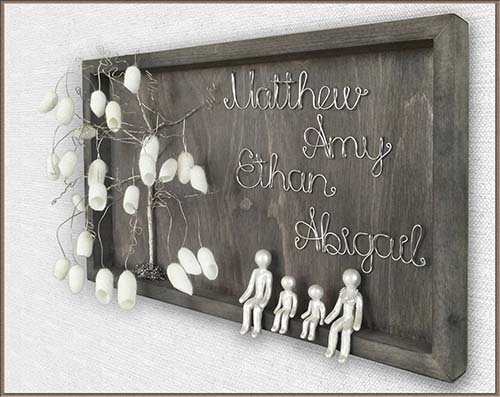 This sweet frame is personalized and totally unusual in all the right ways! You'll both love hanging this in a spot of honor and it is sure to get lots of compliments. Customized for your own family and made of silk.
35. Personalized Silk Bracelet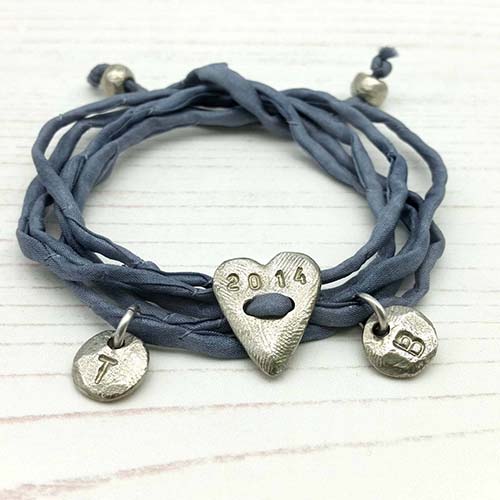 Not just any piece of jewelry, this bracelet is personalized and customized to be just for her. Made of silk, it has a real boho style and is perfect that casual beach attire or just any weekend garb.
Unique Twelfth Anniversary Gifts
Let's take a ride down Quirky Aisle for some uniquely creative wedding anniversary gifts for year twelve. Enjoy!
36. Explosion Photo Gift Box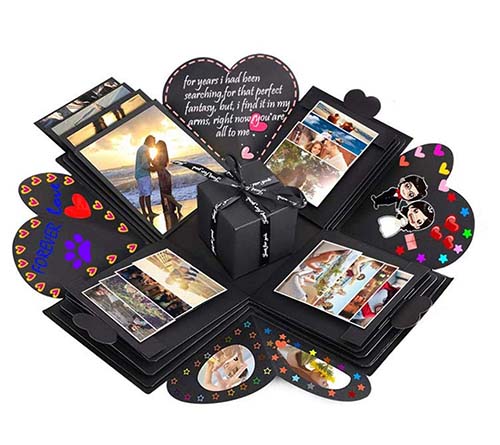 A little black box? Nope, not here! Once you open it, you find a five-layer deep photo album! The photos just keep coming and coming. This is one album that can't be topped. Totally unique and romantic and one-of-a-kind!
37. Our Song Custom Lyric Wall Art Canvas Print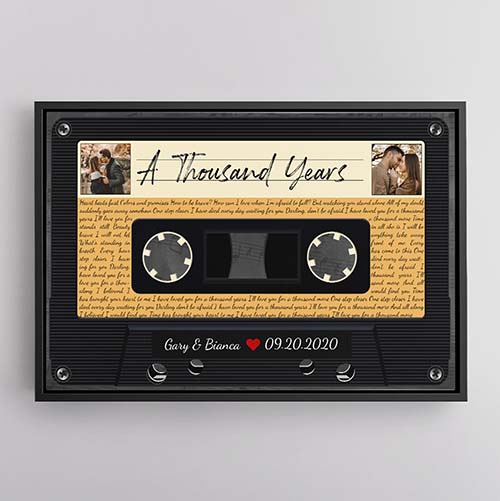 Take "your song," and hang it on the wall with this totally unique anniversary gift! She or he will love having your romantic song as a canvas print of a vintage cassette, personalized with your photo and date of your precious day.
38. Personalized Oyster Shell Map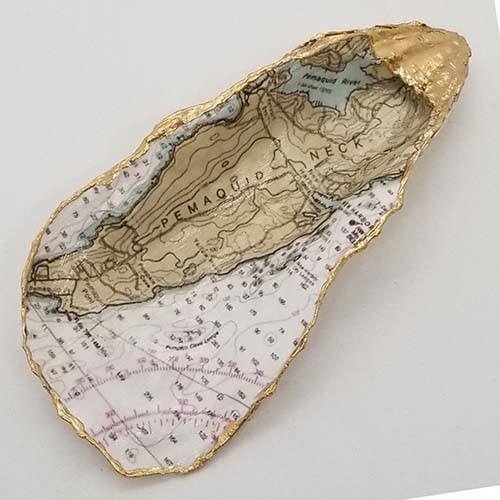 What a winner! This oyster shell piece of art will be treasured forever. You can make it your own by personalizing the beach, port, or harbor to be your special favorite. And yes, it really does tie into the 12th anniversary theme – after all, where do pearls come from?!
39. Forged Peony Flower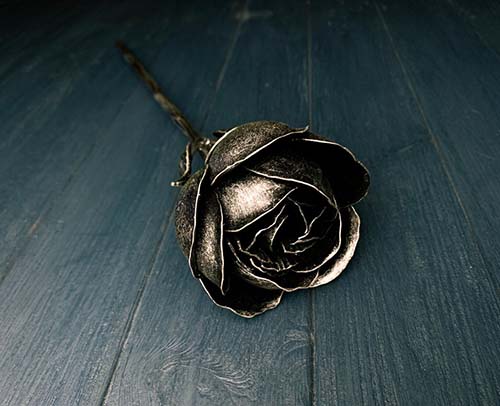 The problem with flowers is how they (don't) last, right? Not so with this pretty 12th anniversary peony. It's made of iron and will last a lifetime. Just like your love! Awww.
40. Personalized Family Birthstone Suncatcher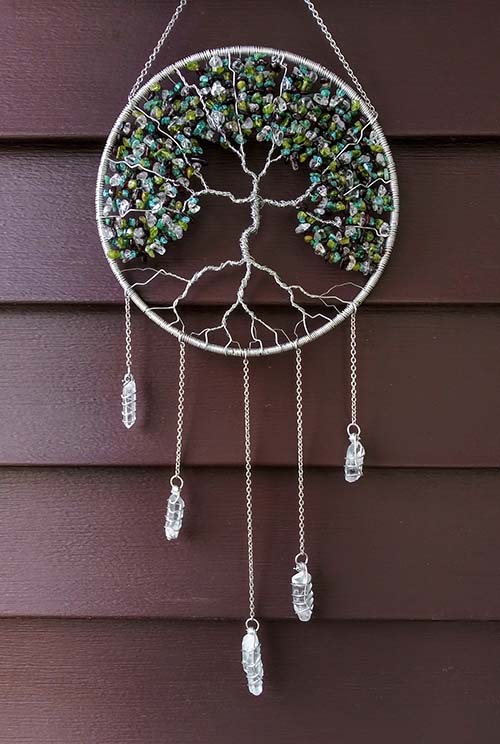 This tree of life sun catcher is made your very own by the additions of your family's birthstones. Made of healing quartz crystals, each one is completely unique.
For thought messages and quotes to place in your anniversary card, check out these 101 ideas!
Read Next: 101 Romantic Things to Do on Your Anniversary
Pin It