You're here because you're looking for the best of the best 22nd anniversary gifts.
Each year after your marriage has a conventional gift theme. Year one is paper, year five is wood, year ten is aluminum, and so on. (You can read our article on all the anniversary gifts by year for more details.)
For year twenty-two, there are traditional gift themes that have rich meaning, and then there's the contemporary themes which provide another option. Or you could eschew tradition and go with something unique. Below, we've curated beautiful gift ideas for all of those approaches and more.
But before we go any further, we want to tell you: Congratulations on 22 wonderful years! That's an amazing feat. Sure, it isn't as round of a number as your 20th anniversary, or as thrilling as the upcoming 25th will be, but 22 years of marriage is definitely a reason to celebrate.
So we're here to help you celebrate with the perfect gift! First up, let's take a look at those traditional and modern 22nd anniversary themes.
All About the 22nd Anniversary
Our website is supported by our users. We sometimes earn a commission when you click through the affiliate links on our website. See our privacy policy & disclosures for more information.
Table of Contents
This article is part of our series on Anniversary Gifts by Year.
What is the traditional & modern 22 year anniversary gift?
Copper.
Why is copper the traditional & modern 22nd anniversary gift?
Copper symbolizes beauty, strength, and wealth.
What is the 22 year anniversary stone?
Spinel.
Why is spinel the twenty-second anniversary stone?
Spinel is a gem that comes in many, many colors, and reminds us of the variety and the spice in your marriage.
What is the 22nd anniversary flower?
There are flowers associated with each anniversary up to year twenty, then after that it goes every five years (25, 30, and so on). This means that there is no flower associated with the 22nd anniversary, so plan accordingly with your own favorite!
What is the 20 year anniversary color?
Green. Perhaps because the spinel gemstone looks incredible in a lovely green color.
10 Best Twenty-Second Anniversary Gifts
Let's take a look at specific gift ideas! We'll start with some of our very favorites…
1. I Love Us Hand Stamped Copper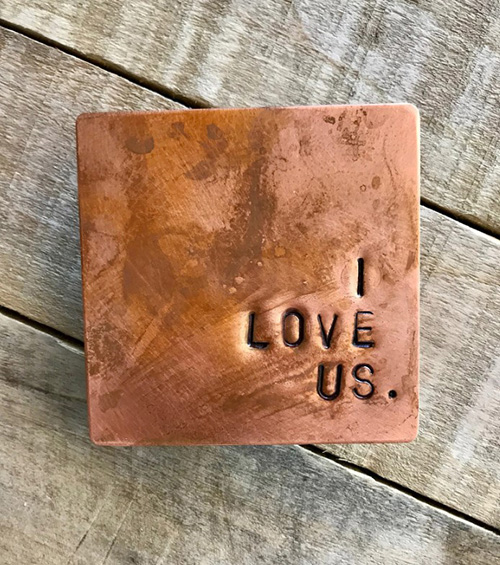 This darling little piece of copper art will look so sweet on her nightstand, or on his desk at work. It's a clever little way to remind your sweetheart how much you love the two of you adventuring through life together.
2. Solid Copper Photo & Map Print
Handmade and completely unique because of how personalized it is, this adorable and romantic photo and map print will make your spouse smile. The photo and engraving is precious enough, but once you add in a map of a location that means something to the two of you, it really takes it to a whole new level!
3. Custom Anniversary Card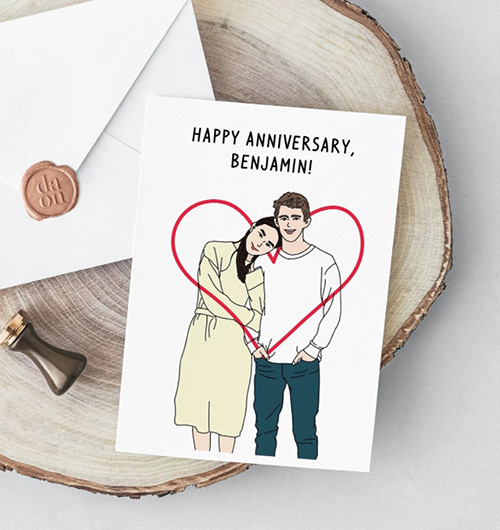 The card IS the gift when you purchase this one! The artist takes your favorite photo and creates a sketch that prints right onto a darling and romantic greeting card.
4. Love You Forever Flowers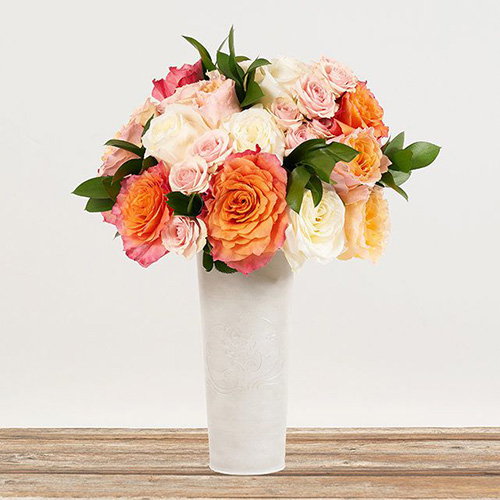 This blooming bouquet of gorgeous flowers will wow your beloved! The blushing colors and sweet smells are just as lovely as she is.
5. Stamped Penny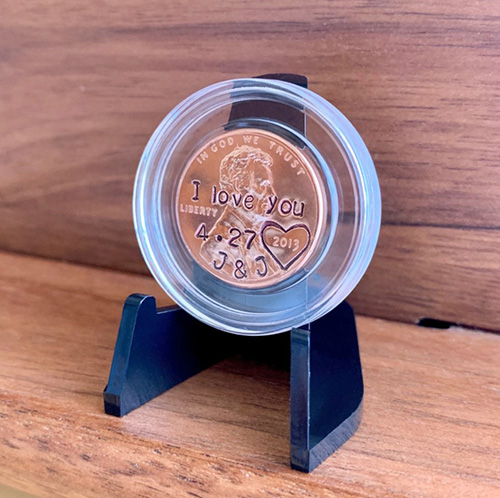 This hand-stamped penny is perfect for someone who is just so hard to shop for. It's got the copper theme going strong, and it just might be the perfect idea for the coin collector in your life. Even if they're not a collector, your spouse will adore the sentimental stamping in this creatively apt 22nd anniversary gift.
6. Copper Rose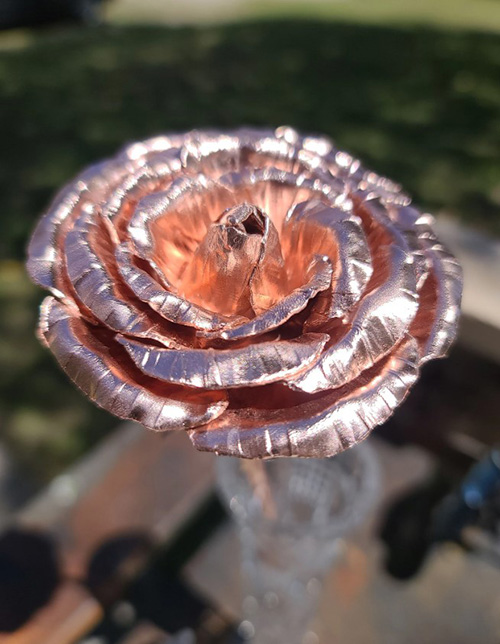 For the true romantic, this pretty copper rose will truly awe. It will look so nice on a bookshelf, on a desk, or set atop a nightstand. And unlike regular roses, this one will last forever – just like your love!
7. How Do I Love Thee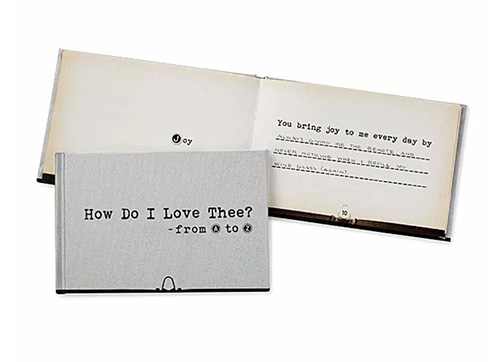 Let me count the ways… Oh, how this little journal is perfect for your anniversary! Your spouse will love reading about all the ways you love them, from A to Z.
8. Personalized Hand-Written Letter Blanket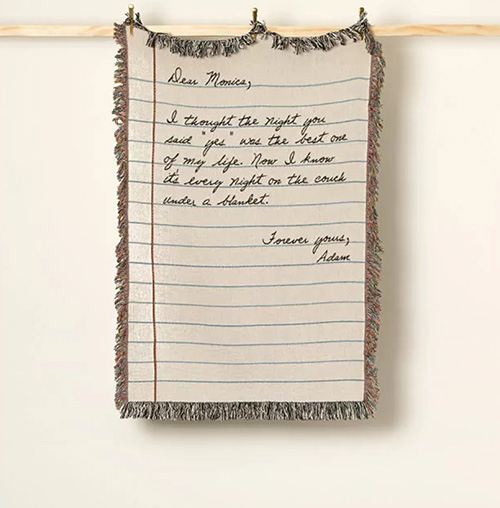 Take a love letter and turn it into a blanket with this unique and totally one-of-a-kind gift! This takes cuddling to a whole other level. A romantic and swoon-worthy present for your love.
9. Copper Finish Hearts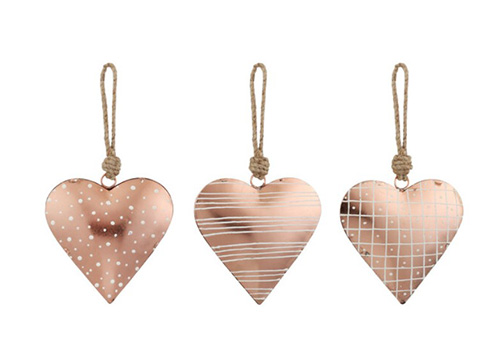 This set of three little copper hearts are so charming! They'll look lovely dangling from her dashboard, made into a necklace, or added to a windchime. The possibilities are endless – we just know your beloved will be enchanted by them.
10. Engraved Sign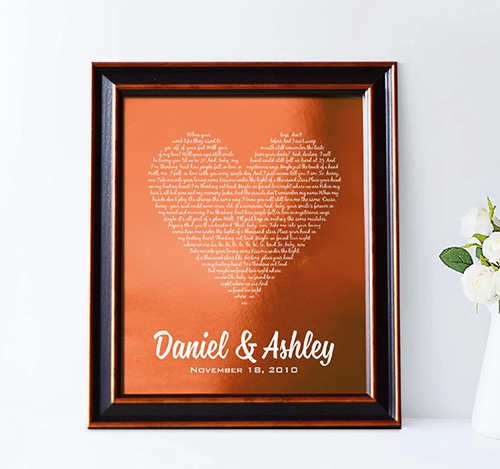 This sweet sign will really make their eyes light up! It features shiny copper, your wedding date, names, and whatever other kind of personalization you like: from wedding vows to "your" song lyrics to a bit of poetry.
Traditional & Modern 22nd Anniversary Gifts (Copper)
11. Custom Sculpture Family Tree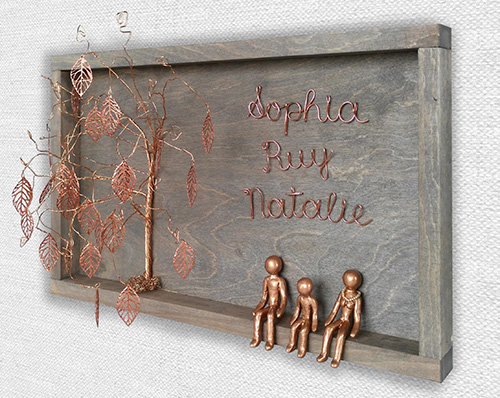 This work of art is made even cuter with the addition of your names and any children or pets you'd like to add! A one-of-a-kind sweet sculpture that is sure to snag the best wall in the house.
12. Pure Copper Moscow Mule Mugs
Cheers to 22 years of marriage! These Copper Moscow Mule Mugs are the perfect choice for two people who know how to party. Maybe pair with a handwritten recipe for your favorite cocktail.
13. Patina Old Copper Wall Clock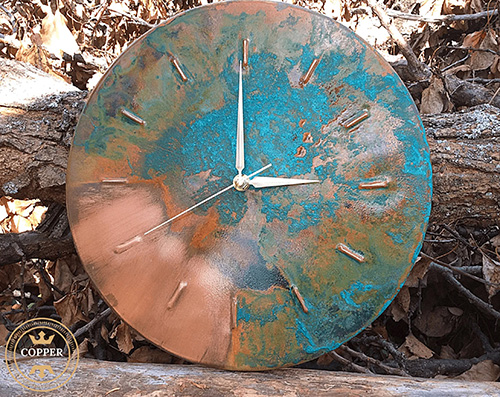 Made with pure copper, this vintage looking clock has the loveliest of patinas imaginable! Imagine this hanging in your living room or office – it's a statement piece in all the right ways.
14. Garden Wind Spinner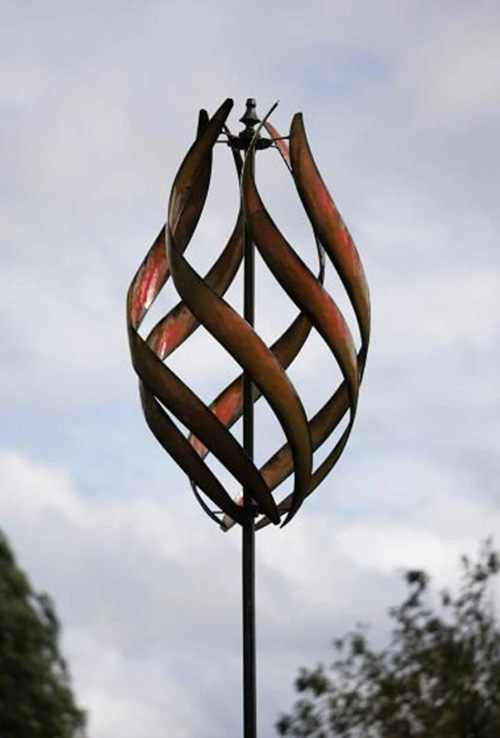 This pretty garden wind spinner dresses up a dull backyard or the tiniest of apartment balconies. They'll love the geometric design and the way it brings a sense of fun and whimsy to nature.
Related: Best Gifts for Gardeners
15. Handmade Turkish Copper Pots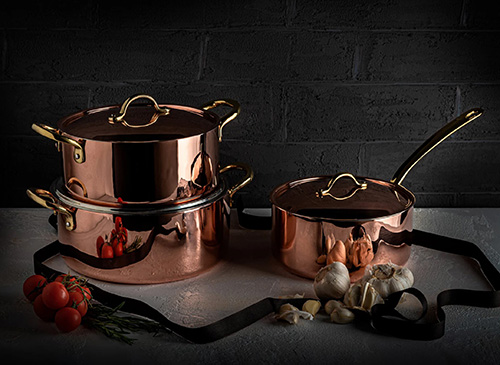 A good set of pots is worth their weight in gold! Um, copper. These stunning beauties will be their new favorite kitchen accessory and there's no way they'll be banished to a cupboard. These ones are made to shine and be admired even when they're not working!
16. Copper Mushroom Rain Gauge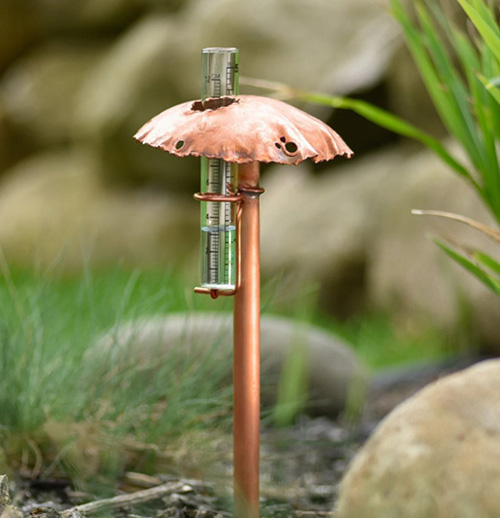 Hand-forged so no two are identical, this curious yet adorable little copper mushroom rain gauge will delight gardeners and nature lovers! A truly unique and fun little gift.
17. Hand Crafted Engraved Bookmark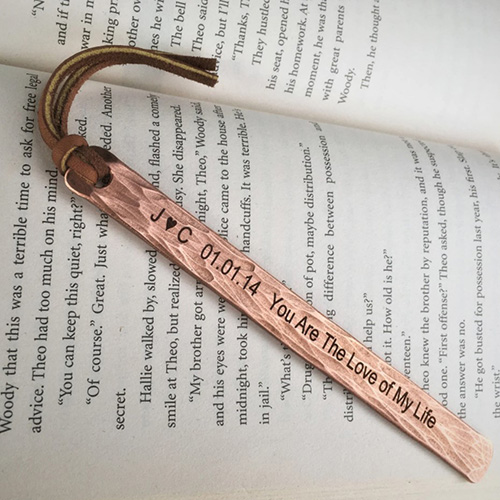 Bookworms, rejoice! No more dogeared pages when you have this little beauty. He or she will love finding their spot easily when they come back to that chapter. And they'll think of you each time they see it!
Related: 21 Best Gifts for Book Lovers & Librarians
18. Copper Finish LED Display
This fun clock from Sharper Image is made of shiny copper and is almost more fun to play with than it should be! The young at heart will especially love this gift.
19. Engraved Copper Plaque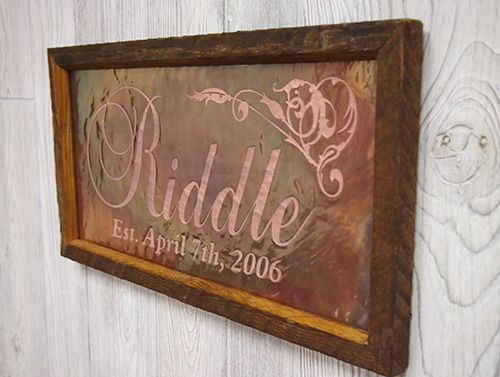 This oh-so pretty engraved copper plaque is a real showstopper! They'll love seeing their name and special date front and center. Whether it's hung at home, inside or outside, or at the office, this is a real winner for sure.
20. Traditional Kettle Teapot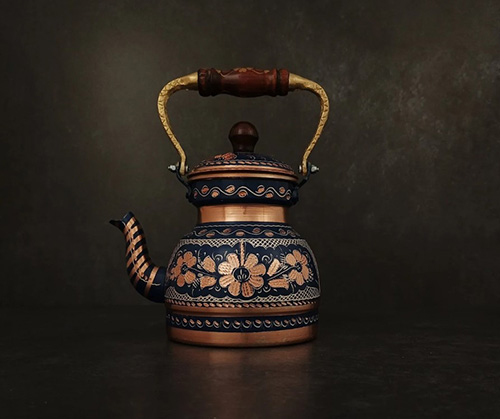 This gorgeous, heavy copper teapot is a beauty! It will definitely be the star of the show during teatime, and really anytime it's in view. After all, it's way too attractive to hide away in a cupboard!
22 Year Anniversary Gifts for Her
21. Spinel Ring Set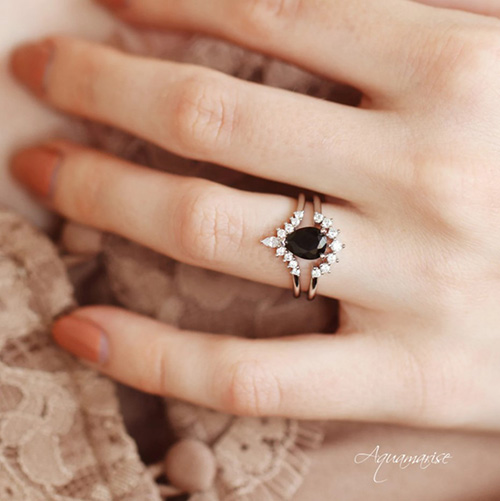 This pretty ring will remind her of the day you gave her another special ring: 22 years ago exactly! She'll love showing off her hands when she's wearing this gorgeous black spinel ring.
22. Custom Engraved Keepsake Box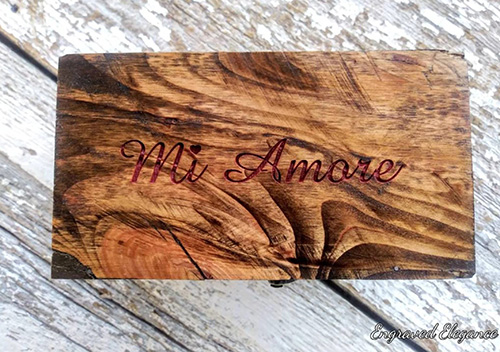 Engraved with her name or your special name for her, this keepsake box is perfect for holding all of her special mementos, jewelry, cosmetics, hair accessories… well, the list goes on! You don't need to know what to store in it: she's bound to have ideas!
23. Family Heart Necklace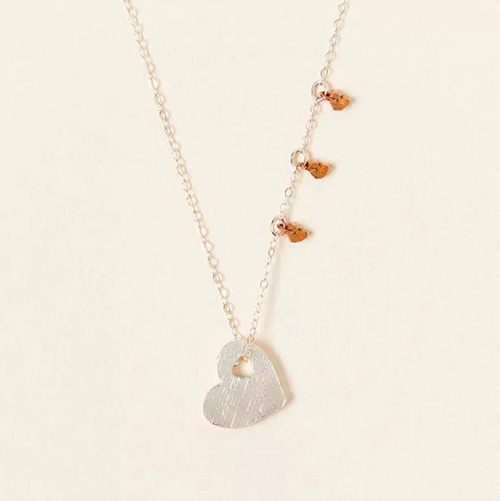 The main heart pendant is made of wood, which is then cast in silver. And the remaining sweet little hearts signify the number of children or grandchildren she has. What a meaningful way to celebrate the 22 years of marriage and family you've shared together!
24. Personalized Copper Ring Dish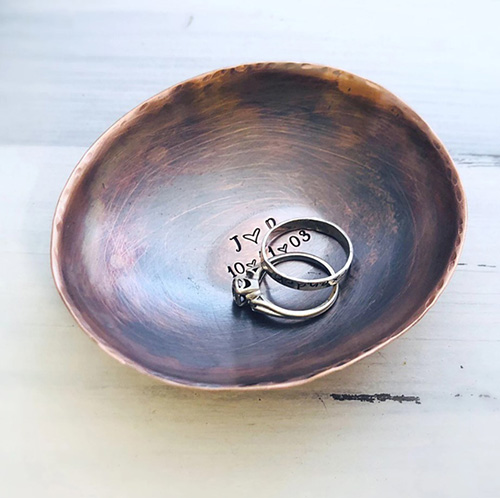 Set those rings aside safely, with no fear of misplacing or rolling off the nightstand with this personalized copper dish! She'll love dropping her rings in this cute little bowl. Also, great for keys or any other small item that tends to wander off.
25. Personalized Copper Wine Glass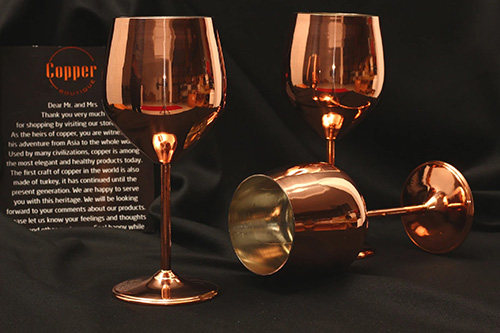 Cheers! Raise a glass (this glass, in fact) to 22 years of wedded bliss! The shiny copper wine glass is sure to please even the most discriminating of tastes.
22 Year Anniversary Gifts for Him
26. Personalized Cufflinks
These classy and masculine cufflinks will delight your man! Personalized with your special date, they'll add some posh sophistication to his attire on date night.
27. Hand Forged Copper Handle Damascus Knife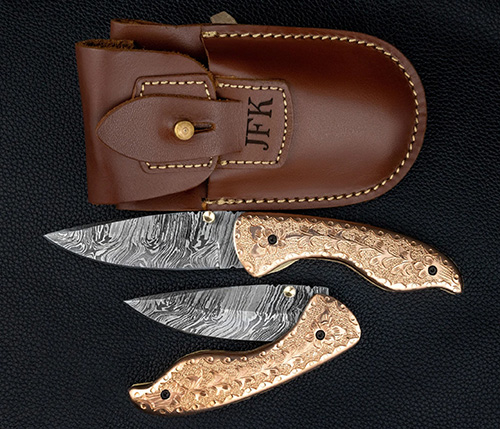 He'll be over the moon for this hand forged copper handle Damascus knife! This is definitely a gift that will go down in the history books. You might discover that this is the start of a gorgeous knife collection!
28. Bourbon Whiskey Still Oak Barrel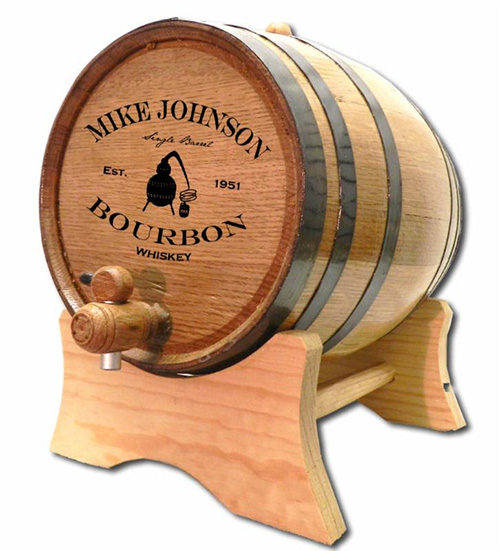 This bourbon whiskey still oak barrel will look amazing in his living room or kitchen or den! He'll use it to transform bottom-shelf bottles into top-shelf whiskies with the magic of the barrel aging process. Personalized so it's extra special, all of his friends will want one for themselves.
29. Copper & Wood Docking Station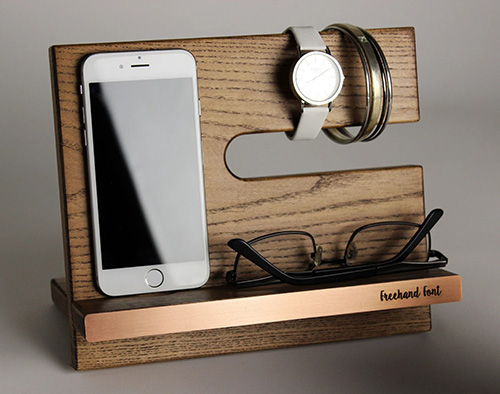 Keep all of his needs organized and efficient with this copper and wood docking station! No more shouting across the house, "Honey, where's my phone/charger/keys/wallet?!" It's a gift that, honestly, is for both of you…
30. "Gone Fishing" Bottle Opener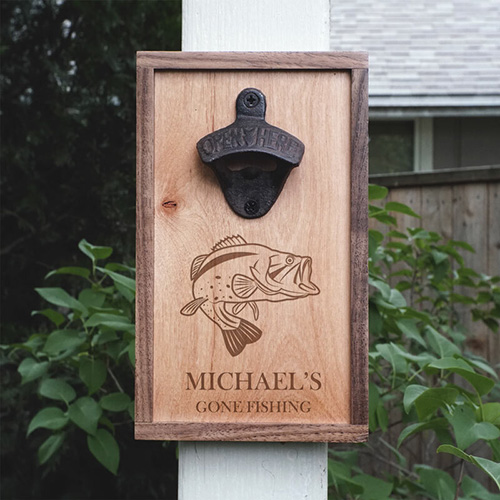 This great bottle opener is just the thing for the fisherman in your life! He'll love the personalization, not to mention the functionality. Cheers to 22 years!
22 Year Anniversary Gifts for Couples
31. Personalized Candle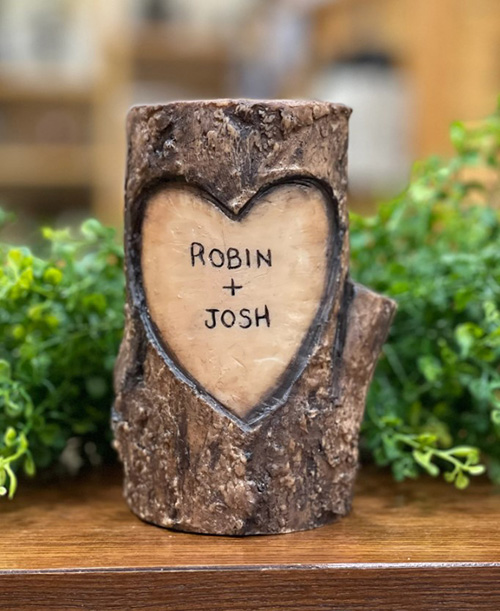 A candle always makes a great gift, and this one is no exception! Made to resemble a tree carved with their initials, it's almost too pretty to burn. Yet it smells so good you won't want to stop. The only solution is to get two!
32. Champagne & Truffles Gift Box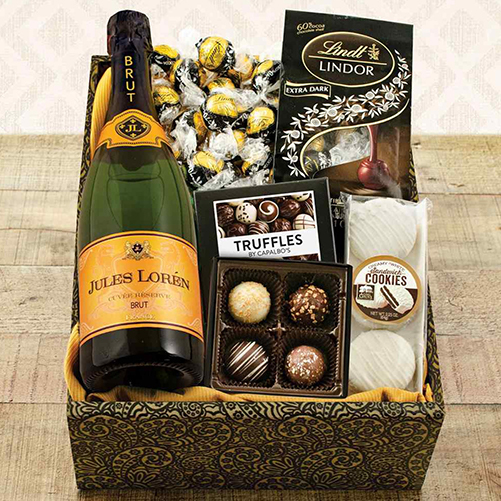 The perfect anniversary celebration all bundled up in one pretty gift basket! Give them this fantastic grouping of delectable, artisan truffle chocolates and tasty champagne as a fun way to celebrate twenty-two years of wedded bliss! They'll love you forever.
33. Handwritten Recipe Cutting Board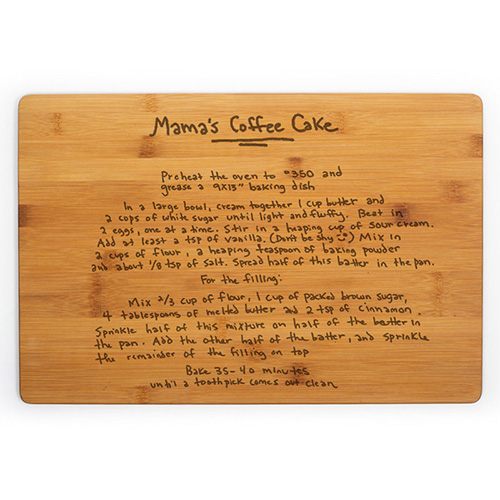 Have your (or their) favorite recipe engraved onto a cutting board for a unique and sentimental gift! They'll love this fresh approach to the timeless tradition of sharing recipes.
34. Copper Anniversary Gift Initials Set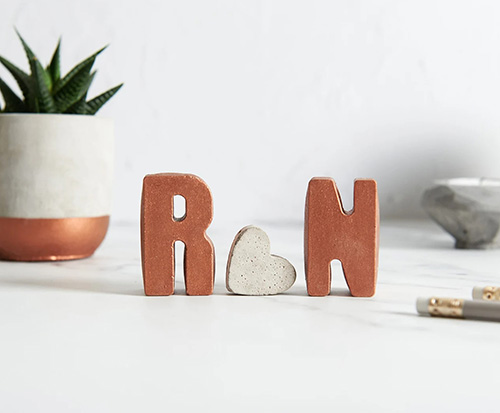 Two initials, made of concrete in copper toned finish, combined with a cement heart. Too cute!
35. Magic Heart Night Lamp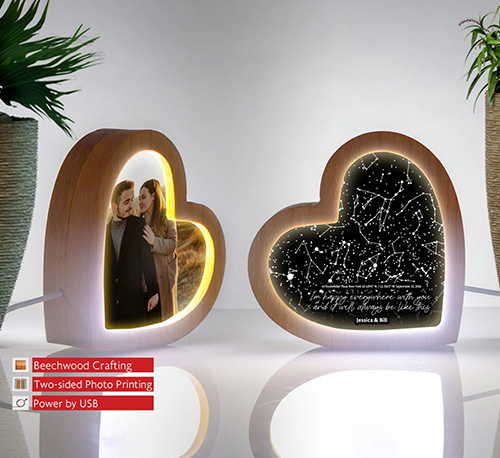 Light up the night with this magic heart night lamp! With the addition of their wedding date, coordinates or location, some sweet words, and a photo, this is a completely one-of-a-kind gift that will melt their hearts.
Unique Twenty-Second Anniversary Gifts
36. Dawn Redwood Bonsai Forest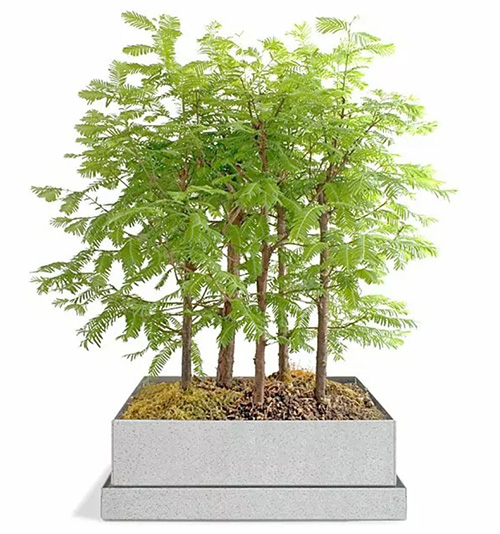 Bonsai kits are soothing and calming, so if it's been one adventurous 22 years together, get them this mini forest! Nature lovers, yogis, and the like will love this unusual present.
37. It Was Always You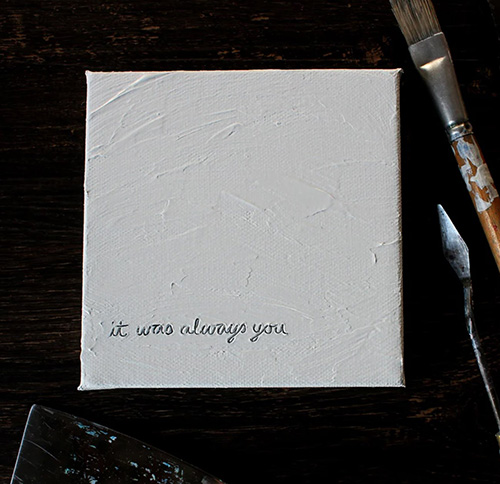 Leave no doubt how you feel about them with this minimalistic canvas! They'll love the sweet sentiment that reminds them how you truly feel.
Related: Elegant Gifts for Minimalists
38. Copper Cow Coffee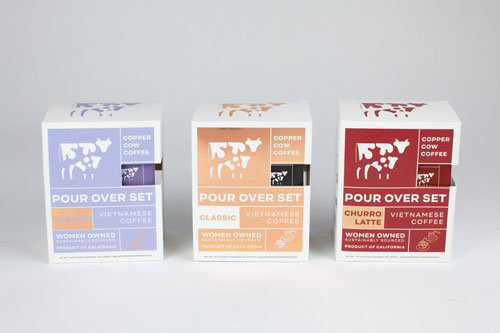 For the discerning coffee lover, a brew from Copper Cow Coffee is sure to please! Choose from dark to light, decaf to regular, beans to ground, flavored to not. They're sure to charm your caffeine loving spouse/friend.
Copper is in the name, so that matches the theme… right??
39. Custom Home Cinema Ticket Plaque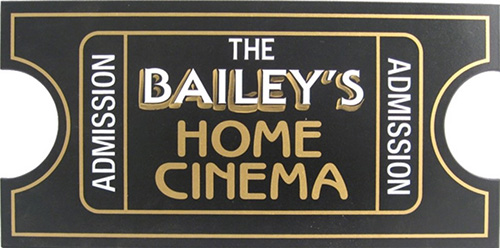 For the movie lovers and film critics, this custom home cinema ticket plaque is a sure fire Oscar winner! They'll be enchanted with the vintage appeal and seeing their names in lights.
Click Here for 50 at-home movie night ideas
40. Framed Copper Lyrics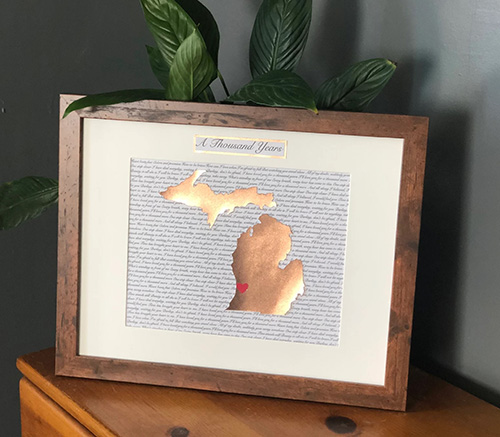 The lyrics to your wedding song are delicately framed in a heart shape, surrounded by your state, and of course your name and anniversary date, when you order this pretty framed copper lyrics piece of wall art.
Now that you've found the perfect gift, what will you do for your special 22nd anniversary date? Thankfully, we've got that covered too – here are 101 romantic things to do on your anniversary!
Pin It