Okay, maybe it's a little silly to try to find the perrrrrrrrrfect gift for a wee babe, but if you think about it, it makes sense:
Gifts for a 1 year old are really, ultimately, gifts for the parents just as much as the baby.
Want to make the whole family happy? Here are 21 one-year-old gift ideas for any holiday!
Best 1st Birthday Gifts
Our website is supported by our users. We sometimes earn a commission when you click through the affiliate links on our website. See our privacy policy & disclosures for more information.
1. An All-Time Favorite: Crawl Tunnel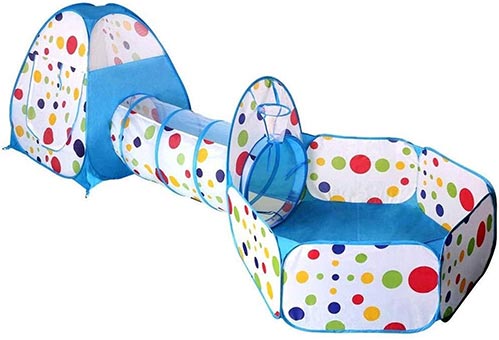 Honestly, if I fit, I would want to try out this crawl tunnel. How much fun is a game of Peek-A-Boo through cheery tunnels and see-thru windows?
Baby will love this. AND you can store toys inside when cleaning up! Mama approves.
2. Best 1 Year Old Gift for Girls: Rainbow Wooden Stacker
Wooden toys are the best toys. These rainbow stacker toys just look all nostalgic and friendly. And these bright, sunny colors? Puh-leeeze.
When they get too old to find stacking them a puzzle any longer, they can use them as tunnels for their cars or ponies, or add them to a building block sets for epic castles.
3. Best 1 Year Old Gifts for Boys: Name Puzzle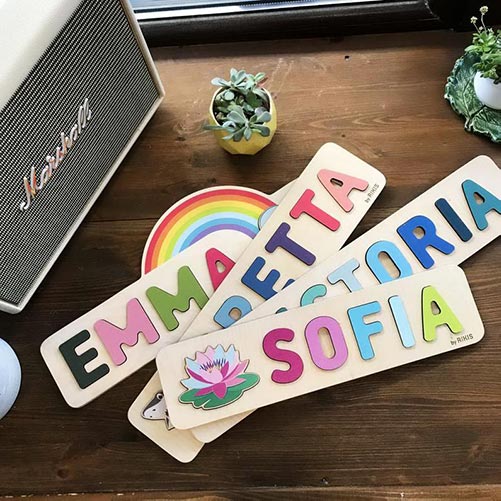 Teaching spelling along with shapes and colors, all in one fun, full swoop. Win win! It's a fun keepsake that they'll treasure for years.
4. Best Toy Set for 1 Year Olds: Band Instruments
It's never too early to start a garage band! Babies love music and it's scientifically proven to build their brains as well.
These noise makers are sure to bring a smile to their faces, and one to yours as well.
5. Best Non-Toy Gift for 1 Year Olds: Baby Clothing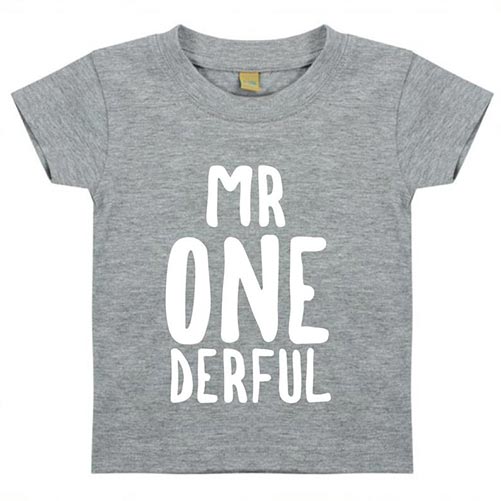 Babies can be trendy fashionistas too! This shirt is soft and cozy and goes with any pant or short you pair it with.
Now, how cute would it be under a flannel? It almost hurts to think about it.
6. Best Educational Toy for 1 Year Olds: Shape Sorting Cube
Your baby can be the smartest baby on the block with this classic toy. Watch their gears in motion as they figure out which block goes which way into which opening.
7. Best Books for 1 Year Olds
You cannot go wrong with a book for baby. Whether it's your favorite from your childhood or just one that speaks to you from the shelf, look for one that has amazing illustrations and is hardy (babies like to chew them).
MOO BAA LA LA LA by Sandra Boynton (Board Book)
Sandra Boynton is a genius when it comes to tiny little baby books. You'll have the rhythmic Moo, Baa, La La La stuck in your head for days… But you won't even mind as you read this tale over and over until it wears out!
All her books are a perfect choice, but you gotta love one that features farm animals.
The Wonderful Things You Will Be (Picture Book)
If the striped pajamas don't make you want to read this aloud, the charming story will get you. The Wonderful Things You Will Be is already a modern classic.
Personalized 1st Birthday Book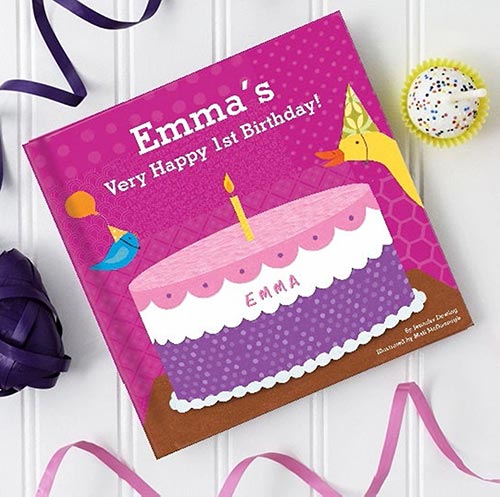 Nothing makes a child feel more special than something with their name on it! Especially if your child has an unusual name who will never find the keychain at the gift shop… This custom book is just the thing.
Bonus Baby Book Ideas:
8. Unique Gift for 1 Year Olds: Bike
If Baby belongs to an outdoorsy family, it's never too soon to gift a bike! This adorable mover and shaker will be the talk of the cul-de-sac and the envy of everyone at the playdates.
9. Meaningful Gift for 1 Year Olds: Tree Planting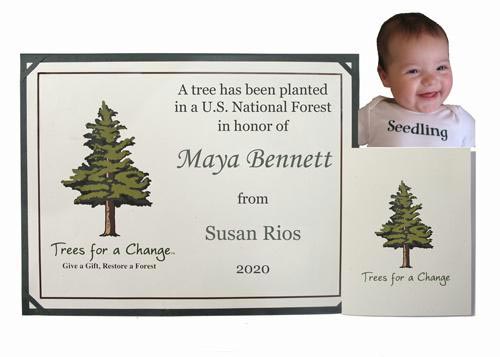 Let's face it – the one year old isn't going to remember any gift from their first birthday. So why not give a baby tree that grows as your child does!
When they're older, they'll be able to appreciate the significance of this planet-healing gift, given in their name.
10. Classic Gift for 1 Year Olds: Bead Maze & Activity Cube
Remember these bead maze activity thingies? Of course you do. Guess what – they're not just for doctor's offices! And this one will have many less germs.
11. Most Adorable Gift for 1 Year Old: Personalized Doll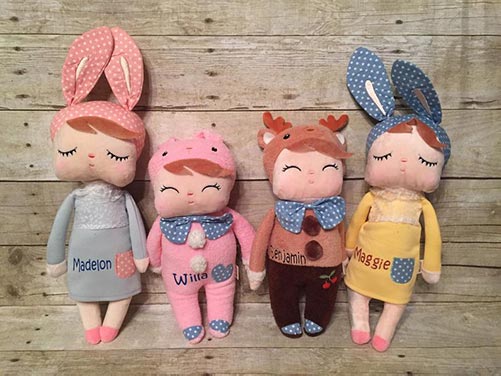 How sweet are these personalized dolls? Their whimsical animal hats just finish off the perfect dolly that Baby will want to take everywhere.
10 More 1 Year Old Gift Ideas
Here are ten more first birthday gifts that didn't quite fit into the categories we mentioned above, but we just… plain… love.
12. Pull & Sing
Puppers can follow along behind Baby as they learn to crawl and walk. You know what they say, a Pull & Sing Dog is a man's (and infant's) best friend.
Or something like that.
13. Sensory Bag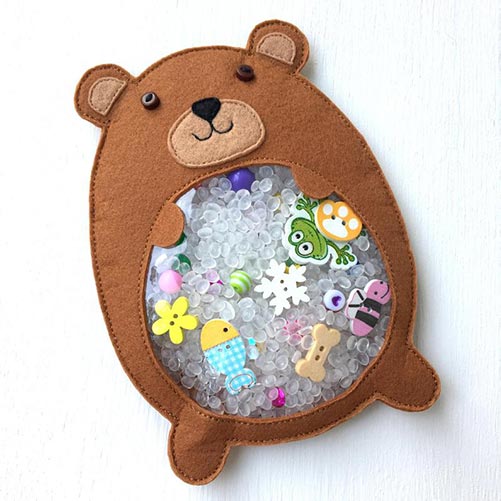 Squishy and soft, bumpy and charming, this adorable handcrafted sensory toy will have Baby using all of their senses (and it's fun to teethe on too).
14. Hmong Baby Shoes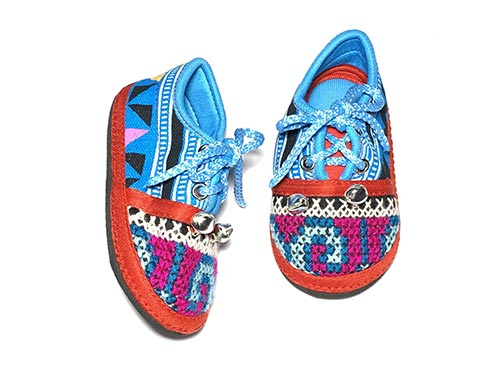 Okay, okay, so they may not even be walking yet, but that doesn't mean their tootsies should be nekked! These little gems are too cute, and they're handmade, too.
15. Princess Tent
A princess tent is a great place to play, nap, snack, and a great place to toss all of their toys in when your mother-in-law arrives unannounced.
Talk about 1 year old gift ideas for the parents.
16. Mega Blocks
The best toys are the ones that don't have a specific goal in mind, but instead make you use your imagination.
Start early with this generous-sized bag of baby's first blocks.
17. Sensory Board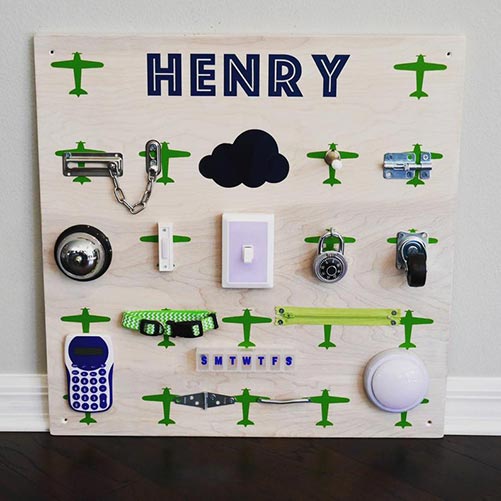 Whoever came up this personalized sensory board is a genius first rate!
Baby is going to love learning what all these fun things do and will come back to it again and again. And it's stylishly designed so you won't mind if it hangs out in the living room and becomes part of the décor.
More Ideas: 50 Fun & Timeless Jewelry Gifts for Kids
18. Montessori Toys: Crochet "Exercise" Set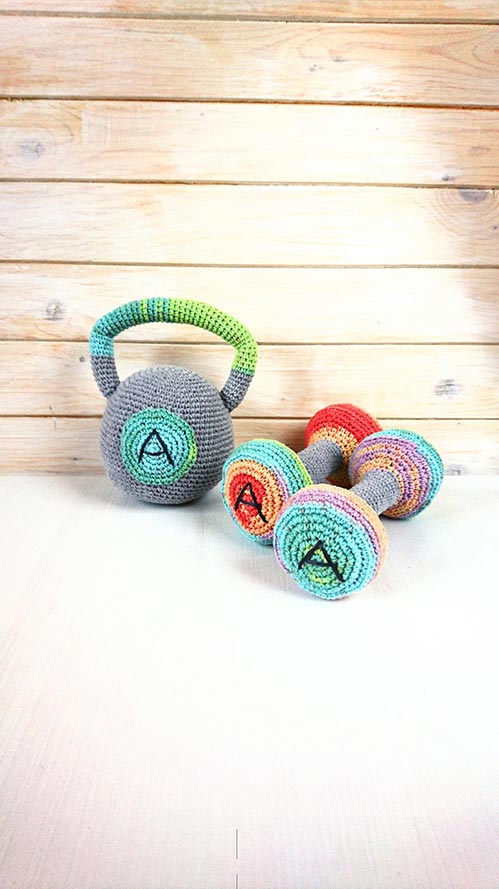 Sweet and simple is the way to go. These Montessori "exercise" toys fit the bill for gentle play time.
19. Matching Shapes & Colors
How adorable is this egg crate set? It all nestles perfectly inside its cherry yellow container when your 1 year old is not playing with it. An educational toy that is cute as a button as well.
20. Night Light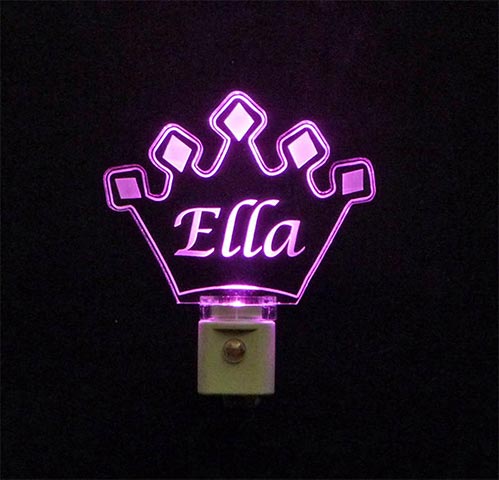 How about an adorable personalized night light!
Because, let's be real here, Mama and Daddy need to be able to see when they answer Baby's nighttime singing act.
21. Piano Mat
They can channel their itty-bitty Big references as they merrily stomp away on this fold-up piano mat. No one can be cranky pants when they're making music this way!
1 Year Old Party Ideas
Need some good party ideas for your darling 1 year old? Here are some of our favorites.
Have a tea party. Honestly, everyone loves a good tea party. There are finger foods (i.e. toddler sized foods), fun hats, and everyone can take home their own teacup (shop at thrift stores for the best prices. No one cares if they match!). After all, grandmothers love a tea party and who is the party for more than the grandmothers at this point in time anyway?
Have a barbeque. If Baby's birthday in the sunny months, you can't beat grilling outside with your family and friends. Shoes optional! Pants too, but only for the Birthday Baby. Running through the sprinkler or a slip and slide is a fun way to cool off. And who says there must be cake? Have popsicles instead!
Have a theme. Pick Baby's favorites, from their favorite foods to their favorite toys to their favorite books/movies. Sure, it's going to be a hodgepodge of a theme: Dinosaur Chicken Nugget Aliens, say, or maybe My Little Pony Apple Pie Bike Extravaganza, but that's what makes it fun!
Have a book party. Have party goers dress up like their favorite book character and bring a copy of their favorite childhood book (inscribed for Baby inside, of course).
Go on a picnic. Bring food and a kite to fly. Climb trees, swing on the swings, feed the ducks. Cupcakes pack up more easily than a cake, and are more fun for Baby to handle. Don't forget one candle and some matches!
Have a potluck. Especially if your extended family is large and everyone wants to come celebrate, a potluck is the way to go. Less stress for Mom and Dad, plenty of goodies to pass around and share, and Baby will get more snuggles and snacks than they know what to do with!
Have a winter party. If Baby's birthday is in the winter months, bundle up and go outside anyway! Snowballs and snowmen, sledding, hot cocoa with peppermint sticks, puffy coats and hats with pompoms… you can't go wrong!
Related: Birthday Party Etiquette for Kids
1 Year Old Birthday Quotes
Some of our favorite quotables for your little one's first birthday. Use these as part of the birthday party's theme, or incorporate it into your card if you're looking for ideas on what to write in a birthday card.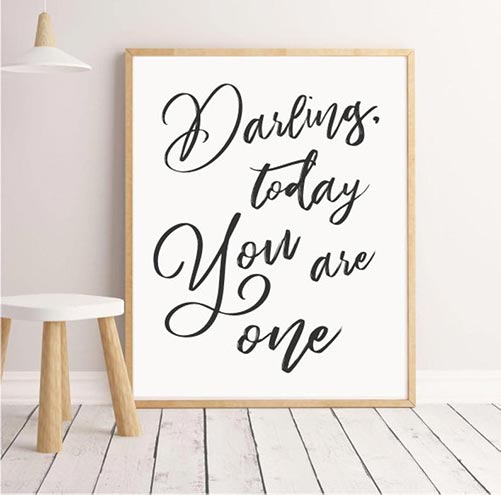 "Darling, today you are one"
"You know what the great thing about babies is? They are like little bundles of hope. Like the future in a basket." ~ Lish McBride, author
"Babies should be classified as an antidepressant. It's pretty hard to be in a bad mood around a 5-month-old baby." ~ Jim Gaffigan, comedian
"Babies are such a nice way to start people." ~Don Herold, writer
"When the first baby laughed for the first time, the laugh broke into a thousand pieces and they all went skipping about, and that was the beginning of fairies. And now when every new baby is born it's first laugh becomes a fairy." ~ J.M. Barrie, author
"A loud noise at one end and no sense of responsibility at the other." ~ Ronald Knox, theologian
"Today you are you! That is truer than true! There is no one alive who is you-er than you!" ~ Dr. Seuss
Have a ONE-derful birthday!
Read Next: 2 Year Old Gift Ideas