The key to giving the most thoughtful gifts is simple. Think about it.
That's it. That's the main thing.
But you've been racking your brain and drawing a blank. Never fear! At All Gifts Considered, we have literally spent YEARS thinking about this for you.
Here's how to give the most thoughtful gifts ever.
Our website is supported by our users. We sometimes earn a commission when you click through the affiliate links on our website. See our privacy policy & disclosures for more information.
Tips for Thoughtful Gifts
Again, the key to choosing a truly thoughtful gift is to think deeply about the recipient.
Put yourself in their shoes. Visualize yourself going through their daily tasks, and incorporate the things that they talk and dream about, which might include their:
Favorite TV show or professional sport
Favorite hobby or activity
Desire for free time, time off work, having the kids babysat, vacations, a getaway
Desire to get work done, tasks accomplished, home and life organized
Love for cooking, baking, and giving treats to friends and loved ones
Inquisitive mind
Active lifestyle
Crafty hands and mind
Passion to build or fix
Enjoyment of peace and quiet
Love for family time
Love for party time
As you do this, you'll shape your thoughts about gift giving around their interests, and not what you might think is a good gift idea.
Here are a few specific tips on getting into the mindset of giving thoughtful gifts.
Tip #1: Think about what they value most
People value many different things. That's what makes us all unique.
If the things they value are intangible, how do you give them a gift? Well, the answer may be to think outside the wrapped gift box. DIY coupon books, gift cards, subscriptions, vacations, and acts of service may end up being the most memorable gifts they have ever received.
The question is, what do they value?
Faith
Relationships
Time off/free time
A busy weekend outdoors
Shopping sprees
Socializing
Solitude
Saving
Spending
Late nights
A sunrise jog
New sights
The comforts of home
Getting things done
Loving and serving others
The destination
The journey
Tip #2: Think about how they spend their free time
Do they live life for the weekend, and spend all their time and money on boats, ATVs, fishing, vacations, fine dining, dance clubs, wine tours, thrill seeking, travel?
Or are they the thoughtful sort, always improving their mind, watching documentaries, visiting museums, reading books, learning new skills?
Maybe they love nothing more than an afternoon at home with the family where they make cookies, play board games, and have a movie night. Others are on the complete opposite end of the spectrum, constantly couch-surfing, clubbing, and on the hunt for the next big adventure.
Any of these types of people would appreciate vastly different gifts.
One might love a quality kitchen mixer, a family-friendly board game, or a family activity planner. Another might prefer a surprise vacation that is all perfectly planned out.
Still another person would love a surprise vacation but with nothing planned out other than a full tank of gas and the question, "East, west, north, or south?"
If they could choose, what might they spend their free time doing?
Hobbies
Going to the beach
Shopping sprees
Hanging with friends
Gardening
Art
Reading
Traveling
Starting a business
Giving back to the community
Tip #3: Think about what makes them smile
When have you seen this person's face completely light up? What gets them giggling, or in a good mood, or feeling romantic, or able to sit back with a sigh of contentment?
Think about those moments, and about all the things that make them smile:
Special treats
Romantic gestures
Corny jokes
Inside jokes
Wild adventures
Fixing something
Solving a problem
Debating an issue
Time with friends
Time with family
Quiet time
Getting lost in nerdy fandom
A clean house
Serving others
Surprises
A well-planned week
Putting It All Together: How to Give Thoughtful Gifts
Now that you've thought about the person quite a bit, what have you discovered? How can you help them feel valued and recognized? What is it that they think about and care about?
Then connect it with a gift. Think, "What can I give that would address what they care about while supplying something they lack?"
For instance, someone who loves down time and corny jokes might appreciate the gift of a favorite movie or tv show along with a t-shirt or mug with their favorite quote from the show.
(If you don't want to go old-school and buy a DVD, come up with something like giving them the t-shirt and a card inviting them over to watch together on your streaming device while enjoying dinner, wine, dessert, or their favorite movie treat.)
Other ways to thoughtfully give in a way that lines up with their values and hobbies include:
Organizing time off, road trips, get-togethers, vacations, stay-cations, scavenger hunts, day trips, babysitting, meet-ups, etc
Supplementing their hobbies or interests with niche accessories, tools, utensils, helpful devices, upgrades, memberships, subscriptions, gift cards, etc
Creating your own gift, including personalized gifts, handcrafted items, DIY coupon books, gift baskets with "a few of their favorite things," and so on
Discovering some product that they really would like, but just haven't purchased for themselves or aren't really aware of it
There are many more ways to come up with the most thoughtful gifts for each person in your life! I hope these ideas have inspired you in some way.
If you want more specific gift ideas, we've collected quite a few below.
First we have ten incredibly thoughtful gifts that you can actually wrap and give, followed by an extensive list of creative gift ideas that range from experiences to quirky things you didn't know you could even give.
Read on!
10 Uniquely Thoughtful Gifts
If these ideas don't seem quite perfect for you at first glance, read through the descriptions to see why these make thoughtful gifts.
Once you see the "why" part, you'll be able to easily adapt each idea to your special someone.
1. Coffee Maker (or Other Beverage Maker)
Give them a unique and high-end coffee maker. (Or a tea serving set for tea drinkers, a juicer or bullet blender for smoothie/protein shake types, a soda stream for La Croix fanatics, etc.)
Everyone drinks something. Think about what they prefer, and get them the best.
For coffee drinkers, the pour over method is (imho) the best way to make delicious and consistently smooth coffee.
A pour over coffee maker is simple, sustainable, affordable, and classy – all reasons why it will be a great (and thoughtful) gift.
2. Their Favorite Indulgence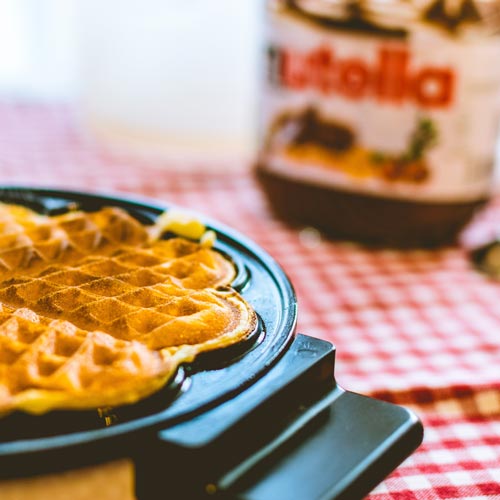 Most people have a special indulgence. For some, it's coffee – see idea #1. For others, maybe it's a fine wine or Lemonheads or a croissant from their favorite bakery.
Whatever their treat of choice might be, get it! For many of us, these are things we don't buy for ourselves all the time, so getting it as a gift is not only meaningful (because you put thought into it!) but also a truly special treat.
Or you could get an indulgence-adjacent gift. For instance, give a:
3. Personalized Hand-Drawn Comic Book Telling Their Story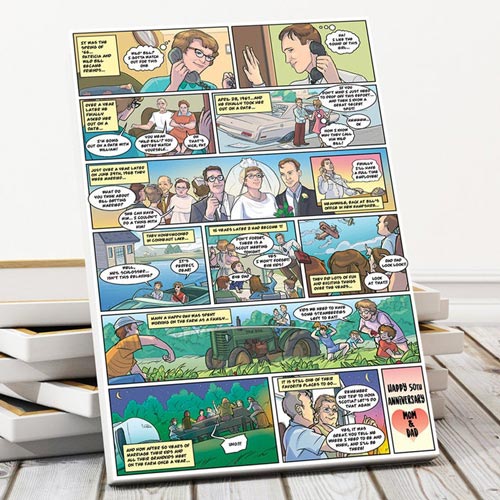 This is a thoughtful gift to celebrate your anniversary, or maybe as a wedding gift. Tell the story of how you met and fell in love – in a comic book!
This works for other relationships too. Give it as a BFF gift or honor the life of someone who was really important to you, like a grandparent or mentor.
Write out your story and include photos of the people involved. The artists at Make Me A Comic will turn it into a personalized comic book with original art and classic comic-book dialogue.
Now that's an amazingly thoughtful gift!
Related: 10 Best Personalized Gifts for Couples
4. Experience Gifts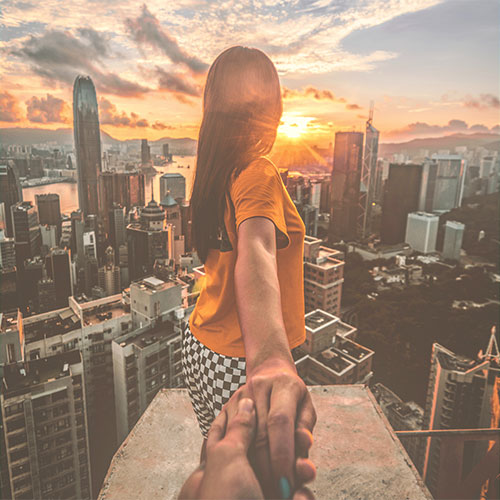 Sometimes the most thoughtful gift isn't a thing, but rather an experience.
If you know what the recipient enjoys doing, you should be able to come up with some truly memorable gift ideas.
Some inspiration:
Concert, theater, or movie tickets
Zoos, museums, historical sites
Theme parks
Vacations, cruises, road trips
Hiking or backpacking
Fishing or hunting excursions
Guided tours
Zip lines, shooting range, laser tag
Horseback riding
Picnic in the park
Related: 50+ Inspirational Experience Gift Ideas
5. Handwritten Recipe Cutting Board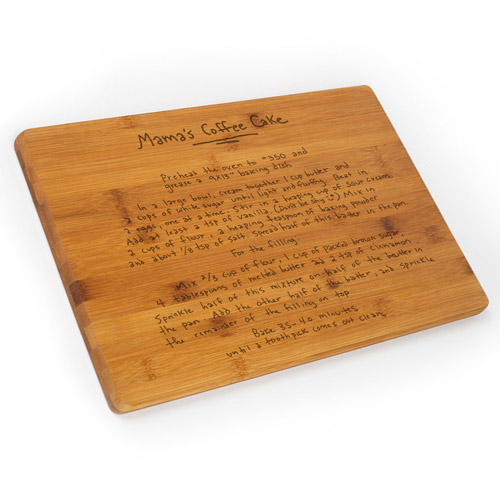 Everyone loves food, and surely everyone has a favorite home-baked recipe. (If you don't…. well, I'm really, really sorry.)
This personalized cutting board gets etched with that favorite recipe, taken from the original handwritten instructions. It's a thoughtful gift that the recipient can use, put on display, and pass on as a family heirloom.
You can scan an image of their handwritten recipe and we'll engrave it onto the board; or, if you want to share your very own recipe with your children or grandchildren, write out your recipe, scan it, and we'll take care of the rest.
This is an amazingly thoughtful gift idea for any family with a much-beloved recipe. It's ideal for mom on Mother's Day, as a special gift to welcome a new daughter-in-law into the family, a memorial or sympathy gift, and any other uses you might invent.
Related: 10 Practical Mother's Day Gifts
6. Hobby Gifts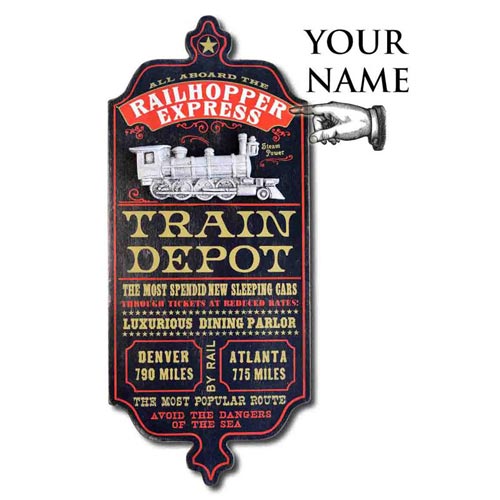 This Personalized Train Depot Plaque has been an extraordinarily popular gift among train enthusiasts.
Hobby gifts can be tough. But when you conquer a tough problem like picking a hobby gift, that's what makes the gift so thoughtful!
For some hobbyists, they have very specific interests in a narrow niche. This means that, for example, a photographer won't want just any expensive camera or just any new lens. They'll have one or two highly specific items that is on their wish list.
Same thing with hobby-related accessories. One person might prefer accessories all of a certain brand, color, or size. Another might always want the best of everything, no matter what it looks like. And still another might only use a few very important accessories, and all the rest are just a nuisance.
All that to say, finding the right hobby gift will take some thought!
But here are a few ideas to get you started:
Talk to them about their hobby and listen for what they want
Spy on and raid their Amazon wishlist
Personalized accessories
Containers or storage for their gear/collectibles
Consider personalized wall decor (like the train sign, above) that emphasizes their hobby, interest, or vocation
7. Safety/Survival Gifts
In a post-COVID-19 world, everyone is thinking a little more deeply about the importance of survival.
Our core values haven't shifted, of course, but we're all now much more aware of what might be involved in taking care of ourselves and our families.
This isn't to inspire fear, but rather a deep appreciation of the wonder of creation, the fragility and beauty of life, and to treasure all the more those we love.
Giving a gift in that context is, I think, very thoughtful indeed.
So consider some sort of survival, emergency-preparedness, do-it-yourself, hands-on gift. And it doesn't have to just be an axe and a first aid kit.
Breadmaking is… uhhh, pardon the pun.. making a huge comeback, as are gardening, home improvement, household organization, food storage and canning, and so on.
Anything in that genre would be thoughtful. Think, If I were a homesteader, like on Frontier House, what would I really appreciate? Then give that.
Some suggestions in this vein:
8. Their Favorite Quote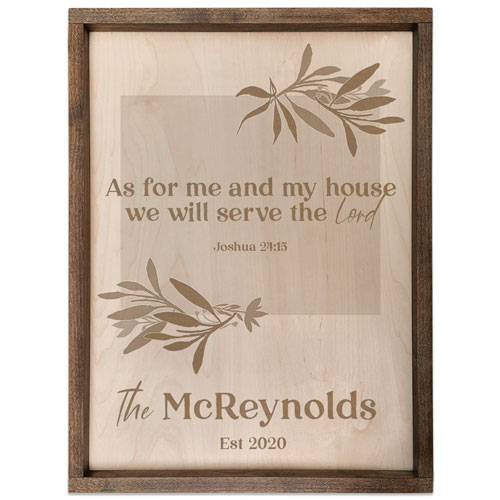 What's a quote that sums up their values? Maybe a Bible verse like the classic "As for me and my house, we will serve the Lord."
Or maybe a sweetly romantic line: "And so together they built a life they loved."
If humor is their thing: "I would challenge you to a battle of wits, but I see you are unarmed." Or… "Alexa, fold the laundry." Or, "I'm your huckleberry."
These plaques from Northwest Gifts are handcrafted in the USA from real wood. It's old-fashioned wood meet contemporary style, and the result is timeless.
Each one includes your choice of floral background design plus personalization of name and "est" date. We have an entire collection of beloved Scripture verses, or you can create your own custom quote plaque here.
9. Travel-Scented Candles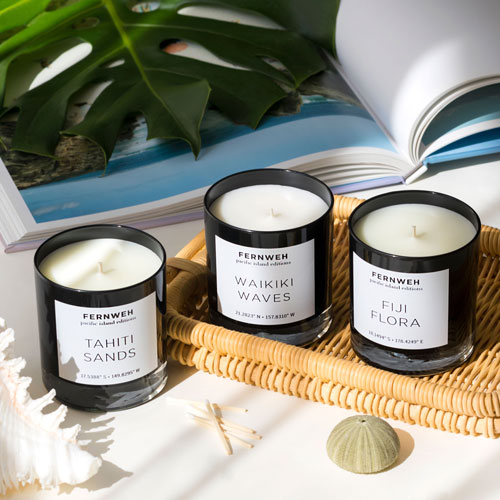 I wish you could smell things over the internet, because if you could, you'd be blown away.
This company, Fernweh Editions, makes candles in themed packages that "take you on a journey" with the scent of an exotic location. Places like France or the Pacific Islands, that sort of thing. For anyone who loves to travel (or wishes they could), this is a great idea.
But that doesn't really do justice to these things… Honestly, I don't think about candles or essential oils or scented soaps and all that. I'm one of those guys that just doesn't have that on my radar.
But my wife got these and loves them. And I have to say that they do smell incredible. She does candles and diffuses essential oils and all that, and to my mind our house always smells pleasant, but it's not something I really ever think about.
If you're a guy looking for a gift for your wife (or mom, or a special friend in your life), since you can't smell over the internet, take it from me: these candles are on another level.
10. Record Player and/or Vinyl
Ok so there's two things about gifting music:
Everyone loves music, so tunes are always a great gift
Music formats are always changing, which makes it hard to give music as a gift
So, what, do you give CDs? Haha… nope. It's all digital nowadays. How do you give an album of mp3s, anyways? On a thumb drive? How are they going to plug that into their phone? Or do you give a year's subscription to Spotify? But what if they already have that, or prefer some other service?
Modern tech makes music so, so easily accessible that it's actually more difficult to give music as a gift.
So instead, go super-old school with the timeless classic: Vinyl.
Music aficionados love vinyl. It has a full, distinctive sound that can't quite be replicated digitally. It's the one format that will never go away due to both the quality of sound and legacy in music history.
So if someone you know is a music lover (and really, who isn't?) give them some of their favorite music on vinyl.
And if they don't already have one, give them a vinyl record player. The Victrola Navigator shown above is a contemporary classic, with a vintage look yet it play pretty much any format needed (vinyl, cassettes, CDs, Bluetooth, USB input, plus it picks up radio stations). There are plenty of other record players out there, too; here are some of the best-sellers.
If you do give a record player, you'll definitely want to include a few albums along with it – who wants a record player with nothing to play on it?
More Thoughtful Gift Ideas
Here are some more creatively thoughtful gifts to inspire your gifting:
Take a course together learning a new skill or hobby, for instance Beer Tasting Mastery or an excellent cooking class for kids.
Heirloom-quality Settlers of Catan board game set
Personalized wooden tic-tac-toe set with family name & intials for X and O
Something creatively fun and nostalgic – perhaps a childhood memory, like a set of Lincoln Logs, those punching robots, a Giga Pet, or a Super NES emulator; or maybe something old-fashioned or vintage from a local antique mall
If they write, draw, or journal, they could always use a new notebook or nice pens. Or consider giving a Rocketbook, which looks and acts like a journal but magically digitizes and uploads their notes or drawings to the cloud
Give a thermal-insulated travel mug personalized with their name
Engrave a bracelet with sound waves of a special song or your wedding vows or "I love you" or a favorite movie quote
A pair of bracelets that light up when one person touches it, letting the other person know you're thinking of them
Cookie cutters personalized with a portrait of your face, or theirs, or the two of you together, or their pet, or their child…
Remember to think about…
What do they always talk about? A hobby, their work, a nagging problem, a "someday" dream, vacations, history, music, workout trends, kids, new recipes to try….
What is something that bothers them, or is a consistent problem or issue? Come up with a way to fix it!
If they have back issues but love to garden, build raised garden beds or get this handy gardening chair; if they're always frustrated about taking care of their curly hair, give them a Fabulous Curls Made Easy video course – you get the idea!
What is something they've been meaning to get or do for a long time? This could be anything: that one restaurant you both keep forgetting about – plan a date night! That handy kitchen accessory – just order it! Their favorite sports team – get tickets to a game!
What really touches their heart? This is where you think about things like their "love language," meaning whether they really appreciate encouraging words, affectionate touch, acts of service, quality time together, or receiving gifts.
Think about it… what really lights them up, or what do they naturally do for others? If it's that last one (gifts), you're definitely on the right track by reading this article!
For any of the others, yes, by all means get a gift, but think more carefully about how to give it.
This means, for someone who appreciates quality time, give them your gift while spending the day together shopping or at the beach or taking a long walk in the park. Or for someone who loves encouraging words, create a memory jar filled with encouraging notes and stories.
Just remember the main thing about thoughtful gifts: Think about it.
Think about:
What they value most
How they spend their free time
What makes them smile
You know what to do… now get on with giving the perfect thoughtful gift!