Being married for 30 years is such an accomplishment. (Just ask your spouse – haha!) Your 30th anniversary definitely deserves some major recognition, an epic date night (or party!), and an amazing gift.
Whether it's you and your wonderful other-half who is celebrating this milestone, or simply the loved ones in your life, showing up empty-handed or forgetting altogether is a no-no.
If you're the modern type or the traditional kind, we've got all sorts of ideas for you. Let's take a look at the traditional gifts, including jewelry, flowers, and more, plus lots of specific 30th anniversary gift ideas that incorporate those themes.
Our website is supported by our users. We sometimes earn a commission when you click through the affiliate links on our website. See our privacy policy & disclosures for more information.
All About the 30th Anniversary
Table of Contents
30th Anniversary Themes
This is part of our series on Anniversary Gifts by Year.
What is the traditional 30th wedding anniversary gift?
Pearl.
Why is pearl the traditional 30 year anniversary gift?
Pearls symbolize purity, honesty, and wisdom. After 30 years of love, the two of you have certainly forged a measure of these qualities together!
What is the modern 30 year anniversary gift theme?
Diamond.
Why is diamond the modern 30th anniversary gift?
Diamonds signify strength and durability, which describes your marriage pretty well at 30 years!
What is the 30 year anniversary stone?
Pearl.
Why is pearl the thirtieth anniversary stone?
Because pearl is the overall theme for year 30, it makes sense that the jewelry associated with your 30th anniversary should also be pearl.
What is the 30th anniversary flower?
Lily.
What is the 30 year anniversary color?
Green.
10 Best Thirtieth Anniversary Gifts
Let's take a look at gift ideas for your 30th year together. We'll start with ten of the very best!
1. Handcrafted Gemstone Tree Pearl Anniversary Gift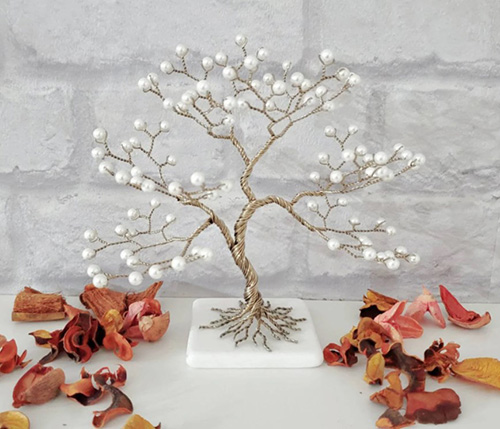 This beautiful sculpture is made of nickel silver and 96 shimmering pearls! It will look so pretty as a centerpiece for your anniversary celebration and will be lovingly displayed for the next 30 years together.
2. 30 Years Pearl Ornament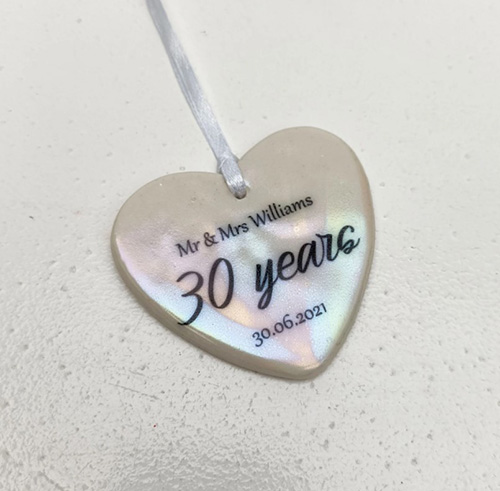 This ceramic pearl heart ornament makes a lovely gift for the anniversary couple! Engraved with their names and special date, it's a keepsake that will last a lifetime.
3. Personalized Anniversary Poem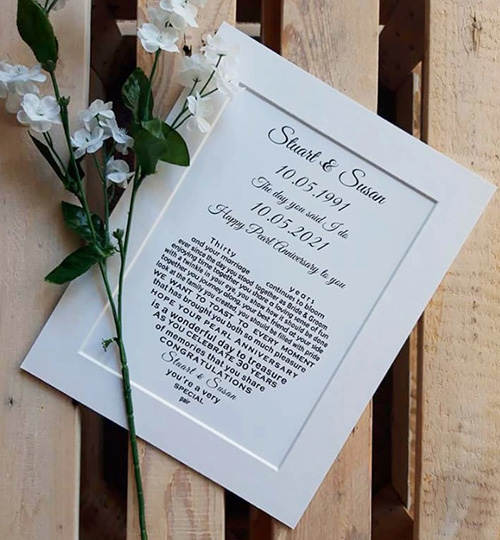 Whether you pen your own sonnet (you diehard romantic, you!), your wedding vows, or the original message that comes inside the heart design, this poem makes a great gift. Totally personalized and unique, once framed it will have a place of honor on your wall.
4. Written-to-Order Personalized Anniversary Song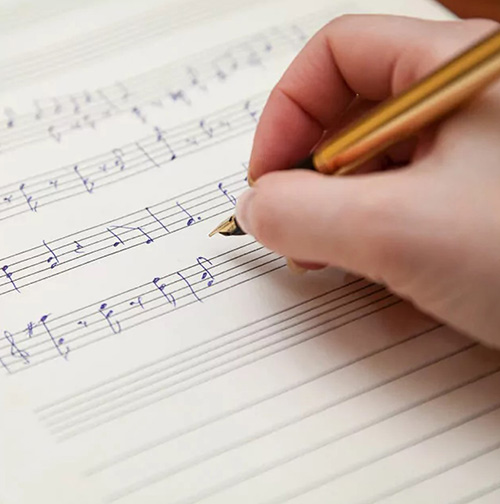 If you've been married for 30 years, then you definitely remember calling into the radio station to request a song for your sweetums! This Personalized Anniversary Song is like that… only way better!
The more information about your love story you provide, the more individual and tailored your custom song will be. You can choose the genre of music, tell the artist what meaningful topics to include, and make other special requests. The result is an anniversary gift that will top the charts in your spouse's playlist!
5. The Story of Us Timeline Print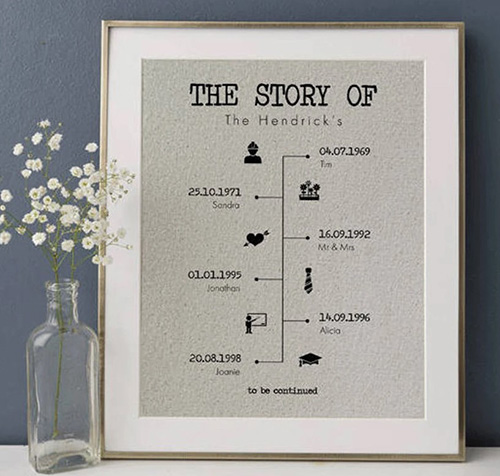 Printed on the prettiest of gray linens, this "Story of Us" timeline print is so adorable! Your beloved will treasure this priceless gift and will enjoy reminiscing with you about each date included. And the images? You get to pick those too!
6. White Lily Bouquet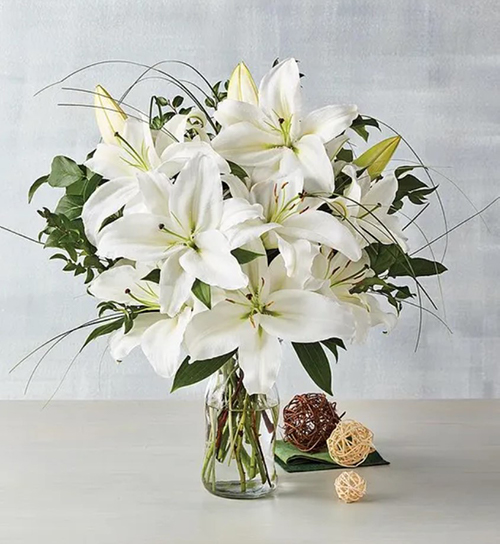 Mmm, we can smell the sweet scent of this bountiful lily flower bouquet from here, can't you? Lilies are gorgeous any year, but they have special significance on the 30th anniversary, so this blooming bundle is perfect.
7. Painted Hues Heart Snapshot Photo Collage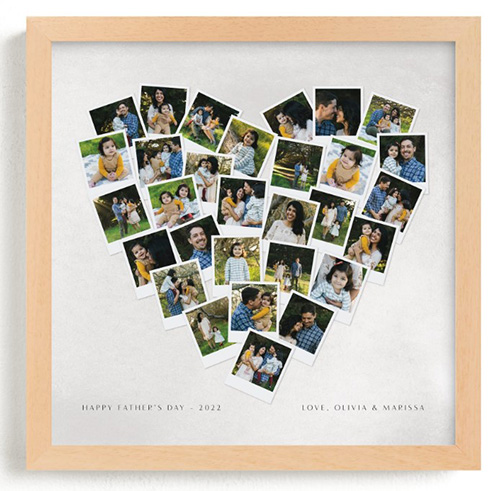 Available in three different sizes, this heart snapshot photo collage will have him or her misty-eyed with sentimentality! All of your favorite pics together, lovingly arranged in a beautiful heart shape, framed and ready to mount. 
8. Personalized Statement Frame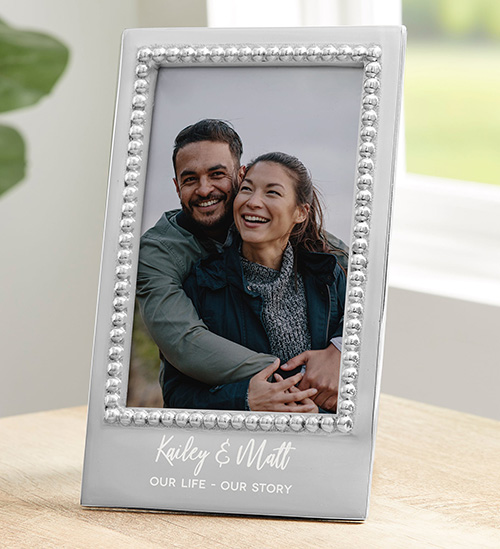 Not just engraved with your names, it also includes a couple of lines of your choice! A snippet of your vows maybe, or a line from your song? Your nicknames for one another? The choices are endless with this romantic pearl frame. Get it, then go choose a photo to place inside!
9. 30 Wonderful Years Anniversary Candle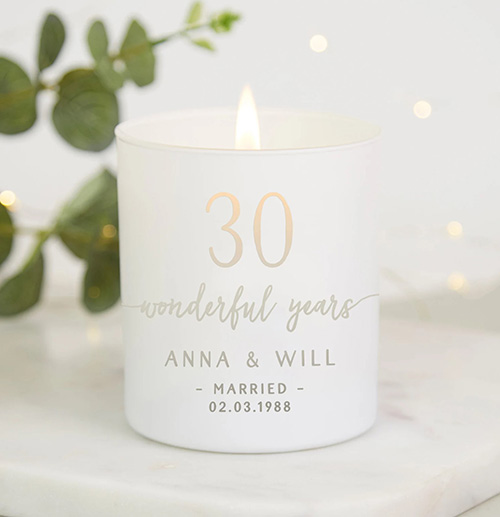 Get your romantic anniversary dinner and "night in" started the right way with this luxury scented candle! Totally personalized with your names and date, it is sure to keep that flame going with your one true love.
10. Pearl Anniversary Sundial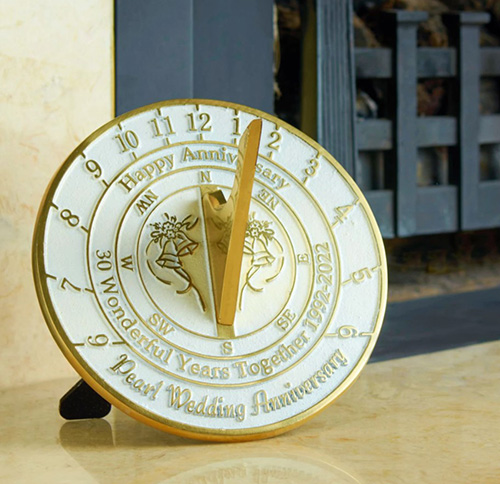 Here's a gift that will stand the test of time – just like your marriage! The Pearl Anniversary Sundial is solid brass, crafted from 99% recycled metal, and finished with a pearl outdoor paint that is thoroughly lacquered.
Whether displayed indoors or out, this is a gift that is meant to last, and look gorgeous while doing so. That's the perfect message to convey in your anniversary gift!
Traditional 30th Anniversary Gifts (Pearl)
Here are our favorite ideas that incorporate pearl, the traditional 30th anniversary gift theme.
11. 30th Anniversary Photo Cut Glass Keepsake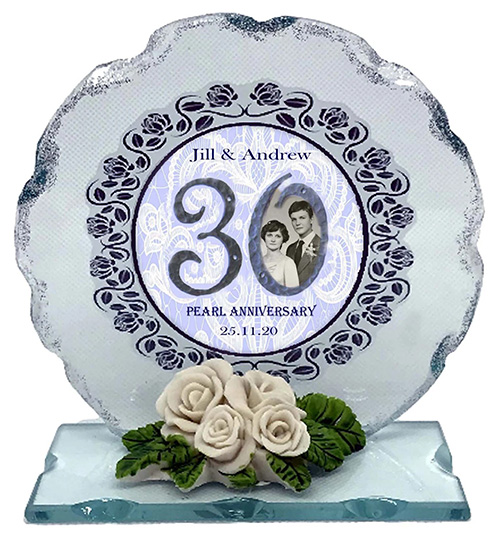 This photo cut glass keepsake frame and work of art will look stunning on your mantle or nightstand! With its pearly iridescent hue and your favorite photo placed inside, this is a gift that will wow your spouse.
12. Pearl Ceramic Bowl Set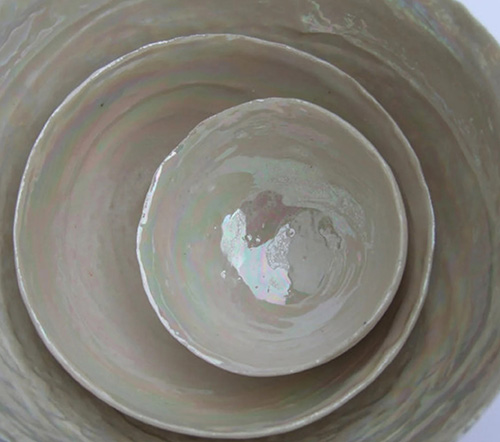 The pearl glaze on this ceramic bowl set far exceeds our expectations! The shine and shimmer just really add some elegance to your table, and some romance to your breakfast nook.
13. Handmade Pearl Wedding Anniversary Card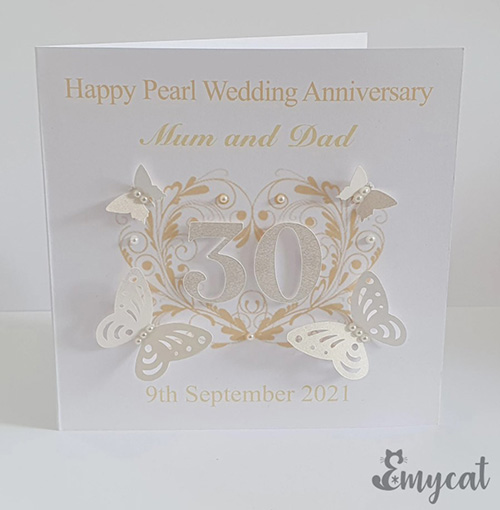 This personalized one-of-a-kind handmade card is studded with pearls and makes a great gift all on its own! Completely unique with its customizations, it is sure to end up framed and hung on their wall for the next several years.
14. String of Pearls Plant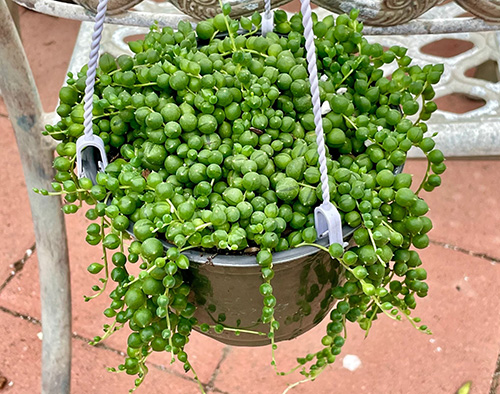 Plant lovers, we got you! This gorgeous string of pearls succulent will have plant moms and dads rejoicing. This indoor flora accent is a real show stopper and will have your guests "green" with envy.
Related: 40 More Gifts for Every Gardener
15. Freshwater Pearl 14k Stud Earrings
This oh-so quaint and charming earring set is made from freshwater pearls and will light up her pretty face! Or his! They are an elegant gift for the 30th anniversary and are sure to be the focal point. Give them to her before your date and watch the sparks fly.
Modern 30th Anniversary Gifts (Diamond)
Diamonds are the contemporary 30th anniversary theme, so let's see some creatively meaningful diamond gift ideas.
16. 14K Gold Cluster Diamond Necklace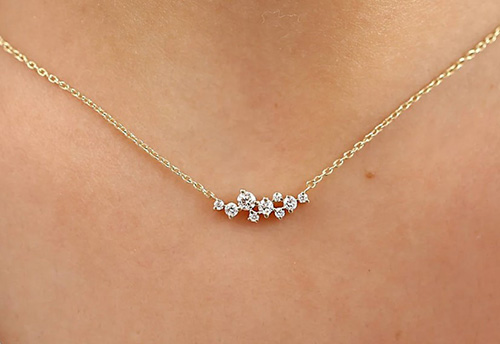 Diamonds really are a girl's best friend! Well, besides her spouse, of course. Gift her this gold cluster diamond necklace and watch her eyes light up. She'll love pairing this with her favorite date night outfit and taking you out for a night on the town, just like old times!
17. Anniversary Diamond 3D Photo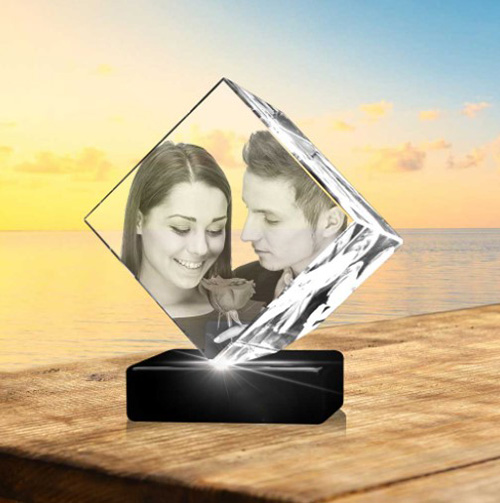 This 3D photo is made to WOW! Its sparkling diamond shape and shimmering way it reflects the light really makes it a conversation piece in your home. It's the perfect 30th anniversary gift, a work of art, and a priceless photograph, all in one.
18. Everlasting Engraved Diamond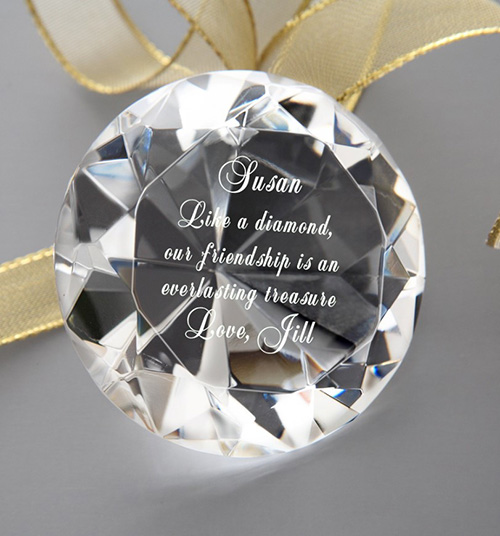 With its shimmering clarity and sparkling cut, this everlasting engraved diamond is just the thing to add some richness and sophistication to his or her life! The custom engraving is icing on the cake.
19. Engraved Diamond Ring Set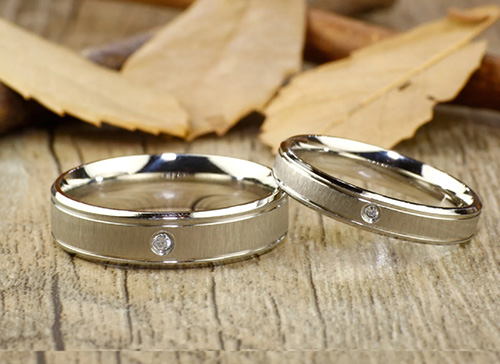 These matching titanium and diamond rings go together the same way you two do: like you were made for one another!
Whether you add them to your wedding bands, replace the old ones, or wear them on your other hand, this romantic set is bound to set hearts aflutter.
20. Personalized Diamond Wine Bottle Stopper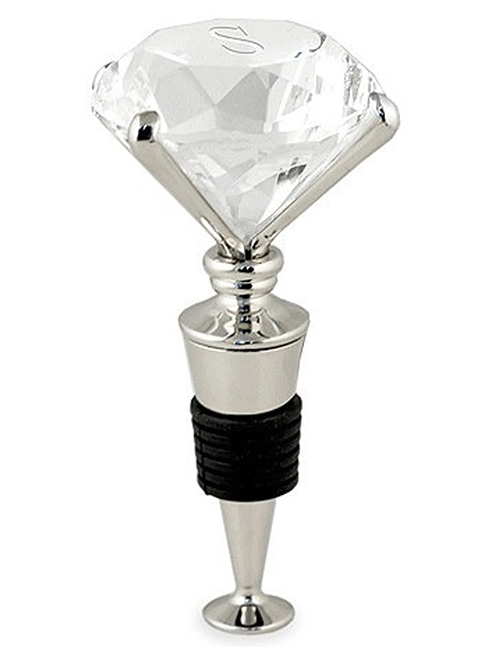 Keep your favorite bottle of vino fresh for tomorrow with this classy diamond wine bottle stopper!
It's a great idea for the wine lover in your life. Plus, it has your initial carved on top, making your dinner date extra special and sophisticated.
30 Year Anniversary Gifts for Her
21. Gold Mother of Pearl Necklace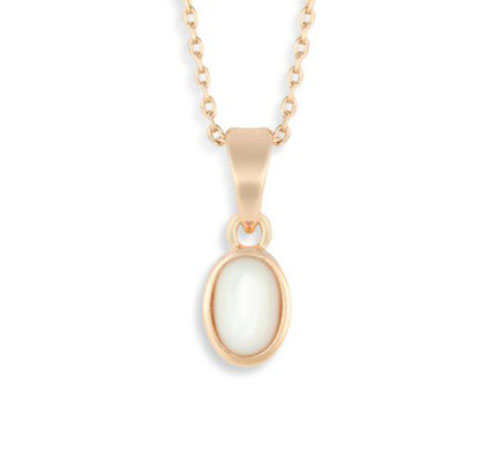 She'll love unboxing this delicate and graceful mother of pearl necklace! It sparkles and shines, just the way she does, and will go with all of her favorite outfits: from night-out dresses to regular work-wear.
22. White Italian Music Box with Lilies Wood Inlay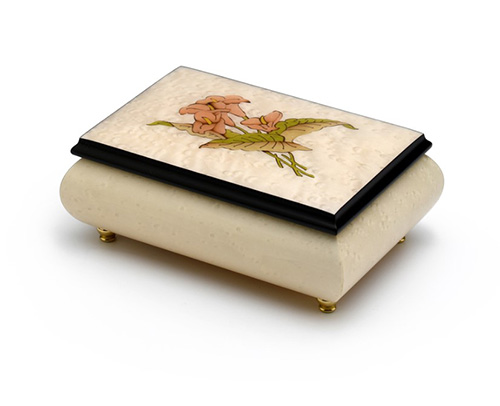 She'll love the romantic appeal of an Italian Music Box! The stunningly elegant lily inlay makes it a memorable and meaningful gift for the 30th anniversary. She'll enjoy treasuring up her favorite mementos and jewelry inside this keepsake box.
23. 14K Gold Paperclip Pearl Bracelet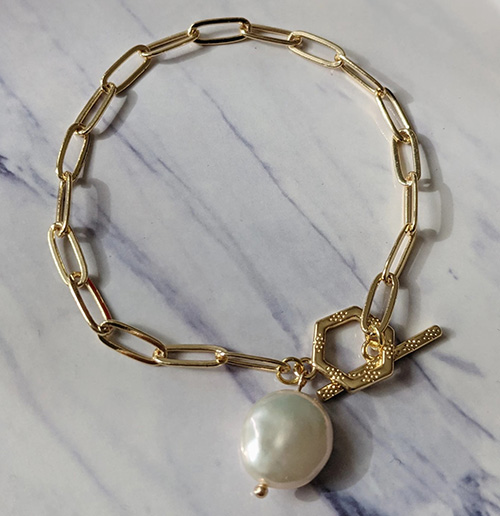 We're obsessed with this stunning 14K gold "paperclip" pearl bracelet and know she will be too! Its unusual design and shiny gold comes together with a shimmery pearl and a lobster claw closure. She's bound to get all the compliments when she wears this out!
24. Life is Better with You Heart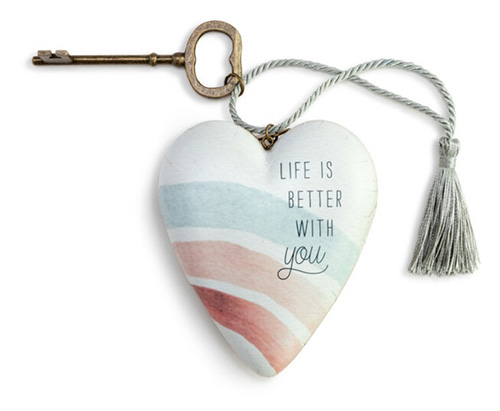 This cute pendant is a little boho in style, making it perfect for the young at heart and simplistic souls! She'll love the pretty colors and sweet sentiment. Let her know that she has the key to your heart, and that your life is better because it's with her.
25. String of Pearls Jewelry Tray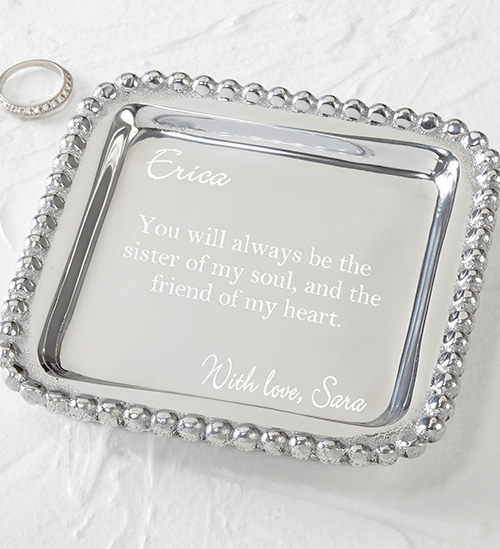 Personalize this string of pearls jewelry tray with four lines of your choosing! Wedding vows, your favorite song, a line from your best poetry? The sky's the limit with this romantic gift!
30 Year Anniversary Gifts for Him
26. Engraved Pearl Knife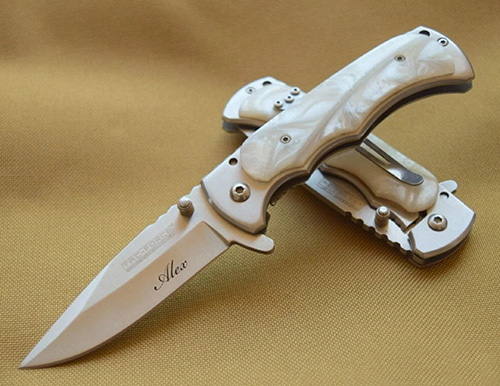 Who says pearls are feminine? He'll be starry-eyed over this engraved pearl knife! It's bound to be his new favorite for his collection and he'll be showing it off to all of his friends in no time.
27. Engraved Whiskey Glasses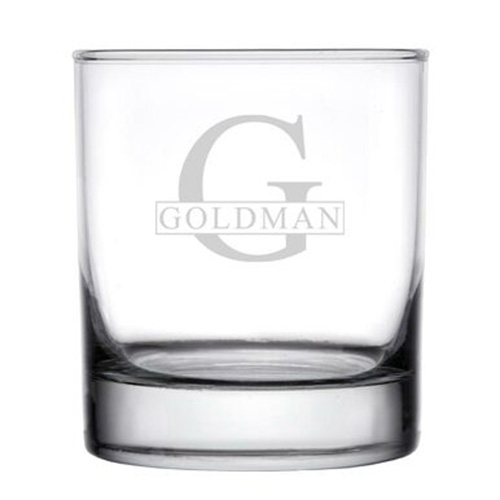 Whether you engrave them with something sweet and romantic or something cheeky, he'll love toasting his love for you in these whiskey glasses. Pair it with his favorite top-shelf bottle for the ultimate gift for him. Cheers!
28. Mother of Pearl Guitar Pick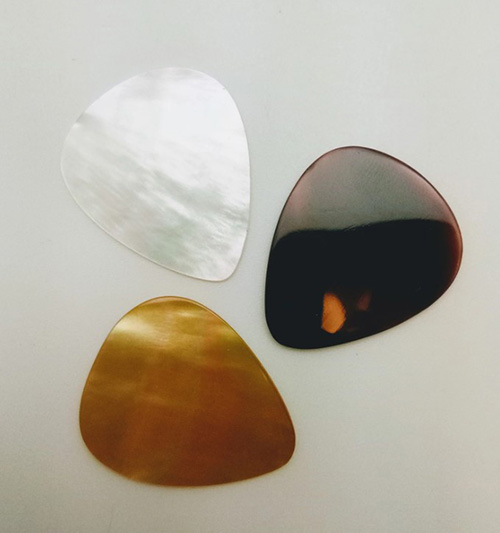 For the musician in your life, have we got a 30th anniversary gift for you! He'll love strumming along to "your" song, or composing you a new one, after he sees this stunning mother of pearl guitar pick. Consider giving it an inlaid guitar pick box for an extra-special touch.
Related: 21 More Gifts for Musicians
29. Romantic Jerky Bouquet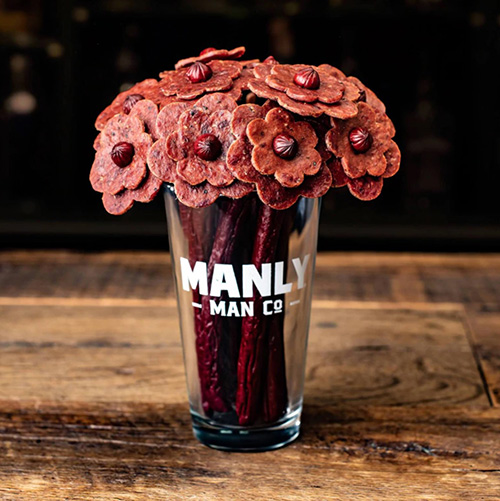 Face it. He doesn't want flowers. Unless…
Unless those flowers come in the shape of a blooming bouquet of delicious beef jerky! His tummy will be rumbling with happiness when he gets ahold of this fabulous gift.
You know what they say about men and the way to their hearts? It's true.
30. A Book About Us: 33 Reasons Why I Love You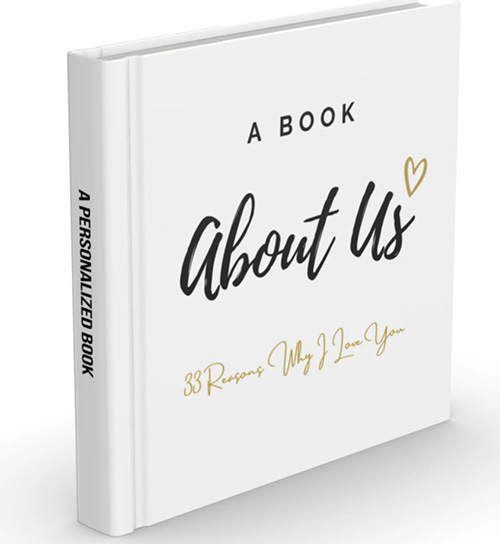 Leave no doubt with this great journal for him! Fill it out ahead of time or do it while he peeks over your shoulder: either way, he is bound to get a little teary with all the thoughtfulness and memories you are about to unpack.
30 Year Anniversary Gifts for Couples
31. 30th Anniversary Flutes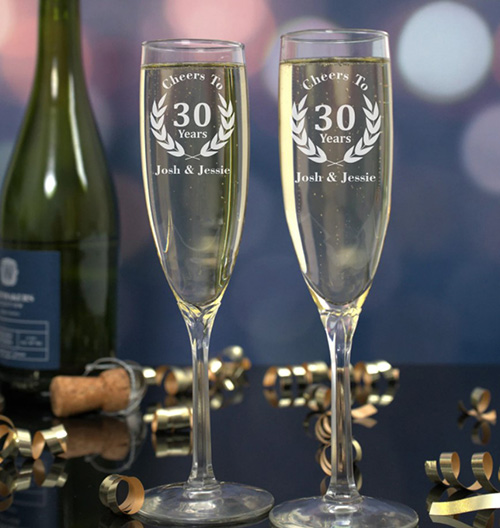 Cheers to the best couple you know! These gorgeous 30th anniversary flutes are perfect for filling with some bubbly and celebrating the night away.
They'll love using these over and over again in their magical life together.
32. Custom Embroidered Roman Numeral Hoodies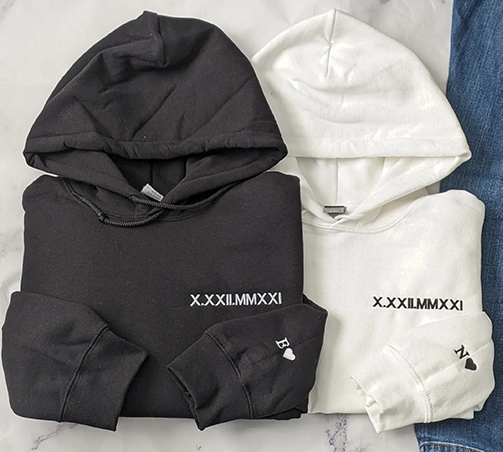 These matching sweaters are just the thing for the couple that loves to cuddle up! With custom roman numeral embroidering, they will want to wear these everywhere they go.
33. Personalized Sweet Book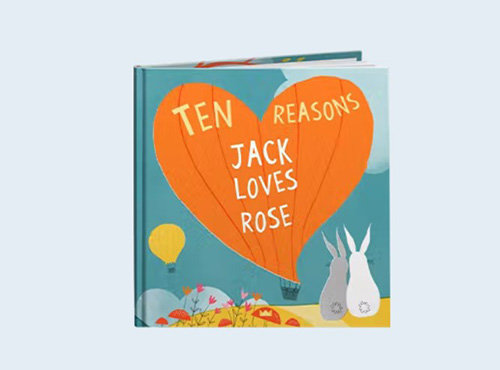 Personalize their own sweet story with a one-of-a-kind tale where they are the stars! A totally unique gift unlike any other, this is a great idea for the couple that seems impossible to shop for.
34. Romantic 30th Anniversary Vacation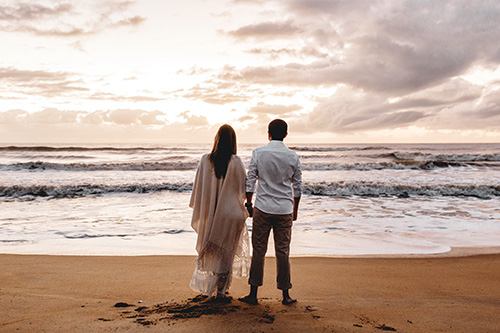 Whisk them away on a much-deserved vacation for two! A great gift idea for the grown children to pitch in together for Mom and Dad, a romantic get-away is such a wonderful present. They'll love sending you postcards from their dream destination!
Here's how it works: Pick out the gift of your choice. Tingly will send a lovely voucher to the recipient, and they can choose from any of the thousands of experiences throughout the USA (and around the world). All they have to do is get there.
This gift can be used as an excuse to travel, or the couple can easily find something fun within driving distance. Either way, remember that the best gifts create memories, so this is the perfect idea!
35. DIY Keepsake Hand Cast
Are they hard to shop for? Already have everything they need? No worries! We've got an idea: this DIY keepsake hand cast is so much fun for them to finish up and then display. They'll love the romance and charm of this unusual gift.
Unique Thirtieth Anniversary Gifts
36. Celebrating 30 Years Anniversary Clock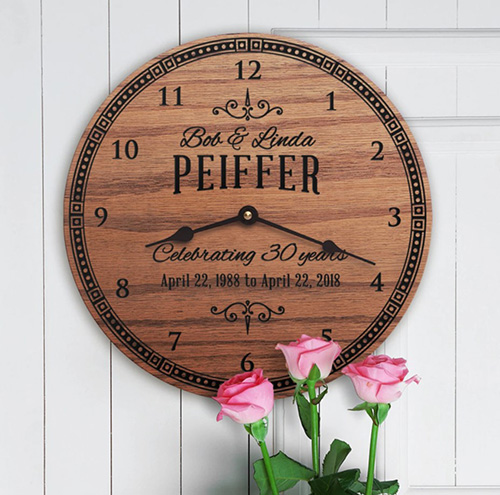 With custom engraving that depicts your 30 years together, this anniversary clock is one for the records! Your sweetheart will love hanging this wonderful wooden clock in a prominent place, glancing at it often throughout the day. A charming and utterly useful gift!
37. Better Together Wall Art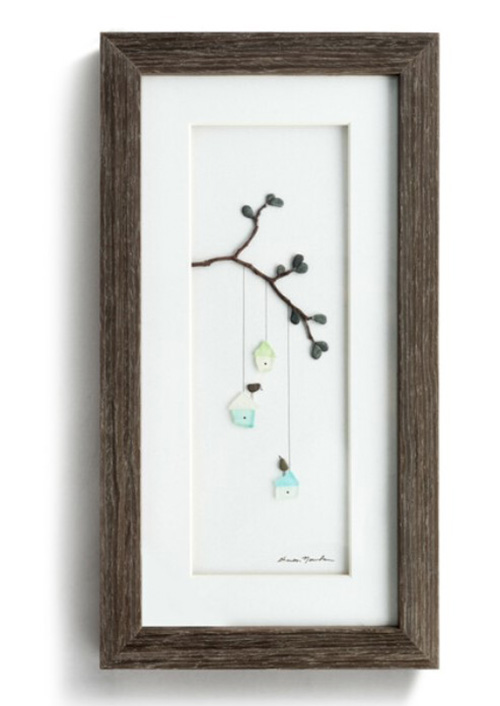 Leave no doubt with this artfully crafted little piece of wall art! It's charming in its simplicity and will fit in with many styles and decor. The neutral colors and sweet minimalist art will add some romance to their home.
38. Our Adventure Map Art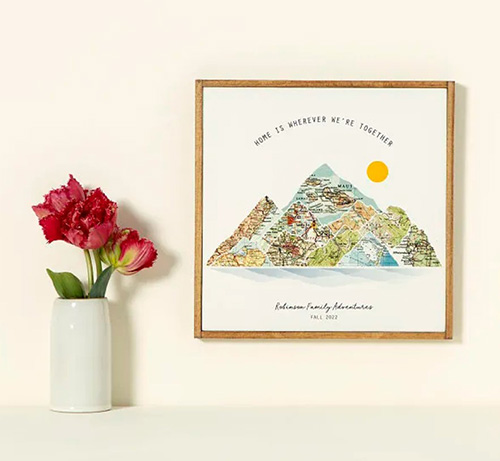 Unique and definitely one-of-a-kind, this adventure map art will have them wide-eyed and gushing! They'll love reminiscing of all the fun times they've had together, and planning new adventures for the future.
39. Diamond Initials Candle Holder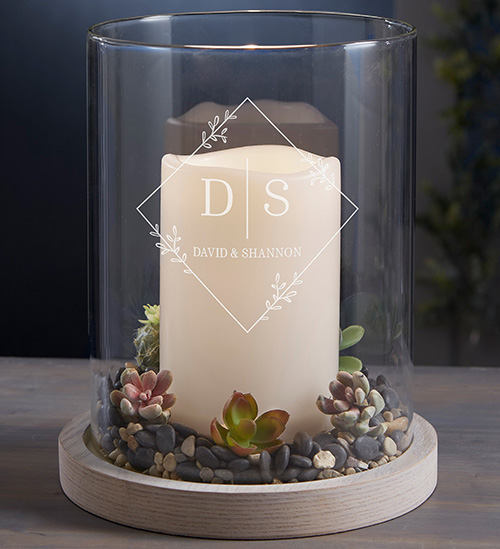 A candle-lit dinner for two? Don't mind if they do! They'll love spending a romantic evening together and getting out these diamond initial candle holders, whether it's for their yearly anniversary celebration or just a simple Tuesday night.
40. Best Anniversary Ever Bird Feeder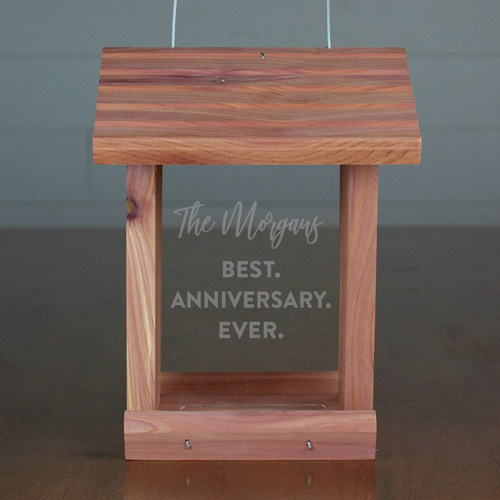 For nature and outdoor lovers, we aren't sure who will love this great bird feeder more: them or the birds? Maybe the squirrels? Well, call it a three-way tie. They'll all love relaxing in the backyard together, watching the birds enjoy this custom engraved feeder.

Read next: 35th Anniversary Gift Guide
Pin It