Turning 21 is a big deal when it comes to birthdays, but we think your marriage turning 21 is even bigger!
Now your marriage is a grown adult, one who can lift a glass of champagne for a toast to true and everlasting love! And we think you'll agree that that is a must this year.
Another "must" on this anniversary is finding the perfect gift to give your better half. But never fear, we've done the legwork for you. We have the traditional gift themes, gemstones, flowers, and colors, plus contemporary and creative options to boot.
So pour yourself an early glass of champagne, sit back, and scroll on: These are the very best traditional and modern 21st anniversary gifts.
Our website is supported by our users. We sometimes earn a commission when you click through the affiliate links on our website. See our privacy policy & disclosures for more information.
All About the 21st Anniversary
Table of Contents
21st Anniversary Themes
This is part of our series on Anniversary Gifts by Year.
What is the traditional & modern 21 year anniversary gift?
Brass.
Why is Brass the traditional & modern 21st anniversary gift?
It's durable and strong – just like your marriage!
What is the 21 year anniversary stone?
Iolite.
Why is Iolite the twenty-first anniversary stone?
Iolite is pleochroic. That means, when you turn it, you'll see distinct colors in different directions! This represents your marriage becoming multifaceted in fresh and colorful ways. That's what happens with true love as you continue your journeys in your third decade together!
What is the 21st anniversary flower?
Iris.
What is the 21 year anniversary color?
Orange.
10 Best Twenty-First Anniversary Gifts
Now let's get to the gift ideas! Many of the gifts below incorporate one or more of the 21st anniversary themes mentioned above.
1. Brass Family Tree Statue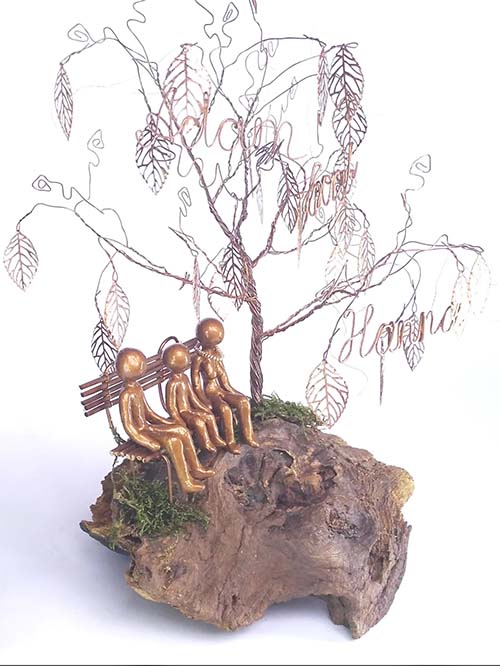 Made of bronze and brass, this gorgeous and unusual sculpture is a work of art! With its swirly patterns of leaves and your family member's names, it can be customized to really represent your family and your marriage. Definitely a keeper, and one that will elicit happy smiles when unwrapped.
2. Beautiful Flowers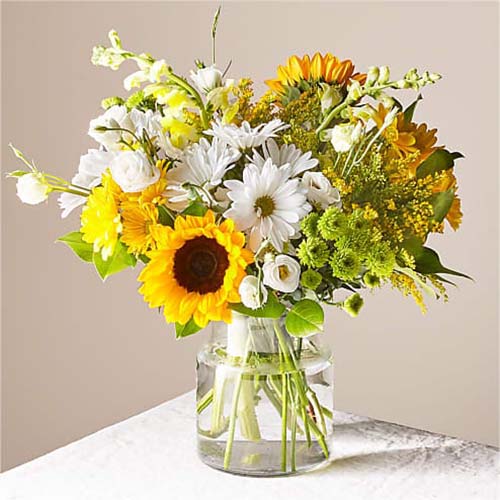 A stunning, vibrant, colorful bouquet of pretty flowers is NEVER a bad idea! Your spouse or loved one who is celebrating their anniversary will adore a big blooming gift like this. Make sure to include their favorite flowers and colors for a one-of-a-kind bouquet.
3. Sweet Anniversary Card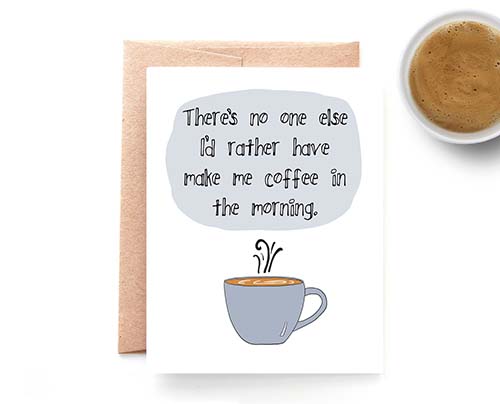 Funny because it's true, sweet because it's been 21 years of coffee sippin' together! This cute card will make them laugh (and hopefully make them go prepare a fresh pot full of everyone's favorite pick-me-up).
For more anniversary card ideas, click here.
4. Printed Wood Frame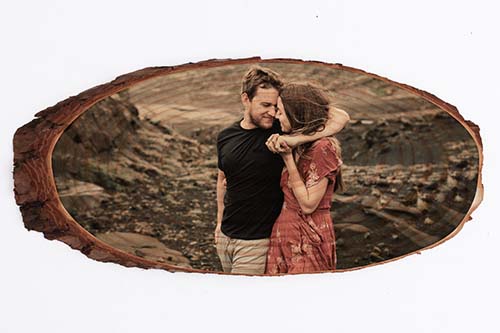 The frame is the photo and the photo is the frame! This lovely and unique way to display your favorite photograph of your wedding day is the perfect gift for your sweetheart. It's rustic and yet modern, and will look great just about anywhere in your home.
5. Framed Pressed Flowers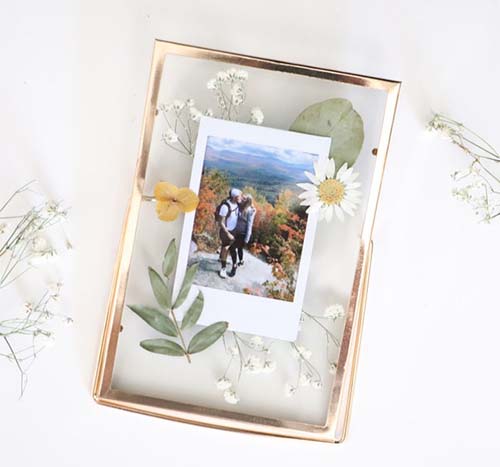 Simply request the same flowers used in the wedding bouquet and then supply your favorite photo. Voila! You have a beautiful and one-of-a-kind picture frame that everyone will be talking about.
6. "Life is Beautiful with You" Engraved Compass
This beautiful compass is engraved and oh-so special! He or she will love the sweet etching design and the old-fashioned, yet timeless look to this sentimental piece. Something to pass down to the next generation as a family heirloom!
7. His & Her Glasses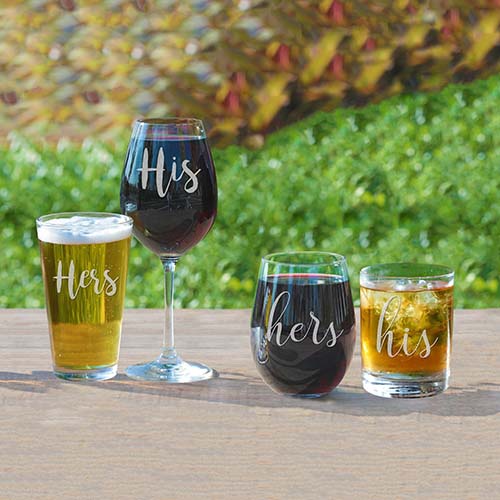 Keep it simple, yet functional and useful all at once with these fun etched His and Her wine glasses! No more wondering whose is whose, or accidentally downing your spouse's glassful (accidentally… um, yeah, sure, we'll go with that).
8. Wine Bottle Display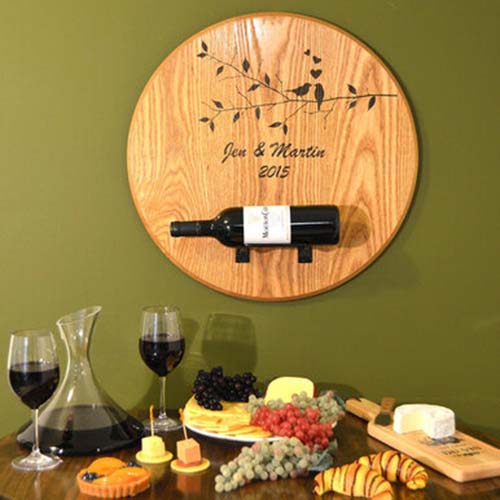 Made extra special by its engraving of your names and wedding date, this wine bottle display is so sweet and will brighten up your kitchen, den, or porch space! Paired with your spouse's favorite bottle of vino, or perhaps the wine you served at your reception.
No matter what you pair it with, this is a great gift!
9. Trees for a Change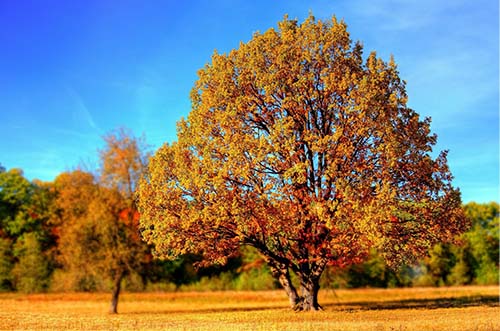 Dedicate a tree for a change in place of regular gifting! Nature lovers will rejoice knowing that instead of a plastic knickknack or yet another crockpot, there is a tree out there on the planet nurtured by your love.
10. Iolite Heart Stone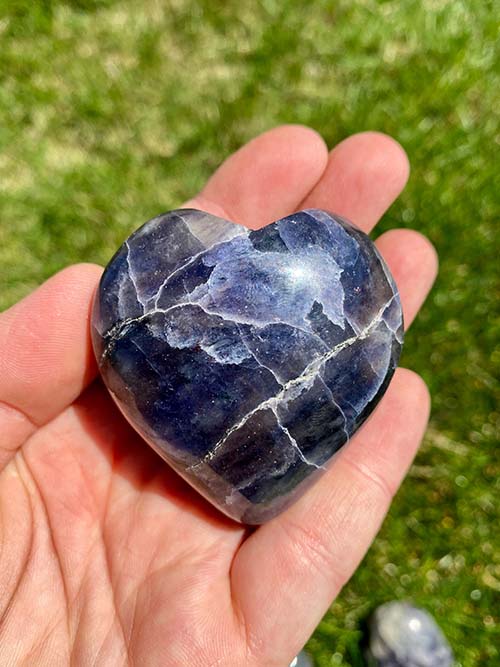 Recognize that still, small part of yourself that needs some realignment with this sparkling and pretty iolite heart stone! It has a beautiful violet-blue energy, and is helpful for activating the third eye and stimulates connection.
Traditional & Modern 21st Anniversary Gifts (Brass)
11. Raw Brass Pen
This pretty raw brass pen is just the thing for writers, businessmen and women, journalist, and passionate note-takers! They'll love the smooth writing and the sleek feel in their hands. A special pen for a special person indeed.
12. 21 Years On Anniversary Keychain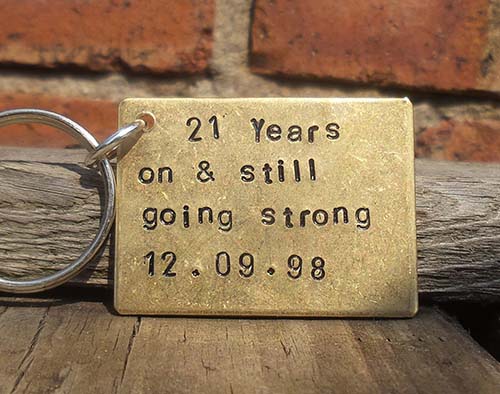 This charming and adorably stamped keychain is made of brass and boasts a sweet and sentimental message for your beloved! Engraved with your special date, this little gift is just the ticket for someone who loves practicality and also romance.
13. Engraved Wallet Card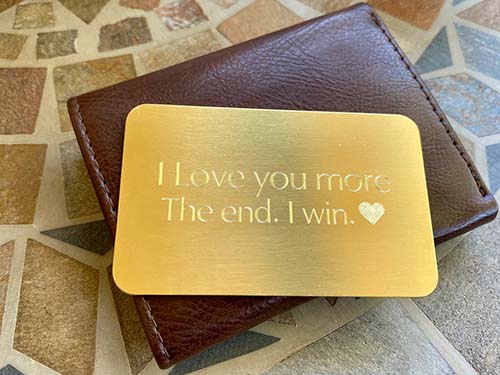 This romantic little engraved brass wallet card says all the right things and is perfect for slipping in his wallet or her purse. Love isn't a competition… but if it is, you just won!
14. Pebbleart Couple Wall Art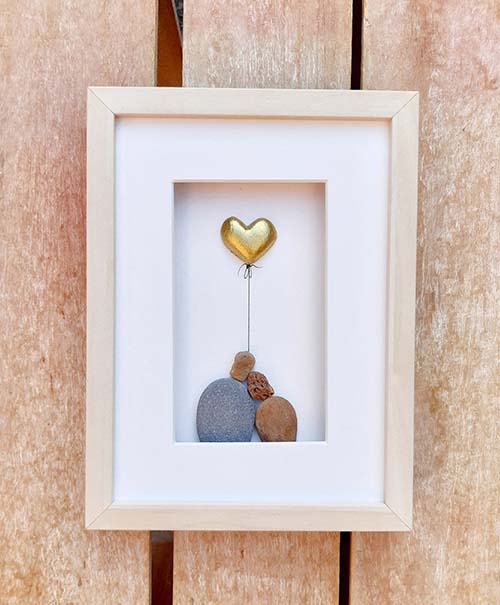 Sweet and cute yet rustic and minimalist, this little piece of art will look amazing in an office, hanging on the living room family wall, or propped up on the nightstand. It's such an adorable print, made extra special with the addition of that shiny brass heart pebble.
15. Raw Opal & Brass Earrings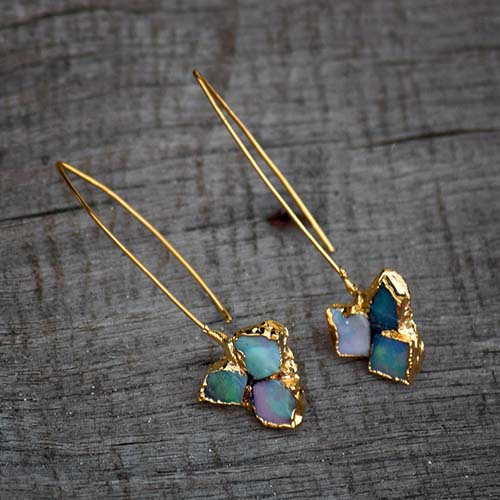 If jewelry is your go-to, then don't pass up these gorgeous raw opal and brass earrings! They'll match each and every outfit and are sure to become her new favorite accessory.
16. Acrylic Photo Musical Heart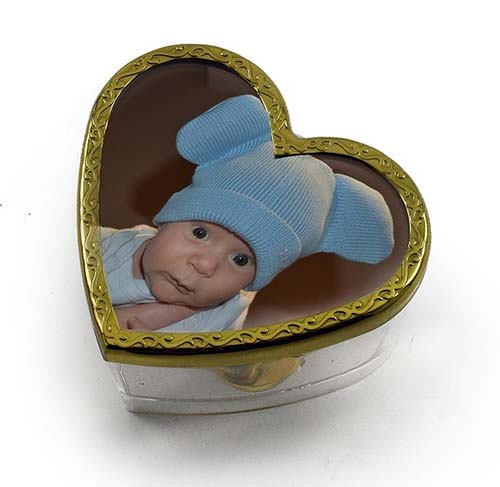 This musical heart doubles as a paper-weight and a work of art, all at once! You can pick your own song or let them choose for you – whichever route you take, you are sure to be delighted (and so will your spouse).
17. Wood & Brass Liquor Dispenser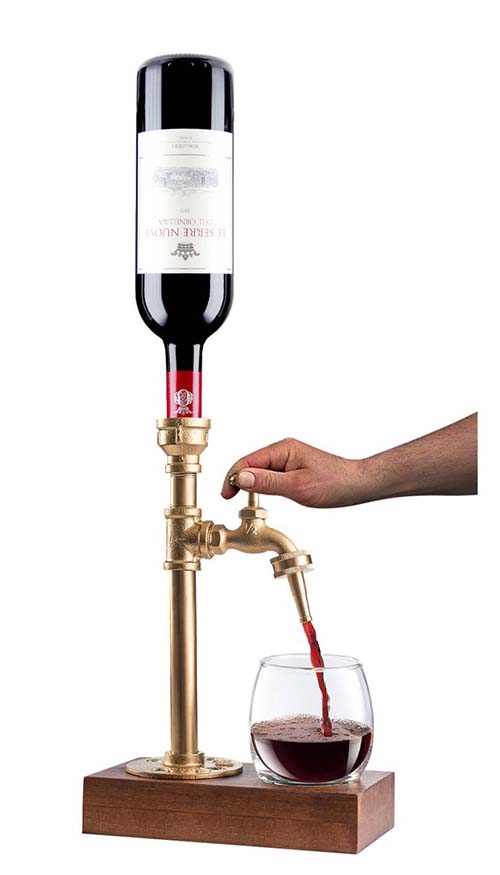 For the sophisticated palate and the discerning customer, this wood and brass liquor dispenser is so chic and lovely! A great gift for a couple to open together, from you to them. Pair with something local like a cider, gin, or wine, for an extra-special present.
18. Brass Wine Opener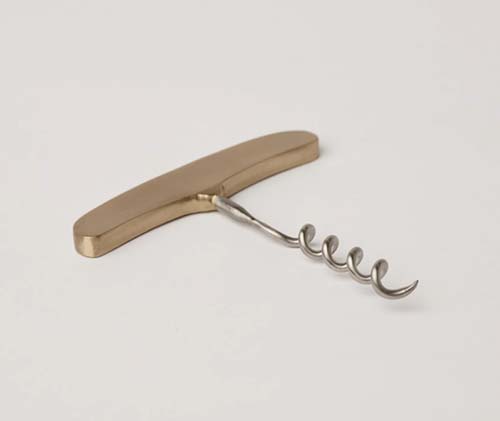 For an understated yet elegant brass anniversary gift, this wine corkscrew opener is your ticket. Of course you'll need something to open with it, but what do you choose? Well, consider a gift that keeps on giving…
A monthly wine subscription box is the way to go when it's just too hard to decide which variety to choose! You and your dearest one will love finding brand new favorites that maybe you never would have tried before, and sharing your newfound knowledge with friends.
19. Vintage Brass Bookmark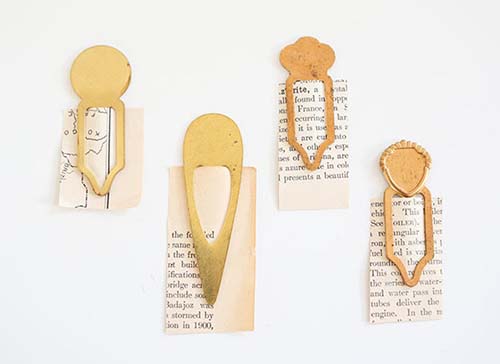 These pretty little vintage brass bookmarks are perfect for the bookworm, bibliophile, student, or teacher! It brings a pop of shiny color to any book. Great for marking favorites in cookbooks too!
20. Window Bird Feeder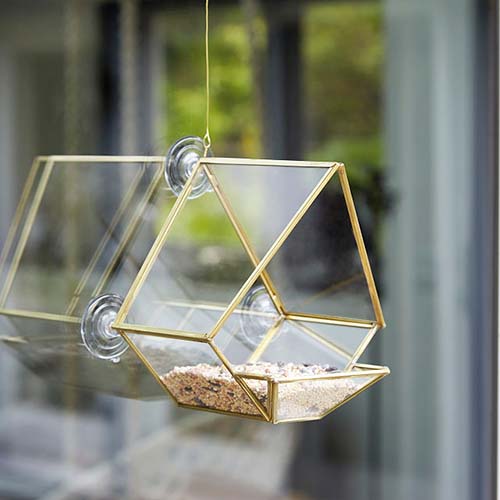 Bring the aviary to your window! Sipping your morning coffee has never been sweeter than when it's perched next to a flock of songbirds enjoying their breakfast. This gift is great for nature lovers, home offices, young kids (or the young at heart), and… well, everyone!
Love the idea of a bird feeder? Check out these top 10 bird feeders for the avid bird watcher.
21 Year Anniversary Gifts for Her
21. Iolite Necklace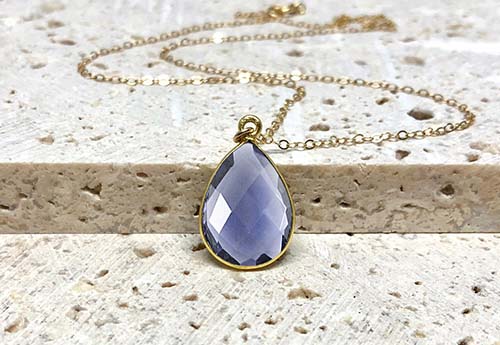 Perfect for date night, or even stay-at-home date night, this beautiful iolite necklace shows you did your homework and found something special for your lovely lady! She'll love the modern look and feel like a princess.
22. Galaxy Rose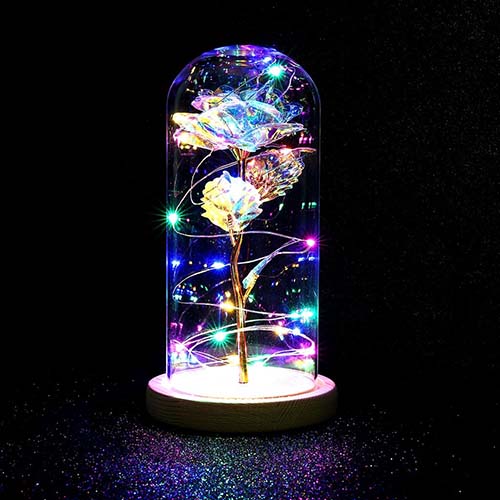 For the true romantic, this galaxy rose is just the thing to make her swoon! She'll feel positively enchanted by this unusual and beautiful sculpture. All her friends are going to be in love with it too.
23. Brass Bloom Garden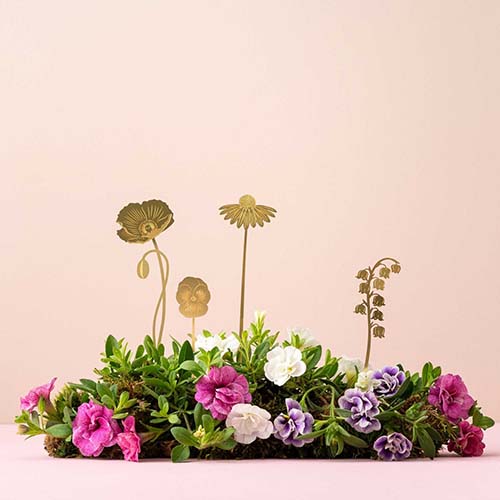 The best thing about these pretty flowers? They'll last forever because they're made of brass! Whether she tucks them in amidst her favorite real-life blooms, or simply "plants" them in her window boxes, she's sure to be in love with this sweet little "garden."
Related: Best Gifts for Gardeners
24. Hammered Brass Bracelets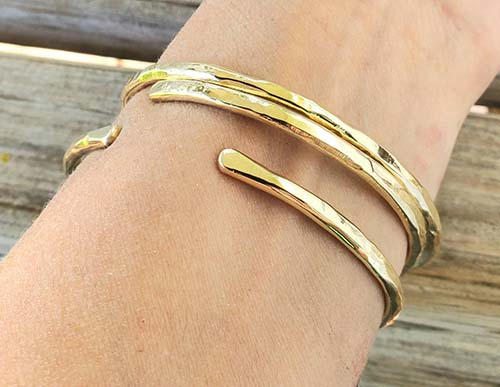 These stackable hammered brass bracelets are a little bit boho and a lot bit pretty! She'll love the subtle way they bring some color and pizazz to her outfit, whether it's jeans and a tee or a little black dress.
25. Sustainable Gold-Plated Brass Earrings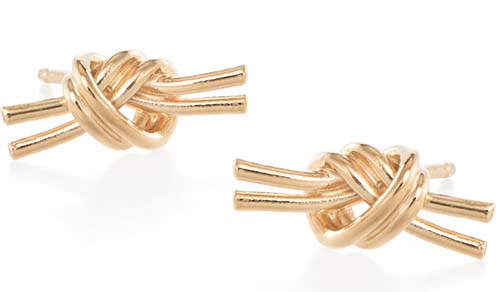 These shiny gold-plated brass earrings will light up her beautiful face! And they're sustainably made so you can feel good about your purchase, and she can feel good about wearing them.
Related: 15 Eco-Friendly Gift Ideas
21 Year Anniversary Gifts for Him
26. Secret Message Bracelet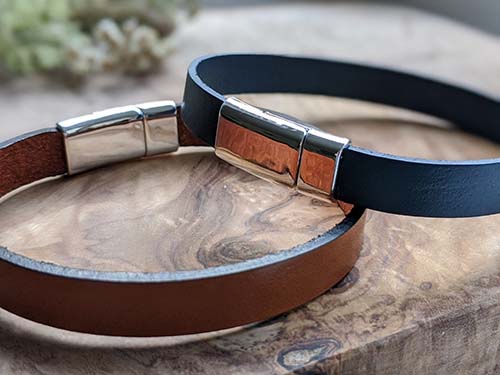 Pick from brown or blue, and include what you'd like engraved on these masculine and timeless bracelets! A lyric from "your" song, just your wedding date – or a snippet of your vows – makes this anniversary gift absolutely perfect for him.
27. Custom Vintage Plaque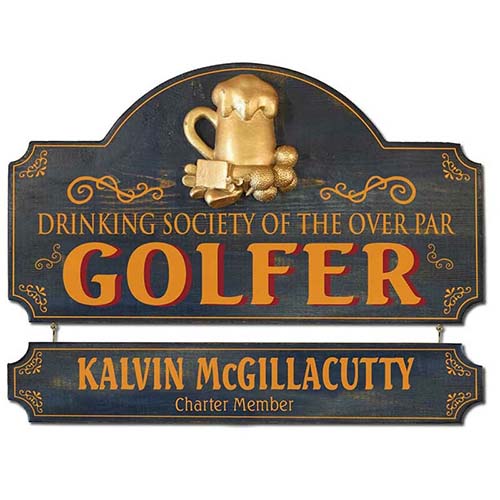 If he's a golfer, he'll be over the moon for this custom vintage plaque! He'll proudly display this at his office, in his den, or front and center in the living room. Totally personalized and unique.
If he really loves golf, check out these 21 golf gifts for the golfer that has everything.
28. Jerky Bouquet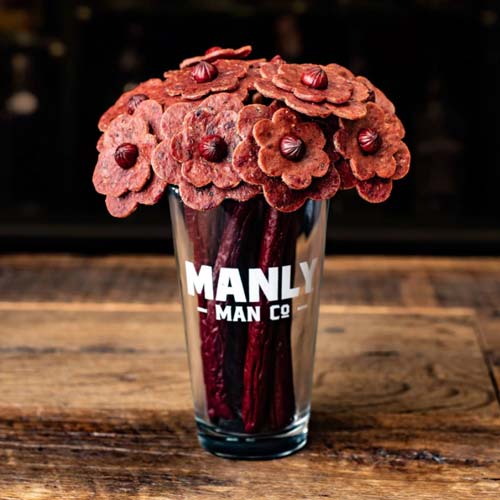 Let's face it: the way to a man's heart is through his stomach! And that stomach? Well, it craves some serious beef! He'll love (and gobble up) this jerky "bouquet." We suspect that this will be a gift that becomes an annual present.
29. Leather Organizer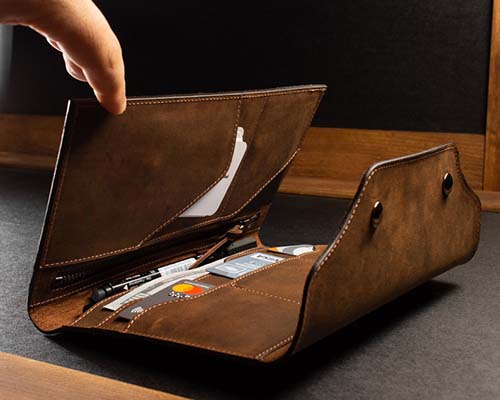 Keep him organized in a luxurious fashion with this leather organizer! Frantically looking for misplaced items and lost keys or cards are a thing of the past with this thoughtful anniversary gift idea. And the engraving makes it extra special!
30. Carbon Steel Sword with Brass Fittings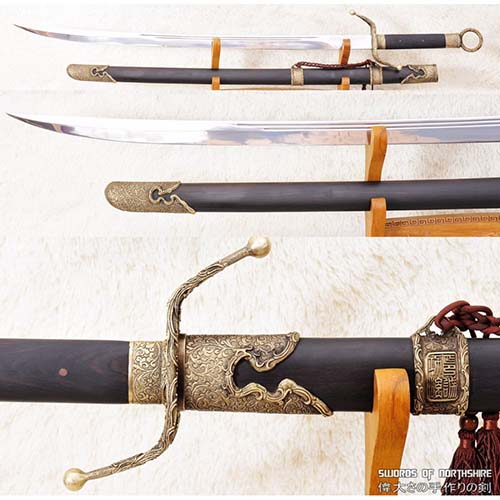 Who doesn't enjoy a good sword fight? Boys of all ages will be blown away by this carbon steel sword with its gorgeous brass fittings. Get him what he REALLY wants with this sword and just watch his eyes light up.
21 Year Anniversary Gifts for Couples
31. Sweet Matching Shirts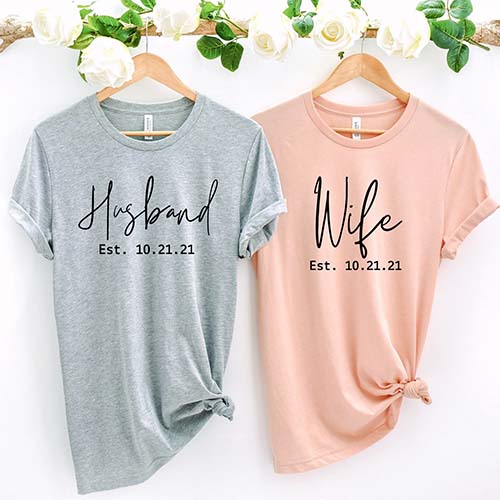 Totally perfect for the couple who is taking a vacation to celebrate, these matching shirts are sure to bring a smile to everyone's faces. Definitely a photo opportunity with these!
32. Engraved Magnetic Bracelet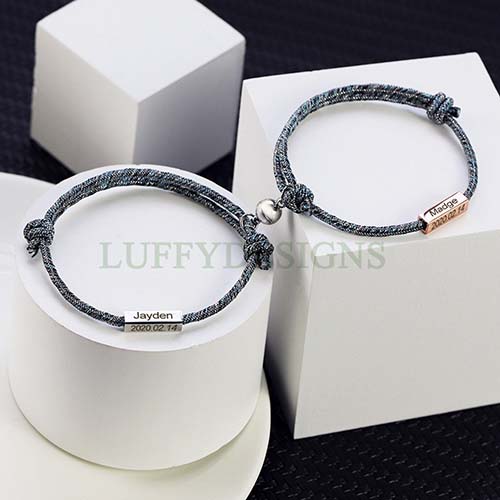 Stay as close as possible with these cute magnetic bracelets. Sure, it's chemistry that brought you together, and now it's the gentle nudge of magnetics! Romantic and sweet, and also totally unusual.
33. Personalized Snapshot Heart Art Print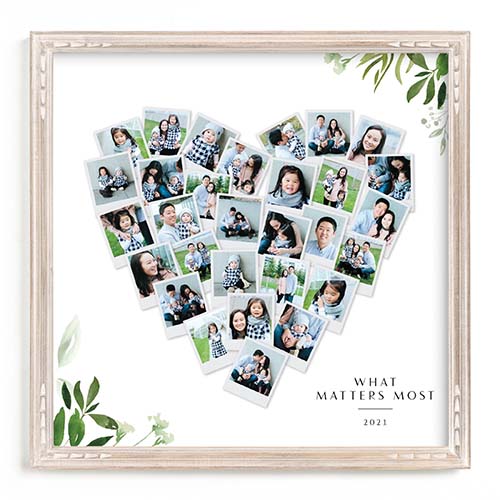 This photo heart college is the definition of one-of-a-kind, especially when it's filled with the years of family photos you've accumulated over the last 21 years.
It's the two of you and your life together, all artfully arranged in one lovely piece of art. Your spouse will melt over this sentimental gift!
34. Minimalistic Boho Portrait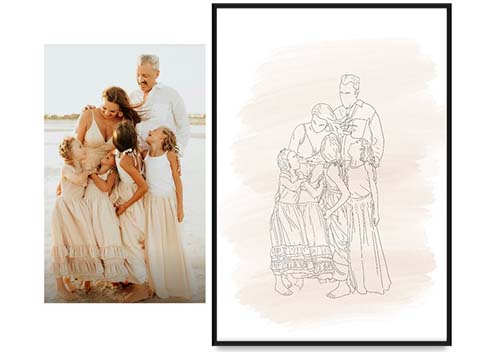 Turn your favorite photograph of your favorite couple into a minimalistic boho portrait! Whether you use their wedding photo or a more recent one with the kiddos and the fur babies included, your sweet pea will really adore this gift.
35. Romantic Vacation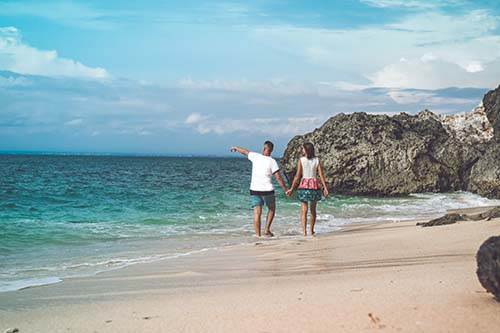 This is a great way to give an experience. Tinggly provides gift boxes that you give to your spouse, and they will go online and find the perfect activity for you to do together. Maybe it's windsurfing in the Pacific Northwest, wine touring in Napa Valley, a dolphin cruise off the Florida coast, or a guided tour of old-world Venice.
Near or far, this romantic experience gift is super fun – all you'll need to do is figure out how to get there. With thousands of options that span the globe, the only difficulty will be choosing just one amazing activity!
Here's how it works:
You purchase a gift package, which is essentially a gift card for the experience of their choice
Prices range from (give or take) under a hundred bucks up to about $300
They redeem for whatever adventure they choose, which could be an Oahu Turtle Canyon snorkeling cruise, a fun waterfall hike, or a Tampa Bay zipline adventure (they'd just need to get themselves there)
Unique Twenty-First Anniversary Gifts
36. Engraved Family Tree Art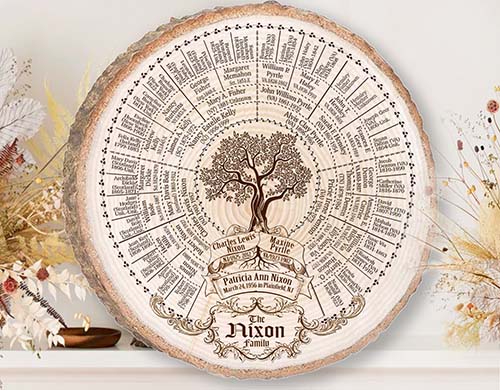 For the history buffs and the genealogy obsessed, this priceless work of art is amazing because it includes all those dearly-researched details. Your beloved will be so awed by this rustic yet beautiful engraved family tree art. We think the price is pretty inexpensive for such a pretty and romantic work.
37. Couple's Snack Tray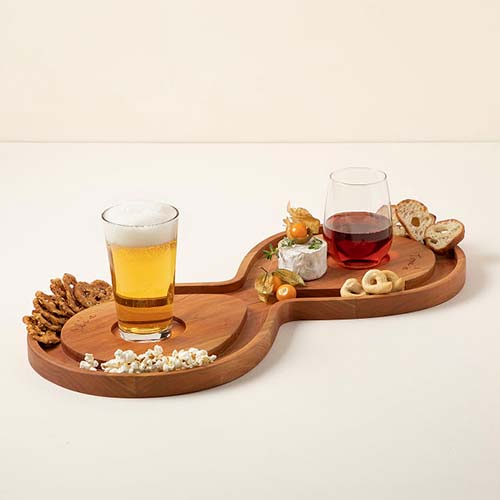 If your lovebirds love snacking (and who doesn't?) but don't particularly like sharing, then this couple's snack tray is perfect! With cute little divots for pretzels and crackers, a generous size for plenty of charcuterie, and a place to set your wine glass, this is date night ready to go!
38. Box of Date Nights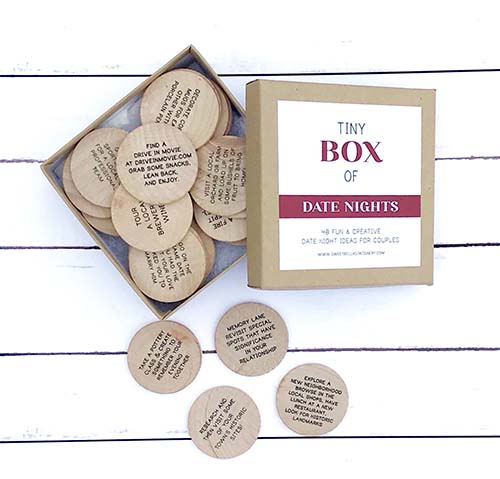 "What do you want to do?" "I don't know. What do you want to do?" Banish those predictable and ho-hum words from your vocabulary when you have this fun box of date nights! Keep it simple, keep it fun, and keep it romantic.
Related: 101 Romantic Things to Do on Your Anniversary
39. Custom Family Name Coasters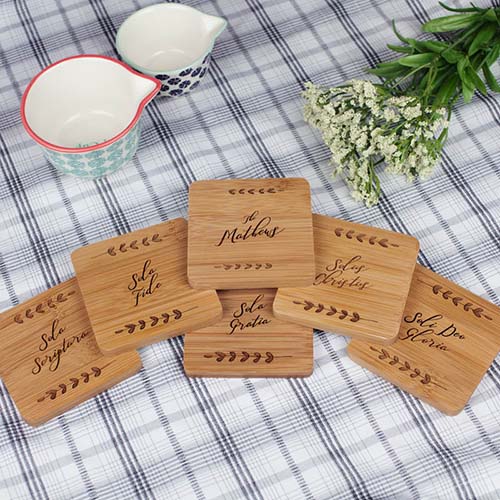 Personalized, these coasters are as good-looking as they are practical! Water rings and messes no more. The six bamboo coasters are engraved with the five solas of the Protestant Reformation, making them unique and perfect for the Christ-centered home. Find more personalized coaster designs here.
40. Mini Brass Soy Candle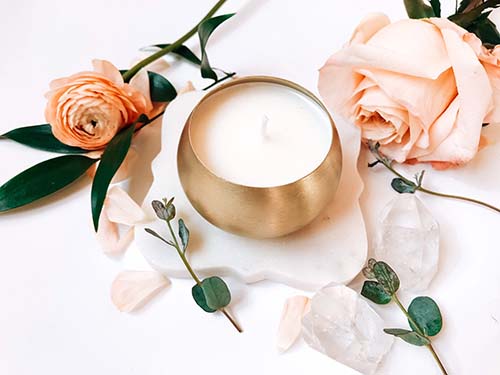 This little brass and soy candle is just the thing for lighting a romantic dinner for two, or setting the mood for your special date night. They're petite in size but will really light up the room in all the best ways. A lovely brass anniversary gift!
Read Next: 10 Best Personalized Gifts for Couples
Pin It