The best 50th anniversary gifts strike dual, harmonizing notes of tradition and creativity.
The tradition can come from the gift's theme which is (historically) gold. However, the essence of creativity will have to come from you. That's why we're here to help!
There are a million options for 50th anniversary gift ideas. We've sorted through them all (well, a lot of them) to curate a dazzling collection of gifts that are both new and old, fresh yet conventional.
Continue reading to learn about the meanings behind the 50th anniversary gift themes, as well as all the best gift ideas which incorporate those themes.
Our website is supported by our users. We sometimes earn a commission when you click through the affiliate links on our website. See our privacy policy & disclosures for more information.
All About the 50th Anniversary
Table of Contents
This is part of our series on Anniversary Gifts by Year.
50th Anniversary Themes
What is the traditional & modern 50 year anniversary gift?
Gold.
Why is gold the traditional & modern 50th anniversary gift?
Think of it as mining a wealth of experience! Not to mention, the refinement the couple goes through throughout their marriage — just like gold. The result is a material so precious its value is ever-increasing.
What is the 50 year anniversary jewelry type?
As you might expect, the traditional jewelry given should be gold.
Why is gold the 50th anniversary jewelry material?
Gold is prized for its rarity. It is strong and durable, beautiful and lasting — just like your marriage.
What is the 50th anniversary flower?
Yellow Rose.
What is the 50 year anniversary color?
Gold, of course!
10 Best 50th Anniversary Gifts
1. Personalized Gold Plate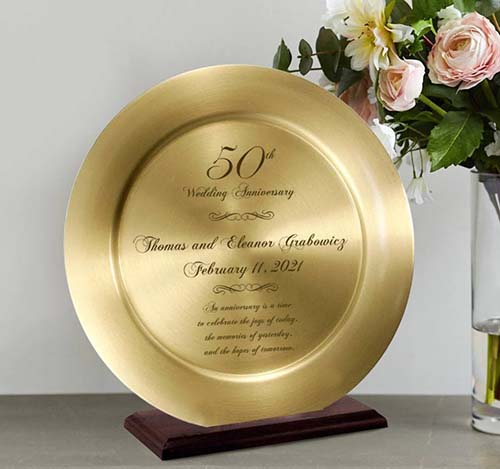 This beautiful plate, with its personalization of all those special details and its handsome, solid brass construction, will really delight the couple. It is sure to be given a place of honor either mounted on the wall, or displayed on a bookshelf. Everyone's eyes will be drawn to it — it's just so pretty!
2. 50 Years Vase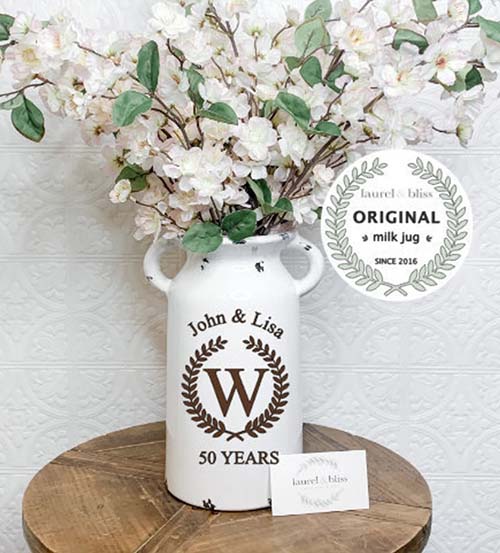 This personalized vase has that farmhouse look, making it perfect for the couple who lives in the country or just has a laid back, casual style. It will look wonderful full of fresh flowers, or could even be used as a utensil holder in the kitchen. Any way they decide to use it, they will love this adorable vase.
3. Customizable Anniversary Glasses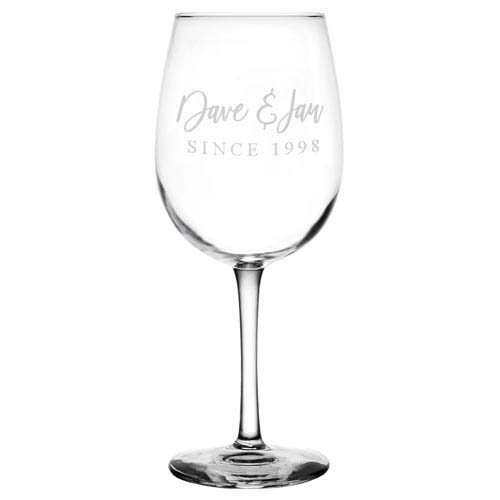 These customizable anniversary glasses are perfect for raising a toast to the happy couple! They'll love sharing a bottle of vino when they have these sweet goblets to sip out of. You can personalize them however you like: Best Parents Ever, Sweetest Couple, Happy 50th Anniversary, or simply with their names and wedding date.
4. 50th Anniversary Clock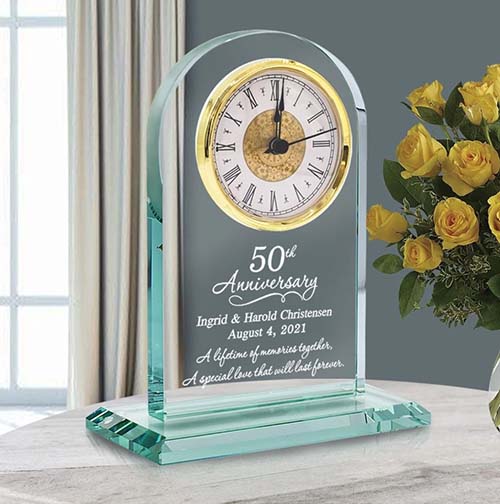 This 50th anniversary clock is so special all on its own — once you add in all the personal details like their name and date and maybe a snippet from their vows, you have a completely one-of-a-kind and unique gift! It even comes with its own gift box, making your life oh-so easy. Made of jade, gold, and glass.
5. Yellow Rose Bouquet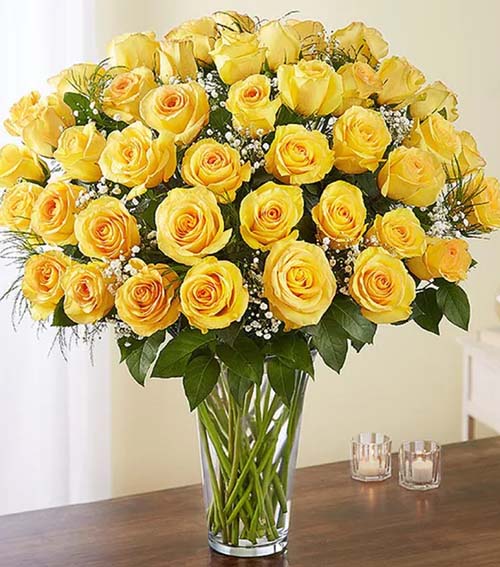 These gorgeous, long-stemmed yellow roses will be the hit of the anniversary party for sure. This stunning bouquet smells as good as it looks too — you won't be able to keep your nose out of them! The bright and cheery yellow will instantly transform the table and bring an air of sunny sophistication to the whole room.
6. Personalized Carved Wooden Sign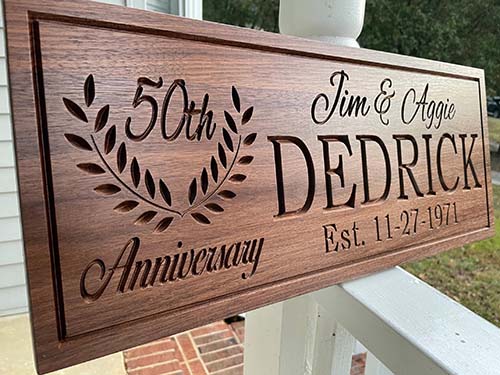 This stunning carved wooden sign is a real show stopper. It will look so wonderful on the front porch by the door, in an entryway, hung on the family photo wall, or on a plant shelf. It's completely personalized with the name they've shared for 50 years, and you can get it in four different sizes and three different woods.
7. Golden Accent 50th Anniversary Statue
This elegant figurine has golden accents amid the creamy off-white sculpture. It's just right for a 50th anniversary and is great for the couple who loves figurines, statuettes, and collectibles. The soft hues and gentle silhouette will blend in perfectly with any decor style, and will look lovely as a centerpiece or nestled on a shelf with other special mementos.
8. Glass Anniversary Frame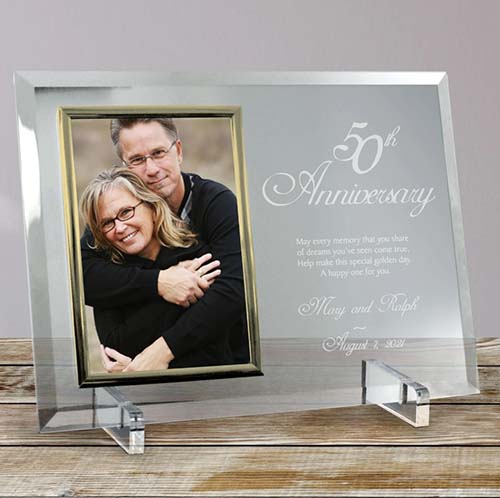 This simple yet elegant glass anniversary frame has their personal wedding info inscribed on the pretty glass. Just add in your favorite photo of your favorite couple and you have an instant classic that they will treasure for the rest of their happy marriage.
This is a great gift for the times when you want something meaningful and special, but don't want to go overboard or maybe don't know the style and likes of the recipient.
Related: Personalized Photo Anniversary Gift Ideas
9. 50 Years of Marriage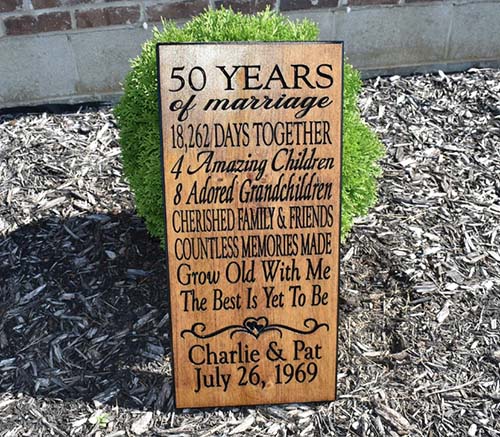 This 50 years of marriage sign is truly one-of-a-kind! You can delight the couple by having it inscribed with all the sweet details of their life together, starting with that special day 50 years ago when they became man and wife. Add in their children, grandchildren, great grandchildren, even pets. They'll really love this special gift.
10. Handcrafted Gold Ribbon Music Jewelry Box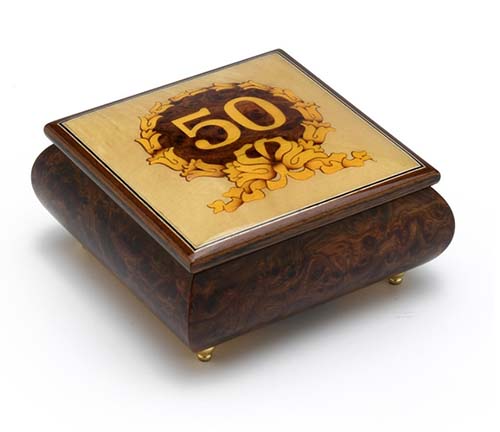 Handcrafted in Italy, this ultra special and posh music box is a wonderful gift for your parents, or for that couple in your life who has set the bar high and inspired you with their 50 years together! You can customize it right down to the tune it plays (maybe their wedding song?) and the blonde wood inlay makes it just right for the 50th anniversary.
This is a truly special gift for a special couple.
Traditional & Modern 50th Anniversary Gifts (Gold)
11. Gold Stamped 50 Years Ornament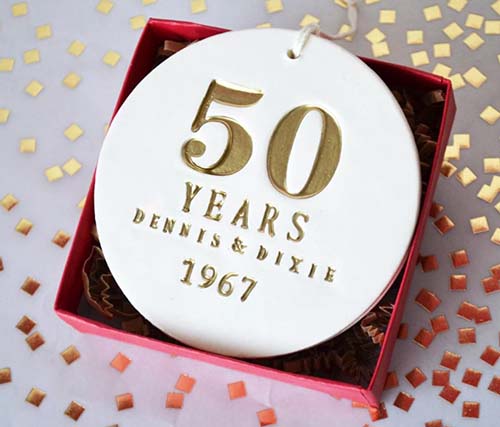 This sweet little gold stamped 50 year ornament is too pretty to pack away with the Christmas decorations! They may want to keep it out on display all year around, and who can blame them? Personalized with their names and wedding date, it's an easy option for a gift when you are just stumped with what to give.
12. Farmhouse Anniversary Sign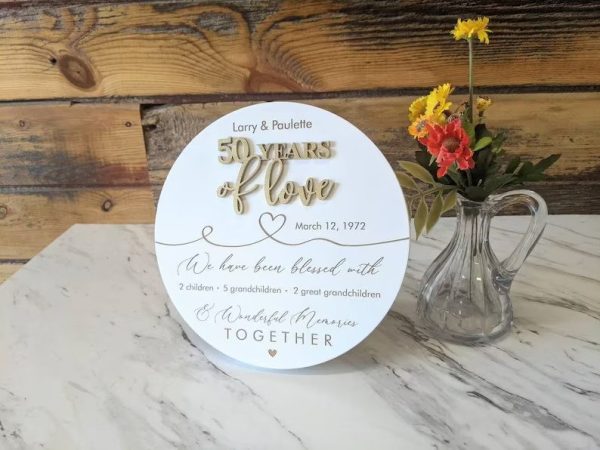 How lovely is this classic anniversary sign? Once you personalize it with their names and date, and maybe a scripture or snippet from their vows, you have a totally unique and customized gift that they will love.
This sign, with its beautiful golden calligraphy, is sure to be a centerpiece of their celebrations. Not to mention their memory wall at home!
13. 24K Gold Dipped Rose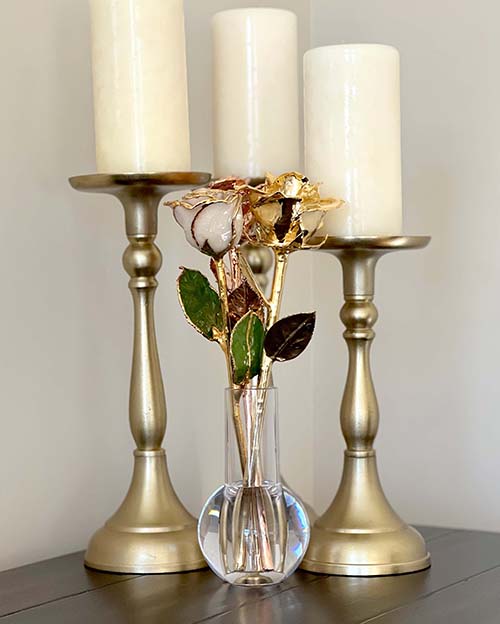 This gold-dipped rose is 24K gold and is such a stunner! It will bring a bit of sophistication and romance to their living room. Tucked in amongst other mementos in a shadow box, laying atop a stack of books, or placed in a pretty vase, this gorgeous rose will transform the room and be a conversation starter when guests come.
14. Gold Monogrammed Anniversary Blanket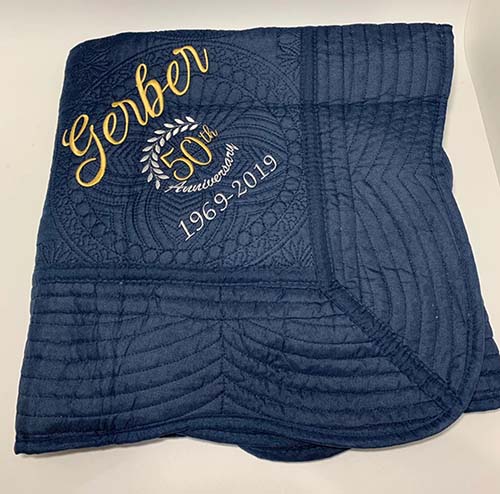 This monogrammed anniversary quilt will delight your favorite couple! It's soft and cozy, but also sophisticated and modern. You can get this blanket in a color of your choosing, but definitely stick with the beautiful gold lettering since gold is, after all, the 50th anniversary color. They'll love cuddling up with this on those chilly winter nights, or when watching their favorite movie.
15. Golden Anniversary Album
Whether you choose to fill it up for them or let them have the honors, they're going to love flipping through this pretty, gold anniversary photo album! It will be looked at again and again by grandkids and guests alike. A lovely, simple yet thoughtful gift for the happy couple. It holds 80 photographs and even has a sweet entry page with red hearts and a place to record memories.
16. Stamped Golden Heart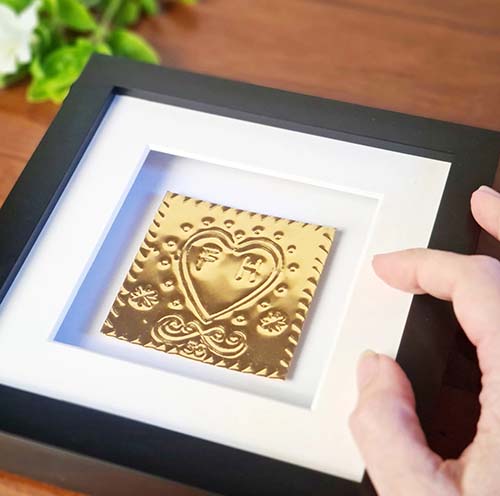 This stamped golden heart is so unusual and unique. We love the simple design that is also elegant and romantic. The embossed foil heart has their initials and "50" included as well. This little framed work of art will look lovely hung up on the family wall of photographs, or set on their nightstand to admire each morning.
17. 50 Years of Love Art Heart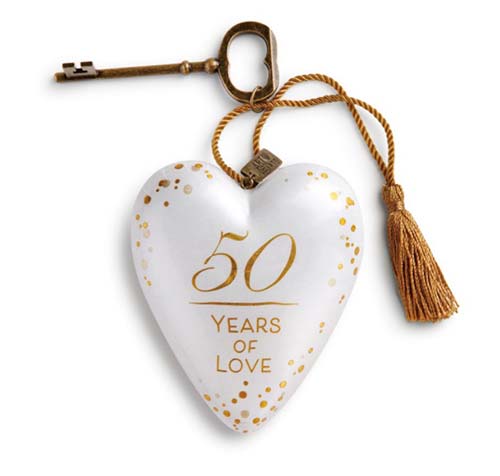 This 50 years of love art heart is the sweetest thing! Etched with gold lettering and hung on a handsome tasseled ribbon, this adorable work of art will swing merrily from your car's rear view mirror, your Christmas tree, or from your favorite window.
It'll remind you of how much love you've experienced, and how much is still to come. And how cute is the key?
18. Keepsake 50th Wedding Anniversary Plate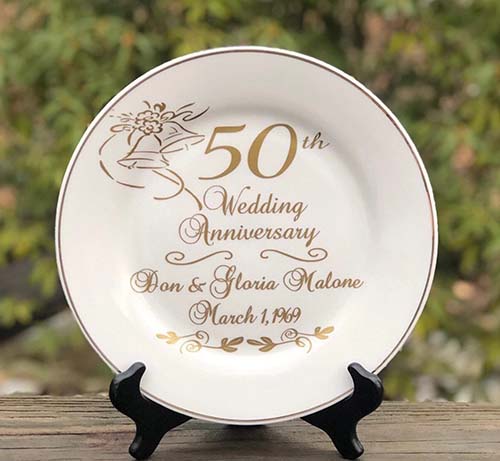 This pretty plate is sure to be the hit of the anniversary party. What a cute centerpiece it will be. Personalized with your name and date, or that of your gift recipient, this lovely plate will really shine once it's hung on the wall, or propped up in the China cabinet (you can purchase the optional stand for this). They'll even gift wrap it for you!
19. Gold Foil Heart Snapshot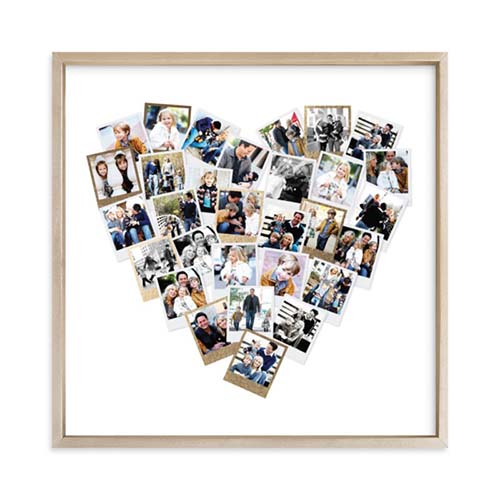 This gold foil heart snapshot takes all their favorite photographs from over the years and transforms them into a work of nostalgic and sentimental art! This collage will be a stand-out in their home, and everyone from their guests to their friends to their grandchildren will love looking at the photos and asking questions.
20. Glitter Gold Heart Sign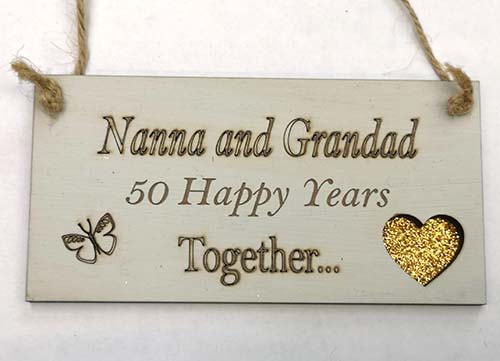 This glitter and gold heart sign would be perfect from the grandchildren. It's customized with their nicknames or their given names, and is a sweet testament to a long-lasting love and marriage. Handcrafted, hand painted, and hand made in the UK, it comes with a rustic jute hanging thread.
50 Year Anniversary Gifts for Her
21. Gold Heart Necklace
When in doubt, go for jewelry! This gold heart necklace is the perfect example of sweet and casual meets elegant and stylish. It will pair just as well with a tee shirt and a pair of sweats, as it will with a pretty night out dress.
22. Godiva Gold Ballotin Chocolates Box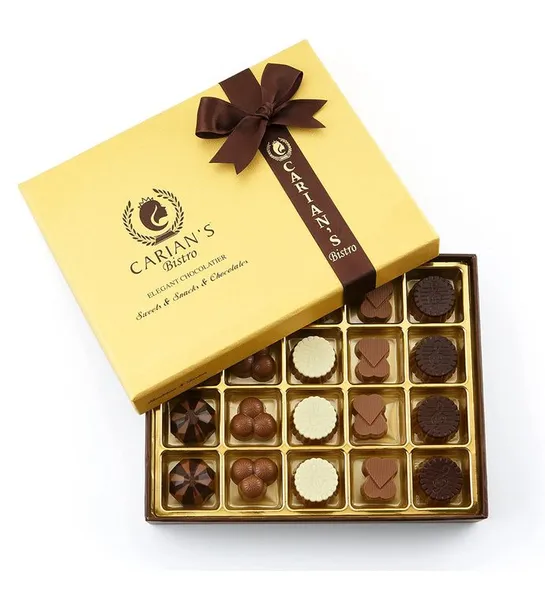 Talk about romantic! This Carian's Bistro golden chocolate box has 20 pieces of the finest chocolate. Only their top products make it into this delightful box. If you're lucky, maybe she'll share. Perfect for the chocoholic in your life.
23. Beautiful Gold Dress
Surprise her with a beautiful gold dress and maybe a reservation to her favorite restaurant to show it off! Whatever style you choose, she'll certainly be brilliant.
Remind her that romance and chivalry are not dead by getting her a lovely new frock and a reason to paint the town. She'll look like a teenager again and you'll love having her on your arm.
24. 50th Anniversary Joy Box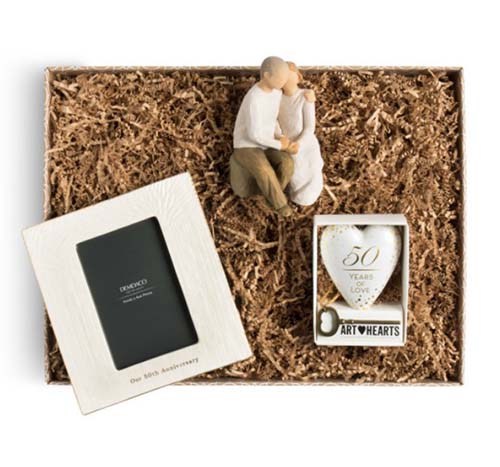 This box comes with a lovely picture frame, the loveliest of Willow Tree figurines, a handwritten note from you, and a "love heart." When it comes to gift boxes you just can't go wrong with one from Demdaco, especially when it's paired up with Willow Tree. Anyone would be thrilled to get this for their 50th anniversary.
25. Golden Heart Willow Tree Keepsake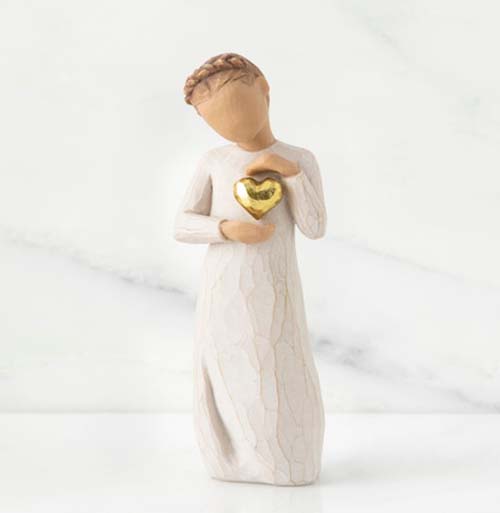 Another great option from Willow Tree, this keepsake figurine of a darling little girl with the sweetest of golden hearts will melt her own heart! Gentle and artistic, it will blend in beautifully with any decor, and is sure to become one of her most valued and treasured pieces of art. The gold heart is perfect for the golden wedding anniversary.
50 Year Anniversary Gifts for Him
26. Personalized Metallic Record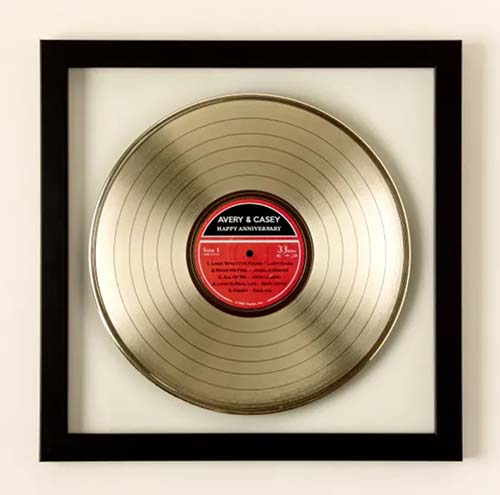 It's a solid gold hit! This eye-catching work of art is a personalized metallic LP record designed to take you back to the golden oldies. That makes it perfect for your golden anniversary. Included are up to five songs. Go sweet and swoon worthy (you romantic you), or go with something silly and light-hearted that only the two of you will understand and appreciate.
27. Engraved Gold Bracelet
No one ever said manly men don't like to have a bit of bling in their lives! Purchase him an engraved gold bracelet and watch him feel like a million bucks. Keep it simple yet stylish, kind of like him.
28. Gold Engraved Cufflinks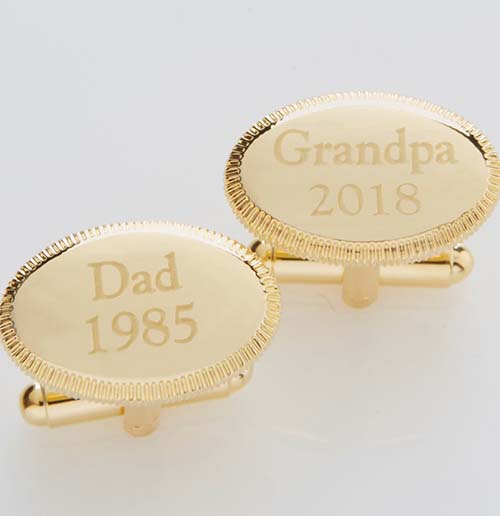 He'll feel like the most dapper of gentlemen with these gold engraved cufflinks. We think date nights are going to come a lot more often when he has these stylish cufflinks to dress him up and keep him inspired. So romantic and dashing.
29. DIY Gold Plate Anything for Him
Learn how to gold plate practically anything with this handy-dandy tutorial. He'll love your DIY project, no matter what you choose. Transform his favorite gadgets and bobs, or buy something that has the right shape but maybe not the right amount of sparkle and bling!
30. 50 Years Together Engraved Bottle Opener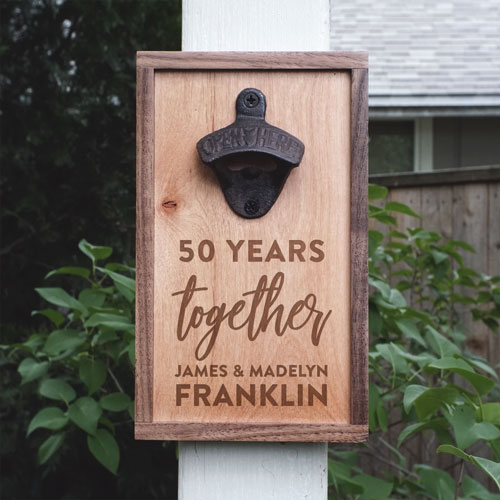 Customize this fabulous bottle opener however you like best: with your names and date of your wedding, or with Best Husband Ever. The sky's the limit! Not only romantic and sweet, it's also totally practical — as anyone who can't find the darn bottle opener in the junk drawer will attest.
No more misplacing it: simply hang this great sign and bottle opener near the liquor cabinet, in the kitchen, or on the back porch for easy beverage opening.
50 Year Anniversary Gifts for Couples
31. Drinking Coffee Together Since…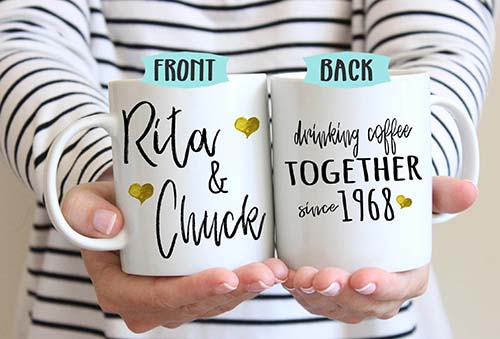 It's the little things in life, don't you think? The ones that keep couples together. Like sipping coffee with one another for 50 years!
These cute mugs will make them smile, and you know they're going to get a lot of use. Pair with a bag of their favorite local brew to really bring some sunshine into their mornings.
32. Personalized Framed Glass Photo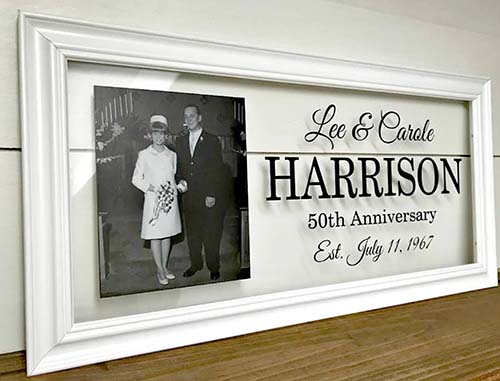 This personalized framed glass photo will stop their guests in their tracks! It has all the personalization front and center, along with your (or their) favorite photograph of their special wedding day. You can pick the color of the frame, and since the "background color" is clear glass, you'll be able to see the wall color when it's hung. So stylish and modern.
33. Married Since… Shirts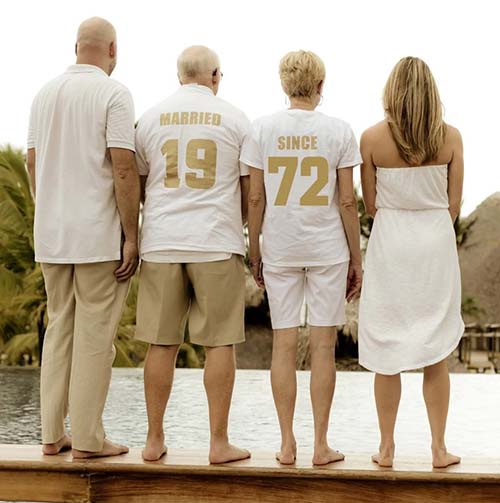 These matching tee shirts are so cute. All of their friends will be rather jealous when they show up at the country club or the block party wearing these. Perfect for some great photo ops, too! You can pick the white with gold, or black with gold. Lots of sizes available too, so everyone can get the perfect and most comfy of fits.
34. Personalized Anniversary Book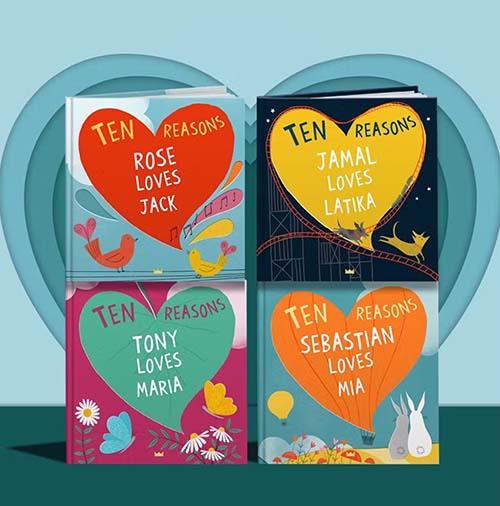 You won't find anything more unique and truly one-of-a-kind than a personalized anniversary book like this. Your favorite couple will be astonished at the sweet illustrations, delightful story, and how they are the front and center as hero and heroine! Grandkids, too, will love flipping through this sweet little novella of their love story.
35. Edible Gold Lollipops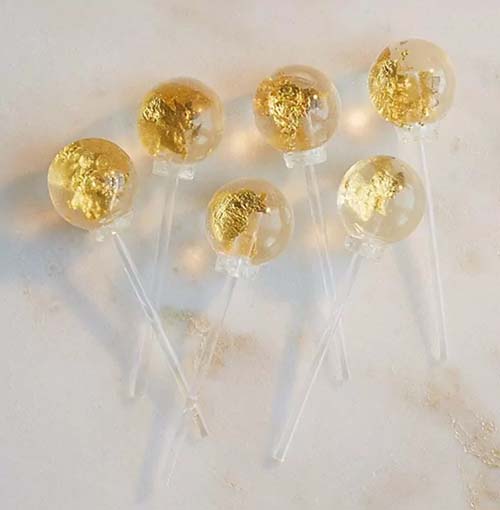 Talk about posh! These gold lollipops might be gone after by those quick-reaching little grandkids, but these are only for the grown ups. Made with real 24K gold leaf and flavored with a sophisticated raspberry flavor, their sweet tooth will be in heaven.
Related: Best Gifts for Couples
Unique Fiftieth Anniversary Gifts
36. Anniversary Photo Collage Gift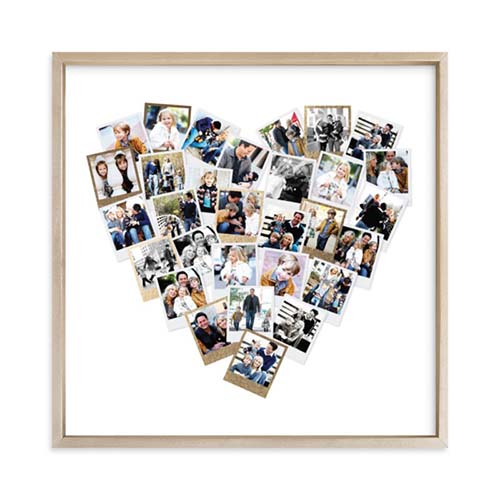 The artists at Etsy have really stepped it up with this amazing anniversary photo collage! Choose up to 1500 photos to be the background of the main photo with this stunning work of art. They will be absolutely blown away by the creativity and process.
Pair it with a magnifying glass so they can really appreciate every little bit of this beautiful portrait.
37. 50 Years of Love Cross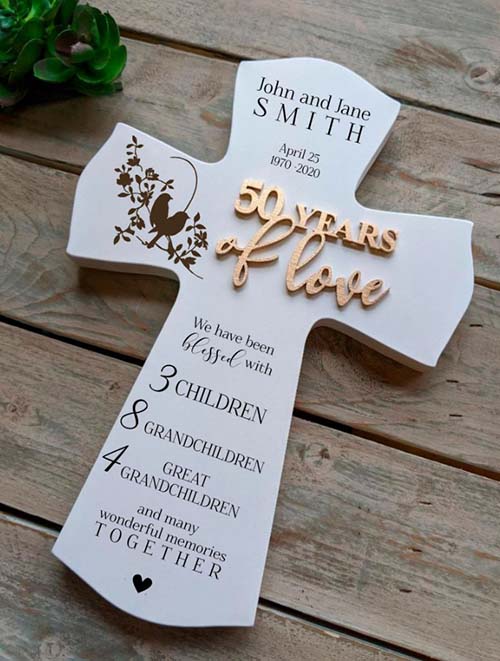 If they recognize that only God could have designed their love story, they will love this beautiful 50 years of love cross. Personalized with all of the best pieces of their life together, such as the day they became one, the births of their children, etc., this pretty cross will be a delight to look at for years to come.
38. Decide Your Fate Engraved Decision Coin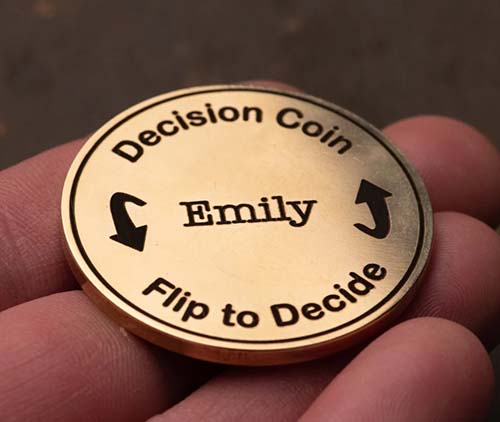 Decisions, decisions! This cute decide-your-fate engraved decision coin is a fun way to play the age old couple's game, "Where do you want to eat?" or "What do you want to watch?" Your couple will get a kick out of tossing the coin and seeing who gets to decide all those oh-so important choices.
39. Love Blooms Here Garden Stone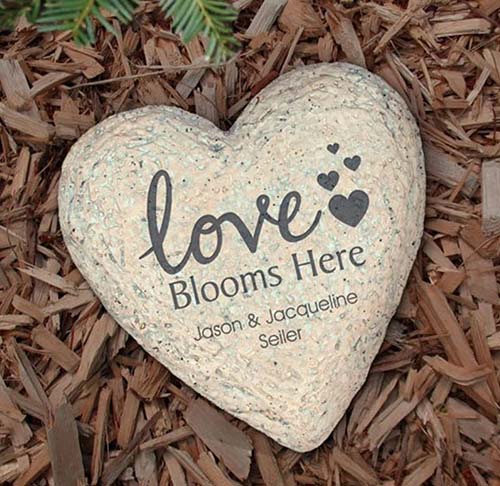 For the gardeners and nature lovers, you can't go wrong with this "Love Blooms Here" garden stone. Perfect for garden pathways, flower beds or near the pool, this rustic and charming heart is engraved with their names, making it extra special and fun.
40. Anniversary Cardalloon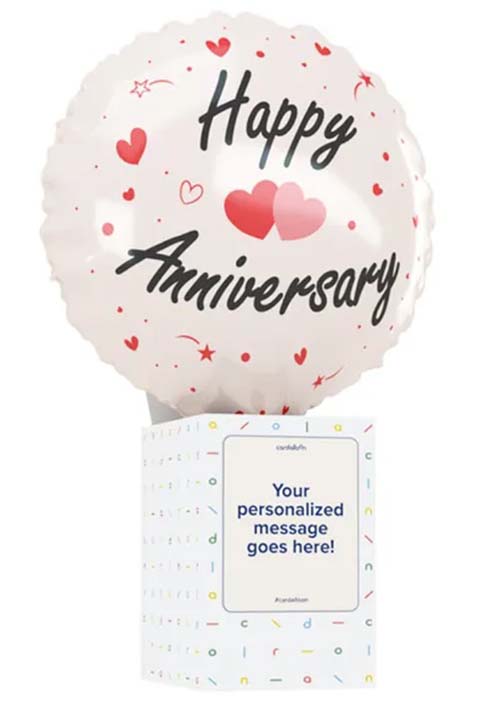 Don't just give a basic, boring anniversary card — send them an anniversary card-alloon! It will delight their senses even long after the balloon deflates. The card is totally personalized by you, and the balloon is helium-free, which is so much better for the environment and everyone's health. This is one gift that they'll be smiling over for days and days.
Read Next: 55th Anniversary Gift Ideas