It's a big one, y'all! And what better way is there to honor your beloved than with the very best of 26th anniversary gifts? We can't think of any!
Sure, last year's 25th got all the love — and in four years you'll be celebrating a huge milestone yet again — but we think this year's anniversary is just as important.
I mean, twenty six years together? Definitely a reason to pop some bubbly, snuggle up with your one and only love, remember the early days, and look forward to the future. Oh, and enjoy your new gifts.
All About the 26th Anniversary
While year twenty-six may not be a "milestone" per-say, it's definitely worthy of celebration.
You've weathered the storms and trials that come with marriage, and experienced just as many moments of joy and heart palpitating sweetness. Twenty-six years of love, devotion and commitment is nothing to shake a stick at.
Think of it this way — your marriage is the same age as someone who has lived some life, made some mistakes, learned some valuable life lessons, graduated college, maybe had a kid or two… That's a lot!
You've faced hardships, shared laughter and tears, and grown together beautifully. So, let's raise a glass to another twenty-six (and beyond)!
Table of Contents
Our website is supported by our users. We sometimes earn a commission when you click through the affiliate links on our website. See our privacy policy & disclosures for more information.
This is part of our series on Anniversary Gifts by Year.
26th Anniversary Themes
What is the traditional & modern 26 year anniversary gift?
It's a unique one this year! Pictures are both the traditional and modern 26th anniversary gift.
Why are pictures the traditional & modern 26th anniversary gift?
Because you're capturing the essence of your time together, and basically immortalizing it. A moment suspended in time!
What is the 26 year anniversary gemstone?
Jade!
Why is jade the twenty-sixth anniversary gemstone?
It's a protective stone that removes bad elements from your life. Jade also represents longevity, loyalty, security, and love.
What is the 26th anniversary flower?
There isn't one! So, we say go with their favorite bloom.
What is the 26 year anniversary color?
Again, there isn't an established color, so feel free to pick one that they are partial to!
10 Best Twenty-Sixth Anniversary Gifts
1. Skylight Frame
For the modern couple, you can't go wrong with a Skylight Frame — especially since this anniversary is MADE for photographs!
This frame isn't your mama's frame: you can upload tons of photos as often as you like, from wherever you are. It's a lovely surprise and ever expanding display of art.
2. Anniversary Star Map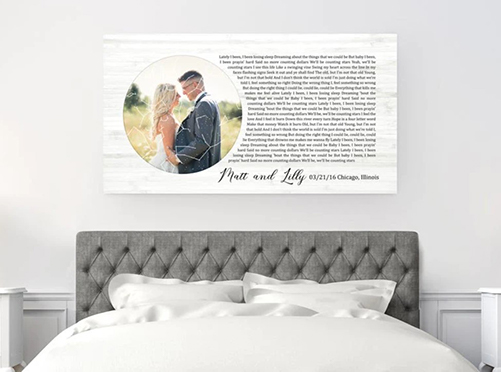 For the utter and hopeless romantics, this anniversary star map can't be beat. Totally personalized, it's definitely one-of-a-kind from top to bottom! Whether you're gifting this for your favorite couple on their anniversary, or your very own significant other, this beautiful work of art will steal the show.
3. Best. Anniversary. Ever. Bird Feeder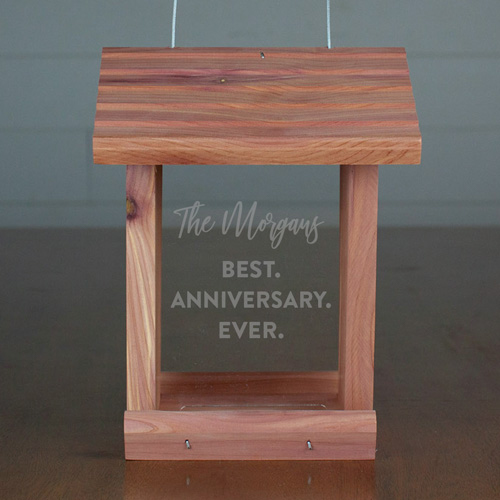 Leave no doubt how you feel with this adorable bird feeder! You can personalize the wording however you like — from sweetly sentimental to witty and clever. Or simply add their name and wedding date!
Bird lovers will adore this feeder. It's large and easy to access, made of high-quality wood and craftsmanship, and will instantly brighten up a backyard or front porch.
Related: 10 Best Bird Feeders
4. Heart Snapshot Photo Art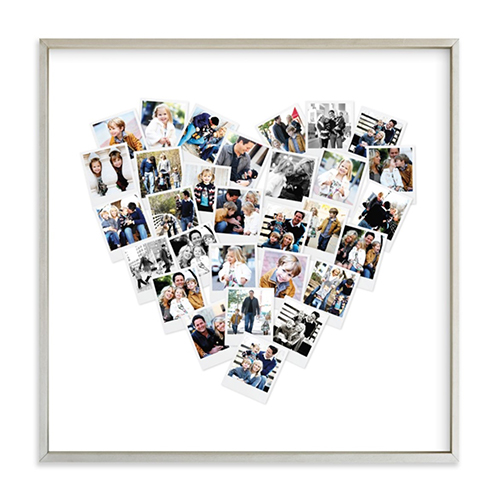 This work of art gets better and better the longer you look at it! Why is that? Because the longer you stare, the more photos you see!
Made of tons of sweet snapshots of the happy couple — all put together in a romantic heart shape — this adorable wall hanging will get a place of honor for sure. 
5. Personalized Photo Blanket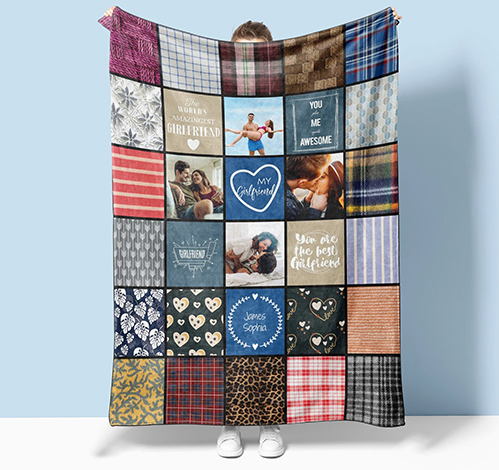 A personalized gift that is made to snuggle up with! This photo blanket is just the ticket for a romantic gift that will last for years and years to come. Super soft and plush, it's a truly one-of-a-kind gift that will make them swoon.
6. Engraved Leather Photo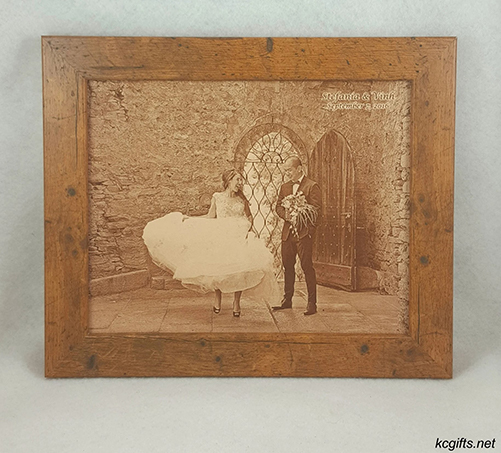 Anyone can frame a favorite wedding photograph for an instant gift — but have you ever thought of having it engraved on leather? For a romantic, unique and amazing gift, look no further than this gorgeous work of art. It will be treasured as a family heirloom for sure!
7. From This Moment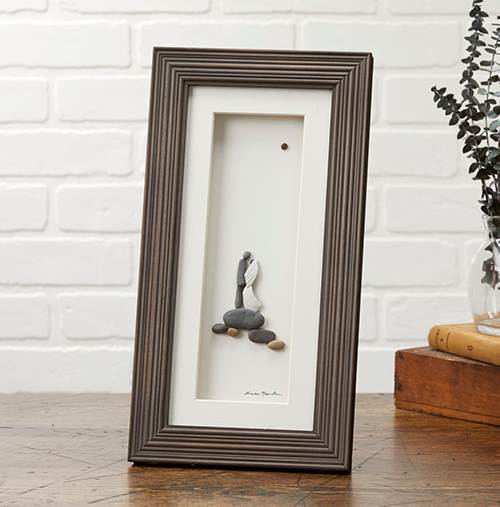 When you want something unique and as special as the couple of the hour is, this pretty pebble and wood art fits the bill! They'll love the simple design and timeless appeal of this neat piece. It will blend in beautifully with any decor, and will soften any space with a little bit of romance.
8. Photo Personalized Coffee Mug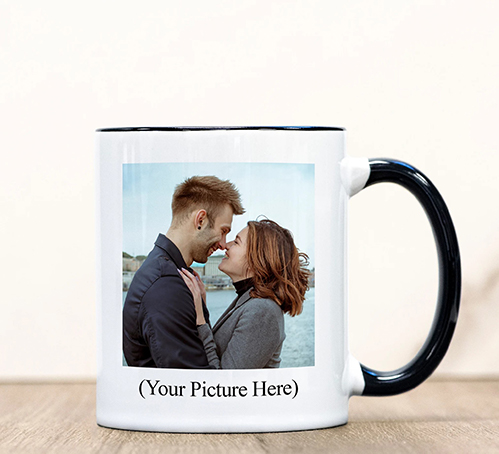 A simple gift that's awfully sweet! They'll love sipping their morning cup of Joe or evening tea out of this adorable mug. Personalize with their own photo, and it's an instant, one-of-a-kind favorite cup!
You can even choose from lots of colors and fonts to make it perfectly theirs in every way.
9. Our Little Family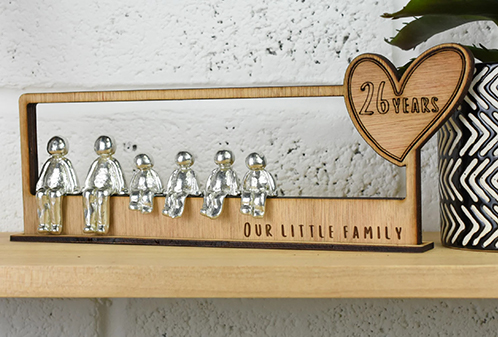 Customizable (with the amount of figurines you choose), this cute little wall hanging will look great on a mantle or as the focal point on the family portrait wall. A bit unique in style, the silver figures stand out adorably against the wood and bring a bit of playfulness to your decor.
10. Professional Portraits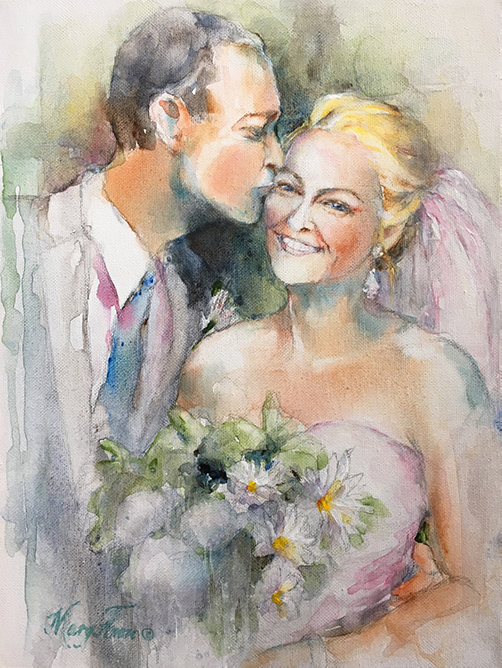 Surprise the happy couple with a truly elegant gift: a professionally painted portrait of themselves! This is one work of art that will be passed down from generation to generation and will be treasured like no other.
A beautiful and romantic gift for the couple of the hour!
Traditional & Modern 26th Anniversary Gifts (Pictures)
11. 3D Photos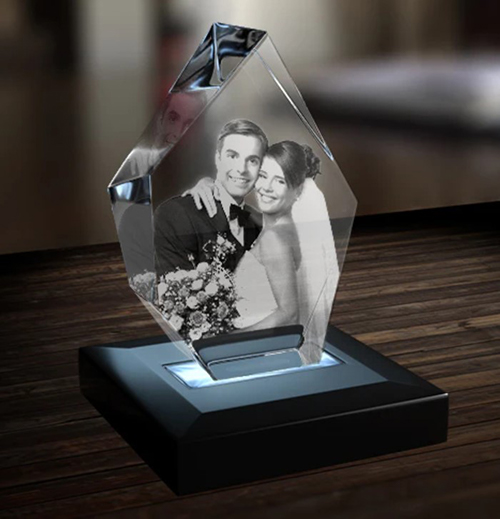 A gift that really "pops!" These cute 3D photos are adorable and unique — making them the perfect 26th anniversary gift! They'll sparkle and shine no matter where they find a home: from the office to your coffee table to the bookshelf. So sweet and timeless!
12. Wedding Photo Puzzle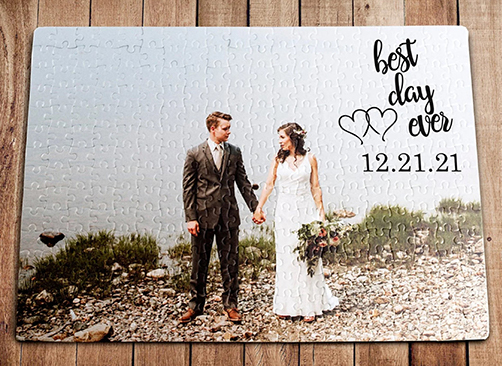 For the couple who loves their date nights at home, these wedding photo puzzles are absolutely delightful!
They'll adore spending their snowed-in afternoons or hot summer days putting together a totally unique and one-of-a-kind puzzle. When they're done, they can use puzzle glue to keep it together and hang it on the wall!
13. Classic Painting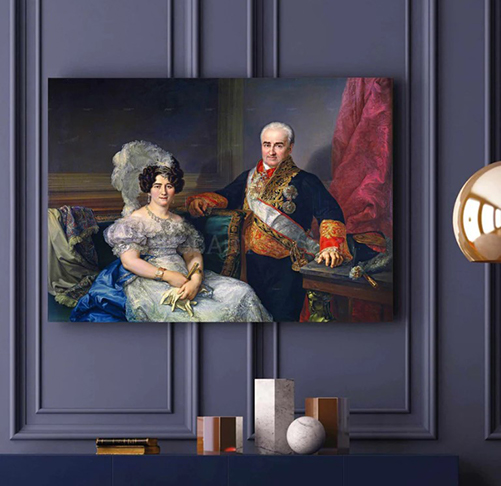 Turn a ho-hum photograph into something unexpected, laugh out loud funny, and downright epic with a classical painting! Your favorite couple will be blown away by the quality and will love seeing themselves as royalty (as they should be).
These pretty paintings are pretty darn special, and all their house guests will be jealous.
14. Photo Projection Necklace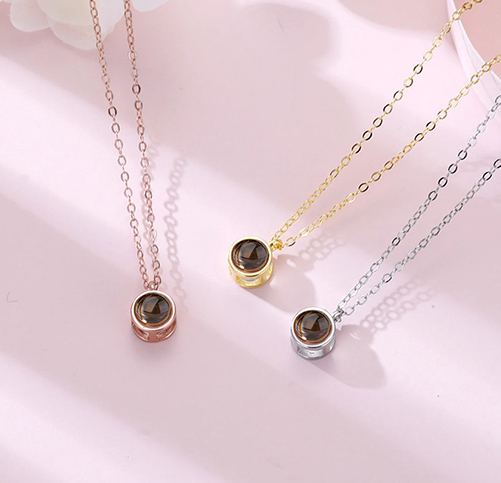 For the lady who has everything and is so hard to shop for, here comes a photo projecting necklace to the rescue! Totally unique and special, she'll love wearing this. Not only for the stylish appeal but for the romance it holds: a photo of her true love.
15. Custom Photo Plate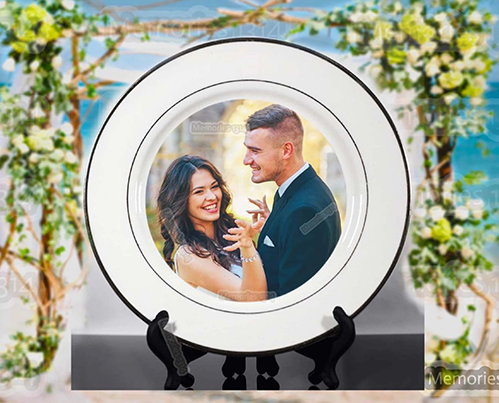 When you're looking for a bit of sophistication, this gold-rimmed plate is the answer! Bring your favorite photo to life in a different way — on a pretty plate to display.
Your friends will love seeing this hanging on the wall or propped up on the kitchen table. Or they can use it as a centerpiece for the 26th anniversary party!
16. Anniversary Wine Label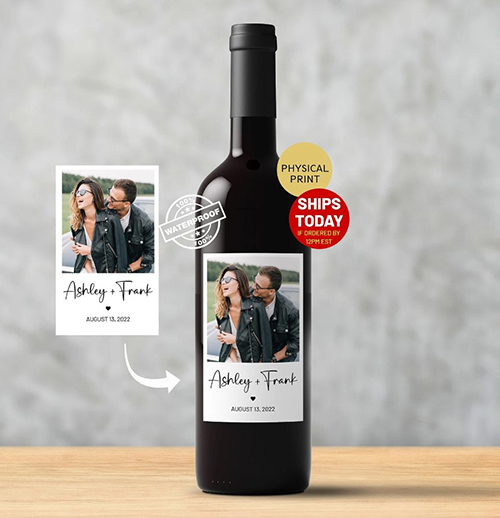 These wine labels are just the bee's knees, aren't they? Both cute and festive, they'll transform an ordinary bottle of wine into something they'll want to keep long after the vino has been finished.
Also a great and inexpensive way to personalize the bottles at the anniversary celebration (or to send home with guests). The possibilities are endless!
17. Photo Ornaments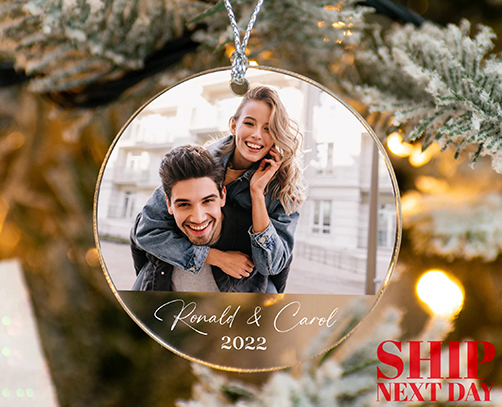 These adorable ornaments don't have to be just for the couple who got married in December. No, they're sweet and perfect for all year 'round display. Hanging from your car dashboard, from a sunny window, or sure, save them for your Christmas tree! There's no wrong way to love these cute ornaments.
18. Personalized Photo Shelf Blocks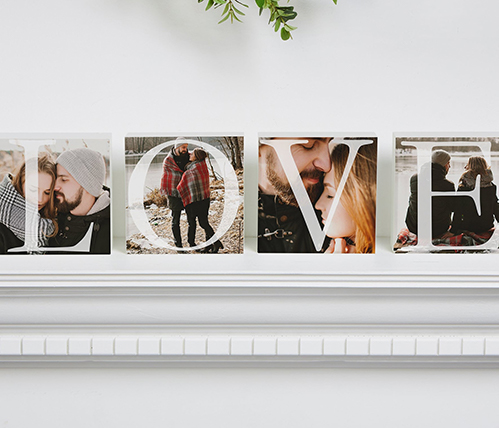 Take any four of your favorite photos and instantly transform your mantle with this timeless and beautiful shelf block collection! It's modern but also has a timeless appeal, making it perfect for just about any couple. From the farmhouse decor lover to the mid-century architecture lover.
19. Romantic Explosion Photo Box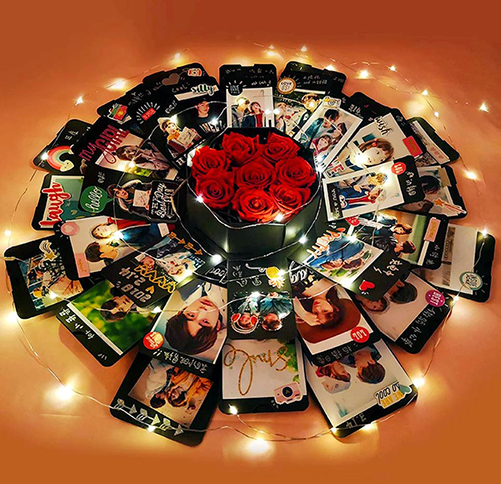 Just an ordinary DIY gift box? Never let it be said! This romantic explosion is exactly what the title claims it to be: a romance bomb that will delight and intrigue everyone who sees it.
The outside is a simple, ordinary box, but the inside is a fantastic display of love and affection, all coming through the photos you select. A must-have for the young at heart and the true romantics!
20. Photo Frame Musical Jewelry Box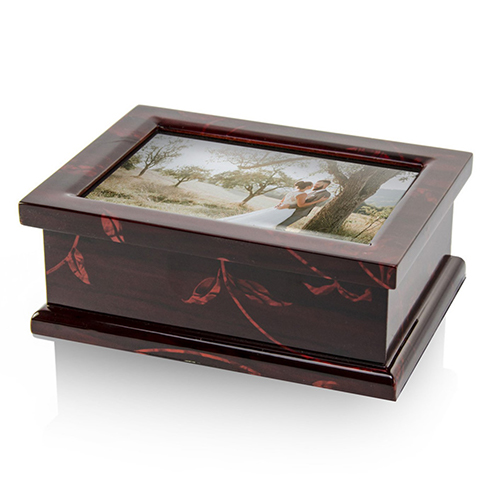 Be the star of the show — alongside your true love, of course — with this beautiful frame jewelry box. You can even pick the song it plays! Choose from what played at your wedding or engagement for an extra special boost of romance. She'll love keeping her jewelry in something so unbelievably special.
More: Photo Anniversary Gift Ideas
26th Anniversary Gifts for Her
21. Gold & Jade Earrings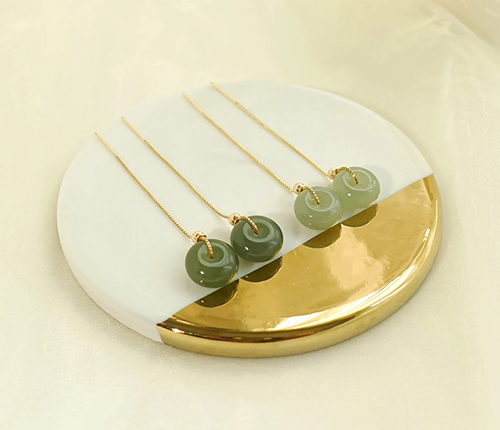 Absolutely a no-brainer for the 26th anniversary, these gold and jade earrings are simply stunning! I know I'm bookmarking them for my 26th, which is coming up in no time at all (Hubs, are you reading this?). They're simplistic, stylish, and will go with any outfit. She might not ever want to take them off!
22. Custom Roman Numeral Sweatshirt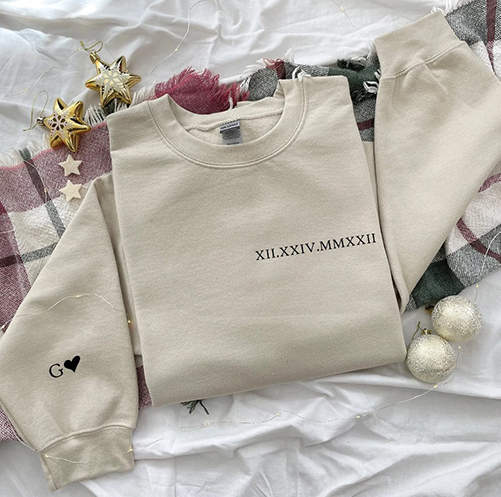 These pullovers are so cute! Printed with custom Roman Numerals, they are a totally fun way to represent your wedding date. Such an adorable look for your anniversary party, or just to wear on the weekends. An easy gift that will be instantly adored.
23. Wine Chiller & Glasses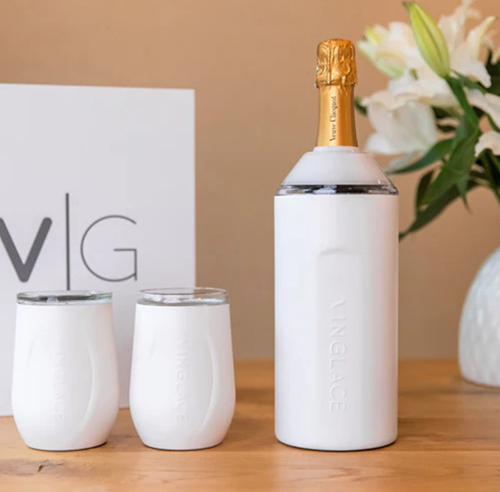 For the white wine lovers and aficionados, this wine chiller and glass set is sure to please! A sophisticated way to keep your Pinot Gris or Riesling chilled at just the right temperature, no matter how long you take to sip it. This set is so pretty and will age, well, like fine wine!
24. Stamped Jewelry Dish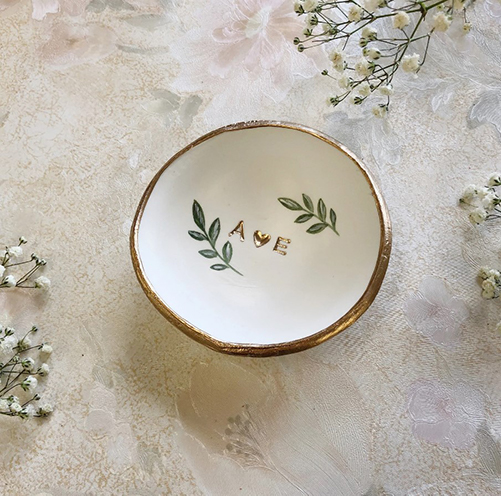 So romantic, this stamped jewelry dish is like no other. Sweet and simple, it says a million words while only saying your initials. A totally sweet way to store your jewelry, soap, or keys.
25. 100 Red Roses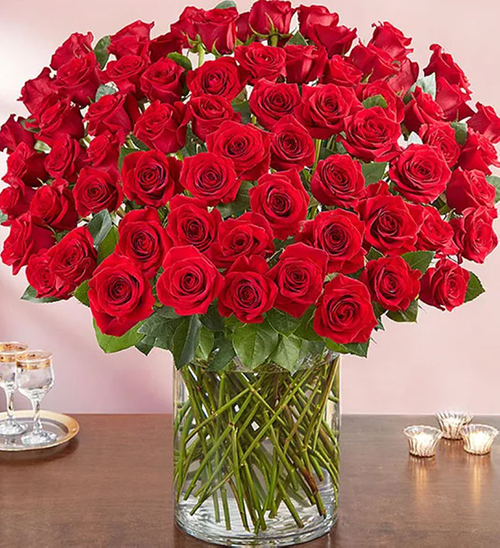 When in doubt, go classic! This blooming bouquet of 100 red roses will be the most romantic thing she's ever received — we're 100% certain! Leave no doubt about chivalry being alive and well with this classic and over-the-top (in a good way) gift.
26th Anniversary Gifts for Him
26. Leather Photo Keychain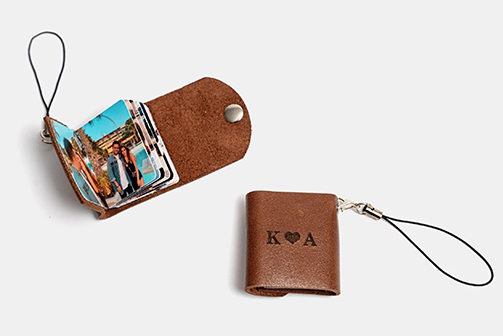 This tiny little gift really packs a punch! This leather photo keychain is unbearably romantic, but still rustic and manly. A great way to show off your life together, and it will always be with him (literally!) so it's a win-win.
Your man will adore this romantic gift, and it might even make him swipe at his eyes a bit (it's probably just allergies).
27. Jade Necklace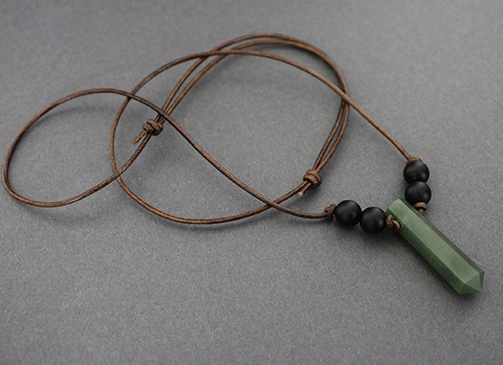 This jade necklace is surely the way to his heart! It's modern and rustic, making it the perfect piece of jewelry for your guy. It will pair perfectly with everything from a flannel shirt to a suit coat, and will make him stand a cut above the rest (as if he needed help — psshh).
28. Photo Wallet Insert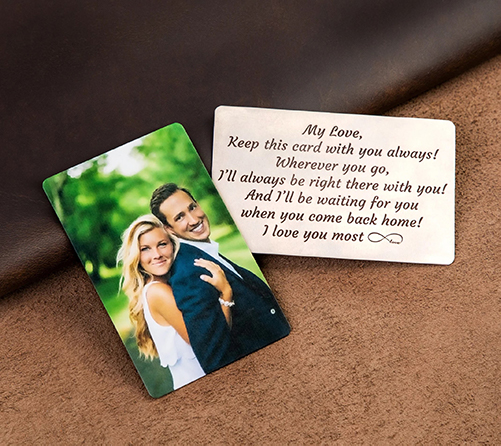 Choose your text and your font in this great photo wallet insert! He'll take a little bit of you wherever he goes, so this gift is absolutely perfect for the military soldier, the traveling businessman, or when life just keeps you separated. Such a sweet and easy gift!
29. Engraved Bookmark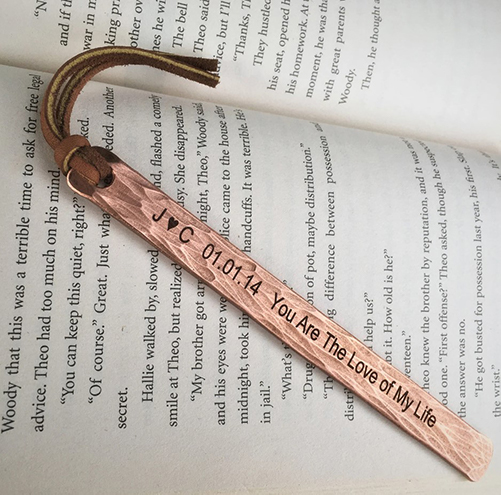 Custom engraved, this copper bookmark is definitely a game changer! Absolutely made for the bibliophile in your life, it's a lovely little reminder of how much you love him every time he turns the page. It comes with a gift pouch, too! Pair with his favorite novel for an absolutely unforgettable gift.
Related: Best Gifts for Book Lovers
30. Custom Photo Socks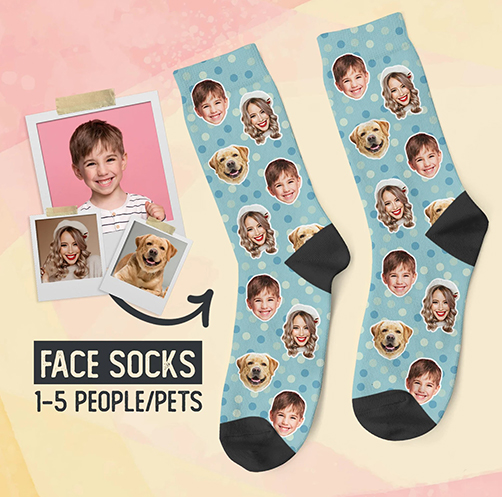 Make him laugh with some custom photo socks! He'll proudly wear these socks, even if it's with shorts and sandals! Go for the cheesiest photo you can find for a totally one-of-a-kind gift that he'll be bragging about for years to come.
26 Year Anniversary Gifts for Couples
31. Custom Photo Night Light Lamp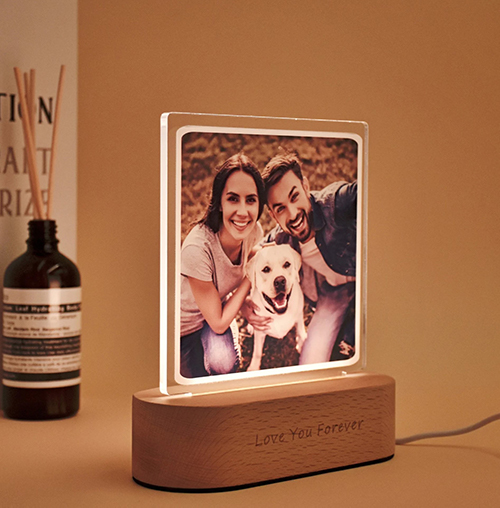 This custom photo frame isn't just your every day frame, it doubles as a great night light too! Pick out your favorite photograph of the happy couple (or go for laughs with the cheesiest/most embarrassing one you can find) and end up with the perfect gift. They'll love it!
32. Celebrate Wine Gift Basket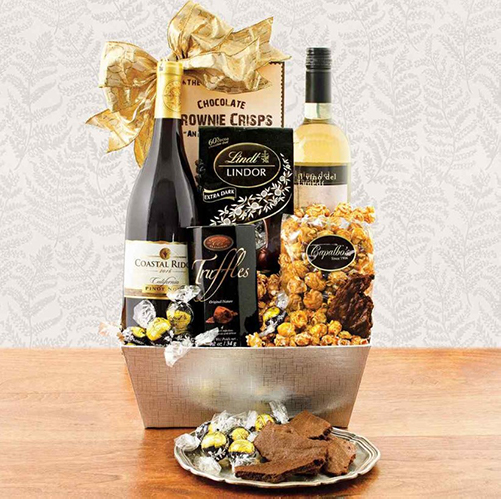 Get their romantic night started with this great wine gift basket! They'll have no reason NOT to pause the norms of everyday life and get serious about celebrating their anniversary once this great basket has arrived. Kudos to you for picking the perfect gift!
33. Lyrics & Songs Photo Canvas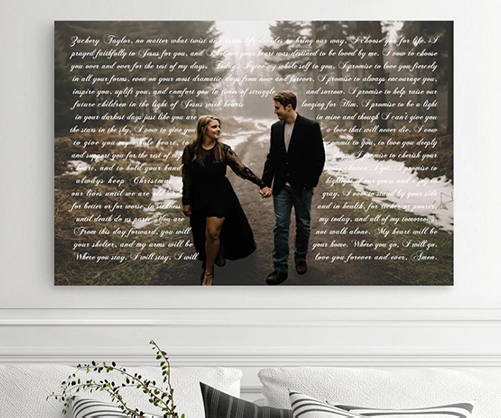 How utterly swoon worthy and romantic is this lyric and song photo canvas? They can't help but be swept up in their own love story once this is hung perfectly on the wall. Such a romantic and darling gift that will be appreciated for many years to come.
34. Hand Carved Jade Lovebirds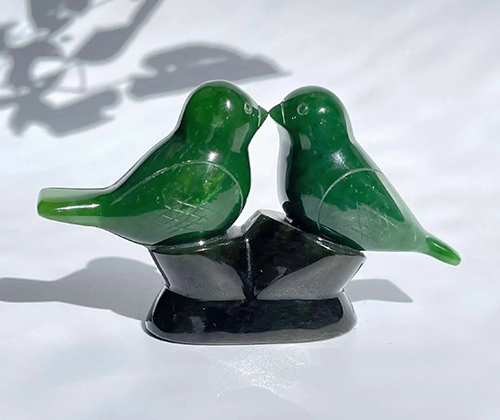 These hand carved jade lovebirds are just the thing when you can't seem to find the perfect gift for the perfect couple! They are so sweet and romantic, but also add a sophisticated bit of charm to their living room decor. Just adorable and they will be passed down for generations.
35. Touch Bracelets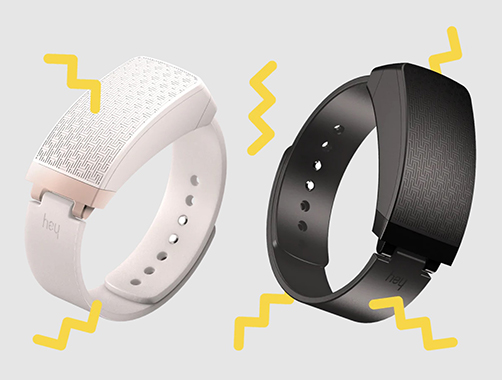 Even when you're apart, stay together with these lovely touch bracelets. Talk about romance! You and your loved one can send a gentle squeeze or a much-needed hug to one another with the help of technology.
Go about your busy day, but send a little reminder as needed. So sweet!
Unique Twenty-Sixth Anniversary Gifts
36. Tinggly Vacation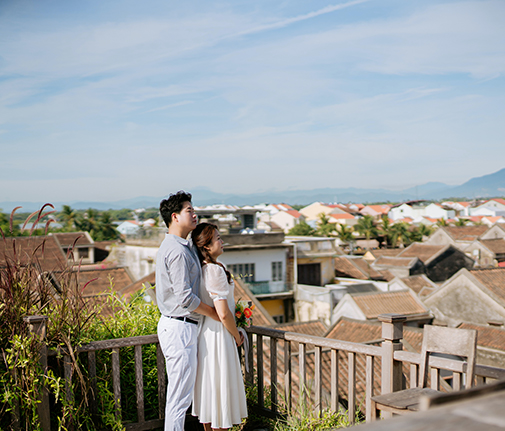 Forget gifts and go with experiences! Send a vacation from Tinggly and watch them absolutely "bug out" with excitement! They'll love reminding one another of why and how much they love each other as they explore beaches, snuggle up next to a roaring fire, or adventure in the tropics.
There's no "wrong" way to give and experience this gift!
37. Breakable Chocolate Heart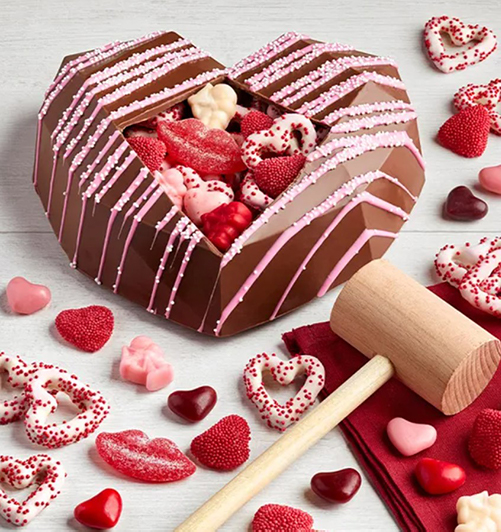 Chocoholics, rejoice — here comes a deliciously good time! This chocolate heart is actually made to be broken! Filled with decadent goodness, it's a lovely ending to a lovely anniversary party.
Made to be enjoyed when all the party-goers have dispersed and it's just the two of you, you'll love sharing this sweet treat.
38. I Love You More Forever Rose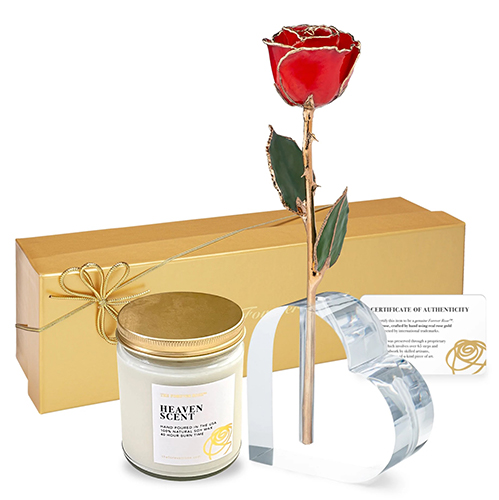 What's more romantic than a hand engraved rose? How about if you add a candle? There's romance in the air alright with this lovely set. The real rose is picked at its absolute peak of beauty and is perfection already. Then once you dip it in 14k gold… Well, the rest is history.
39. Couple Reconnect Game
Nothing is better than playing games with your person. Except maybe playing a game that is designed to get to know one another even better!
Been together 26 years and think you know everything there is to know about each other? Ha! We'll take that bet and raise it! This is a fantastic example of 26th anniversary gifts that aim to bring you closer and rekindle that youthful love.
40. Custom Photo Pillows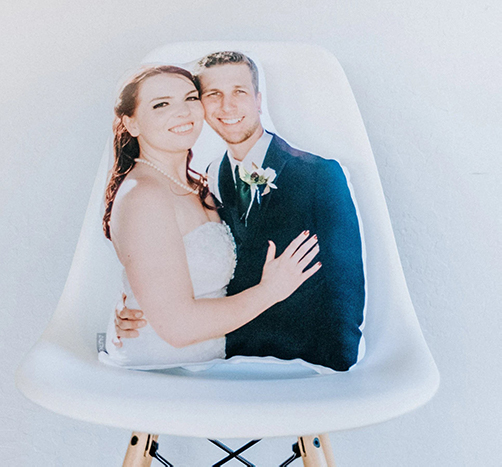 Make them laugh or make them swoon with a custom pillow! Your favorite couple will love seeing themselves immortalized on a fantastic pillow. I mean, who wouldn't want that, after all? And you can go silly or go sweet with this one.
The point is, take your favorite photograph and turn it into a darling pillow that they will love cuddling with!
Read Next: 30th Anniversary Gifts