14-year-olds are the coolest! They've outgrown (mostly) the awkward phase, still want to hang out with the old fogies (sometimes), don't drive yet (to my knowledge!), and still want to snuggle on the couch and watch cartoons (if they're in the right mood).
But what types of things make really great gifts for 14 year olds? They're clearly too big for Tonka trucks and Barbies, but too young to appreciate something practical like a really big pack of socks or a stand mixer.
Not to worry — not only are we professional gift connoisseurs, but we've had a few of these teenager types around the house ourselves, so we're bringing some experience to the table as well.
Read on for some great gifts for 14 year olds that are sure to please.
Jump To:
10 Best Gift Ideas for 14 Year Olds
Alrighty, here they are! Our top picks, the cream of the crop, best of the best gifts for 14 year olds.
There are some awesome gifts here that would be well suited to both teenage girls and boys alike, as well as a few that lean toward either the girlier or more boyish side.
So without further ado, here's our list of gifts to help you pick the best birthday present their big day. 
Our website is supported by our users. We sometimes earn a commission when you click through the affiliate links on our website. See our privacy policy & disclosures for more information.
1. Mini Instant Camera
This mini instant camera will be a big hit and is a great choice for any teenager! Transform your snapshots into instant wall art or stickers.
Sure, it's fun to hand your cell phone to your friends to see your latest and greatest selfies, but it's even better to give them one to keep.
Decorate their locker, their gym bags, notebooks, laptop, wall, and more with one of these totally old-school yet way modern cameras.
2. Catan Board Game
For the competitive youngster, Catan is a must-have! Get them off their phones and tablets with some family time that will end in laughs and memories.
Far from your run of the mill card games, this is an addictive and fun game for the whole family, and they'll love introducing their friends to it ,too.
Other fun games:
3. Lego Mindstorms Robot
Seriously, are you ever too old for Legos? You're really not. Especially when it involves robots, coding, and remote controls!
The Lego Mindstorms Robot set is simply amazing and a great way to feed their interests. Listed as fun for ages 10 and up, these sets are often used in college programs to teach physics, engineering, programming, and more.
Your 14 year old will be entertained for hours: added bonus if they have younger siblings to share the fun with. Legos and robots simply never go out of style!
4. Ultimate Self-Esteem Workbook for Teens
Give them tools for life with this self-esteem workbook for teenagers! Don't you wish you had a guidebook to get you through those awful, awkward, angst-filled years?
Finally, someone wrote one. They'll learn coping skills, confidence, and how to overcome just about anything life throws their way with this great gift idea.
5. Learn Guitar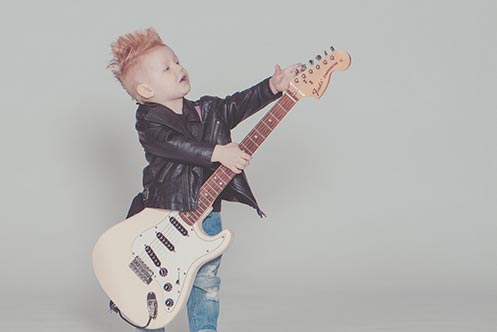 Something to do with their hands besides endlessly scroll through social media and play video games, can I get an amen?
Nearly every kid daydreams of being a rock star or a country hall of famer during their teenage years. Set them for success in that dream with a great guitar and some lessons!
Who knows, you may be interviewed down the road by a filming crew because you knew them "back when."
6. Calligraphy Set
For the artistic type, a great calligraphy set is a must-have fun gift. This one from Mont-Marte is professional and yet totally hobby friendly, too.
With all the different colors and cartridges they'll need to get started, they can be on their way to designing their own high school graduation announcements in no time!
7. Personalized Laptop Stand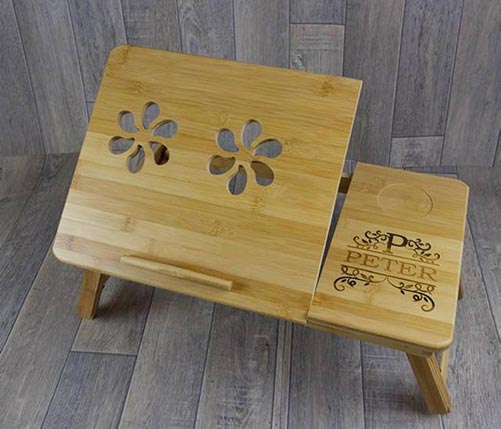 How cute is this personalized laptop stand? It's something we bet they never even knew they wanted, and now will be using almost constantly!
This is a great option for the homeschooler or gamer, too. It makes any surface more stable and makes it easier to get their work (or play) done.
8. Architect's Drawing Kit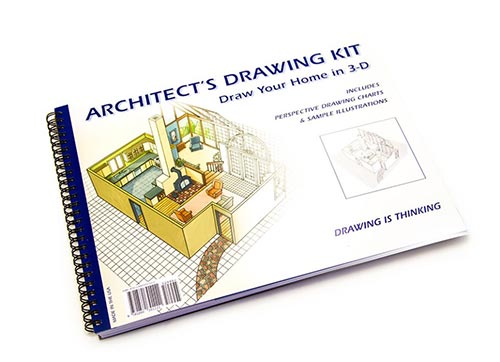 If they're into design or architecture, they are going to love learning how to draw their own home in 3D. They can do the interior, the exterior, or both, color everything in once it's all mapped out, and get their right brain/left brain working together.
With the Architect's Drawing Kit under their belt, your favorite teen will be inspired to study architecture either for fun or as a career someday!
9. Birth Flower Necklace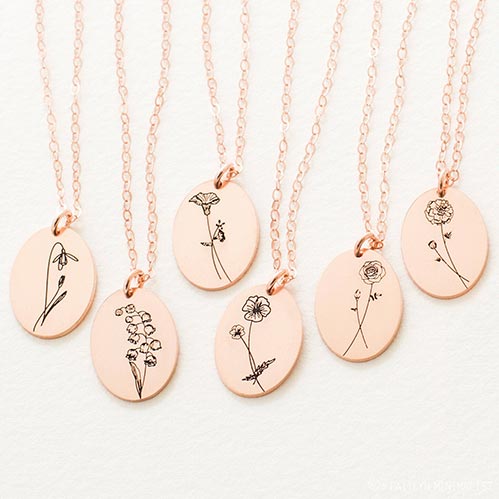 So dainty and pretty, these floral necklaces are so grown up and timeless and will look beautiful around her neck. With a rose gold hue (so trendy and sweet right now), the flower can be changed to her particular birth flower.
It will brighten up every outfit, from jeans and a t-shirt to her prom dress! Teen girls love a pretty accent necklace, and we think this one is just right.
10. Mini House Kit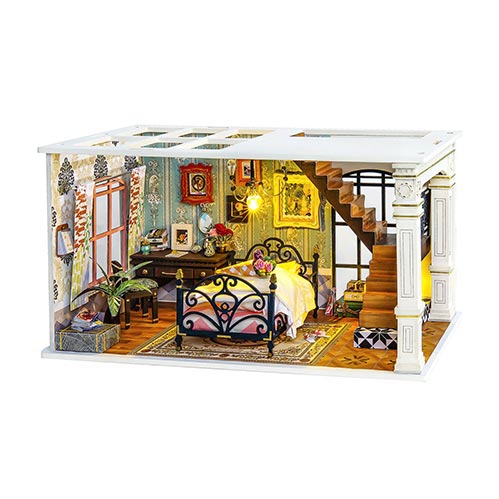 These mini house kits would make great gifts for 14 year old girls! Almost like a little 3D puzzle, these miniatures will keep her entertained and inspired until every last tiny piece of furniture is placed.
There are plenty of different designs to choose from, and wouldn't it be neat to add to her collection each year?
10 Best Gifts for 14 Year Old Boys
As you well know (you'd better, after 14 years of it!) teenage boys are their own special breed, so they need special gift ideas. Here are some great ones for your 14-year-old boy.
1. Personalized Neon Sign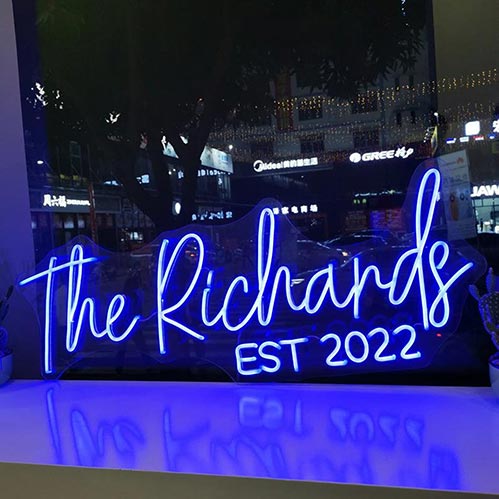 Making his bedroom really POP, this neon sign that spells out his name is sure to be a stand-out gift and a great addition to his man cub cave. After all, mom won't notice the eleven dishes and pile of dirty laundry if she's enamored with this sign, right?
And his friends will love it, too. They're going to want one of their very own, and you'll be known as the best gift giver ever!
2. Cyclone Rollercoaster
For the aspiring engineer, this is a fully functional roller coaster! Whoa! Operates with gravity (just like a real roller coaster) and has a hand crank, but can also be easily motorized.
Once the base set is put together, you can add on with expansion packs. Bonus: this ultra cool toy is designed by a real roller coaster engineer.
3. Snap Circuits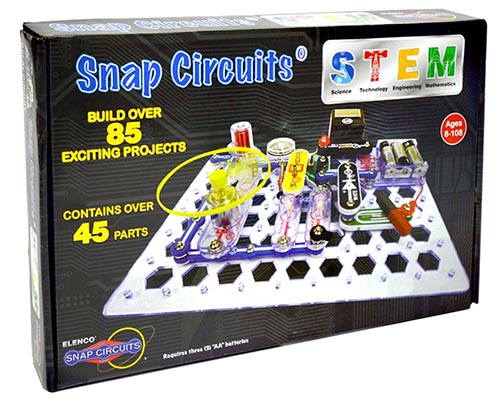 The Snap Circuits STEM pack allows you to build over 85 projects! What is STEM? Science, Technology, Engineering, and Math, of course. It's fun to build contraptions and watch them function – if you get it right!
The really neat part of these kits is that the booklet will walk your fourteen-year-old through how electricity works, one project at a time. If they finish each build (and read along with it) then they'll have a pretty good grasp on the science behind electrical currents.
Electricity, magnetism, fine motor skills, critical thinking, problem solving, spatial skills… this amazing box has it all.
4. Inspiring Artists
All these amazing art supplies – 185 pieces – at his fingertips! You'll never hear, "I'm bored" again when he has an abundance of colorful pencils, crayons, oil pastels, and even the paper all in one spot. Plus it makes for an easy clean up with its handy suitcase organizer.
5. Personalized Phone Holder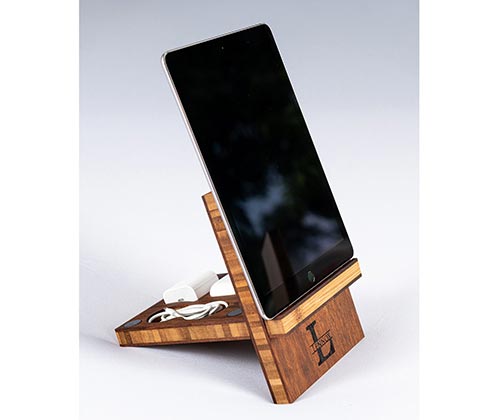 The phone goes everywhere with him in his pocket (or let's be honest, in his hand), but once he's home he needs a place to park it so he can focus on homework, binge watching his shows, gaming, or simply mooning over his latest crush.
Enter in this magnetic wooden stand that is personalized with his name! It's the perfect gift for a 14 year old.
6. Ultra Thin Wallet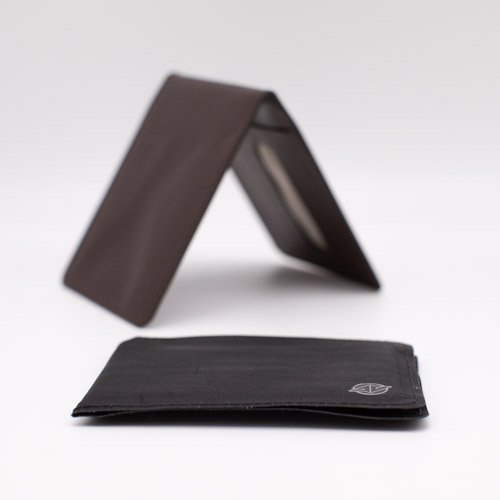 He likely only has one or two debit cards (if that), a picture of his someday girlfriend, and a few coffee stand punch cards. He doesn't need a bulky wallet that will just wear out his jeans faster! This ultra thin wallet is perfect for the 14 year old in your life.
7. 4D Great White Shark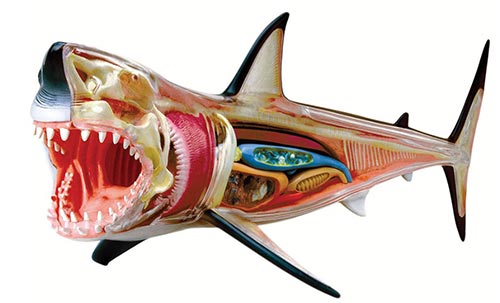 Everyone loves Shark Week, especially the boys! He'll be totally enraptured with this life like 4D Great White. It's not just fun to look at, but it's educational too. AND it will spice up his boring bedroom décor.
For the aspiring marine biologist or animal lover in general, this is just the thing.
8. Giant Beanbag
So comfortable he won't even think about just tossing his laundry on it. Teen boys need a lot of sleep for those growing limbs, and this oversized bean bag chair is bound to be his new favorite napping spot.
Not to mention a great place for reading, homework, and gaming!
9. For the History Buffs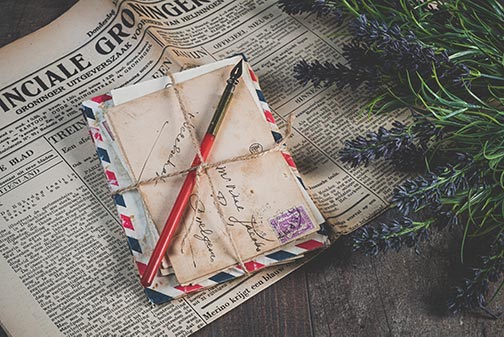 History By Mail is a such a fun way to learn important and/or little known facts about history. You can choose your subscription, and he'll learn about topics such as American wars, historic inventions, and foreign diplomacy. Even the stamps and envelopes are relevant to the times!
He's going to love actually receiving something in the mail each month.
10. Custom Sleek Watch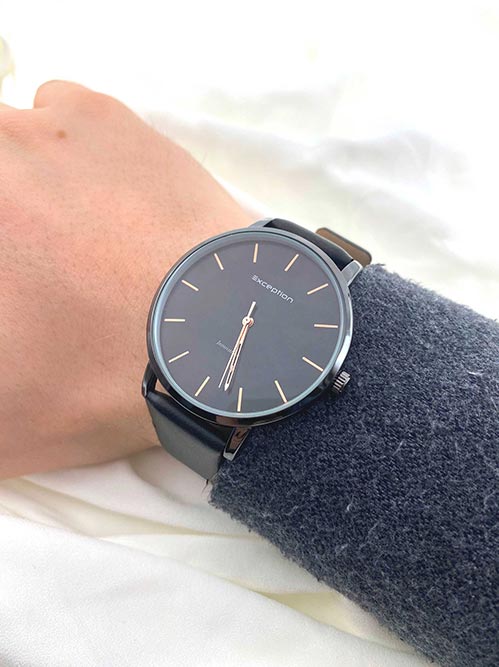 For the fashion conscience, or for when he's grounded from his phone (not that THAT would ever happen to such an angel), he's going to love this personalized custom engraved watch.
Looking like this, he may just get the cover of GQ in a few short years!
10 Best Gifts for 14 Year Old Girls
At fourteen, girls are just precious. Celebrate her new year with one of these perfect 14 year old birthday gift ideas for girls.
1. Personalized Lamp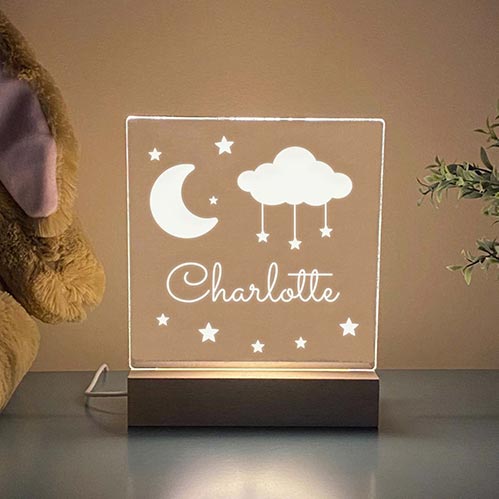 Part night-light, part decoration, part reading lamp, this moon and stars light is customized with her very own name.
Whether she keeps it on all night to light the way to a midnight snack, or simply when she's up reading past her bedtime, she'll love this adorable personalized lamp.
2. Father/Daughter Figurine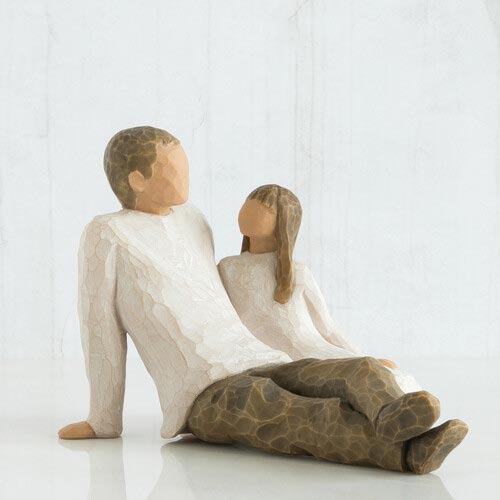 This sentimental figurine will make her smile and think of her dad (or grandpa) every time she sees it. It's sure to become a family heirloom that she takes with her wherever she goes: to college, when she gets married, when she's a parent herself.
3. Personalized Rose Gold Computer Mat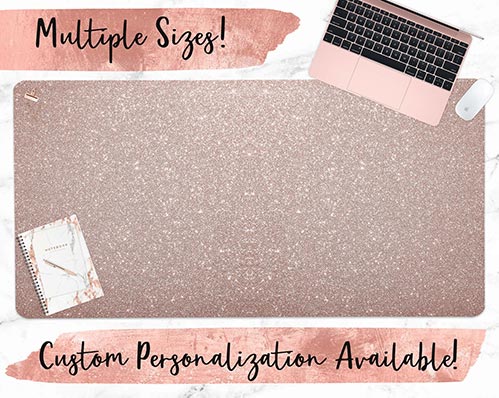 Make her desk sparkle with this rose gold computer mat. It will instantly transform her homework space and make her feel like a million bucks!
It might even inspire her to… you know… clean off her desk? What's next, her whole room?! Whoa. This is one magical mat.
4. Fairy Lights for Photos
This fairy light string is perfect for displaying all of her photos! Of which you know she has several hundred … Whether it's all her selfies, her boyfriend of the moment, her BFFs, or simply shots from her photography class, they'll all get treated like royalty.
Once hung, her room will look gorgeous bathed in shimmering lights and showing off her loved ones.
5. Skinfood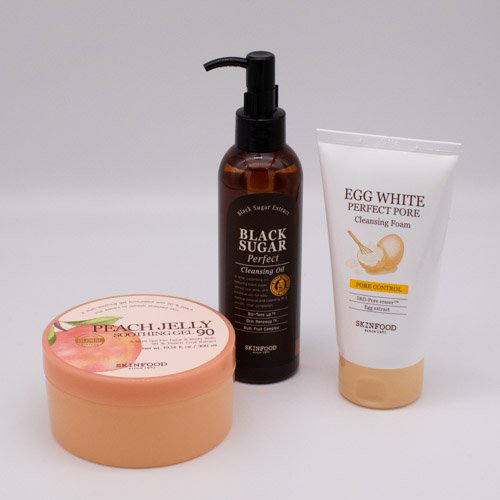 Skincare is important for any age, but the teen years are especially fundamental for creating a good cleansing and moisturizing habit.
The creative company Skin Food uses food as their basis for all their skincare ingredients, from peaches to brown sugar to pineapple to egg whites to honey. All natural and soothingly unique, these skincare products smell as delightful as they work!
6. Lama Shoes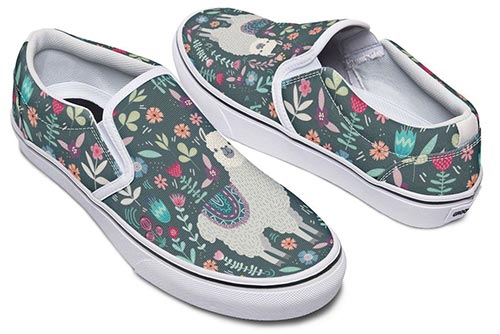 Girls have loved shoes since they bought their first pair! Let her dress up her outfit with this crazy and zany llama slip-ons.
They'll match every bit of clothing she owns, and they're sure to instantly become her very favorite footwear.
7. Best. Daughter. Ever Tumbler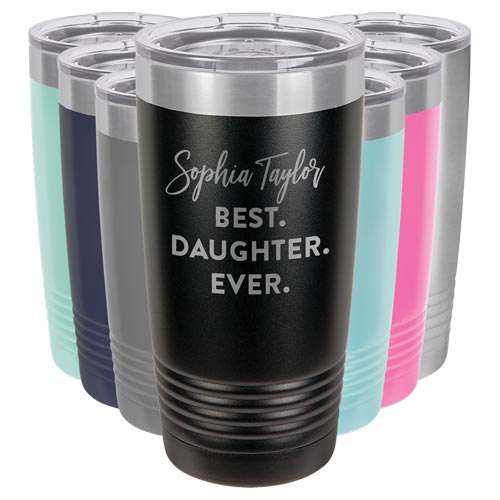 Tumblers are so handy for staying fresh and hydrated, and these custom engraved ones are just the best!
Available in a wide variety of colors and able to personalize them however you like, they stay hot for hours and stay cold for even longer.
8. Flower Resin Keychain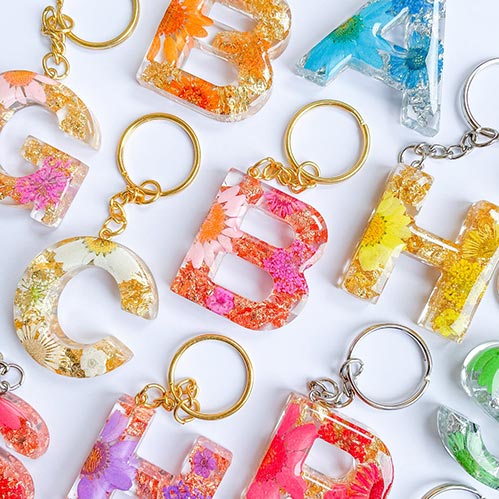 Um, yeah. You know she'll be driving in like a year, right? Might as well get her keys organized now, with one of these pretty floral keychains.
She can keep her house keys, gym locker keys, and her soon-to-be-her-very-own car keys all in one handy spot.
9. Fashionable Boho Jewelry!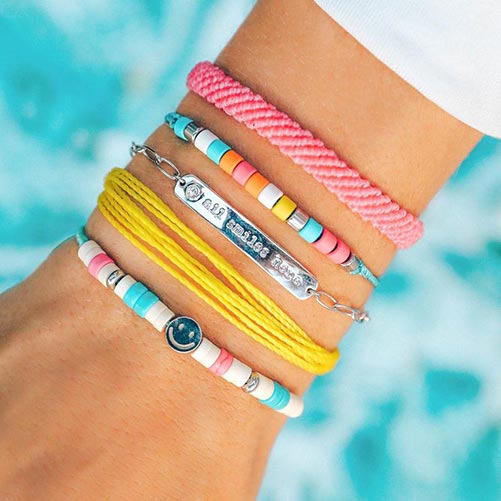 The boho trend never goes out of style, with its laidback beachy vibe. These cute boho bracelets are light enough to not get in the way of her active lifestyle, but still brighten up her look.
She'll feel dressed to the nines but in a casual way!
Related: 21 Best Beach Gifts for Beach Lovers
10. Dear Future Me
Journaling is so important for mental health, and don't you wish you could have written in a book like this when you were her age to read later?
We don't know what's more fun: writing in it now or reading it years later! She'll love the prompts and creamy paper, not to mention the great teal color.
Related: Custom Engraved Leather Journal
14 Year Old Party Ideas
A murder mystery party. Whether you purchase one in a box or buy one online, most of the work is done for you. Guests will have a blast dressing up as their characters and acting out a murder mystery to solve.
A camp out. For the real experience, book a couple of campsights next door to one another and pack all your camping supplies. But you can also just pitch a tent in the backyard as well (and the bathroom accommodations are better).
Have a sushi party. There's something about sushi that just makes a teen's belly happy! Whether you buy all the supplies and they make their own, or you order in, this is one party that will have some happy guests.
Do an experience together. Whether it's ziplining, a road trip, the aquarium, a tree house camp, or a ninja obstacle course, the sky's the limit! Let her pick her favorite 2-5 friends and have a blast.
Read Next: Best Gifts for 15 Year Olds