Today is a big day, because you're looking for 20th anniversary gifts. This means your marriage is fully adult! No more teenage angst, and just one more year till you can drink!
Okay, we're being silly, but in all seriousness, 20 years of marriage to the one you love is a big deal.
Whether you're looking for the perfect gift for your sweetums of two decades, or a gift for your friend's anniversary party, we've scoured the globe to find some incredible options.
Our website is supported by our users. We sometimes earn a commission when you click through the affiliate links on our website. Learn more here.
All About the 20th Anniversary
Table of Contents
This is part of our series on Anniversary Gifts by Year.
20th Anniversary Themes
What is the traditional 20 year anniversary gift?
China.
Why is China the traditional 20th anniversary gift?
China is delicate, but also stands up to daily use in meeting your needs (just like your marriage).
What is the modern 20 year anniversary gift?
Platinum.
Why is platinum the modern 20th anniversary gift?
Strength and eternity come together in platinum. It's also rather expensive, making it perfect for a special gift.
What is the 20 year anniversary stone?
Emerald.
Why is emerald the twentieth anniversary stone?
Emerald represents faithfulness and unchanging love.
What is the 20th anniversary flower?
Day Lily.
What is the 20 year anniversary color?
Emerald green, of course!
10 Best Twentieth Anniversary Gifts
Let's get to the gift ideas! Here are some of our favorites that incorporate the 20th anniversary gift themes we've noted above.
1. Classic Churchill China Set
If you're lucky enough to still have your wedding china all intact (and who does, really?) your beloved will still feel like it's time to replenish the cabinet with something fresh and lovely like this classic set from Churchill. Timeless and oh-so classy, you'll be proud to toast your anniversary over a beautiful dinner served on these china plates.
2. Life is Beautiful… Anniversary Card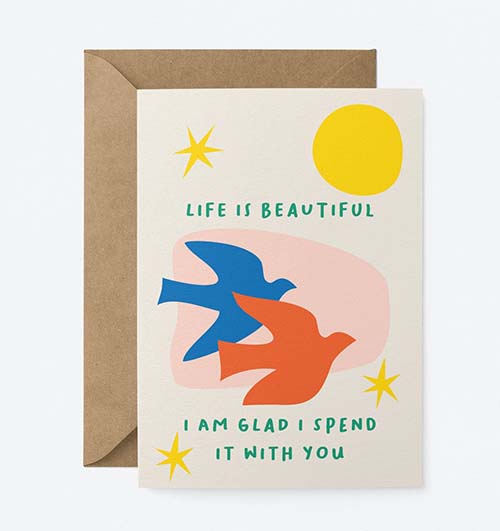 Give a card that is really a gift, like this one! Your spouse will love the cherished sentiment and the beautiful design. Once opened and read, it will look adorable framed and hung on the wall.
Looking for an easy-to-print anniversary card? Check out our store!
3. Love Birds China Necklace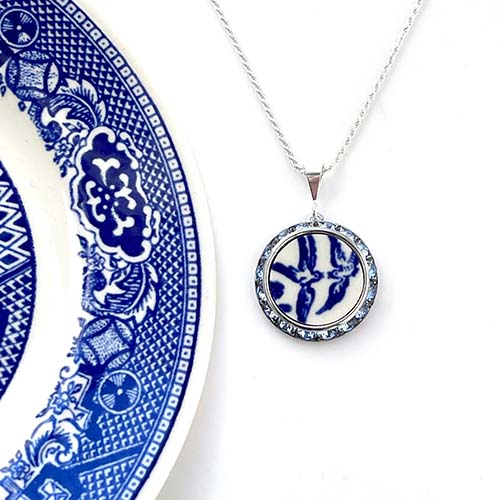 Made with vintage Blue Willow china, this pretty pendant is perfect for the 20th anniversary, and your jewelry lover will adore it! It will look just as stunning with a casual t-shirt and jeans as it will paired with a little black dress.
4. Day Lily Flower Print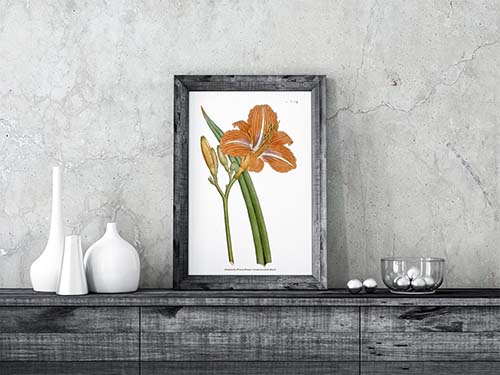 Day lilies are the traditional flower for the 20th anniversary, and this pretty print will last a lot longer than simply gifting her a bouquet of them! Your beloved will treasure this charming work of vintage art, and it will look perfect hanging on the family wall.
5. Custom Bobbleheads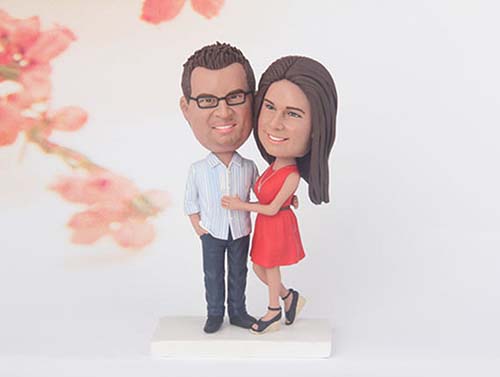 If giggles and laughter describe your marriage more than serious and dull, then custom bobbleheads are the way to go! Your spouse will get a kick out of the two of you transformed into everyone's favorite desktop tchotchke.
6. Vows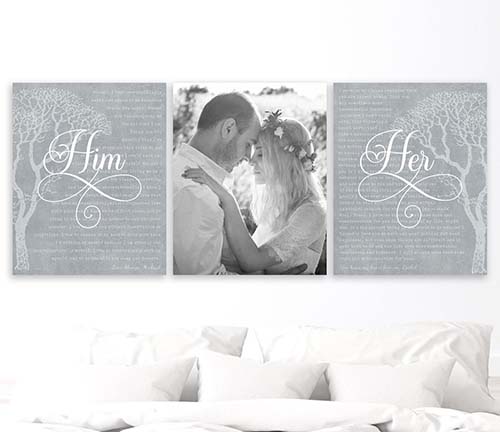 Have your vows (or your wedding song, favorite poem, etc) transcribed onto a lovely and one-of-a-kind canvas! Nestled in between his and hers vows, your favorite photo of your special day takes center stage, making this beautiful set the perfect gift for the sentimental romantic.
7. Lily Filled Vase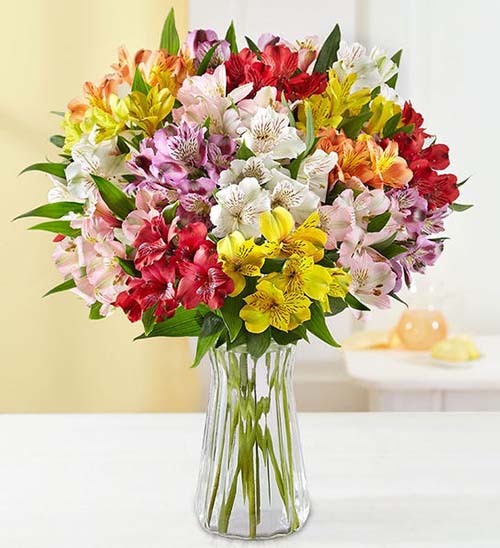 If flowers are her (or his) favorite accessory and home accent, they will love this lavish lily filled vase! Representing the delicate blooms of romance, this gorgeous bouquet will light up the home year-round.
8. Custom Engraved Cutting Board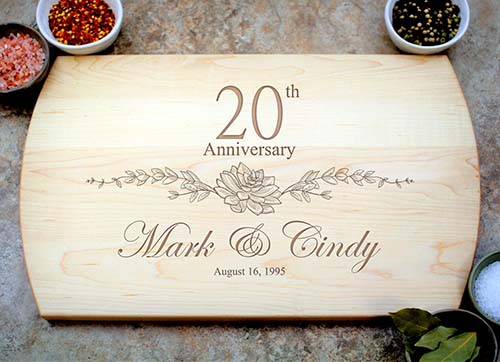 Give a gift that will last another 20 years, like this custom engraved cutting board! The perfect size and shape, you can have it engraved with whatever little sentiment and expression you like, from your pet names for one another, to your wedding date, or the business you own together.
9. Personalized Minimalistic Ornament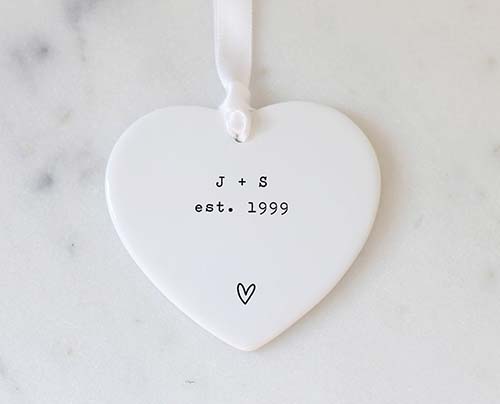 This simple but very pretty little pendant will charm your soulmate! Etched with your initials and your anniversary date, the 30th anniversary ornament will look great on the Christmas tree, dangling in a window, or hanging from the rearview mirror.
10. The Anniversary Clock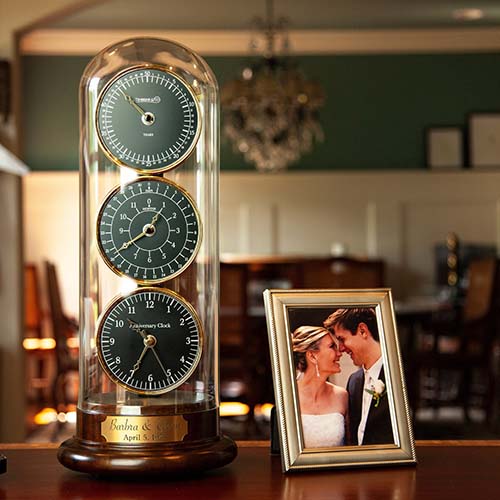 This clever and unique clock shows the year, time, month, and day of your special anniversary. If that weren't awe-inspiring enough, it also plays your song! We think this gift is a real winner and is sure to completely delight whomever is lucky enough to receive one.
Traditional 20th Anniversary Gifts (China)
11. Real Gold, Bone China Nesting Bowls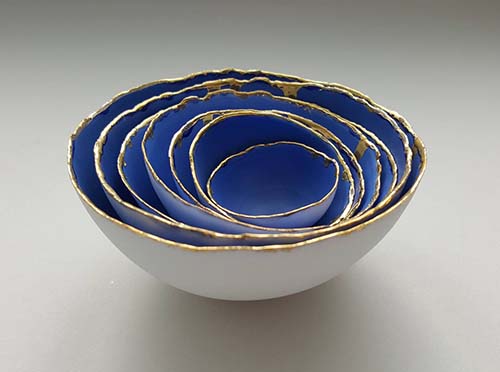 These nesting bowls are perfect for your friend's who are difficult to shop for! They have a timeless style about them, and will come in handy for everything from holding trinkets to serving dinner.
12. Personalized Vintage Flower Mug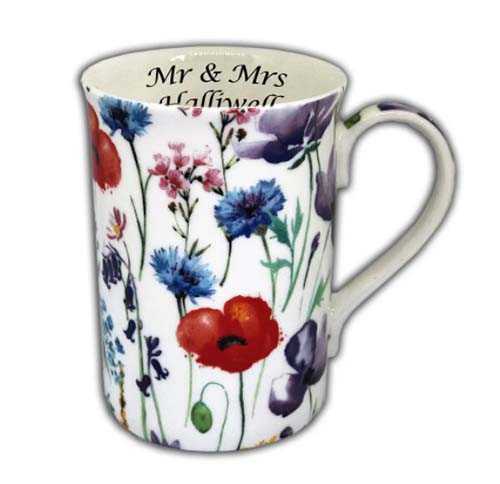 This vintage china mug is colored with bright blooms and personalized for the happy couple! A simple gift that still packs a sweet punch.
13. Floral China Jar
For a sweet and thoughtful gift, fill up this beautiful floral jar with your spouse's favorite candies.
14. Bone China Tea Set
A bone china tea set that is as beautiful as it is practical and useful. Tea lovers will savor brewing a hot cuppa when they have this pretty set to sip it from.
15. Set of 3 Flower Vases
This set of three porcelain/china vases are etched with stunning blue and white and make an adorable pairing. Whether you fill them with flowers, makeup brushes, utensils, or pencils, they really brighten up the space!
Modern 20th Anniversary Gifts (Platinum)
16. Personalized Vinyl Record Wall Art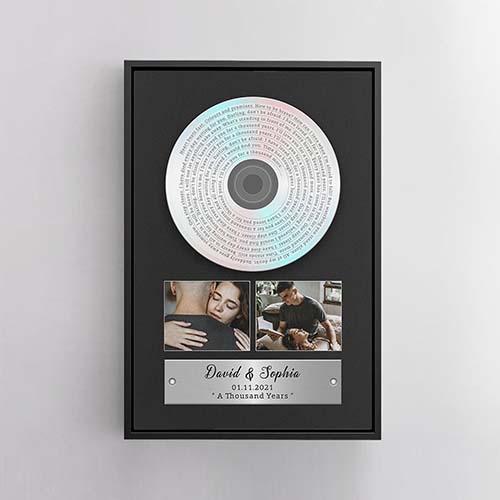 This clever 20th anniversary gift takes your favorite photos, your names, date, and the lyrics to "your song," and turns them all into the best gift we've seen in a while! This will stun your partner and will look amazing hanging on the wall.
Related: 10 Personalized Gifts for Couples
17. Engraved Pocket Necklace
Sometimes the simple and elegant choice is best! Just like this pretty engraved locket necklace. Whether you engrave it with her nickname, a sweet sentiment, or just your wedding date, she will love wearing it on a daily basis. We bet she won't ever take it off!
18. Platinum Dipped Rose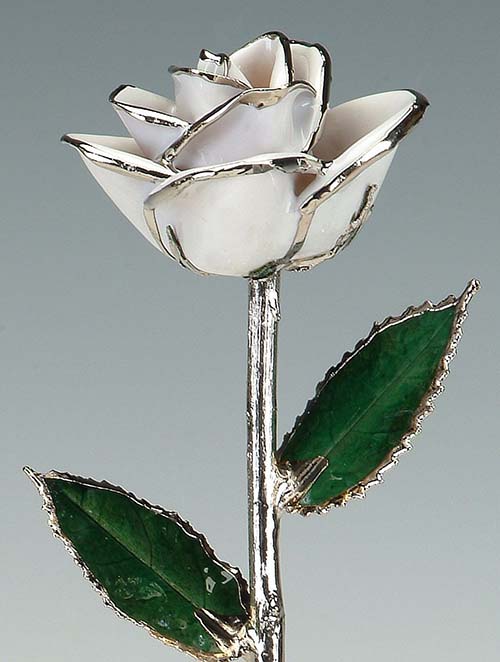 For the romantic, this platinum dipped rose hits all the right notes. Your sweet pea will love feeling lavished and spoiled with such a beautiful gift. And it really is made from a real rose!
19. Platinum-Plated Ballpoint Pen
A great pen is worth its weight in… platinum! For the doodler, the list maker, the executive, the poet – really, for everyone – this pen is stylish, weighted perfectly, and is oh-so handy to have at the ready.
20. Matching Ring Band Set – His & Her's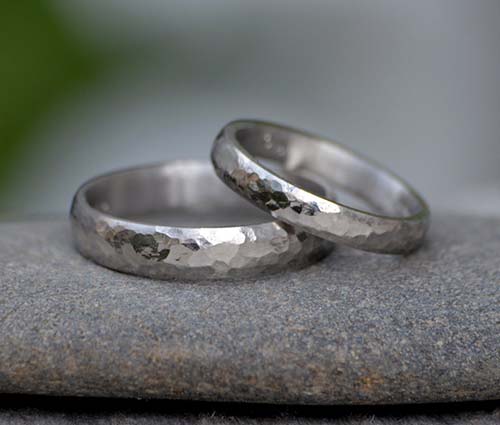 New rings are a great way to signify such a momentous occasion as your 20th anniversary. Check out these simple and timeless ones, made of platinum and decorated with a special hammered technique. So elegant!
20 Year Anniversary Gifts for Her
21. Emerald & Gold Ring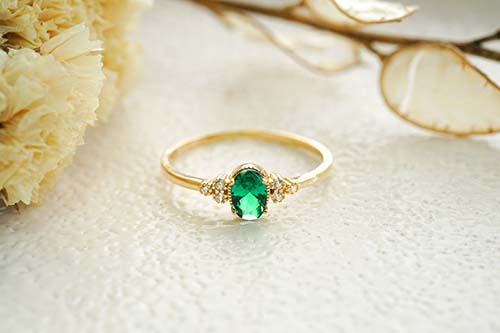 Two decades with you – that's an accomplishment. She definitely deserves a new ring this year! This one, with its combination of emerald and gold, is sure to make her eyes light up. It's delicate yet strong, just like her.
22. Dried Flower Bar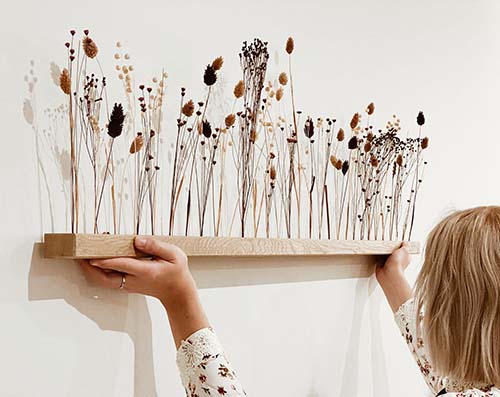 If farmhouse decor is her thing, she'll love hanging this pretty and old-fashioned flower bar on her favorite wall in the house! A rustic and beautiful way to spruce up the room.
23. Personalized Ring Dish
A place to put her rings and remind her of your love for her all at once. She'll love this personalized dish and probably will wish she had one in each room of the house. Of course she's welcome to use it to hold other trinkets like car keys, decorative soaps, or office supplies.
24. Forget Me Not China Bracelet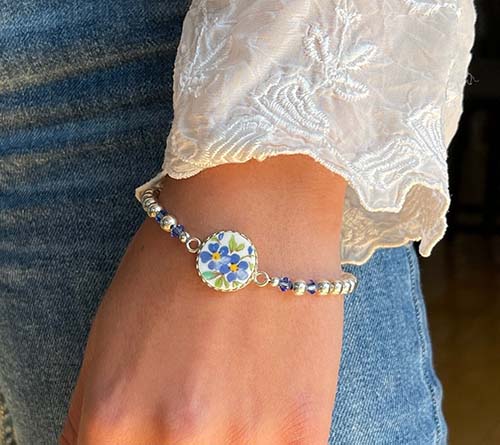 This pretty little forget me not bracelet is made from broken china and is very boho in style! It will look so pretty on her wrist, whether she pairs it with her everyday casual wear, or out for a fancy night on the town with you!
25. Photo Collage Lamp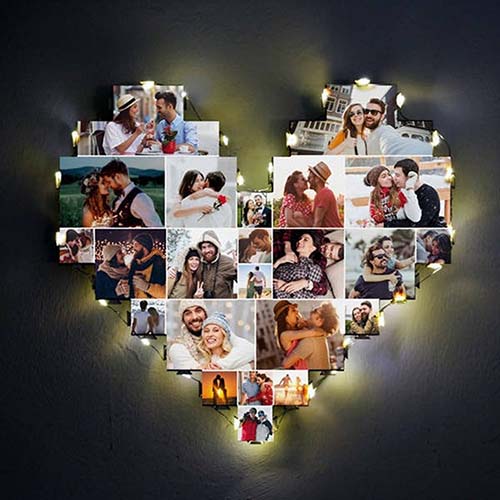 Completely personalized, this photo collage lamp is truly one-of-a-kind. She will "light up" at all the photos thoughtfully picked out by you. Plus the sweet little fairy light inspired lighting effect is totally romantic!
Related: 9 Personalized Photo Anniversary Gift Ideas
20 Year Anniversary Gifts for Him
26. Emerald Green Pocket Knife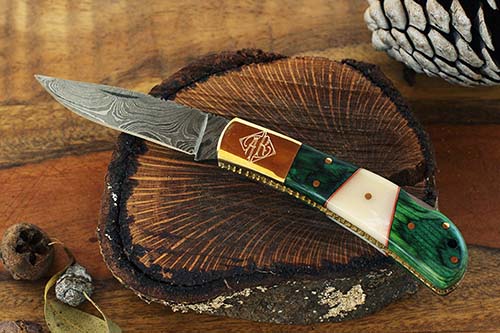 A good pocket knife is a must-have. He'll love the emerald green color of this great knife, almost as much as he loves you. (Nah, not that much.)
27. Trophy Husband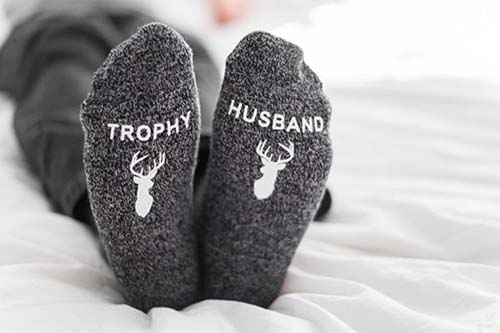 These funny and furry socks will make him laugh! If you've always called him your trophy husband, he'll proudly wear these on the daily (maybe get him two pairs so they can be washed)!
28. I Will Always Pick You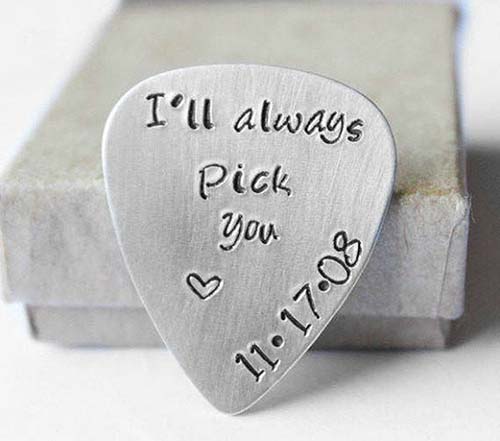 Just a sweet reminder of your love and commitment, this cute silver trinket can easily be tucked into his wallet, pocket, or kept out on his nightstand. A sweet way to show you care.
29. Dark Green Emerald Ring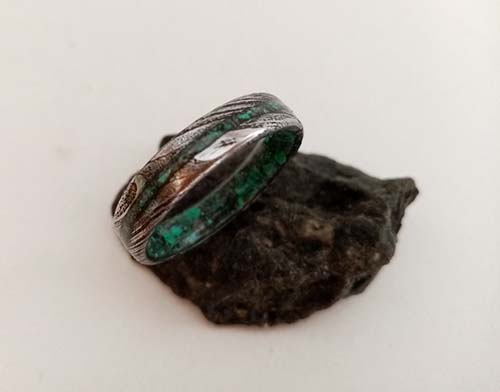 Men like jewelry too! This stunning dark green emerald ring will really look amazing on those hands you love so much. It has a rustic, manly feel to it – we love the allure!
30. Whiskey Glass Set
Because he has aged like a fine whiskey, don't you think? He'll love this timeless and stylish set of whiskey glasses, even if he prefers a Scotch or a bourbon (we won't tell). The platinum accents really make them great for the 20th anniversary as well.
20 Year Anniversary Gifts for Couples
31. 3D Photo Crystal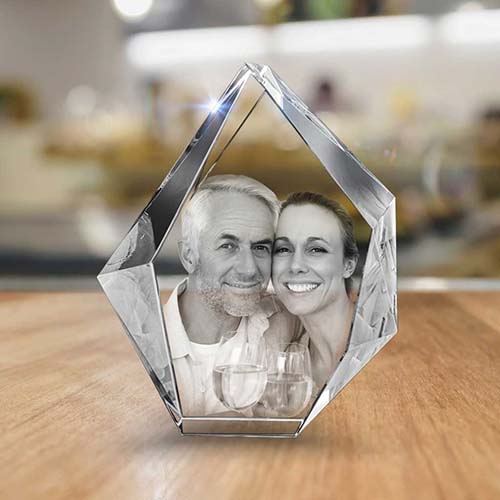 For the truly romantic and mooshy PDA specialists, this 3D photo crystal is just the thing! They'll love seeing their favorite photo of their big day light up and sparkle throughout the room.
32. Anniversary Date Constellation Map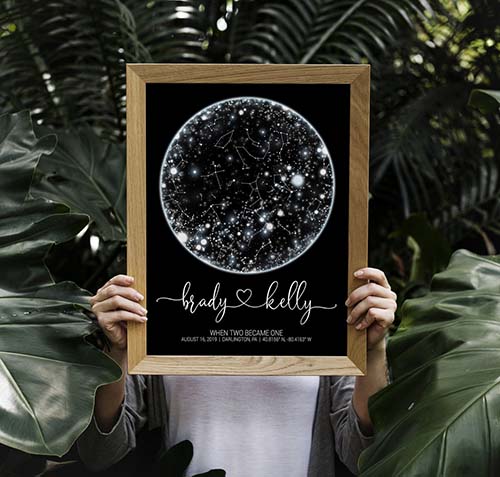 Truly one-of-a-kind and remarkable, they'll ooh and ahh over this amazing constellation map! Such a clever and unique gift, we're sure the first words out of their mouths will be, "Wow!" Followed by, "Where in the world did you get this?"
33. Personalized Wood Photo Album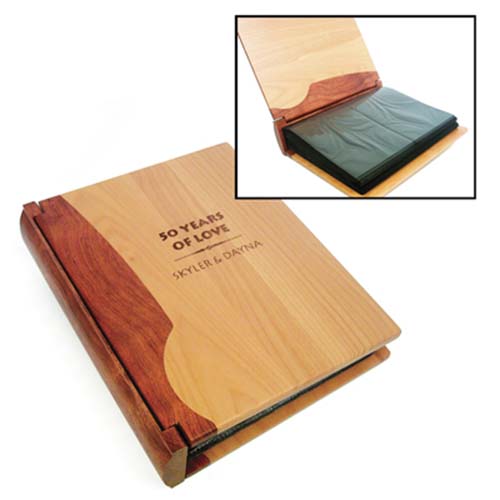 Made from maple and rosewood, this pretty photo album is totally unique and totally them! Engraved with their special date and their names, it's a lovely way to show off all of their photos from that day (it holds up to 200).
34. 20th Anniversary Newspaper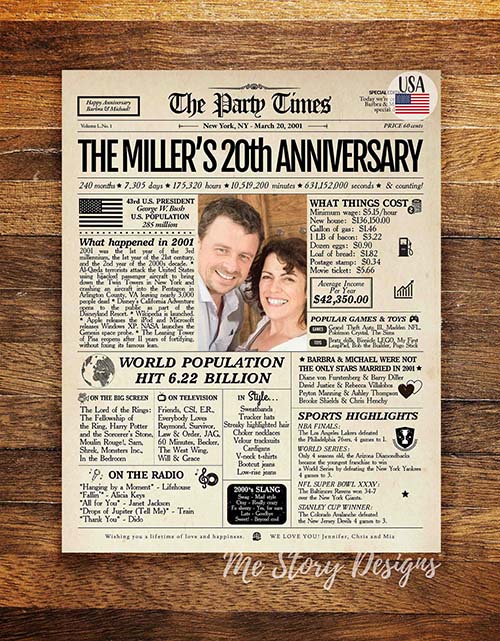 Go back in time with this fun 20th anniversary newspaper! Handmade and totally personalized, it's so much fun to remember what things were like back in the day. A whimsical and charming work of art that they will love.
35. Duet Framed Plaque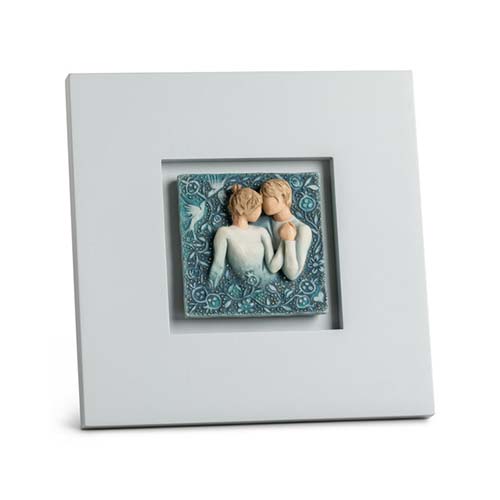 From Willow Tree, this duet framed plaque is a lovely gift when you want to show how much you admire their love. With soft, muted colors, and a style that transcends time, it will look perfect wherever they choose to hang it.
Unique Twentieth Anniversary Gifts
36. Projection Photo Necklace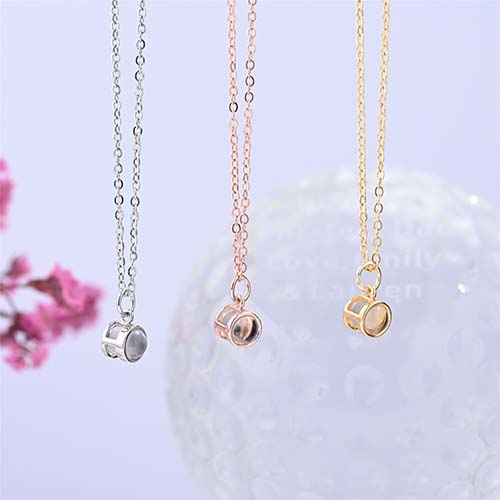 This projection necklace holds the teensiest of photos inside! A totally unique gift like no other, this fun and pretty pendant will inspire lots of ahhhs and awwws.
37. Vintage Day Lily Plates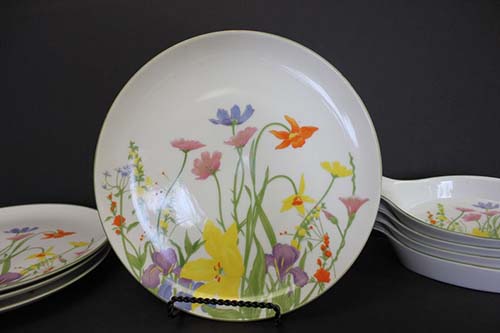 Vintage and charming, these day lily plates will brighten up any brunch or tea party! They'll love using these time and time again, and admiring their bright colors and cheery lilies.
38. To a Lifetime of Ice Cream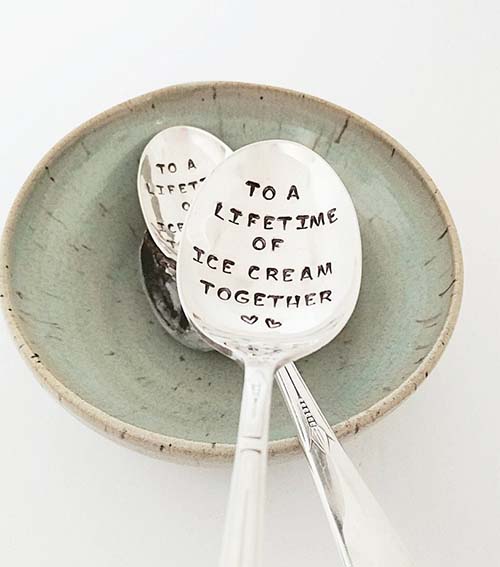 These spoons are perfect for the ice cream loving couple! They'll cherish (and use) these spoons on a daily basis, and definitely keep them out on display when not.
39. Relaxing Travel-Inspired Candles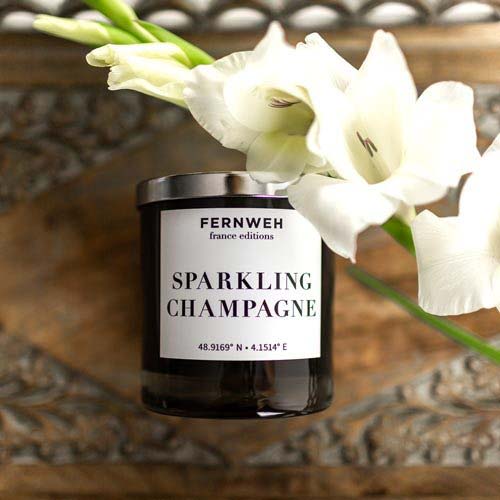 Good candles are always a great gift, and these ones, which are inspired by travel and destinations, are the perfect choice! Whether you just gift one or a whole set, their house will smell divine and will have glowing, warm ambiance, too.
40. Reasons Why I Love You
Fill out this romantic journal of all the reasons why you love your significant other and watch them light up! Words of affirmation and communication are so important in a marriage and keeping them written down means they last forever.
Read Next: 21 Amazing Gifts for Couples
Pin It