There are struggles with any marriage, along with much joy. You have made it to your 7th anniversary, and that's a great accomplishment. It's a testament to your love for one another. Congratulations!
Your loved one deserves a fantastic 7th wedding anniversary gift to celebrate this milestone. You know it (that's why you're here), we know it (that's why we wrote this article), and your spouse knows it (that's why you married them).
Whether you're looking for a traditional idea, a contemporary theme, something completely different, or are simply curious about the flower or gems for year seven, we'll tell you everything you need to know about the 7th anniversary gifts and traditions.
C'mon and let's celebrate your marriage with a wonderful gift!
Our website is supported by our users. We sometimes earn a commission when you click through the affiliate links on our website. See our privacy policy & disclosures for more information.
All About the 7th Anniversary
What is the traditional 7 year anniversary gift?
Copper is the traditional material for a 7th anniversary gift.
Why is copper the traditional seventh anniversary gift?
Copper is bright, beautiful, and durable (like your relationship – get it?). It represents love and protection.
What is the modern 7 year anniversary gift?
In recent years, stationary has become a contemporary theme for the year seven anniversary.
Why is stationary the modern 7th anniversary gift?
Stationary is symbolic of the pride in the work you've done together as a couple, and indicates a relationship built on good communication.
What is the 7 year anniversary stone?
Onyx is the traditional gemstone for 7th anniversary jewelry gifts.
Why is onyx the seventh anniversary stone?
Symbolically, onyx is thought to protect couples from strains on their marriage, as it is made up of opposing bands of black and white.
What is the 7th anniversary flower?
Arisaema triphyllum is the traditional 7th anniversary flower, popularly known as Jack-in-the-Pulpit.
What is the 7 year anniversary color?
Yellow (or off-white).
10 Best Seventh Anniversary Gifts
Now that you know the proper themes for the 7th anniversary, we're going to kick off our gift guide with ten of the best wedding anniversary gifts ever, most of which incorporate one or more of these themes.
After this, we'll cover copper (traditional) gifts, stationary (modern) gifts, plus ideas for him, for her, for couples to share, and much more. Read on!
1. Wedding Sculpture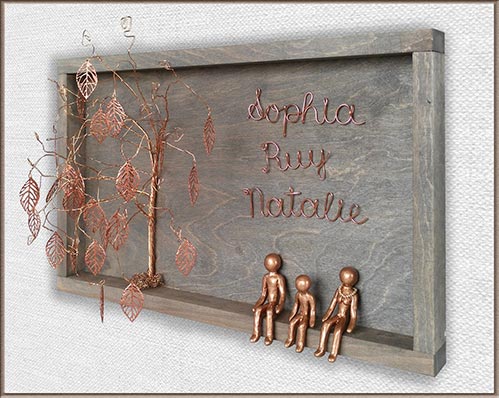 This 7th wedding anniversary sculpture is handcrafted so no two will be alike! The sculpture plaque is a stunning way to keep track of your family tree.
Each figure is painted with copper-colored paint, which of course represents your 7th anniversary year.
2. Calligraphy Set
A hand-made wooden pen is the center of this calligraphy set. The set pairs perfectly with stationary, includes 11 extra nibs, and will help anyone to compose their letters and notes in beautiful script.
This set is great for the beginning or master calligrapher. It's a modern anniversary gift that they will cherish and use again and again.
3. Love Birds Cutting Board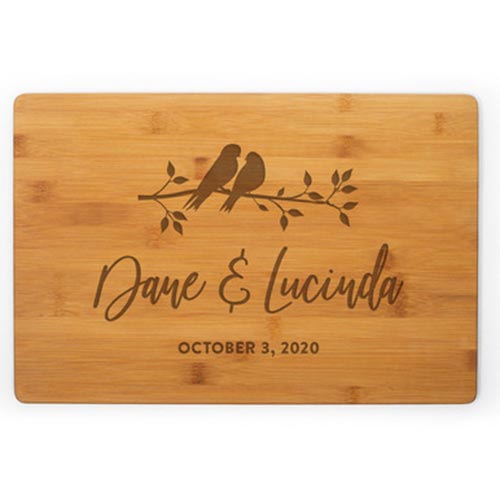 Everyone could use a beautiful cutting board! And this one is extra special featuring love birds with names and dates that your spouse will fall head over heels for.
The cutting board is made from solid bamboo and will last for years of use. The board can also be displayed for a cute decoration in any kitchen for you to enjoy for years to come!
You could make a case that it's somewhere between yellow and off-white, but more importantly it's simply a great gift idea for your beloved.
4. Copper Stationery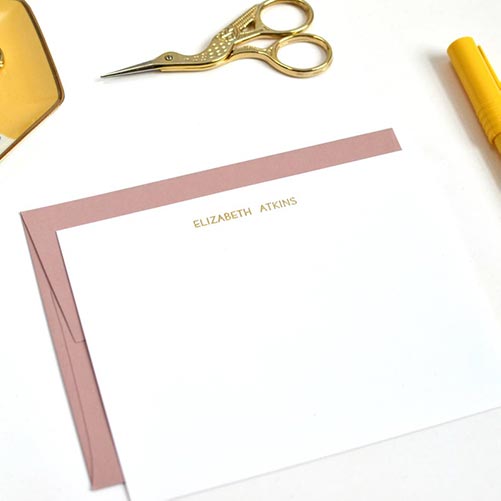 Choose custom stamped stationery to add a touch of elegance and class to your letters. The envelopes have 11 optional colors to pick from so your spouse will be able to get it in their favorite color!
Foil stamped on high-quality paper and paired with the envelope color of your choice. Makes a thoughtful 7th-anniversary gift with a contemporary stationary theme and a traditional accent of copper.
5. Message in a Bottle
Send your spouse an authentic message in a bottle! This striking 12-inch tall glass bottle comes with sand and seashells along with a vellum scroll printed with your own romantic message. All delivered in an elegant wooden crate.
It's a gift sure to make them smile over and over. The box and sand are, of course, yellow/off-white!
6. A Tree in Their Name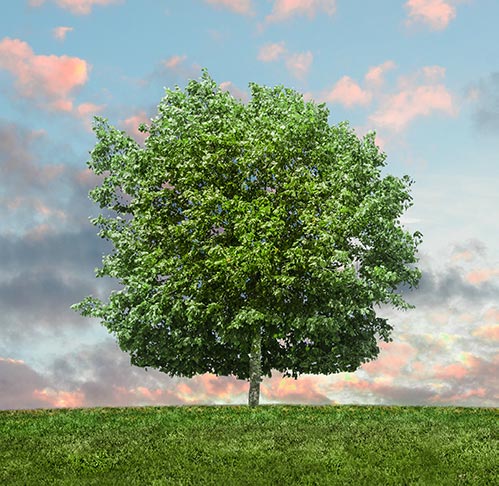 When you plant a tree in someone's honor, it means paying tribute in a way that makes a difference. So, not only will you be giving a thoughtful 7th anniversary gift, but you will also be helping a struggling area in a U.S. National Forest recover from the effects of fire.
Once the planting is complete, your loved one will receive online access to information that will provide the exact location as well as a photo of the tree.
This is a gift to last for centuries, something for the person who loves nature and appreciates a deeply meaningful gesture.
7. Personalized Photo Box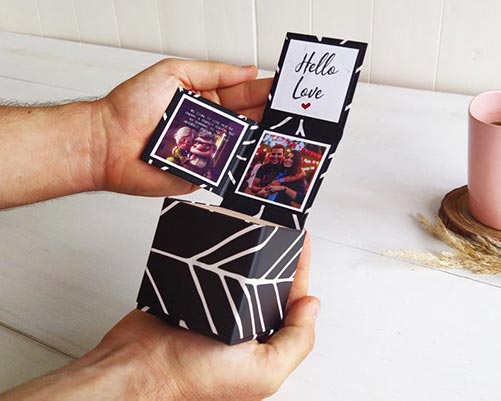 Here's magical way to bring back the happiest of memories! Upon opening the box, pictures will unfold and create a beautiful collage of keepsakes.
The box is magnetic, so your loved one can place it on your fridge door to enjoy always. The black with white streaks are reminiscent of onyx.
8. Personalized State Wall Art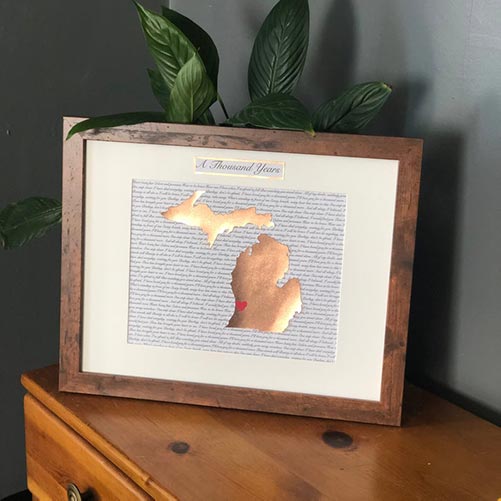 With this personalized state wall art, you can immortalize where you met, where you were married, or any other event that you would like. Add names, your date, and even your song.
An individual, hand-made wall hanging that is completely customizable including frame finish, text, and location. The state of your choice will be displayed in a beautiful copper color, or any other color you choose.
It will serve as a beautiful reminder of why you would marry each other all over again.
9. Personalized Royal Blue Cards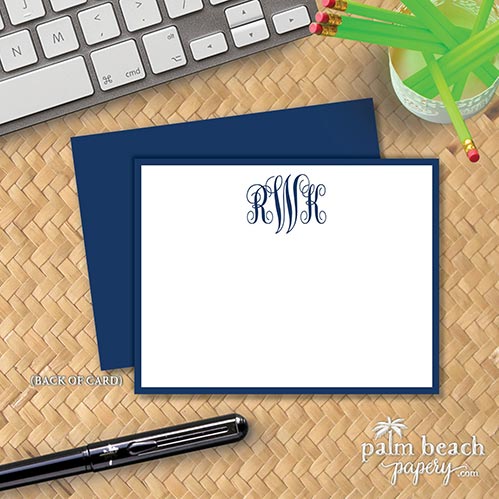 Classic monogrammed note cards add a touch of elegance to any occasion. These hand-made cards can come in your choice of font and ink color so make sure to pick your significant other's favorite color!
A thoughtful gift that is sure to be appreciated. Here are some ideas to help you write the perfect anniversary message in your card.
10. 7th Anniversary Keychain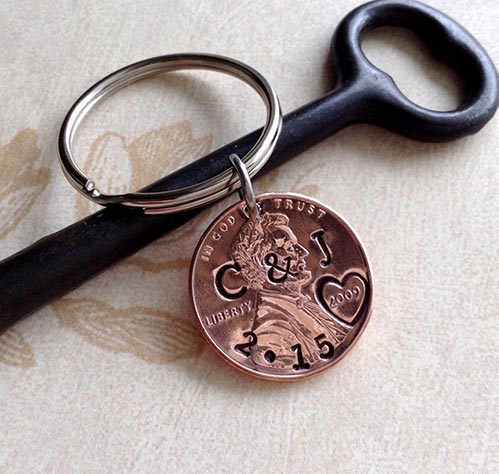 Keep this lucky penny close to celebrate your 7th year anniversary. Engraved with your initials and the date of your marriage, it's a fun, personalized, copper-themed keepsake.
Traditional 7th Anniversary Gifts (Copper)
11. Copper Rose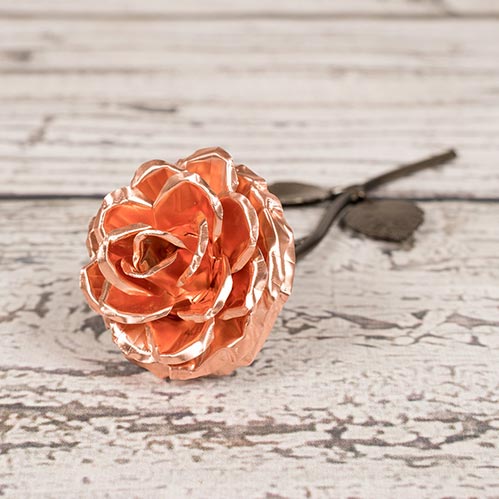 The handcrafted rose signifies seven strong years of marriage. Because it is made by hand, every rose is different from the one before. No two are ever alike – just like the love you two share!
The sculpture will last a lifetime and will be treasured for just as long.
12. Copper & Gemstone Good Luck Tree
This lovely copper-wrapped tree can be anything you want it to be for your spouse – a feng shui tree, a wishing tree, a healing crystal energy tree, something to fidget with, or even something to make their home or office extra-pretty.
In addition to the copper symbolism, the tree and branches symbolize family and its strength.
13. Copper Gardening Tools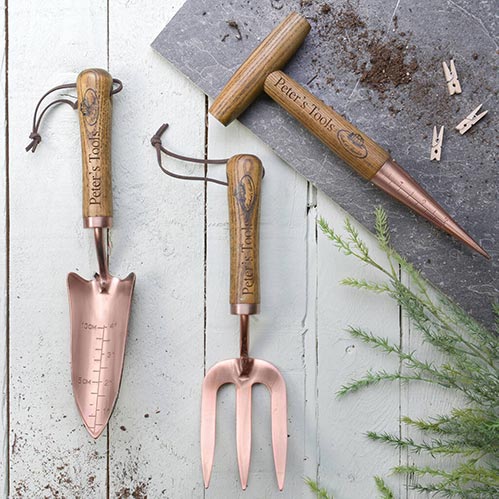 A set of handcrafted copper garden tools is wonderful for the gardener who is hard to buy for! The tools have been marked with inches and centimeters, so no more wondering how deep to plant.
This set of tools will last a very long time and will be used again and again. Find even more gifts for gardeners here.
14. DIY Copper Gift Ideas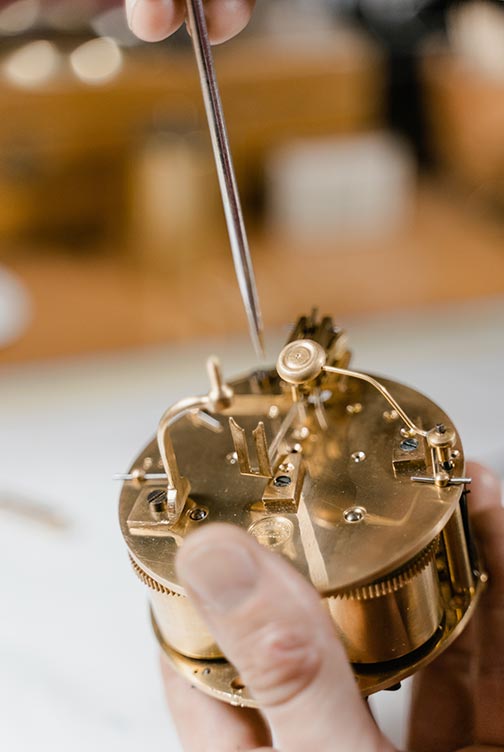 Working with copper brings out your artistic side. You can either surprise your spouse with one of these thoughtful crafts or both of you can enjoy plenty of DIY projects to brighten up any room in your home!
Want to make a DIY gift? Visit The Crafted Sparrow, and find 60 things you can make with copper! It's the perfect project to share.
15. Copper Clock
The special design of these clocks is what makes them so attractive. The patina look makes it look aged and weathered.
A decorative copper clock that will add beauty to any room, making it the perfect 7th anniversary gift.
Modern 7th Anniversary Gifts (Stationary)
16. Personalized Botanical Note Cards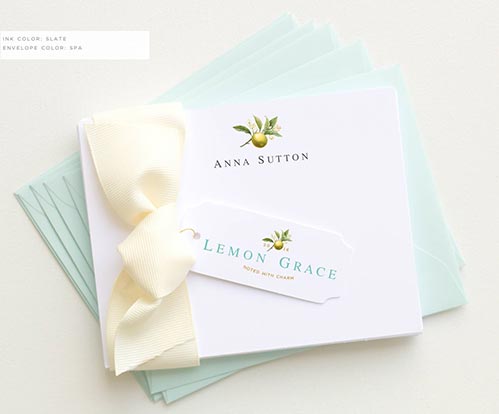 Handmade from premium paper, Lemon Grace Personalized Stationery always makes for a delightful gift that your spouse will just adore.
These personalized cards make wonderful thank-you gifts, invitations, or short "just because" handwritten letters. Let your creative side free and make this gift more personal with a handwritten note.
17. Stationary Holder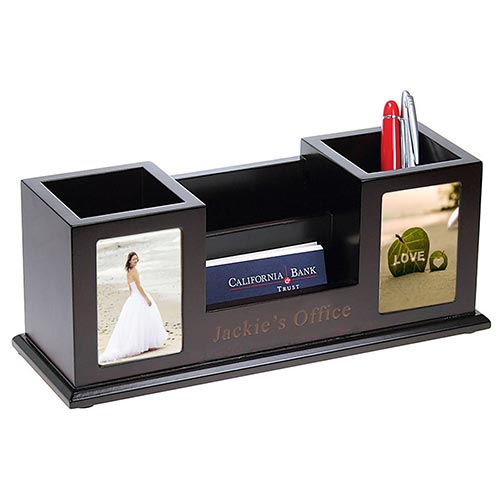 A hand-made wooden desk set is a nice way to honor your loved one! They can add their favorite photos too.
Add your loved one's name to the desk set to make it extra special.
18. Rosewood Pen
Gift your loved one with a stylish rosewood pen. A perfect gift for a businessman or woman. Giving an elegant writing instrument as a gift is a sign of personal appreciation and respect.
You better keep tabs on this gift!
19. Leather Pencil Case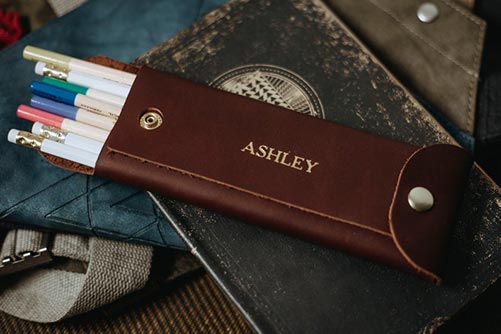 Anyone would relish getting a personalized leather pencil case. You can carry pencils, pens, or brushes in this elegant case. Keeping it all safe, clean, and ready for their next use.
The case comes engraved with your spouse's name. Simply beautiful – just like her. Or him!
20. DIY Memory Box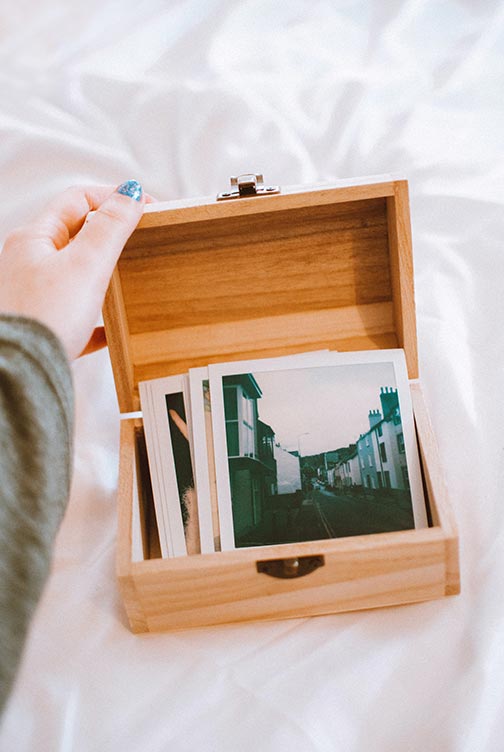 A fun and caring gift- a DIY keepsake box to store your trinkets and love letters. Embellish with initials, names, or even hearts. Your spouse will be able to keep your cherished memories safe for many more anniversaries to come!
Related Article: Homemade Gifts- Ideas & Etiquette
7 Year Anniversary Gifts for Her
21. Onyx Necklace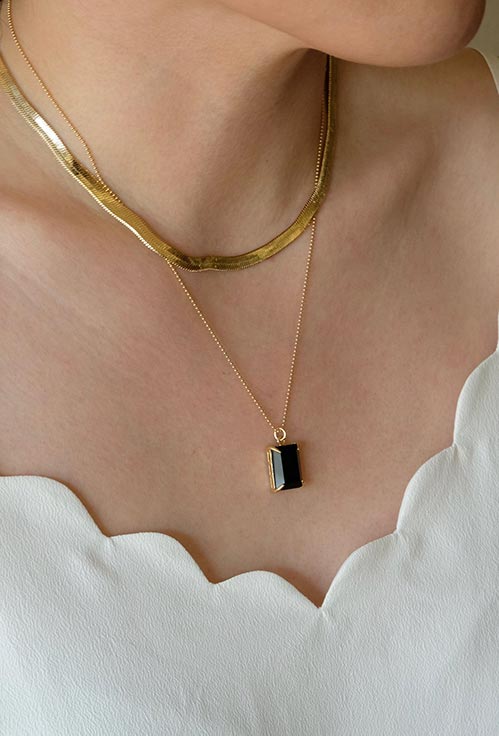 A gorgeous black onyx necklace will let her know that your marriage is rock solid. Celebrate your 7th-anniversary with this traditional stone.
An exquisite piece of jewelry to last a lifetime.
22. Vintage Stationary
This vintage stationary set is perfect for invitations, poetry, and thank you notes. She can use it for hand-written letters, but the high-quality paper is also printer-friendly so it will accommodate a wide range of projects.
Seal the envelopes with the provided stickers… but what about sealing wax? And a custom stamp! This gift just keeps getting better and better. It will be a fine vintage look for any event.
23. Copper Bracelets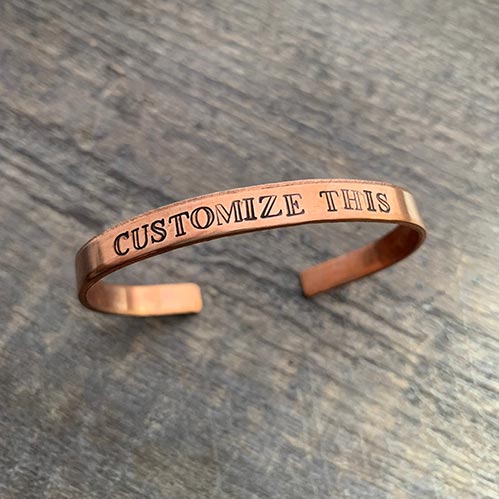 A custom, hand-stamped bracelet that will remind her of you every time she wears it! Have your own hidden message placed on the inside of the adjustable cuff bracelet to!
You can get matching copper bracelets to celebrate your love. You'll be sharing a gift that both you and your spouse will treasure forever.
24. Galaxy Rose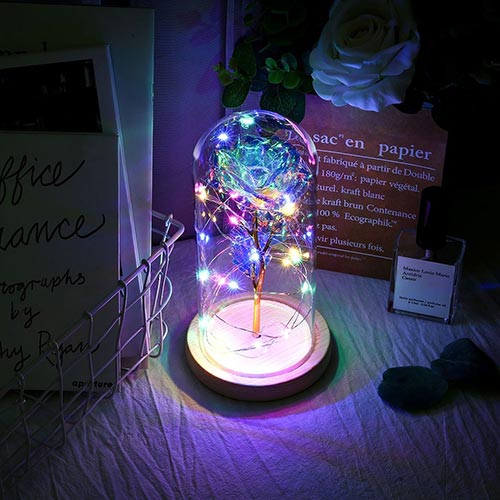 The Galaxy Enchanted Rose represents faith in love forever. The gorgeous fairy lights seem to dance around the rose, giving it a romantic glow.
A fairytale rose that matches your fairytale love story!
25. Romantic Monthly Flowers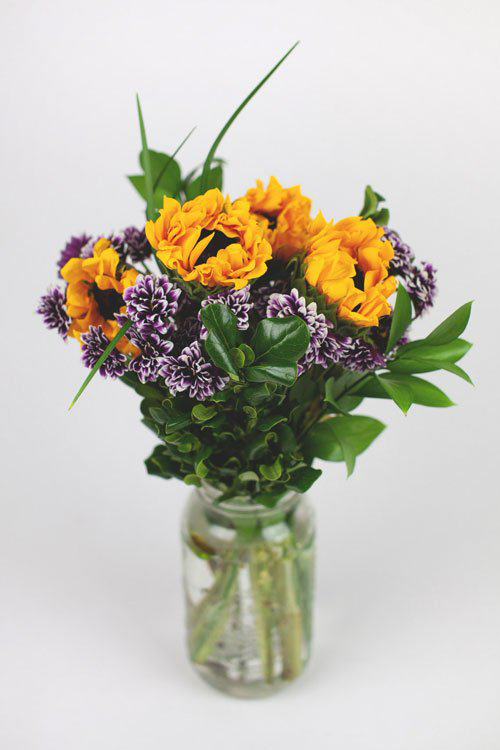 You won't hear her say, "You never buy me flowers" again! These professionally designed flower bouquets will delight her and remind her of just how much she means to you.
She will receive a breathtaking bouquet from her one true love every month. Give her a gift that she will never forget.
7 Year Anniversary Gifts for Him
26. Personalized Onyx Ring
Gift your guy with a uniquely designed ring. This stunning ring was created around an onyx gemstone.
Show him that he's your superhero with the dystopian, sci-fi look of his new ring. A gift that he'll wear – while thinking of you – for years to come.
27. Personalized Whiskey Barrell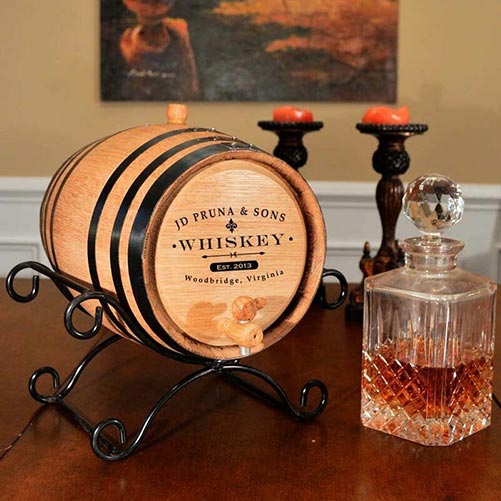 Your master distiller is sure to love this white oak whiskey barrel! It is made from American white oak wood and finished with a medium interior char. Our barrels are crafted with gorgeous metal hoops and come with a tap and bung.
Create his own custom distillery label with laser etching on the barrel head. Include his name, spirit of choice, date established, and city/state.
28. Rocketbook Core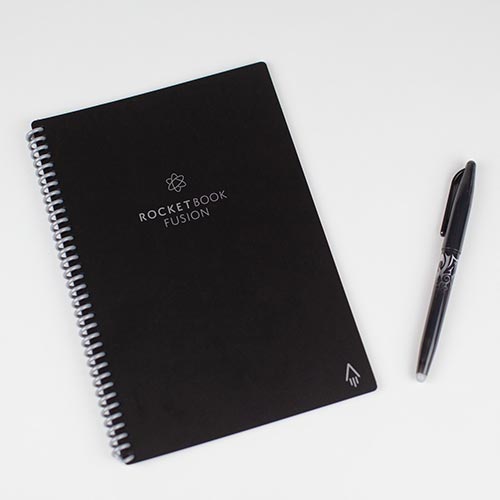 The Rocketbook Core notebook gives a traditional pen and paper experience – but is built for the digital age.
His writing goes on the pages just like regular paper. However, the notebook is connected to his favorite cloud services, and he can use the pages over and over again as often as he would like.
Scan the page's QR code with his phone, and his can then upload it to the cloud. He can even set different pages to do different things – one page for his calendar, another that saves art to a specific folder, and another that transforms his notes into a document. Erase, then do it all again!
29. Copper Cufflinks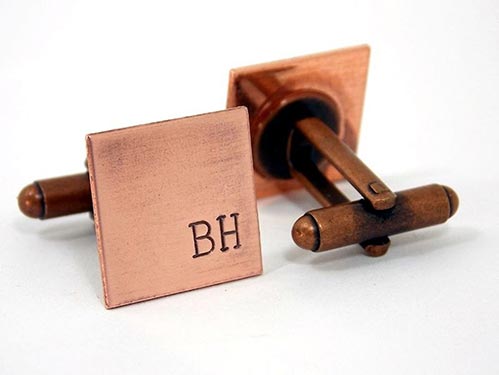 He is sure to admire these custom-made cufflinks. The perfect 7th-anniversary gift for him, from you.
He will never get tired of hearing people compliment this thoughtful gift. This set of cufflinks is an heirloom he will want to pass on to the next generation.
30. Beer Club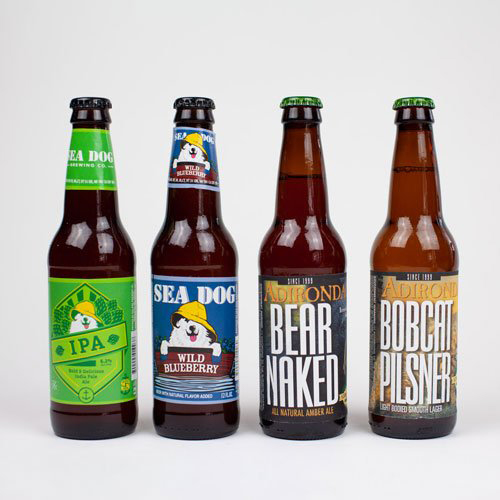 Each month he'll receive 12 full-sized bottles of premium craft beers. Every shipment includes four different varieties of brews. He will receive award-winning beers in every shipment. Don't believe us? Check out our review!
This is a gift he will never grow tired of, because there will be exciting new brews to try each month. Hopefully, he will even share a bottle or two with you – that's true love, right?!
7 Year Anniversary Gifts for Couples
31. Engraved Copper Photo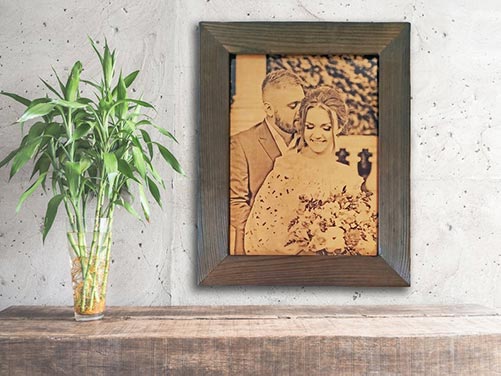 A hand-crafted photo engraved onto a sheet of copper is an incredible 7th-anniversary gift for the special couple. Your photo will be framed in naturally treated wood.
This gift will be sure to find a place of honor in their home. The happy couple will adore this portrait and never tire of looking at it.
32. Surprise Vacation!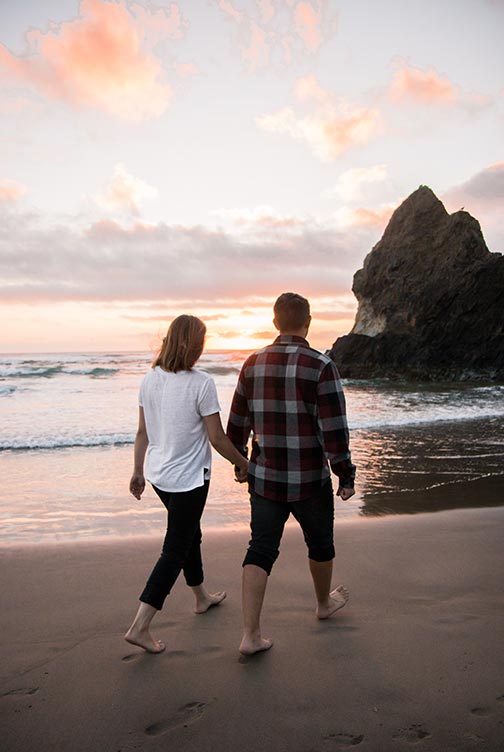 No one would be disappointed with a vacation package from Tinggly. This amazing vacation service offers dozens of memorable experiences in over one hundred countries.
You pick the Happy Anniversary Collection for your spouse; then they choose and book the experience. It's as easy as that! When the day comes, you both enjoy and create memories to last a lifetime.
33. Portrait Painting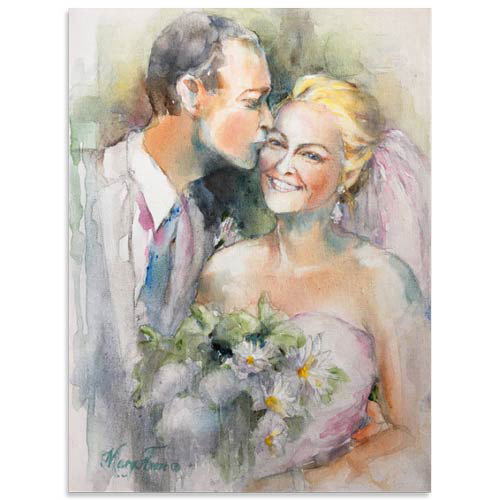 Remind your spouse of your special day by creating a heirloom wedding portrait.
This artist has mastered the craft of watercolor painting from your most beloved photos.
A watercolor portrait of the special couple will be treasured for years to come. The anniversary couple will lovingly hang this portrait in a place of honor, and it will proudly be passed down for the next generation to enjoy.
34. Magnetic Couple's Bracelet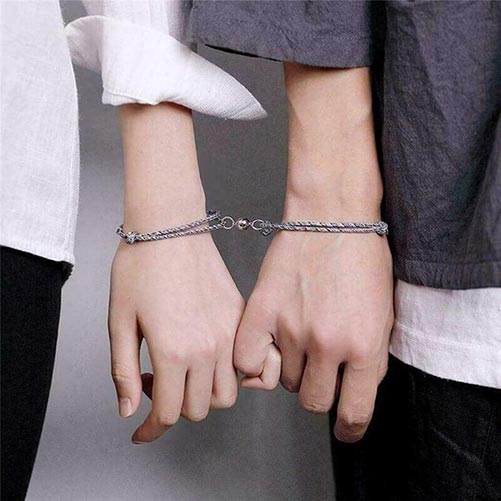 Show off the love you have for each other with this set of magnetic bracelets for couples. Every time you hold hands, the bracelets will come together forming a bond.
With a minimalist design, these bracelets will go with any outfit – fancy or casual.
The charm represents mountains and rivers. There is no mountain too high or river too wide for the two of you to make it through.
35. Couples Tumblers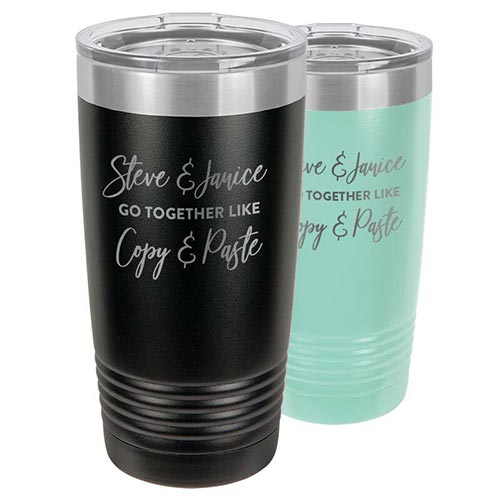 The ideal gift for a special couple – personalized tumblers! The two of you go together like peanut butter and jelly, cuff and link, or mustard and ketchup. If you want some more ideas, we have plenty here!
Our tumblers come in stainless steel and six other fun colors. These tumblers will keep your cold drinks icy and your hot drinks steaming for hours.
Unique Seventh Anniversary Gifts
Let's wrap things up with some truly unique anniversary gifts for your seventh year together – with many more to come!
36. Custom Copper Song 7th Wedding Anniversary Gift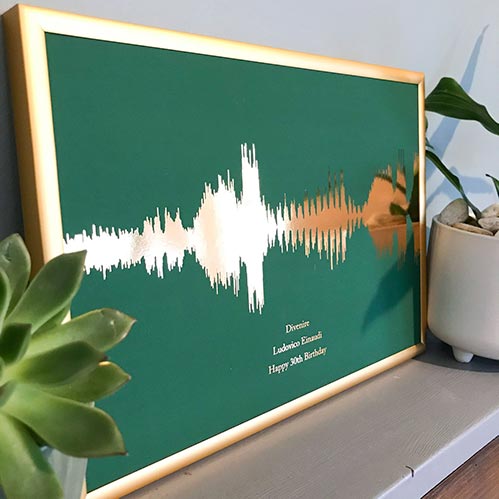 The unique foil printed soundwave is a gift that will bring joy to anyone that receives it. The foil printing has a rich "raised effect" on the flat silk background.
A wonderful gift for the couple that has "their" song!
37. Engraved Barkwood Plaque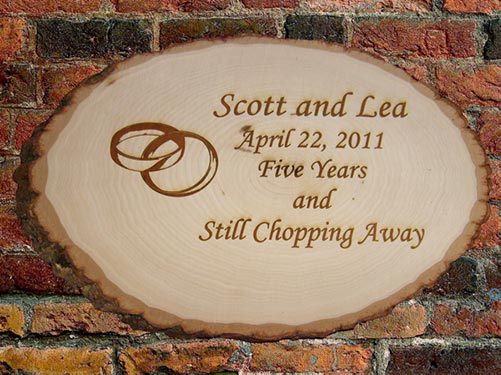 A laser engraved wooden plaque is a great gift for your 7th anniversary! Engrave your names, wedding date, and a short text message or add a special touch by uploading a picture for engraving.
A gift to be appreciated for a lifetime.
38. Gift of Safety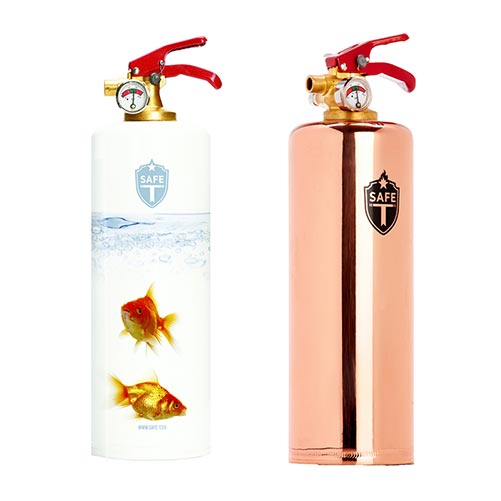 We all need fire extinguishers – so why not an attractive one? A unique gift to keep your loved one safe and sound.
Safe-T's decorative fire extinguishers are functional and aesthetically pleasing. They will be very thankful that you care this much about them.
You can choose from dozens of unique designs, including a premium copper finish, pictured above. Or go with something unique – goldfish, anyone?
39. Copper Initials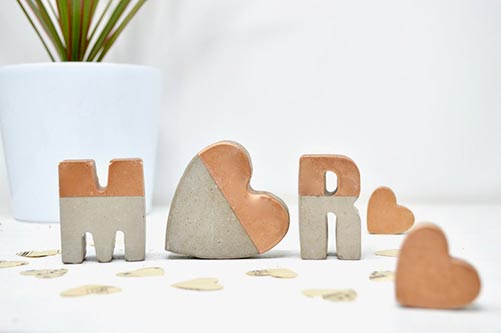 Each copper set comes with two initials and a heart. The three pieces are cast in concrete and then half of each one is painted in copper. All pieces are handmade, so no two sets are alike!
Your delighted spouse will display their initials on a bookshelf, entertainment center, or even their dresser. A gift they are sure to appreciate.
40. World Travelers Vintage Sign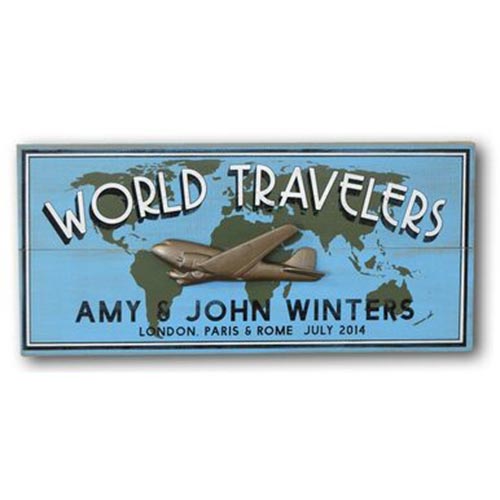 The perfect anniversary gift for a world-traveling spouse! This vintage-looking sign is a colorful world map, and includes personalized.
The centerpiece is hand-carved into a three-dimensional airplane. Made from wooden planks, it's a great way to honor the touring spouse.
---
This has been part of our series of Anniversary Gifts By Year.
From us to you… Happy Anniversary! We hope you were able to find the perfect gift for your better half!
Read next: 101 Romantic Things to Do on Your Anniversary
Pin It