You've reached 19 years of wedded bliss! We say that this relational accomplishment deserves a gesture of epic proportions. Maybe a romantic weekend getaway, a well-thought-out date night, or, at the very least, a really grand 19th anniversary gift.
Whether it's for your significant other, who has been putting up with your shenanigans all this time, or a gift for your friend or family member's anniversary, we've come with some great options for every personality and wallet.
And may we just say: happy anniversary!
Our website is supported by our users. We sometimes earn a commission when you click through the affiliate links on our website. Learn more here.
All About the 19th Anniversary
The hardest part of gift buying is finding just the "right" one. Well, no worries.
Below, we explain the meaning behind the 19th anniversary "themes" for gifts, jewelry, flowers, and more. Then we put together an inspiring list of gift ideas that incorporate many of those themes.
The hardest part now is picking out just one!
19th Anniversary Themes
Table of Contents
This is part of our series on Anniversary Gifts by Year.
What is the traditional & modern 19 year anniversary gift?
Bronze has come to signify a long-lasting, strong marriage. It's both the traditional and modern theme for the 19th wedding anniversary.
Why is Bronze the modern 19th anniversary gift?
Bronze represents strength, loyalty, and stability. After 19 years of loving each other, working on your relationship, and growing stronger together, that's the perfect theme to celebrate this coming year together!
What is the 19 year anniversary stone?
Aquamarine
Why is aquamarine the nineteenth anniversary stone?
Legends say that aquamarine can calm stormy waters! Plus, it's beautiful. If your beloved is gorgeous in your eyes and the two of you always work things out, honor your marriage this year with an anniversary gift that includes this stunning gem.
What is the 19th anniversary flower?
"The flower for year 19 is chrysanthemum grandiflorum, aka bronze mums.
What is the 19 year anniversary color?
Bronze. For obvious reasons!
10 Best Nineteenth Anniversary Gifts
All right, let's jump into gift ideas. These ten options are sure to float your boat in one way or another!
1. Bronze Rose
This pretty bronze rose is perfect for the 19th anniversary! Plus, it will last a lifetime, not like a bouquet of fresh flowers. This will look sweet nestled on a bookshelf, resting on a nightstand/vanity, or front and center on the coffee table.
2. Happily Ever After Art Heart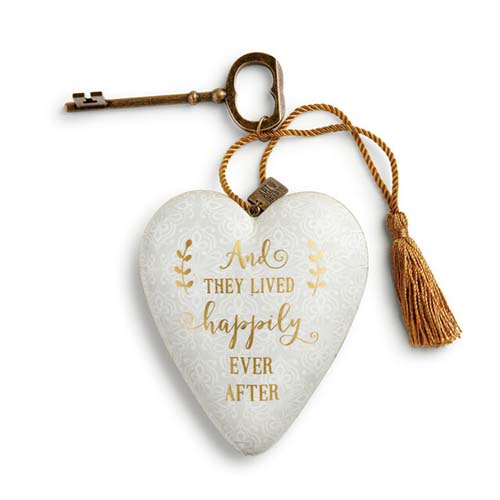 This adorable little keepsake features a heart shaped pendant and a sweet little key. It's cute without being cutesy, and will be a sweet reminder to your loved one how much you think of them and with just how much fondness.
3. Engraved Bronze Portrait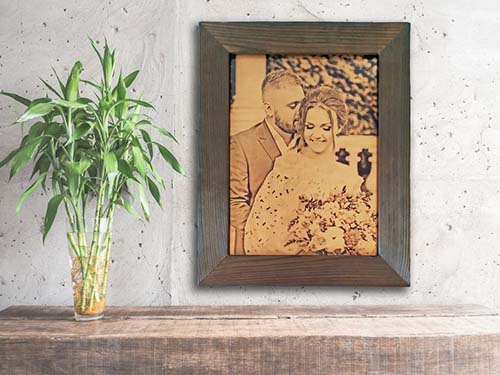 This photo in bronze detailing is just the thing for the 19th anniversary! Simply find your favorite shot of the two lovebirds and the team behind this clever gift will do the rest. Definitely a show stopper!
4. 19 Years Down – Anniversary Card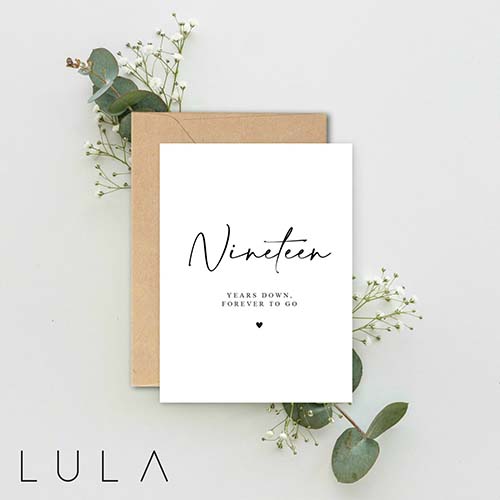 19 years down, and forever to go! Reignite their love with a sweetly sentimental and romantic card like this one. It's for sure a keeper and will either be put in a scrapbook, or even framed and hung on the wall.
5. Dried Flower Bouquets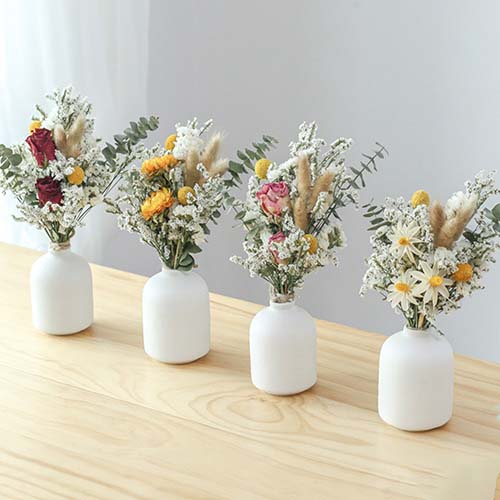 Dried flowers are so the way to go for long-lasting enjoyment. Much like your marriage! (Not dry; we mean long-lasting and enjoyable, silly!)
These dried flower bouquets are so pretty and delicate, but strong and sturdy as well. Picking out ones that mimic her wedding bouquet would add yet another romantic touch!
6. Personalized Bronze Ornament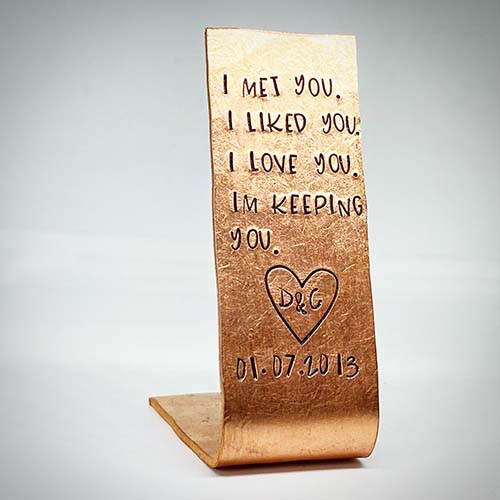 Personalizing a gift is such a sweet way to go when shopping for a loved one. He or she will love the romance behind this little treasure, and the engraving from your heart to theirs is sure to get some hugs and kisses!
7. Family Tree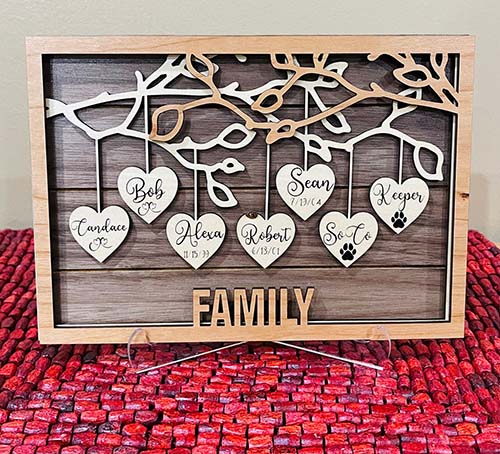 Look at where you've come from, where you're going, and who is alongside, with this pretty family tree! They'll love the personalization that is engraved – don't forget the pets too!
8. Monogram Wind Chimes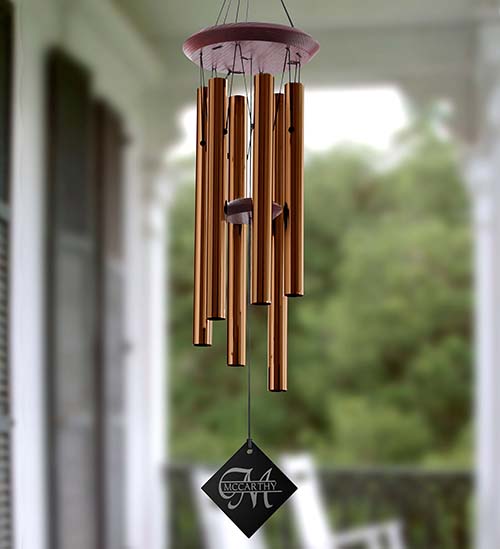 These bronze wind chimes are rather timeless and stylish, aren't they? They'll look amazing on a front porch on a breezy day. And the monogram really sets them apart from the generic ones you would find at a home decor store.
9. Aquamarine & Moonstone Earrings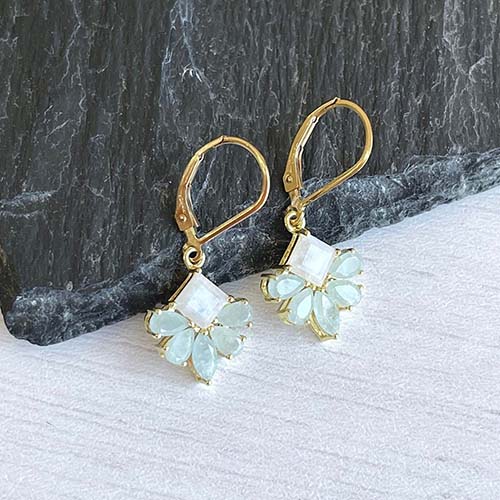 These pretty aquamarine and moonstone earrings are just perfect for a 19th anniversary gift! She'll love pairing these with everything from a date night dress to a casual jeans and tee. Don't forget the reasoning behind aquamarine: it signifies calming stormy waters and bringing peace.
10. Bronze Bookmarks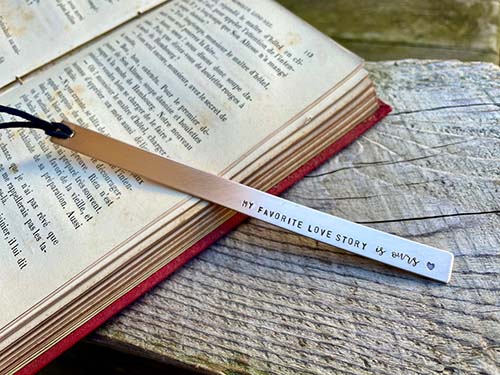 These pretty little bronze bookmarks are so special! Even the reluctant bookworm will want one. They'll hold your place in your favorite novel, textbook, cookbook, or true crime memoir, with style and beauty.
Traditional & Modern 19th Anniversary Gifts (Bronze)
11. Family Tree
The cute little hanging picture frames, complete with all of your adorable family member's portraits, really set this gift above the rest! Your family tree will look so nice on an end table, or to bring your family with you to work to keep on the desk.
12. Concrete Initials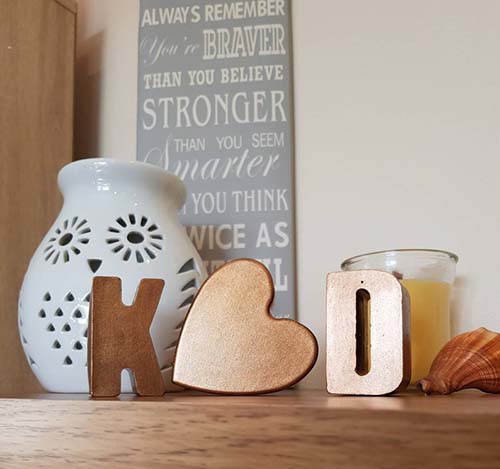 These cute bronze-painted concrete initials are going to light up the living room! They're playful and fun, without being too trendy or over-the-top. Your spouse will love putting these in different spots each time they redecorate.
13. Interlocking Hearts Sculpture
We love a good and romantic sculpture, don't you? This one is no exception! With its subtle yet winsome look, this is the perfect bronze anniversary gift to celebrate you two lovebirds with sculpted art.
14. Custom Wall Art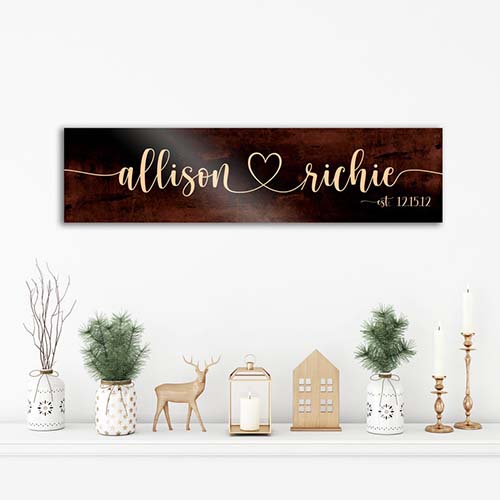 Put their name and wedding date on this stunning piece of bronze-finished wall art and watch your sweetheart's face light up! It will look so pretty hanging over the bed, but we bet you it will end up in the living room instead, where everyone can admire it.
15. Holding Hands Decor
This bronze sculpture is unique, just like the two of you! Your honey bunches will love the detail of the holding hands and the way it blends in nicely with their collections and decor. Such a special piece!
16. Botanical Artwork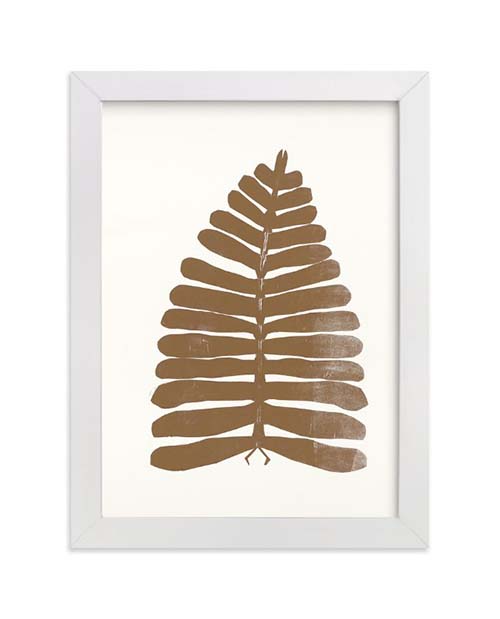 Made of stencils and bronze, this pretty artwork can be framed in a wide collection of wood for you to pick from. It's stylish and really blends with all sorts of decor: from farmhouse to modern to vintage to industrial. 
17. Engraved Ring Dish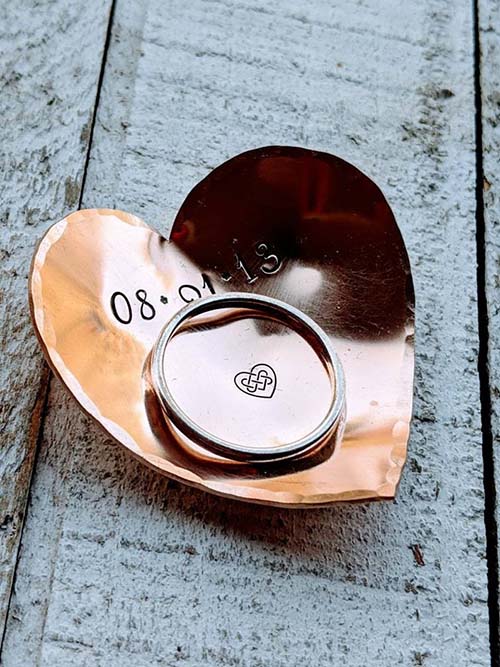 Perfect for those little trinkets that get lost so easily (like your wedding band – eek!), this sweet engraved dish is made of bronze. Whether you use it for rings, toothpicks, hair ties, or decorative soaps, that's up to you!
18. Bronze Planters
For the gardeners who just can't get enough plants, these bronze planters will light up their life! They'll love having a reason to go buy more plants… unless you include some carefully chosen ones yourself along with these pretty planters. Of course we'll suggest bronze mums to get started.
19. Heart Pendant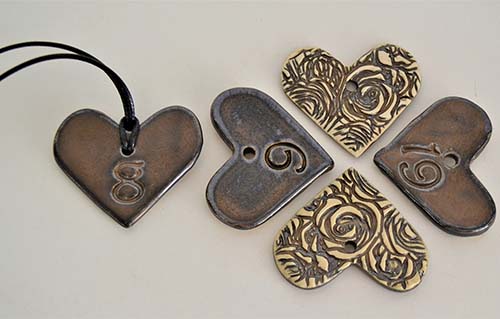 A pretty little pendant in the shape of a heart will really make her feel special. Whether it comes out for date nights and anniversaries, or she wears it on the daily, she'll love the way it spruces up her appearance and makes her think of you.
20. Bronze Pottery Wine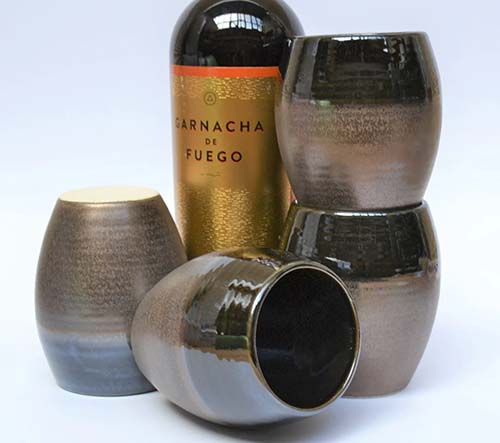 These little stemless wine tumblers are soooooo pretty and unusual, in all the best ways! With little hints of bronze in the painting on pottery, they really stand out amongst the crowd. Cheers to the perfect couple and to the next 19 years!
19 Year Anniversary Gifts for Her
21. Aquamarine Necklace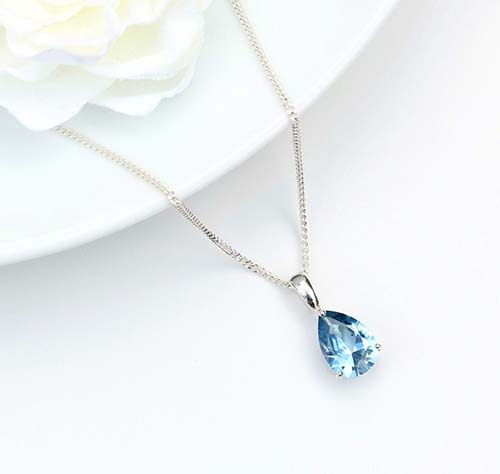 She'll love that you researched the 19th anniversary stone – aquamarine. And she'll love wearing it even more! It's such a pretty little stand-out that she'll be answering the question, where did you get that necklace, often! And of course she'll say, from the world's sweetest husband, that's where.
22. Personalized Bronze Dress Portrait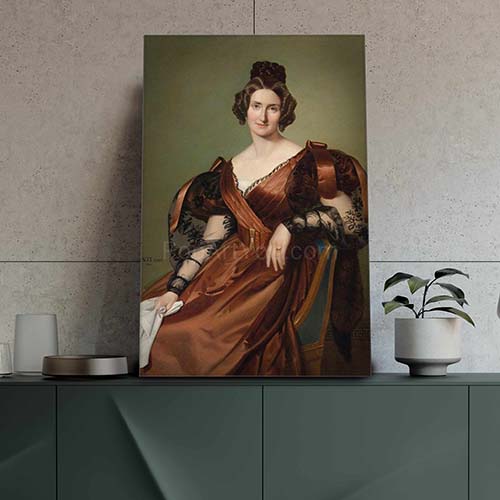 Turn your favorite photo of her into a regal piece of art, complete in a stunning bronze dress! She'll feel like Cinderella at the ball for sure, and all thanks to you!
Related: 21 Personalized Gifts for Her
23. Bronze Earrings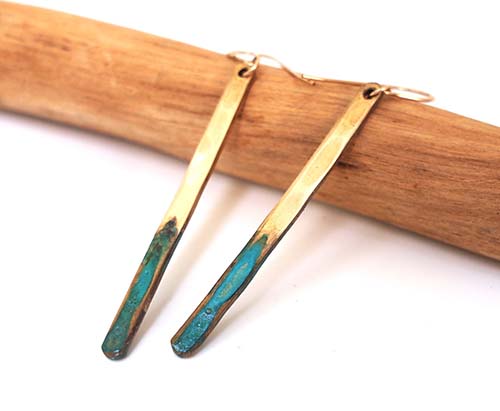 Adorable little bronze earrings are always in style! We said it, and we'll stand by it, until death do us part. These little gems will light up her pretty face, and will match absolutely any style, because hey, bronze is a neutral color!
24. Love You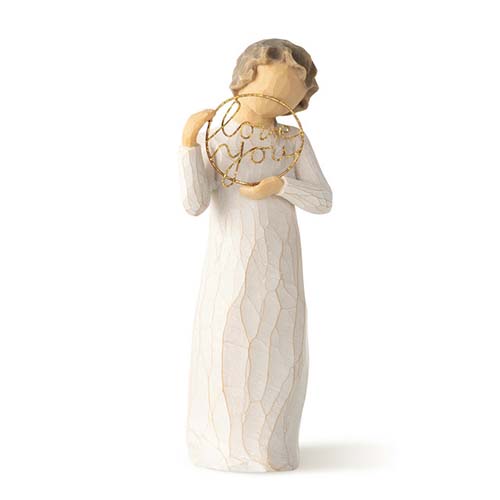 This romantic reminder from Willow Tree will hit all the right notes when you want to show her how much you love her. Whether it's a stand-alone figurine or you get her one every year, she'll love finding the perfect spot for this sweet gift.
25. Engraved Jewelry Box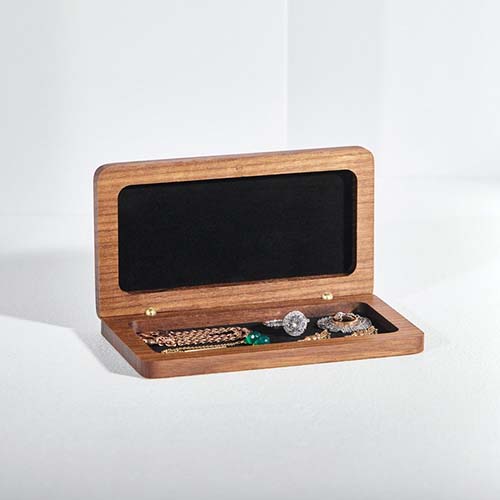 A jewelry box is always needed and will certainly be appreciated by the woman in your life. This one is extra special not only because of the contemporary-yet-classic look, but also by the words you engrave on it!
Whether you pick a line from "your" song, a bit of your wedding day vows, or just your pet name for her, she'll love unwrapping this gift.
19 Year Anniversary Gifts for Him
26. Aquamarine Bar Necklace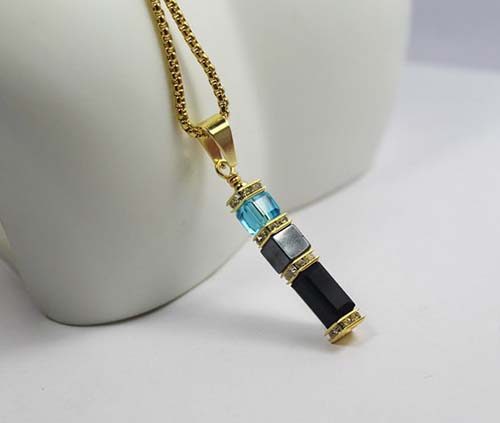 Jewelry isn't just for the ladies, no sir! We love this manly aquamarine bar necklace and think he will too. Especially if his eyes are blue, he will look amazing with this pop of color and style in his wardrobe.
27. Photo Engraved Wallet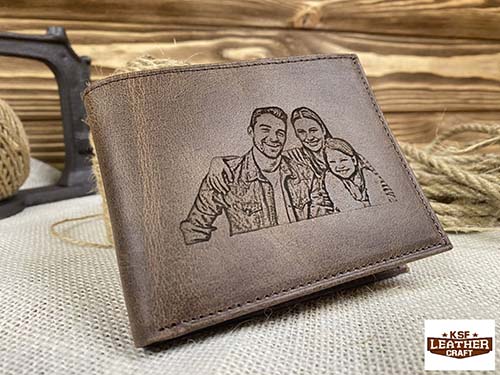 Sure, you could just drop by the mall, pick out a generic wallet, and call it a day, but why would you when you could get this fantastic photo engraved one for him? He'll love it, we're sure! His friends may get a little jealous.
Related: Personalized Gifts for Him
28. Whiskey Enhancing Oak Tumbler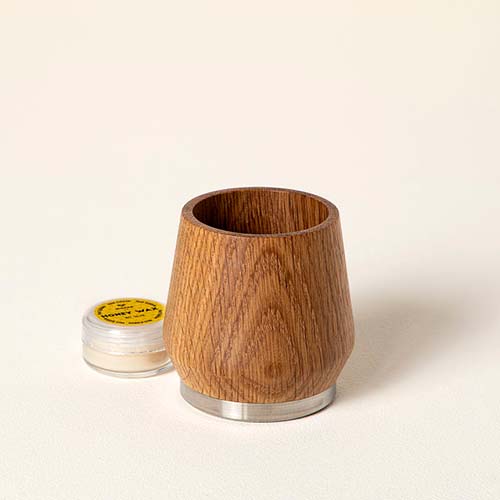 Lined with honey wax to intensify the flavor, this wooden tumbler will wow him! If he loves sipping a fine whiskey on the weekends, the Whiskey Enhancing Oak Tumbler is a must-have.
29. Engraved Money Clip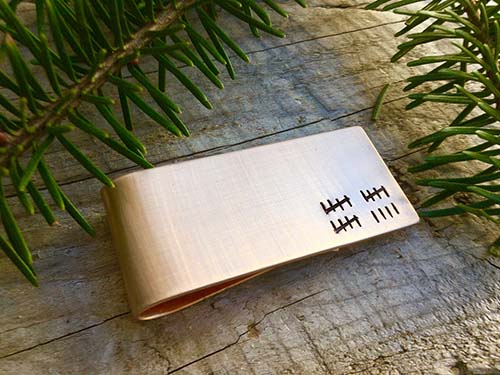 Engraved with the cutest of tally marks signifying your 19 years together, this bronze money clip is perfect for your man! Timeless and unique, it's both modern and a bit vintage at the same time.
30. Family Bracelet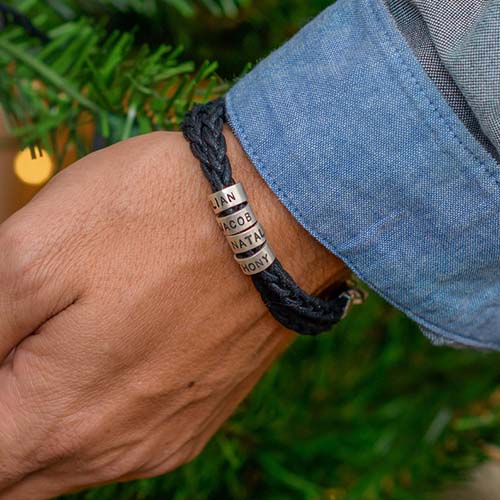 Here's a romantic way to keep all the family members close to his heart and right on his wrist! This braided family bracelet has plenty of space for all of your family member's names. Great for the guy who travels often.
19 Year Anniversary Gifts for Couples
31. Custom Matching Tumblers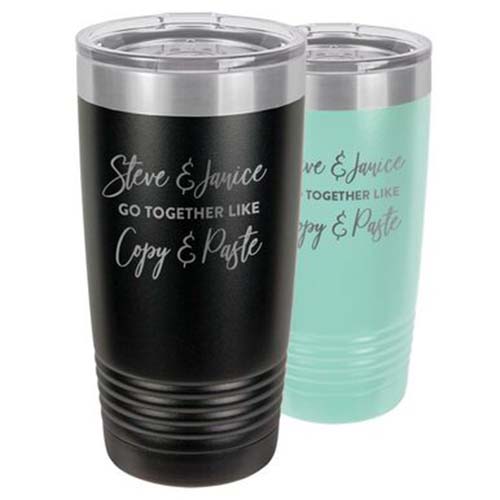 These custom matching tumblers are cute and really useful too, because they hold a good amount of your favorite beverage, keeping it cold or hot all day long! A totally practical anniversary gift that the both of you will very much appreciate.
32. Two of Us – Inspired Bell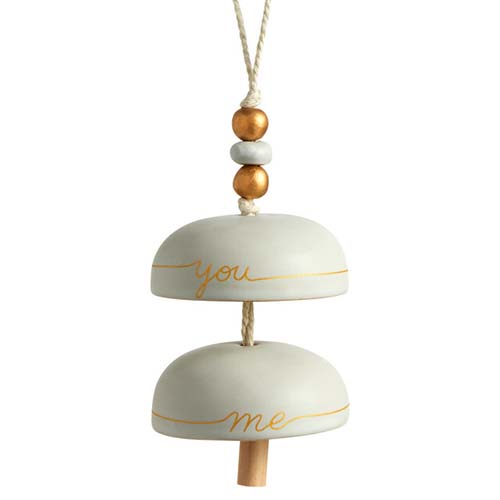 The Two of Us Inspired Bell is just the thing for the couple who is hard to shop for! The calming bronze-and-ceramic bells add a spa-like tranquility to the home, plus a bit of style. Arrives in a lovely gift box.
33. Heart Keychains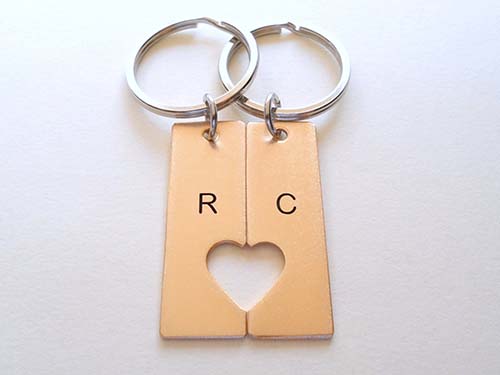 These matching and engraved keychains are the perfect gift for the 19th anniversary! Every couple will love the sweet and romantic sentiment.
34. Food Dice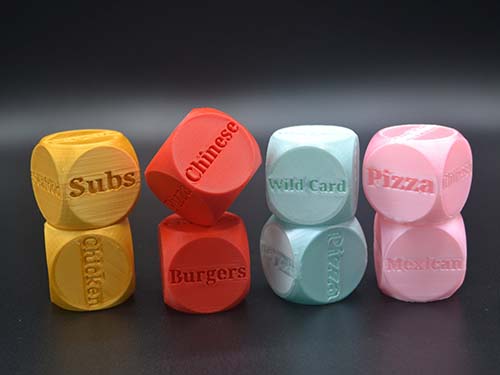 Leave your next meal up to fate and a roll of the dice with these clever food dice! They'll get a kick out of never asking again, what do you want for dinner?!
35. Better Every Year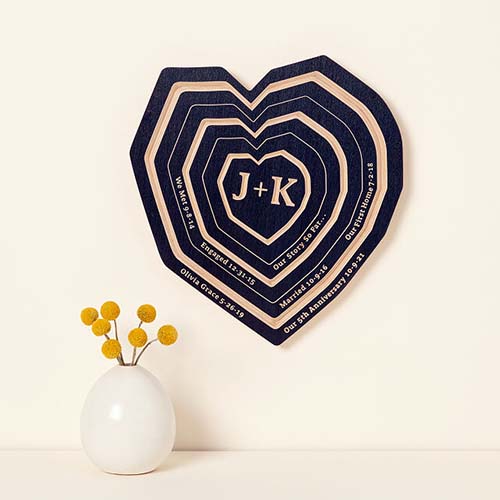 This tree ring piece of art just gets better the more you look at it! You can add all sorts of important dates – not just your wedding anniversary – like the date you bought your first house together, your special vacation, the birth of your child, etc.
Unique Nineteenth Anniversary Gifts
36. Monthly Subscription of Delicious Goods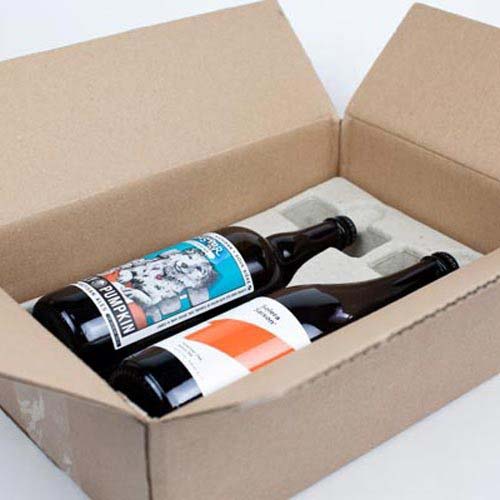 The title alone kinda sells us, don't you think? A monthly subscription of delicious goods?! Um, yes please and thank you! You'll eagerly anticipate trying out a new wine, a regional craft beer, artisanal chocolates and more with each month's delivery. Curate your own gift, crafted to you & your beloved's tastes!
37. Adventure Challenge Books
Looking for something super unique and unusual for their nineteenth anniversary gift? Enter these cool adventure challenge books! With thirty, special scratch off adventures, they keep the excitement building and love blooming between your two favorite love birds.
38. Pebble Art Picture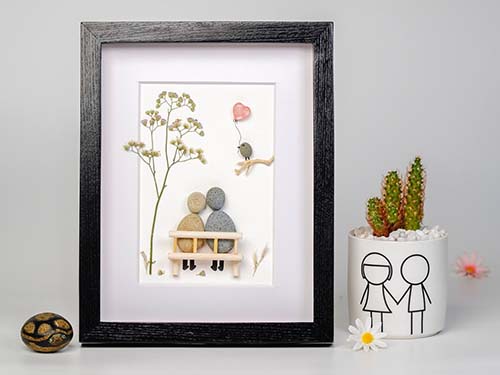 This pebble art picture is unique and special! The lovebirds will love it for sure, not just for i's adorable and whimsical look, but for its handmade and one-of-a-kind appeal as well.
39. Lovebox Spinning Heart Messenger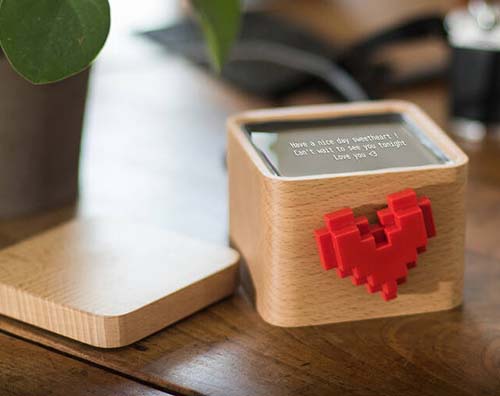 Compatible with Wifi, this clever little lovebox spinning heart messenger box is perfect for the couple who loves technology almost as much as they love one another!
40. Personalized Bird Feeder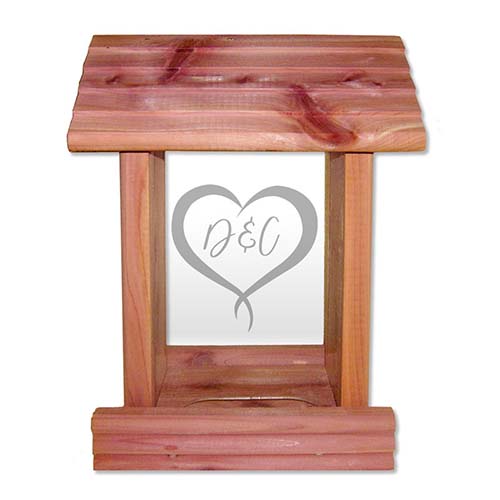 This charming bird feeder will get everyone's attention, not just our feathered friends! With plenty of room for seed (so you don't have to constantly refill it), this feeder can be personalized however you like: with something sentimental and sweet and romantic, or something silly and witty and funny.
It's a lovely 19th anniversary gift for those who love nature!
Read Next: 10 Best Personalized Gifts for Couples