Sure, they call 'em the Terrible Twos, but that's a misnomer (as anyone who has lived through the Ferocious Threes will tell you).
Two year olds are fabulous little humans. They're developing minds of their own, an ability to communicate, a belly full of laughs (and sure, the occasional temper tantrum, but who doesn't have those once in a while).
Here are the best 2 year old gift ideas we've found for that special pint-sized being in your life.
Best Gifts for 2 Year Olds
Our website is supported by our users. We sometimes earn a commission when you click through the affiliate links on our website. See our privacy policy & disclosures for more information.
1. An All-Time Favorite: "Rocking Horse" Dragon
Anyone can have and tame a rocking horse; your two year old needs a dragon! Friendly and merry, this plush wild beast will delight the toddlers from miles around as they gallop off on adventures.
The talons and ears and wings are great for sensory play too, and the smooth wooden handles and rockers are easy to buff clean (because who can go on an adventure without a snack in their paws?).
2. Best 2 Year Old Gift for Girls: Cute Cat Purse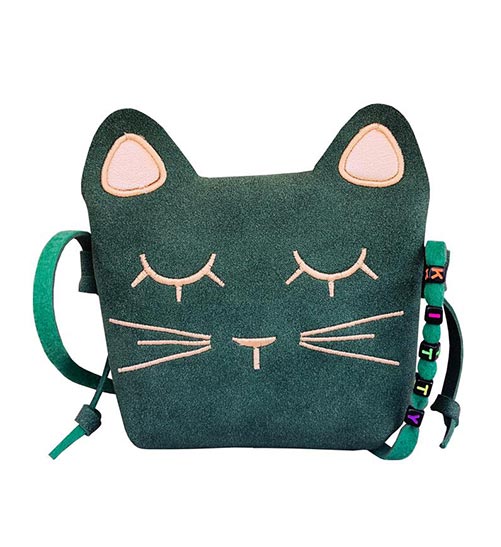 Purses are the mysterious accessory for girls and women everywhere. They hold all the basics of life: keys, phones, chapstick, driver's license, Goldfish crackers, juice boxes, string cheese, handfuls of Cheerios…
This kitty cat shaped purse fits the bill nicely, is handmade from vegan leather, and cleans easily with water. It's the perfect size for your two year old as she plays at the park, goes to daycare, or to Gramma's house.
Snacks not included.
3. Best 2 Year Old Gift for Boys: Batman Popup Tent
Pop-up tents are a must-have for toddlers! They don't take up space when folded, but create an instant fort when expanded.
Even toddlers need some alone time, some peace and quiet, and a space to themselves (especially if they are super heroes and need time to recharge).
This Batman popup tent answers the call!
4. Best Natural Toy for 2 Year Olds: Handcrafted Wooden Vehicle Set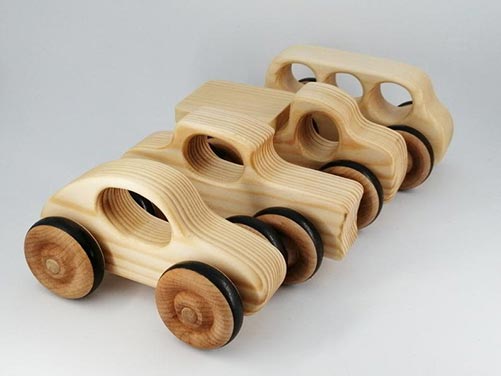 Isn't "vroom vroom" one of the first words to every little baby boy?
But don't leave out the girls when you're purchasing these sweet Montessori cars; all two year olds love to race.
Smooth as butter, with functioning wheels, toddlers will adore these stylish vroom vrooms as they race them up the couches, curtains, tables, and most likely your legs.
Plus you'll feel good knowing that they're crafted by hand from sustainably sourced wood with a natural finish (and no chemical-laden paint).
5. Best Montessori Gift for 2 Year Olds: Climbing Triangle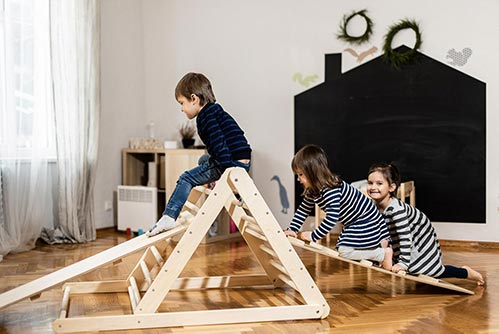 Exercise is an important part of everyone's healthy lifestyle, so why not start the habit early with this Montessori-friendly climbing fort?
It's sturdy enough for your toddler to invite their best pals over for a playdate, and will teach them the basic skills of climbing, sliding, and strategic thought.
These are hand-crafted using sturdy aspen wood with a breathable, natural wax finish and zero chemical elements. Keep that kiddo protected!
Plus, the triangle shapes make for great hiding places when covered with a blankie, and a wonderful place to race their cars (see above).
6. Best Educational Toy for 2 Year Olds: LeapFrog Alphabet Book
Who doesn't love pushing buttons, especially two year olds?
I mean, sure, they push Mom and Dad's buttons, but these buttons are even more fun. Maybe.
From LeapFrog, this perfectly sized alphabet book will be flipped through more times than you can count and will earn its keep in the very first day as your toddler learns their ABCs in a fun and engaging way.
7. Best Gift for Crafty 2 Year Olds: Children Embroidery Kit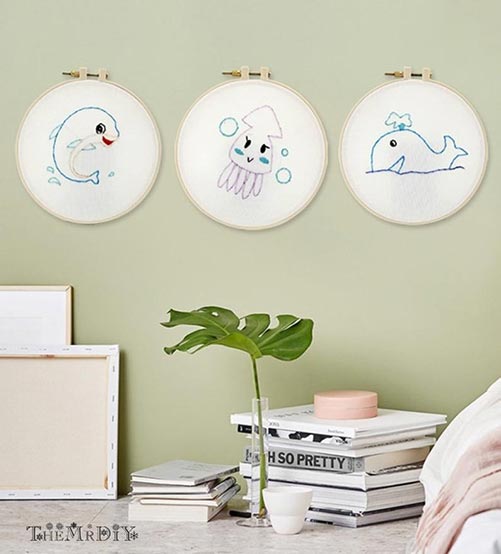 Victorians started teaching their own toddlers the art of embroidery almost before the art of walking! True story.
These whimsical embroidery kits will be a treasured work of art after they're finished, and will make your two year old the talk of the town (or at least the talk of their proud Grandmothers).
Rated for 2 years up to 5 years, a little supervision is all you need for your little tailor and seamstress.
8. Best Modern Gift for 2 Year Olds: Push Sports Car
Sure, you can walk to the park with your two year old like a normal, boring family, but why would you when you have this amazing sports car in which to cruise throughout the 'hood?
Your little Mario Andretti or Danica Patrick will want to wave to everyone they meet as they canvas through the cul-de-sac. Comes with a sturdy seatbelt too, in case parents want to get in a jog.
9. Best Gift for 2 Year Old Dirt Play: Excavator Crane
Whether your two year old is a budding archeologist, a wannabe pirate, or simply loves digging in the dirt with man's best friend by his side, this super-fun sandbox digger excavator crane will get a lot of use around your backyard.
Who knows what treasures lay beneath that layer of autumn leaves or within that sandbox? Only one way to find out!
Make sure to get a sandbox and some sand-friendly toys for the complete kit.
10. Best Personalized Gift for 2 Year Olds: Story Book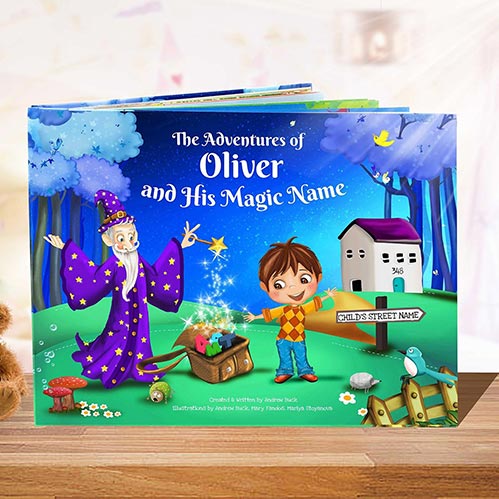 Books and story time is fun already, how about making it even more special by having your two year old be the protagonist?
Your twoster will love hearing their name over and over as they get lost in the charming illustrations. This magical personalized book will be asked for again and again and will have a place of honor on the shelf.
11. Best Christmas Gift for 2 Year Olds: Felt Christmas Tree Play Set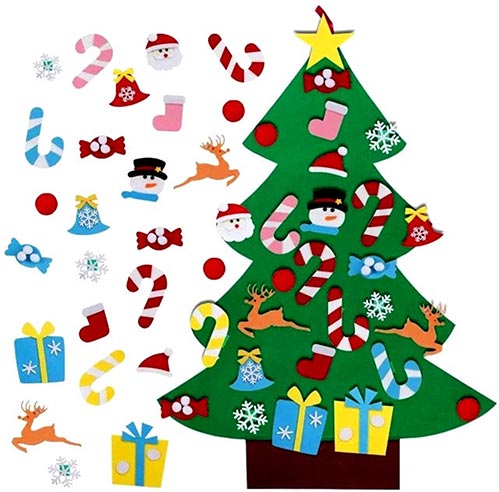 If there's a better or more fun way to use your imagination with soft cut-outs, we've yet to find it!
This clever and oh-so merry Christmas tree kit is the best way to spend a wintery holiday weekend. For you or a special 2 year old in your life.
10 More 2 Year Old Gift Ideas
Those were our very very favorite gift ideas for two year olds. But it was super hard to choose! So to close out, here are ten more great gift ideas for your special youngster.
12. Baby Shark Shape Sorter
Nothing is more baby friendly than sharks!
Wait…. What???
Well, when they're as adorable as these baby sharks, no harm. Shape sifting has never been more fun than it is with this charming shark-themed toddler toy set.
13. Two Wild Sweatshirt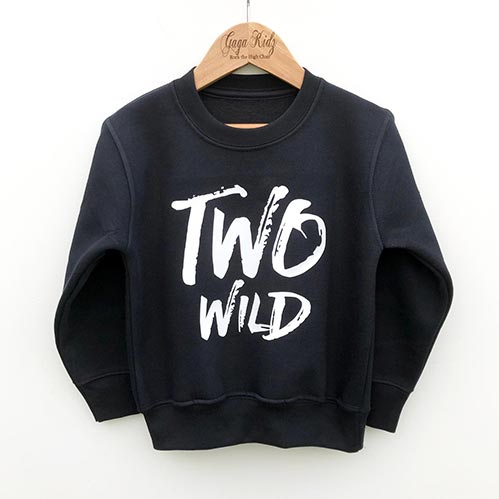 There's nothing more stylish than a well dressed toddler and this soft sweatshirt is no exception to the rule.
With a witty play on words, your toddler won't want to wear anything else (good thing they have a whole year to be sporting it).
14. Nesting Doll Toys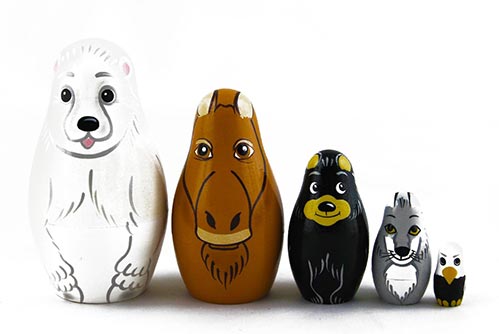 Too cute for words (but we'll try), this nesting set will be an adorable addition not only to your two year old's toy collection, but to Mom and Dad's living room decor!
While your two year old learns about shapes and sizes, they can also learn the names of the animals and the sounds they make.
Not only is each doll handmade (so each one is truly unique), but they're also made using eco-friendly woods and paints.
15. Water Drawing Doodle Mat
Your budding Van Gogh or Georgia O'Keefe really need this amazing water art mat!
Imagination will soar as they discover colors, textures, shapes, and letters, all while having fun with art.
Plus, when coloring with water there's no paint mess for mom and dad to clean up. The parents will certainly appreciate that!
16. Rainbow Abacus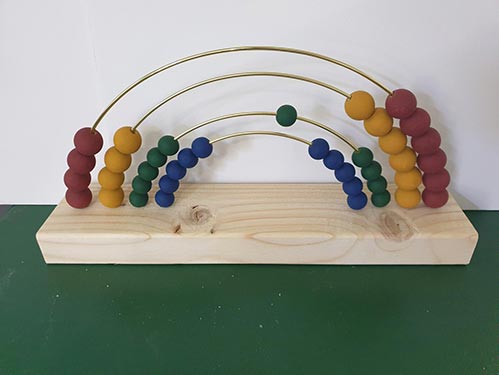 You have to admit, you want to play with this too.
The differently-sized beads and gentle but bright colors are simply fascinating in this old-fashioned rainbow abacus. It's one toddler toy you won't mind being on the coffee table!
17. Spin & Learn Flashlight
Indiana Jones wished he had this flashlight toy when he was a two year old!
With large buttons and an easy to use on and off switch, your two year old won't be afraid of the dark any longer. They'll be too busy on an adventure exploring all the nooks and crannies.
18. Portable Storage-Bag Doll House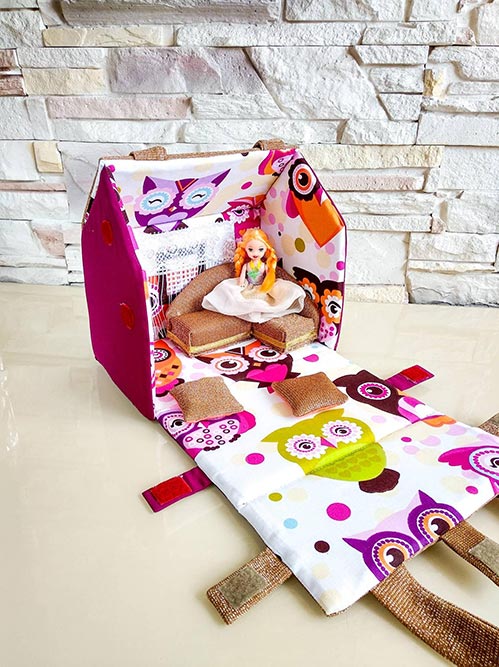 Easy to fold up when she's off to Gramma's house, this soft and sunny portable dollhouse is one-of-a-kind.
Imaginative play will last all afternoon as she rearranges her dolls and furniture and comes up with sure-to-be elaborate adventures for them.
19. Learning Tablet
Technology is here to stay, so why not start your toddler on it the right way, with a learning tablet sized and shaped just for them?
With gentle sounds and music, your two year can learn the ABCs and 123s in the car on a road trip, or in the cart while grocery shopping.
20. Personalized Doll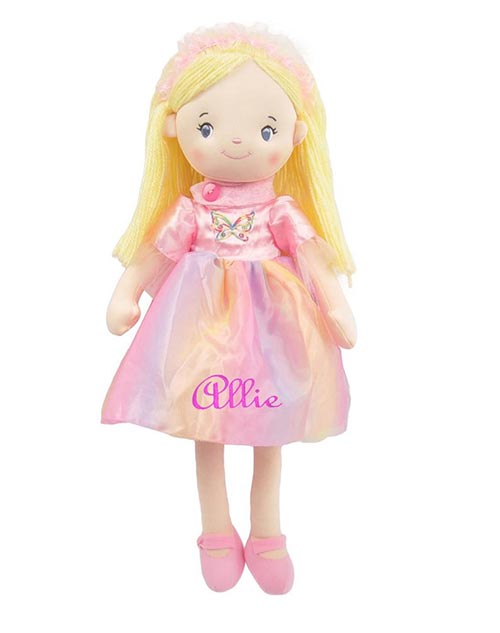 Made for cuddles and snuggles! A doll that looks like you with your name too is a special present for the two year old in your life.
And the soft plush means it's washable so she'll have years with her new best friend.
More inspiration: 10 Meaningful Christmas Gifts for Kids
21. Cute Wooden Puzzle Set
Large pieces and brightly colored shapes make this puzzle set a delight for everyone.
Learn about animals, shapes, and colors as they sort through what goes where. Sturdy and solid, this gift will last for years (maybe until Baby has a baby of their own someday).
2 Year Old Party Ideas
Beyond just the gifts, let's think about how to make the party creatively fun and the whole day special for your birthday boy or girl. Here are a few of our favorite 2 year old birthday part ideas.
Let's Go Fly A Kite Party
If you have access to a windy park or coast line, kite flying is a joy!
You can either gift each party goer with their own inexpensive kite, or have them bring their own. It's easy enough to make kite-shaped cookies too.
Mickey Mouse Clubhouse Party
Or Paw Patrol, or My Little Pony. Whatever your two year old is "into" at the moment, make it party theme!
And yes, even the adults have to dress up too. Or at least wear the hats.
Splash Park Party
Pools are fun of course, but rather stressful for the parents. Why not have a splash party at a splash park?
If your town doesn't have access to one, you can set up your own with several sprinklers in your own backyard. Don't forget the popsicles and sunscreen!
Nature Trail and Picnic Party
A (short) hike to a picnic hits all the right notes for your two year old and their friends.
Strollers and/or backpacks for them to ride (or simply daddy's shoulders) in case they get tired are recommended.
At the end of their nature walk? A picnic to spread out, complete with cupcakes of course! Have fun foods like ants on a log (celery with peanut butter and raisins), gummy worms, and trail mix.
Fun at the Zoo Party
Zoos are great places for parties: the excitement knows no bounds, there are public restrooms for potty breaks, animals to visit, slides to go down, and tables to lay out the munchables on.
Cranky toddler friends can wander off with mom or dad to see the cranky monkeys, and the go-getters can make the trek to see the bears.
Just meet up later for some ice cream and the happy birthday song!
Music Party
If your little mover and shaker is a music lover, then have a musical party extravaganza!
Two year olds can learn the ancient art of Musical Chairs (toddler sized chairs recommended), and afterwards keep the music playing as you hand out kid-sized instruments like harmonicas and kazoos as party favors.
Sure, it'll be a little loud for a while, but you can wind down with some gentle classical albums and lullabies.
Have a Book Party
Your guests can dress up like their favorite character if they like, and bring a book inscribed with the birthday boy or girl's name and a special well-wishing.
Foods to include could be The Mad Hatter's Tea, Frog and Toad Cookies, the Very Hungry Caterpillar Gummies, Hansel and Gretel Bread or Gingerbread House, Snow White Apples, or anything from their favorite story!
Related: How to Teach Kids Great Birthday Party Etiquette
2 Year Old Birthday Quotes
Put a special quote on a card. The parents will appreciate any and all of these!
No one has more on their to-do list than a two year old at bedtime.
Having a two year old is like having a blender without a lid. ~ Jerry Seinfeld.
May your coffee be stronger than your two year old.
Silence is golden. Unless you have a two year old …
A two year old can do more in one unsupervised minute than most adults can do all day.
Your house isn't messy. It's custom designed by a two year old!
"Sometimes," said Pooh, "the smallest things take up the most room in your heart." ~ A.A. Milne.
A two year old: someone who can't hear their name being called, but can hear a bag of chips being opened through three walls and a thunderstorm.
Two year olds: the craziest, messiest, most infuriating, emotionally unstable, unreasonable, tiring little people you couldn't imagine your life without.
More Gift Ideas for Toddlers: