14 years? Now that couldn't have been easy!
But look at yourselves! You make it look easy. You made it 14 years with the love of your life, and you're still a happily married couple, madly in love and growing deeper in love every day.
This is a milestone worth celebrating! Part of your secret, no doubt, is that you take the time to find the perfect 14th anniversary gift (or 13th, or 12th, or Valentine's Day, and so on). You're always making sure that you keep each other happy now and on into the future.
After all, that's how it's done. (Mic drop.)
So, for this very purpose, we've put together some of the very best 14th anniversary gift ideas that you can explore for your spouse. Share the love as you read on and find the perfect gift!
Our website is supported by our users. We sometimes earn a commission when you click through the affiliate links on our website. See our privacy policy & disclosures for more information.
All About the 14th Anniversary
This is part of our series on Anniversary Gifts by Year.
14th Anniversary Themes
Here are the traditional and modern themes to help you find the perfect gift for year 14!
What is the traditional 14 year anniversary gift?
Ivory
Why is ivory the traditional fourteenth anniversary gift?
Ivory represents elephants. Yes, we know that might sound a little irrelevant.
But Ivory represents the stability you have created in your relationship and how patient you have been throughout in a dignified manner.
Now, if that doesn't sound like an elephant to you, we don't know what does!
What is the modern 14 year anniversary gift?
Gold Jewelry
Why is gold jewelry the modern 14th anniversary gift?
The 'old is gold' saying blends perfectly for the 14th anniversary gift. It effortlessly represents the beauty of your marriage and its rigidity over the years, defining how tough it is to break apart.
What is the 14 year anniversary stone?
Opal
Why is opal the fourteenth anniversary stone?
Opal symbolizes love and hope. And let's be honest: these are two of the most important factors you need to develop a deep, meaningful, and trusting relationship with your spouse.
What is the 14th anniversary flower?
Dahlia
What is the 14 year anniversary color?
Ivory. In keeping with the 14th year theme, choosing an ivory-colored anniversary gift for your beloved is appropriate.
10 Best Fourteenth Anniversary Gifts
1. Custom Map Print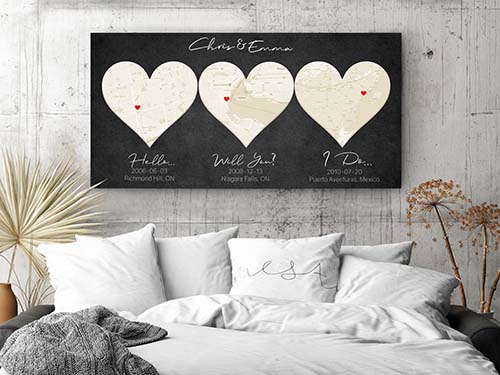 Now here is something unique to gift your spouse! A custom-made greyscale map is printed with locations for your "hello," your "will you?" and your "I do."
In other words, this lovely anniversary gift is personalized with the dates you met, started dating (or got engaged), and – of course – married each other! How sweet is that?
Pretty sure you're going to leave your spouse in tears when they see this in the room!
2. Personalized Ivory White Vase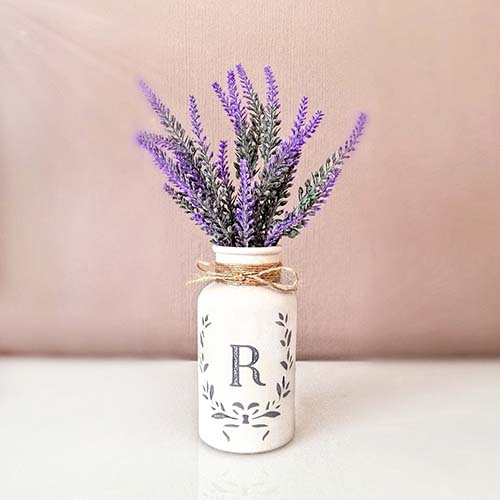 Make her glow in appreciation with this gorgeous white vase!
This farmhouse-style vase is the perfect addition to the other decorations in your home. Hand-painted with pale ivory chalk (obviously) and personalized with the initials of your shared name.
You can customize it further on your own by adding her favorite flowers. You do know her favorite flowers, right? 14 years should have been ample time for you to figure that one out!
3. 14th Anniversary Ornament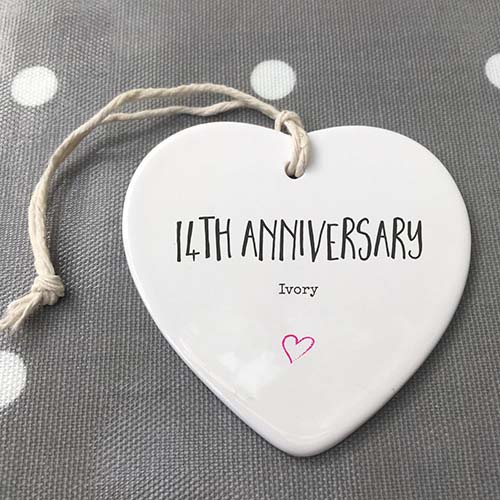 You have to make sure to commemorate the exciting and momentous achievement of hitting the 14-year mark.
So this delicate ornament in a lovely heart shape would be one of the best options. This can be decorated anywhere your spouse likes.
The ceramic keepsake is delivered to you in a pretty pink tissue inside an organza embroidered bag. Your beloved won't stop smiling at this one!
4. 14th Anniversary Card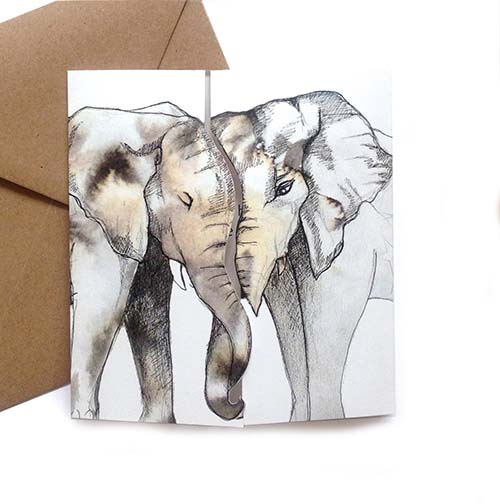 Giving a meaningful card that will never get old!
This square-shaped card with two elephants in love is made with recycled and biodegradable materials, so you know it's also making the environment happy along with your spouse.
Get a customized message written inside or handwrite it for a more expressive feel.
5. Gold Sprinkled Cake
If your spouse is a sweets lover, these flakes are the perfect topper to show how much you value your relationship.
Celebrate 14 years of love by baking your special one a delicious cake from scratch and adding these 24 karat natural gold leaf flakes as a surprise. After all, there's no better way to your lover's heart than through their stomach.
Hear them say "mmmmmm" after every bite, tasting all the love you've poured into your craft. Like your relationship, it's lots of effort, but it's worth it!
6. Personalized Golden Floral Necklace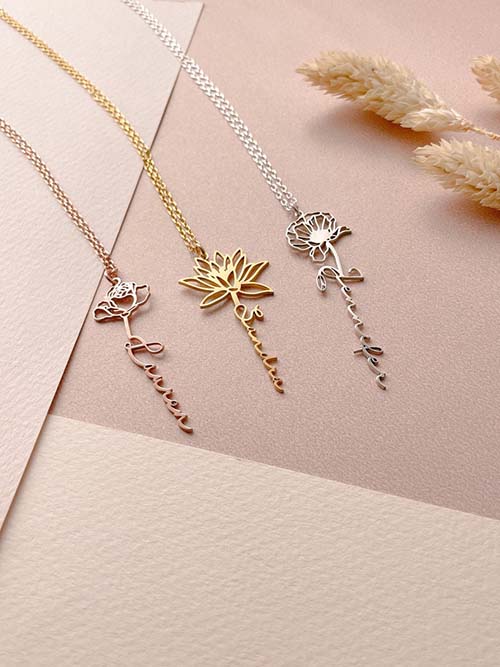 Are you thinking of giving her flowers this year? How about taking it up a notch and going for this minimalistic floral necklace?
This is a delicately crafted piece of jewelry, made with 925 sterling silver along with 14k gold, so you know it's worth it.
Get ready to feel proud as your wife delights in your thoughtful 14th anniversary gift.
7. Family Travel Push Pin Globe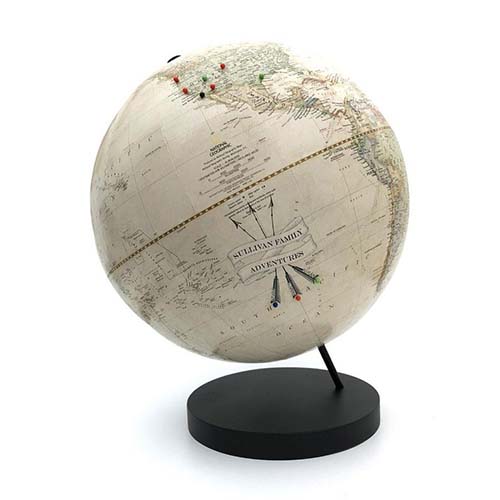 Now here is something that is prepared specifically for our traveler spouses!
Keep constant track of all the adventures you've had together by adding the ivory push pin globe to your collection. Customize it with your spouse's name and watch it spin around.
This is a perfect idea to help you lovebirds decide where to head off to next.
Related: Best Gifts for Travelers
8. Elephant Love – Cutting Board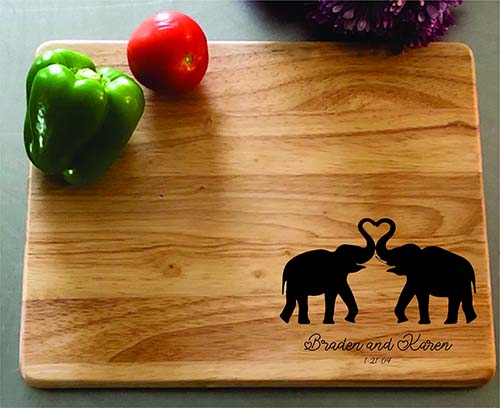 This year, surprise your sweetheart with this personalized, beautiful, and sleek cutting board!
If your spouse loves to cook, she or he will absolutely love this cutting board with elephants engraved on the side with your names and wedding date.
This laser engraved personalized elephant cutting board is bound to help you create beautiful memories in the kitchen.
9. Together They Built a Life they Loved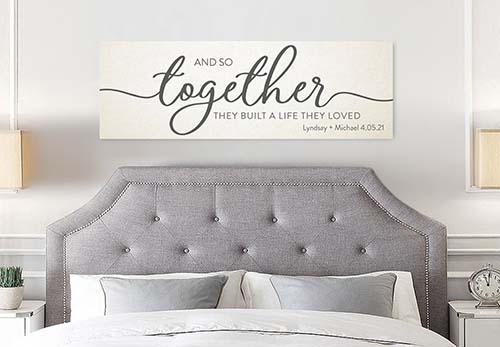 If you want to make your spouse tear up in happiness, then this gift is the one you are looking for!
This canvas says, 'together, they built a life they loved', which reminds your spouse that you have worked hard the past 14 years in building this life together – and boy has it been worth it!
This canvas will make your bedroom complete when you hang it above your bed.
10. Elephant Wine Glasses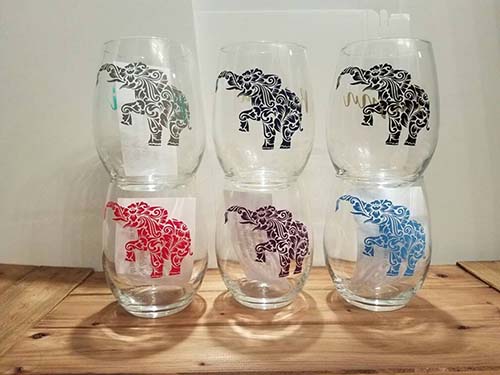 Enjoy your anniversary "night in" with your loved one all the more when you bring out these elephant wine glasses.
How can anyone resist buying these vinyl glasses? Just picturing the two of you sipping the night away is enough to get these.
Enjoy a relaxing glass of wine and engrave the memory in your hearts forever.
Traditional 14th Anniversary Gifts (Ivory)
11. Ivory Bedspread Set
Let's just say "someone" will be sleeping like a baby when you get them this ivory bedspread set!
This ivory-colored bedspread set is perfect for every occasion, especially if it's your anniversary. You can stay warm with your spouse in the winters and feel light.
This breathable spread is precisely the addition to your room you need to celebrate the anniversary in style.
12. Ivory Stained Photo Frame
You are sure to have a bundle of pictures with your other half. Let them stand out by giving this photo frame enhanced with ivory to celebrate your 14th year together.
This frame is crafted with glass material and copper finishing. The ivory opalescent and clear textured glass provides a more defined look.
13. Ivory Fringe Scarf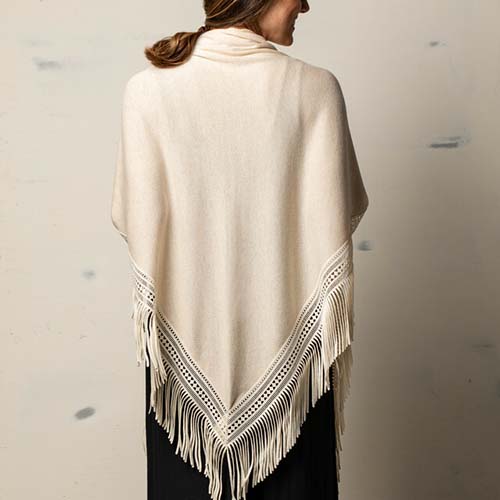 Now here's an excuse for her to dress up and go out with you! This ivory scarf with elegant fringes is precisely what she needs to accent her wardrobe.
The triangular-shaped scarf radiates outer beauty, providing her with a lovely and warming accessory. The lightweight feel is perfect for styling it with anything she wants.
14. Floral Heart Music Box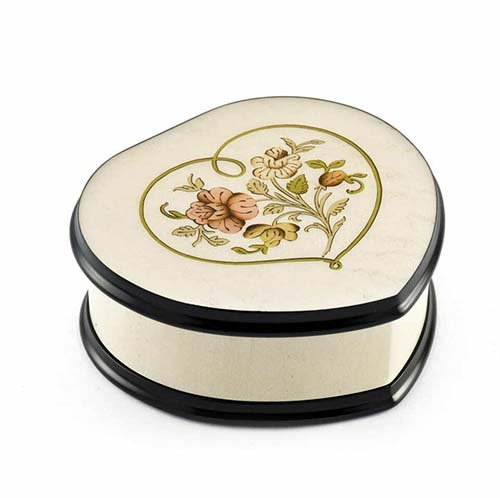 Everyone has a song in their relationship which has a special meaning behind it. We are sure you do too. That's why this music box will be the best gift ever!
The music box has a traditional floral motif engraved at the center decorated with a heart-shaped outline. Plush interior fabric ensures a sense of delicacy throughout.
Choose the music that means the most and be reminded of your treasured memories every time she opens this special keepsake.
15. Vintage Ivory Jewelry Pieces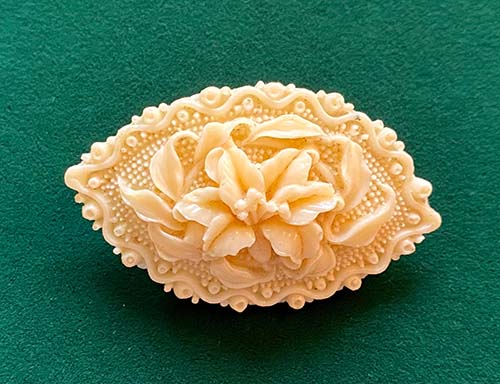 If your woman loves to adorn herself in the best of the best jewelry, then a one-of-a-kind vintage jewelry gift will be the right idea.
Accessories crafted with ivory make them even more unique than the rest. Search Etsy to find original and unique pieces of art that will make your significant other look even more special on your anniversary.
Don't think twice about making her feel like she's on top of the world!
Modern 14th Anniversary Gifts (Gold Jewelry)
16. Stacked Gold Hearts Necklace
Now here is something she always wanted! The gold stacked hearts necklace is the one thing missing from her jewelry collection. You can't go wrong with a layered heart design that has been plated twice for perfection. Its crafting with 18k gold is unmistakable when you wear it with tough copper polishing.
Place it on her neck and get ready to give her the special treatment she deserves.
17. Gold and Opal Ring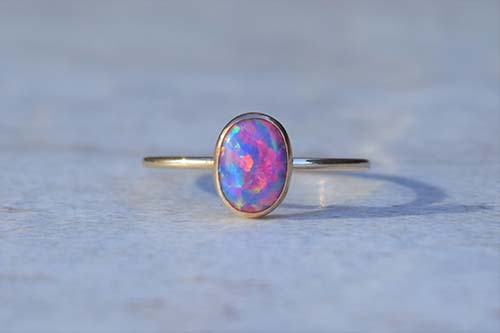 This is an everlasting ring that wonderfully integrates the 14th anniversary celebration theme. An opal gemstone is adorning this ring in white, with the band in gold. The band remains durable for an extended period, and its minimalistic look is what stands out the most.
No matter where she goes, this ring will remain the highlight of her day, thanks to you.
18. Handmade Gold Earrings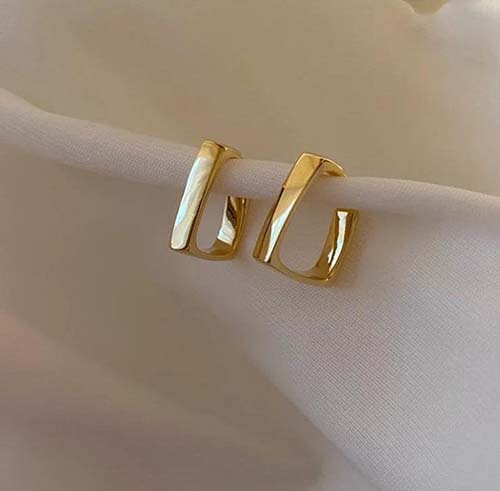 Earrings never go out of style, especially not these handmade gold earrings which are sure to bring a delighted smile to your spouse's beautiful face.
Made of durable brass material, these accessories are handcrafted in gold color. They pair equally well with an elegant and formal style or a cute-and-casual look. Either way you go on your 14th anniversary date, she's going to wear her new earrings and look amazing doing so as you fall in love all over again.
19. Forever Love Golden Heart Pendant
If you plan to love her forever and keep her happy, then the Forever Love Heart Pendant in gold is the ideal way to convey it to her.
This pendant has been crafted with 925 sterling silver and features her birthstone set in the center of the heart. Highly brilliant rhodium finishes the chain, and rose gold plating brings out its beauty. She will treasure a little something like this for a long time… perhaps, you know, forever.
20. Gold and Opal Necklace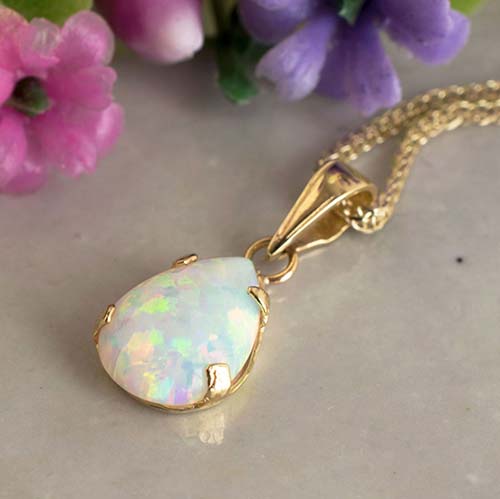 Integrating two 14th anniversary themes takes a special gift. This gold and opal necklace is crafted especially for this purpose: To show the one you cherish the most just how much you love her.
The chain is a glistening 14k yellow gold hue, while the gemstone that decorates the necklace is opal. This is a dainty and lightweight necklace that can be worn anywhere without any weight at all.
Opening this gift will be a moment she will remember for a lifetime!
14 Year Anniversary Gifts for Her
21. Opal Hearts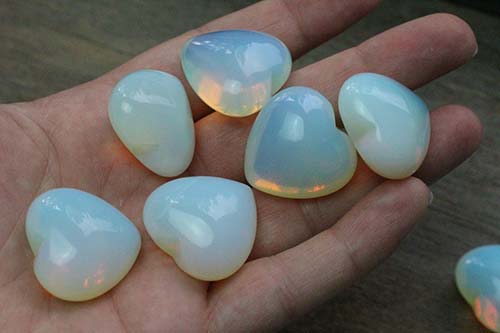 Do you want your relationship with your spouse to be a beautiful creation that is never forgotten? Then these intricate opal hearts might just be what you need.
The opalite infused in these hearts helps you manifest the kind of relationship she wants to create. She will always make sure to keep it close.
22. Custom Gold Leaf Trinket Dish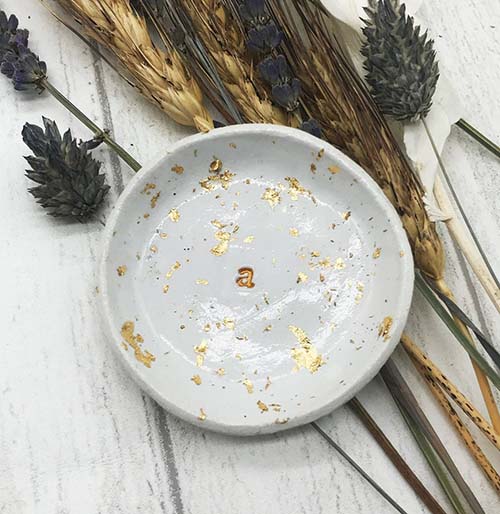 Who says your spouse doesn't need a pretty little dish to store her most minimal items? We sure don't! This is why offering her a gold trinket dish might be the best decision.
Air dried clay creates this sleek trinket dish for your unique jewelry pieces. You can get this dish hand stamped with her initial before it's finished with intricate gold leaf flakes in a gloss finish.
23. Personalized Morse Code Bracelet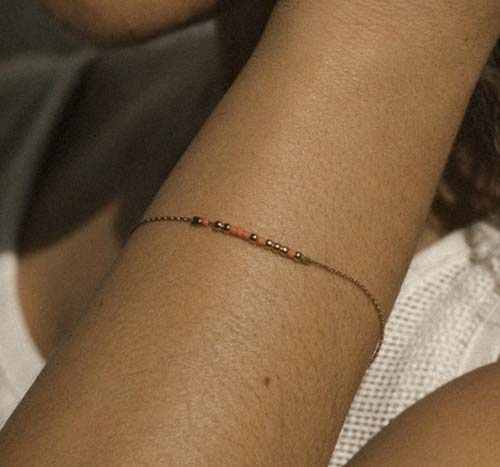 Some things should always remain between a loving couple, which is why this morse code bracelet can be the perfect gift for your spouse.
This delicately crafted bracelet with silver presents a beaded design that spells out a word or name you customize. It turns into a hidden message in the form of a morse code. Now she will have this tiny little secret with her wherever she goes. What fun, and what romance!
24. Opal Necklace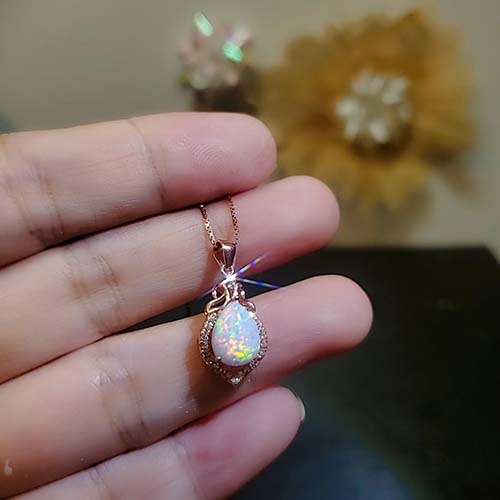 If there's one thing to know about women, it's that we can never have enough jewelry. So don't miss out on getting a gorgeous opal necklace for your wife this anniversary. The opal gemstone gleams with beauty, while the gold chain has a sleek shine that can't be missed.
No one will compare with her essence as she radiates love in this necklace.
25. Personalized Ivory Felt Notebook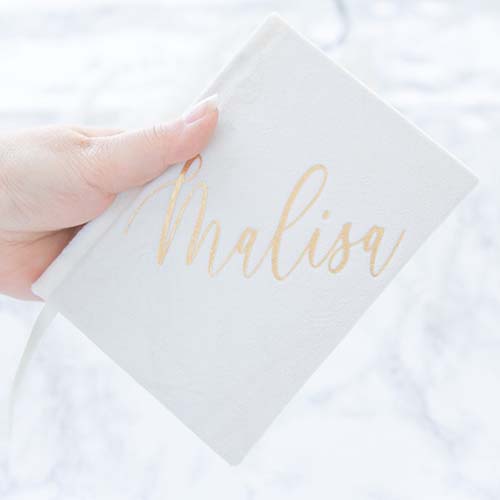 This personalized notebook is the best way to get your loving wife to start writing about her feelings beginning from the most special day of all. A smooth velvet exterior creates an elegant look and a personalized name engraved with a metallic gold font to make these pastel-colored books pop.
Add a small note in the middle and keep the satin ribbon in place to surprise her.
Related: 25 Gifts for Writers
14 Year Anniversary Gifts for Him
26. Best. Husband. Ever. Tumbler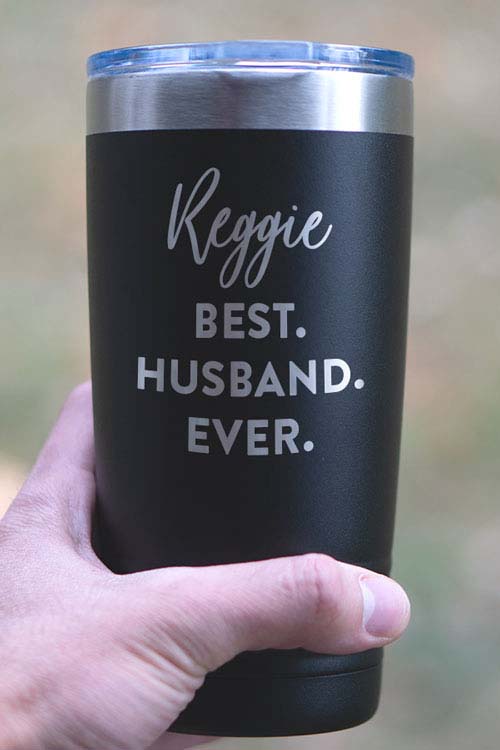 If you love your husband and want to thank him for everything, he's done the past 14 years, you might as well spell it out with the personalized best husband ever tumbler.
Get your message of love etched onto this stainless steel tumbler, proving to your husband how much he truly means to you. If he's an avid coffee drinker, you'll be reminding him of your love every time he uses it – which is to say, every day!
27. Handmade Damascus Pocketknife Set
What husband wouldn't want a gorgeous Damascus steel pocketknife like this one! The lightweight blade can be folded back into the ivory-hued handle, making it a safe accessory. You can lock your blades in place and use this camel bone knife for many years due to its rust resistance properties.
If you've decided on giving each other "ivory" themed anniversary gifts this year, this is one idea that will come off as a pleasant surprise indeed.
28. Opal Ring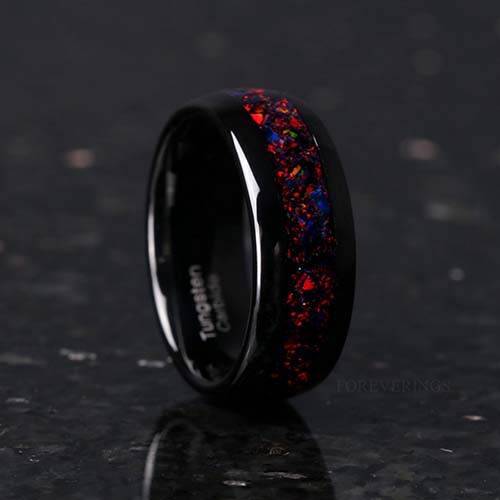 It's about time your spouse receives a new ring that can bring out his wedding ring even more. You can achieve this by gifting him this brilliant and manly opal ring. This piece is one-of-a-kind with its tungsten material blend along with an inlay of crushed black opal that displays a glistening array of iridescent colors when out in the sun.
He is never going to take this one off!
29. Custom Mixtape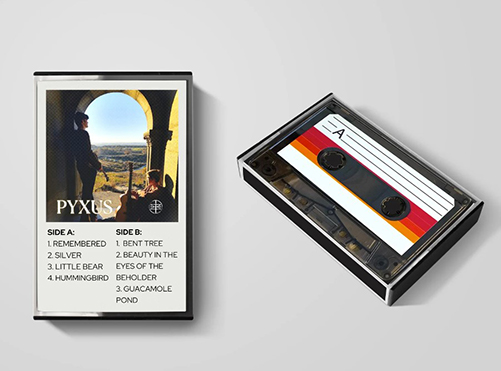 He will love how thoughtful and sweet this gift idea is. Load up a cassette with all of his favorite tunes, or maybe the playlist of your love story! Customize it to a T with the cover art of your choice, too! This is one mixtape he'll play over and over and over again!
30. Ivory Scrimshaw Cribbage Board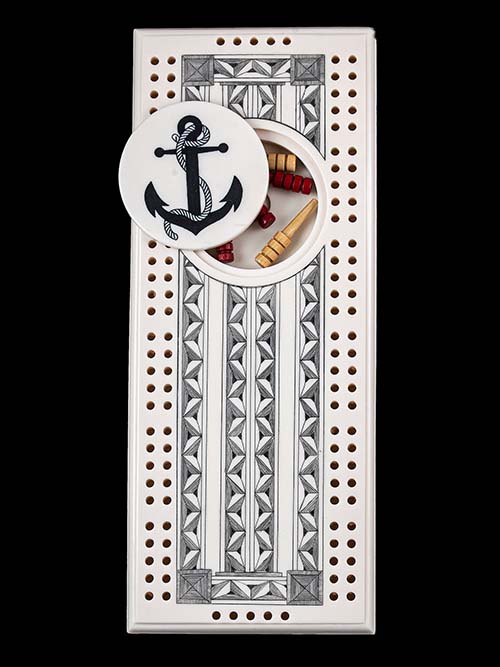 Is your hubby someone who is exceptionally competitive and loves a little board game action? Then this ivory scrimshaw cribbage board is the new game he needs. You can use it as a showpiece for your home to add an antique look or play cribbage anytime so you can enjoy more memories spent together.
14 Year Anniversary Gifts for Couples
31. Personalized Elephant Frame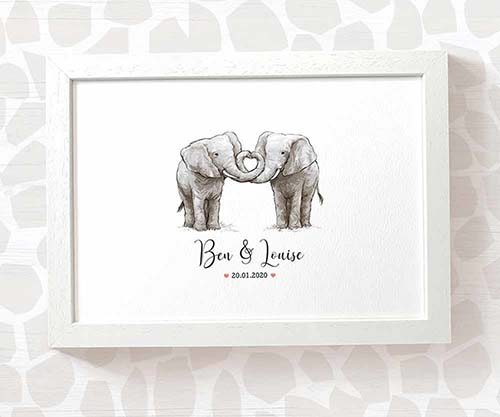 Now here is a timeless and memorable way to remember your 14th anniversary forever. The personalized elephant print is an elegant work of art that inspires memories of your wedding.
Made with textured art paper and gorgeously framed, this gift features a couple of elephants which can be customized with your two names and marriage date!
Related: 10 Personalized Gifts for Couples
32. Coffee Together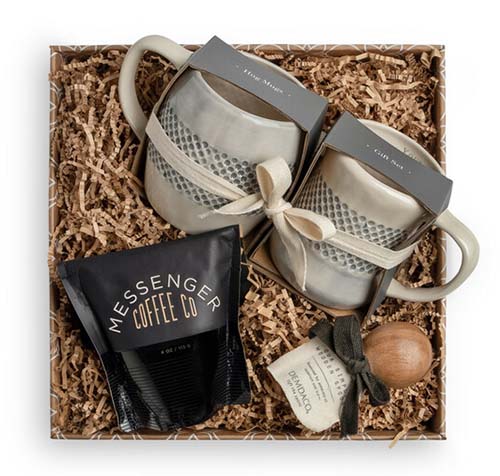 Make your significant other feel all warm inside with the Coffee Together Love Box. This artisan gift box has all the essentials needed so you can have a nice cozy day with your loved one. It includes a matching set of "mine" and "yours" stoneware mugs along with a coffee packet and wooden stirring spoon.
Whether you share a cup of joe bright and early around your kitchen table, or relax on the porch on a cool, windy evening, this is a gift to help you bond with your spouse over coffee… together!
33. Personalized 14th Anniversary Candle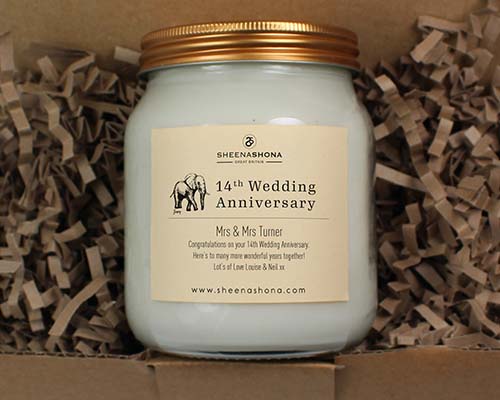 The traditional symbol being ivory has its perks, just like this 14th-anniversary candle made especially for you and your spouse.
This personalized honey jar candle is made with eco-friendly soy wax and cotton wicks for long-lasting burns. Choose their favorite scent from the options provided. Your room is going to smell so much sweeter after this gesture!
34. Handmade Ivory Colored Wool Moroccan Blanket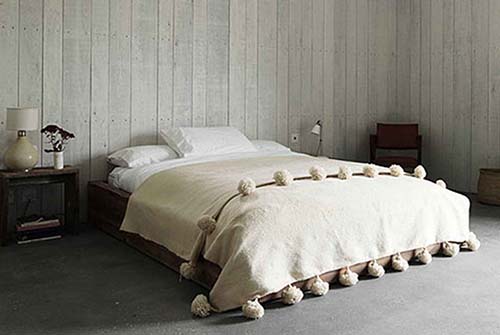 Comfort is an aspect of every relationship that should be celebrated so that the handmade Moroccan blanket will serve well for them.
The wool embroidered blanket is decorated with Moroccan pom poms extracted from traditional wooden looms. A comfy and stylish look is exactly what your room needs, and your beloved will certainly feel wrapped in your love in appreciation for this gift.
35. Gold Rimmed Personalized Wine Glasses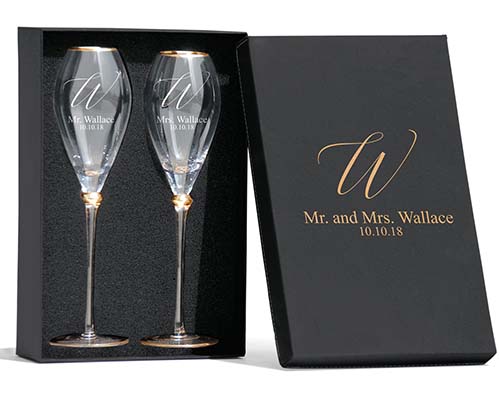 The best way to celebrate something together is by drinking till you can't get enough. Gift these gold personalized wine glasses to your spouse, and get ready for a night filled with love! These flutes are handmade to perfection and engraved with a laser, which means the engraving will last forever. Given to you in a luxury leather box for ample protection.
Unique Fourteenth Anniversary Gifts
36. Opal Elephant Statue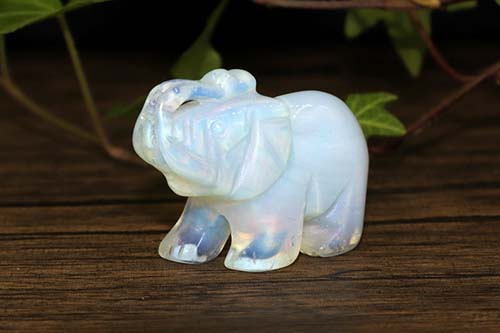 With the anniversary being just around the corner, you must be trying hard to find something your spouse can be happy with. This cute little opal elephant statue saves the day!
Made with synthetic opal, this statue in the shape of an elephant will bring good luck to your relationship, ensuring a long-lasting marriage.
37. After 14 Years… Anniversary Mug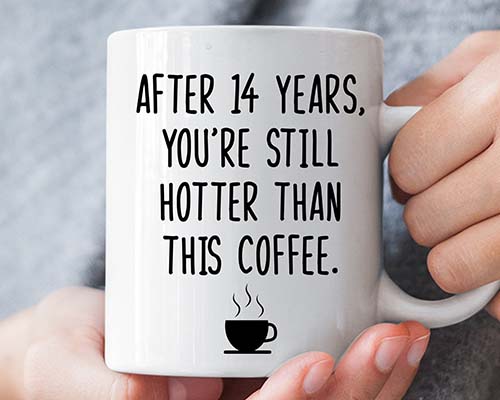 14 years is a long time and can make your spouse feel like they have lost their attractiveness. Remind them they are still as pretty as ever with the ivory anniversary mug!
The ceramic on this mug is tough, just like you and your spouse. Every time they have a cup of hot chocolate or coffee, they will happily be reminded about how you still find them attractive.
38. Personalized Family Name Coaster Set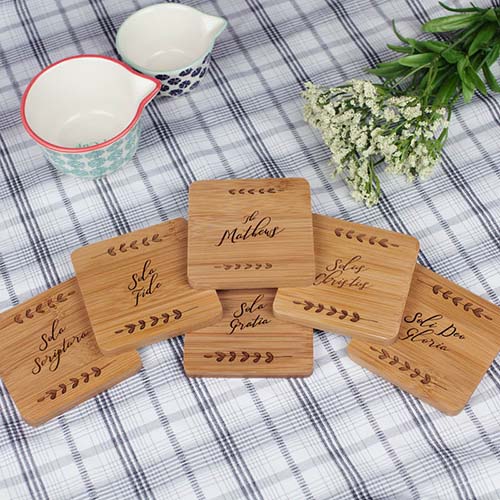 Give your loved one clean, ring-free tables when you personalize a set of Custom Engraved Bamboo Coasters!
There are many personalized designs available. The lovely set pictured above is designed for the family of Christian faith and features one coaster customized with their name and the other five etched with the traditional "Five Solas" of the Protestant Reformation. The perfect way to celebrate your anniversary and your shared faith.
39. Elephant Tea Light Holder
Couples often are suckers for attractive candles, whether scented or otherwise. Romance is always in the air when the candles are lit! So do you really need to think twice before opting for the elephant tea light candle holder?
This white ceramic tea light is oh-so-cutely designed in an elephant shape. You get two pieces, so the more, the merrier!
40. Opal Bookmark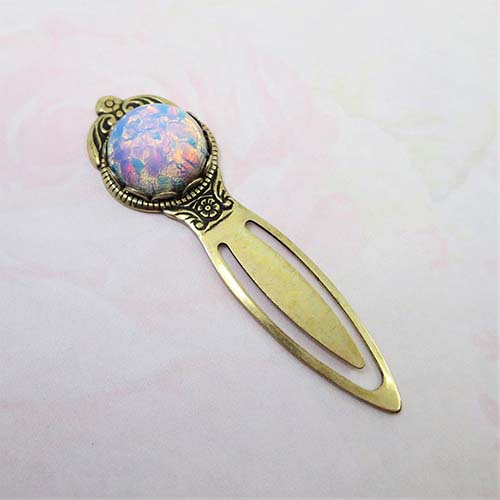 Is your spouse a crazy book lover who can't stop reading? Help them remember where they left off with this Victorian-style opal bookmark and page-saver.
Antique brass and vintage glass cabochon craft this exquisite bookmark with a glass-fire opal jewel adorned at the front with varied hues of pink and aqua, making it seem to glimmer in the light. A lovely opal anniversary gift for your bookworm spouse!
---
Your 14th anniversary doesn't come along every year – it's only once in a lifetime! Take this time to celebrate this unique and personal moment with your spouse by choosing a thoughtful, sweet, and romantic gift.
Read Next: 101 Things to do on Your Anniversary
Pin It