Let's talk about the best 23rd anniversary gifts! Today, we're going to learn about the traditional themes for year 23, including specific gemstones, flowers, colors, and gift themes.
We'll get into the modern or contemporary themes as well, so that you'll have every option available to make your gift as meaningful as possible.
23 years together is a long time, so we congratulate the two of you! We know you're going to do whatever it takes to make your 23rd anniversary special for you and your partner.
After all, it's the perfect time to look back and cherish the love and romance that has helped keep your marriage alive.
But it can be hard to decide on the perfect gift for such a special occasion. Sure, it is the thought that counts, but you can also see it as a reflection of your love – so make it count!
To make things easier for you, we went all-out and put together this list of the best traditional and modern 23rd anniversary gifts. Most of the ideas below embody the 23rd anniversary theme in one way or another, though we also took the liberty to include some sweet, romantic, and creative gifts as well.
While we can't guarantee to make your partner fall in love with you all over again (that's your job, silly), we can guarantee that you'll find some amazing gift ideas!
Our website is supported by our users. We sometimes earn a commission when you click through the affiliate links on our website. See our privacy policy & disclosures for more information.
All About the 23rd Anniversary
Table of Contents
This is part of our series on Anniversary Gifts by Year.
23rd Anniversary Themes
Did you know that there are themes, colors, flowers, and gemstones associated with each anniversary year? Yep. Learn these so that you can pick the perfect gift for your spouse! And guess what? We have all the answers right here.
What is the traditional 23-year anniversary gift?
The traditional 23rd anniversary gift is silver plate. Silver plate is a more affordable alternative to pure or sterling silver, because it features a small amount of silver mixed into or coated over another type of metal.
It's a durable, beautiful, and affordable material for attractive products that include silver-plated dinnerware, jewelry, or decorative household items.
What is the modern 23-year anniversary gift?
The modern gift theme for year 23 is also silver plate.
Why is the silver plate the traditional & modern 23rd anniversary gift?
The silver plate represents meals shared together. Thus, it gives you a chance to look back at all the romantic dinner dates, cookouts, barbeques, movie night snacks, and healthy home cooked meals that you've shared together. Plus, of course, all the happy memories you made along the way!
What is the 23-year anniversary stone?
The prized imperial topaz is the 23rd anniversary stone and would definitely make a very regal and beautiful gift for your spouse.
Why is imperial topaz the twenty-third anniversary stone?
Imperial topaz is a very special gemstone. It's so special that at one point in history, only the royal family were allowed to wear a certain colored topaz stone. What better gift than this exquisite stone for your partner who is even more special!
What is the 23rd anniversary flower?
Traditionally, there is a flower specified for each of the first twenty years. After that, flowers are connected to anniversaries in 5 year increments (year 25, 30, 35, etc).
Thus, the 23rd anniversary does not have a specific flower association. However, flowers are always a good idea and make wonderful gifts, to say the least!
What is the 23-year anniversary color?
In connection with the traditional gift theme of silver plate, the 23rd anniversary color is silver.
10 Best Twenty-Third Anniversary Gifts
When it comes to gift-giving, you have too many options, which means you'll often find yourself frozen with indecision, unable to pick and choose.
But worry no more! We've compiled an inspiring list of the best 23rd anniversary gifts. We're confident you'll see a gift here that just "pops."
1. Heart-Shaped Silver Plate
This heart-shaped silver plate is the ideal gift because it perfectly embodies the 23rd anniversary theme. And what better way to express your love than with a good old heart?
2. Custom Engraved Wine Stopper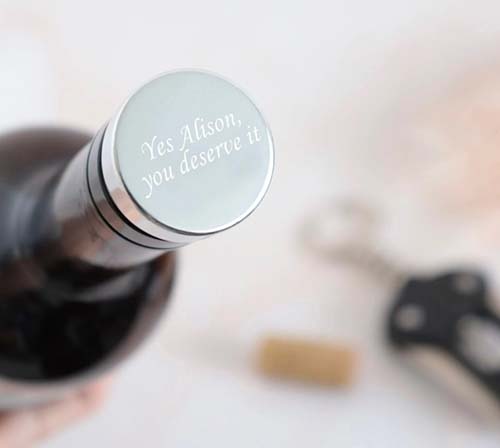 This custom engraved wine stopper is super cute, and a great way to send your beloved a heartfelt message. It's useful, aesthetically pleasing, and has the extra special custom touch! So what are you waiting for!?! Get it here and pair it with a favorite bottle of wine.
Your sweetheart will have something you can enjoy together, plus something to use for years to come.
3. Just Married 23 Years Ago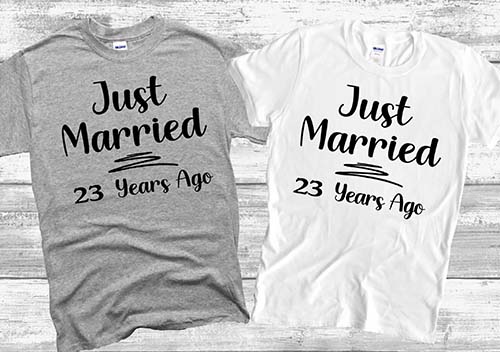 Nothing spells out love like matching shirts! So if you want to make your 23-year anniversary official, it's time you got these matching 'Just Married 23 Years Ago' shirts here and take your marriage to the next level!
4. Silver Heart Photo Collage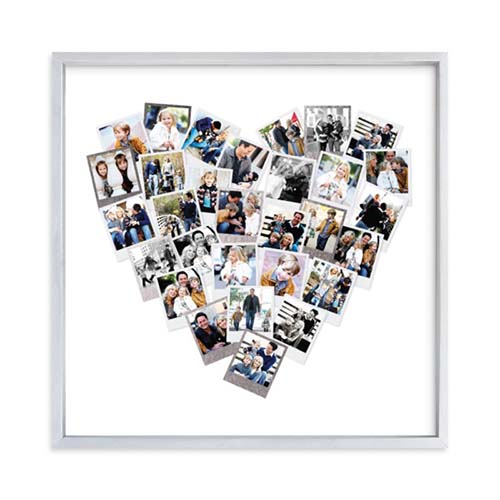 Here's another heart gift, because hearts so perfectly symbolize the love you share. This silver heart photo collage presents a great opportunity for you to look back at the 23 years you've spent with your other half, and to fall in love all over again!
5. Sweethearts Bird Feeder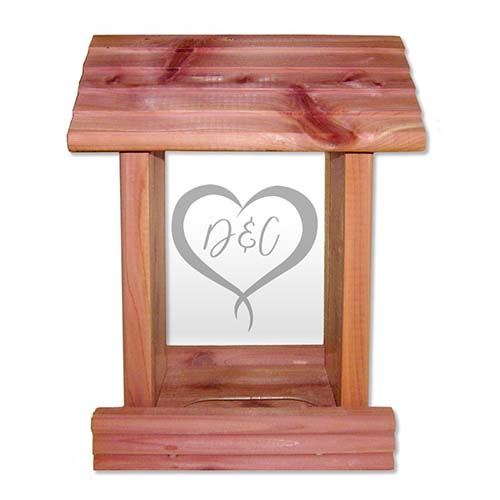 Personalized gifts are just the best and this sweethearts bird feeder is the ultimate wedding anniversary gift for the love of your life. Not only is it gorgeous but it's also the perfect excuse to carve and hang your initials for the world to see!
6. Bespoke Soulmates in Silver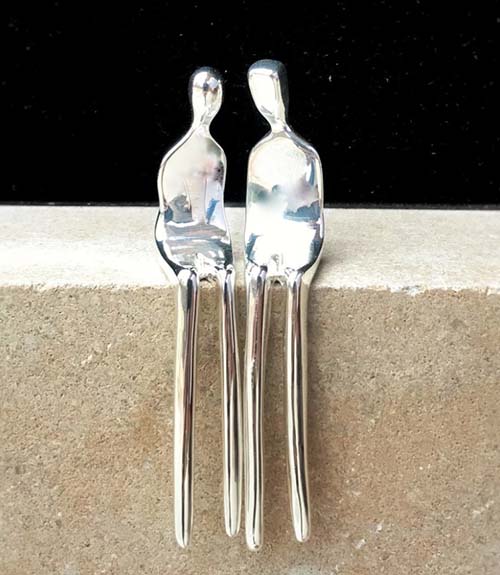 23rd anniversaries are big on silver, and that makes this couple figurine the best gift for your beloved! It's fancy, symbolic, and handmade so you know you can't go wrong with it.
So, what are you waiting for? Get it here to make your spouse feel that extra bit special.
7. Night Sky Canvas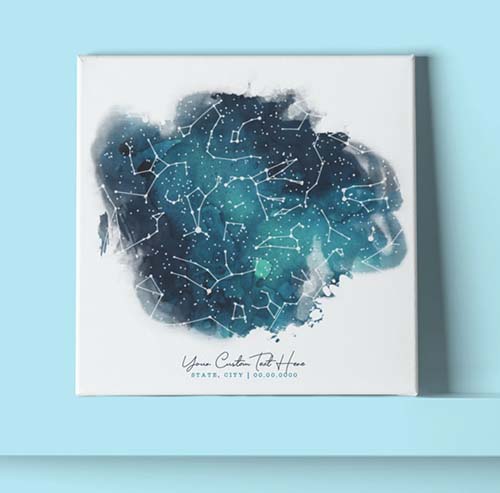 Star maps are all the rage these days, and they definitely make for great wall décor. So for this special day, take it all the way back to your wedding day, your first date, or maybe even the day you met, and give your spouse a gorgeous and accurate representation of the night sky at that moment.
Bonus brownie points if your first date also involved stargazing!
8. Custom Bourbon Barrel Lazy Susan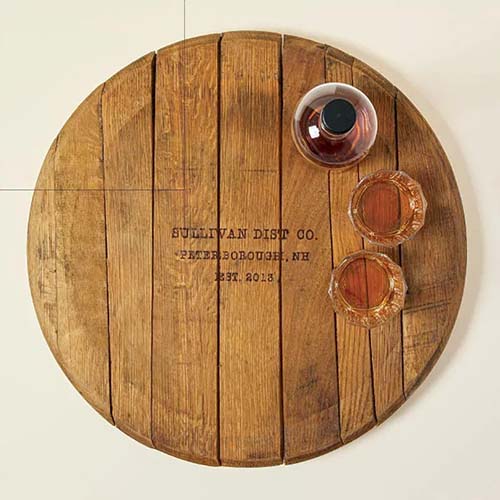 This Custom Bourbon Barrel Lazy Susan is yet another fantastic gift to celebrate your marriage. Not only does it make a wonderful keepsake but it is also very useful for hosting, tasting, and for decorating your home bar! What's more, you can personalize it with your family name, location, and anniversary year.
9. Silver Plated Rose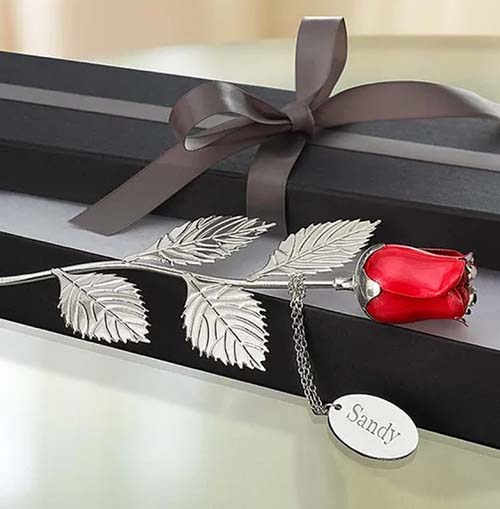 You know what's better than flowers? Flowers that last forever, of course! So, if your partner has a thing for flowers, get this silver-plated rose to celebrate your 23-year anniversary in style.
10. New York Times Custom Anniversary Book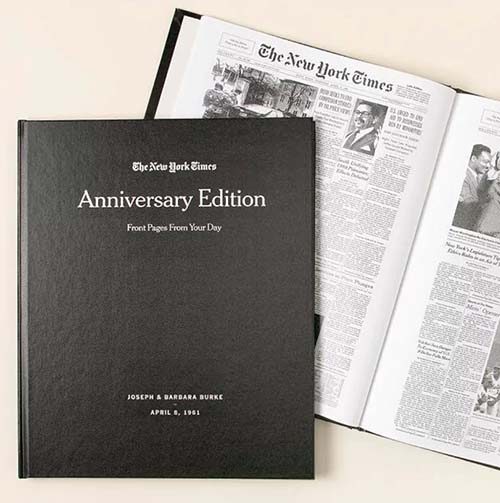 This custom anniversary book is like no other! The romantic gift memorializes all these special years by placing together every New York Times front page into a chronological book from the day you were married until your 23rd anniversary.
Perfect gift for any couple that loves history or just the New York Times!
Traditional & Modern 23rd Anniversary Gifts (Silver Plate)
Here are some of our favorite 23rd wedding anniversary gifts that feature the traditional and modern theme of silver plate. Your spouse will dote over any of these!
11. Engraved Silver Jewelry Box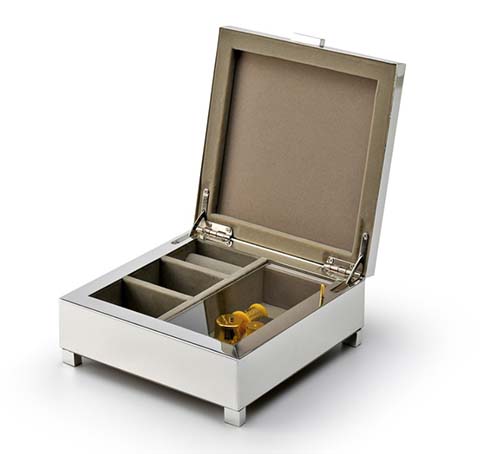 You can't go wrong with a jewelry box, especially when it's silver! Get it here and give your spouse all the feels this anniversary.
12. Love Notes Hanging Envelope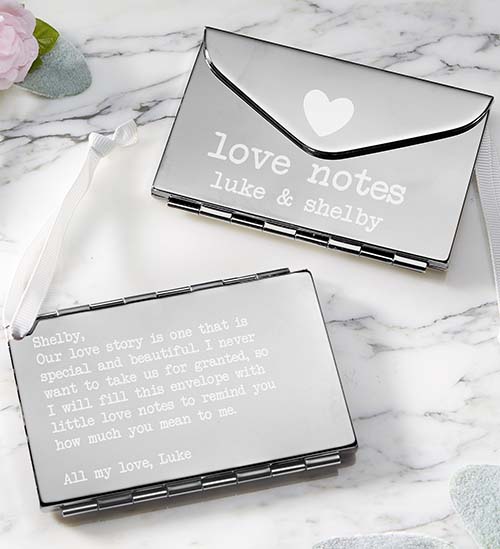 Nothing says I love you like a thoughtful and romantic love note. But what if it was engraved to make it permanent? Ah yes, we love it too! Hence, if you want to reassure your better half of a love that will stay as permanent as this note, invest in this love note hanging envelope now – like, right now!
13. Custom Silver Bookmark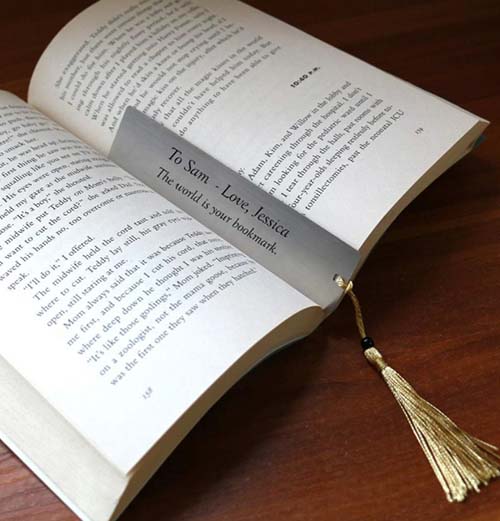 Does your significant other like to read books? Well, then make sure you're on their mind every day with this unique silver bookmark that they will love for sure!
Related: Best Gifts for Book Lovers
14. We Made a Family 23rd Anniversary Gift Sculpture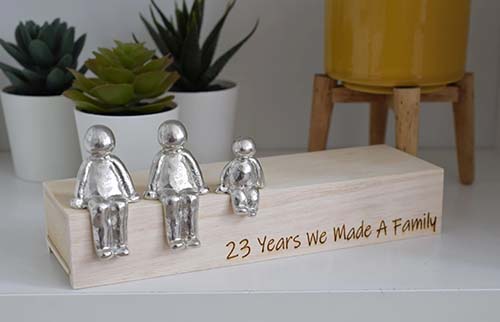 Here's another anniversary figurine gift that is perfect for celebrating the 23-year mark of your marriage. It's a great romantic gesture to remind your spouse of how far you've both come together and how much it means to you.
15. Silver Heart Locket
What makes this silver locket a great gift is the fact that it is heart-shaped and designed to store your most precious memories. Therefore, if you're looking to celebrate your 23rd marriage anniversary, this should be your go-to gift.
16. Silver Plated Wine Glasses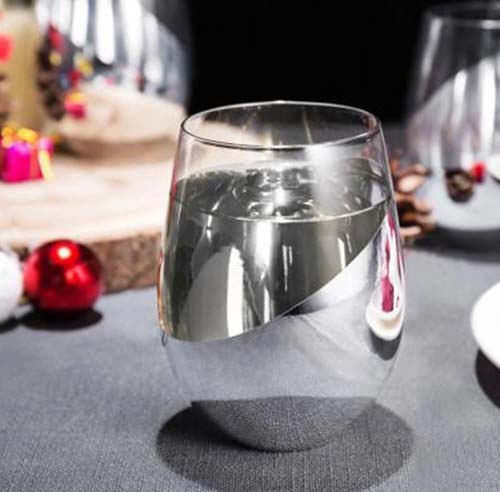 Wine glasses are another gift you can never go wrong with. And so, we suggest you invest in these silver-plated wine glasses to make your partner feel special on this extra special day.
17. Always and Forever Heart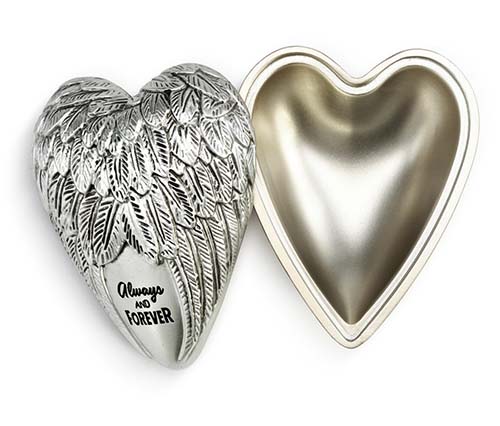 What better excuse to say always and forever yours than your 23-year anniversary? So, stop everything you're doing and get this decorative Always and Forever Heart for your sweetheart! It is a beautifully crafted piece perfect for storing all your heartfelt sentiments.
18. Wüsthof Silver Carving Knife Set
The Wüsthof Silver Carving Knife Set is a gorgeous gift for your marriage anniversary, and the silver just makes it perfect for celebrating your 23rd year of marriage. It is made from high-quality stainless steel, and thus would make a great addition to any kitchen.
19. Custom Silver Map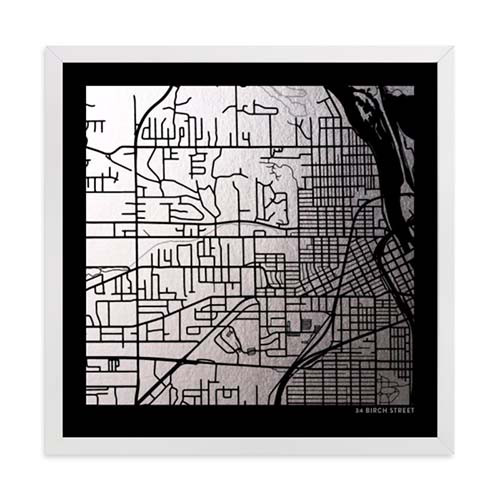 Another handcrafted unique gift idea is this custom silver map to reassure your spouse that they are always your number one priority, and they make you feel at home.
20. Silver Ceramic Wall Planters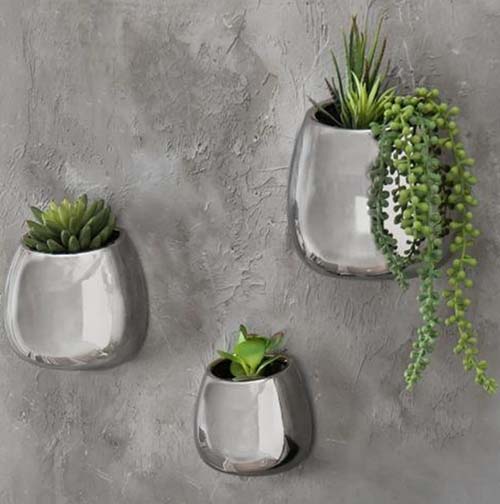 These ceramic wall planters are not just silver but also super cute which makes them the perfect addition to any household, especially one that loves plants.
If you and your spouse have a thing for plants, this should be the present you choose for your 23-year marriage anniversary!
23 Year Anniversary Gifts for Her
21. Imperial Topaz Ring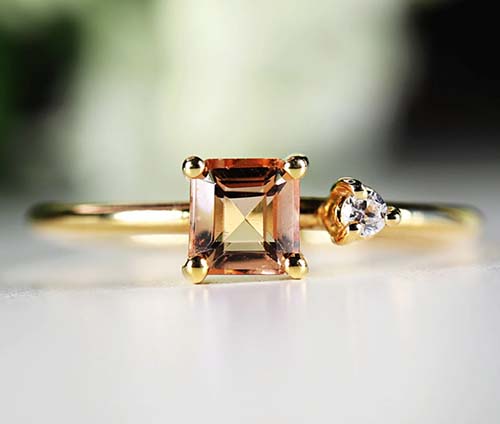 Rings speak of commitment and promises in a very unique way. When you wish to make your sweetie smile, get this imperial topaz ring for her and celebrate your 23rd anniversary in style!
22. Apron Dress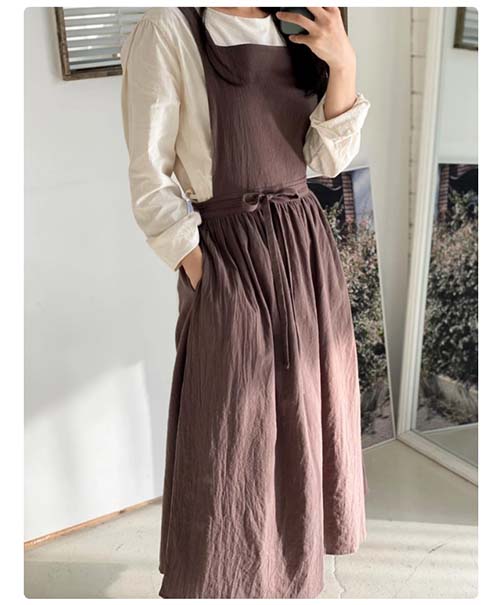 Does your other half love to cook? Well, then this is the gift for them! This apron dress is chic and stylish and gets the job done! This year, make sure to give your partner something they'll love and cherish and use for good!
23. Forever Loved Bracelet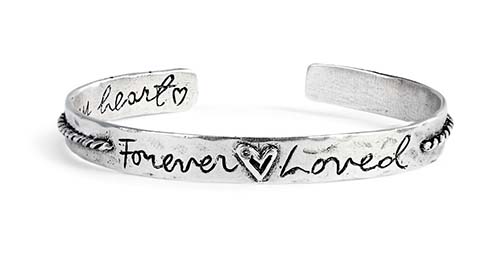 It's a great feeling to always be reminded that you're loved by the ones around you. Get the Forever Loved Bracelet and do just that for your partner because you should make sure they know how special they really are to you!
24. Fernweh Candles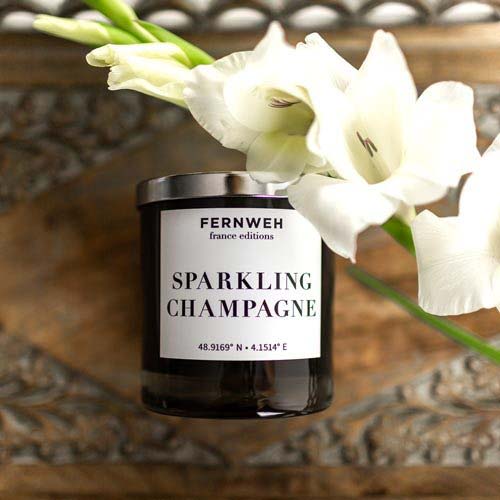 Candles scented after exotic locations to inspire and soothe your wanderlust soul? Yes, please! These Fernweh Candles should be your go-to gift idea to celebrate the way you always love to travel… and that way is, of course, together.
25. Mother Nestling Birds Silver Necklace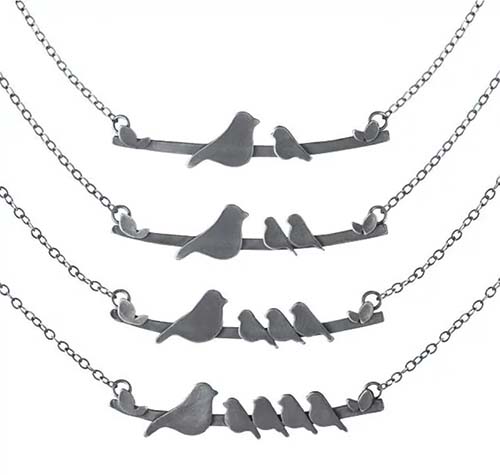 Another necklace because yes, necklaces are never a no. Everyone loves necklaces and if it's silver, it goes perfectly with the 23-year anniversary theme! Handcrafted by Rhonda Dudek, the Mother Nestling Birds Necklace is made from recycled sterling silver and features little baby chicks to represent each one in your family.
23 Year Anniversary Gifts for Him
26. Imperial Topaz Earrings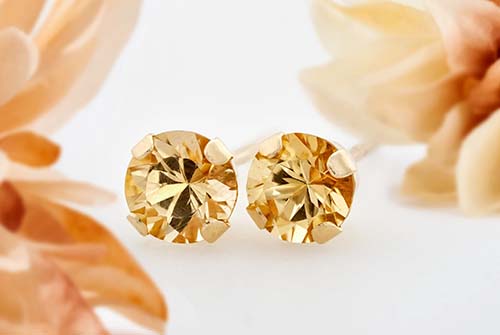 If your partner doesn't shy away from jewelry, just look at these gorgeous imperial topaz earrings that help you stand out in the best way. They would go well with just about any outfit, and we're not kidding when we say your spouse will absolutely love them!
27. Silver Engraved Cufflinks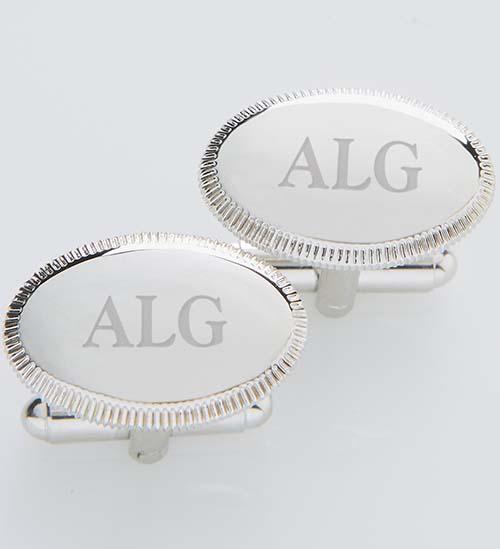 Another good gift idea for your partner is silver cufflinks engraved with your initials so they can keep you close. You can check out these cufflinks here because they're just the best.
28. 52 Weeks of Love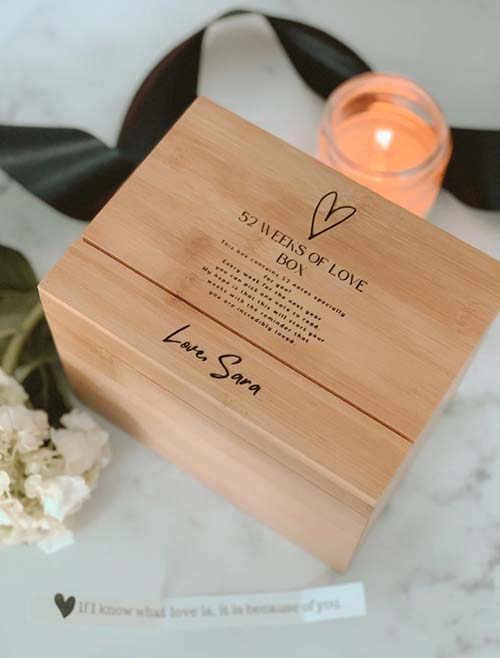 They say one day is not enough to express your love for someone. So, how about 52 weeks?
Get this special box filled with 52 lovingly sweet notes. It's the perfect way to express your feelings for your beloved with what actually might be the most romantic gesture ever!
29. Personalized Leather Wallet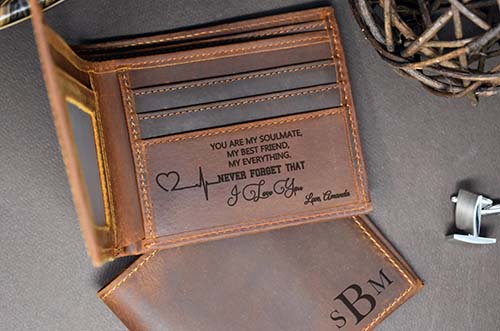 This leather wallet is another customized gift that you really cannot go wrong with. Get it here and show your spouse just how much he means to you.
Plus, it's a useful gift and he'll remember you every time he uses it. Honestly, what are you waiting for? Just get it already!
30. Custom Engraved Card & Dice Box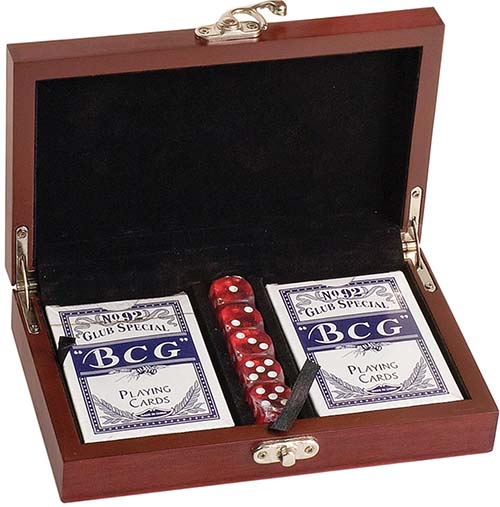 If your husband is a poker player, a good gift idea for him would be a custom card and dice box that show how much you care about his interests. And of course, how you're always noticing the little things they do and love because he means the world to you!
23 Year Anniversary Gifts for Couples
31. Personalized Silver Picture Frame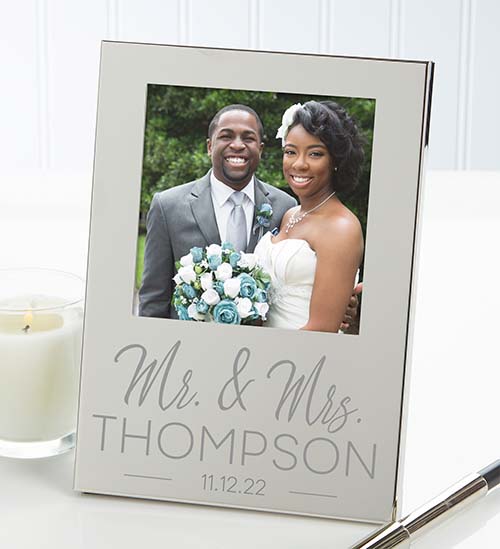 Sometimes, less is more. And if you still don't think you have the perfect gift for your spouse yet, maybe you should keep it classic with this silver picture frame to help your partner look back on some of your best memories.
32. Mr. & Mrs. Vintage Silver Spoon Ring Dishes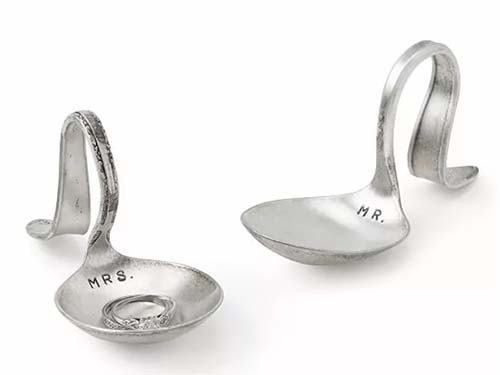 Jewelry holders made from antique cutlery? Sign us up, please! This is the ultimate gift for a couple where both partners enjoy wearing jewelry. Therefore get it here and give your partner a unique gift that you can even share with them!
33. Candy Club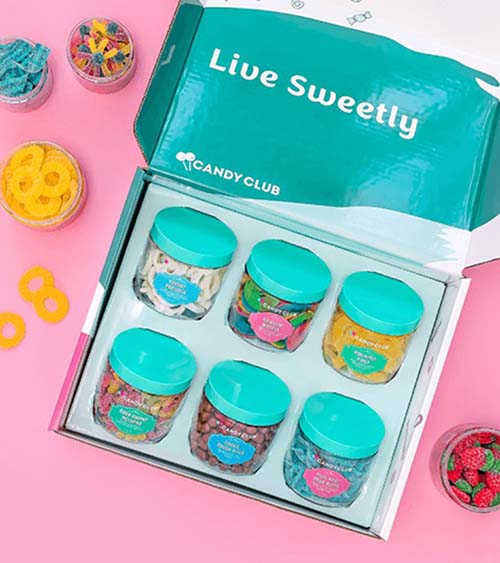 What can be a sweeter gift than candy? That's right, literally nothing! So, when you're looking for a sugary-sweet gift for your beloved, get a box of Candy Club to show them how sweet they make you feel.
34. Personalized Wine Bar Sign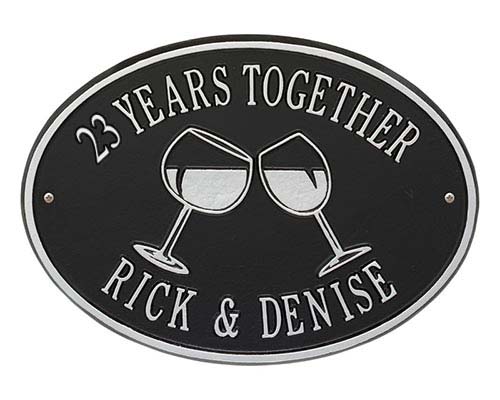 If your spouse is a wine enthusiast (because come on, who isn't?), this silver-toned wine bar sign is the best gift for them! When you want to celebrate your 23rd marriage anniversary the right way, give your spouse a, ahem, sign of how much they mean to you. Cheers, indeed!
Related: 21 Best Home Bar Signs
35. Custom Regal Portrait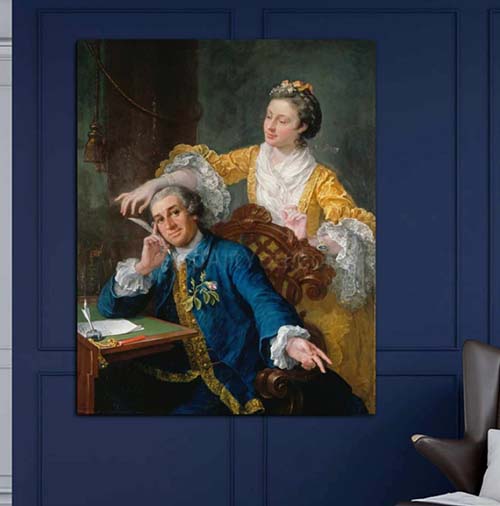 A regal portrait is such a fun idea, and most definitely a very unique one. Invest in a custom regal portrait for your beloved and tell them just how beautiful they are to you!
Unique Twenty-Third Anniversary Gifts
36. Ultimate Monthly Subscription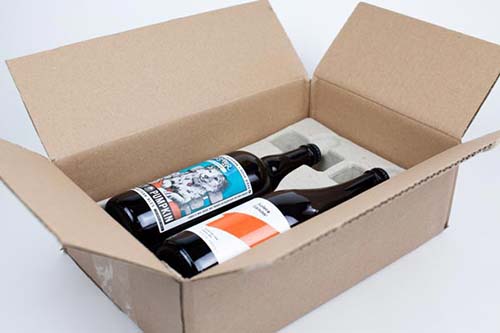 Speaking of 23rd anniversary gifts, this monthly subscription package is yet another amazing gift idea for your spouse, especially if they have a thing for wine, cheese, beer, cigars, or chocolate. It presents the perfect opportunity for enthusiasts to come together and just rejoice.
37. My Open Heart Silver Keyring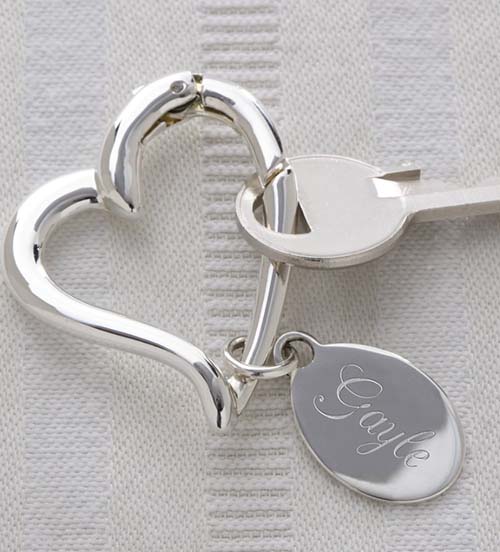 Another great anniversary gift is this silver keyring which would help your partner always keep a part of you with them. Not to mention it's pretty useful and that makes it a great gift.
38. 23 Years, 12 Months…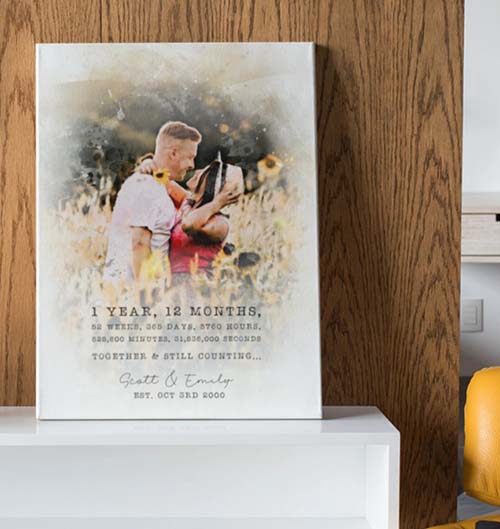 23 years of marriage is definitely a milestone worth celebrating, and we suggest you go all out to commemorate the occasion. After all, it's not every day you get to celebrate your 23-year anniversary.
Get one of your favorite couple photos turned into a painting here and give your spouse the gift of a lifetime!
39. Personalized Family Mug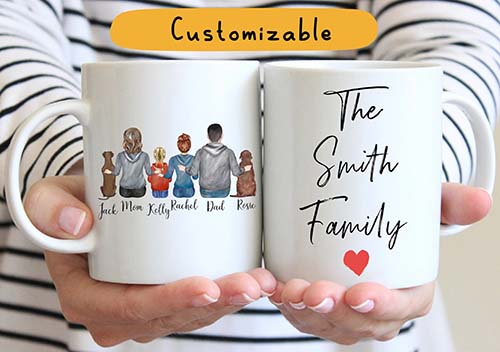 Mugs are a necessity, especially for tea and coffee lovers! This personalized family mug is a wonderful gift for your 23-year marriage anniversary. The 23rd anniversary is the perfect excuse to celebrate shared meals together, and this gift captures the same essence of togetherness in just the right way.
Personalized with the likeness of each family, this mug will warm your spouse's heart!
40. We Go Together Like – Custom Tumblers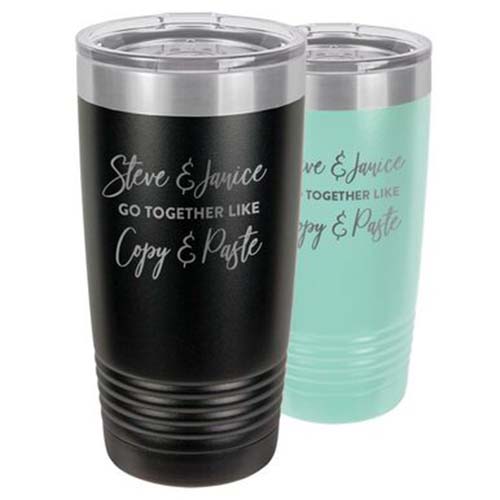 These custom tumblers are yet another wonderful gift idea to celebrate 23 years together with your spouse. And the 'we go together' basically symbolizes a promise to spend forevermore together. And isn't that romantic?
Click here for some more cute "we go together" quote ideas.
If your anniversary is approaching, make sure to plan ahead and make the day extra special for you and your spouse. 23 years is a long time, and thus, is surely worth celebrating to the fullest! Take it as a chance to look back at the good times and forward to the many more years to come!
Read Next: Romantic & Fun Games for Couples