Today we're going to reveal to you the best of the best 10th anniversary gifts to help you shower love on your better half.
After all, year ten in your marriage means your spouse deserves an amazing wedding anniversary gift! Whether you choose to go the traditional route or spice it up with something more contemporary, we have the ultimate array of ideas to help you celebrate the love you've shared for a decade.
All About the 10th Anniversary
Our website is supported by our users. We sometimes earn a commission when you click through the affiliate links on our website. See our privacy policy & disclosures for more information.
Double digits, baby!! Do you remember when you, yourself, turned the big one-zero? I do! I got hightop sneakers and I'm pretty certain I slept in them I loved them so.
And now, look at you! You and your sweetie have made it to a whole decade of married bliss.
At this point in your marriage, you know one another so well that you can finish each other's sandwiches. So, your 10th wedding anniversary is great time to have a seriously fun date night, write a romantic card, and give an amazing gift!
Whether you're shopping for your partner, or for your friends who are celebrating their tenth anniversary, we've scoured the (internet) globe for you.
Here's what we have in store for you. Shop on!
This is part of our series on Anniversary Gifts by Year.
10th Anniversary Themes
Here are the meaningful and symbolic gift themes that spouses often use to give gifts to one another in honor of this first wonderful decade of marriage.
What is the traditional 10 year anniversary gift?
Tin or aluminum.
Why is tin the traditional tenth anniversary gift?
Tin is a metal that signifies strength and resilience, yet is still malleable – even in your tenth year together, you're still adjusting to one another and learning about each other every day!
Perhaps tin is also the traditional tenth anniversary gift because it sure sounds like "ten." We'll leave that up to you pun-lovers to decide!
What is the modern 10 year anniversary gift?
Diamond jewelry.
Why is diamond jewelry the modern 10th anniversary gift?
Diamonds signify clarity, beauty, and strength. Plus, diamond jewelry is expensive, appropriate as a way to celebrate and lend dignity to the achievement of 10 years together.
What is the 10 year anniversary stone?
Diamond.
Why is diamond the tenth anniversary stone?
Again, it conveys clarity, beauty, and strength, and also because it aligns with the traditional 10 year gift theme.
What is the 10th anniversary flower?
Daffodil.
What is the 10 year anniversary color?
Silver.
10 Best Tenth Anniversary Gifts
Let's start with the very best!
1. Engraved Diamond Decanter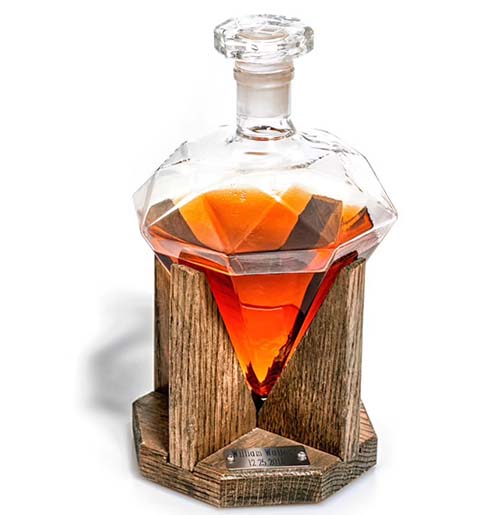 This diamond decanter is so special, it's perfect for your tenth anniversary! It's a one-of-a-kind gift that will be treasured for many years to come. We think they'll be pouring something delicious and decadent out this beauty on their twentieth, fortieth, and sixtieth wedding anniversaries too.
It's fancy and high-end, and the diamond shape is in keeping with the traditional 10th anniversary gift theme without the price tag of a literal diamond. Made of hand-blown glass, they will even custom engrave it for you.
2. Ten Years Anniversary Card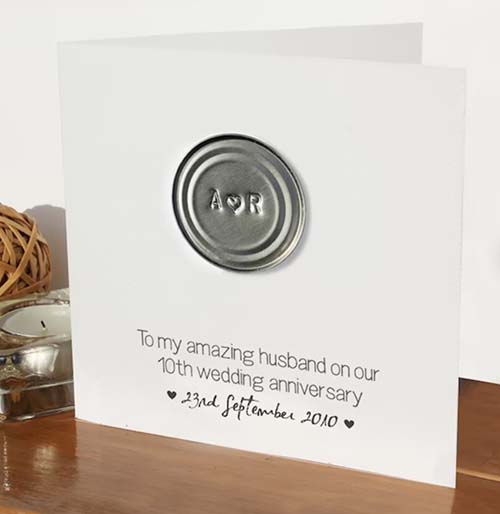 This sweet little tin card with its heart and inscription is a lovely way to say Happy 10th Anniversary to your special someone! A card with beauty, we won't be surprised if your spouse ends up framing it to hang on the wall. Would also look lovely in a shadowbox of memorabilia and mementos from your years together.
3. Life Time of Love Joy Box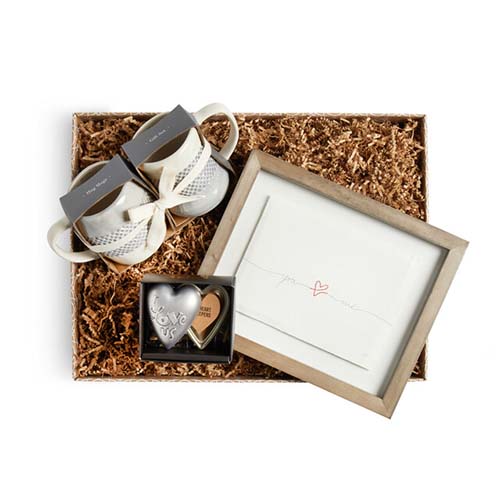 This adorable giftbox is all put together for you, making gifting a breeze! Your special someone will love their interlocking mugs, a heart-shaped trinket dish, and a print from artist Johanna Miller, all delightfully enclosed in a pretty box. The romantically inclined and young-at-heart will love this present.
4. 10 Years Christmas Ornament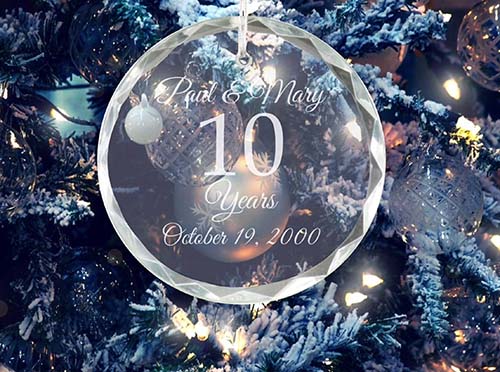 It's so fun to unwrap meaningful Christmas ornaments together each year to hang on the tree, and this pretty crystal one is sure to be a favorite! The twinkly lights from your tree will really set off the sparkle of this crystal, all engraved with your special date and your initials.
Not too expensive so consider giving them as party favors for your tenth anniversary bash!
5. Celebrating "Tin" Years Together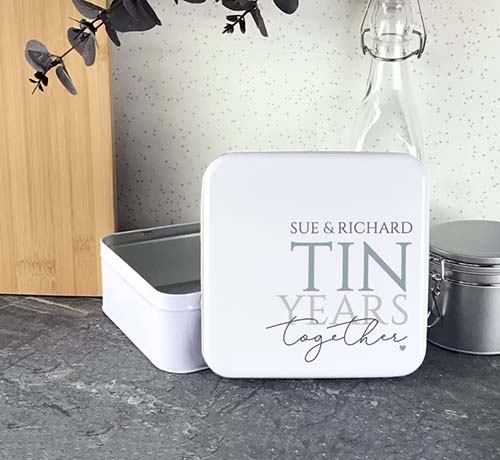 Celebrate "tin" years together with this clever and fun box! What you put inside is up to you, but this sweet little tin is a present all on its own. Personalized and totally unique!
6. Love Birds on a Branch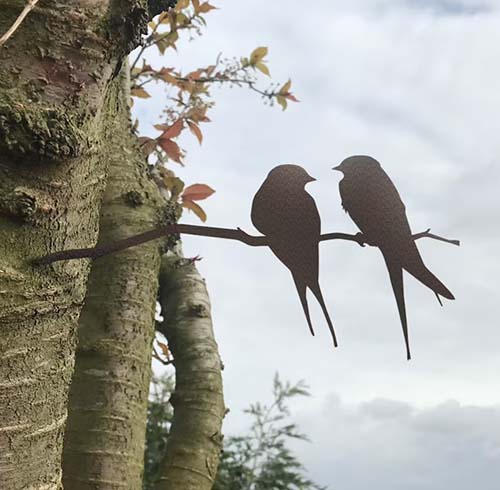 Did you know swallows (otherwise known as lovebirds) stay together for life! That's what makes this unique and sweet lovebirds on a branch so perfect for the tenth anniversary. It will bring all the nature together in your own backyard once you gently hammer this sculpture into a tree or a wooden fence post.
7. Personalized Windchimes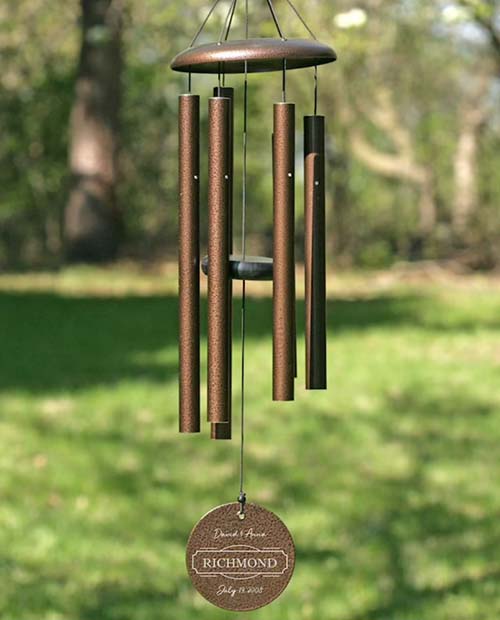 Do you hear the bells when you kiss him (or her)? Then get them this adorable windchime that is completely personalized with your names and dates. You'll love cuddling together on the porch swing while the breeze brings this chime to life!
8. DIY Homemade Diamond Cookies
If your partner loves to bake (or you do!) then these diamond-shaped cookie cutters are the bee's knees! They'll love making their creations as much as nibbling on them. Would also be amazing to serve at their tenth anniversary party!
9. Daffodil Wooden Heart Plaque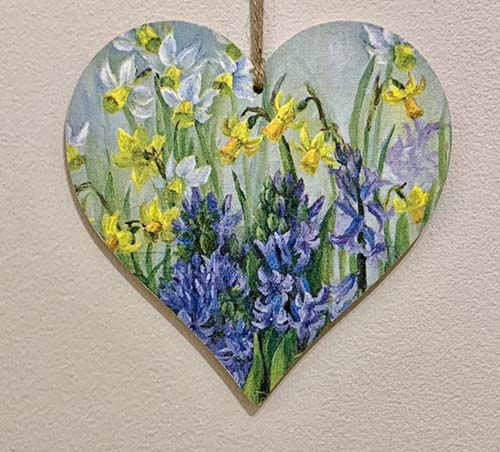 Daffodils and bluebells fill up this pretty heart! They'll love hanging this piece of art right in a prominent spot – and it will always make them think of that special tenth year with their lover.
Handmade so no two are alike!
10. Tin Map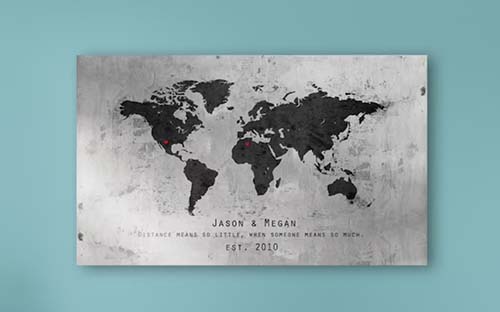 This aluminum work of art is so special and unique we're wondering if we have to wait for the tenth anniversary to get one for us!
Totally customizable, you get to add all the places you've adventured together (marked off by sweet little heart pins), your names and date, and also the lyric to your song. We love this one!
Traditional 10th Anniversary Gifts (Tin)
Here we have some gift ideas that are specifically tin-themed. Enjoy!
11. You're One in a Million 10th Anniversary Gift
For a sweet little way to commemorate the tin-th anniversary (haha, see what we did there?), this one-in-a-million heart is just perfect. Nestled in a tiny box, he or she will love having this to open and admire.
12. Camping Mug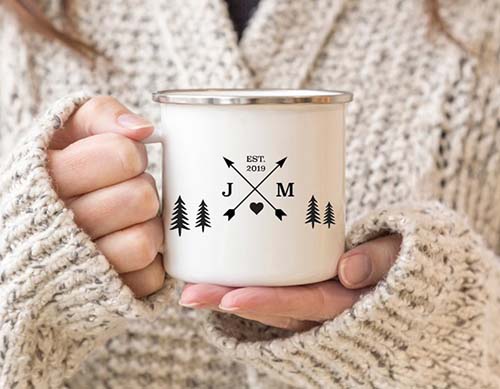 For the camping lovers (campers and lovers? Why yes), this tin mug is just the thing! Personalized with your initials, it's a cute way to remind yourself that the mountains are calling, and you must go. Great for hikers, campers, travelers, and those living the van life.
13. Family Sign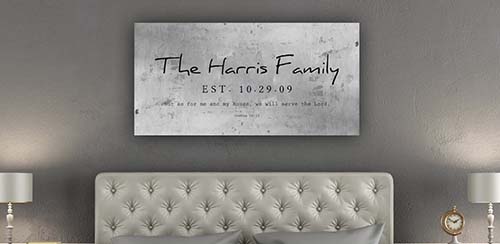 This sign is part industrial and part farmhouse. Either way you cut it, it's classy and adorable! Made of tin, it is a perfect gift for the tenth anniversary, especially when you want to include and not exclude the kiddos that have joined the household.
14. Family Made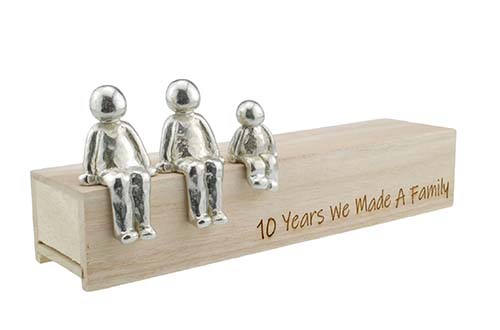 A sweet little way to add to your décor and mark the tenth anniversary all in one, this cute little sculpture will look amazing on your bookshelf, windowsill, or office desk. You can add up to four children, and yes, cats and dogs too!
15. No Label Tin Candles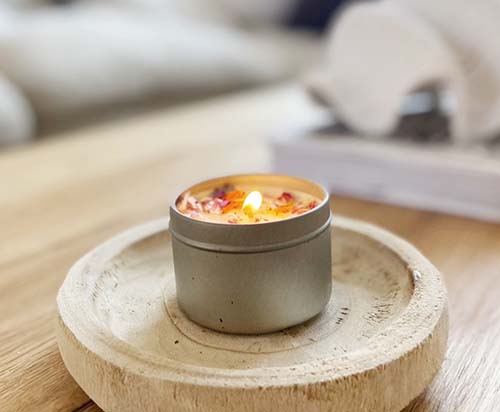 Light up the room with these tin candles that come in a generous box of eight! No labels mean they're perfect for all occasions and scents (ever had to try to peel off the Halloween label from a candle you really want to burn in June? It's such a pain!). They smell so nice and will add a touch of ambiance to every room of the house.
Modern 10th Anniversary Gifts (Diamond)
Diamonds are gorgeous, just like your sweetheart. Here are some of our favorite gifts with a diamond flair.
16. Vintage Diamond Ring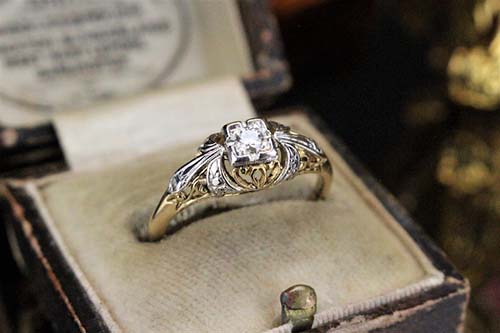 A vintage diamond ring is a sure-fire show-stopper! There just isn't a lady or gentleman alive who wouldn't gasp in delight over this one. If you're searching for a way to tell her without words just how much she means to you, this is the route you need to go!
Elaborate or simple, inexpensive or no-holds-barred, she'll love having her very own vintage diamond on her finger.
17. Diamond Shaped Chocolate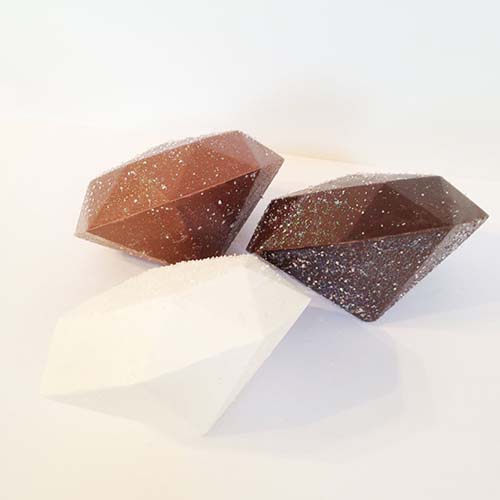 For the chocoholic – um, we mean, for the sweet-tooth of the family – these diamond-shaped truffles are a true delight! They'll love biting into them and savoring delicious chocolate. Even though they're almost too pretty to eat, they won't last long!
18. Diamond Picture Frame
Whether you put in a newer photo of the two of you, or your favorite from that special day ten years ago, this diamond frame is the way to go! It will sparkle and last the test of time – just like you two. Fits an 8×10 wedding photo and arrives free-standing or ready to hang.
19. Personalized Necklace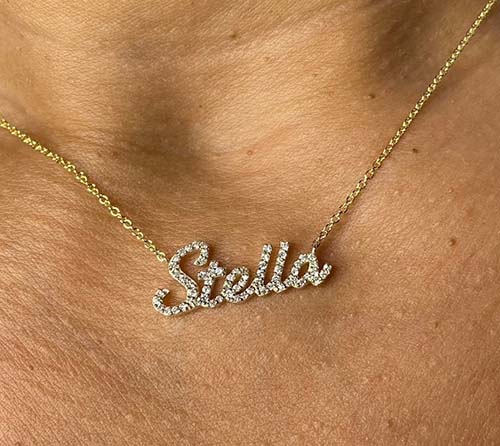 A little glitz and glamor are perfect for the tenth anniversary! This charming and oh-so sparkly pendent is personalized with her very own name. She'll feel like a night out on the town each and every time she wears it. And she'll think of you, too!
20. 3D Diamond Photo Display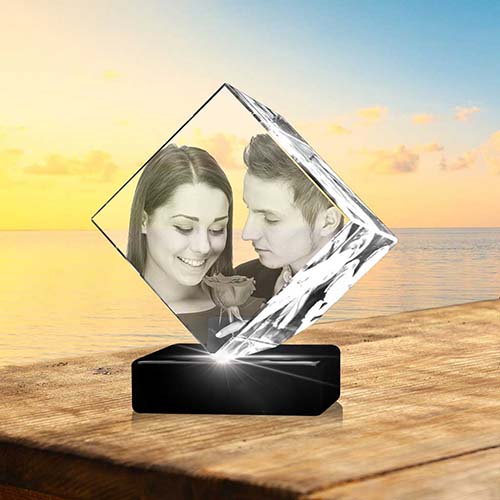 This diamond photo is no ordinary picture frame! He or she will love this rotating 3D photo that will light up the room (literally!) and will have all of your guests asking where you found such a treasure. A gorgeous keepsake to celebrate your years together.
10 Year Anniversary Gifts for Her
Treat her right with one of these stunning and memorable gift ideas!
21. Diamond Earrings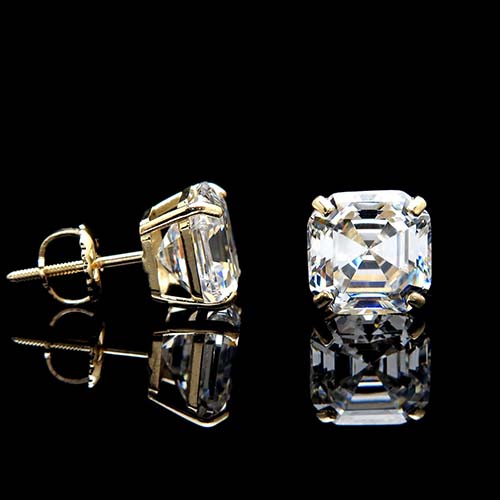 Diamond earrings are a must-have for that tenth anniversary party, don't you think? They're timeless and classic for a reason, and they never go out of style. Just like her! She'll love wearing these with everything from her everyday joggers and tee shirts to a real night out in a little black dress.
22. Diamond Watch
This dainty diamond watch brings sophistication back! Your wife will love the charming details and not glancing at her phone twenty times a day to check the time. A watch just brings an outfit together, and she'll love this one!
23. I Love You to the Moon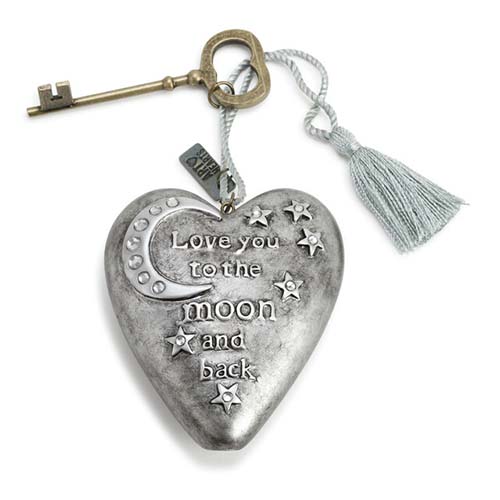 This sweet tin charm says all the right things, doesn't it? To the moon and back, just like your love for her. She'll love having this in a keepsake box, hanging from her vanity or dashboard, or nestled in a shadow box.
24. Daffodil Necklace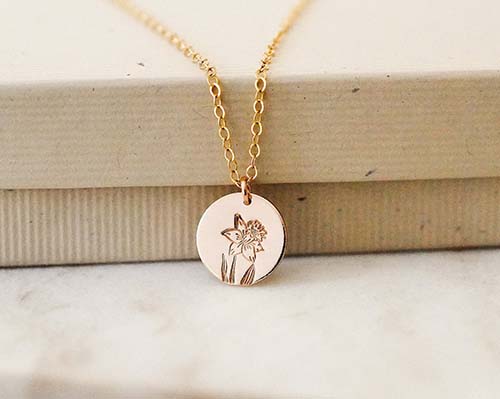 This daffodil necklace is just the prettiest! She'll love wearing this little delicate delight each and every day. Made from a pretty hue of rose gold and etched with daffodils (the tenth anniversary flower, of course), this is a unique and special way to show her how much you care.
25. Tin Earrings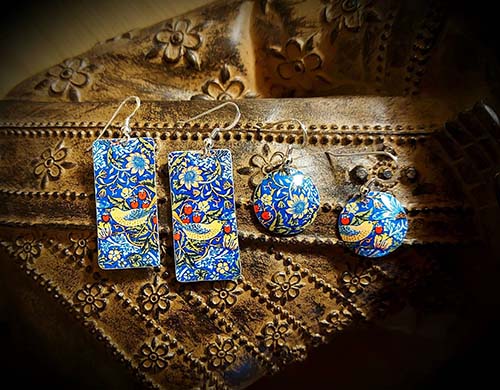 Made from tin and very lightweight for sensitive ears, these earrings are made from artist Williams Morris and his art entitled Strawberry Thieves. So cute and distinct and different! She'll love pairing these with her outfits and accessories. Available in two sizes.
10 Year Anniversary Gifts for Him
Guys love getting gifts too. Give your husband something meaningful and memorable with one of these stellar ideas.
26. Personalized Tin Cufflinks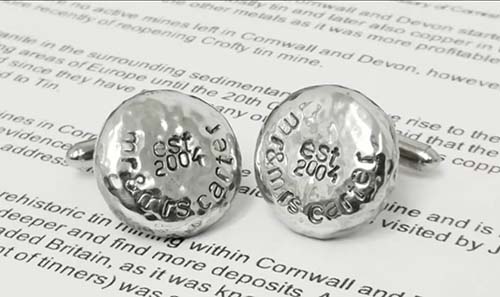 Personalized with your special date, these cufflinks are amazing! He'll feel like 007 or someone else just as posh when he puts these on. A totally unique and special way to say I Love You and how you're looking forward to the NEXT ten years with him.
27. Personalized Photo Boxers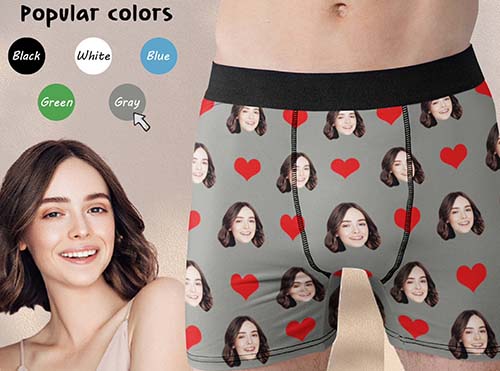 Leave no doubt! That boy is yours! He'll crack up over these boxer briefs which are customized with your very own likeness! And then, when he's done laughing, he'll wear them with pride.
28. Diamond Bracelet
Add some pizazz to his outfit with this diamond bracelet! He'll feel instantly like a million bucks, and definitely want to take you out for a night out on the town! Totally manly, but still sparkly and fun. A real treat for your diamond in the rough!
29. Custom Lighter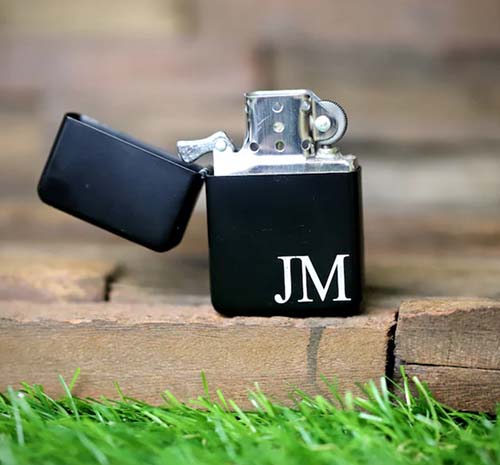 A snazzy gift for the cigar smoker, this personalized lighter is so much more charming and posh than a Bic! He'll love having fire at his fingertips and look good while doing so.
30. Diamond Decanter Set
This whole diamond decanter set is perfect for the spirits lover, and the man who loves to play bartender at the get-togethers! He'll love this super shiny, sparkly, mahogany and crystal set, and won't just want to use it for special occasions, but every weekend too.
10 Year Anniversary Gifts for Couples
Now let's take a look at gifts the two of you can enjoy together – the way it should be!
31. Custom Diamond Painting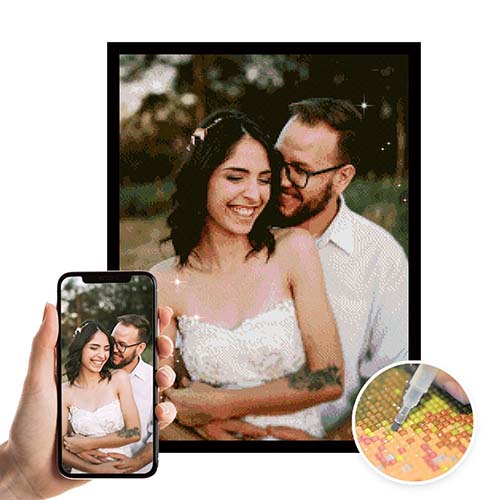 Choose your favorite photograph from your wedding day and the clever folks at ShiningGiftDesign on Etsy will help transform it into a real work of art! From them, you will receive a canvas of said portrait along with colored diamonds to fill in the photo to make a one of a kind 5D portrait. Click here to see just how it works!
Made to never fade or fold, you can choose from a variety of sizes.
32. Hanging Bottle Opener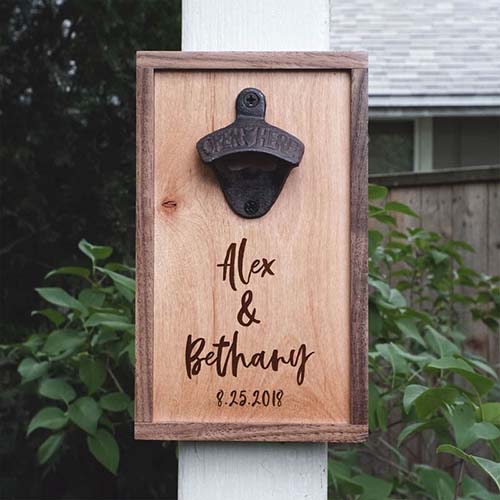 Personalized with their names and date, this bottle opener will be their new best friend! Made from walnut and maple wood, right her in the US, it's a fun yet totally practical gift for the couple who loves to host, barbeque, camp-out, and have dinner parties.
33. Wine Subscription & Diamond Wine Stoppers
Pair them together or just choose one! These adorable wine stoppers look just like the most sparkling of diamonds, and are much classier than slapping a piece of cling wrap over the bottle (not that we've ever done that – ahem). And the wine subscription is a fun gift that keeps giving each month!
34. Custom Family Cutting Board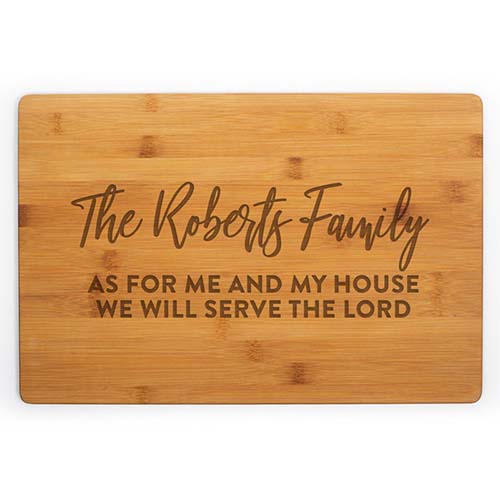 They'll love this totally useful and thoughtful cutting board that is customized with their own name and custom text – Joshua 24:15 as shown, or their wedding date, a romantic quote, or anything else you like.
Made from bamboo, it's the perfect gift to bring to the party – just add some charcuterie and when that's eaten up, they'll find their surprise underneath: a long-lasting personalized cutting board to keep.
35. Family Portrait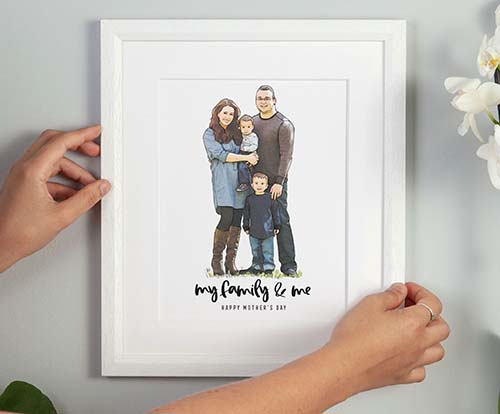 Turn a photograph of their family into a work of art! They'll love hanging this unique print up in their living room, family room, or office, to remind them of their true loves: their family.
Unique Tenth Anniversary Gifts
Here are some creative ideas to inspire new ways to show your love!
36. Skylight Frame
Keep adding photographs as often as you like, from wherever you are, with this unique and special Skylight frame! It's as easy as sending an email to add in new photos and change it up.
Perfect for military families or couples who are often apart due to work or other travel scenarios.
37. We Go Together Like… Tumblers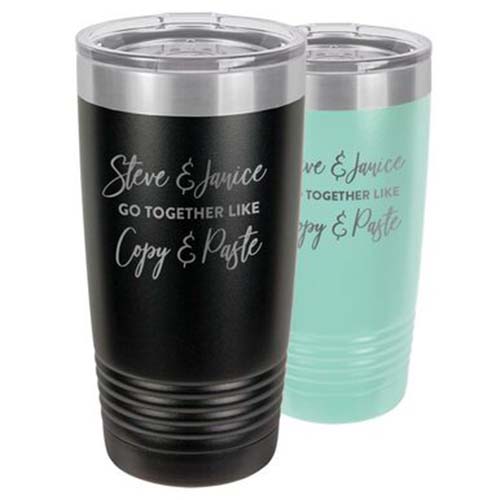 These cute tumblers are vacuumed sealed so they'll keep all of their favorite beverages toasty warm or icy cold! They'll love the sweet sentiment and the vibrant colors, too.
Check out this article for 100 more "Go Together Like" quote ideas!
38. Diamond Paperweight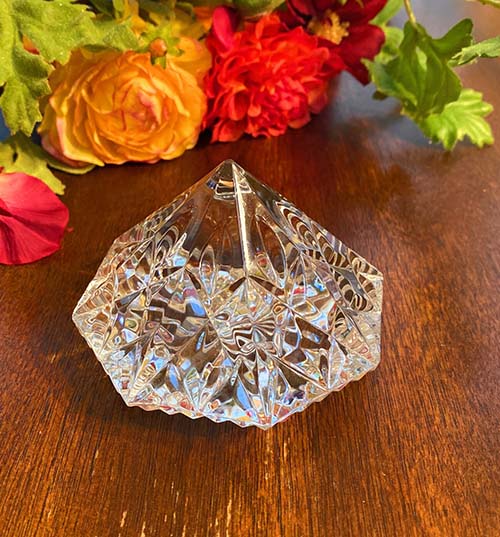 Give their desk a delightful pinch of whimsy and class with this diamond-shaped crystal paperweight! It will transform their desk into something special, even on the messiest and most unorganized of days. They'll love this sweet gift!
39. Galaxy Rose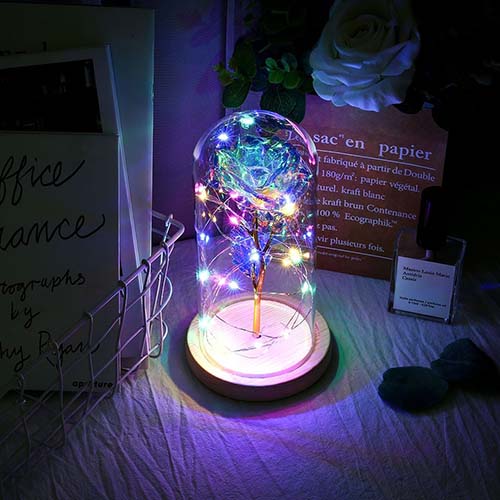 This galaxy crystal rose is perfect for the couple who is young-at-heart and are total romantics! They'll love this unique work of art and will proudly display it year 'round. A bit of romance and old-fashioned decadence in a modern and dull world.
Click here for more beautiful flower gift ideas.
40. Custom License Plate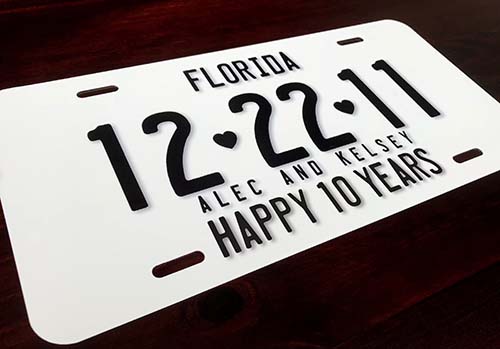 This custom license plate is just the thing for the go-getters, the adventurers, the travelers, the vintage car collectors, and the ones who can't sit still! They'll love this totally unique gift that will look amazing on their photo wall, or hanging on their RV
Pick your state, names, and dates for a one-of-a-kind gift.!
Read Next: Best Anniversary Gifts by Year
Pin It