Your 45th Anniversary is such a huge milestone! You've been through all the ups and downs and learned not only to persevere, but to thrive.
You know that the secret of rich, graceful, joyful, lifelong love is to give to your spouse. Give your time and focus to engage in meaningful conversations. Give up your preferences to please your spouse. Instead of taking advantage of every moment for your own comfort, you've learned to give that up and serve instead.
It's about giving in the little things.
And so, while 45th anniversary gifts can never convey the multifaceted beauty of the relationship you share, it's one more way to give in order to honor and please your spouse.
To help you give the very best, below we've curated a wide variety of 45th anniversary gifts that you can give to your beloved on this special occasion. From traditional themes to contemporary ideas, we've got it all.
Our website is supported by our users. We sometimes earn a commission when you click through the affiliate links on our website. See our privacy policy & disclosures for more information.
All About the 45th Anniversary
Table of Contents
This is part of our series on Anniversary Gifts by Year.
45th Anniversary Themes
What is the traditional 45-year anniversary gift?
Sapphire.
What is the modern 45-year anniversary gift?
Also Sapphire!
Why is the sapphire the traditional & modern 45th anniversary gift?
The deep and vibrant blue tone signifies everlasting love, as well as hope and faith. These are qualities you've certainly developed together over the past forty-five years!
What is the 45-year anniversary stone?
This might surprise you, but the 45th anniversary stone is… sapphire.
Why is sapphire the 45th anniversary stone?
Everlasting love, hope, and faith come to mind when you see and wear a sapphire.
What is the 45th anniversary flower?
Blue Iris.
What is the 45-year anniversary color?
Blue. Both the gemstone (sapphire) and the flower (blue iris) are a gorgeous blue, which makes it a fitting color to represent this wonderful year.
10 Best Forty-Fifth Anniversary Gifts
Let's jump into the gift ideas with some of our very favorites!
1. Sapphire Blue Compass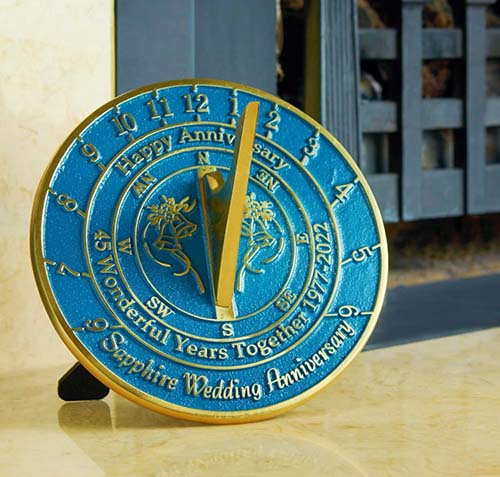 This beautiful sundial, with its shades of blue and turquoise, will be a treasured family heirloom instantly! Handmade of brass, it's a totally unique gift that is sure to please even the hardest people to shop for.
2. Wood Burned Portrait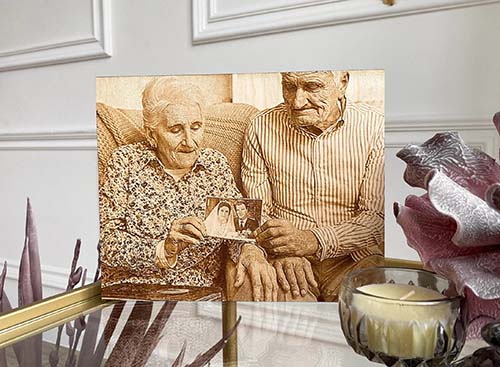 Your favorite photograph of your favorite couple will look amazing on their family wall! Made of wood, you can select from two different sizes. It really suits any decor or style, which is a bonus as well.
3. Love Birds Cutting Board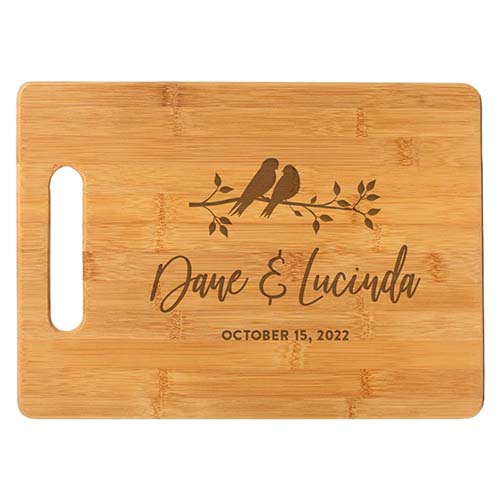 This cute cutting board is personalized with adorable love birds (like the two of you), and customized with names and dates. It's a sweet little gift that is practical, too. You'll love hanging the decorative cutting board on the wall for all to see when it's not being used for chopping peppers, dicing onions, or slicing cheese.
4. Sapphire Accent 45th Anniversary Frame
This pretty silver frame is accented with lovely sapphire tones of blue, and personalized. It will look so nice with that favorite wedding photograph inside. Definitely a timeless choice for an anniversary gift.
5. Beautiful Flowers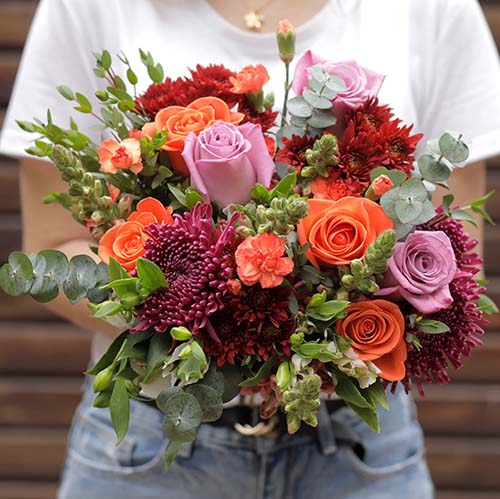 When in doubt, a gorgeous bouquet of flowers is always a winning gift. You can have the wins pile up year-round by giving her a subscription to Enjoy Flowers!
They'll send out a monthly flower bouquet featuring 30-35 stems of seasonal blooms. Enjoy Flowers is committed to providing fresh and beautiful blossoms with each delivery to wow your bride every time.
6. Metallic Print Love Letter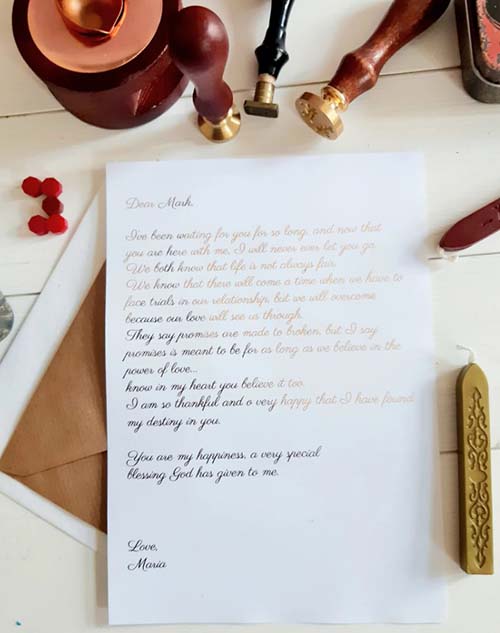 Is there anything more romantic than a love letter or poem? Maybe one that is sealed with an old-fashioned wax seal! When you're looking for something that is more romantic than practical, this is definitely one for the record books.
7. Heart Snapshot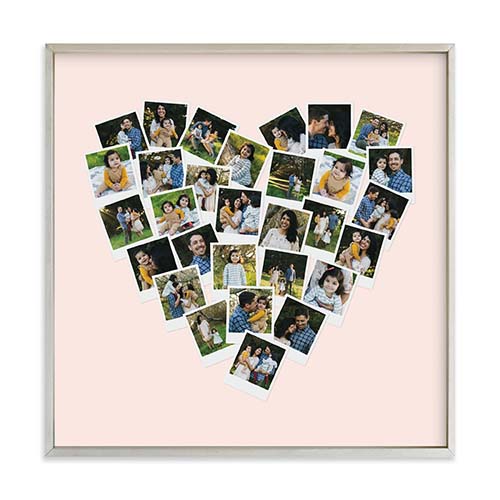 This stunning collage will be the focal point of any home! Shaped into a romantic heart, all of your favorite photographs from the past 45 years come together in a real work of art. It really tells the story of your life together in a tangible (and very attractive) way.
Related: Personalized Photo Anniversary Gift Ideas
8. Made to Order Personalized Song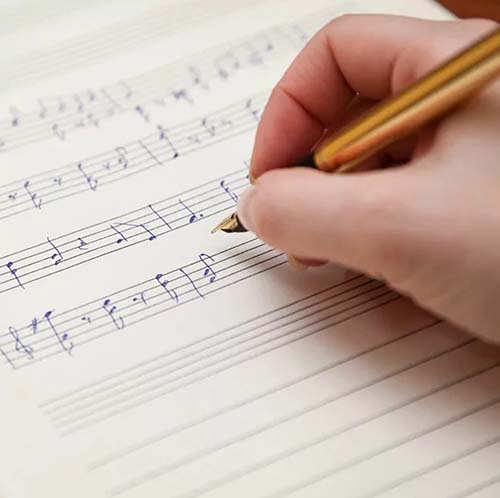 For the young-at-heart romantics, a made to order song is the way to go! He or she will be stunned with this unusual and one-of-a-kind gift. All you need to do is provide your story of your love and life together, and the geniuses behind this sweet gift will do the rest!
9. Engraved Hanging Bottle Opener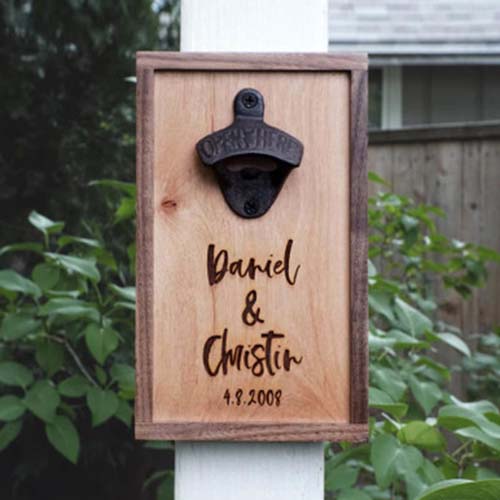 This bottle opener is practically a work of art! One that opens your bottles, that is. Its generous size and customization really puts it above the rest. It will look so fun on your back patio or deck, or hanging in the kitchen near the liquor cabinet.
10. Sapphire Gin Bottle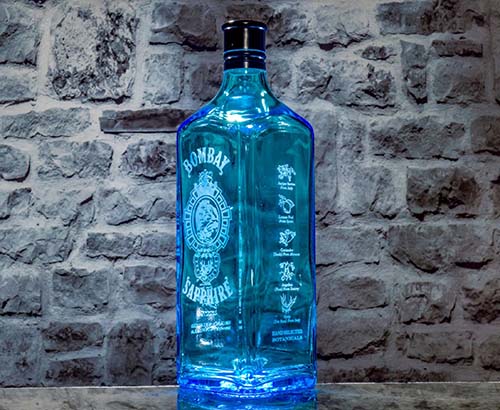 This sapphire gin bottle hits all the right notes for the gin enthusiast while keeping with the sapphire theme of the 45th anniversary. You can customize it fully, making it completely and truly one-of-a-kind. Such a conversation starter!
Traditional & Modern 45th Anniversary Gifts (Sapphire)
11. Sapphire Necklace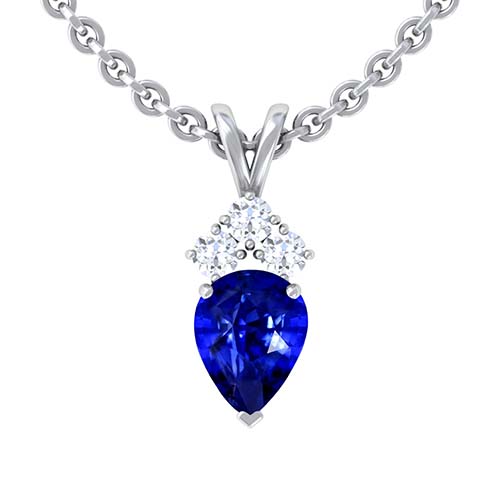 You won't go wrong with a gorgeous sapphire necklace! This gift calls for a night out on the town for sure. It will complement any style and outfit, from fancy date nights to a casual weekend.
What's more, jewelry expresses both the value you place on your relationship and the appreciation you have for the beauty and elegance of your beloved.
12. Sapphire Blue Heart Suncatcher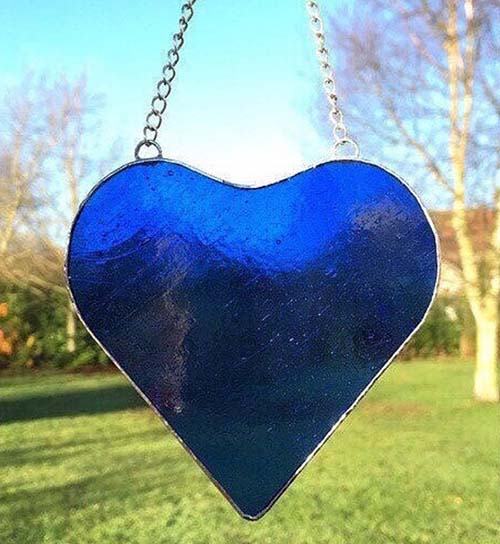 This simple sapphire blue heart suncatcher will catch everyone's eyes with its bright and sunny hue. It is an easy way to transform a space! So pretty and thoughtful.
13. Wooden Map of Your City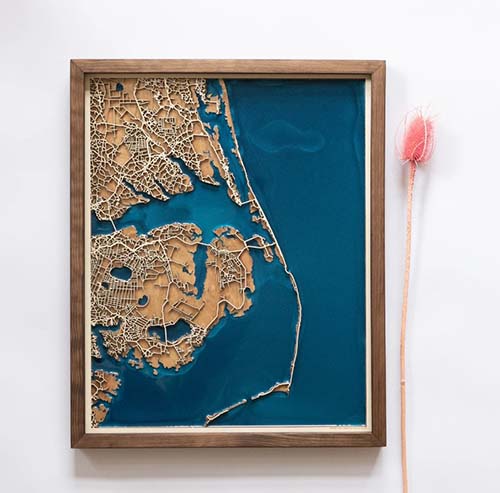 Water is a sapphire blue color so this is good for people that were married by water or live by water! With its beachy yet timeless vibe, it's a great gift for adventure lovers and a couple who have traveled the world. Just pick their favorite spot!
Related: 40 Best Gifts for Travel Enthusiasts
14. 14K Gold & Blue Sapphire Bracelet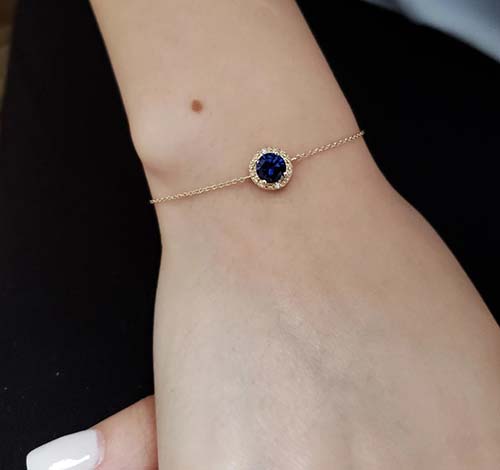 This beautiful gold and blue sapphire bracelet is minimalistic yet truly unforgettable. It's simple in design and lovely in appearance. It will take her breath away!
15. Personalized Anniversary Painting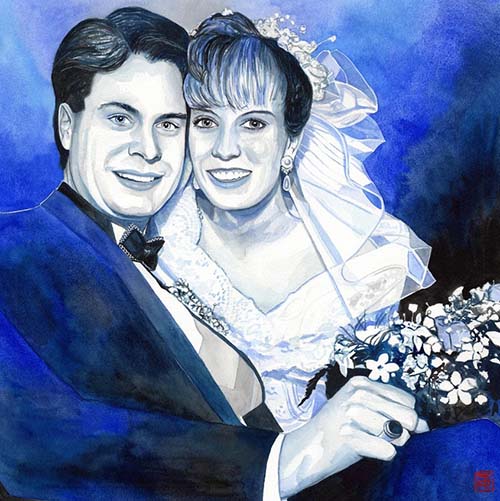 Hand painted using watercolors, this personalized anniversary painting will be a unique and special gift for your parents or grandparents. Their favorite photograph will be transformed into a new family heirloom.
16. Silver Plated 45th Anniversary Standing Ornament
This free-standing keepsake 45th anniversary ornament might be too pretty to pack away when it's not Christmas time! Your special couple will love this sweet and sentimental gift, and it will look cute on a bookshelf or nestled in a shadow box throughout the year.
17. Teardrop Sapphire Earrings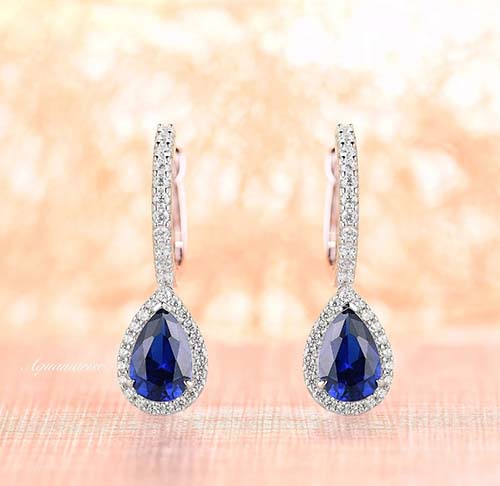 A pair of lovely sapphire earrings is just the thing to keep the romance fresh! Whether she wears them on date nights out on the town, or on a daily basis with jeans and a t-shirt, she will feel adored, special and one-in-a-million.
18. China Nesting Bowls with Blue & Gold Finish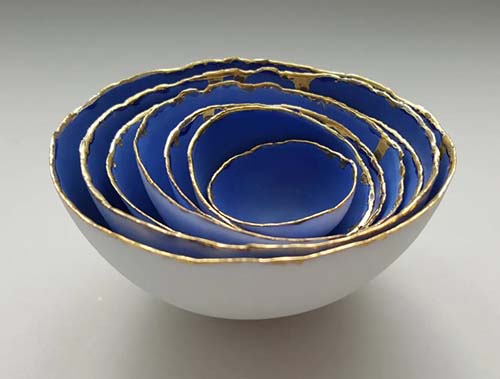 These stoneware china nesting bowls are perfect for the 45th anniversary! Finished with dainty blue and real gold accents, they will brighten up the nightstand or coffee table or entry way. They're ideal for those with a sensibility that is both lovely and timeless.
19. Sapphire Blue Anniversary Mug Set
Get your beloved spouse their new favorite set of coffee mugs ever with this adorable set! They'll love sipping their tea at night or their cuppa joe in the mornings out of these two sweet mugs.
20. Raw Sapphire Cufflinks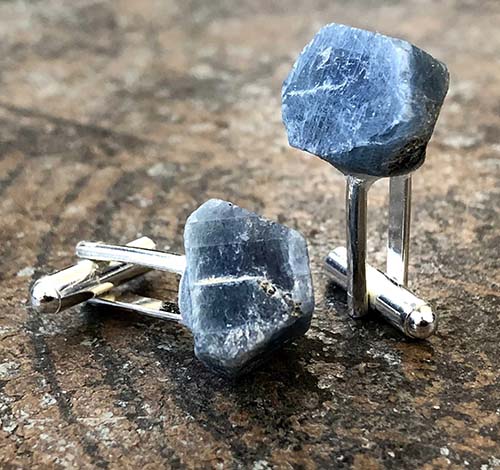 Pamper him with these stunning and masculine raw sapphire cufflinks. He'll feel like a million bucks when he puts these on and takes you out on a date. The raw sapphire is so unusual (in a good way) and altogether eye-catching — really a cut above the best!
45 Year Anniversary Gifts for Her
21. 14k Gold & Sapphire Necklace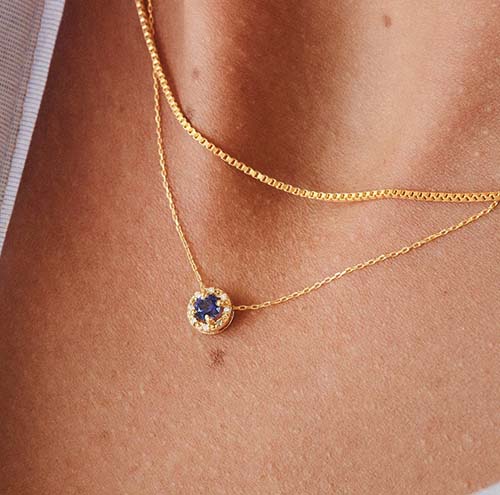 This graceful necklace will definitely be her new favorite accessory in her jewelry box. Its unaffected style conveys a timeless elegance that will always remind you of her.
22. "Irises" Blanket Scarf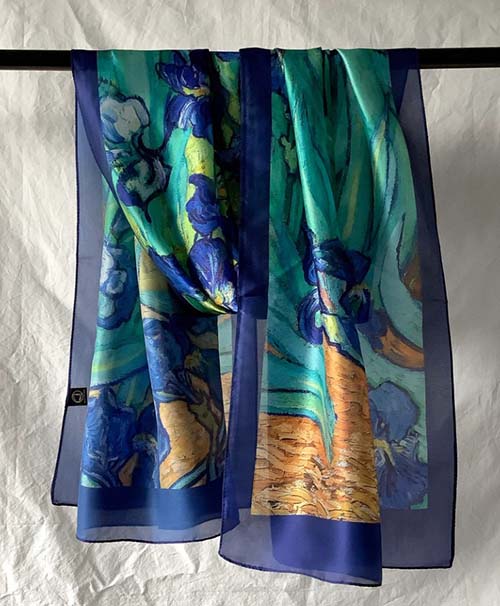 This reversible shawl can be used in so many different ways. Scarf, shawl, wrap, or wall decor. She'll love the bright jewel-tones of this tasteful scarf, and when it isn't being worn, it can be draped elegantly over the couch or table.
23. Floral Spa Gift Set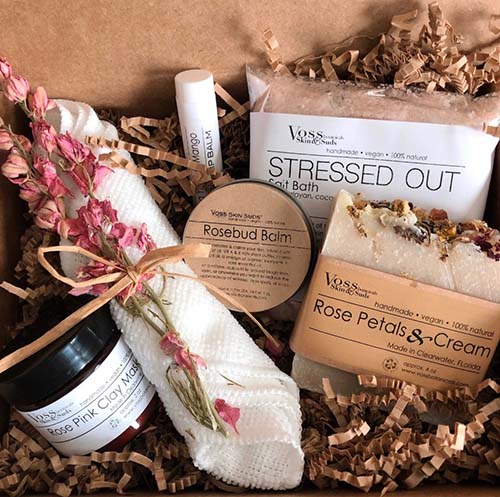 She's been married to you for 45 years — we'd say she deserves some pampering! Whether you pick the rose scent or the lavender, she'll love her "spa in a box."
24. Preserved Heart Wreath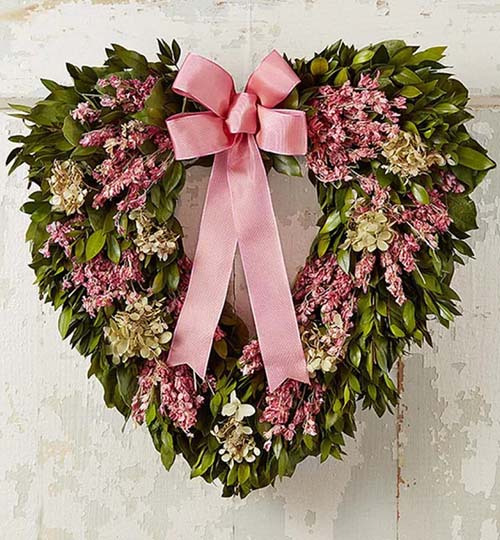 This heart wreath is so lovely and has some real vintage appeal. She'll love walking by this gorgeous arrangement of preserved flowers in her home. And she'll think of you each time!
25. Single Stem Red Rose Musical Jewelry Box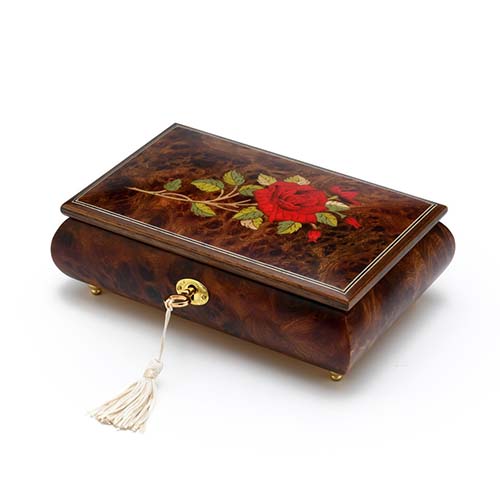 This handcrafted jewelry and musical box is made of Burl-Elm and Rosewood, with brass accents. If you're looking for a gift that will absolutely take her breath away, this is it! You can choose from over 30 songs to make it completely unique to her personality and your love story.
45 Year Anniversary Gifts for Him
26. Cashmere Luxury Clothing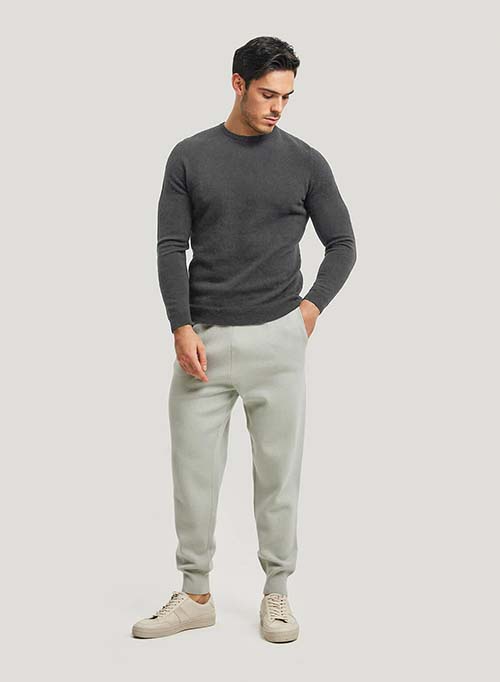 We're guessing in the past half century he hasn't put aside too much thought or money into his own outfit! (Those kiddos didn't clothe themselves, right?)
So give him the gift of cashmere luxury clothing. He'll feel like 007, dressed to kill! We definitely think he'll want to show it off too, so how about a date night?
27. Cigar Club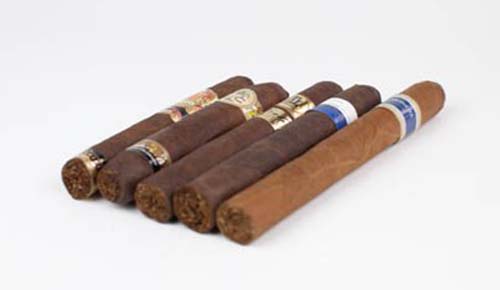 Pamper him with a cigar club membership. He'll feel oh-so sophisticated when he unwinds with a handcrafted and elegant cigar. These cigars are top-rated and rare, and you can choose from two different membership packages.
28. Nights In Coupon Book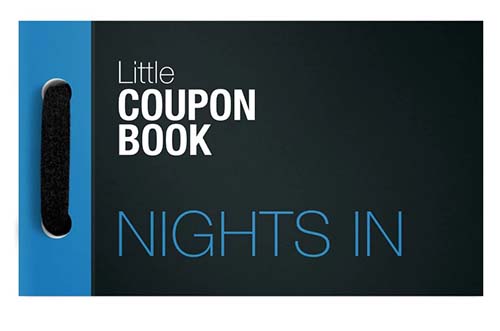 Keep it simple with this fun nights-in coupon book! If you're more the stay-at-home-date kind of people, he'll love reaching for one of these fun and witty coupons when he wants some "attention." A cute way to show you care!
29. Sapphire Blue Watch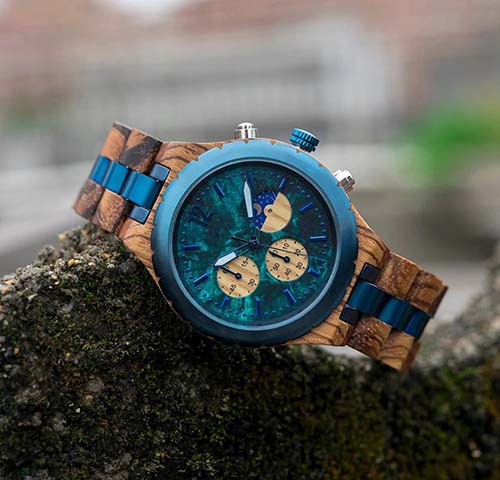 This engraved wooden sapphire blue watch will get him all the compliments! It's a stunner with its deep blue hue, minimalist but eye-catching design, and customized engraving. Definitely a unique piece that is like wearing a work of art on your wrist.
30. Lovestruck Gift Card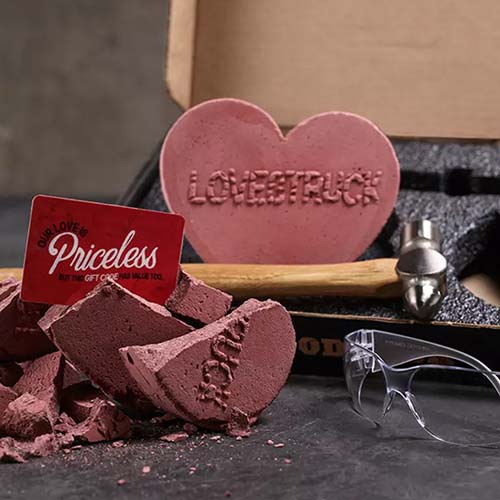 Choose one of the restaurant options for the gift card to surprise him for a planned romantic date! This is a great way to avoid that whole "I don't know… where do you want to go?" conversation that can really kill the date night atmosphere. You know what we're talking about!
Related: Best Gifts for Your Husband
45 Year Anniversary Gifts for Couples
31. Name Meanings Personalized Artwork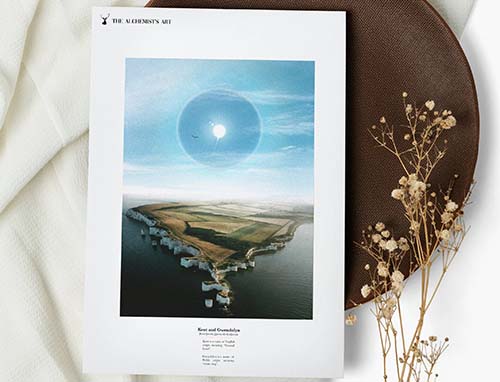 Turn their names into literal works of art. This heirloom piece will stop visitors in their tracks as they learn the meaning behind your favorite couple's names. Definitely a conversation starter, and don't be surprised when they ask you where in the world you got it.
32. Pottery for Couples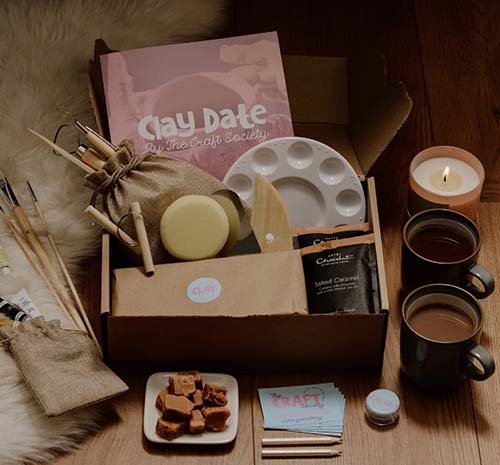 Do something fun together that you've never tried before, like this pottery for couples gift set! Cue up the Ghost love theme as you get closer than ever before, and make something romantic and long-lasting together.
33. Watercolor Portrait Mug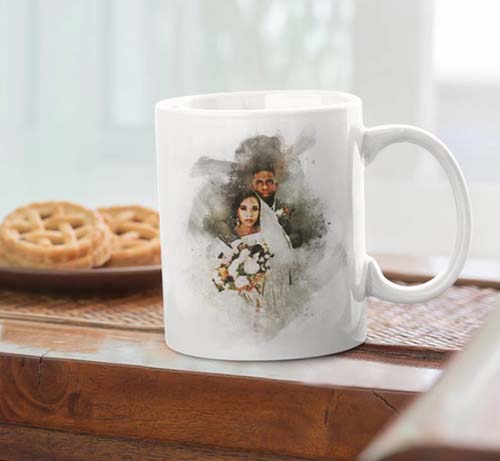 This watercolor portrait mug is already gorgeous enough, but once your gift recipients look a little closer, they'll realize they're looking at themselves! This sweet mug is sure to be their new favorite and we doubt it will ever be banished to the back of the cupboard.
34. Establish Date Pillow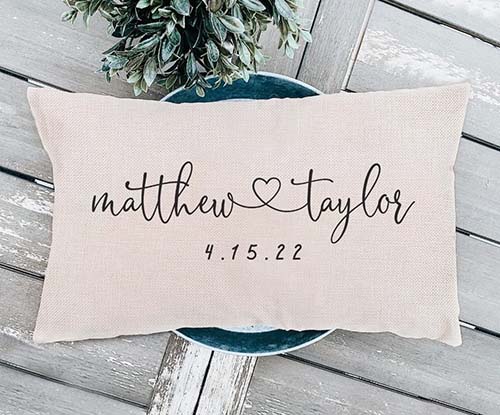 This cute pillow has their initials and date right on it, making it perfect for snuggling through home movies, cuddling on the bed, or tossing on the porch swing. The muted color palette means it goes with any decor, from farmhouse to industrial, cottage to cabin.
35. Shining Bright Since…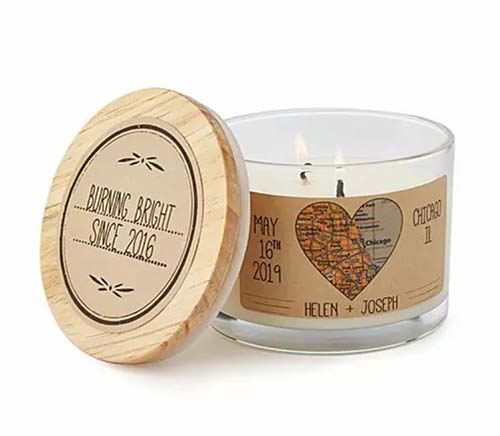 Personalized with a map of where they met, this adorable candle is one-of-a-kind! The two wicks burning together symbolize eternal love. Awwww… And the champagne scent really takes the romance over the top.
Unique Forty-Fifth Anniversary Gifts
36. National Park Push Pin Map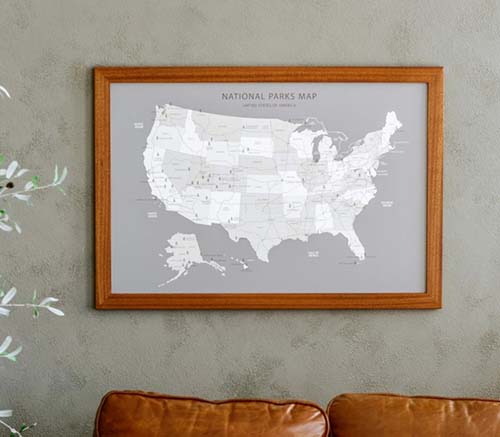 For the adventure lovers, this national park push pin map is a must-have! They'll love marking off where they've been to already, and plotting new trips in the not-so-distant future. A fun addition to the wall art of their RV, camper, or lake house. 
Related: Best Lake House Gift Ideas
37. Picnic Table Wine Carrier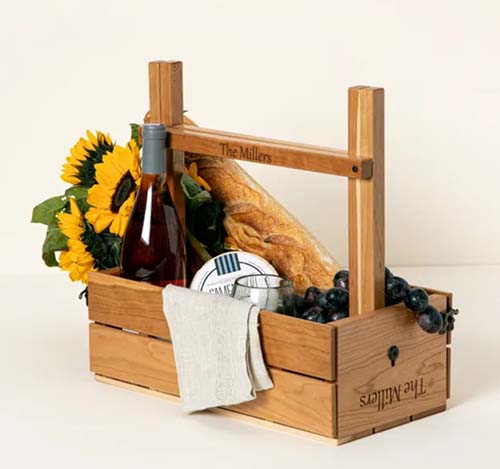 Make heading out to the backyard for a picnic a common occurrence with this picnic table wine carrier! Engraved with their names and special dates, this gorgeous little carrier will fit all the necessities of life: cheese, wine, crackers, and cookies to name a few.
38. Blue Iris Suncatcher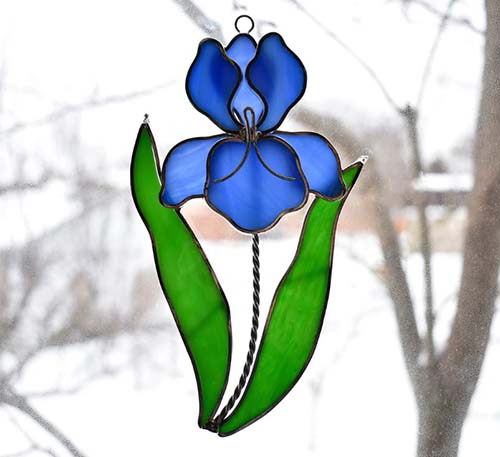 This pretty blue iris sun catcher is just the thing to transform a dull kitchen into a bright little corner of paradise. Even on dark winter days this iris won't lose its vibrant color, making it a favorite decoration wherever they choose to place it.
39. We Go Together Like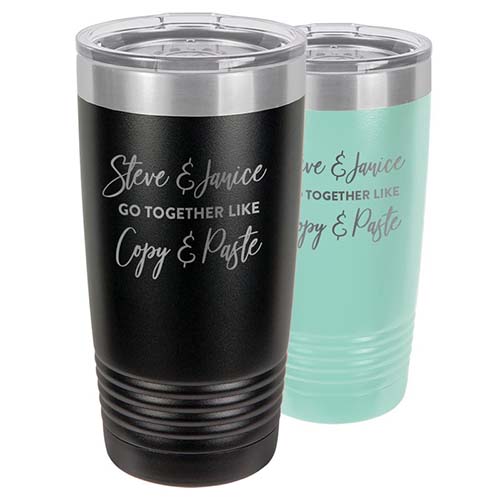 Whether it's the cute tumblers, a matching set of aprons, or sweet coasters — these "go together like" gifts will make them smile. Totally functional and practical, they're also entertaining and witty. Great for a fun-loving couple who loves to laugh!
Related: 100 Best "We Go Together Like…" Quotes
40. Personal Mixtape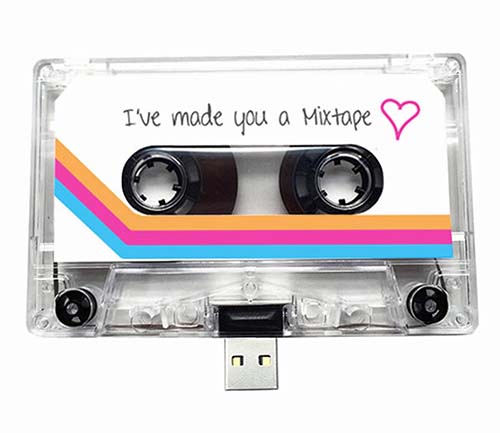 What says "I adore you" more than a mixtape?!?! Um, nothing, that's what. This adorable personal mixtape brings that romantic gesture into 2022. You can have them scan wedding photographs, funny text messages, love letters, song lyrics… the sky's the limit with this great anniversary gift!
Read Next: 50th Anniversary Gifts