Congratulations to the happy couple for making it past infancy and graduating from toddler-hood! While it may not be time yet for golden parties and diamond crusted flatware, there are some incredible 4th anniversary gifts out there to choose from.
Year four isn't just 5th anniversary eve; it deserves a celebration all its own. Here are some fabulous ideas for the best four-year anniversary gifts, both traditional and modern.
Our website is supported by our users. We sometimes earn a commission when you click through the affiliate links on our website. See our privacy policy & disclosures for more information.
4th Anniversary Themes
This is part of our series on Anniversary Gifts by Year.
What is the traditional fourth anniversary gift?
Fruit or flowers are the traditional anniversary gift this year.
Why are fruit and flowers the traditional fourth anniversary gift?
The theme for your 4-year anniversary is blossoming beauty and fruitfulness. That's why the traditional 4th anniversary gift is fruit or flowers.
You can see where this idea comes from. After four years, your relationship is either going to start wearing down, or (with dedication, work, and lots of love!) it's going to become more and more fruitful and romantic.
Also, couples are often having children at this point, or at least thinking about it. And if you haven't, your parents and in-laws will no doubt be dropping hints!
So fruitfulness in your relationship will turn into…ya know…other kinds of fruitfulness.
What is the modern fourth wedding anniversary gift?
Appliances. That could be small electrical appliances, larger items like a new AC unit or chest freezer, or even manual items like coffee grinders or can openers.
Why are appliances the modern gift choice?
You've got us there. We have no idea. Perhaps because the stuff you got on your registry is starting to break down, or maybe you're now at the place where you are buying your first home,* and thus expanding your kitchen.
*Average age for first marriage is 28-30, and the average age for buying a first home is 34. The math checks out.
Or maybe some appliance company just paid to get into a magazine or website list. Who knows!
What is the 4 year anniversary stone?
Blue topaz.
Why is blue topaz the fourth anniversary stone?
Blue topaz symbolizes love and fidelity, which are apparently good things to celebrate on an anniversary.
What is the 4th anniversary flower?
Geraniums or hydrangea.
What is the 4 year anniversary color?
Blue. As is often the case, the color is linked to the gemstone and flowers.
10 Best Fourth Anniversary Gifts
1. Personalized Flower Vase Planter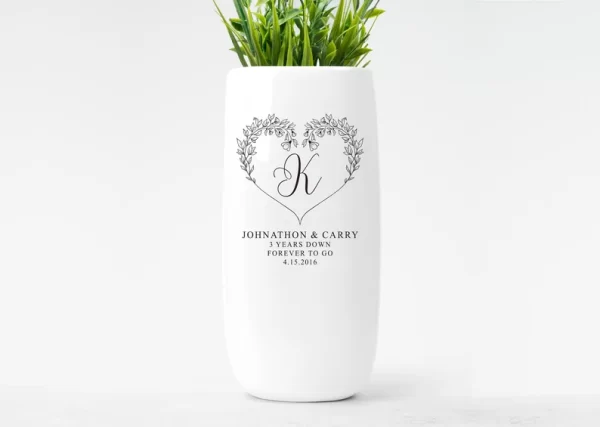 This beautiful, personalized flower vase is just the thing to give to your flora loving spouse, and at the same time reflect the 4th anniversary gift theme of flowering fruitfulness.
Be sure to fill it with something thoughtful — their favorite floral arrangement or succulent, trailing veggie or herb.
2. Sterling Silver Matching Floral Bands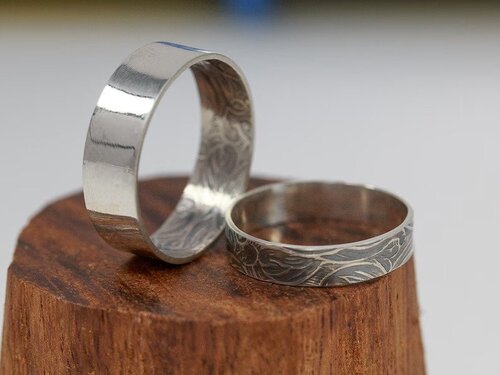 Yes, they're only in their fourth year of marriage, so new wedding bands may not be the first thing that come to mind. But this gorgeous silver set would make an excellent alternative when you want to switch things up and give your official wedding set a rest!
Fitting perfectly with the fourth anniversary's floral theme, these pretty hand crafted bands are designed to mirror one another perfectly. The men's band features the engraving on the inside, and the women's is on the outside.
While not sacrificing craftsmanship or quality, this special gift sits at a wonderfully affordable price point.
3. Bodum 8-Cup French Press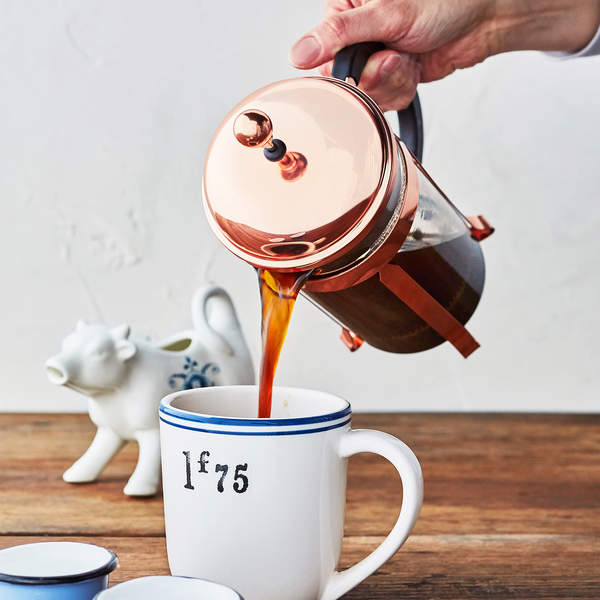 Help get their morning pep on with this beautiful copper and glass French coffee press from Bodum!
Even though it's not electric, we're still counting it as an appliance since it helps them in the kitchen. Make 8 cups of rich, delicious coffee in just minutes with this fantastic coffee maker.
French press coffee has earned its place in cafes and homes around the world, as it is a bolder and more full flavored alternative to traditional drip coffee pots. They may never brew their coffee another way again!
4. Engraved Coffee Mugs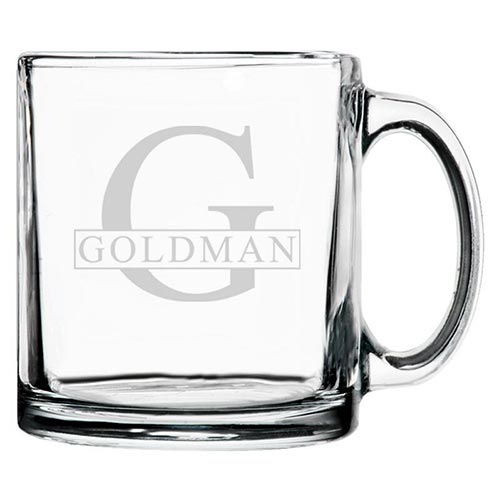 With such a great coffee maker (see above!), now they need some great mugs to go with! The possibilities are endless with these streamlined glass coffee mugs.
Once you engrave them with their married initials or last name, they'll be just the thing for sipping not only coffee, but tea, cocoa, hot toddies, even cups of soup on chilly nights.
Your spouse (or married couple friends) will definitely love a set of these, and they're bound to become a go-to coffee mug!
5. Floral Fruit & Hors D'oeuvres Forks
A well made fruit and hors d'oeuvre fork set literally lasts a lifetime and beyond, so consider this charming, quality set. Pretty enough to even be an heirloom one day!
They beautifully incorporate themselves into the flower and fruit theme of the 4th anniversary, and will come in handing during holiday dinners and entertaining. Perhaps consider pairing these with a pretty fruit basket for a full circle traditional gift.
6. Magnetic Couple Bracelets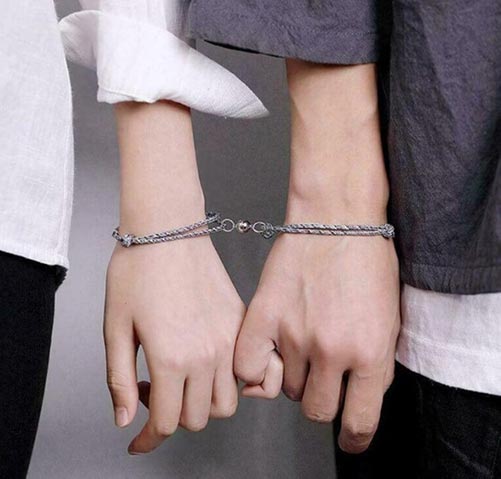 Show everyone just how connected you two are: literally!
These sweet minimalistic bracelets will have you smiling every time your hands meet. When you just can't stay away from one another, get the bracelets that keep you close.
7. Personalized Dry Flower Frame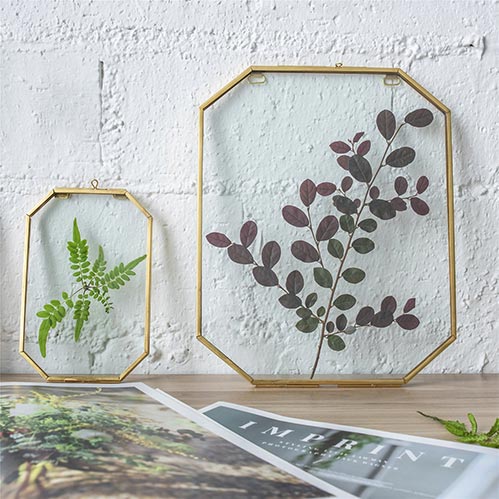 Sooo pretty, elegant, and unusual, these hanging herbariums will instantly brighten up and transform a room.
Four years isn't quite long enough to have a fully formed and well-thought out décor, so you can't go wrong with a set of these dainty dry flower frames.
They'll match any room: from the ultra modern sleek look to the cozy cottage shabby chic home.
8. Custom Linen Tray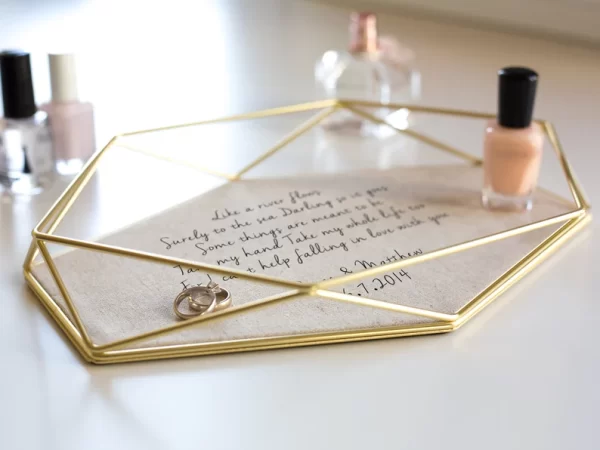 This beautiful, custom linen tray is a perfect four-year anniversary gift.
Great as a catchall for the dresser top, a perfume and cologne tray, jewelry and watch toss, or just for display! The big draw is that it can be customized with their initials and wedding date, wedding vows, the lyrics from the song she walked down the aisle to, or a combination of all the above.
Its classy, transitional design means it will pair well with any existing home decor, too, so no need to worry about that. We love it!
9. Topaz Blue Mantle Clock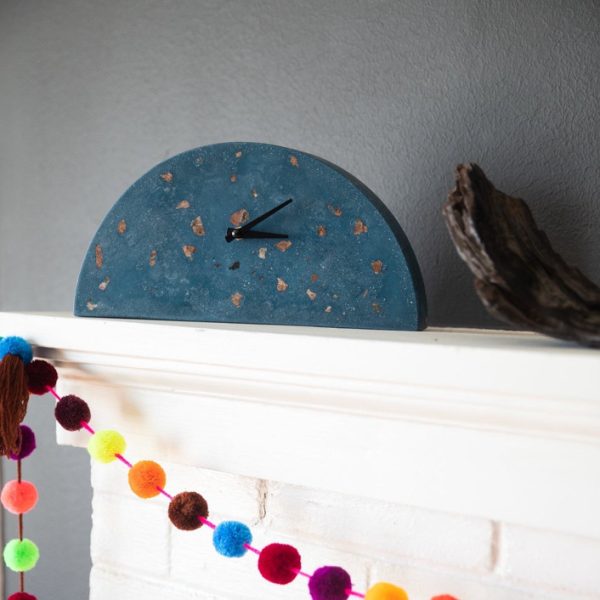 Okay, so it's not actual Topaz, but it is a beautiful Topaz blue color! And a rather timeless piece of art, you might say…
This stunning mantle or table clock will look so fetching in their living room, don't you think? A fantastic mix of traditional and modern elements, it will compliment a wide range of interior styles.
Each clock is individually poured and hand cast ensuring they are one-of-a-kind and special. Since the blue ties into the theme, these clocks make a perfect fourth anniversary gift.
10. Bamboo Cutting Board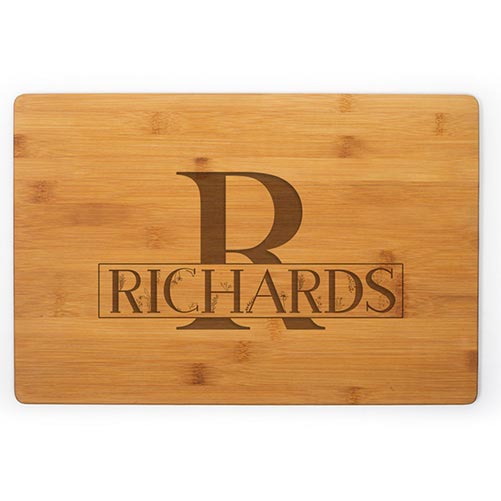 Perfectly customized with their last name in flowery lettering (flowers are the year four theme, remember?!), this cutting board is just the thing for a 4th wedding anniversary gift.
Especially if the two of you love to entertain, you'll find yourselves reaching for this well-made bamboo board for many years to come.
More ideas: 10 Best Personalized Gifts for Couples
Traditional 4th Anniversary Gifts (Fruit/Flowers)
11. Flower Seeds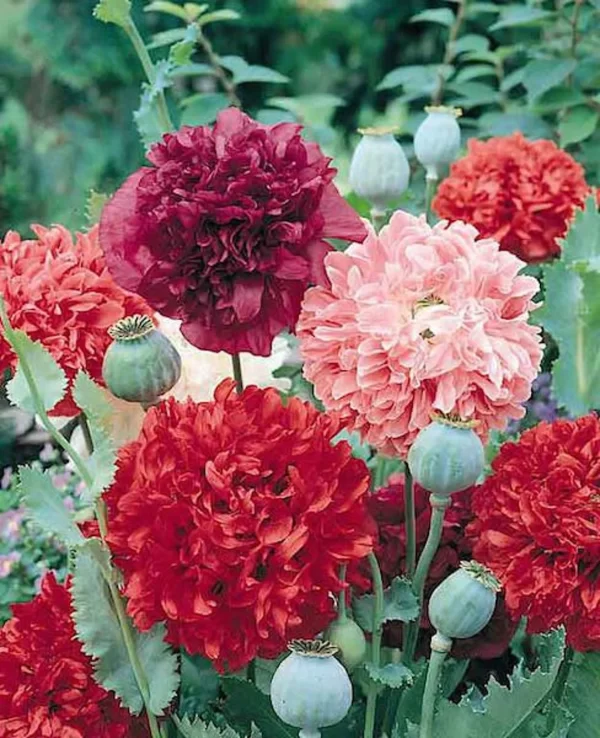 Grow their garden with some anniversary flowers! Rather than gifting cut stems that will wilt and die, a garden of fresh flowers will supply constant delight. How romantic is that?
These beautiful, double bloom poppies are a wonderful choice, but you can definitely take it a more personalized direction if you wish.
Simply research what flowers were either used in their wedding, or perhaps the flower from their wedding month, and voila; you have a unique and sentimental gift that will bring them smiles for months (years, if you choose a perennial).
Also, if you want to go for double prizes:
Be sure to get a personalized pot or an adorable flower planter to go with it.
12. Sweet Orange Earrings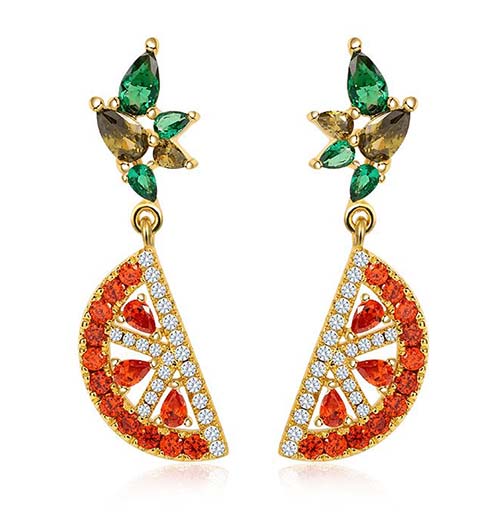 There is a lovely Spanish expression about the search for true love: "Encontrar tu media naranja," or, in English, "To find your half orange." Like many curiosities, this idea traces back to ancient Greek myths.
The story goes that humans were originally perfectly balanced, identical on both sides. Two faces, four arms, four legs, and spherical in shape. The poet Aristophanes compared humans to sweet, beautiful, and ideally rounded oranges. This comparison struck the god Zeus as being too close to the divine, so he decided to send lightning bolts to cleave humans in two. Ever since, humans search for their perfectly matching "half orange."
After the four-year mark, you know full well that you have found your half orange. So give her these lovely fruit-themed earrings to illustrate your appreciation for your eternal soulmate!
13. Garden Patio Set
This sweet patio set in a pretty topaz blue will look darling on their front porch or along the garden path. It could even work well on an apartment balcony or stoop if they don't have their own home yet.
It'll bring a Sunday brunch to life, or a backyard party, with the vibrant color and sense of whimsy. We think this is a perfect way to combine the modern gift theme with the traditional wedding anniversary gifts.
14. Fruit & Goodies Gift Basket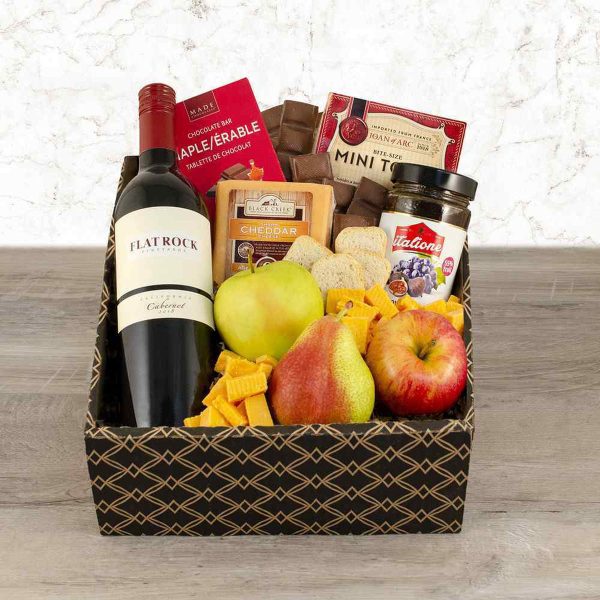 I don't know about you, but all this talk of fruit is making me hungry! This gorgeous fruit and goodies gift basket will satisfy their tummies and all of their cravings.
Packed with a delicious assortment of fruits, cheeses, wine, and chocolate, how could they possibly resist? Plus, this is basically everything they need for a romantic evening by the fire, or perhaps a charming picnic on the lawn. Can you say date night?
Anniversary inspiration: 101 Romantic Things to Do on Your Anniversary
15. Succulent Heart Garden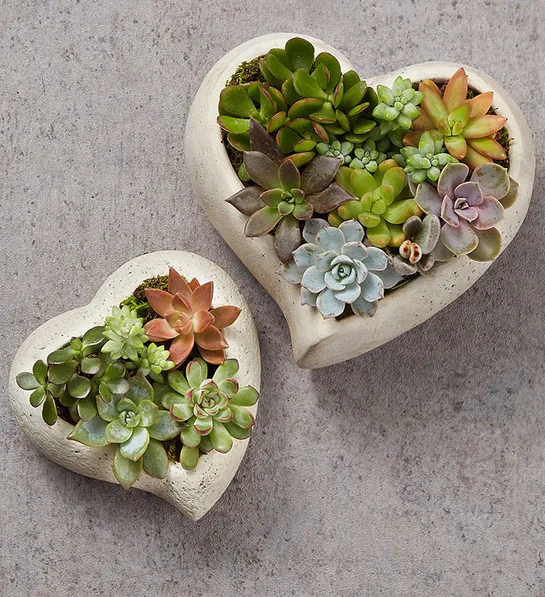 Suppose you know that keeping plants and flowers alive isn't exactly their forte? They can still celebrate their love of the natural world with this adorable succulent garden!
Notorious for their easy-care, nearly un-killable nature, succulents are every brown thumb's delight. And the little resin heart planter is so sweet, don't you think? A great gift to celebrate their special day.
Modern 4th Anniversary Gifts (Appliances)
16. Coway Countertop Water Purifier
What could be more important than cool, clean water? Replace that cheap plastic PÜR pitcher with something more efficient and better for the environment. And you!
The Coway Aquamega 100 countertop water purifier is everything they could want in a purification system and more. It's sleek, space efficient, has a tri-filter system, and it's electricity free! That means less energy consumption (saving $$$) and greater portability. It's a win-win-win.
17. Retro Toaster by Smeg
It's been a hot minute since we squealed over the cuteness of a toaster, but let me tell you… We can't get over the darling retro vibes of Smeg appliances, and this peppy piece is no exception.
Outfitted with all the charm of 1950's appliances but with the efficiency (and safety) of their modern counterparts, Smeg makes only the finest quality. This toaster comes in an assortment of pretty pastels, black and chrome, and has a wide range of matching appliances to go along with.
18. Stove Top Cover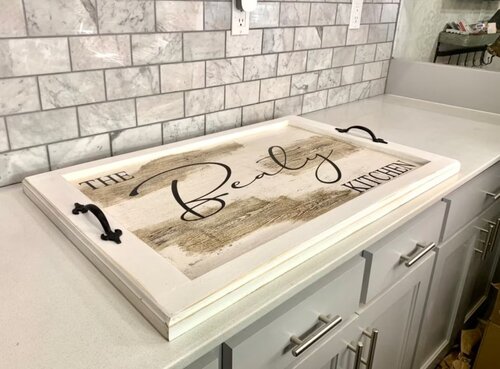 Is there anything more maddening than a freshly cleaned stove top that someone dribbles on? How about a not-so freshly cleaned stove top?
This clever and good looking (not to mention fully personalized) stove top cover will instantly fix both those problems!
Seriously, where has this been our whole lives? You'll wonder why you never had one before.
19. Self-Heating Ceramic Mug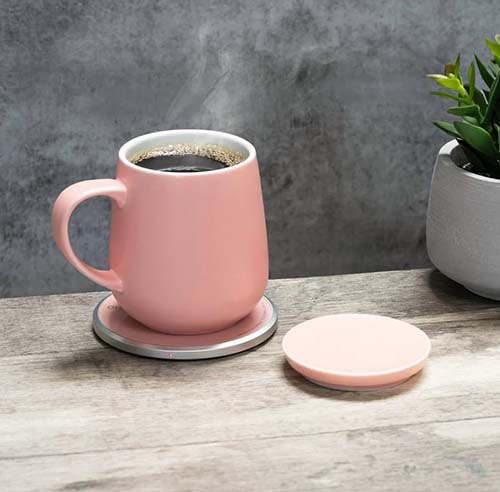 The appliance theme is convenient if you're in the market for a new fridge, oven or washer/dryer set. (Not very romantic, but hey — some couples appreciate really practical gifts.)
But there are smaller kitchen gadgets that can fit the bill and bring a sweet smile to your beloved. If your dearest is a coffee drinker, but always seems to be putting a half-full mug in the microwave to reheat, this genius Self-Heating Ceramic Mug is a brilliant gift.
The mug rests on a heated coaster which maintains a steady 130 degree temperature. It includes a lid for when you remove the mug from the coaster, and — bonus! — the coaster also serves as a wireless phone charger. Just, you know, allow it to cool a bit first so your phone doesn't melt…
20. Safe-T Fire Extinguishers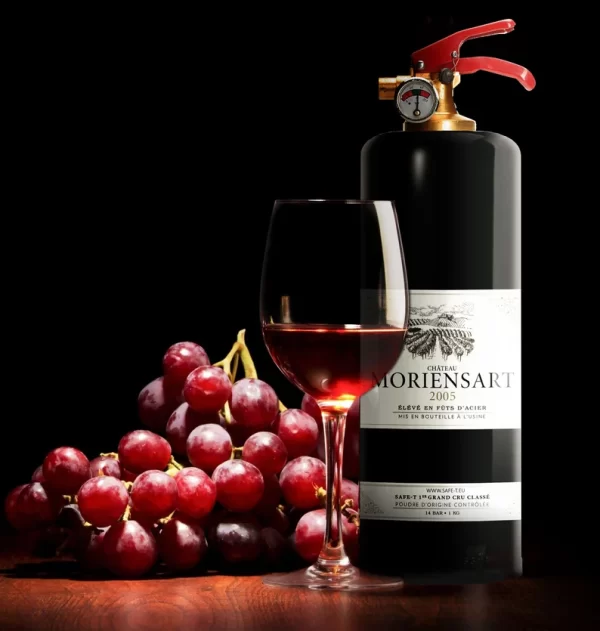 So many to choose from! Give your spouse the anniversary gift they never even knew they wanted with one of these totally rad fire extinguishers.
Not the kind to banish under the kitchen sink or in a closet, these babies are made to look at (and use if needed).
How does this fit with the 4th anniversary theme, you ask? Appliance? Check. Flower designs? Sure, there are flower designs. And blue ones. Or just about anything else you can think of! This one is disguised as a bottle of vino, for instance.
4 Year Anniversary Gifts for Her
21. Natural Blue Topaz Necklace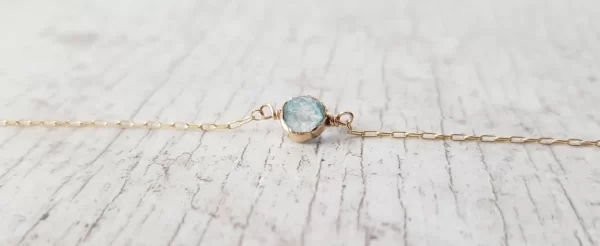 This stunning, natural blue topaz necklace set with either sterling silver or gold is going to be the apple of her eye in no time.
Sparkling and eye-catching, she'll feel like a million dollars every time she wears it — which is bound to be nearly every day.
22. Blue Anniversary Gift Tumbler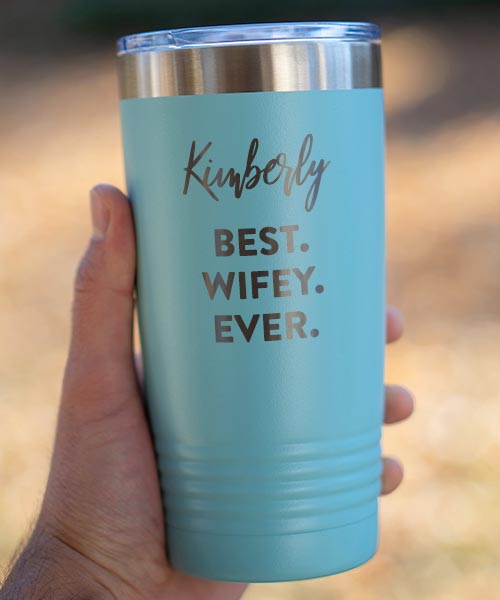 This fun and functional custom engraved tumbler is vacuum sealed and super insulated. It'll keep her hydrated (or caffeinated) as she goes throughout her busy day.
Personalize it any way you like, but you can't go wrong with "World's Best Wife," or "Mrs. [Married Name Here]." Many sizes and colors available (including 4th anniversary blue) with personalization included.
23. Professional Flowers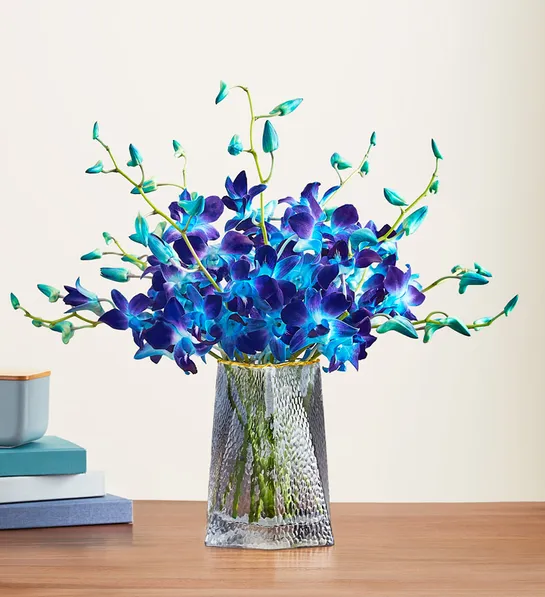 You CAN put together your own bouquet out of your neighbor's yard but, honestly, they're onto you (and so is she).
Leave the flower arranging up to the professionals with a gorgeous arrangement. If you want to have a more personal touch, write a lovely card to go with, or specify the flowers she had in her wedding bouquet. We're rather partial to these beautiful blue orchids, though.
Pair it with this: Easy (& Fun!) DIY Romantic Scavenger Hunt
24. Combined Birth Month Flower Necklace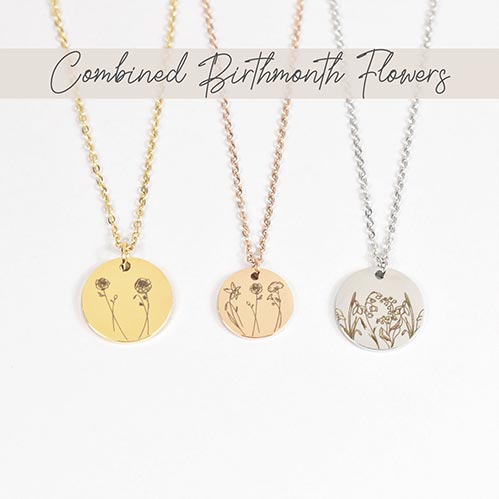 Combine his birth flowers with hers in this unique and dainty necklace. She'll love the thought behind this idea and will love explaining it to all who compliment it (which will be plenty).
It's a romantic and pretty way to give jewelry without just picking something out of a glass case in the mall!
25. Blue Peony Tea for One Set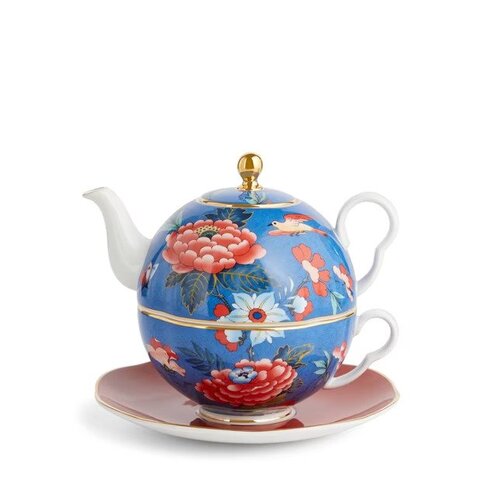 Is she a softy for a steaming cuppa? Maybe just a sucker for the pretties? Well, then, look no further for your perfect fourth anniversary gift!
This gorgeous tea for one set, courtesy of Wedgwood, is the prettiest thing we've seen all day. Both the peony pattern and the blue field pair well with the theme of this year's anniversary, so you can feel confident in your selection.
4th Anniversary Gifts for Him
26. Grill Master Crate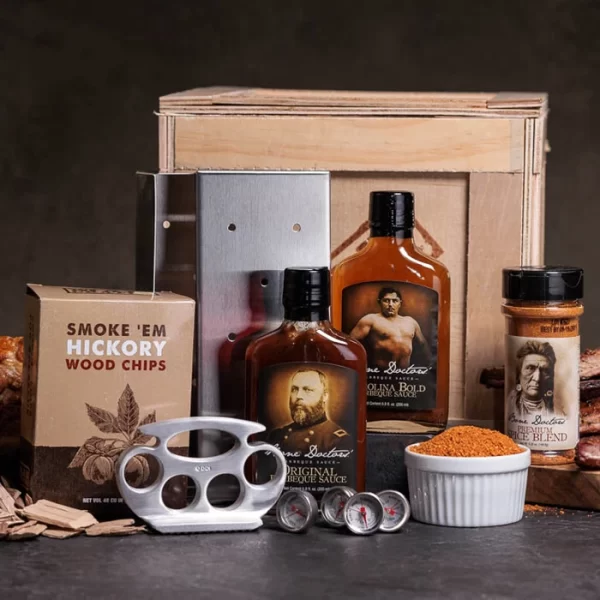 Good quality seasonings and tools are a must-have for a killer backyard barbecue! And don't get us started if your recipient is into Rib Cook-offs or Burger Masters. Come on, you have to have the best tools, and this grill master crate is everything he could ever dream of.
It's a great 4th anniversary gift for him because it's all about the manly "fruit" that, ya know, grows on grills. Or something like that.
Whatever excuse you want to give it, he'll be sitting pretty as he sips on a frosty beverage between marinating and flipping with this totally sick BBQ set.
26. Orange You Glad You Married Me?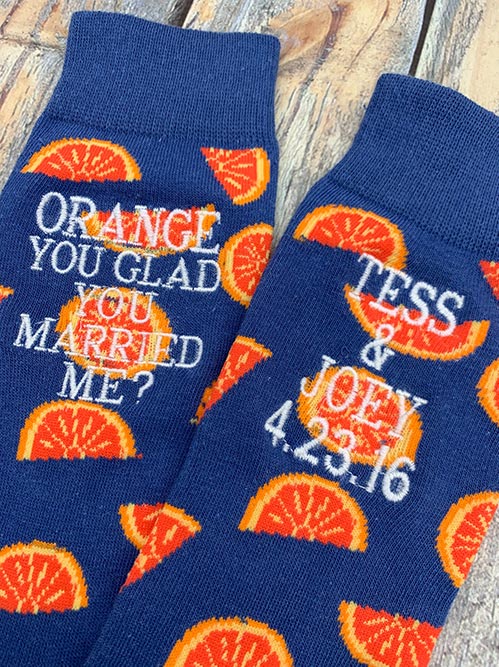 These are bound to be his new favorite socks! For that guy who loves silly fashion, bright colors, and wearing his heart on his sleeve…uh, we mean ankles, then this is the perfect gift!
It combines a dad joke and a reminder of his anniversary. Those are two things — let's face it — that he really needs.
27. Cherry Blossom Katana Sword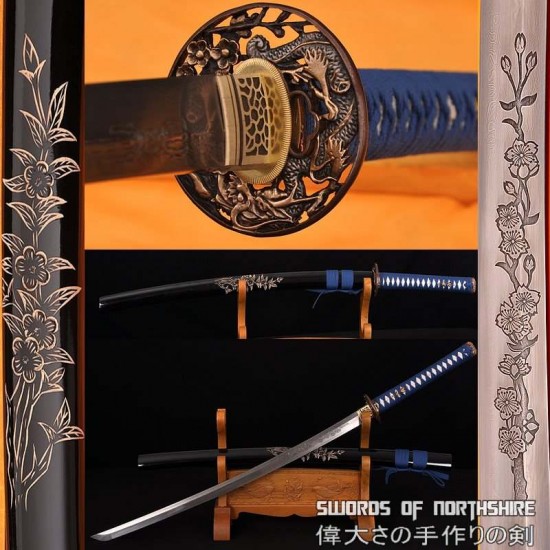 It's certainly not an appliance (maybe you could attempt chopping some veggies with it?), but it is floral and blue!
This gorgeous, hand forged samurai katana sword is a sight for his eyes to behold. Crafted in the old Japanese traditional method of Damascus steel, it's truly a masterpiece of workmanship.
If your man appreciates all things pointy — or just has an affinity for Japanese swordsmithing — he'll be delighted with this incredible blade. Fully functional and sharpened to preference with tons of options for personalization, too!
29. Custom Fishing Bottle Opener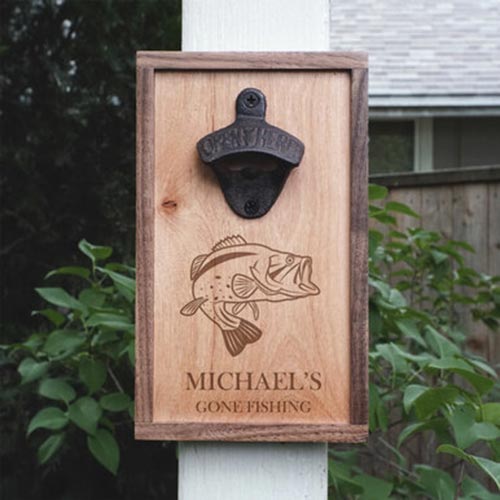 There's nothing more annoying than a bottle that isn't a screw top when you can't find your opener! Banish that problem with this personalized wooden bottle opener and sign all in one.
Whether it's hung outside on the porch, or indoors in the kitchen, it is super useful and looks amazing too.
28. Blue Topaz Band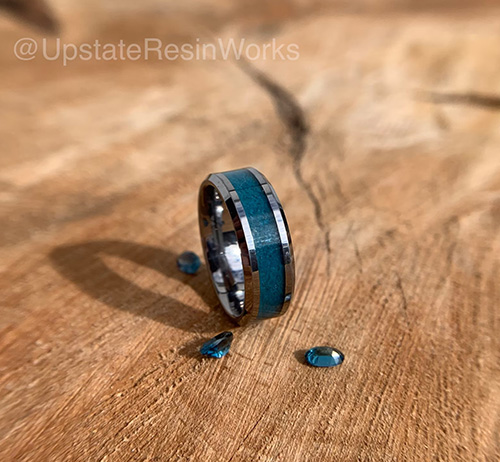 Fit him with a band as handsome and unique as he is! This striking blue topaz ring is just that and so much more.
Each of these bands is crafted to order from polished tungsten and magnificent blue topaz, so they're all slightly unique from one another. And just look at that color! We're mesmerized.
30. Personalized Wolf Knife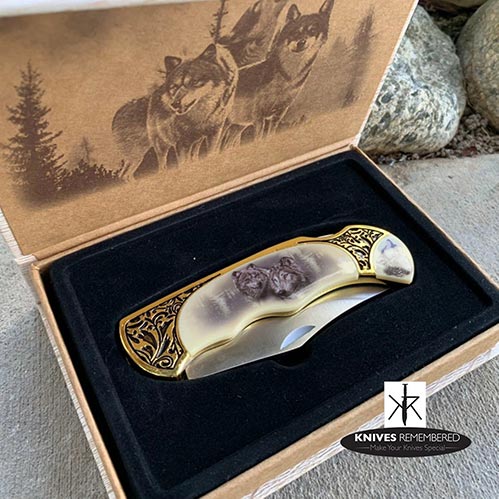 Personalized and engraved on the blade with the name, initials, or date of your choice, this beautiful wolf knife is just perfect for that special someone who loves the great outdoors!
The design is old-fashioned and timeless, with elegantly crafted handle, stunning wolf imagery, customized with a monogram, and comes with an equally stunning box.
More ideas for him: 21 Incredibly Romantic Gifts for Men
4 Year Anniversary Gifts for Couples
31. Vacation Package!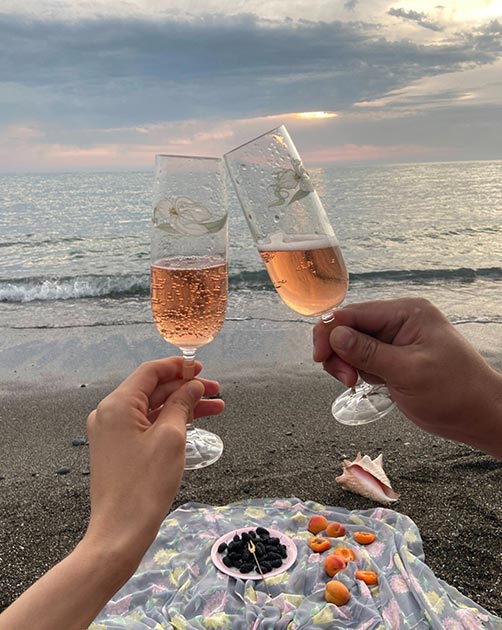 They've made through some touch stuff already in four short years: why not reward their commitment to one another with an amazing vacation package?
Simply sleuth a little to find out what kind of destination they'd prefer first (mountains, beaches, tropical, snow bunnies, etc) and you'll be on your way! Well, they'll be on their way. You know what we mean.
Related: 50 Incredible Experience Gifts That Will Elevate Your Gift-Giving
32. Digital Picture Frame
Keep the memories alive and fresh with a digital photo frame. It's streamlined and timeless, and the perfect size for a desktop, nightstand, or bookshelf.
They'll love this one, and it makes a great pick among 4th anniversary gifts!
More like this: 21 Best Gifts for Couples
32. Servd. The Couple's Game
Mix it up in your next year together with Servd. the cheeky and hysteria inducing card game for couples.
This innovative game is played over a set time period, i.e. a week, a month, 6 months, a year… Entirely up to you! It drags real life scenarios into the timeline of the game creating spontaneous and hilarious happenings. It will keep you on your toes, that's for sure.
33. Professional Portraits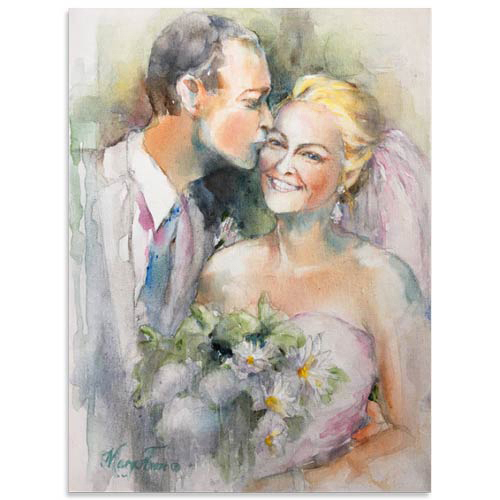 Turn one of their favorite wedding snapshots into a gorgeous work of art!
They'll be gob-smacked with this one and you just might be promoted to World's Best Gift Giver. It's a hard title, but we'll help you live up to the new expectations.
34. Kissin' Cups
This lovey-dovey mug set is just too dang cute, don't you think? These kissin' cups will become their new favorites in no time flat!
With a generous size to hold plenty of their favorite beverage, this adorable pair is crafted from porcelain bone china. That means wonderful quality that will last them a lifetime of morning coffees and evening cocoa by the fire.
Unique 4th Anniversary Gifts
36. Plant a Tree in Their Name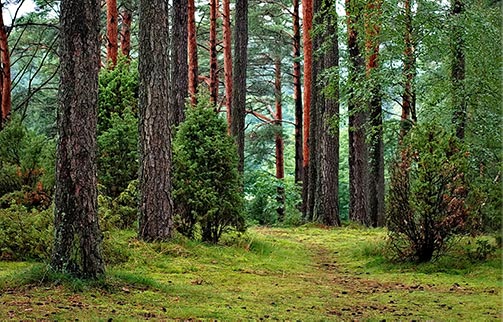 Sometimes that special someone is hard to shop for. Yeah, you sure married a special one! 4th anniversary gifts can be just as unique as they are, though!
May we present the idea of planting a tree in their honor? It's unusual, eco-friendly, green, and kind of the perfect present for anyone who loves nature and doesn't go in for materialism.
37. Psalm 103:2 Personalized Family Plaque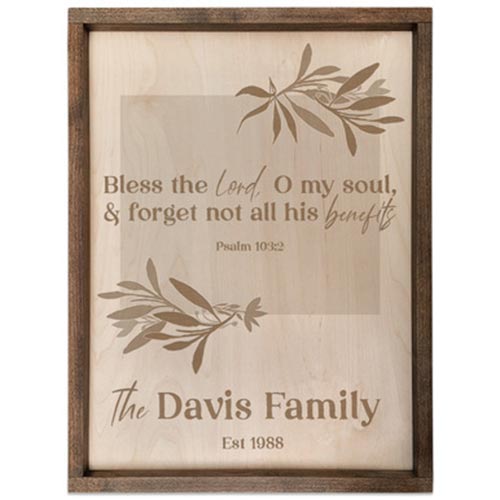 If they're the spiritual type, why not display it proudly with this personalized wooden Scripture sign?
Laser engraved with Psalm 103:2, a floral design (flower theme: Check!) and also including your married name and wedding date, this is going to look wonderful on the family wall of photographs.
38. Monthly Club Subscription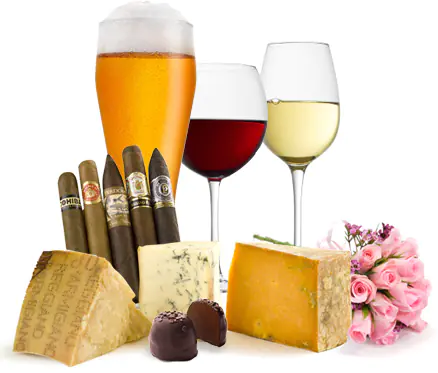 For a fun and unique gift idea that just keeps giving, try a monthly club subscription. Choose from wine club, beer club, cigar, chocolate, cheese, or flower club. Or — even better — a combination of all six!
Every month, they can have a delicious selection of treats delivered right to their door. They can also skip or pre-schedule any delivery to create a custom schedule that fits their lifestyle. Whichever subscription you choose, they're sure to be delighted.
39. Personalized Comic Book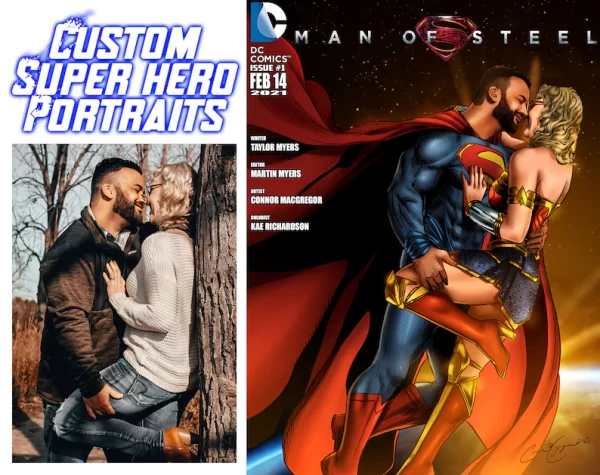 Who DOESN'T want to be the hero in their own comic book?! This gift is sure to impress everyone, from the geeks to the sophisticate.
It's not just super-romantic, it's also going to be the best thing they get this year, guaranteed! Share one of your favorite photos with the artist and he'll create a one-of-a-kind masterpiece that will become a family treasure.
40. Personalized Sweetheart Birdfeeder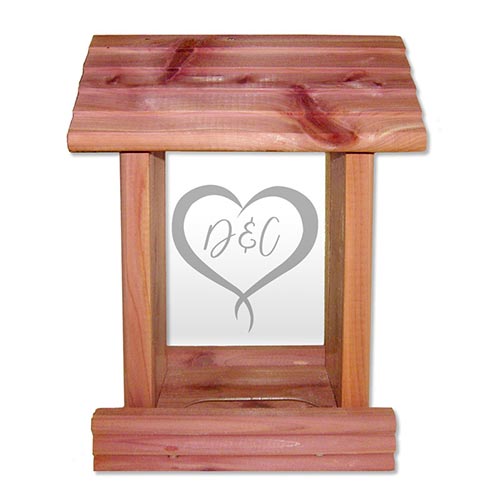 Personalized by you, this sweet bird feeder is high quality and will last through many years and hundreds upon hundreds of hungry birdies! Who knows who loves it most: the couple inscribed, or their feathered friends?
Main article: Gifts by Anniversary: Traditional & Modern Gift Ideas by Year
Read Next: 101 Romantic Things to Do On Your Anniversary
For the card: 101 Best Anniversary Wishes, Messages, & Quotes