If you're looking for 35th anniversary gifts, that means you and your beloved are approaching 35 years of married life together. And we wager to say, most of those years were happy! Depends on which spouse you ask on which day, right?
All kidding aside, your 35th anniversary is a cause to celebrate, and a gift-giving occasion if ever there was one. So on your special day, you want just the right gift and the best ideas to make it a romantic and memorable evening.
Whether that means cooking together and a candlelit dinner at home, a party with all your friends, or a weekend getaway, we'll help you come up with the perfect way to make your spouse feel oh-so-special.
After all, 35 years with your sweetheart is quite an accomplishment!
Our website is supported by our users. We sometimes earn a commission when you click through the affiliate links on our website. See our privacy policy & disclosures for more information.
All About the 35th Anniversary
Table of Contents
This is part of our series on Anniversary Gifts by Year.
35th Anniversary Themes
What is the traditional 35 year anniversary gift?
Coral is the traditional material for 35th anniversary gifts.
Why is coral the traditional 35th anniversary gift?
Coral symbolizes healing, wisdom, happiness, and immortality. These attributes all have relevance to a long, lasting, and loving marriage!
What is the modern 35 year anniversary gift?
Jade is the contemporary gift theme.
Why is jade the modern 35th anniversary gift?
It represents good fortune, love, and wisdom.
What is the 35 year anniversary stone?
Emerald.
Why is emerald the thirty-fifth anniversary stone?
Emeralds represent wisdom, peace, balance, and a strong bond. After 35 years, these things will likely describe the life you've built together!
What is the 35th anniversary flower?
The Coral Anniversary Rose.
What is the 35 year anniversary color?
Coral, of course!
10 Best Thirty-Fifth Anniversary Gifts
Let's start with ten of our favorite gift ideas for this special year in your marriage. After that, we'll get into gifts for him, for her, for both of you, and more ideas that go along with the traditional and modern themes.
1. Coral and Jade Memory Frame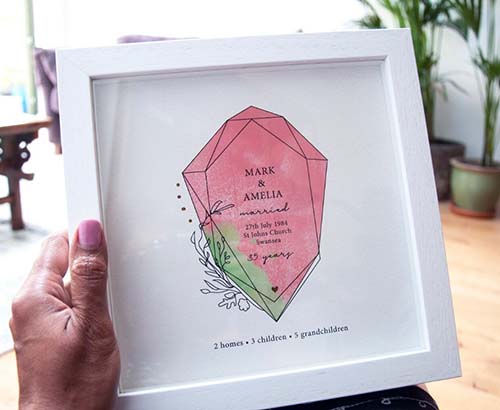 This pretty coral and jade memory frame is just the thing to give you parents for their 35th anniversary. It's subtle and sweet, and the personalization really puts it over the top. A special gift for a special couple!
2. Coral Colored Flowers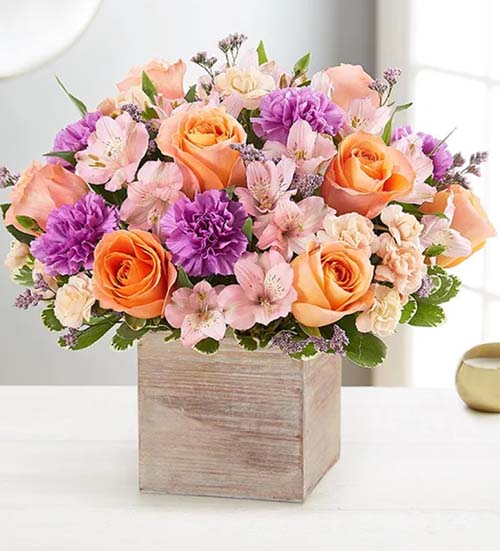 A blooming bouquet of coral colored flowers is such a great gift for the love of your life! She'll love placing this gorgeous collection right in the middle of the dinner table for a lovely centerpiece. And the smell will fill the whole house with its floral fragrance.
3. You're My Everything Photo Plaque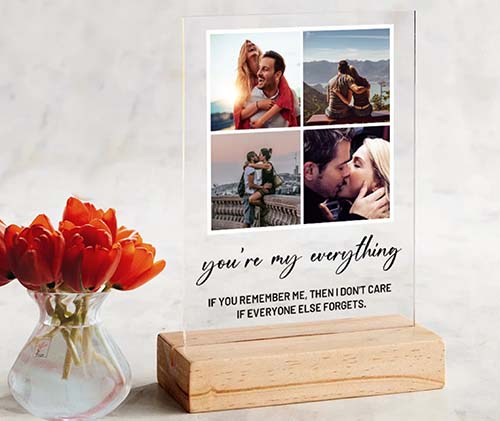 Choose up to four photos, and the custom inscription as well, to create your own original (and cute) photo plaque! It really makes it a special gift that will have your sweetheart smiling at all the memories. They'll love displaying this at the office for all to enjoy, or front and center on the family photo wall at home.
4. Jade & Coral Wire Tree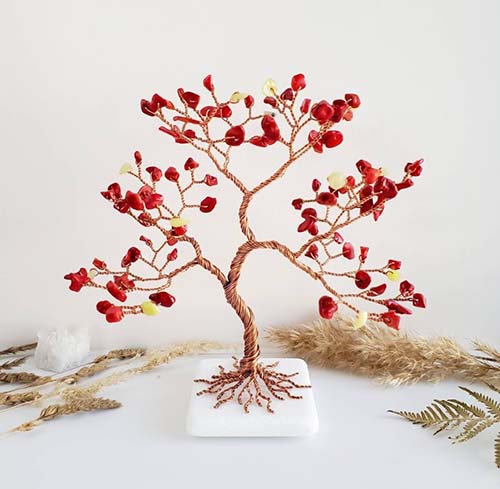 This unique copper wire tree with its coral and jade embellishments is truly one-of-a-kind, just like your relationship! Each gemstone is placed by hand. This would look so nice on an end table, or on the table during your romantic anniversary dinner.
5. 35th Anniversary Cutting Board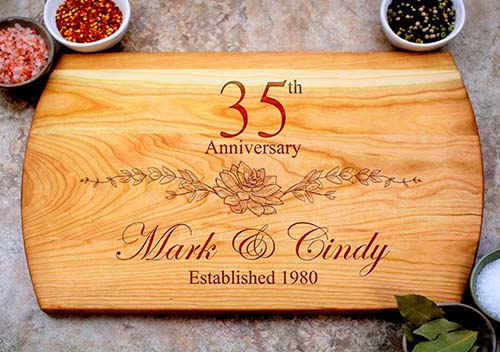 Choose the perfect size and your favorite wood with this great cutting board! Inscribed with their names and special wedding date, this will get so much use during special dinner parties and everyday chopping, dicing, slicing, and general meal prep. Definitely too pretty to keep in a cupboard, they'll want to hang this one on the kitchen wall – all the better to be admired.
Related: Personalized Gifts for Couples
6. Personalized Photo Shelf Blocks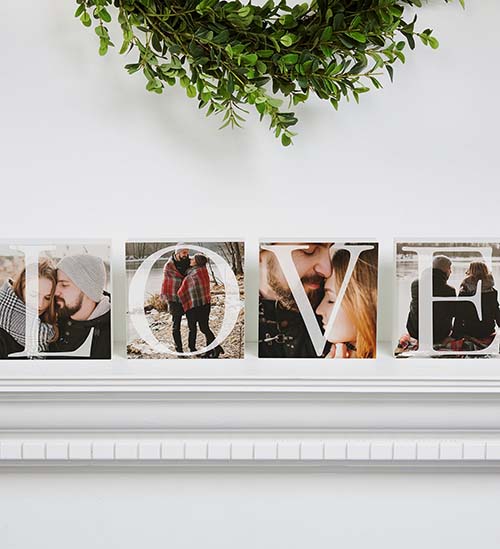 These personalized photo shelf blocks spell out the secret to their 35 year marriage: love. The blocks are modern in style, which makes the nearly 40 year old photos pop! These look wonderful on the fireplace mantle, or mixed in with other photographs on the bookshelf.
7. Emerald Green Engraved Ring Set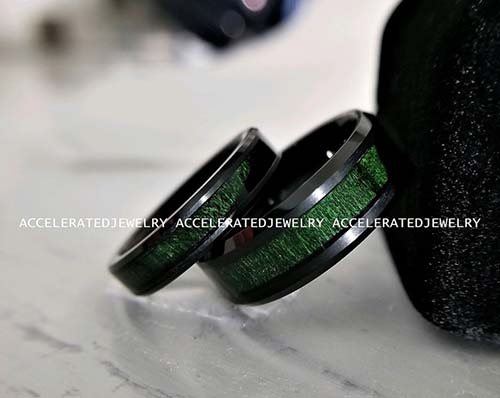 Engraved with a special message just for them, this is a wonderful gift for your spouse on your wedding anniversary. The vibrant jewel-toned emerald green shines and shimmers under the light. Whether it's for him or her, this gorgeous ring is sure to get lots of compliments.
8. 35th Anniversary Ornament
This 35th anniversary ornament is etched with your names and date, making it such a special gift! The hard decision is where to hang this delightful pendant: on the Christmas tree? Dangling from your sunniest window? Draped over your wedding photograph? So many decisions!
9. Anniversary Wine Bottle Holder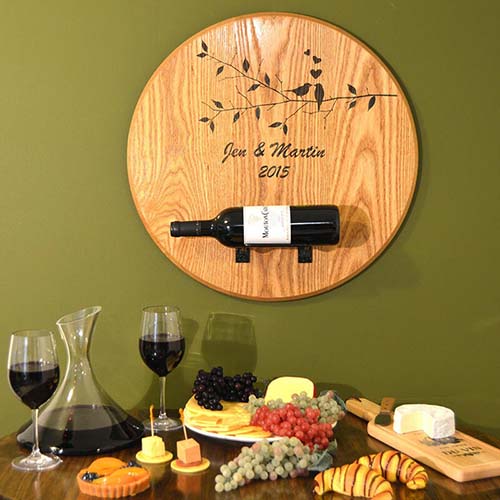 This wedding anniversary wine bottle holder is a show-stopper! With its generous size thanks to the barrel lid, this will look amazing in the kitchen or the den, or even the back porch. And no more fumbling for that pesky bottle opener that always disappears into the depths of the junk drawer. It's a win-win!
10. Customized Jade Garden Stones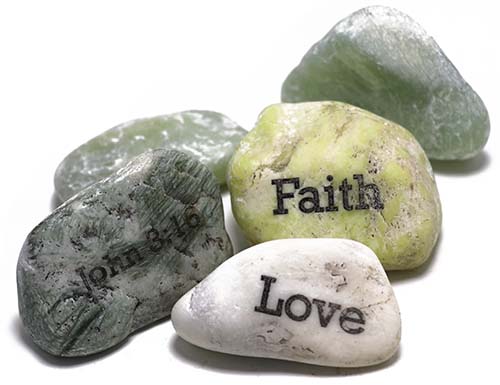 You can pick out the words these fun and soothing garden rocks say. Lined up in your herb garden, placed next to your walkway, or nestled inside your indoor plants, these jade stones bring some peace and calm to your day.
Traditional 35th Anniversary Gifts (Coral)
Now we'll show you some gorgeous ideas centered around the traditional coral theme.
11. Framed Coral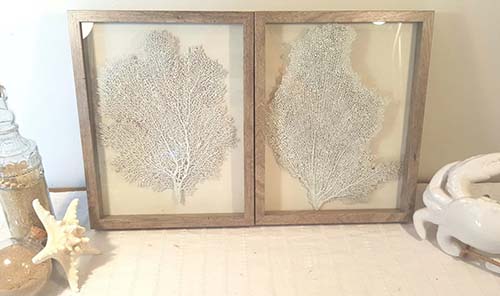 These framed corals are so neat and will look fabulous in a beach home! Or bring a bit of the beach to your mountain getaway or city condo! Anyway you go, this work of art is sure to elicit oohs and ahhs.
Related: Best Gifts for Beachgoers
12. Adorable Coral Anniversary Card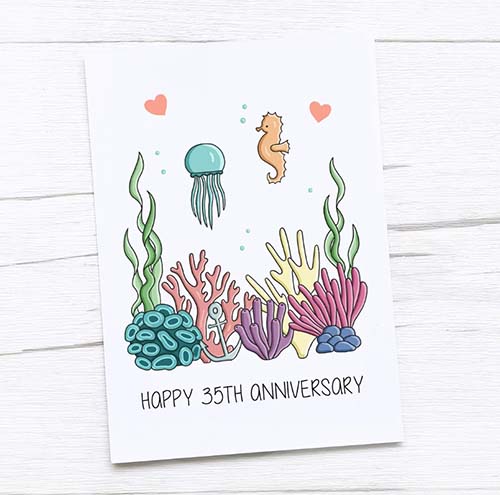 This card is so gorgeous, you might not need a gift! They'll want to frame this little piece of art for sure – it's way too sweet to toss into the trash after reading.
13. Custom Coral Pillow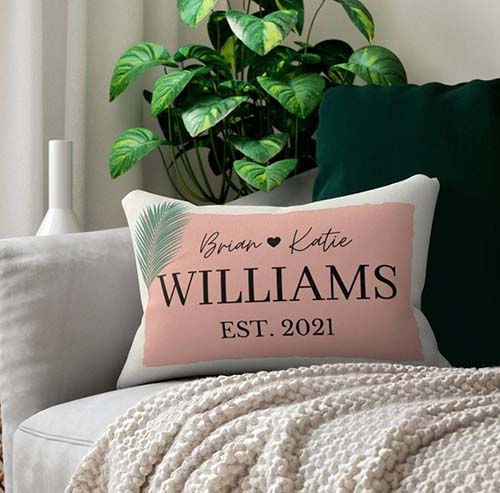 This throw pillow is cute enough with its soft hues of coral pink and pastel green, but once you add in the personalization, it really becomes one-of-a-kind! This sweet pillow is a great gift that the couple will love for snuggling, napping, or the occasional pillow fight!
14. Coral Stud Earrings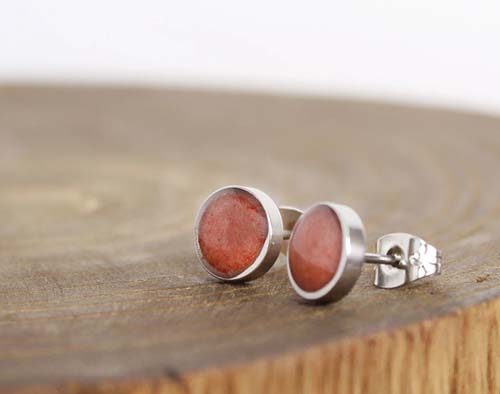 You can't go wrong with jewelry for your lovebug! These coral stud earrings are elegant in every way. They're dainty yet alluring, and will go with every outfit. Plus, they're lightweight, making them easy to wear.
15. Carved Coral Colored Rose Candles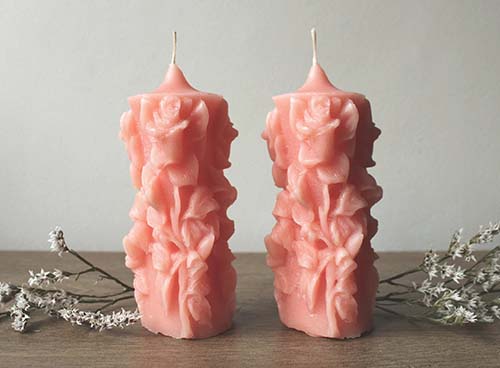 These carved coral colored rose candles are so exquisite! Your sweetie will love lighting these on a romantic date night at home, or simply using them – unlit – as a decor statement piece.
Modern 35th Anniversary Gifts (Jade)
Jade is the contemporary trend for the 35th anniversary gift, so below we've curated our favorites that we think you'll enjoy.
16. Jade Love Birds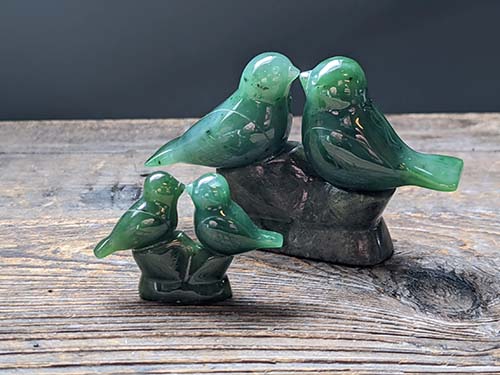 These jade love birds are just the thing for your favorite married couple! They'll love the smooth jade and the shape of these adorable birds. They'll look so sweet nestled in amongst their other favorite mementos they've accumulated over the years, or simply resting on the bookshelf at eye level.
17. Custom Jade Love Song Soundwave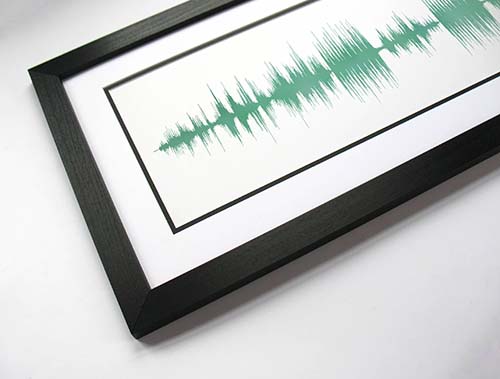 Is your spouse impossible to shop for? Do they seem to have two of everything already? Did they unwrap your last gift with lackluster energy? Don't despair, that's where this completely unique and special custom jade love song soundwave art will rock their world! It's a soundwave rendering of the song of your choice, printed in jade color, with optional framing available.
18. Teardrop Jade Necklace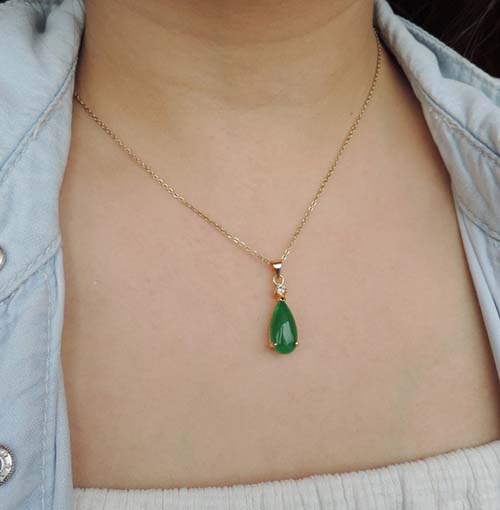 This oh-so pretty teardrop jade necklace will light up her face! She'll love wearing this with anything from her everyday casual outfits to night out on the town little black dress.
19. Jade Bonsai Tree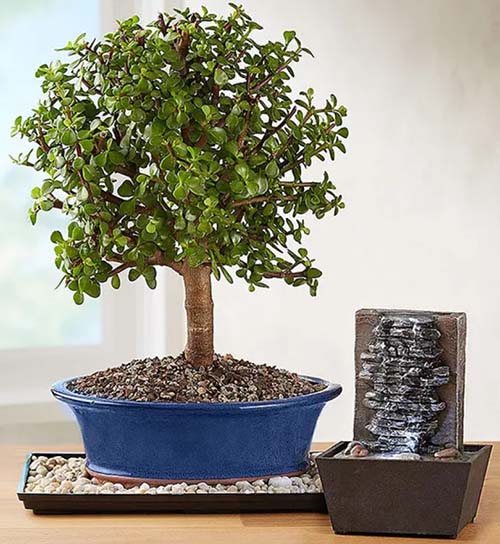 This jade Bonsai tree is just the ticket for a soothing, calming, peaceful gift that will enchant all who see it! It's available with the most charming of little water fountains and comes in 3 different sizes. Plus, it's very hardy and doesn't need much water, making it perfect for anyone with a less-than green thumb.
Related: Best Gifts for Gardeners
20. Secret Message Jade Bracelet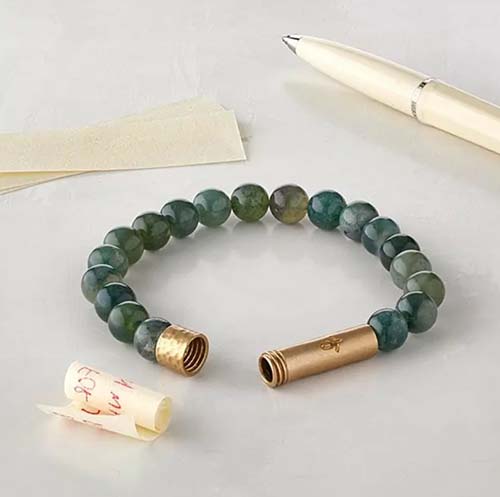 Tuck a little wish or snippet of a poem inside this secret message jade bracelet, making this gift even more perfect! They'll carry your well-wishes with them everywhere they go. Be creative: your message can be a bit of your wedding vows, a promise, a song lyric… the sky's the limit!
35 Year Anniversary Gifts for Her
Your wife is special, isn't she? Well-deserving of a thoughtful and meaningful (not to mention beautiful) gift. Here are some of the best ideas we've found, just for her.
21. Minimalistic Emerald Ring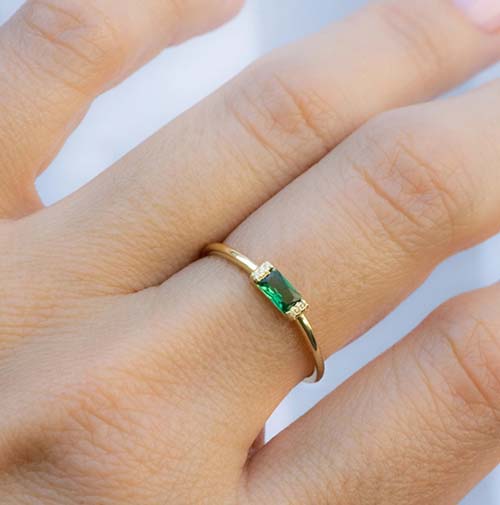 This emerald ring is so lovely, but not over the top, making it perfect for the minimalist. She'll love the way it sparkles and catches her eye – just like you caught her eye all those years ago!
22. Dear You Blanket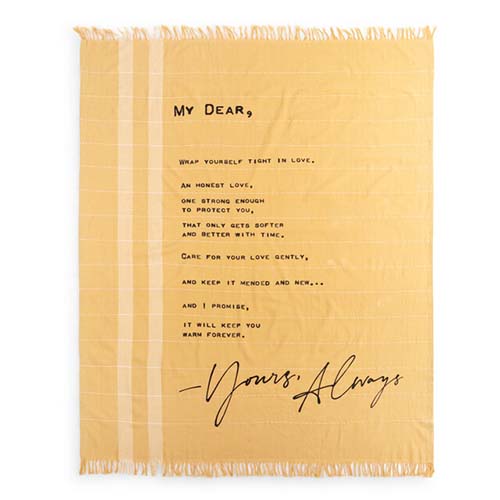 This romantic gift is perfect for the young-at-heart! The inscription is oozing with sentimentality and will wrap him or her in warm fuzzies all night long. A great gift that you don't need to wrap: just lay it out on their bed and watch them smile as they see it for the first time.
23. Personalized Coral Jewelry Bowl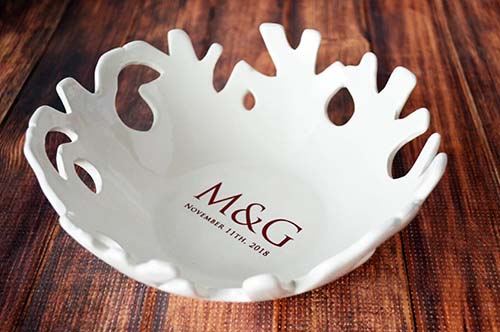 This personalized coral jewelry bowl will hold their important trinkets and keep them safe. And it will look like a little piece of art while it does so! They can keep their keys, rings, jewelry, or sunglasses all in one convenient spot.
24. Godiva Chocolate Gift Basket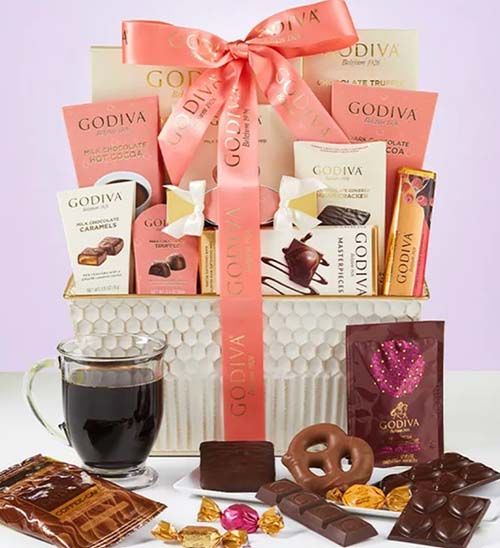 When in doubt, you can't go wrong with chocolate. And this basket from Godiva really hits all the right notes for the discerning chocoholic. They'll love the smooth rich dessert, and if you're lucky, they just might share.
25. Red Coral 14K Ring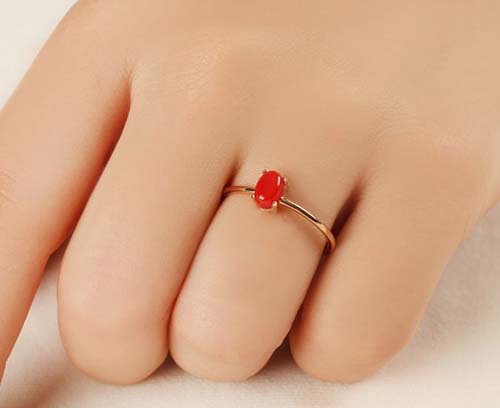 So unusual and so unique! This red coral ring totally stands out in a crowd in all the best ways. The simple gold band exudes delicate charm, and the red stone is a showstopper.
35 Year Anniversary Gifts for Him
Your man would love to receive one of these as your present this year. Honor your marriage with a meaningful gift, just for him!
26. Photo Keychain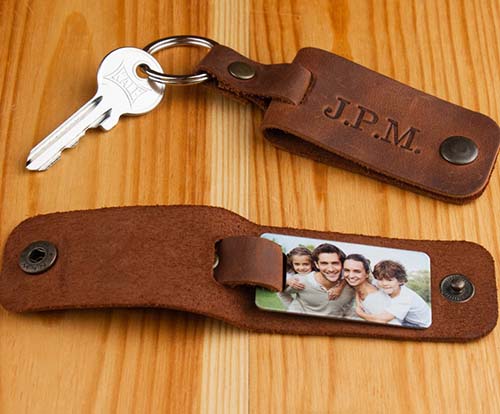 This leather keychain is rustic yet modern. He'll love thinking of you each time he grabs his keys – and that, of course, is several times per day. Your favorite photo of the two of you is nestled inside like a little secret.
27. Custom Emerald Green Desk Clock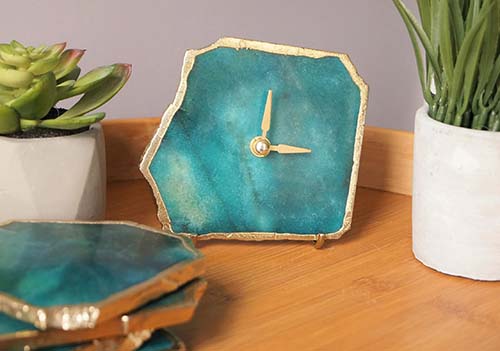 For the office or for his desk at home, this custom emerald green desk clock is sure to please. The gentle gold stands out against the vibrant jade/emerald green and the customization takes it over the top. He'll love this clock, which is timeless (pun intended), yet a little bit modern.
28. Engraved BBQ Set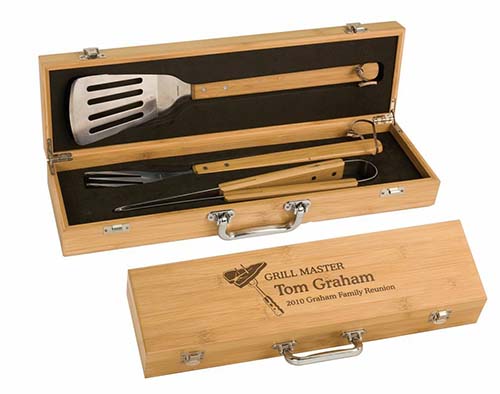 Here's a practical 35th anniversary gift that still gives a nod to his romantic side. After all, he can use this engraved BBQ set while he's flipping some rib-eye steaks for his one true love. He'll love using these all year round at the grill just as much as he'll love putting them in the engraved box for safekeeping.
29. Jade Golf Tee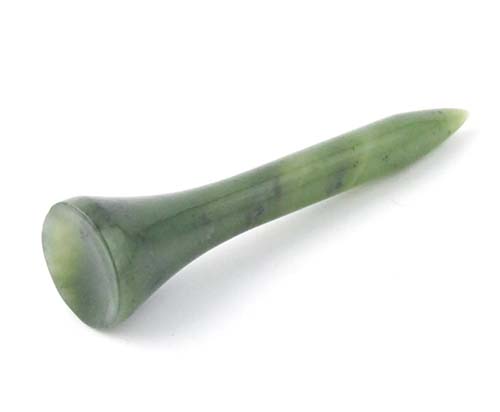 This jade golf tree is just the right amount of "splurge" and practicality. He'll feel like a million bucks and will love showing this tee off to all of his golf buddies at the club.
30. Handcrafted Watch Box with Custom Music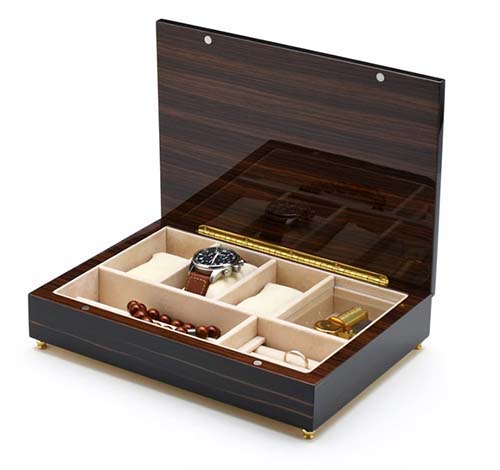 This masculine custom music watch box is so unique and sophisticated. He'll love hearing the song you chose (maybe something from your wedding?) every time he opens it. It's the perfect gift for the man who is hard to shop for!
35 Year Anniversary Gifts for Couples
One of the best ways to celebrate your 35th year is to get a gift centered around the two of you. From couples-themed décor to matching t-shirts and other creative ideas, here are some gifts that will show your togetherness.
31. Personalized 35th Anniversary Wall Art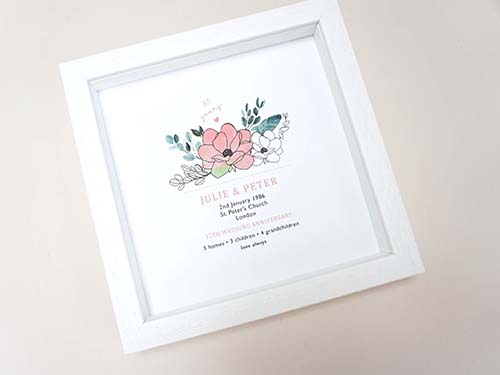 Such a great gift for your parents or grandparents on their 35th anniversary. Completely customized with their name and dates and important info, this piece of wall art is truly one-of-a-kind and will look so fabulous on their family wall.
32. Love Ever Endures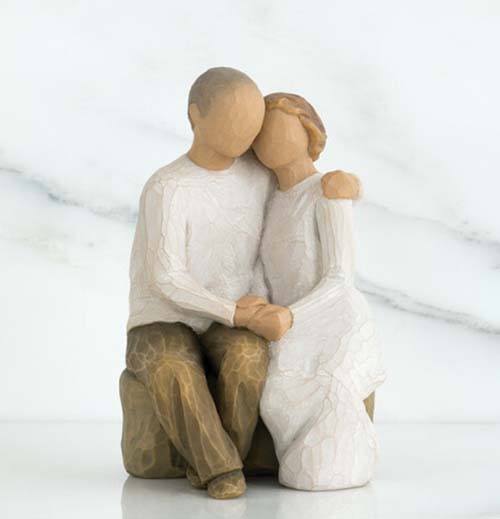 This Willow Tree figurine is perfect for two love birds. They'll relate completely to the gently snuggling couple, and if they have a collection already, this one will make it perfect. The soft colors won't clash with any decor and will look great in the bedroom, office, or living room.
33. 35 Years with My Best Friend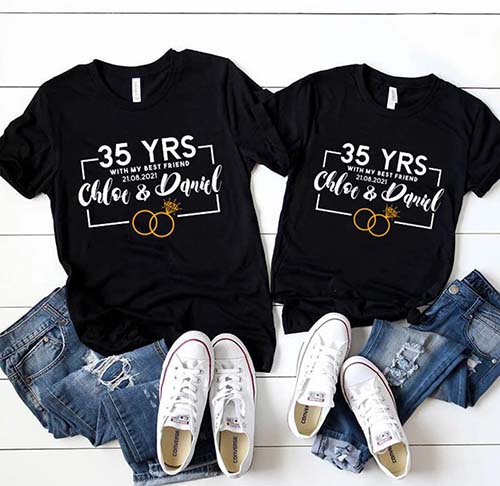 Personalized with their pertinent information, these matching tee shirts will make all their couple friends jealous! They'll love wearing these to their anniversary party, on vacation, or just around the block as they walk the dog.
34. A Tree Planted in Their Honor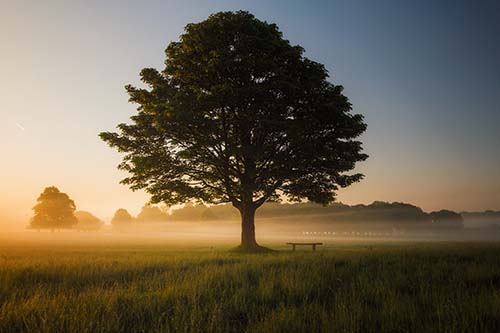 For the couple who really doesn't like fuss and unnecessary gifts, having a tree planted in their honor is just the thing! Nature lovers will be gob smacked, knowing they have a special tree growing and thriving because of their love.
35. Chocolate Covered Strawberries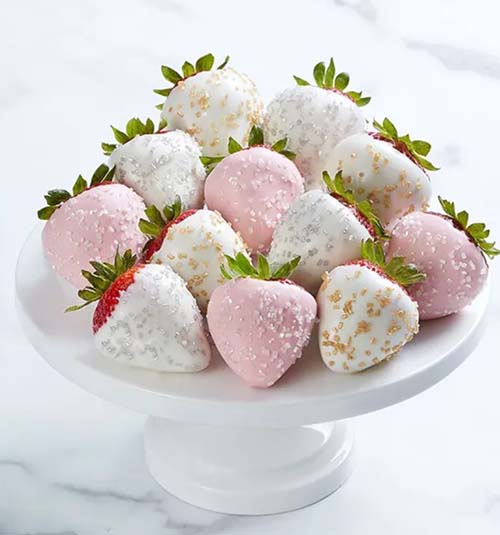 Because, why not?! Chocolate covered strawberries make everyone happy! They'll love feeding each other if they're the romantic type, or just cheerfully noshing on these little decadent bits of happiness.
Unique Thirty-Fifth Anniversary Gifts
Looking for an idea that is unique, unusual, yet thoughtfully meaningful? Check out these gifts.
36. Love is Timeless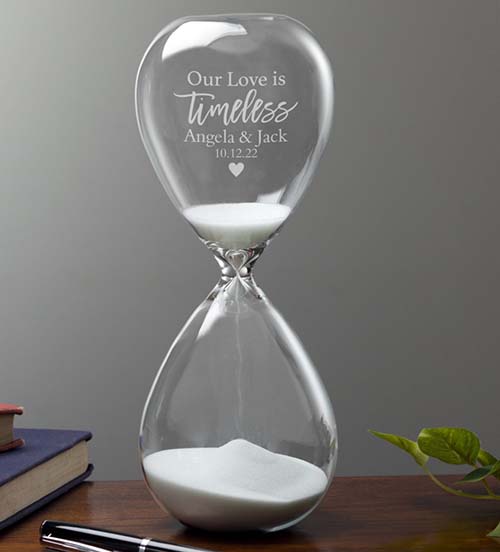 Personalize this sand-filled hourglass with your relevant information and watch your sweetie smile as they open it! Your better half will adore what this gift represents – a never ending love. And it comes in a beautiful satin-lined box to boot.
37. Professional Portrait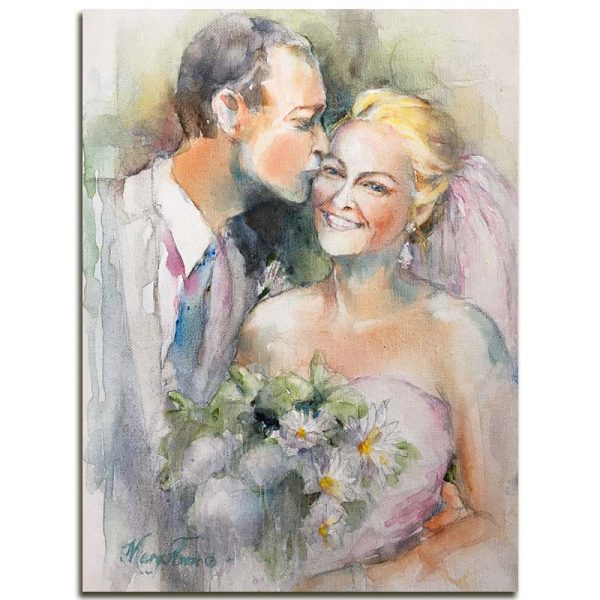 Take their wedding photo and have it transformed into a professional portrait! So classy and sweet. They'll adore unwrapping this amazing present and hanging it up for all to see.
38. Couple's Bucket List
This travel journal is so fun to complete together! 35 years and you're just getting started on your adventures together. Fun to fill in, and even more fun to put into motion. It's the perfect reminder that adventure is out there!
39. I Love You More Keychain
Leave no doubt with this cute and romantic keychain! A simple gift that lets them know you didn't forget their special day.
40. Digital Picture Frame
This digital picture frame will constantly delight your spouse because you can update the photos at any time, from wherever you are! Change them frequently, or once a month – the magic will never get old. A great gift that won't take up much room but will still show off a huge collection of photographs. Ahh, the memories!
Read Next: 40th Anniversary Gifts
Pin It