These are 30 of the best 18th birthday gifts for that special teen in your life.
We have thoughtful gifts for her, interesting gifts for him, and truly memorable birthday gifts for any 18 year old in your life.
If you're stuck on what to get, you've come to the right place. Read on!
Our website is supported by our users. We sometimes earn a commission when you click through the affiliate links on our website. See our privacy policy & disclosures for more information.
10 Best 18th Birthday Gifts
The very best 18th birthday gifts for any and every almost 18 year old.
1. Personalized Old-Fashioned Pocket Knife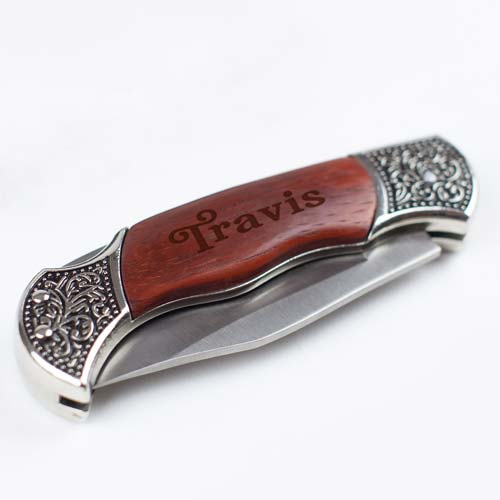 Northwest Gifts brings us the first gift on our list of 18th birthday gifts!
This vintage-style pocket knife, constructed from real Rosewood, will make a wonderful keepsake gift for your teen. It includes a 3-inch stainless steel blade as well as custom engraving on the handle.
Measures 4.5″ x 1.5″ x .5″.
2. Kayak
Has your almost-18-year-old always been one for adventure? Can you totally see them jumping in one of these things and going for a ride down the river or lake?
Then you may as well stop reading here, 'cause you've already found their perfect 18th birthday gift.
The inflatable Intex Explorer K2 kayak is made of strong vinyl and sits two people. The seats are adjustable, and the coloring of the Explorer is a bright yellow so as to be spotted easily while on the water.
Air pump and oars are included, as well as grab lines and handles at each end of the vessel.
3. Oculus Quest Virtual Reality Headset
Virtual reality (VR) is all the rage among the young people today! Take it from us.
If you're going to go with a VA set as your gift to your teen, you want to make sure it's a good one. The Oculus Quest All-in-One VR Gaming Headset is one of the most highly-rated VR sets out there.
This set comes with everything your teen will need to play their fave virtual reality games without the hassle, including touch controllers, insight tracking and room-scaling technologies.
4. DIY Bubble Waffle Kit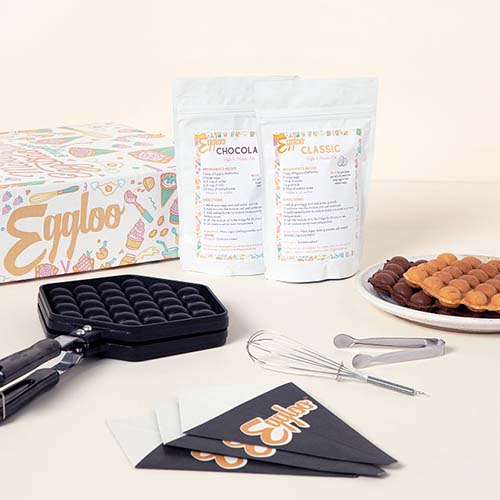 Bubble waffles — at home! Teach your fresh, zit-faced 18 year old a little self-sufficiency with this DIY Bubble Waffle Kit. After all, nothing will get them more interested in refining their culinary skills than a trendy street-cart-style waffle, apparently made from bubbles. Who knows, maybe they'll even clean up afterwards!
5. Self-Defense Course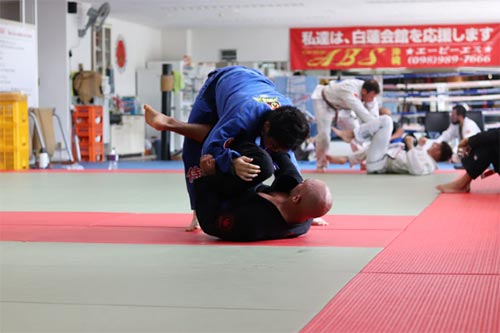 We all know that the world can be a scary place, no matter how old you are. Help the new adult in your life stay a move ahead of the bad guys with a self-defense class offered by Udemy.
Udemy is an online course hub offering hundreds of thousands of classes on almost any topic you can think of. By completing one of Udemy's many virtual self-defense classes, your teen (and you) will garner some peace of mind as they prepare to take on the world.
6. Burrito Blanket
Just because your teen is now officially an adult, does not mean they are done having some good ol' fun!
This cute burrito blanket is not a real tortilla, of course. But we're willing to bet your teen is going to be the most adorable burrito in the world once they get all wrapped up in their new gift.
Made with warm fleece and earth-friendly dyes. Choose between four different sizes and two styles.
7. Tree Planted in Their Honor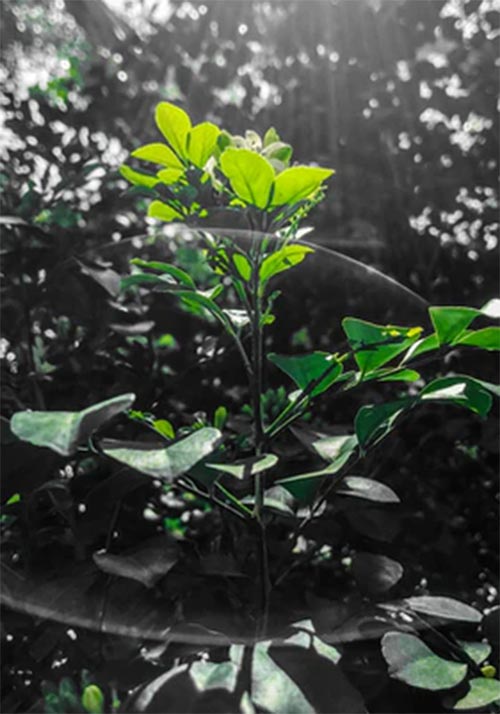 Maybe you're gift shopping for a teen who has everything already. Or maybe they're gearing up to head off to college and don't really have room for another thing (but you don't want to give just money, either.)
In this case, think giving to another cause but in their name. Trees for a Change is one such cause that, over time, makes a big difference in the life of a National Forest previously devastated by fire.
All you have to do is donate a tree sapling. Once it's planted, your teen can get online whenever they want to see their tree's progress (and the regrowth of the forest in which it was planted).
8. DSLR Camera
Having a little trouble thinking of 18th birthday gifts? Technology can help with that.
Cameras have come a long way technologically. Long gone are the bulky "brick" cameras of yesteryear. And little block cameras, once so popular in the early part of this century, have also been largely replaced with cell phones. But there is still a queen amongst them all: the digital single-lens reflex.
DSLR cameras like the Canon EOS Rebel T6 are the super high-quality cameras used by professional photographers. This model comes as part of a kit, so it will include everything your teen needs to get started on what could be their next big hobby…or eventually a career.
9. Model Rocket
Model rockets are one of those cool gifts that anyone can enjoy, whether they're a teen or an older person. But just as with any gift you consider, quality counts.
This Estes Tandem-X Flying Model Rocket stands an impressive 30 inches off the ground. When shot off, it can reach heights of over 650 feet. The accompanying Crossfire rocket can reach even further – an astounding 1200 feet.
The required rocket engines, wadding, and starters are sold separately.
10. Slackline
You've seen slacklining on extreme sports TV; for their birthday, your teen can try out this cool activity themselves. With a little help from the Flybold Slackline Kit, they'll be able to exercise their balance (and impress all their friends) at the same time.
The training kit comes with everything a beginner needs to get them started: main walking line, training line for grasping, ratchets, an arm trainer, and more.
10 Best 18th Birthday Gifts for Girls
Thoughtful and creative gifts for the young woman who is turning eighteen.
1. Handcrafted Ceramic Kitty Mugs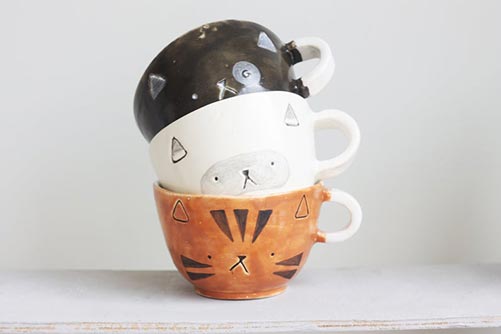 Does your teen love all things cats? Now that's she almost an adult, she most than likely enjoys her fair share of coffee and tea, too!
So get her something cute that she can sip her favorite beverage out of while getting ready to start her day: a handcrafted ceramic kitty mug.
Customize this adorable cat mug by choosing from three primary colors: black, white, or red. Also choose between two sizes. Want to add your teen's name or other text? You can do that to!
More: Best Cat Lover Gift Ideas
2. Quirky Kicks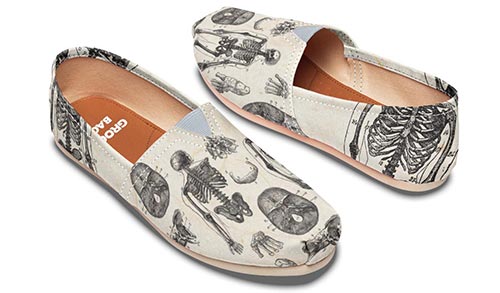 Teens are finding their own way in the world, their own voice, and their own style. If they're fashion is a little quirky right now — support it! Their 18th birthday coming up is the perfect opportunity to show them you're paying attention to their interests and likes.
When you surprise your new 18-year-old with these quirky anatomy-themed shoes from Groovebags, you're giving her something you know she's going to get good use out of.
This pair of casual shoes features an EVA outsole (for slip resistance), printed canvas all the way around, and an elastic vamp for easy on-and-off.
3. Spikeball
This next 18th birthday gift idea is for the athletic teen!
Spikeball is a fast-paced, competitive ball game with a central goal of hitting the ball on the net (here are the full instructions). The standard kit comes with net stand, three Spikeballs, and drawstring bag for easy transportation.
Your teen can take this game to college with her, to parties, to tailgating events, to picnics, or anywhere else she wants.
4. Horse Lover Personalized Tumbler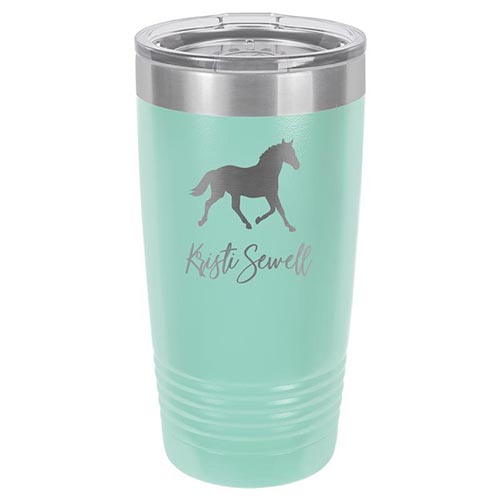 Maybe you've got a horse lover on your hands, and she's about to turn 18.
In this case, get her something she'll both use and love…a personalized Polar Camel tumbler with her name (and a horse, of course) laser-engraved right on the front.
Polar Camel tumblers are comparable to the much more expensive YETI brand tumblers. In other words, they possess all the elements of a good tumbler, without the crazy price tag!
Choose between several color and style options.
5. Rocketbook Physical-to-Digital Notebook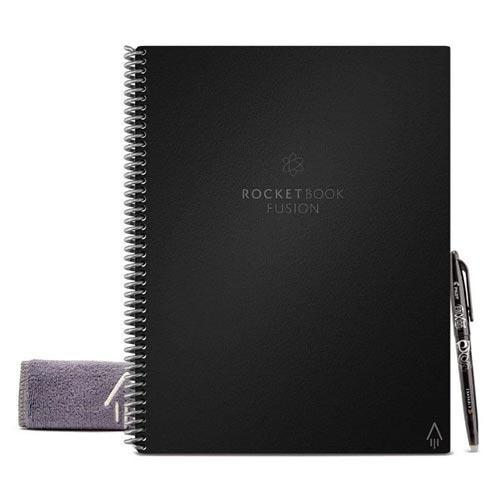 When you turn 18 and become one with the grown-ups, you've gotta start doing what grownups strive to do each and every day: staying organized!
Give your teen the gift of organization by surprising her with a Rocketbook Digital Notebook. Whether she'll be off to college soon, going to work, or taking some time off, this smart notebook will allow her to keep track of her schedule in a modern way.
Utilizing the Rocketbook's eco-friendly layout, she can use it to jot down whatever notes she needs to remember, to make lists, or even to doodle. She can send her writing to her favorite cloud for safekeeping, and then wipe her page clean to start fresh.
6. Birthday Flowers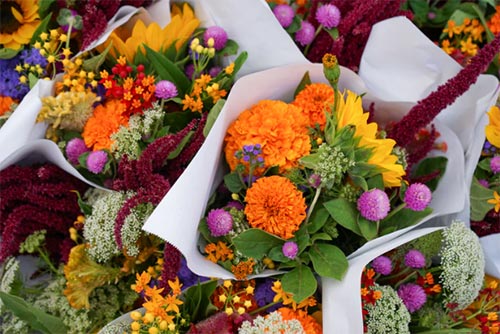 Giving flowers to the young lady in your life will show her that she is loved, cherished, and very much celebrated on this most important of birthdays.
When you send flowers through Pro Flowers online, you can bet that your 18-year-old will be receiving a bouquet of vibrant, fragrant blooms that she will remember for the rest of her life.
With Pro Flowers, pretty blooms aren't the only thing you can shop for. Would your teen also enjoy some chocolates, cookies, a gift basket, even a teddy bear? The possibilities are endless.
7. Custom Watercolor Pet Portrait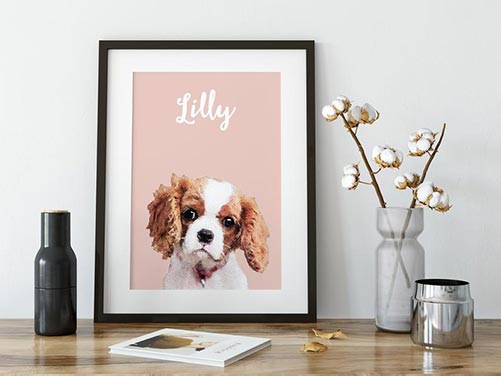 A girl's best friend ain't always diamonds – sometimes it's the sweet little doggo she's grown up with.
If your daughter is about to turn 18, and she's spent the better part of her life with her beloved furry companion by her side, you know this is an 18th birthday gift idea she's going to absolutely swoon over.
Give her a custom watercolor pet portrait, and it will easily be her favorite gift she receives this year. To order, just send the artist a few pics of the pooch to be featured, along with their name and the background color of your choice. They will take care of the rest!
8. 18th Birthday Gift Necklace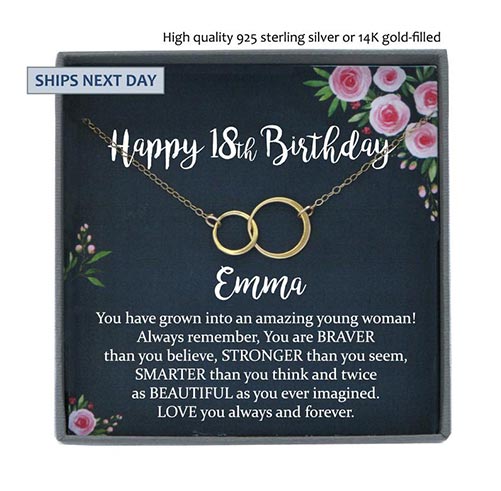 Turning 18 is a big deal. Help her celebrate in style by gifting her something she can wear on her birthday and beyond – a stunning piece of jewelry.
This necklace comes in a little gift box that you can customize to feature her name (seriously, how sweet is that?) The pendant itself can be finished with sterling silver, gold fill or rose gold coloring. It is nickel-free and made to order.
9. Personalized Sea Turtle Tumbler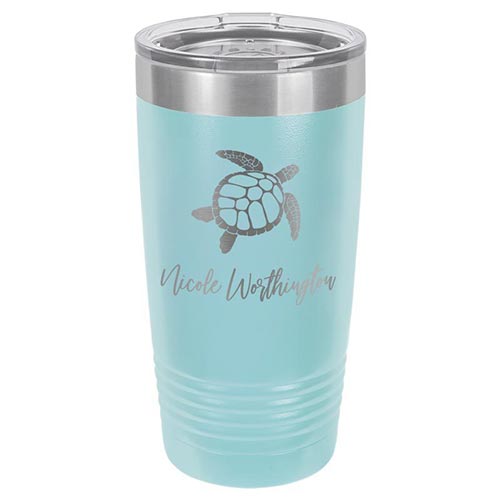 We've already shared our stunning horse lover's tumbler. Now we present to you something that may be a little more to your 18-year-old's liking: this personalized sea turtle drink tumbler.
If she was a mermaid in another life, or simply loves all things ocean, she's going to love (and get a lot of use out of) this custom-engraved tumbler from Northwest Gifts. As with all of our tumblers,this one comes double-walled and vacuum-sealed for maximum freshness.
Choose between several different colors, sizes and styles.
10. Ultimate Experience Gift for 18 Year Old Girl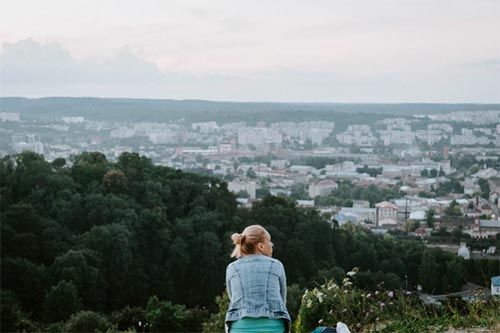 The best 18th birthday gifts are the ones that will leave her with cherished lifelong memories.
Make those memories a reality for her when you give the gift of a vacation package through Tinggly. With Tinggly, you give the gift box and she gets to choose when, and where in the world, she wants to take her big adventure.
Will she choose skydiving in Cape Town? Bungee jumping in Austria? Motorbiking in Vietnam? Rock climbing in California?
It's totally up to her.
10 Best 18th Birthday Gifts for Boys
We've collected meaningful (and fun) gifts for the 18 year old boy to honor his journey towards becoming a man on this significant birthday.
1. Leatherman Pocket Knife & Multitool
We think every mature guy needs a quality pocket knife and tool set. On his 18th birthday, why not kill two birds with one stone for him, by gifting him this unique multitool?
The Leatherman multitool consists of several time-saving gadgets in one, including a knife blade, screwdrivers, pliers, spring scissors, a can opener, and more. It folds away safely to fit neatly in his pocket until the next use.
Also keep in mind gift #1 on this list, Northwest Gifts' old-fashioned pocket knife. If he's got an old soul or possesses a classy style, that one may be more up his alley.
2. Man Crates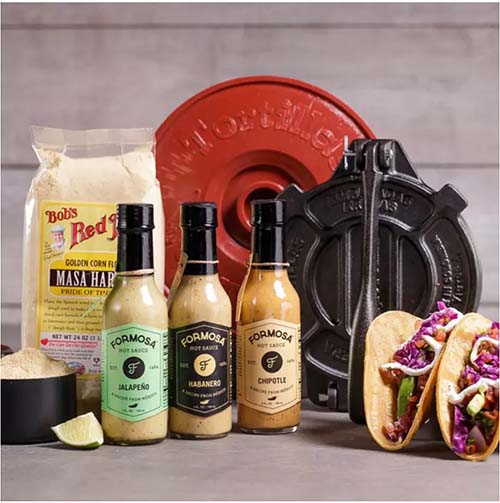 Gift baskets are always fun; they're filled with assorted goodies and are designed to evoke a smile while creating an experience. For the 18 year old boy-man, you should definitely consider a gift basket, but one that doesn't come in a wimpy old basket.
Enter Man Crates. These guys know what guys want. Choose from tons of themed gift baskets, from bacon to axes to knife-making kits, which come in a crate that the recipient will have to force open with the included crowbar. It's fun to open, then fun to use! Talk about a memorable gift.
3. V8 Engine Model Kit
V8 engines are a central theme in coming-of-age Americana folklore. So if you know a young man who is all about cars or shows an interest in them whatsoever, he's going to love this V8 engine model kit.
This ain't no Duplo kit, either…it comes with over 100 pieces and parts. When put together, it makes ignition sounds and replicates the motions of a real V8 motor. Includes light-up spark plugs, automatic shut-off and instruction manual.
4. Paintball Marker
Paintball is a classic shooting game enjoyed by uber competitive guys and gals all over the country. If you want to win big in any paintball arena, you've got to own a good paintball gun.
Does your teen love a little friendly competition? Have they played paintball before with friends? If so, but they've yet to own their own marker, you can change that for good by gifting them this awesome Tippman Paintball Marker.
This semi-automatic marker is tactical in nature, and comes with two 20-round magazines. Features include internal stainless steel gas line, adjustable sights in the front and rear, rubber grip and 12″ performance barrel.
5. Street Fighter Retro Arcade Game
Gamers are in a world of their own most of the time. But we're sure that for his 18th birthday, he'll emerge with enough time to open this gift from you: the Arcade 1Up Street Fighter gaming system.
This old-school-style system is a must-have for any serious gamer. It pays homage to the long and storied history of Street Fighter through it's vintage look, all the while possessing the classic play of the game itself.
Stands just under 49″ high and features a 17″ LCD screen.
Related: 60 Best Gifts for Video Gamers & Retro Players
6. Holy Crap! Look Who's 18 Toilet Paper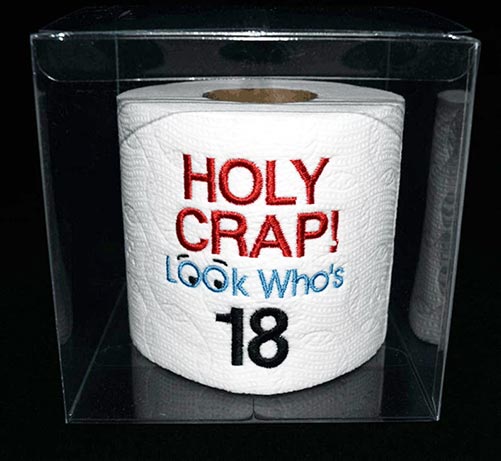 The most memorable 18th birthday gifts are the ones he'll laugh at every time he sees them!
We don't have to write a long description for this one (LOL). We think you get the gist. It's a [quality] toilet paper roll with some hilarious embroidery work (you choose the thread colors); the perfect bathroom decor for the 18-year-old dude.
There you go!
7. Millenium Falcon LEGO Set
The Millenium Falcon LEGO set is a must-have piece for anyone who loves LEGO (or Star Wars, for that matter). Consisting of 1, 351 bricks, this starship model kit also comes with seven LEGO Star Wars characters.
As with all LEGO models, this one exudes exquisite details; this one being reminiscent of the OG Millenium Falcon from Star Wars: The Rise of Skywalker.
When completed, it will stand 17″ long, 12″ wide and 5″ tall.
8. Manual to Manhood
Another fun[ny] 18th birthday gift idea, that he can totally take seriously if he wants to.
The Manual to Manhood is a how-to, self-help book of sorts, just for the young man about to take on the world in his own way. In its pages, he'll find step-by-step instructions for doing all kinds of "adulting" things, from changing a flat tire to tying a tie correctly to filling out a job application.
9. Drone with 4K Video Camera
These days, almost everyone has a drone or at least knows someone who has a drone. Recreationally speaking, because they come in all shapes, sizes and styles, they continue to be one of the most sought-after gifts for people of all ages.
The Holy Stone GPS Drone is one of the best available on the market. It's equipped with many cool features, including GPS-assisted flight, a high-resolution camera, easy controlling capabilities, WiFi support, and more. Perfect for the teen who's either an experienced drone operator or is just getting started.
It's also foldable, which means easy storage and transportation.
10. Ultimate Experience Gift for 18 Year Old Boy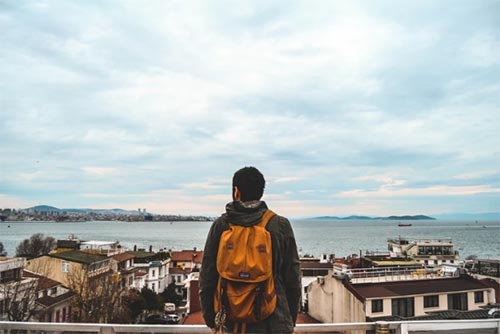 We couldn't end this list of 18th birthday gifts without one more word on experience gifts.
Once again, allow us to mention Tinggly and all it has to offer. When you give your teen the gift of a Tinggly gift box, you are really giving him a chance to make new memories, that will last him a lifetime, and ones that he chooses all on his own.
Remember, he gets to choose when and where his adventure happens. Whether that means zip lining in Denver, horseback riding in San Jose, or even exploring a volcano in Hawaii, the choice is his to make.
More Gifts for 18 Year Olds
If you haven't found the perfect gift here, not to worry — we have plenty more ideas!
Check out our other lists by age (because a gift for an 18 year old is honestly not too different from a gift for a 19 or 20 year old). We also have some additional creative gifts for different niches and hobbies you can check out:
If you've found the perfect gift, next up you need to think about…the card! Here's 100 Best 18th Birthday Wishes & Cards.