Congratulations and happy 6th anniversary! If you're on the hunt for that perfectly romantic, creatively clever 6th anniversary gift, you'll have fun looking over our ideas.
We've put together some traditional gifts, some modern gifts, stuff that creatively incorporates the 6th year theme or color or gemstone (and stuff that doesn't!), gifts for him, for her, and gifts for the both of you, plus lots more.
An anniversary is a time for celebrating, happiness, and joy. This is a meaningful and memorable day in your life, and in your relationship. Celebrate it well with the perfect gift!
Our website is supported by our users. We sometimes earn a commission when you click through the affiliate links on our website. See our privacy policy & disclosures for more information.
6 Year Wedding Anniversary Gifts for Everyone!
Here's what we have in store for you:
All About the 6th Anniversary
This is part of our series on Anniversary Gifts by Year.
What are the traditional 6 year anniversary gifts?
The traditional gifts are candy or iron.
Why are iron and candy the traditional sixth anniversary gifts?
Iron stands for strength. Let's face it; if you have made it to six years of marriage, you have a strong bond.
Candy represents sweetness, because your romance is growing sweeter every day.
If you have a relationship that is characterized by iron-like strength yet is as sweet as a candy treat, then you really do have something beautiful worth celebrating.
What is the modern 6 year anniversary gift?
Wood is the modern 6th-anniversary gift.
Why is wood the modern 6th anniversary gift?
Wood signifies a long-lasting and solid marriage.
What is the 6 year anniversary stone?
Amethyst is the 6th anniversary gemstone.
Why is amethyst the sixth anniversary stone?
The amethyst is considered the stone of protection; it is associated with serenity and bravery, control over evil thoughts, and increased intelligence.
Your strong, sweet marriage is truly something you want to protect, as you nurture serenity in your relationship and grow in your understanding of one another.
What is the 6th anniversary flower?
The 6th-anniversary flower is the Calla Lily.
What is the 6 year anniversary color?
The traditional 6th anniversary colors are purple, turquoise, or white. Calla lilies come in white and purple, and sometimes they are dyed with turquoise specifically for use as 6th anniversary flowers.
10 Best Sixth Anniversary Gifts
We'll start off with our very favorites!
1. Personalized Branding Iron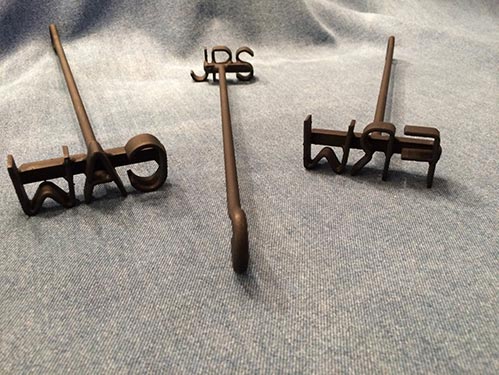 The hand-made steel personalized branding iron is perfect for any spouse that loves cooking steaks, burgers, or chicken. Invite your friends and family over for an anniversary BBQ so you can show off your brand!
A truly unique gift that will be used over and over again.
2. Rustic Clock
This rustic clock is both handmade and personalized, two features that always help make your anniversary gift extra meaningful!
Make from wood (the 'modern' 6th year theme), the clock features interlocking hearts, your two first names, and your wedding date. And yes, your spouse will be proud to display this gift in any room of the house.
3. Iron Wall Decoration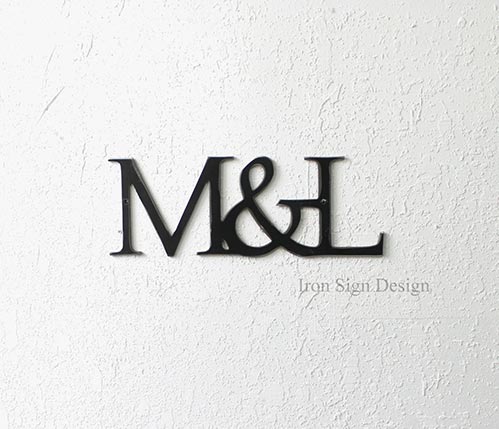 The ampersand iron wall decoration makes a great personalized accent, perfect for your iron anniversary gift!
Your beloved will gladly display this in a prominent place in the home you share. A beautiful gift that will bring years of admiration.
4. Stamped Horseshoe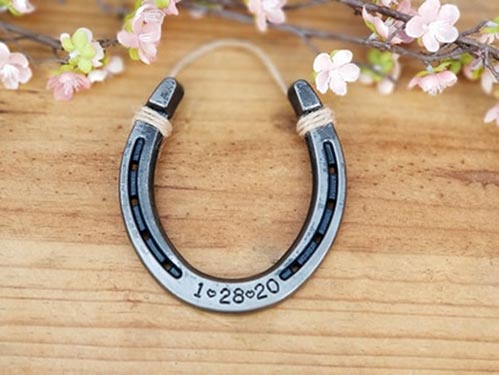 A horseshoe stamped with a wedding date is a great gift for any happy couple. Handmade with iron – the traditional 6th year theme – this horseshoe can be personalized with the dates from your wedding day.
It will look great in a den, office, garage, living room, or game room. In other words – anywhere!
Pro tip: Be sure to include a romantic card with a sweet anniversary message inside.
5. Personalized Jars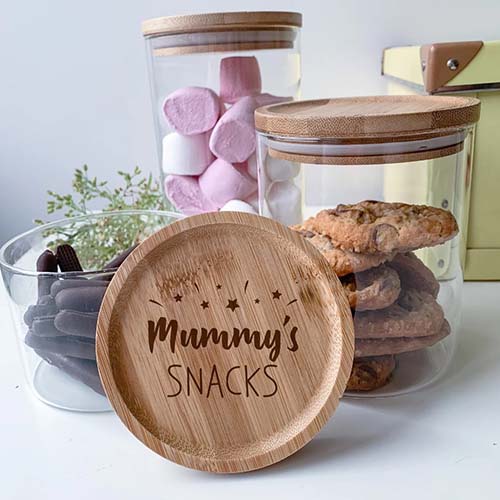 An assortment of personalized jars that can be filled with their favorite candies makes an excellent 6th-anniversary gift. The lids can be laser engraved with names, initials, or dates.
They will enjoy placing these attractive jars around their home. Plus, this gift has it all – wood is the contemporary gift theme for year six, and candy is a traditional one!
6. Monogram Sign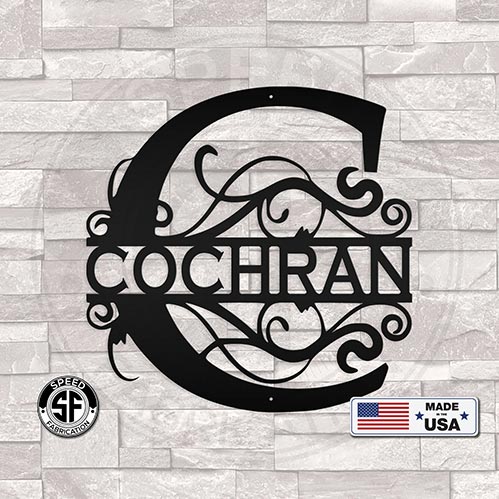 A personalized monogram sign tells your story… and how your story will last forever.
Here is a sign that will be appreciated no matter where it's displayed! Hang it by your front door, in the living room, or even the office. It makes a stunning and bold statement about the enduring permanence of the love you share.
7. Personalized Slate Coasters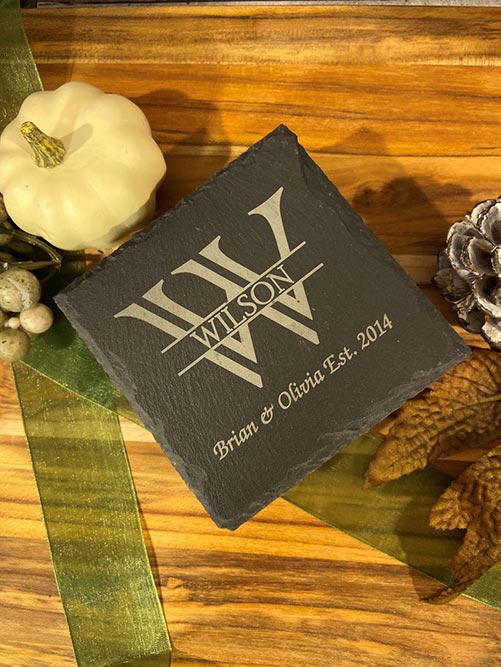 Giving a set of personalized slate coasters for an anniversary gift is very thoughtful! The coasters are made from natural black slate with pads on the bottom so, not only will they protect your furniture, they are lovely to look at.
This is a gift that is sure to be used on a daily basis and appreciated for years.
8. Chocolate 6th Anniversary Gift Box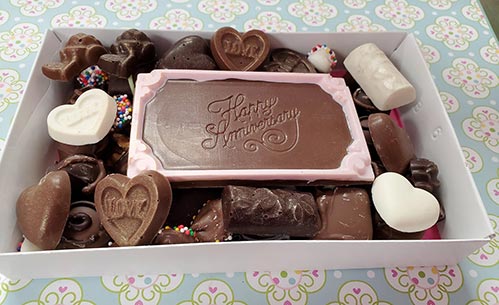 Give the gift of candy with this chocolate anniversary gift box on your 6th anniversary!
Each candy gift box contains a variety of hand-made chocolates. They will enjoy dark, milk, and white chocolate confections beautifully displayed in a windowed box.
These confections are so delish, don't expect your spouse to share!
9. Wedding Song Sign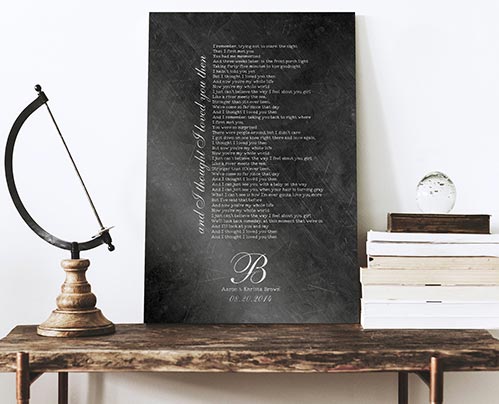 Nothing is more romantic than your wedding song! For your 6th time around, here is the perfect iron anniversary gift for your beloved.
The iron alloyed aluminum sign is a gorgeous keepsake personalized with the lyrics to your special song. Celebrate your sixth wedding anniversary in style. Your spouse will simply love this thoughtful gift.
10. Personalized Bottle Opener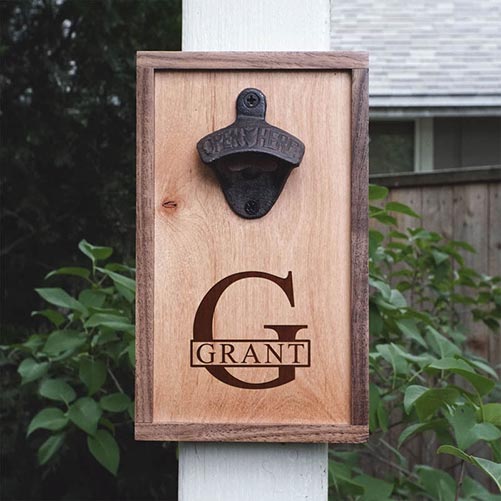 Our classic personalized bottle opener is made from maple and walnut, with the opener made from cast iron. Have your loved one's names/initials and dates engraved to make it as unique as they are.
The bottle opener is an excellent addition to a home bar, game room, or even on the back patio!
Traditional 6th Anniversary Gifts (Iron)
These gifts highlight the traditional theme of enduring, indestructible iron.
11. Photo Engravement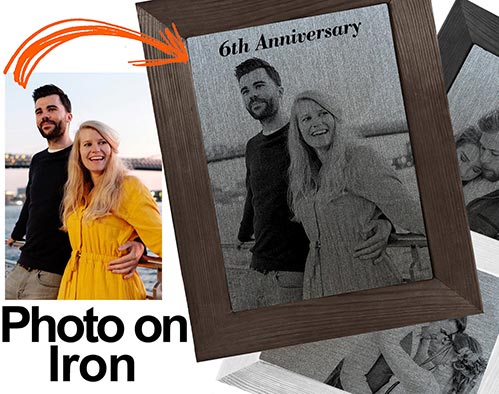 This hand-made photo engravement is crafted from iron! For a special touch, your iron engraved photo is framed in a white, black, or brown wooden frame.
The iron photo will be a gift that will last forever, just like your love for each other.
12. Iron Keepsake Bowl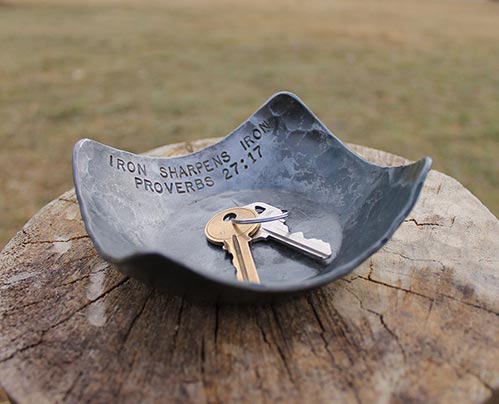 Proverbs 27:17 – "Iron sharpens iron" – is inscribed on this iron keepsake. If the two of you have strong personalities where you stand your ground yet still manage to build each other up in love, then this is the perfect gift for your iron anniversary.
The bowl size is just right for watches, a key dish, jewelry, candy, or loose change. The perfect hall table accent or desk catchall. Using it daily will remind you of the strength of your marriage bond.
13. Iron Photo Frame
The unique iron heart picture frame is filled with spiraling scrolls. Some scrolls are tipped with little flowers made from gathered burlap sacking.
With glass covers protect your pictures from scratches and dust, this collage picture frame will complement any décor.
14. Iron Bookmarks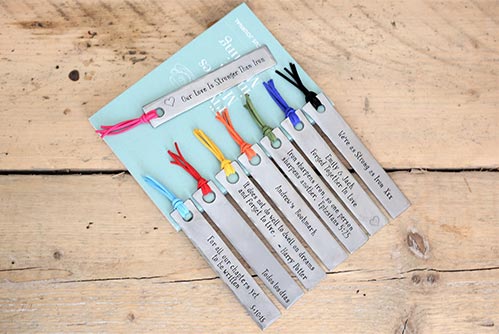 These 6th wedding anniversary bookmarks are hand-made from iron and faux suede leather. The iron bookmark is hand forged using a hammer and anvil to make a truly one-of-a-kind keepsake.
Perfect for avid readers, these bookmarks make a memorable gift that will be used over and over with each new book.
Related: 21 Bookish Gifts for Book Lovers and Bibliophiles (but I repeat myself)
15. Personalized Cast Iron Skillet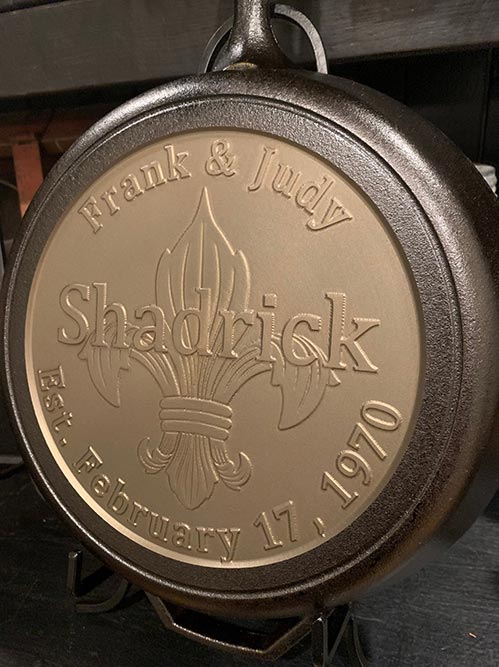 A hand-made personalized cast iron skillet will arrive perfectly seasoned and ready to use! You can personalize your skillet with any name, photo, or your own design.
The skillet makes a wonderful keepsake and will appreciated for ages to come.
Modern 6th Anniversary Gifts (Candy)
Candy is one of two more contemporary 6th anniversary themes (wood is the other). We always feature lots of wood products in all our gift lists, because 1) it's an awesome medium for personalized gifts and 2) we make wood gift items which you can find on our parent site, Northwest Gifts.
Anyways, since we're always talking about wood stuff we figured we'd switch things up today and go with some candy-specific 6th year gift ideas. You're welcome!
16. Vintage Candy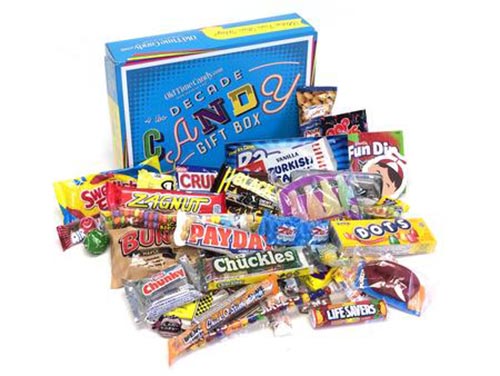 You and your spouse can enjoy the candy you ate as a kid from The Old Time Candy Company. Relive those happy childhood memories and make some new memories by giving your loved one some deliciously nostalgic candy.
The Old Time Candy Company offers a gift box of candy from your favorite decade, or pack your own favorites in an assortment.
Surprise your other half with their favorite candy on your 6th anniversary!
17. Personalized Chocolate Squares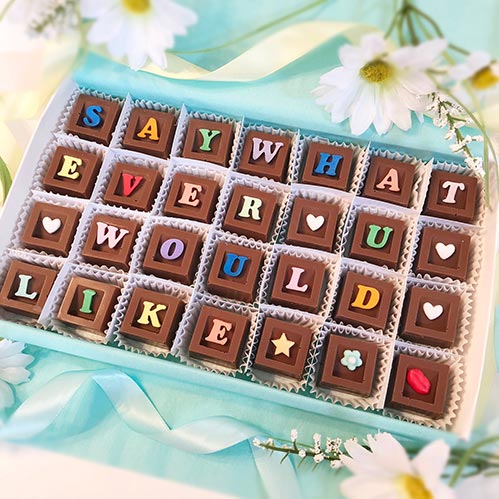 Say whatever you'd like to say in hand-made chocolate! You can choose from milk, dark, or white chocolate. This tasty gift of decadent chocolates comes in a beautiful white gift box and is tied with a bow.
This is a sweet way to wish your beloved a "Happy Anniversary!"
18. Candy Bouquet
Who wouldn't enjoy this candy bouquet? Anyone would simply love to receive it! The bouquet is a mixture of over 36 fun-sized candies.
You can rest assured the recipient of this gift will delight in it and might even share it with you.
19. Yums From Around the World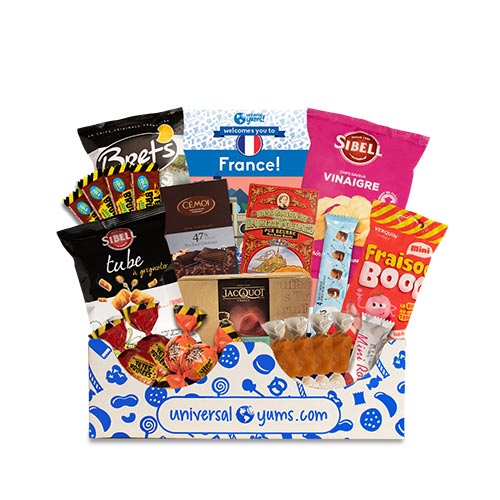 It's so easy to give Universal Yums from around the world! This subscription candy service is sure to bring a smile to everyone's face.
You can give Yums as a gift for 1, 3, 6, or 12 months. You select the size you want to send, they receive your gift and then… they will enjoy this yummy gift and thank you for months to come!
20. Custom Candy Box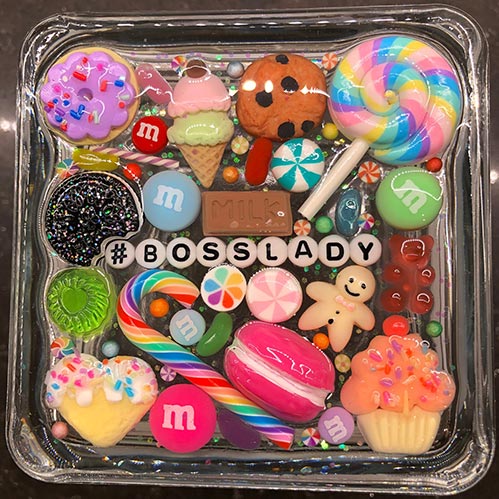 An adorable hand-made candy jar makes a wonderful gift. Stuff it full of your sweetie's favorite cookies, candies, or some other sweet treat!
Decorated with life-like mini candy, cookies, cake, donuts, and more – this container will look great on a counter, desk, or tabletop.
6 Year Anniversary Gifts for Her
Wondering what she really wants this year? We'll tell you!
21. Amethyst Stone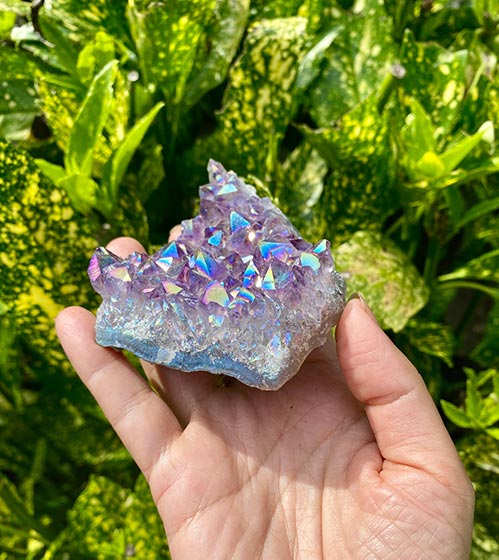 Amethyst is one of the most spiritually relaxing stones. This gem, the 6th anniversary stone, is thought to empower you to find serenity, confidence, and bravery – all things she'll need in a good marriage!
Your wife is sure to love a precious piece of amethyst jewelry, a crystal, or geode. Find many gorgeous amethyst gift ideas from Freedom Rocks Co.
22. Iron Jewelry Bowl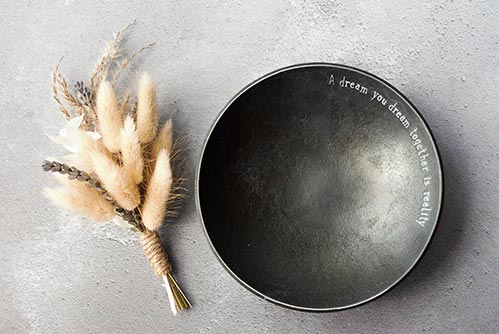 She will love this unique engraved iron bowl as a wonderful 6th-anniversary gift. It's a nice size for watches, keys, jewelry, loose change, and more.
This iron bowl will fit on her dresser, a nightstand, or a desk. Personalize it with her name, dates, or a sweet sentiment, and she'll be delighted with your thoughtful pick.
23. Iron Twist Necklace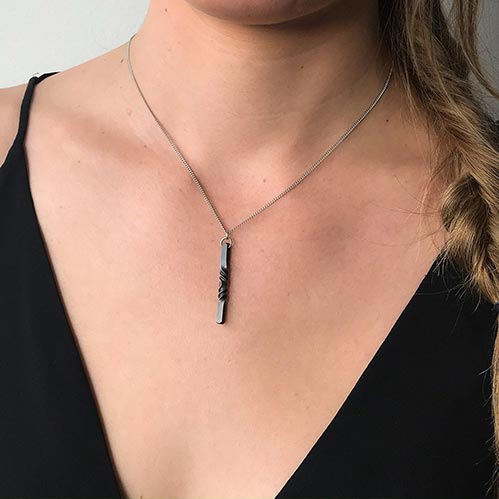 Give her these beautiful earrings and necklace, and you can show her your marriage is as strong as iron. This is a gift she will treasure forever. Each piece is hand twisted, so no two sets are alike – as unique as your love.
24. White Rose Inlay Wooden Music Box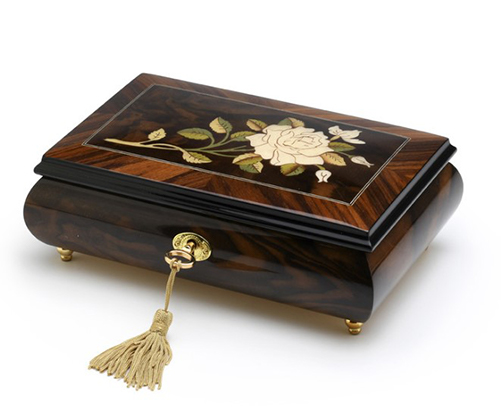 Looking for a 6th anniversary gift that really packs that wow factor? Then look no further! These grogeous, Italian crafted music boxes are just the ticket.
Each box is meticulously built to the highest quality, and you can choose up to fifteen songs to serenade her each time she reaches for her favorite earrings or bracelet. She'll treasure this gorgeous gift, and it's so pretty it's practically destined to become an heirloom.
25. Iron Rose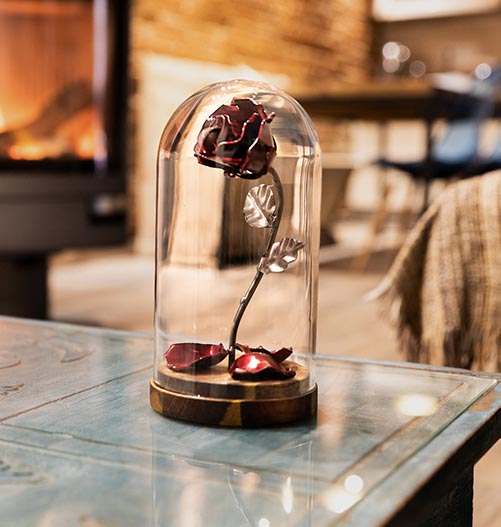 This exquisite iron rose is hand-forged by a master craftsman! You can have the wooden base engraved with your beloved's name, your wedding date, or a sweet message.
She will appreciate her rose and hold it dear forever.
6 Year Anniversary Gifts for Him
Guys can be notoriously difficult to shop for. Below we've made it easier for you by selecting some of the best ideas.
26. Engraved Watch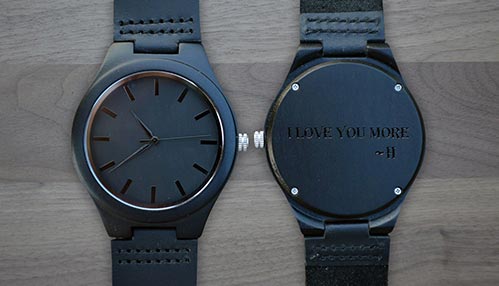 Your husband deserves an extra special 6th wedding anniversary gift. You can't go wrong with this wooden hand-made wristwatch.
You can engrave a heartfelt message on the back of the watch that will commemorate your anniversary.
27. Amethyst Necklace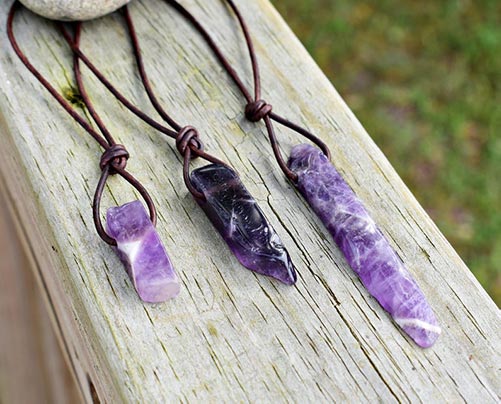 A raw amethyst necklace is a fantastic 6th-anniversary gift! The crystal slab pendants will gently calm his spirit.
You can both enjoy this unisex necklace, so buy yourself one too.
28. Beer Club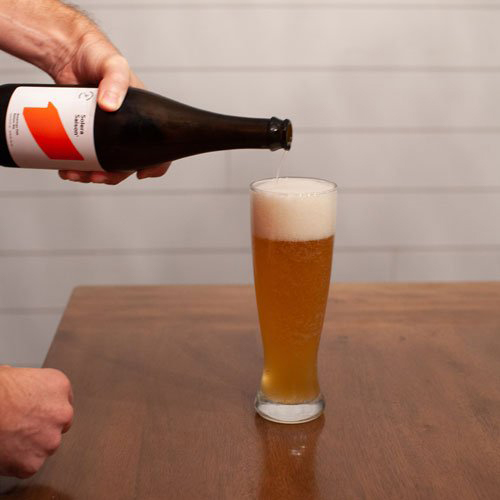 After a hard day's work, your man will enjoy popping the top off of a cold one. He will be thrilled with this beer of the month club and will receive a dozen 12 oz. hand-crafted beers each month.
A monthly newsletter with detailed tasting notes, beer profiles, brewery histories, and suggested food pairings will also be sent out!
If you play your cards right, he might even share with you.
29. Arm Candy T-Shirt
He will get a kick out of this silly T-shirt. He'll enjoy the comfy feeling of his cotton T-shirt on his casual days.
You can choose from numerous solid colors. It'll let him know how special he is each time he wears his "arm candy" shirt.
Get it? Candy is one of the 6th anniversary themes!
30. Iron Stein Set
These elegant steins are hand-crafted from galvanized iron and stainless steel with a rose gold finish. They are stunning. Your man is going to appreciate your thoughtfulness every time he pours himself a brew.
Related: Thoughtful Gifts for Men
6 Year Anniversary Gifts for Couples
Somethings are meant for the two of you to enjoy.
31. Iron Couples Sculpture
Stop scrolling, you have just found the perfect 6th-anniversary gift for the loving couple.
Elegant, refined, and stunning, this metal statue will fit into any décor. Your thoughtfulness is a gesture the couple will adore forever.
32. Married AF Glass Set
A silly gift set for a married couple that they will use again and again. They'll be reminded of you each time they use these fun glasses.
After all, there is nothing wrong with being Married AF.
33. Engraved House Portrait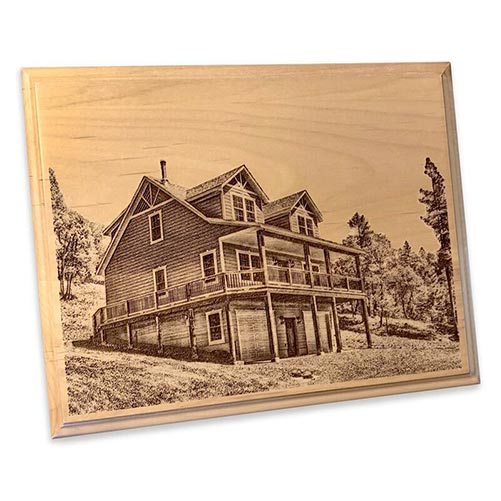 Our engraved house portrait is crafted from alder wood. The plaque makes a wonderful gift for the couple that just purchased their first home together.
They will proudly show off their home and your kind gift to friends and family for years to come.
34. Ultimate Game For Couples
You will get to know each other better as you dive into meaningful conversations and perform challenges OR you can team up with your partner and play with other couples to see who really knows each other best.
A fun and interesting way to spend a date night. This ultimate couples game is sure to make you laugh and appreciate each other all the more.
35. Blue Cast Iron Tea Pot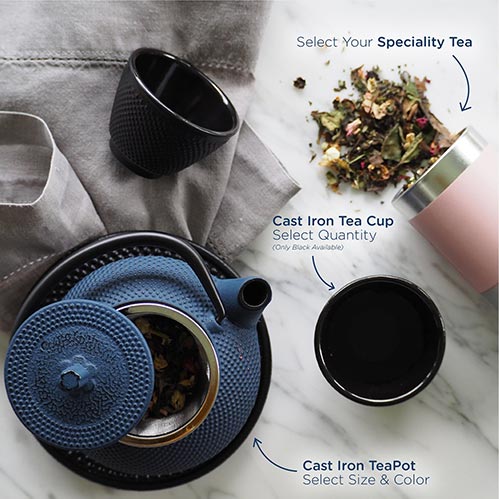 This lovely, hand-crafted, cast iron tea set makes a great "couple's" gift.
The teapot represents a traditional Japanese design. It is a must-have for all tea lovers. It not only makes exceptional tea, but it is also very decorative.
The couple will enjoy using your gift for ages.
Unique Sixth Anniversary Gifts
Here are some 6th wedding anniversary gifts that are perfect – perfectly unique, perfectly creative, perfectly one-of-a-kind. Just like the two of you!
36. Let's Have Coffee Together Forever
"Let's have coffee together forever" is laser engraved into a high-quality stainless steel spoon. The impression will remain fresh looking forever.
They can use this spoon daily… and they probably will!
37. Date Night Noodles
The takeout box offers a variety of shapes, sizes, and colors of gummies to enjoy. A weird gift? Why, yes it is. But then again, why not? After six years together, you know how weird you both are.
A fantastic date night treat while watching a favorite movie.
Related: 21 Best Gifts for Movie Lovers
38. Hand Casting Kit
Any couple would love to preserve their hands clasped with love in a plaster cast.
This is a fun and memorable activity they will enjoy doing together. They can have a cast in just a few easy steps. Pour, Dunk, Peel, and Enjoy! It's as easy as that.
39. Portrait Painting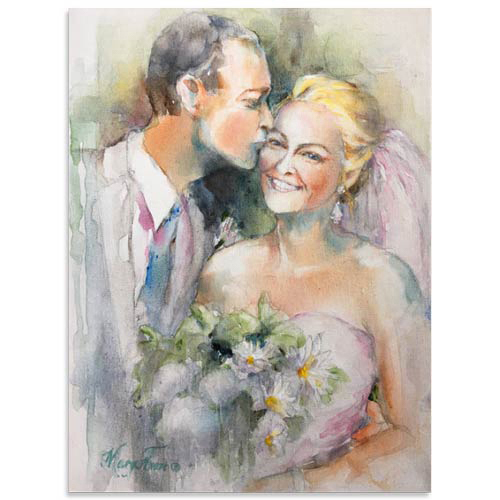 The artist Mary Ann Simmons is highly regarded for her portraits. And once you visit her gallery, you will understand why.
You supply her with your favorite pictures and she will create the perfect watercolor portrait. A portrait that is worthy of display in the most prominent place in your home.
40. Engraved Padlock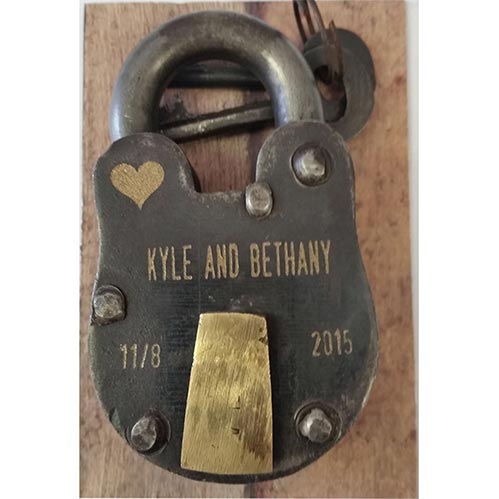 "Love Locks" have been around for centuries, and are making a big comeback. Typically the lovers' names or initials are inscribed on the padlock, and its key is thrown away to symbolize unbreakable love.
You can keep the lock, or lock it to a special place and the world will know of the unbreakable bond the two of you share.
This list has tons of great gift ideas, now you have to pick the best one. Good luck!
For more ideas, see the main article in this series: Gifts by Anniversary: Traditional & Modern Gift Ideas by Year