If you're in the market for gifts for adult children, you likely need a little inspiration finding the best ones.
You know the days are long gone when the kids would gladly take just about any toy you'd surprise them with, and play for hours on end.
Nowadays, gifting your grown-up kids something they'll actually like or use is a feat unto itself. But lucky for you, we're gift experts and have curated the perfect ideas.
Let's take a look.
Top 12 Gifts for Adult Children
Our website is supported by our users. We sometimes earn a commission when you click through the affiliate links on our website. See our privacy policy & disclosures for more information.
1. Trees for a Change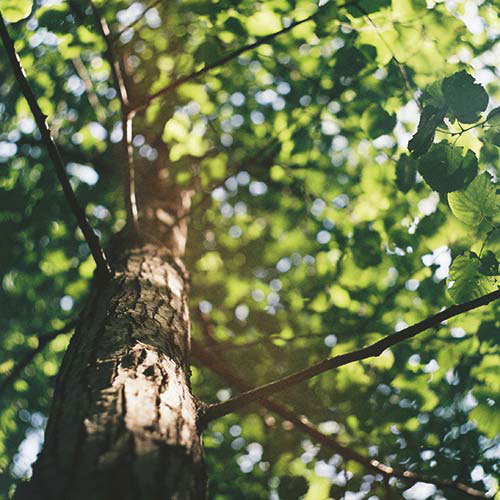 Often times, when searching for gifts for adult children, it really helps to think outside the (gift) box.
In other words, think outside the tangible: instead of a physical present, consider a donation to a charity, a gift given in honor or memory of someone special, etc.
Trees for a Change is a great organization to consider "gifting" your adult child.
You dedicate a tree in their name, and it will be planted in a U.S National Forest that has been devastated by wildfire. Your loved one will receive a certificate or card letting them know of your thoughtful gift.
Related: 5 Tree Gifts That Make a Difference
2. Mark 12:30 Wood Scripture Plaque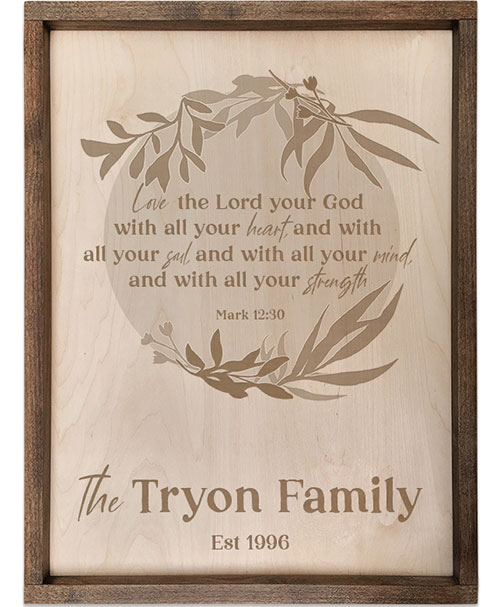 The words of Christ from Mark 12:30 are engraved with careful precision into the wood of this stunning Scripture plaque from Northwest Gifts.
Personalization of your child's family name, est. date, and floral background will make for a beautiful, meaningful addition to any room in their home.
This plaque is available in two different sizes and comes ready to hang. See here for more wood Scripture plaques, or to customize your own.
3. Experience Gift or Getaway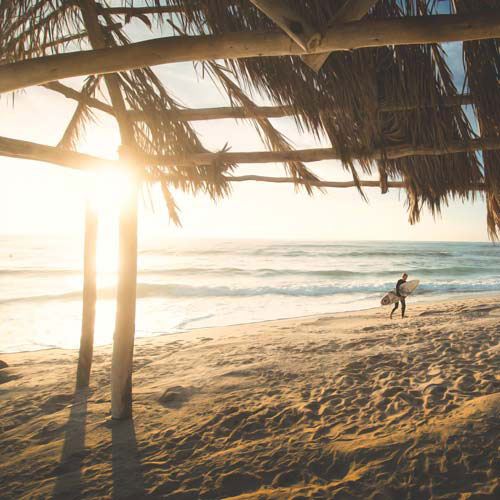 Experiences are all the rage these days. So it goes without saying that experience gifts are also very in right now, and don't appear to be going away any time soon.
Give your adult child the gift of an experience, and you're really gifting them new memories that will last them for the rest of their lives.
Tinggly makes an experience a super easy thing to give by offering what they call gift boxes. Each box comes with a plethora of options for your son or daughter to pick from, from horseback riding on the beach in the UK to surfing lessons in Santa Cruz.
There really is a little something for everybody!
Related: 50+ More Experience Gift Ideas
4. Hopped Up Coffee Gift Box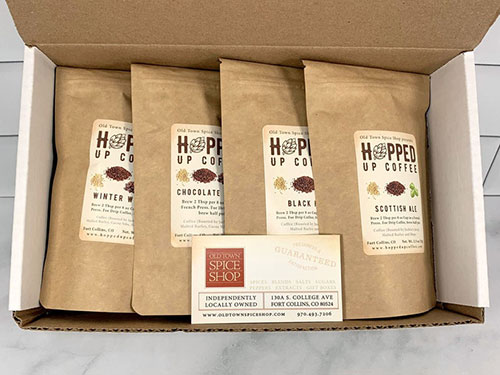 It's a fact of nature that once you're grown, you love coffee (or tea, or kombucha or… you know, caffeine). So if your adult daughter or son is a big fan of coffee, you already know they'll really appreciate something like this gift idea.
The Hopped Up Coffee gift box contains specialty grounds hand-blended by coffee connoisseurs. Mimicking the crisp flavors of malted beverages, each sampler is full of body and a slight kick.
Four flavors are included per gift box: Chocolate Stout, Black IPA, Winter Warmer, and Scottish Ale.
Related: 16 Creative Coffee Bar Decor Ideas
5. Safe-T Fire Extinguisher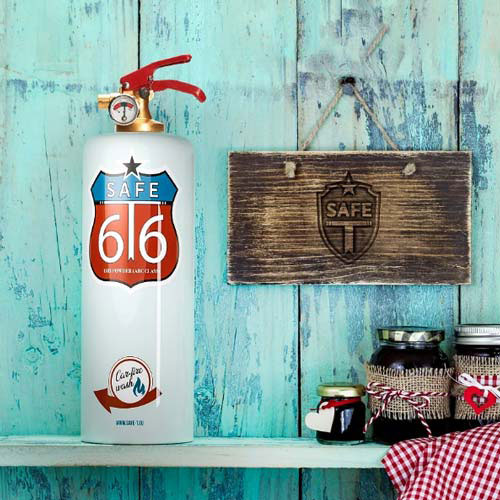 It doesn't matter how old they get – they'll always be your baby and you're always going to worry about them.
Now you can rest a little easier at night knowing that if they have a fire emergency, they'll be prepared to handle it.
When you give them a Safe-T fire extinguisher, they'll have a CE 0029 tank (meeting EN 3-8 technical standards) at their disposal, without the boring that would otherwise come with a regular old extinguisher.
Check out all the other cool designs Safe-T has to offer here.
6. Custom Portrait Print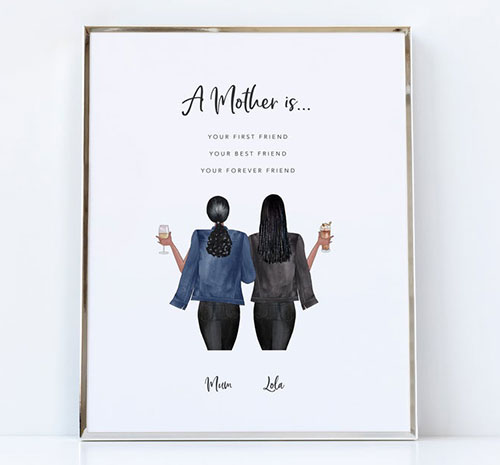 When in doubt, turn to art! 'Cause with a little creative help, gifts for adult children aren't hard at all to find (or make).
Here's a wonderful example: This stunning portrait print.
You send the artist all the elements of the mom-daughter/mom-son portrait you want created (hair color, body type, skin tone, etc.) and they'll create a lovely reminder of your close-knit relationship in art form.
It's a gift your grown child will always treasure.
Choose between digital download or printed copy, and be sure to get a nice frame for it.
You may also like… 15 Family Volunteer Opportunities (for ALL ages)
7. Personalized Whiskey Decanter Set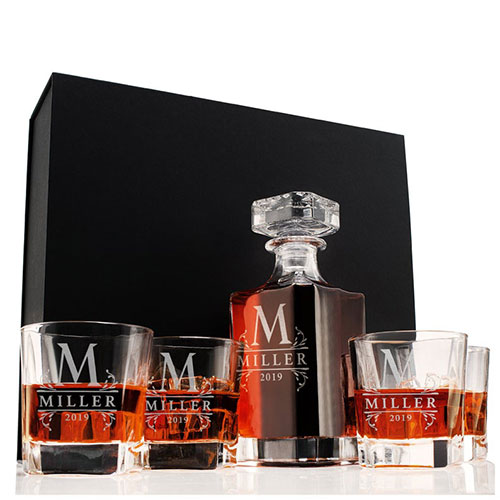 A nice decanter set is a classic gift and something that your kids will be able to use for years. And when it comes personalized like this one (with name and date), it's even better.
This fine glassware set includes a custom engraved 27-oz decanter, perfect for whiskey or any other spirit, and four matching personalized glasses.
And with nine different design options to choose from, you have the ability to really customize it to your child's particular taste. A gift box is optional.
8. Custom Engraved Glencairn Glass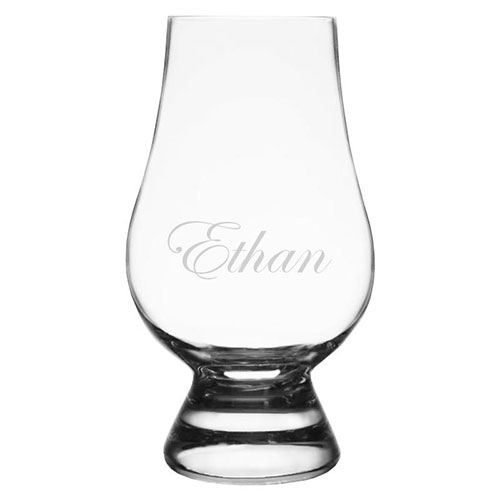 This idea makes a great accompaniment gift to the whiskey decanter set (#7) mentioned above.
This high-quality (made in the USA) custom-engraved Glencairn glass will feature your child's name in your choice of four different fonts. It's dishwasher safe and holds up to 6 ounces of whiskey, bourbon, or anything else.
Browse more personalized Glencairn glasses (and other types of glassware) here.
9. UV Portable Sanitizer
The era we're living in dictates that we do whatever we can to minimize contact with harmful germs.
UV sanitation (officially referred to as ultraviolet germicidal irradiation, learn more here) is starting to gain traction as a way to keep schools, hospitals and even homes clean.
We all know that our phones harbor a ton of disgusting germs, and should probably be the first thing we clean at the start and end of each day.
By using this HoMedics UV portable sanitizer to clean their phone, your child will be taking extra precaution to keep not only themselves but everyone else around them healthy.
10. Custom Stationery Cards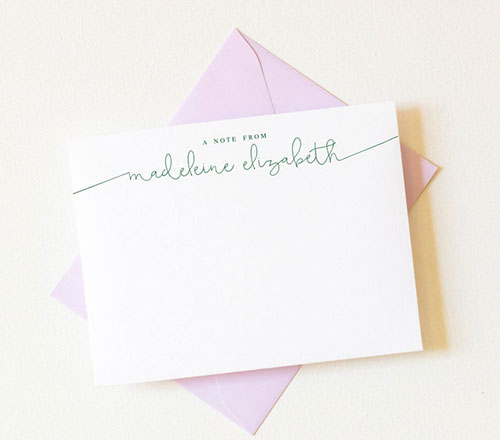 Everyone knows that you're not officially an adult until you own your own fancy stationery!
Okay, that's not entirely true… but stationery is still (or should still be) a staple to any respectable desktop. And if you're going to give your son or daughter a nice stationery set, go ahead and ensure that it's personalized, too.
This set of cards is simple yet elegant enough to deserve a place of honor on the desk of your hardworking adult child. Whether they could use them for official business communications or just to jot down notes or ideas, they're sure to enjoy the highbrow ambiance of it all.
Includes 10 matte cards and envelopes. Gift wrapping is included.
You may also want to include some fancy accessories, like a set of calligraphy pens or a wax seal stamp kit.
11. Personalized Cedar Wood Bird Feeder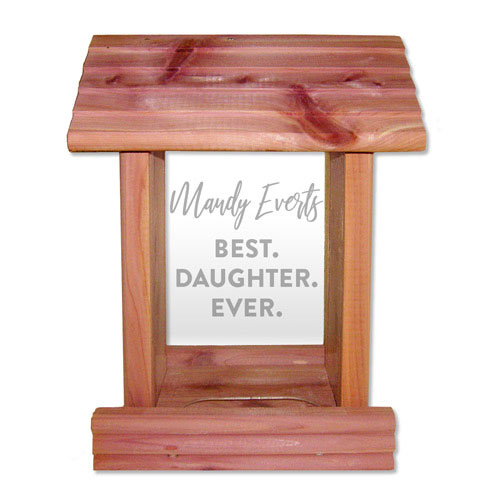 This isn't Grandad's old bird feeder! The premium personalized cedar wood bird feeder from Northwest Gifts is a beautiful yet practical piece of yard décor your adult child will be proud to display in their tree or porch.
This feeder can be personalized on the front acrylic panel (included; additional personalization on the back panel is optional) to say "Best Son Ever" or "Best Daughter Ever."
Built to last for years against the outdoor elements, this USA-made bird feeder measures 10.5″ x 7″ x 4.75″.
12. Personalized Bamboo Wood Cutting Board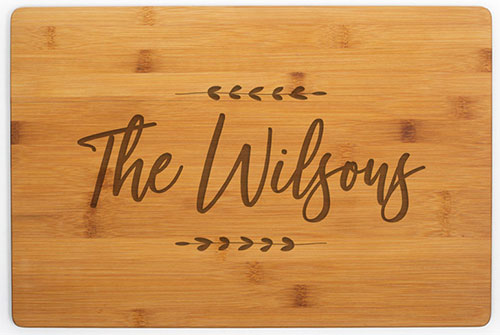 When you become a grown-up, you start to like grown-up things. Vacuum cleaners, new towels, quality glassware, cleaning and cooking products, and… why yes, even cutting boards.
This spacious personalized cutting board is one that your adult child can either utilize while cooking or display as an impressive piece of kitchen décor.
It's made from bamboo wood, and comes laser-engraved with their first or family name (or both). It measures a spacious 18″ x 12″ x .75″ and includes the decorative leaf accents you see above.
Related: Why a vacuum sealer may actually be the greatest gift, like, ever
Chocolate Lover's Making Kit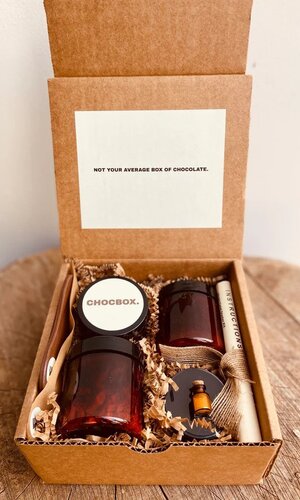 Because it's not just kids that have sweet tooths! (Teeth? Tooths?) Chocolate lovers can rejoice with this fun DIY making kit. It includes everything you need to make delicious chocolate — from the quality ingredients to the reusable mold.
All of the ingredients are gluten free, dairy free and vegan, so this is an excellent choice even if they have dietary restrictions!
This making kit is a super fun and unique gift that will just delight them.
Leather Daily Planner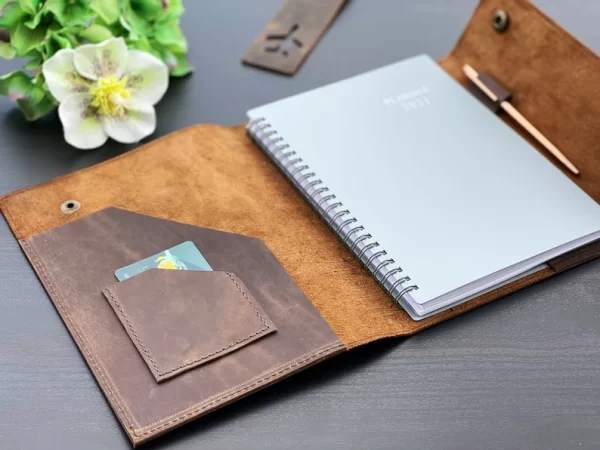 This incredibly cool planner has everything they will need to keep their daily life organized.
Handcrafted of beautiful, full grained leather, this planner has convenient pockets to store note cards, pens, credit cards, school ID — whatever they wish. It's also refillable, so when the year changes or they run out of pages they can easily replace as many as they need.
Heavy duty snaps provide a super secure closure, and the top grade cow leather will last a lifetime.
Silver ID Bracelet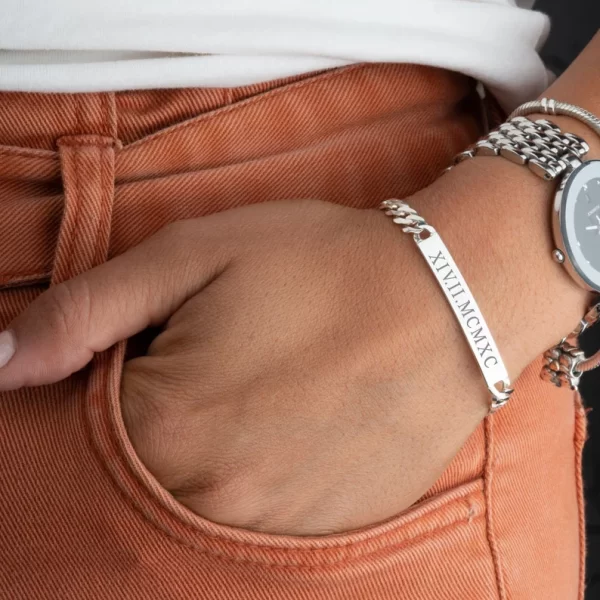 A beautiful ID bracelet always makes a tasteful gift.
These bracelets are made from high quality, durable stainless steel and can be engraved on one or both sides. Maybe engrave their name on one side and their birthday on the other! A classic and timeless style, they can wear this bracelet all day, everyday and with any outfit.
Suitable for men and women alike, they'll love this thoughtful present.
Bonsai Starter Kit
Do they love nature? Trees? Maybe just tiny things? Then these fun, Bonsai starter kits are perfect for them!
Let's be honest, there are few things cuter than a perfectly manicured little Bonsai tree. And can you say therapeutic? This full kit has everything they need to start growing their own tree, and it will save them lots of $$$ because pre-established trees can get pricey. A unique and educational way to help them melt away their stress at the end of a long day.
23 and Me Ancestry Kit
23 and Me is a fantastic gift for anyone really, but especially those interested in their family history!
This full kit (plus membership!) gives insight to not only family background and lineage, but also your health and how your body receives different foods, medications and more. Over 2,000 geographic regions are sourced to give you targeted information, discover more about yourself, and even find and connect with relatives.
Outdoor Picnic/Beach Blanket
Give the gift of time outdoors with this neat blanket!
This high quality lawn or beach throw is perfect for all their favorite activities: watching the little league games, warm summer days on the beach, picnics in the meadow… you name it. Its attractive design and convenient bundle design make it a perfect gift.
Heavyweight Cable Knit Throw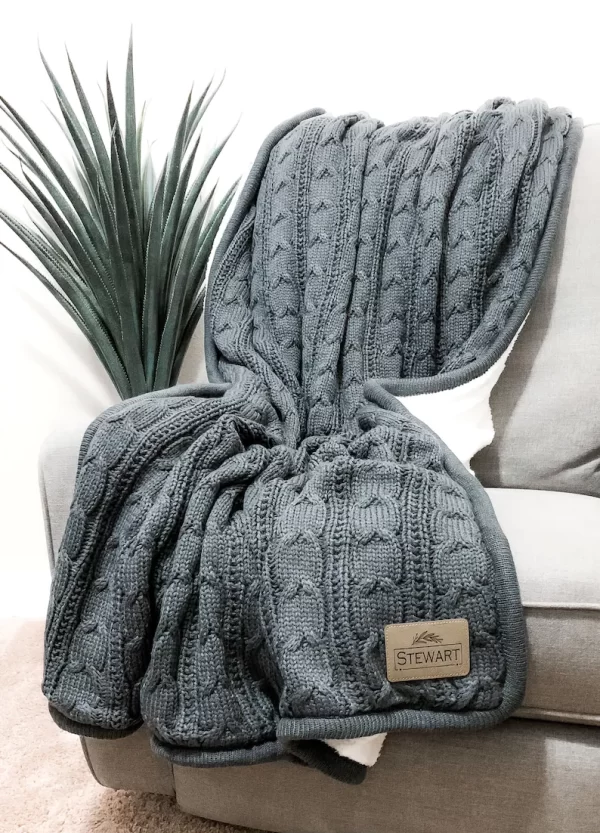 Movie nights and winter evenings by the fire just got that much cozier! This attractive cable knit blanket is just what they didn't know they needed. Snuggley to the max and prettily monogrammed on a custom leather patch, it will look lovely tossed over their favorite armchair or loveseat.
Handthrown Personalized Mug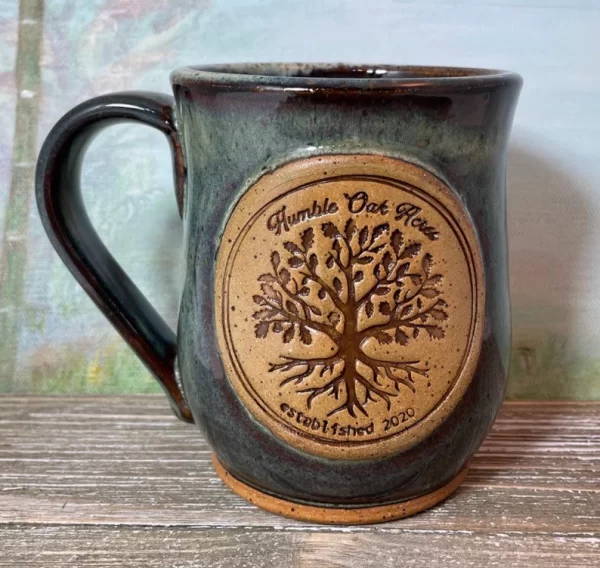 These lovely mugs are as prettily unique as their recipient. Each mug is hand thrown on the potter's wheel in a small studio and expertly glazed for a beautiful finish. A true piece of art! Add names, inscriptions, logos or your choice of pattern to make it extra special.
Little Hug Keychain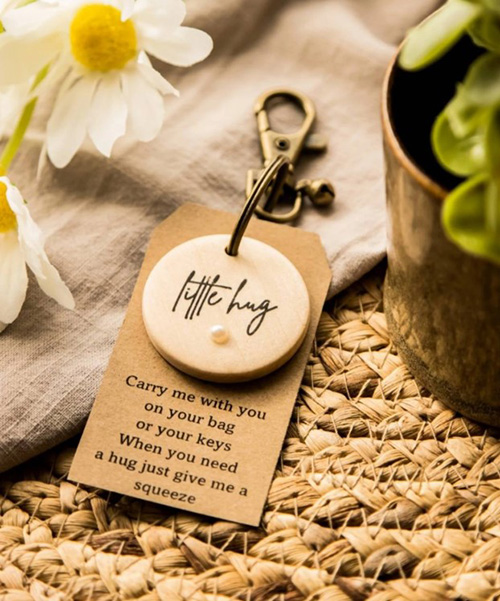 Sometimes it really is just the little things. And in this case, it's a little hug! These sweet keychains are one of the next best things to being there in person to give them a hug.
They can hook it to their keys, their backpack or briefcase, or anywhere else they can see it on the daily to remind them of your love.
Cashmere Clothing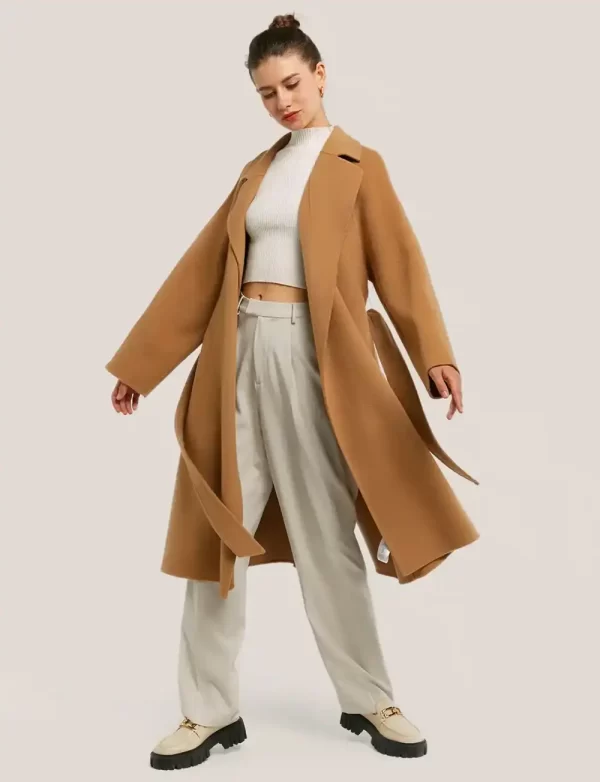 Who could say no to these beautiful luxury pieces from GentleHerd? Not us, that's for sure. With tons of styles and variety for both men and women, these sustainably sourced, luxury clothes have something to offer just about everyone. Stylish, responsible, cozy, and comfortable they may just have found their new favorite brand.
Digital Photo Frame by Skylight
Because what makes a better gift than all of their favorite memories, old and new?! These fabulous digital photo frames are perfect for home or the office, and you can upload new photos remotely whenever you want! It's not limited to one administrator, either, so the whole family can join in on the fun.
Udemy Classes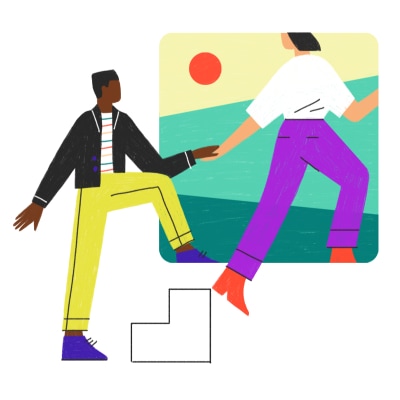 Maybe they've always wanted to pick up a second (or third, or fourth) language? Or maybe they want to get into music production? How about knitting? Maybe golf?
Well you name it and Udemy is sure to have classes on it! Give the gift of learning with a chosen course, or let them pick out the one they've been pining for. I can say from experience that Udemy makes a wonderful gift for anyone who has a continued thirst for learning.
Luggage Sets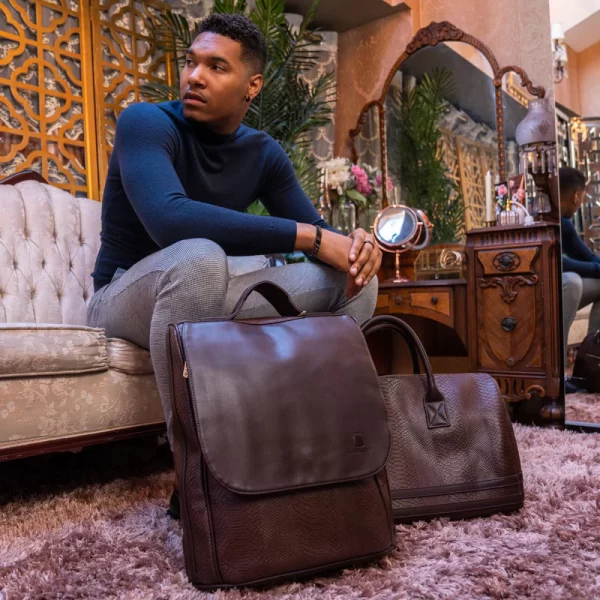 For those world travelers in your family (or maybe just frequent visits to mom and dad's house *wink*) these beautiful luggage sets from Tote&Carry are a must have.
Choose from the Apollo travel backpack or the duffle — or both — and they'll have stylish and durable totes to take with them wherever they roam. Made from quality, water and scratch resistant leather, these totes will stand up to years of adventuring.
Luxury Plush Towel Set
Towel sets are one of those items that everyone needs, but yet we rarely buy them for ourselves. Maybe they're still using the set you bought them when they left for college? Or maybe when they got married…ten years ago.
Then it's definitely time for a new, pretty set like these high performance towels from Luxome. Their specially designed, loop terry absorbs more water than your average bath sheet, but also dries quicker. They're available in five beautiful colors, too! Oder a set for them and maybe one for you while you're at it!
More Gift Ideas for Adult Children
Still stuck in a gift-giving rut? Here are just a few more "outside of the box" gifts for adult children to consider:
Offer to help around the house. You remember the good ol' days of endless dishes, laundry, errands… just a lot of WORK! Offering to take some of the load off your kids' backs for a day, or even a few hours, may be the best gift you could give them.
Offer to watch the little ones for awhile, if they have their own kids. Let them enjoy a little getaway, or even a date night all to themselves.
Take your adult daughter out for a mom-daughter mani-pedi. Or a girls' day at the mall, to the hair salon, even a relaxing movie day at her place (or yours!) We guarantee she'd love to spend some quality time with you still, just as much as you want to with her.
Write your adult son a heartfelt letter telling him just how proud of him you really are. It would mean the world for him to know how much he's loved and respected as a grown man (and that he's actually doin' okay in your eyes).
Make your kids a home-cooked meal. Remember that one dish they constantly asked for growing up? The one you were secretly sick of eating all the time to the point that it had to become a "special occasion only" dish? Yeah, that one. Make it and take it on over to them, they're going to love the surprise of it.
Pay a bill or two for them. We all know times ain't easy right now, and sometimes independent, grown-up kids have a hard time asking for help when they need it. So even though you've raised them to fend for themselves, this offer alone may be greatly appreciated.
More Gift Guides
Before you go, you may also find these articles helpful: