"They fight wars with men like you!" my husband cheerfully likes to tell our 13 year old when he complains about something drastically awful, like a bad wifi signal.
But in all seriousness, 13 is a tricky age to be. They're a newly minted teenager. There's all this social pressure, plus hormones, puberty, and a love for all things that are silly and immature along with a pull towards wanting to be an adult (and be treated as such).
Thirteen can really be tough. So why not get them a gift that will really take the cake? (And don't forget the cake. Teens need a heck of a lot of carbs to keep their moods sunny).
Let's take a look at the 30 best birthday gifts for 13 year olds.
10 Best Birthday Gifts for Teens
Our website is supported by our users. We sometimes earn a commission when you click through the affiliate links on our website. See our privacy policy & disclosures for more information.
1. Birthday Party in a Box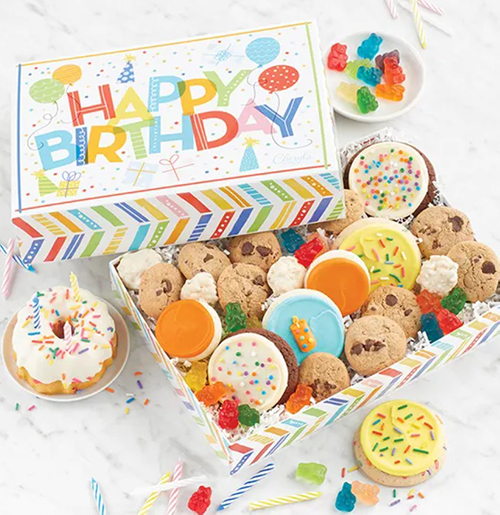 Flowers they DON'T want. But cookies? Oh yes. There are enough to share with friends in this fun and delicious box of tasteful birthday cookies! They will go bananas over this one!
2. Personalized Journal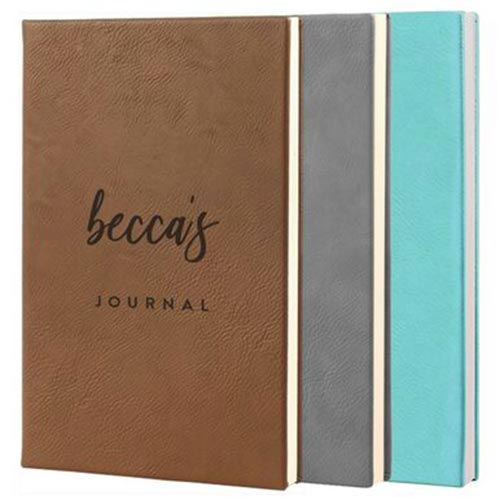 There's nothing better than rereading your diary entries later, once you're past this angsty stage, right?
They'll love it too, so encourage them to start journaling with these pretty leatherette personalized notebooks. Pick out their favorite color and maybe pair with a set of pens.
3. Exploding Kittens!
Too old for Go Fish, too young for Cards Against Humanity, what to do?!
Exploding Kittens is the answer. This super fun game will have them and all their friends and/or family members laughing and getting their competitive juices flowing.
Even the littlest sibling can get into it, but it's clever enough for big brother who's home visiting from college. You might want to add in the expansion pack!
4. I Am the Cheese
For the bookworm who has outgrown Nancy Drew and the Hardy Boys, but isn't quite ready for adult thrillers, I Am The Cheese is an instant classic.
They'll be up all night under the covers with a flashlight as they follow a boy's search for his missing father. Espionage, suspense, double identities, crime, and a shocking twist at the end will leave your reader spellbound.
5. DIY Gift Idea: Build Them a Garden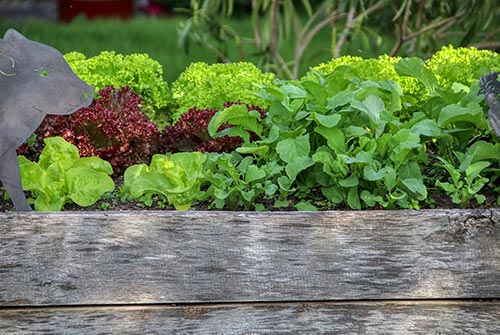 For the teen who loves being outside in nature, or is considering a career in agriculture or farm-to-table cooking, building them their own garden is an amazing gift!
Whether you do the hard labor yourself or bring them along as a way to spend time together, the end result is delicious produce, dirt under the nails, fresh herbs, gorgeous flowers, and the glow of sunshine and vitamin D.
6. Digital Drawing Tablet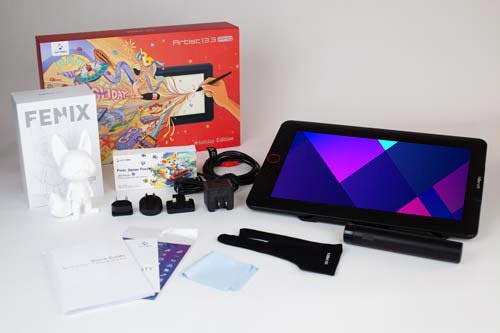 For the artist who also loves technology, you can't go wrong with this digital drawing tablet. Fully laminated with a battery-free Stylus pen and 8 shortcut keys, this delightful and space-age tablet is amazingly fun to draw with.
7. Better Together Wall Art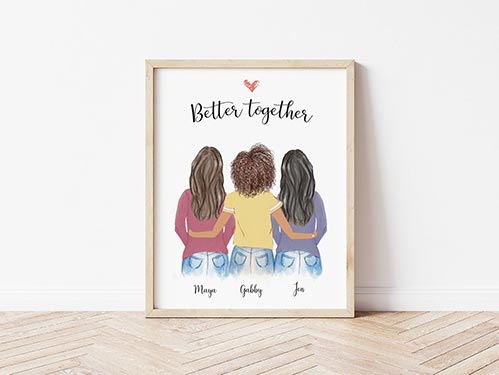 Some teens love interior design, even if it's simply rearranging their own bedroom. This sweet and personalized best friends print will look so great hanging on their wall in a spot of honor.
It's a way to freeze this special time in their life, by giving them a print that makes them remember forever being 13.
8. Splurt!
Think fast! Sometimes teens just need an ice breaker to get the conversation flowing and there's no better way to do that than a side-splittingly funny card game.
They'll be getting to know one another, bursting out laughing, and maybe even shooting milk out of their noses, with this hilarious game. Perfect for playing at their birthday party!
9. Light Up Drone
Drones are always popular with the teen crowd, and for good reason: there's something magical and cutting-edge about them. Enter this: a drone that lights up! This enchanting disco ball makes flying even more fun.
10. Happy 13th Birthday Necklace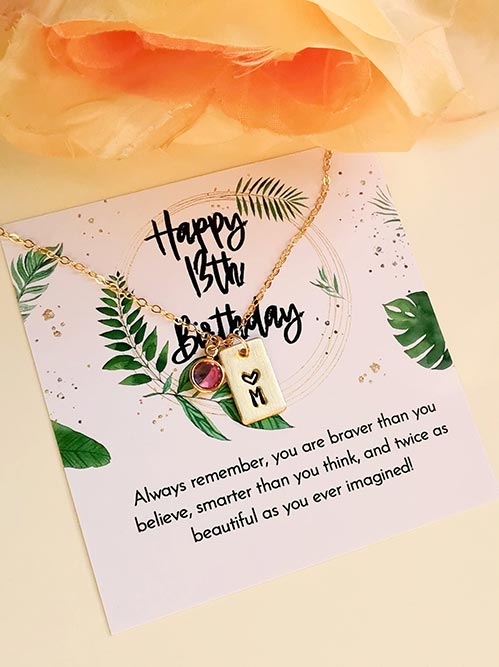 This dainty chain is so grown-up looking. Your newly 13 year old will love it! With its sweet and sentimental message and pretty dangling charm, she'll want to wear it everyday. Goes just as great with jeans and a tee as it does with a prom dress!
10 Best Gifts for 13 Year Old Boys
1. RC Robot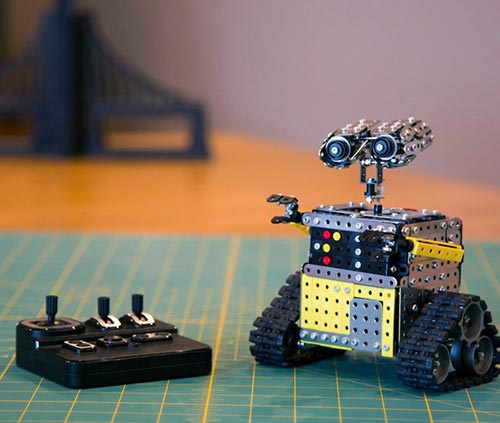 Just because he's starting to look and sound like a man and less like a boy, doesn't mean he doesn't still love robots! Radio controls just make it even more out of this world and fun to play with.
2. New Snacks from Around the World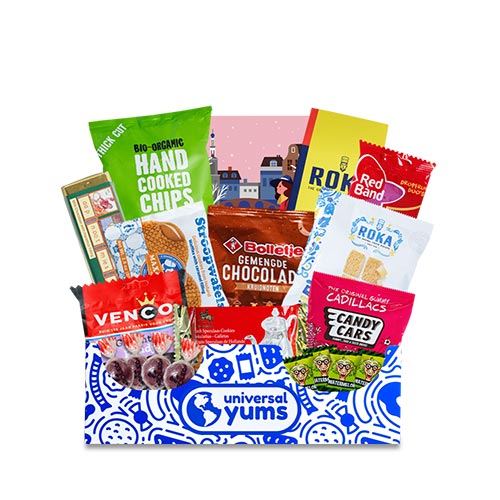 13 year old boys can seriously put away some calories! This gift box full of "universal yums" will be just the way to his heart. He'll love trying all these unique snacks, we guarantee.
3. Personalized Drum Sticks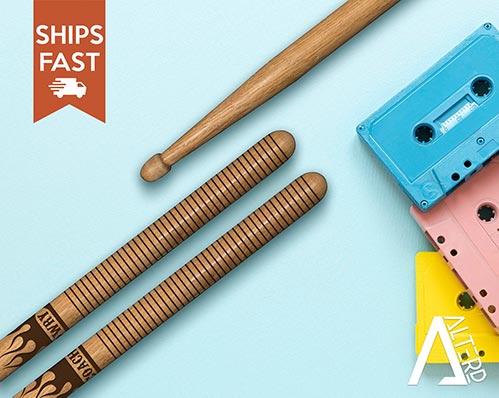 Any old drum stick just won't do for that exceptional 13 year old boy drummer! These personalized ones are engraved with his initials, making him excited to show them off and practice his skills even more.
4. Personalized Wallet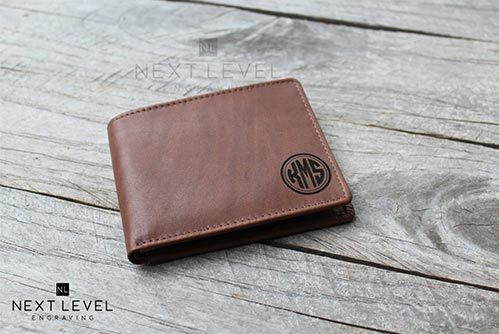 Now that he has a few nickels to rub together, why not store them in something other than his holey pockets?
This grown-up looking leather wallet is monogrammed with his own initials and will make all his friends say, hey, where'd you get that?!
5. Coin Bank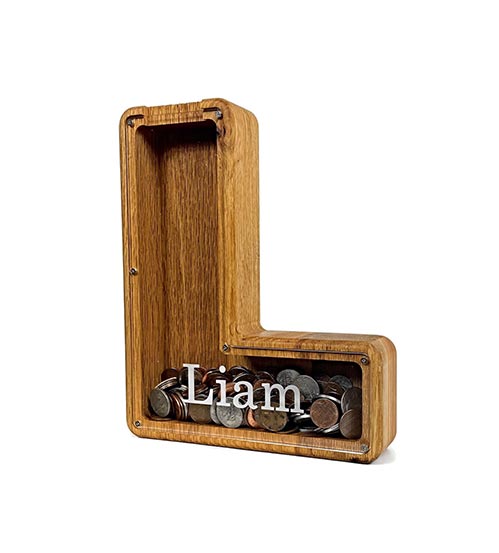 All that loose change just makes his jeans sag! Get him something to remedy the problem, like this super cool and personalized piggy bank. Um, piggy banks are for little kids: THIS is a coin bank.
6. Multilight Speaker Alarm
Dimmable and with multi-colors, this wireless Bluetooth speaker and alarm will be their favorite thing about being "sent to their room." Also doubles as an alarm clock and a nightlight, all in one stylish cube. MP-3 adaptable as well.
7. "Bruh" T-Shirt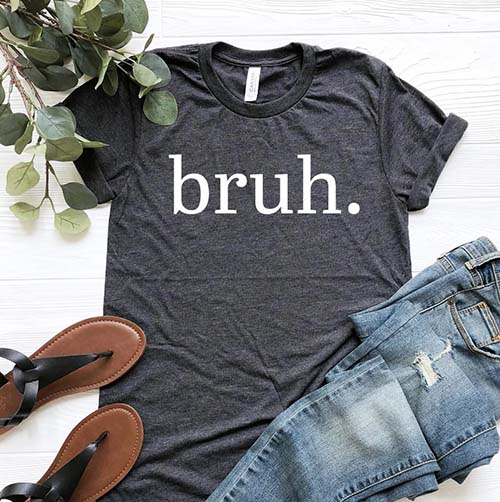 It's really all you need to say, right? They'll get plenty of compliments on this sarcastic and funny tee. Plus the soft gray means it will go with anything, from jeans to shorts to swim trunks.
8. Personalized Headphone & Controller Stand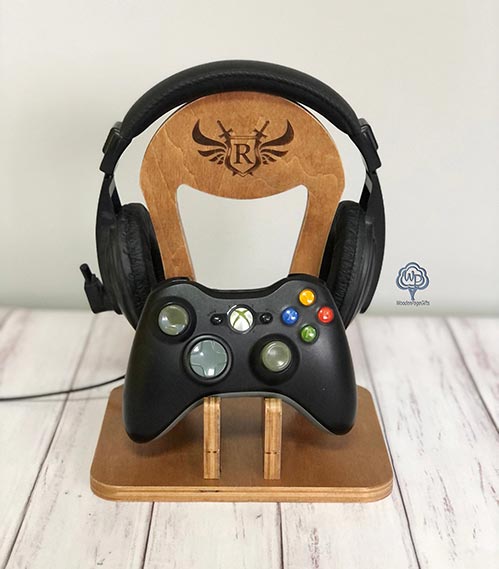 If you're tired of accidentally sitting on his headphones or controllers, never fear! A personalized stand for those things is here!
He'll have no excuse for not putting things where they go with this, and it looks cute and stylish too. If only they made one for his shoes, towels, jackets, wrappers, chargers…
9. Graffiti Art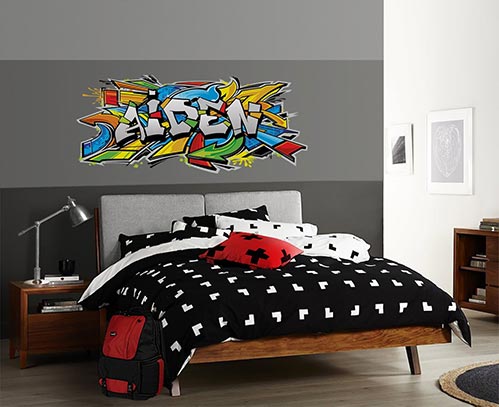 It doesn't matter the age or the time period, graffiti art is always in style! Personalized with their name, this will look awesome over their bed on the wall.
We bet he'll never outgrow this and may even peel it off and take it with him to his college dorm in a few short years.
10. DIY Gamer Gift Box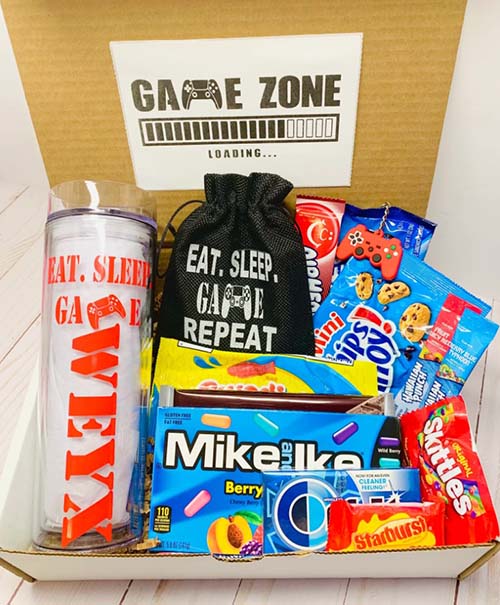 So, you can't buy them their new favorite game because they bought it the second it was released, and they already have every electronic gaming accessory known to man. So, what do you get them? A gamer box, of course.
A fun bag filled with their favorite treats will keep the energy flowing, and a gaming tumbler personalized with their name will keep them hydrated during those long hours taking out the final boss!
10 Best Gifts for 13 Year Old Girls
1. Fashionable Personalized Tumbler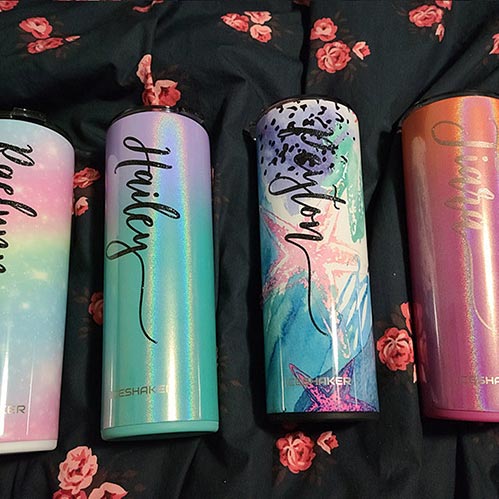 The problem with girls staying hydrated is they are always mistaking their tumblers for their friend's. No longer when you can personalize them! Pick out their favorite colors and have them engraved with their name or nickname.
Their new love for iced coffee never looked and tasted so sweet!
2. 13 ? Shirt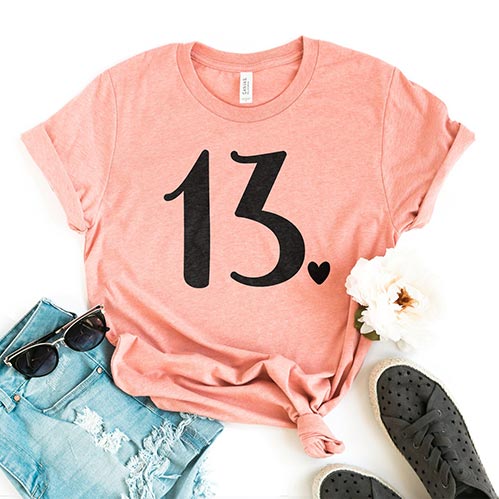 Sweet and just the perfect shade of pink, this soft tee will be their go-to in no time. It answers the question they are always being asked, and will look flawless with their jeans or shorts or skirts.
3. 3D Coloring
What's better (and more relaxing) than coloring? How about 3D coloring? These amazing animal puzzles that she colors herself will take hours and be so soothing.
What a much better way to spend an afternoon than scrolling through social media, right?
4. It's Her Stuff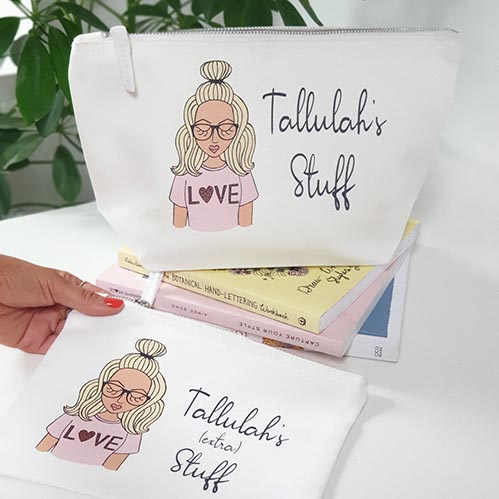 All 13 year old girls have "stuff," whether it's makeup, nail polish, notes, rocks, snacks… there's just a lot of stuff, okay?!? Help her keep close at hand with this cute and personalized makeup bag.
Related: 15 Unique Gifts for Alternative Girls
5. DIY- Snow Globe Mason Jar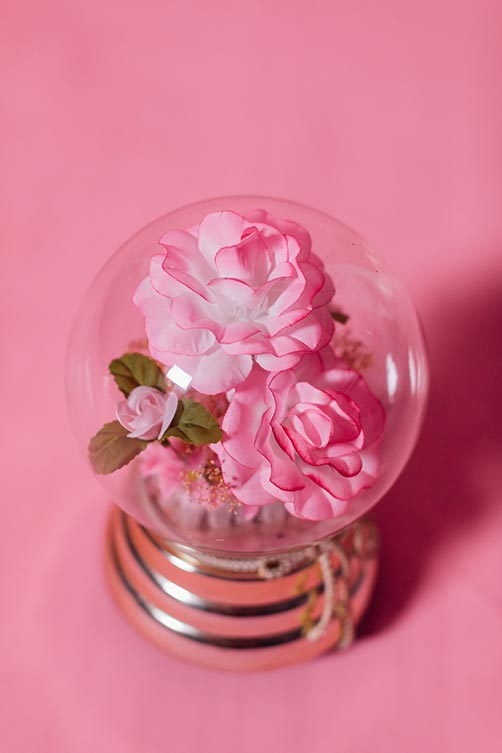 She's at the age where redecorating her room (out with the Winnie the Pooh, in with the boy band posters) is so much fun. Help her out with the grown-up décor with this pretty snow globe DIY.
6. DIY Teen Girl Care Package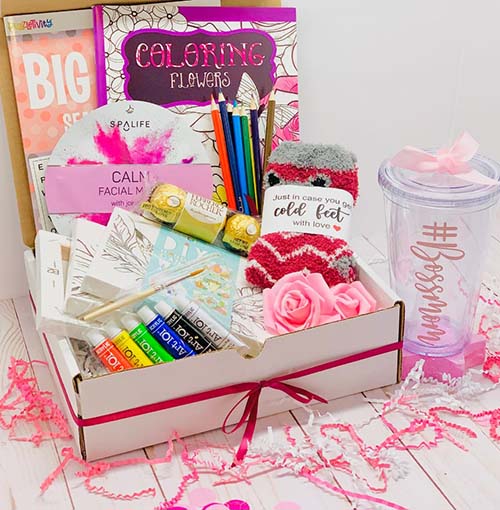 Undecided on what to get that special girl for her 13th? Why not get her a little bit of everything? This fab care package consists of the sweetest assortment of plush pink pampering goodies, fun art activities for her creative side, and of course, chocolate!
If you want a little something extra, you can add a personalized tumbler to make her feel super special.
7. 1000pc Good Boy Puzzle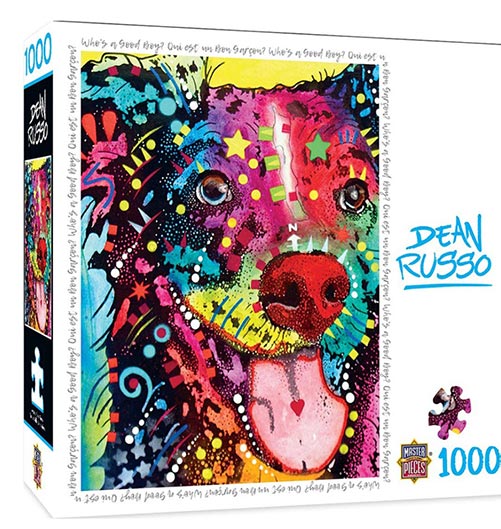 Doggo lovers rejoice! This sweet puzzle is the perfect antidote to a rainy day. With 1000 pieces (the best amount), its brightly colored and unique.
8. Personalized Sleeper Shorts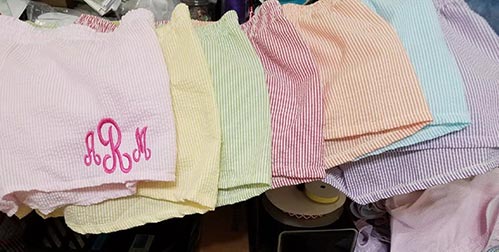 Monogrammed with her initials, these cute sleep shorts will get a lot of wearing in the next little bit! If she grows out of them she'll be so sad, because these are bound to be her favorite and go-to this summer with their seersucker fabric and range of colors.
9. BOHO Personalized Keychain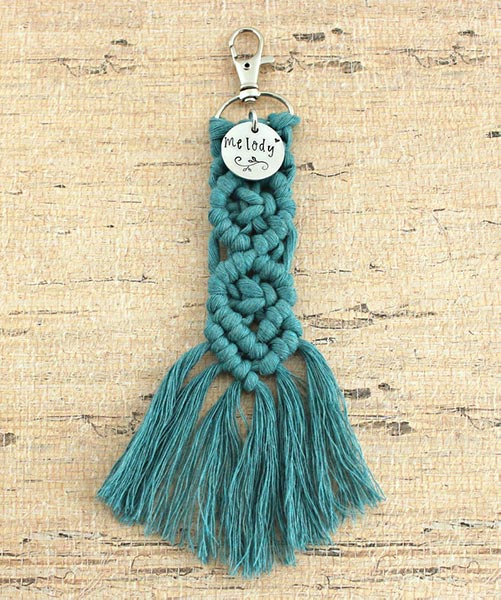 If she's old enough to have access to the house alone, but tends to lose her keys frequently, this boho inspired keychain will be perfect! And it's personalized so it's easy to retrieve when left at school/friend's house/restaurant/on the bus.
Related: 13 Gifts for a 13 Year Old Girl
10. A Question a Day for Self Care Journal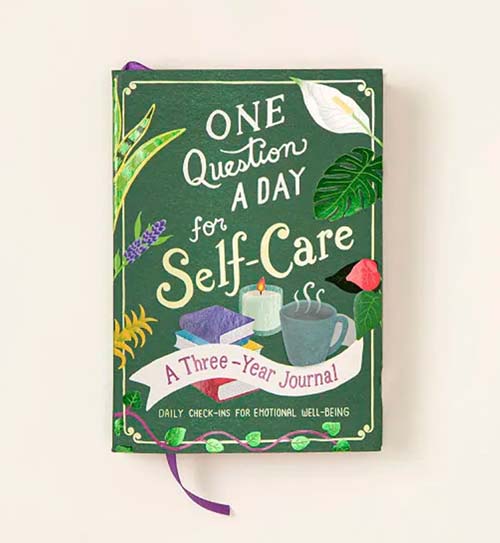 Teen years can be tough, everyone knows that. All the changes you go through, social pressures, school, friends — it can become overwhelming for such a young person. Help them keep their thoughts and feelings organized with this three-year care journal.
It's been scientifically proven that writing your thoughts and emotions out helps process them, and journaling is a time-tested method to do just that. With its cute design and entry-a-day format, they'll find themselves writing down everything from chats with friends to major life events.
Related: Relaxing Self-Care Gift Ideas
13 Year Old Party Ideas
What should you do for a teenager's birthday party? Here are some great suggestions.
Host a murder mystery party!
Whether from a box or purchased online, have her friends dress up and act out a thrilling adventure, with prizes to whomever guesses the killer! Especially good for "theater" kids.
Have a costume ball!
If you have the space (or can rent it), an old-fashioned masked costume ball can be a lot of fun.
Go camping!
Provide tents and food, and have guests bring sleeping bags and pillows. Don't forget a campfire with birthday S'mores!
Take a (short) road trip together!
With a handful (depends on your car!) of their closest friends, make stops at funny places, unusual vendors, and anywhere there's an opportunity for a group photo.
Go on a ghost tour!
13 year olds love to be scared! Find out where the most haunted places near you are, and hop in the car! Don't forget a couple of brave friends who are up for the adventure too.
Host a cook-off, or an episode of Chopped!
If they love cooking, or just plain eating, you could plan contests and prizes. Don't forget a panel of judges of course!
More party ideas:
More gift ideas:
13 Year Old Gifts (this post)