Happy Birthday!
At least, that's what we'd say to the special 17 year old in your life if we knew them like you do.
Whether you're celebrating a friend's 17th year or someone in your own family, here is a fantastic list of 17th birthday gifts (or Christmas gifts!) for you to look at.
Expand your wish list or find the very best gifts offered on the internet for someone else. So take your time and have fun looking, choosing, and buying the perfect gift.
10 Best Gifts for 17 Year Olds
Our website is supported by our users. We sometimes earn a commission when you click through the affiliate links on our website. See our privacy policy & disclosures for more information.
1. Large Bean Bags
A fun, retro-designed bean bag chair is a comfortable way to say "Happy Birthday" to anyone. It's great for playing video games, watching movies, and so much more.
Filled with memory foam and provides more support and comfort than a traditional bean bag chair. Choose from six basic colors to fit into any décor.
2. Books They'll Love
A book for teens, about teens.
Set over the course of a school year, Eleanor & Park is a story about two star-crossed misfits. They seem smart enough to know that first love almost never lasts, but brave and desperate enough to try.
When Eleanor meets Park, you'll remember your own first love-and just how hard you fell.
Here is some more books we know they'll love:
3. Crack Me! Birthday Card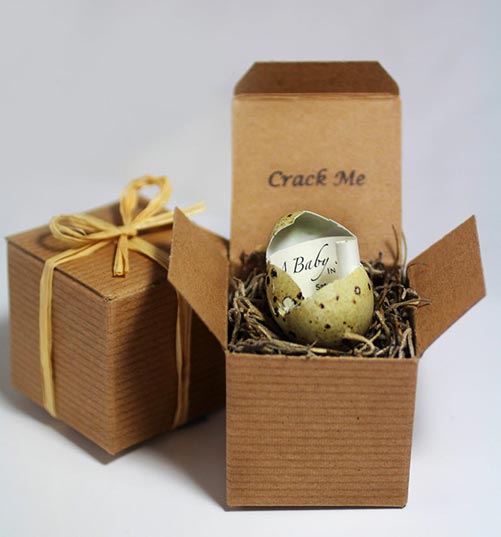 Choose your birthday message to be placed in this adorable birthday egg.
Each egg is a real quail egg that has been emptied, cleaned, and sanitized. Your selected note comes inside the egg ready to be cracked open. How do they do it? We have no clue, but we want one.
It's a delightful surprise that will be remembered for years by your teen!
4. Astronaut Phone Holder
Anyone would like to receive a unique resin cell phone stand! Your teen will place it on their desk, bookshelf, or bedside table.
The astronaut mobile phone holder is compatible with most mobile phones and tablets. It's durable and fun, something they'll get a kick out of and use constantly!
5. Light Up Jacket
A perfect and super cool birthday gift for the newly minted 17 year old guy or girl! They'll have fun wearing this light up jacket to a high school dance, a concert, or out on a date.
You can choose from five different light colors, and your birthday girl or boy will be the life of the party.
6. Personalized Turkish Towel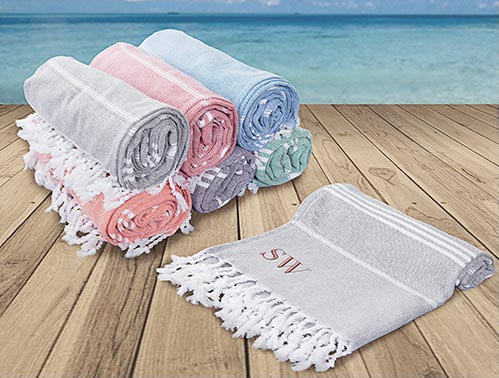 These 100% Turkish beach towels are the perfect accessory for a day at the beach or by the pool for your teen!
Your choice of colors and styles; have a name or initials embroidered in your choice of font and color. It's a fabulous way to wish them a happy birthday!
7. Exploding Birthday Card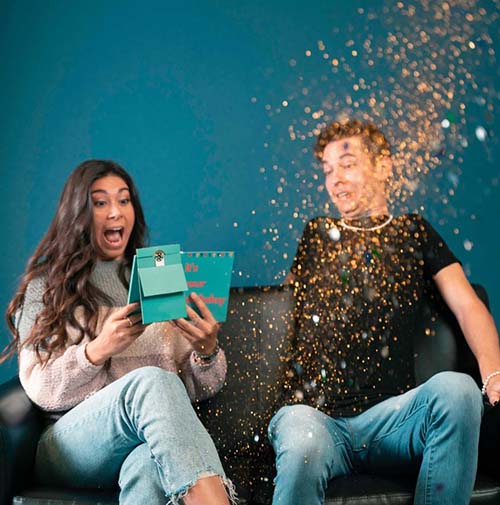 Happy birthdays deserve a happy surprise. These super fun cards and gifts go the extra mile and explode glitter when opened. This is laugh-out-loud fun!
8. Bluetooth Record Player
An old-fashioned-looking turntable with all the latest technology – so we know it'll be loved by teens! With built-in Bluetooth, your teen can wirelessly connect to their other devices. Plus, the turntable can encode their vinyl into digital MP3 format and playback on their computer.
A gift with a modern-yet-retro vibe that any 17-year-old is sure to appreciate.
9. Engraved Cereal Bowl & Spoon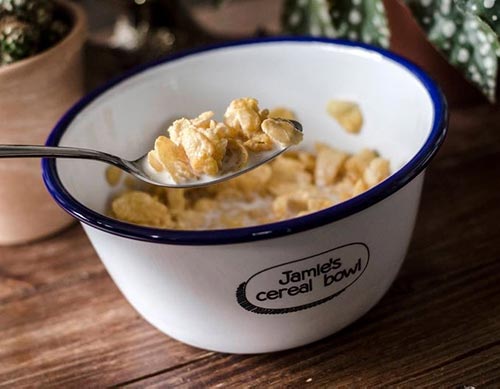 This personalized bowl makes the perfect gift for any teen that loves their large portions of cereal or ice-cream.
With their name engraved on the side, there will be no more arguments about whose is whose. Win-win for the parents!! Choose from four sizes to get the bowl that is "just right."
Why not get them a personalized spoon while you're at it?
10. Join the Candy Club!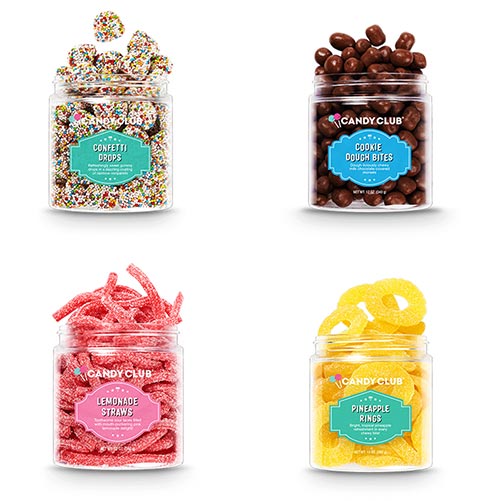 Surprise and delight the birthday kid with the Candy Club.
Choose from vintage, sour, chocolate, and sweet flavors. The Candy Club offers a huge variety of delicious goodies – from gummies to chocolate-covered nuts and more. Any candy lover is going to be thrilled with this thoughtful gift.
5 Best Gifts for 17 Year Old Boyfriend
11. Personalized Journal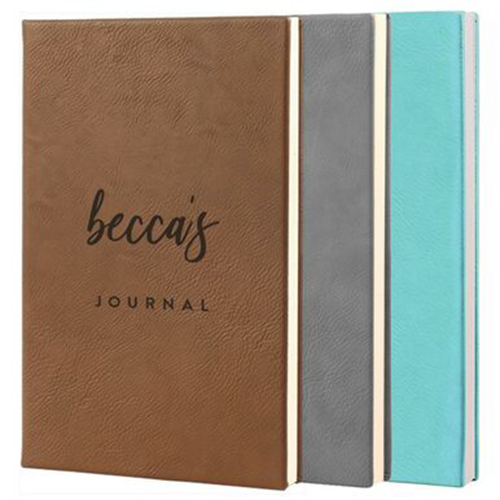 If your boyfriend loves to doodle, write poetry or lyrics, this personalized journal is the absolute best gift for him. Have his name engraved on the front of the faux leather journal, and he'll be thinking of you each time he uses his new journal.
12. DIY Skate Board Sling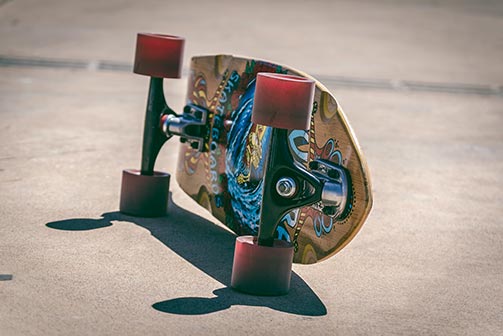 Boyfriends are hard to buy for, but if he's into skateboarding, this is something he is sure to love. This DIY skate board sling is an easy DIY project that you can help him with or just make for him!
He will have a new skateboard sling in a couple of hours and it's a project you'll both enjoy.
Related: Homemade Gifts: Ideas & Etiquette for DIY-ers
13. Personalized Game Room Sign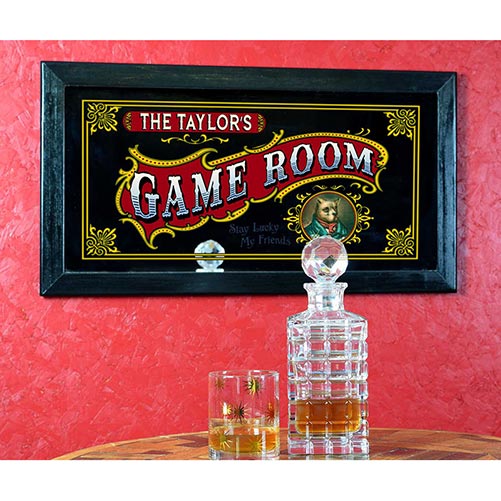 He'll like the personalized old-fashioned mirror hanging in his game room (especially when it's from his sweetheart). It will fit perfectly with all his other video gaming decorations!
His game room mirror features a solid wooden frame and comes ready to hang. Whiskey NOT included!
14. Magnetic Couple's Bracelet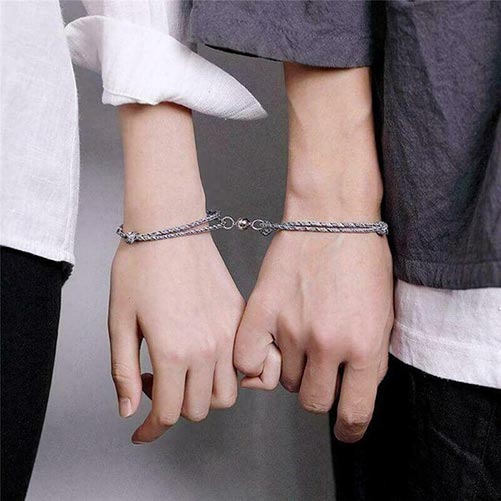 A lovable way to show him how much you care!
This couples' bracelet uses a magnetic buckle design. Once they get close together, they will be connected to each other- just like the two of you.
This is also one of our favorite long-distance relationship gifts.
15. Custom Couple's Bobblehead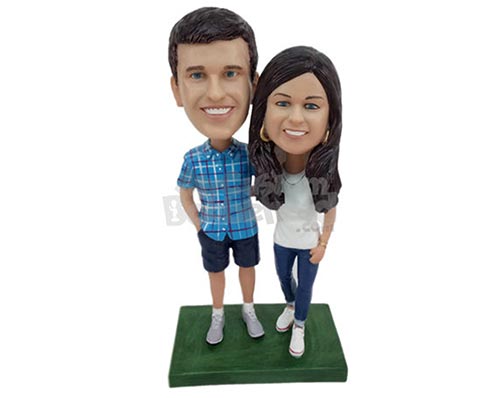 For the boyfriend who has everything, how about a hand-made bobblehead created to look like the two of you?
Made from polyresin, his custom bobblehead will last forever. He'll proudly display this gift and think of you every single time he looks at it. How romantic!!
5 Best Gifts for 17 Year Old Girlfriend
16. We Go Together Like.. Tumblers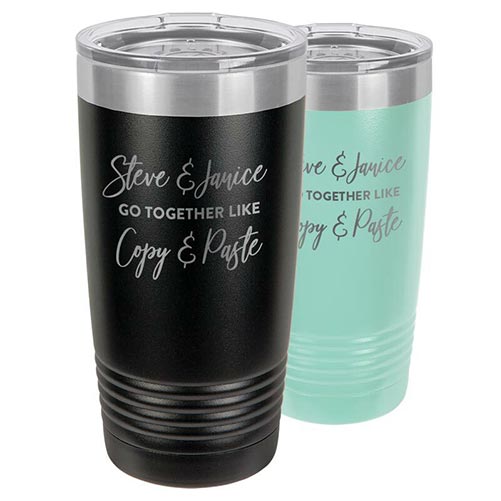 The best personalized gift to give – We go together like… cupcakes and frosting, cookies and milk, or tacos and Tuesdays. (Find tons of 'we go together like' quotes here.)
Our tumblers come in stainless steel and six other colors to choose from. Your girlfriend's soda will stay icy cold and her coffee will stay piping hot. The only thing she will have to do is enjoy!
If you want some more adorable gifts for your cute girlfriend, check out this article!
17. Custom QR Playlist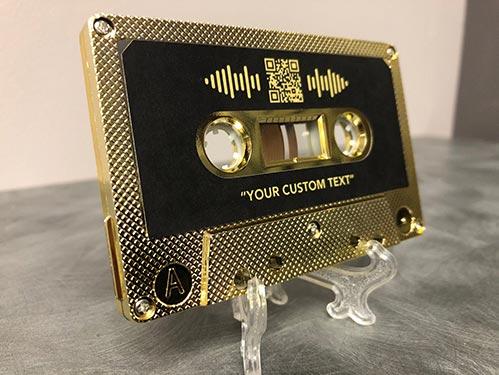 Go retro – well, kind of. This custom golden cassette has a QR code to scan, so it's kind of high-tech.
She scans the code and listens to the music that you wanted to share with her. Add custom text to make it extra special. This is a gift she will listen to again and again, and a beautiful way to share "your" song.
18. Combined Birth Month Flower Necklace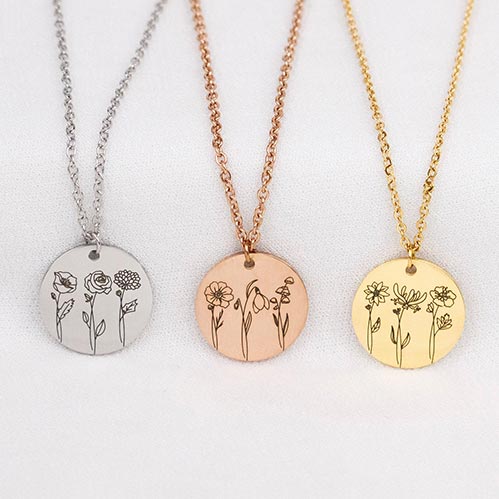 Combine your birth flower with hers on this lovely necklace. You can even put a personal message on the back of the charm!
A simple yet elegant design lets you choose from gold, stainless steel, or rose gold. She is sure to appreciate this sweet gesture from you.
19. Portrait Keychain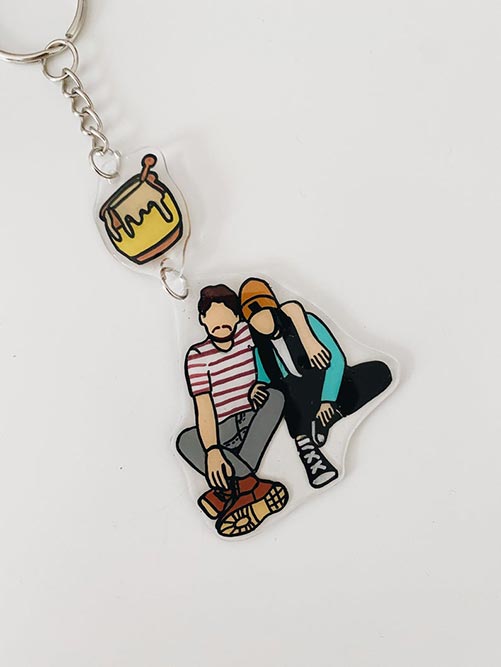 Here's an adorably creative gift. Whether it's a picture of the two of you, her and her best friend, or her fur baby, it's a gift meant to treasure.
She will keep this beautiful memory close at hand with a custom portrait keychain.
20. Personalized Lamp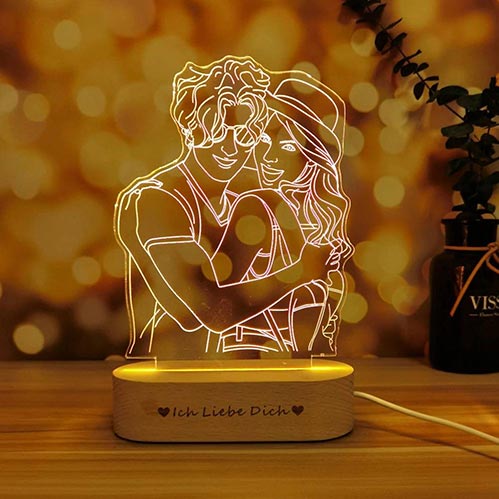 A customized 3D night light makes a great addition to her bedroom. It casts the perfect glow; not too low or too bright. Your girlfriend will want to stare at this for hours!
With a 3D portrait of the two of you and a sweet message on the base, she will be thrilled with this gift.
Related: 15 Inexpensive Gifts for Her
5 Creative 17th Birthday Gifts for Him
21. Personalized Guitar Strap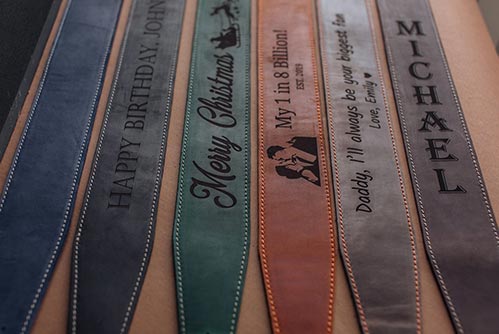 A hand-made leather guitar strap is the supreme accessory for your guitar player. The epitome of style and class can be seen in the craftsmanship of this personalized strap.
This is a present he will use for years to come!
More gift ideas: 21 Amazing Gifts for Musicians
22. Personalized Leather Bag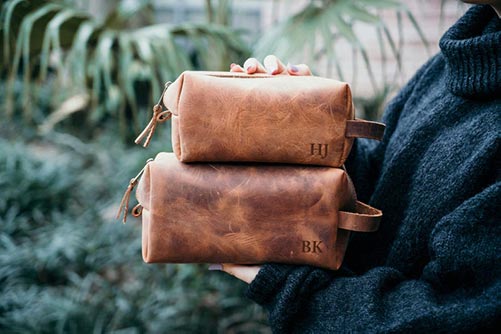 A personalized leather toiletry pouch is just the thing he needs for travel. He'll appreciate having a high-quality bag to store his shaving and hygiene products in.
You can order the kit in two different sizes and four colors.
23. Custom Made Swords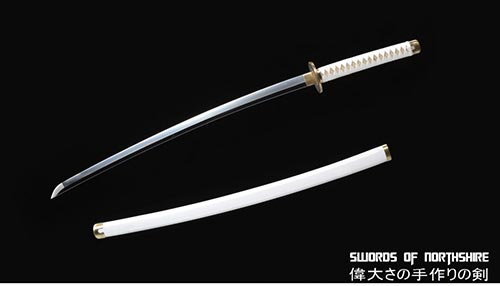 Swords of Northshire offers authentic, fully functional swords. He is sure to love a gift like this, especially if he's into cosplaying or similar nerdery.
With so many blades and styles to choose from, you might have a hard time deciding on just one for him! Better yet, you can have each element customized, from the color of the wrap to the designs on the guard and much more.
Choose from swords and knives. Carbon steel or Damascus steel. Every piece is a work of art!
24. Manual to Manhood
Manual to Manhood is a young man's survival guide. Every man should know how to accomplish everything in this book.
The Manual to Manhood will be his go-to resource. He will use it and thank you for it again and again.
25. Key & Hat Holder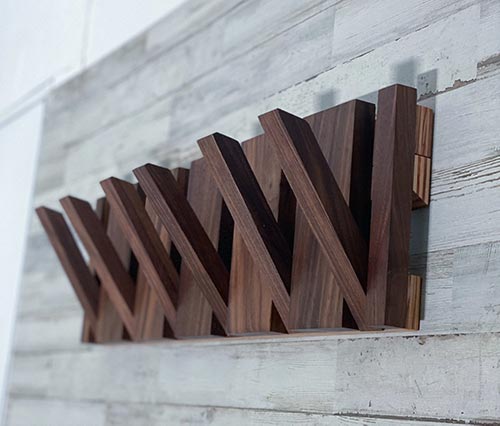 Choose from walnut, oak, or mahogany – this holder is the ideal room accessory for coats, hats, keys, or towels. Anyone would appreciate a little extra space to hang their belongings.
The rustic elegance of this hand-made rack makes it suitable in any décor.
5 Thoughtful 17th Birthday Gifts for Her
26. Felt Letter Board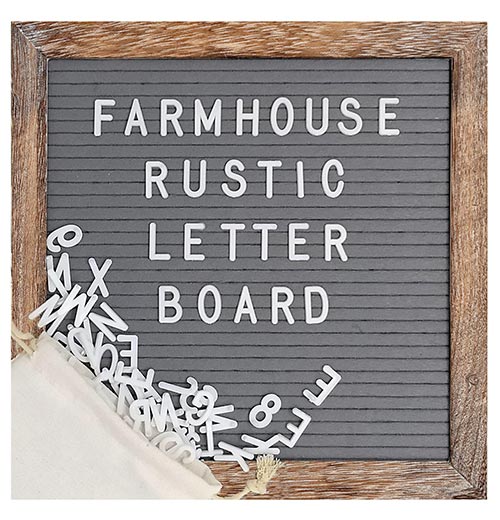 A felt letter board is a fun way to decorate any room. Display a quote, scripture, or even a joke or riddle. She'll have fun changing it out and coming up with something new.
27. Large Makeup Storage Box
Now she can organize her cosmetics and jewelry with this elegant multifunctional storage cabinet.
Display taller bottles of perfume on the top shelf for easy access. She can keep everything tidy and in one spot. The cabinet is just the right size to set on a dresser or bathroom counter.
28. #Seventeen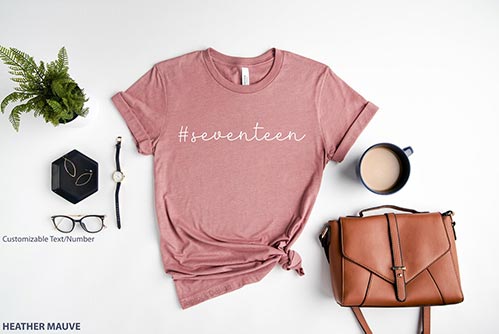 This comfy cotton T is the best accessory to any wardrobe. She will love to spend a relaxing day at home or a day out shopping in this "seventeen" shirt!
Choose from twelve colors – you are bound to find her favorite.
29. Monogrammed Wallet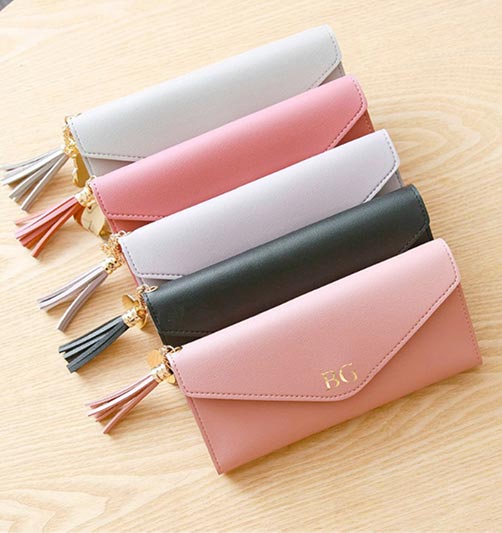 These gorgeous faux leather purses make a fabulous yet inexpensive gift.
You can personalize the clutch with the initials or name of your girl. Add a sweet message inside for an extra special experience.
30. Personalized Book Page Holder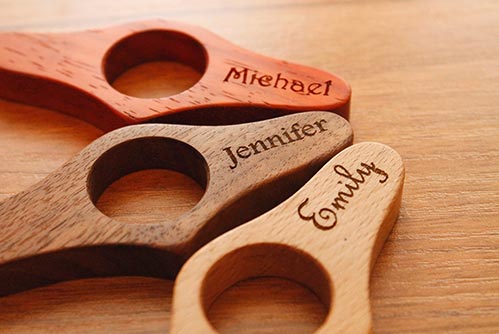 A great idea for any book worm! A wooden page holder that won't damage the spine of your book. Hand-crafted from beech, walnut, or padouk wood. Each with its own charm.
Engrave with your loved one's name, initials, or a short text. Here is a gift that will be used often and appreciated always.
17th Birthday Party Ideas
Paint and Sip – Hire a painting teacher, serve mock cocktails and let their artistic side shine.
Sports Day – Play paint ball, go rock wall climbing, do go-karts, or have a spikeball tournament.
Movie Night – Host a get together at home with your teen's favorite movies and movie snacks.
Spa Day – Manis and Pedis are always a hit. Serve sparkling juice to give it a grown up feel.
Cupcake Decorating Party – Let the party goers decorate their own cupcake. Have plenty of icing and supplies on hand!
Their 17th birthday is sandwiched between two big birthdays – and might easily be overlooked. It's the last birthday before they are considered an adult. It's a day to be enjoyed and to make memories!
Read Next: 100+ Best Birthday Wishes
Pin It