It's half a decade, you guys! As a couple, you two deserve a party, a relaxing vacay, AND a really amazing gift. We are impressed at your commitment, and you should be too.
I mean, if you were celebrities, you'd have been divorced and remarried eleven times by now. Pat each other on your backs and buy your 5-year sweetheart something great.
But wait – what should you get? What's the traditional gift? Or maybe you want to chart your own path, and discover a creative, romantic, and personal 5th anniversary gift for your beloved.
We've got the best ideas for you, both traditional and modern. And more.
Let's dive in!
Our website is supported by our users. We sometimes earn a commission when you click through the affiliate links on our website. See our privacy policy & disclosures for more information.
5th Anniversary Gifts, Traditions, and Themes
This is part of our series on Anniversary Gifts by Year.
What is the traditional 5 year anniversary gift?
Wood.
Why is wood the traditional fifth anniversary gift?
It's durable, long-lasting, and symbolizes the strength of their marriage even as it grows and spreads its branches, reaching for the sky.
Plus, what's stronger than hand-carved mahogany, can I get an Amen?
What is the modern 5 year anniversary gift?
Silverware.
Why is silverware the modern 5th anniversary gift?
It's modern, strong, and considered pure. It's also rather handy for sharing meals with loved ones and new family members!
What is the 5 year anniversary stone?
Sapphire.
Why is sapphire the fifth anniversary stone?
It's timeless, and symbolizes purity, trust, and loyalty.
What is the 5th anniversary flower?
What is the 5 year anniversary color?
Blue (like a sapphire, silly).
10 Best Fifth Anniversary Gifts
Let's begin with the best of the best. Here are ten of our favorites, many of which incorporate the themes we just looked at.
1. Personalized Wooden Pillar Candle Holders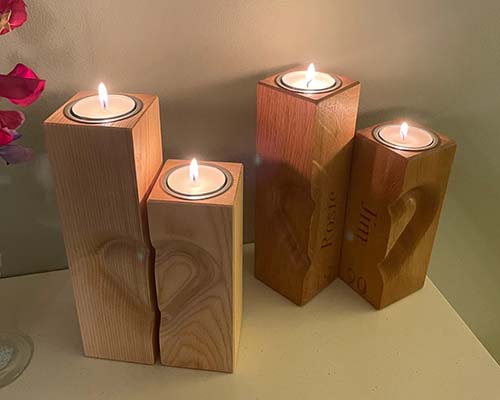 Commemorate their fifth year year together with these superb, wooden pillar candle stands. Available in high quality Ash or Oak wood, the craftsmanship of this unique gift idea is sure to delight! And you can have them customized with the couple's names and date to make them extra special.
Such a beautiful gift is sure to earn a place of honor on the mantle or hearth.
2. Tree in Their Name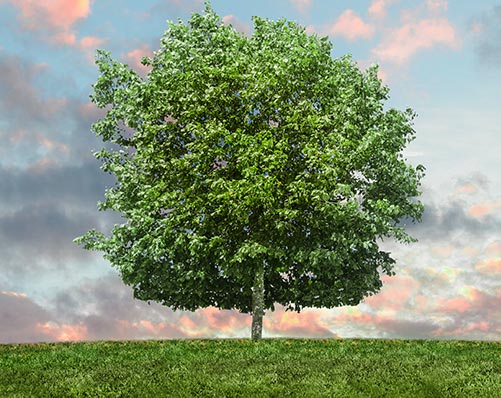 Wood… tree… hullo?! It's so obvious we nearly missed the point as well! For the couple who loves nature and the great outdoors, and shuns materialistic things, planting a tree in honor of your love and marriage is just the thing. Your spouse will be so pleasantly surprised!
Oh, and did we mention that as part of their gift they will receive a 'GPS location to find their tree? Awwwwwwwww!
3. 24K Gold & Sapphire Forever Rose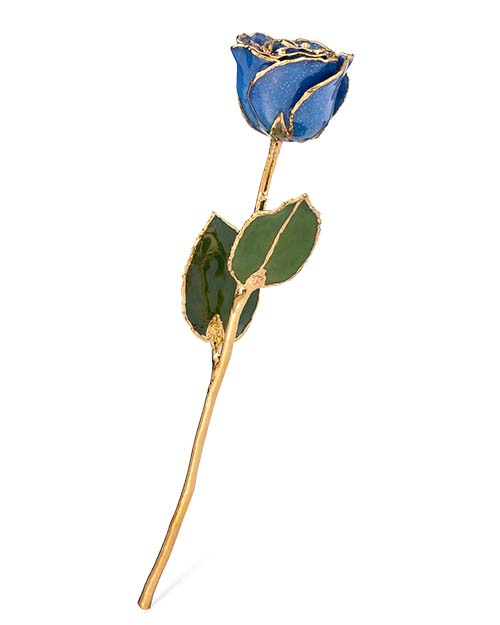 What better way to delight your sweetie than an enchanted rose straight from a fairytale?
Picked at the height of their bloom, these real roses are preserved in a color of your choice and dipped in 24kt gold. To top off the magic, each rose is mounted on a beautiful, wood base and sealed under a glass dome. Truly exquisite!
4. Personalized Candle Holder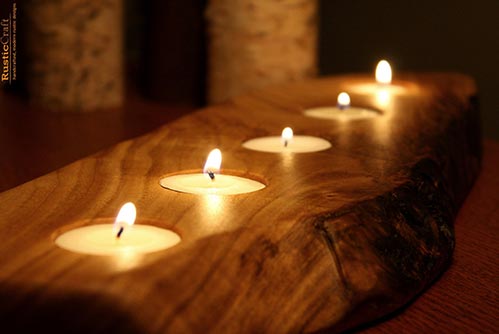 This sleek and utterly beautiful candle holder is rustic, yet so elegant! Even without the personalization it's just off the charts gorgeous: with the personalization it's sure to be the hit of the party.
Plus, you know, mood lighting. For later.
5. Blue Wood World Map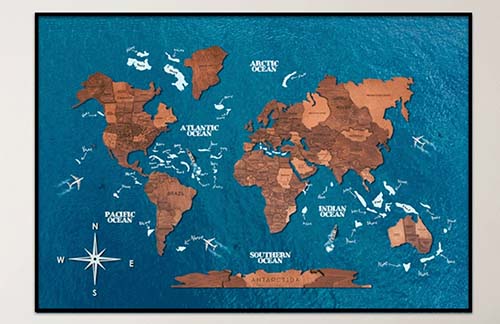 Celebrate where you've been and where you're going with this gorgeous wooden wall map. This is such a unique gift that will make an awesome focal piece and conversation starter in your home.
Crafted from quality birchwood, each country or territory is beautifully engraved with its name and capital city. This map is available in four sizes as well, so you can pick the perfect fit for your space.
Is traveling your #couplegoals? Check out our list of the Best Gifts for Travelers, Globetrotters, and Wayfaring Wanderers
6. Wooden Text Cutout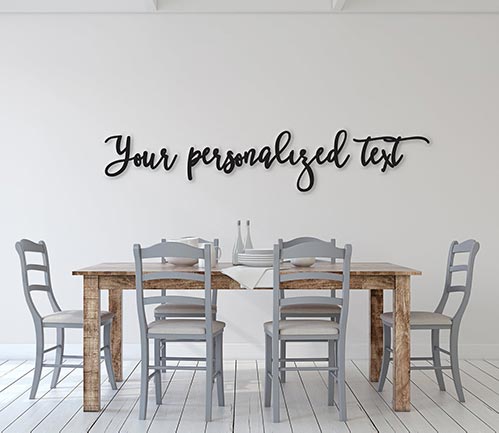 Of course you can go with the obvious: Your shared last name. It would be so cute hung above your table or couch!
Or you could go with the always timeless, Mr. and Mrs.
Or how about a small snippet of your vows? Your names connected by "&"? Nicknames, pet-names, the address of their first home, a special geolocation – oh gosh, the possibilities are pretty much endless!
7. Cutting Board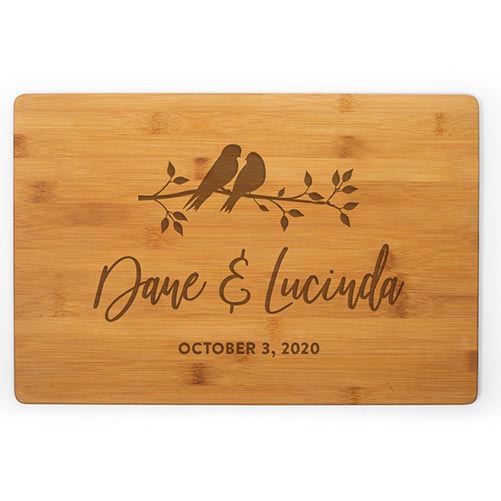 It's wooden, it's charming, it has lovebirds (lovebirds!!) etched on, AND it's personalized with your names and wedding date.
Could this cutting board be any more perfect as a 5th anniversary gift?! We think not. This one is going to get a lot of oohs and aahs, and then a lot of use around the kitchen.
8. "I Still Do" Pennies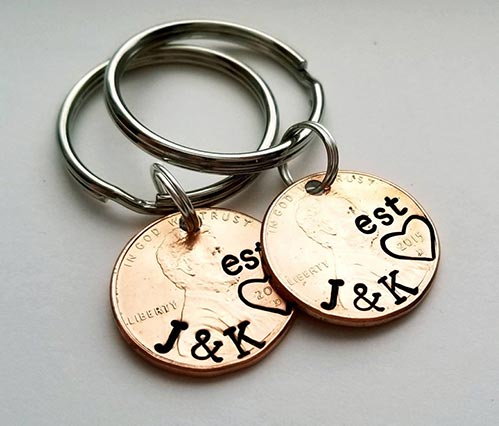 These penny anniversary keychain charms are so unusual, in all the right ways! Your life partner will be absolutely charmed. Charmed by a charm, get it?!
All you need to know is the year they were married, and the initials of their first names. The artist will choose pennies with their wedding year, stamp a heart around it, and add their initials. Easy, simple, and sweet!
9. Sweethearts Bird Feeder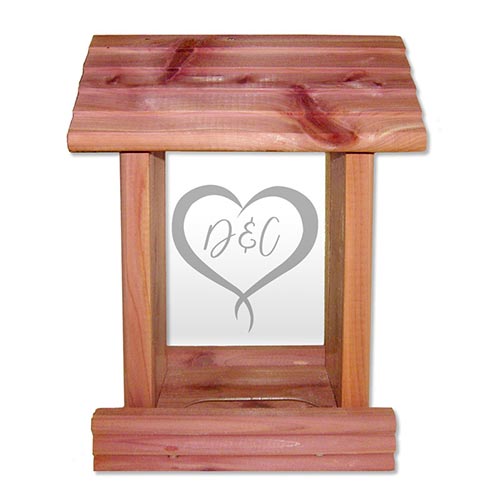 For the backyardigans, this personalized sweetheart bird feeder is just the thing. It's positively lovely, with laser carved initials, and generous feeding capacity.
It will brighten up any outdoor living space, from a busy condo, to a sprawling ranch, to an upstairs apartment.
10. Framed Daisy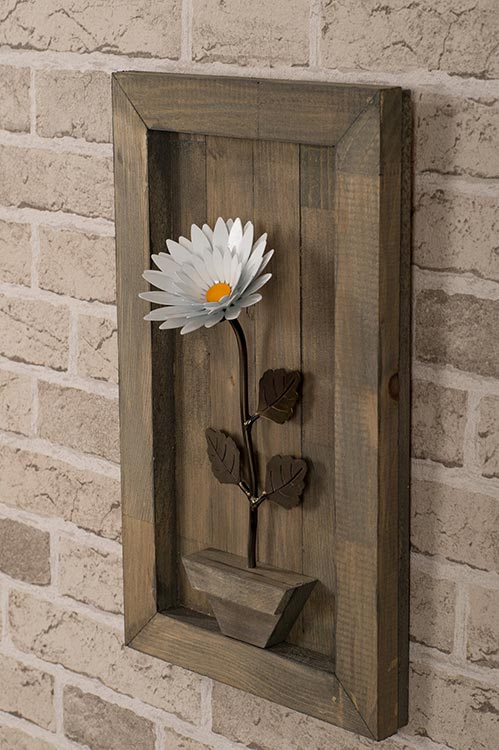 This sweet and pretty daisy in a frame is just so understated you have to fall into its charm. And it combines two of the fifth-year anniversary themes: Wood and daisies!
The dark wood really makes the yellow and white flower pop, and unlike a bouquet of real daisies, this one will last forever.
Plus, we just love that it's hand-forged in an authentic blacksmith shop. (How many things can you say that about?!)
Traditional 5th Anniversary Gifts (Wood)
Speaking of 5th anniversary themes, here are some of our favorite gift ideas made from wood.
11. "In Love" Scripture Verse Personalized Wood Anniversary Plaque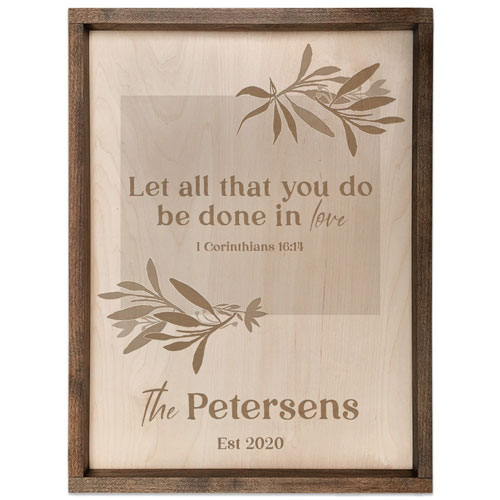 Handcrafted in Oregon from premium wood and artistic excellence, this "In Love" Personalized Wood Scripture Plaque is ideal for the Christian couple's 5th year.
With the Bible verse from I Corinthians 16:14 and a lovely floral theme, this gift is made extra special by the etching of your married name (or his & hers names) and anniversary.
It will look amazing hung up by wedding photographs on the wall, in the entry way, the bedroom, or anywhere else. Your spouse will love the extra attention to detail on this one!
Find more Bible verse options, including the classic "As for me and my house," over at Northwest Gifts.
12. Photo Engraved Basswood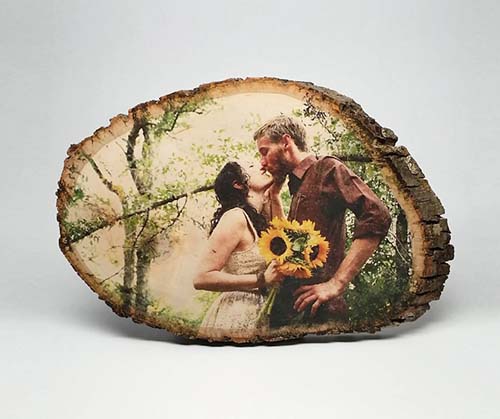 This photo-engraved custom wooden plaque/sign is the gift they never even knew they wanted until now!
Whether it's a sweet photo you snapped when they weren't looking, a pic from your wedding, or last year's Christmas card, all you need is to send the snapshot and then wait for your new gift!
More photo gifts: 9 Beautifully Personalized Photo Anniversary Gifts
13. Coaster Set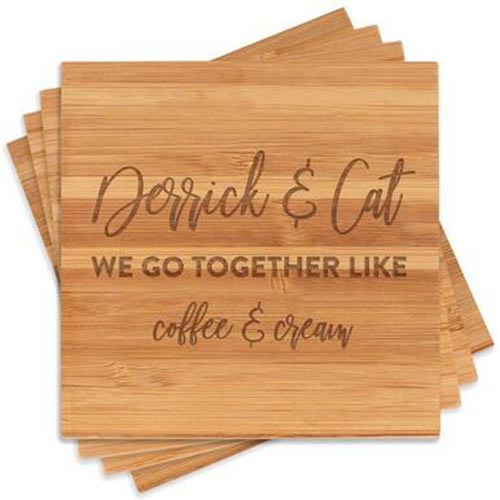 For the coffee-loving hipsters who don't want rings on their table, a set of coasters is always the perfect gift! This one sets the bar a little higher with the addition of their names and a cute "we go together like…" joke.*
*BTW, we have a massive list of "we go together like" quotes for you to enjoy. You're welcome.
These are going to get a lot of use and be placed in a spot of honor: not put into the back of the cupboard like the salad spinner you were thinking about gifting!
14. Wooden Anniversary Card
We don't know about you, but we tend to be so appalled at the price of cards these days that if we give a gift, they DON'T get a card as well!
Well, set aside that nonsensical thinking and get them both at once. This adorable greeting card celebrates their anniversary and IS the gift.
15. Family Name Sign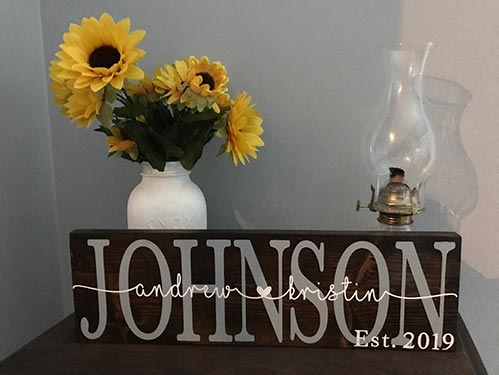 At five years, you're still in the honeymoon phase. So a personalized couples sign will have your sweetie gushing! It hits all the right notes with timeless fonts, anniversary date, and neutral colors that will fit any décor.
Modern 5th Anniversary Gifts (Silverware)
The contemporary anniversary gift theme is silverware. If the Anniversary Gods have decreed it to be so (in reality, probably the silverware companies and their marketing teams) then who are we to argue!
Kidding aside, silverware makes a great anniversary gift. You'll see why…
16. Personalized Silverware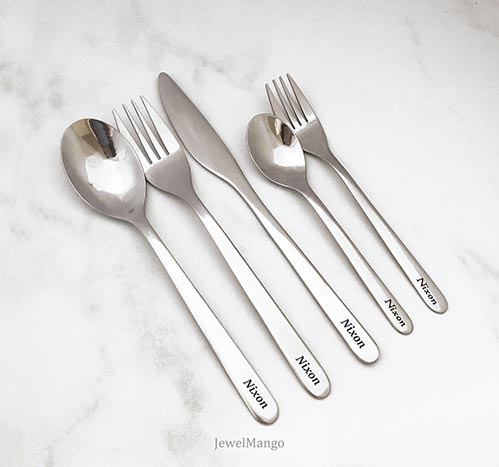 Ah ha! Just when the church potluck or the neighborhood block party tries to "borrow" all your flatware, never to be seen again, to the rescue comes this amazing and pretty set of personalized silverware!
"No, Betty, that is NOT the spoon you brought for your Jell-o salad. See, it says my name right here."
17. Mont Clare Stainless Flatware Set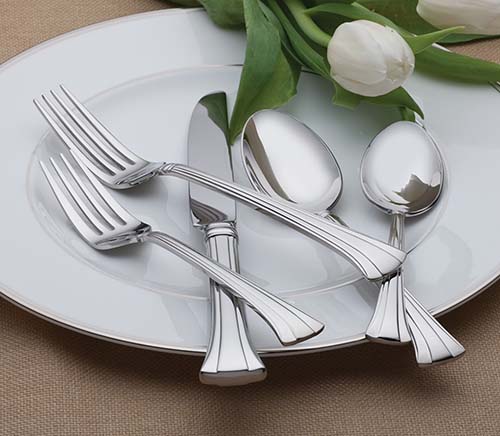 Looking for an oh-so elegant gift that will last them a lifetime? Well you've just found it! This set follows the modern tradition of gifting flatware to the lovely couple to celebrate five years together.
A timeless design that will fit into any kitchen theme, it includes service for twelve to accommodate all of their family and friends during those cherished, holiday meals.
18. Linen Flatware Roll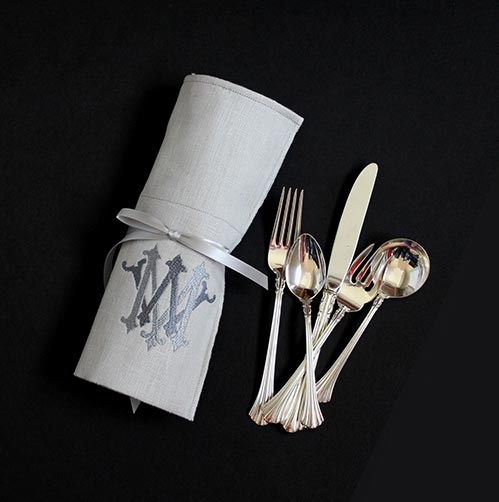 The only problem with real silverware is how easily it tarnishes!
To the rescue comes this great set that comes complete with its own monogrammed linen, anti-tarnish keeper. It will tuck perfectly into a drawer, or left out on the china cabinet for all to admire.
19. Silverware Caddy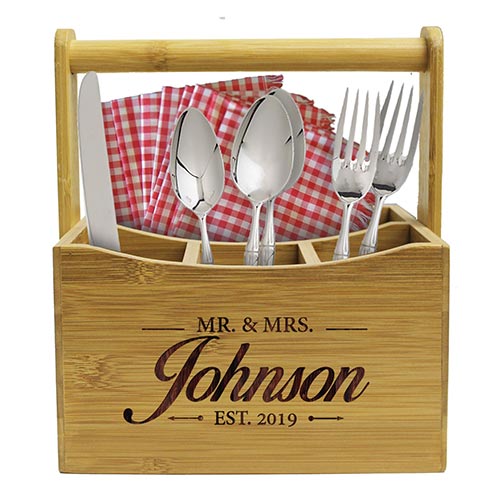 For the more outdoorsy, casual type, who love to host a good BBQ on the weekends, this silverware caddy personalized with their name and date is a great gift!
It's so handy to bring flatware to the backyard, the camping spot, the picnic destination, or to the beach, in this easy-to-carry, good-looking caddy.
Did someone say beach?! Time to be inspired by: 21 Practical, Fun, & Frisky Beach Gifts for Beach Lovers
20. Personalized Leather Utensil Pouch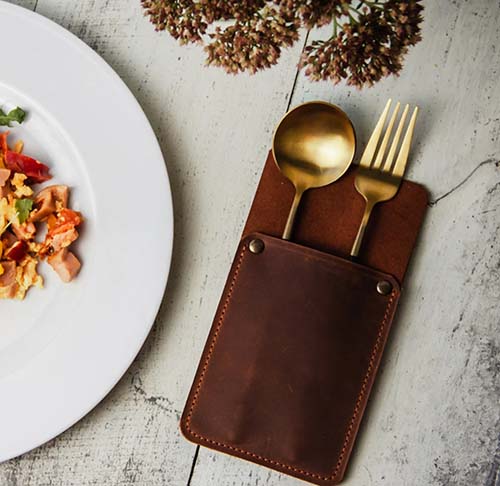 At five years in, most couples are itching to start hosting their own Thanksgiving dinners and Easter brunches.
Help yourselves out by gifting these personalized flatware pouches! They instantly transform any meal – how ever posh or casual – into something sweetly elegant and useful too.
5 Year Anniversary Gifts for Her
She's special, she's unique, and five years down the road of "together forever," you're still madly in love with her. So here's what to give her!
21. Natural Blue Sapphire 14K Gold Necklace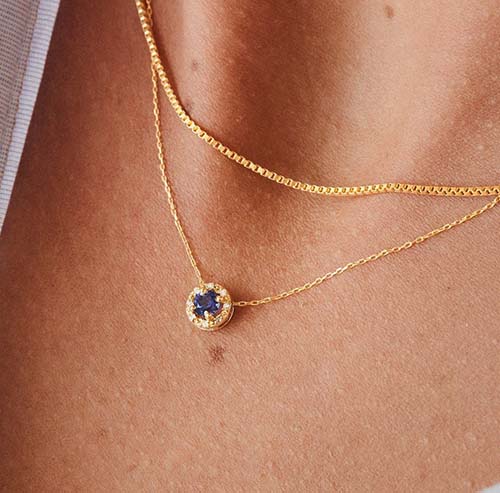 If you're keeping with the traditional anniversary stones, then this natural blue sapphire necklace is the gift that will light her eyes up with delight!
It's shiny, sparkling, and a deep, deep blue. Saturated with color, it will bounce off the lights and bring some sophistication to no matter what she's wearing for the day: a little black dress or some jeans and a tee-shirt.
She's going to love it!
22. Pop-Up Daisy Card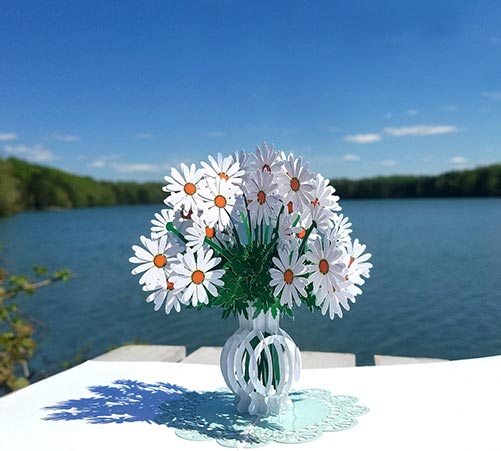 This amazing daisy bouquet is actually a gift in itself! When she opens up her anniversary card, she unfolds a delightful floral arrangement with the 5th anniversary flower.
She'll be utterly delighted and taken in by the craftsmanship and creativity. For ideas on what to write inside, see here.
23. Flower Club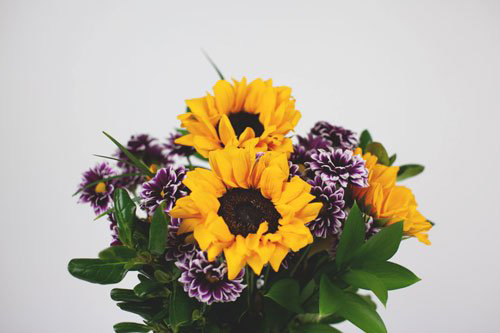 If she loves a gorgeous bouquet on her table or desk (and who doesn't?! Other than the frightfully allergic I mean), she'll be enamored with a new vase full every month.
There are plenty of options to choose from and the length of time she receives them is up to you (we suggest um, forever?).
24. Basswood Personalized Photo Frame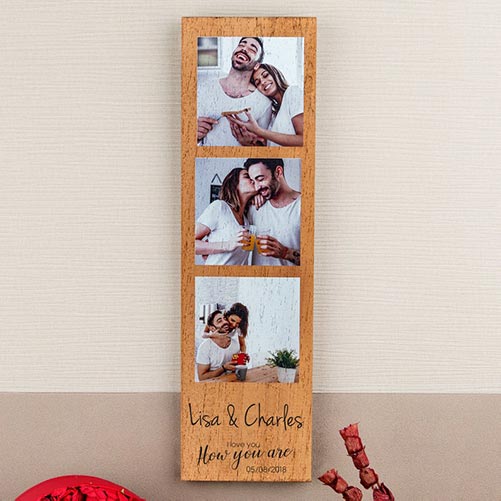 This basswood personalized frame will catch everyone's eyes in all the best ways.
Start with a few adorable pics of your favorite couple in the world, add some text (maybe a line from their vows or an expression they love to use), toss in their wedding date, and you have the best gift ever!
Related The 10 Best Personalized Gifts for Couples
25. Care Package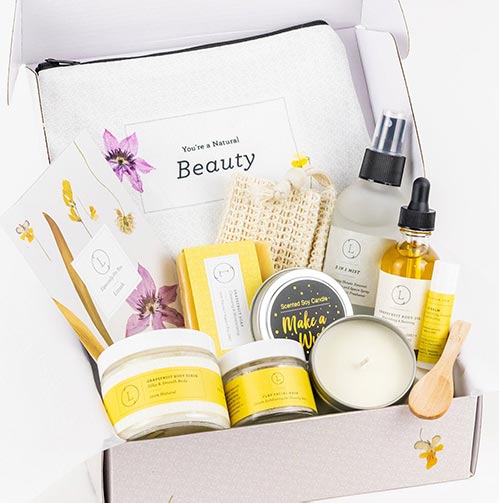 All girls love a little pampering. And let's be honest, the first five years of marriage have had some bumps and bruises! (But she wouldn't trade them for anything.)
Get her this amazing set of spa-inspired goodies and watch her stress melt away. It comes with the following items, which mean you don't have to go shopping, win-win:
Grapefruit body oil
Citrus soap
A cosmetic bag
A soy candle in a yummy scent
Lip balm
Clay mask
And so much more!
All packaged in a personalized box. She's going to adore it – and you.
5 Year Anniversary Gifts for Him
He's a guy. Therefore he is a tough one when it comes to gift shopping. But he's your guy, so you're going to find him the perfect anniversary gift this year! Here are some thoughtful and creative ideas.
26. Wooden Sound Wave Print Anniversary Gift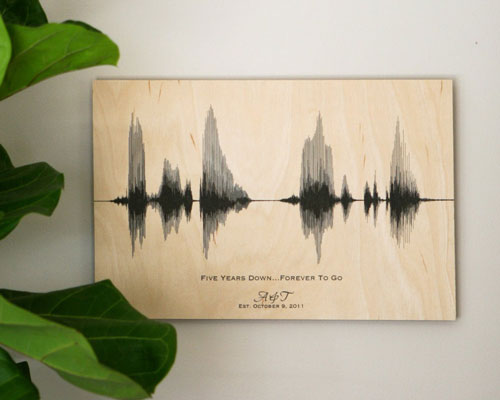 Here is a creative anniversary gift for him that features both the 5th year theme (wood, duh) and a truly personal touch.
Order the Wooden Sound Wave Anniversary Print, send in a recording of you speaking a special message or singing "your" song, and they'll print it in sound wave form onto a lovely birch wood plaque.
27. Sapphire Crystal Ring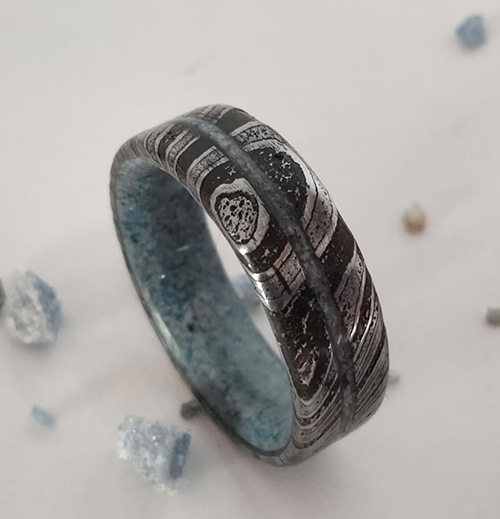 We can't get enough of this gorgeous ring! A total eye-catcher, this stunning band is crafted of raw sapphire and Damascus steel.
Modern, masculine, and so beautifully unique, you can also exchange the sapphire inlay for his birthstone. He'll be so thrilled with this neat piece.
28. Engraved Wall-Mounted Bottle Opener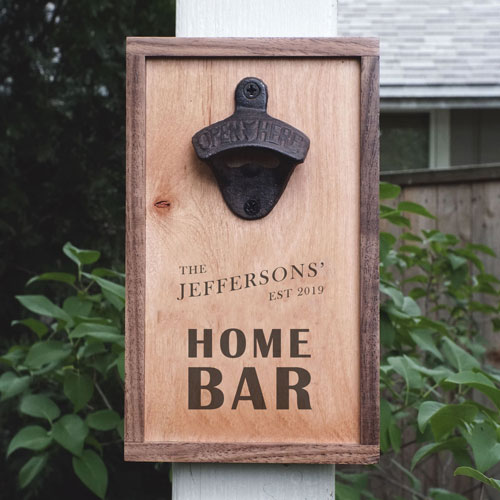 Practical and useful, this wooden bottle opener is a great gift for any man. You know how often you misplace a bottle opener, right? He'll never lose this one, because it will be mounted in a special spot, always ready to pop a top.
Made of solid wood right here in the USA, it's also personalized with your name and wedding date (always a great pick because he'll never forget another anniversary).
More themes and designs are available here.
29. Cigar Club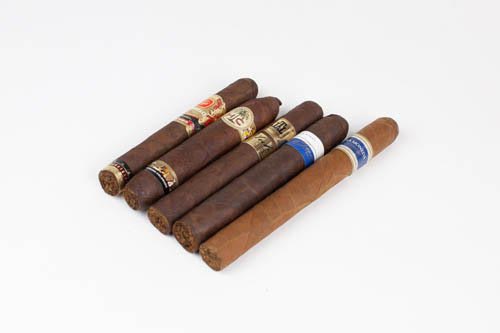 Sophisticated and posh, a cigar club is a fun throwback to a more stylish and suave era! He'll feel like 007, or Gatsby, or one of those hunks on Downton Abby when he smokes one of these.
Fun to share at parties or at a special occasion (like, you know, a Tuesday night), he may also want to save some to pass around for when his first baby is born!
30. Blue Sapphire Finish Watch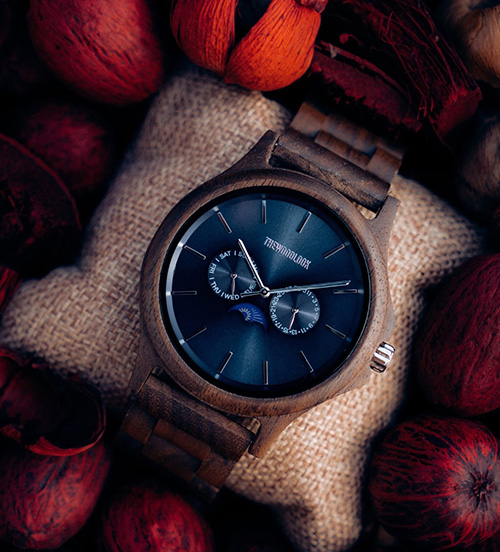 Keep him on time and headed in the right direction with this incredible timepiece. A rustic twist on a classic design this beautiful, blue sapphire finished watch is everything he's ever needed and didn't know he wanted! A perfect fit for a fifth anniversary gift, he'll think of you each time he looks at it.
5 Year Anniversary Gifts for Couples
Whether you're a friend or family member wanting to commemorate their special day, or you want to give your spouse a special anniversary gift that's for the both of you, these are unique and creative anniversary gifts for two lovebirds to enjoy together.
31. Custom Oak Barrel to Age Some Fine Whiskey Along with Their Equally Fine Marriage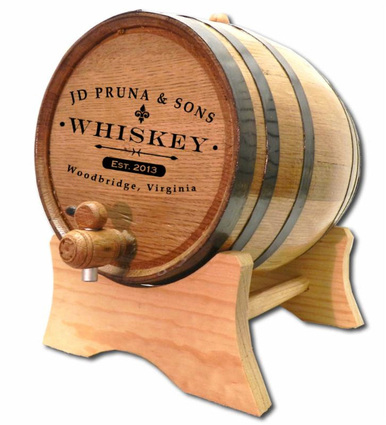 This oak barrel would be amazing already; when you add in the custom personalization it really takes this gift over the top! They're going to be so excited to show off this wonderful distillery in the comfort of their own home.
Save yourself a lot of phone calls later, and be sure to include the purchasing information for all the times guests exclaim, "Where did you get that?!?! I want one!!"
32. Couple's Activity Book
From author Crystal Schwanke comes this fabulous book of 70 interactive games to help strengthen your relationship and love for each other. Filled with all sorts of fun ideas that you never would have thought of on your own, you'll never be bored on date night again!
33. Pine Wood Memory Box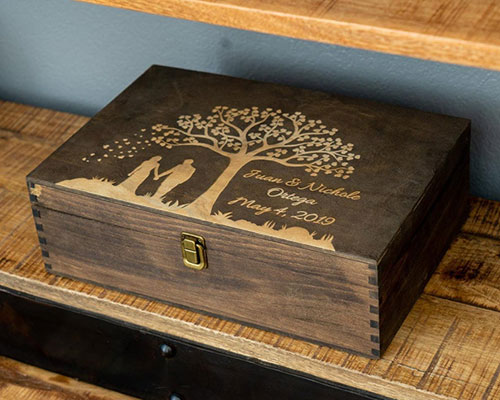 This rustic pinewood memory box is perfect for keeping any sentimental keepsakes. Whether you fill it yourselves or leave the stuffing up to them, they will love your thoughtfulness.
And it doesn't matter what their personal style or house décor is, because with many sizes available these boxes will literally fit right in in any room or space.
34. Vacation Package for Them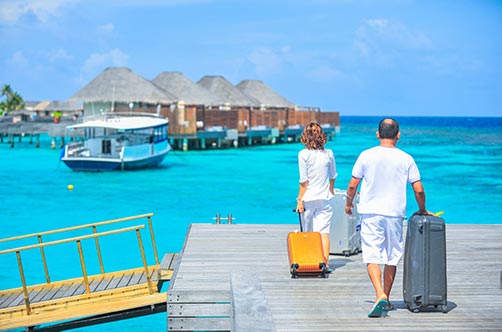 The first five years are usually met with a lot of bills and not a lot of spending money or vacation time! Help them out a little by providing them with an experience, instead of something silly like another vase they'll never put flowers in.
Vacation packages are a wonderful way to show you care and you want to see them have fun and stay together for fifty more years!
Here's how it works:
You purchase a gift package, which is essentially a gift card for the experience of their choice
Prices range from (give or take) under a hundred bucks up to about $300
They redeem for whatever adventure they choose, which could be rock climbing at a nearby gym, a wine tour within easy road trip distance or snorkeling in Mediterranean/Germany/Florida Keys (they'd just need to get themselves there)
35. The Night We Met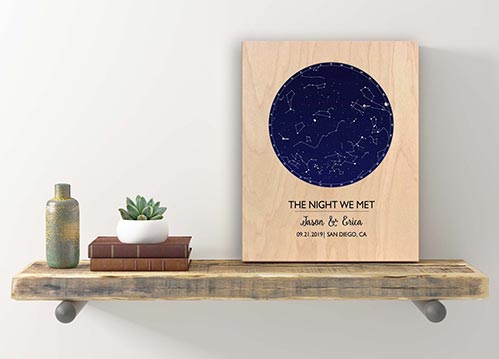 For the true romantics, this constellation map, complete with custom etchings of their names and date, will absolutely make their hearts go flutter.
They will be so enamored with this pretty sign, and it will look amazing in any room. They'll want to show it off to all their friends! We say it's absolutely swoon-worthy.
Even more fun stuff: 21 Best Gifts for Couples
Unique Fifth Anniversary Gifts
For the couples that eschew any semblance of normalcy – you know who you are! – these are the ultimate non-traditional anniversary gift ideas.
36. Personalized Comic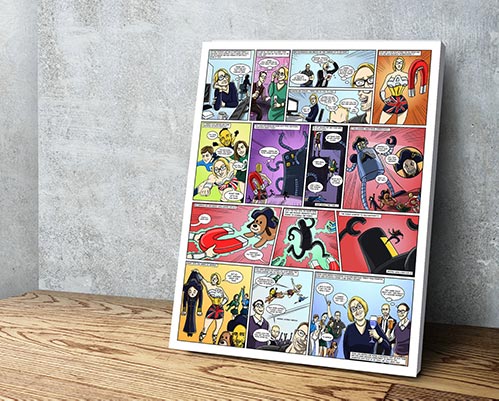 For the cosplaying, comic book reading, manga loving, Sci-Fi obsessed, nerds (we say that as a compliment) out there, may we suggest something that will totally knock their (funny and colorful) socks off?
Something like a personalized comic? Their jaws are going to hit the floor with surprise and absolute excitement. And their comic loving nerdy friends? Oh, they're gonna be soooooo jelly.
Related: Your Guide to the Perfect Cosplay Gift
37. Bamboo Wood Cutting Board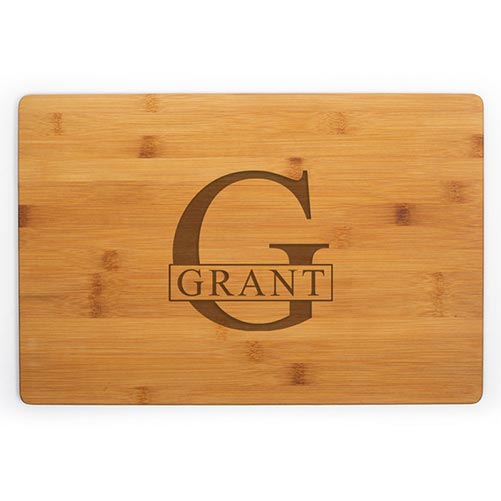 Made of bamboo, this large size cutting board will be so appreciated every time they need to chop something (which is, what? Every single day ever?).
It's going to get so much use, and they'll think of you and your thoughtfulness all the time, as they slice cheese, chop onions, mash avocadoes, and build the World's Best Sandwich.
38. Trees for Celebration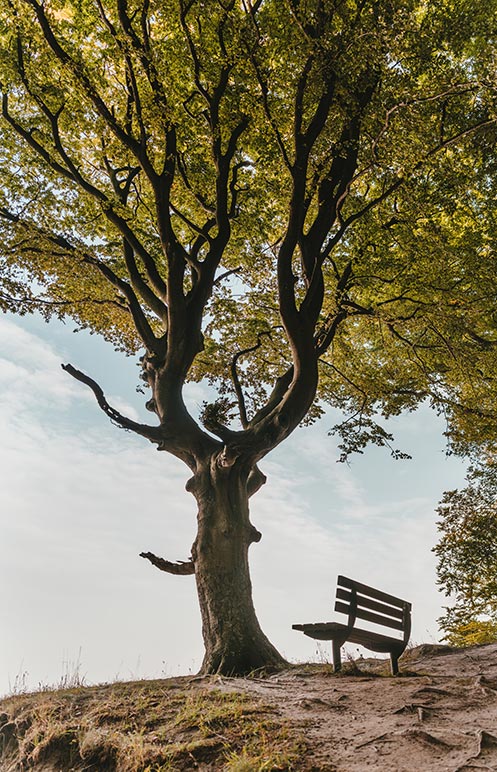 It's always Arbor Day in the nature lover's heart! So give them a gift that really speaks to them, like the wind through the trees, the breeze through the butterfly's wings, the… um, okay, we're out of nature analogies.
But they're going to love and appreciate this: a gift that goes to support a cause they believe in, and something tangible they can admire.
Related: 101 Romantic Things to Do on Your Anniversary
39. Engraved House Portrait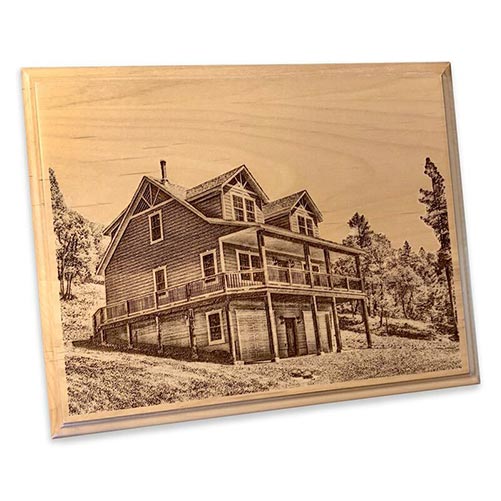 If they've already purchased their dream home (or maybe had a slightly hilarious first home, like in The Money Pit), they will love this custom engraved house portrait.
It's just so unique and lovely to look at! And it will be in their family for years to come (unlike that toaster you were considering – put that back on the shelf).
40. Wooden Roses
These wooden roses are so pretty! If they are allergic to the real things, or simply would prefer a gift that lasts longer than a few short days, or maybe you just want to go with the 5th anniversary gift theme of wood – whatever the reason, they will love these.
How gorgeous would these look in a guest bathroom, or gracing a bookshelf? Wherever they put them, they will instantly brighten up and beautify the room.
Read Next: All the Best Anniversary Gifts for Your Sweetheart