It's time to explore the best 13th anniversary gifts. Lucky #13! Well… it's lucky for some anyway. This year, it's you! You and your spouse, having spent 12 years together, are just the ones to consider year 13 the best yet.
You've made it this far – you deserve a party (or at least a hot date) along with some fabulous anniversary gifts to give one another.
We've done the digging for you, so sit back and scroll to your heart's content. Whether you're looking for something traditional (year 13 is your "lace" anniversary) or something modern, creative, and unique, we have ideas for even the most discriminate of tastes.
Our website is supported by our users. We sometimes earn a commission when you click through the affiliate links on our website. See our privacy policy & disclosures for more information.
All About the 13th Anniversary
Sure, Years 10 and 15 seem to get all the love, but what about the all important year right smack in the middle? We celebrate a child turning 13, so let's celebrate your marriage becoming a teenager, too!
13th Anniversary Themes
This is part of our series on Anniversary Gifts by Year. Let's take a look at the "themes" for this special occasion.
What is the traditional 13 year anniversary gift?
Lace.
Why is lace the traditional thirteenth anniversary gift?
Lace symbolizes the intricate beauty of your marriage, woven together through years of shared experiences. And it reminds you of how gentle you must be with one another to maintain that beautiful relationship.
What is the modern 13 year anniversary gift?
Fur.
Why is fur the modern 13th anniversary gift?
Fur reflects warmth and emanates protection. At this stage in your relationship, your marriage is a source of warmth and you have a security that comes from years of love and trust. Let's celebrate that!
What is the 13 year anniversary stone?
Citrine.
Why is citrine the thirteenth anniversary stone?
Not only is the yellow-orange hue beautiful (just like your relationship!), this jewel is said to be good for your emotional well-being. That's important in a loving marriage!
What is the 13th anniversary flower?
Chrysanthemum.
What is the 13 year anniversary color?
White.
10 Best Thirteenth Anniversary Gifts
Now that you know the traditional and modern motifs for your first teenage year together, let's take a look at some favorite 13th anniversary gift ideas.
1. Personalized Lace Heart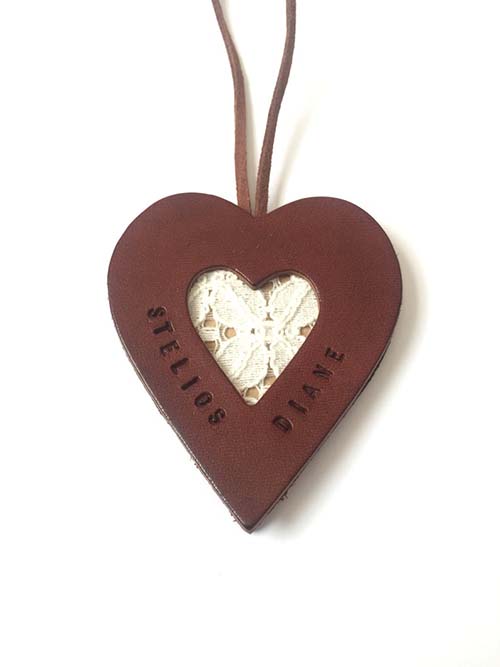 This personalized leather and lace heart is great for a 13th anniversary! Whether they dangle it from their window, in their car, drape it across their favorite houseplant, or even wear it as a necklace, it really stands out in all the best ways. Also, it gives everyone a chance to croon, "give to me your leather…. take from me, my lace."
2. Lace Photo Album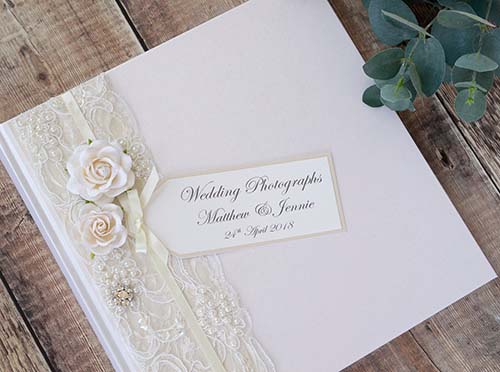 This pretty lace photo album will bring your spouse to happy tears, especially if you fill it for them with pictures of their happiest day! They'll love keeping this beauty out on the coffee table for everyone to flip through. A great way to rekindle that wedding-day romance.
3. Chrysanthemum Tea
This chrysanthemum tea is perfect for nature and tea lovers alike. They'll love the symbolism behind this yummy cuppa, and isn't the color just amazing? Almost too pretty to drink! Well, almost.
Related: 15 Gifts for Tea Lovers
4. Little Book of Us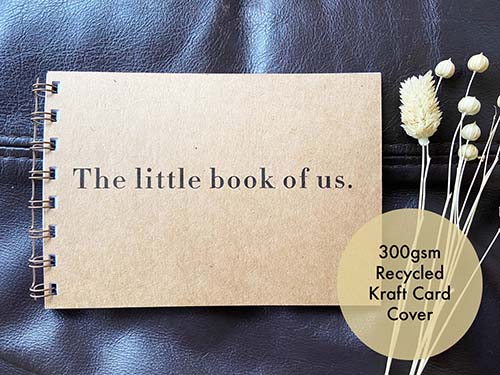 For the minimalist who still has a romantic's heart, this wonderful little notebook will be a hit. You can jot down all the reasons why you love your person so much, doodle yourself and them together, write a poem, record happy memories… the possibilities for such a tiny book are endless!
5. Lace Willow Picnic Basket
This sweet picnic basket has accents of lace (so perfect for the 13th anniversary), and will be so much fun to pack! A happy anniversary picnic with your sweetie is the perfect end to a perfect day. Just add food, drinks, some hand-holding, and a scenic view!
Related: 101 Romantic Things to Do on Your Anniversary
6. Lace 13th Anniversary Card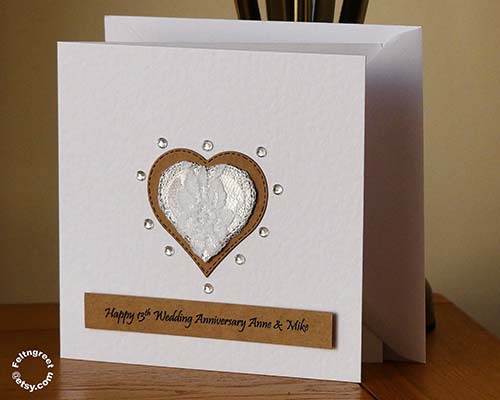 Sometimes the card is so great, it IS the gift! This 13th anniversary card is pretty, and with your romantic note inside it definitely won't be thrown away. It would also look so nice framed and hanging on the wall for years to come.
7. Chrysanthemum Candles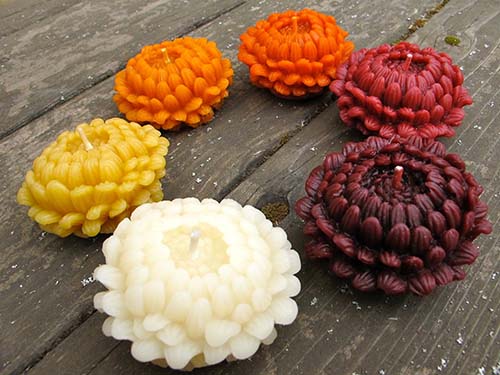 These clever little beeswax candles are so unique and gorgeous. Popping with bright vibrant colors, just like real chrysanthemums, you might not want to burn them. If you do though, you'll love the scent that is released. Even prettier bunched together in a candle bouquet, so be sure to get a few!
Related: Beautiful Flower Gifts
8. Photo Music Plaque w/ QR Code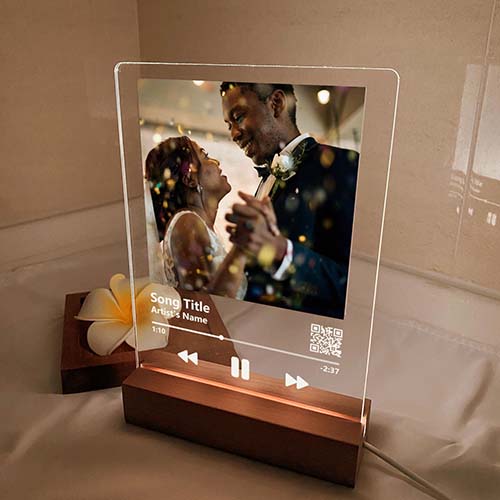 Play "your" song and get lost in the memories with this gorgeous custom photo frame! Perfect for modern couples or for small spaces, this is a surely a great gift that will mesmerize them. The QR code will link to the song on Spotify, so you can easily play it anytime!
9. Monogrammed Glass Mugs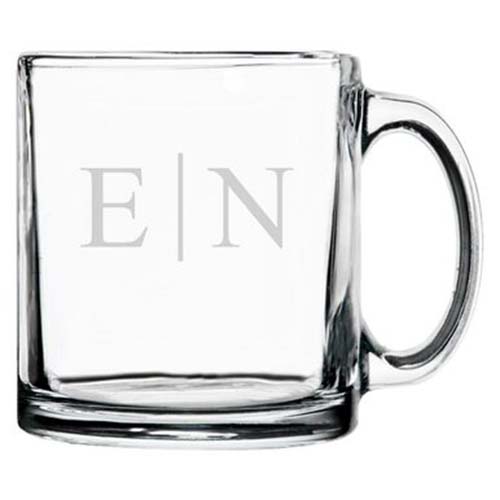 These glass mugs are timeless in style and so chic! They'll love having their own initials (or a combined his & hers monogram) engraved right on the front. Morning coffee or a nightcap never tasted so good as they will in these!
10. Fur Blankets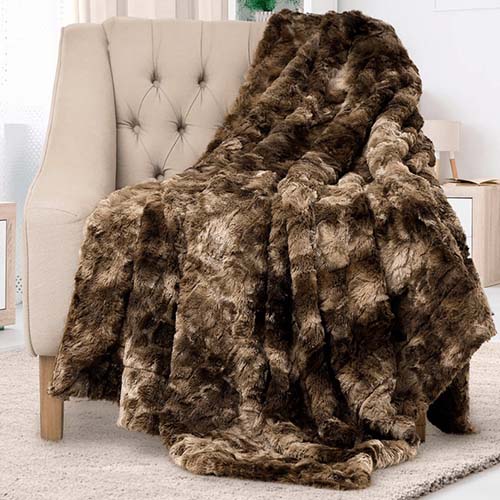 Can't you just feel the warmth and softness of this cozy throw? The fur is so soft and elegant and it's the perfect addition to your favorite armchair or draped across your bed for chilly nights. Or for snuggling under the stars with that special someone!
Traditional 13th Anniversary Gifts (Lace)
There are many clever, sweet, and romantic ideas that incorporate lace. Let's show you some of the best!
11. French Lace Dinnerware Set
This pretty French lace dinnerware has such a dainty pattern and will fit in with your beloved's style and tastes! It's modern and timeless all at once, and the white makes it blend in with all of their other serving dishes. It will look amazing on your dining room table as you serve up a home-cooked candlelit anniversary dinner.
12. Repurpose the Lace from Your Wedding Dress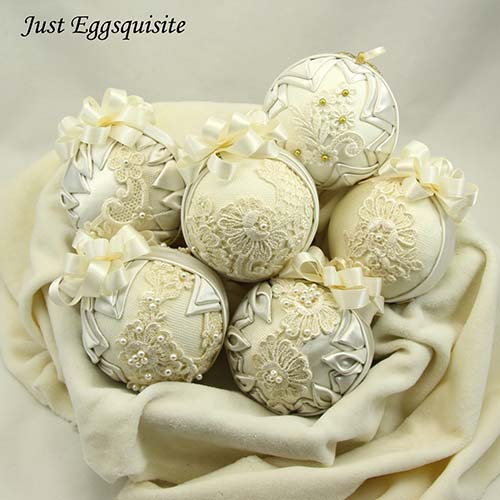 For all the upcyclers, recyclers, and DIY-ers out there, have we got a unique gift idea for you! Repurposing your wedding gown into something that can actually be used and seen and held and touched…? Rather than stuffed in the back of a closet somewhere? Sign us up! We're all about these beautiful heirloom ornaments that can be passed down from generation to generation.
13. Initial Lace Necklace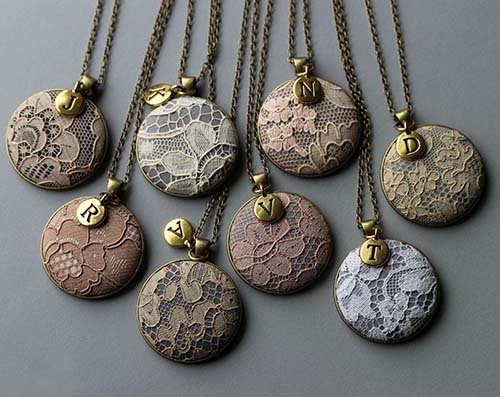 These pretty initial necklace pendants are made extra special by the addition of vintage-looking lace! These are one-of-a-kind pieces and people will always be asking where you found such a clever bit of jewelry.
Whether dressed up with that little black dress or dressed down with shorts and a tee, these necklaces will make the wearer feel cherished and stylish.
14. Lace Tablecloth
Everything old is new again, and a gorgeous lace tablecloth is no exception to the rule. This pretty embroidered tablecloth will really jazz up Sunday brunch, bring some classiness to Date Night at Home, and make holidays extra fancy.
15. You Have My Whole Heart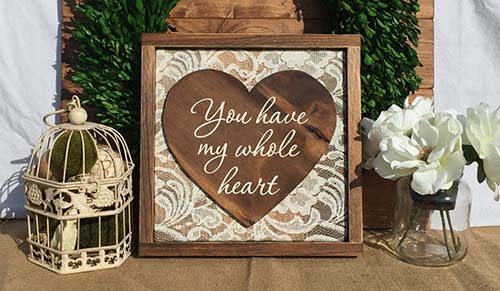 Keep it simple and straight to the point with this sweet wooden heart all framed and ready to ship to you! Crafted with lace embedded as the perfect 13th anniversary gift, your spouse will love the sentiment and will proudly hang it in a spot of honor on the wall (and be thinking of you the whole time).
Modern 13th Anniversary Gifts (Fur)
Fur represents the warmth of the relationship you share. To celebrate that special closeness, here are some contemporary 13th anniversary ideas!
16. Fur Wine Covers
So bougie!! This fur wine bottle "sweater" is just the thing for the most elegant of partners! They'll love the soft fur, and what's inside too: a bottle of their favorite vino! (You'll have to supply that part yourself.)
To upgrade even more, consider adding a gift of a monthly wine subscription. That way, you can continue celebrating all year long with new wine each month. Cheers, and here's to 13 more years!
17. Authentic Rabbit Fur Blankets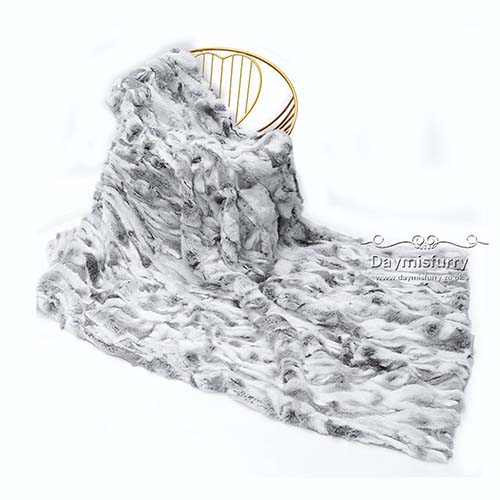 This grey rabbit fur blanket is so cozy you'll want to sleep in every morning! Wrapping yourself up in this exquisite throw is made even better by wrapping both of you up in it. A romantic, lush, and elegant gift that they'll enjoy for years and years to come.
18. Couple's Fur Sleep Masks
If they're about to celebrate their 13th with a vacation, these fur sleep masks will be a must-have. Keep out the pesky morning light in style, and sleep in – you've earned it!
19. Personalized Slippers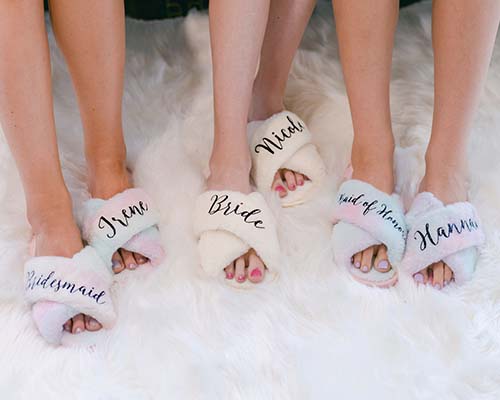 These fun and fluffy slippers can be personalized with names or titles or His and Hers. Whatever you choose, the wearers will be walking on plush clouds and will never want to take them off!
20. New Fur-Baby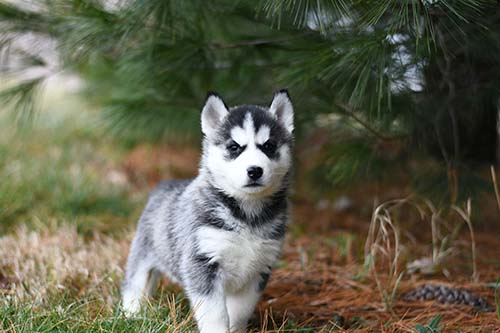 Only with their express permission of course! If he or she has been begging for a puppy or kitten, this is the year to just say YES! We love rescue animals the best, but whatever you choose, make sure you do your research beforehand so you know what kind of breed and type is great for your lifestyle.
Oh, and don't forget to film the unwrapping of this one!!
13 Year Anniversary Gifts for Her
These ideas have been curated and selected especially for her – show her your love with a thoughtful gift!
21. Raw Citrine Bracelet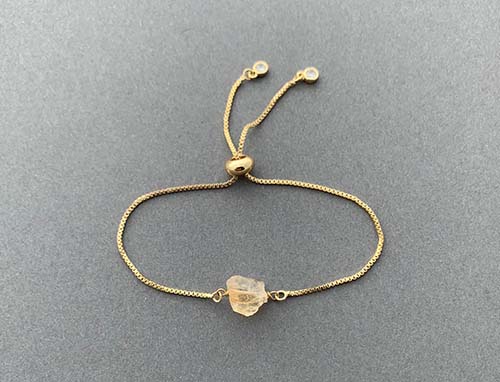 This oh-so pretty citrine bracelet is bound to get all the compliments and will likely never leave her wrist, except for showers of course! It's dainty and understated but – most importantly – lovely.
22. Lace Detailed Trinket Dish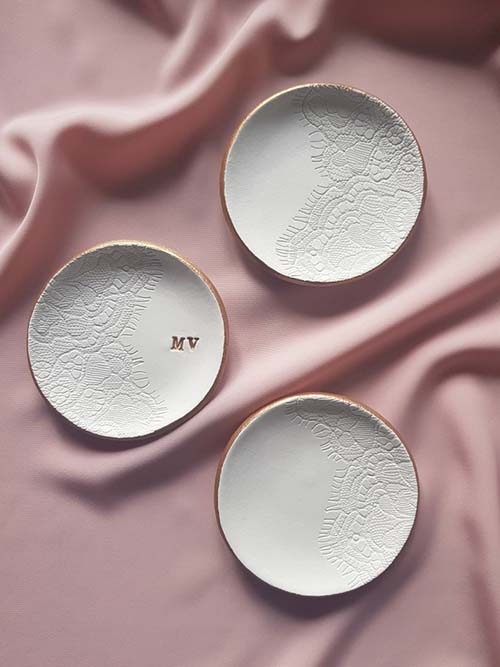 These little trinket dishes are so perfect for keeping your rings secure and safe, your soap from rinsing down the drain in the sink, your makeup organized, and the like! Tons of uses for these little beauties. And the pattern looks like lace!
23. Luxury Fur Jacket
Feel like a million bucks when you get her this coat that will make her look like a million bucks! Plush and warm, it's perfect for the lady who is always cold (you know she is). She'll love pairing this with everything from joggers to a night out on the town kind of dress!
24. Keepsake Wedding Dress Lace Bracelet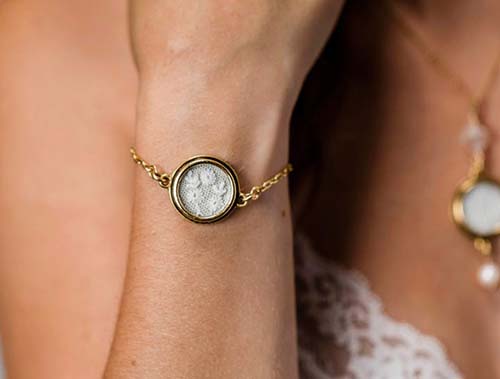 Have a piece of her special day with her at all times, with this clever and pretty bracelet made from her wedding gown! Whether you snip off a piece from the inside where it would never be noticed should it ever get worn again, or from the prettiest part of the gown itself, it makes such a lovely keepsake that she can wear every day.
25. Citrine Earrings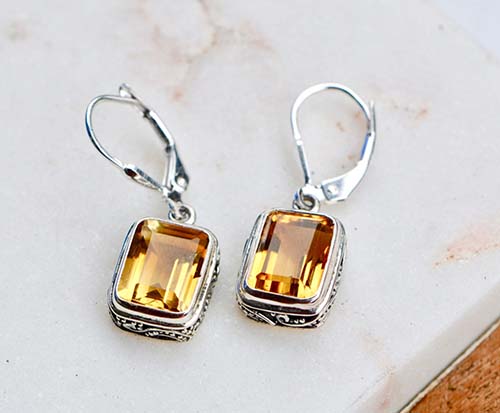 These dangly citrine earrings are just the thing for the girl that's hard to shop for! She'll love that you knew which stone is meant for the 13th anniversary (you're going to look so smart!), and how the soft yellow matches just about everything she wears.
13 Year Anniversary Gifts for Him
Guys appreciate a good anniversary present, too. Here are some of our favs.
26. Fur Jacket
He'll feel like he came right out of a James Bond or Humphrey Bogart movie with this stellar jacket! Like a comfy trench coat but so much better, this totally stylish coat will look amazing on date night.
27. Personalized Bar Mirrors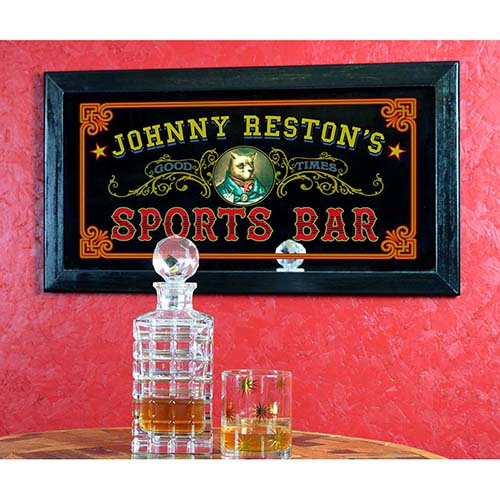 Personalized with his very own name, he'll love this bar mirror! So clever with its vintage feel, it will look amazing over the liquor cabinet, or hung up in his office. Definitely a winner, for sure!
28. Lace Tie Bar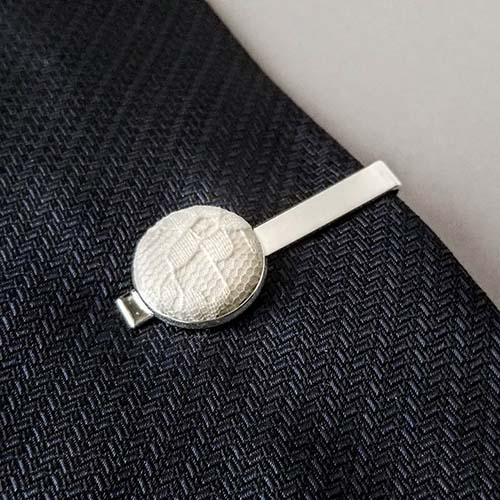 A sweet little memento that will mean the world to him, this sophisticated tie bar will bring his look all the way to a 10! I mean, a 13. He'll love dressing up when he looks this good, and when you get that look in your eyes. Go ahead and make that expensive dinner reservation.
29. Citrine & Onyx Bracelet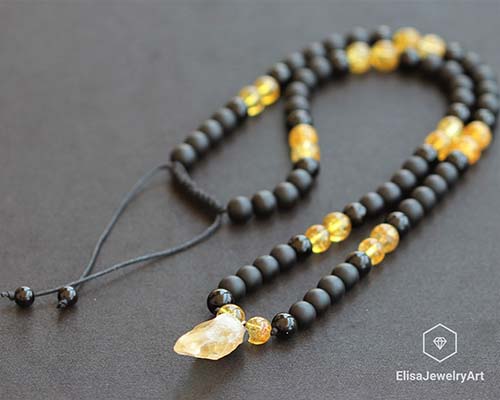 This citrine and black onyx bracelet is stunning yet still masculine. He'll love the deep, dark black of the onyx along with the bright pop of yellow from the citrine. It will pair so well with his casual clothes and his fancier date night getups, too!
30. Lace Pocket Square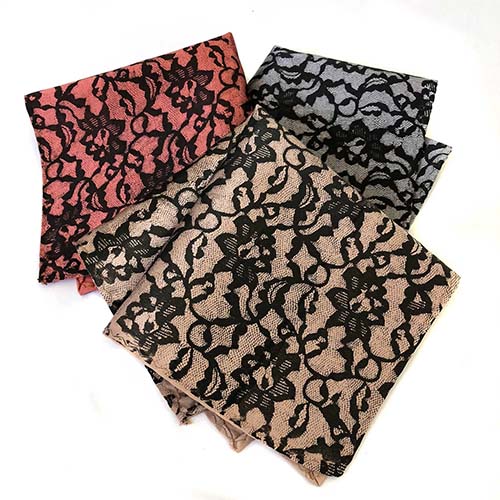 A pocket square made of lace is just the thing for the fashionable gentleman in your life on your 13th! He'll love adding in a burst of sophistication in an easy and fun way. He'll really stand out, so you'd better keep him by your side! Ladies, hands off – he's yours!
13 Year Anniversary Gifts for Couples
Now we'll guide you through our favorite gifts for couples to share. After all, that's the way it should be on the anniversary of your wedding day!
31. Custom Bobbleheads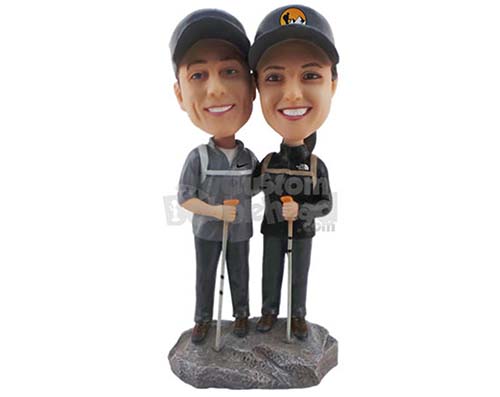 These custom bobbleheads are made to look just like the two of you! Your spouse will crack up over these fun (and personalized!) bobbles, proudly displaying them in a place of honor. So funny, thoughtful, and clever!
32. Milestone Map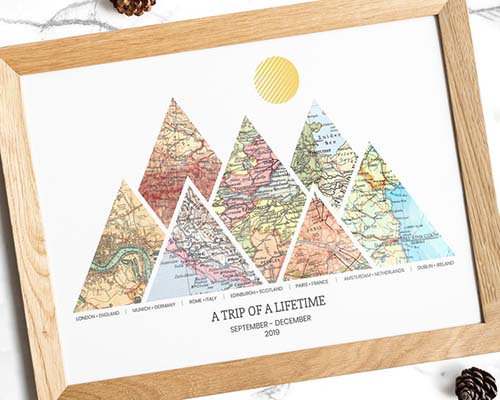 Show off your nomadic lifestyle by documenting it with a gorgeous print of all the places you've explored together! A fun gift that will be treasured, this print is totally one-of-a-kind. So thoughtful for the travelers and adventurers and explorers!
33. Level 13 Unlocked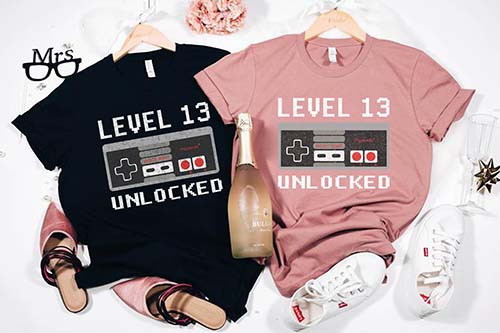 Matching tees in black and pink, your favorite couple will LOVE wearing these together! With their tongue-in-cheek humor and soft cotton, they will be putting these on again and again (probably even into their 14th year).
34. Personalized Lovebirds Cutting Board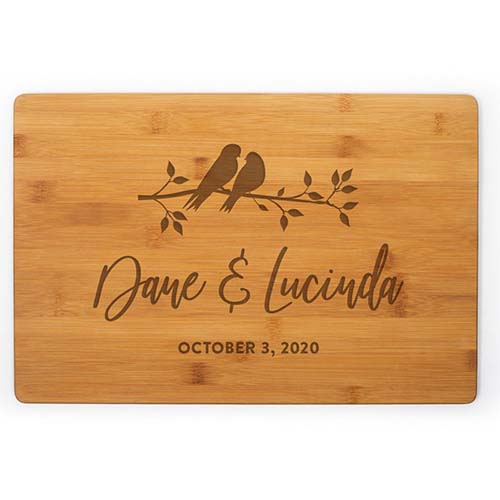 Made from bamboo, this cute lovebird cutting board is personalized with their names and date! They'll love having such a unique gift, because it will be put to work in their entertaining. They can use it for slicing cheeses, chopping veggies, arranging snacks, and when it's not in use, it will look so cute hanging in the kitchen for all to see and enjoy.
35. Pinky Promise Keychain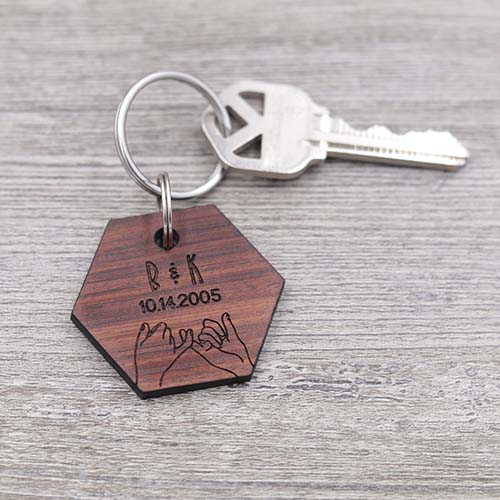 A pinky promise is the most binding of promises, ask any five year old (they know what's up)! This cute wooden keychain reminds them of their promises to love one another forever and it's totally personalized with their names and date. So cute!
Unique Thirteenth Anniversary Gifts
These ones are quirky, interesting, and unique – perchance just like your relationship, eh?
36. Customized Comic Book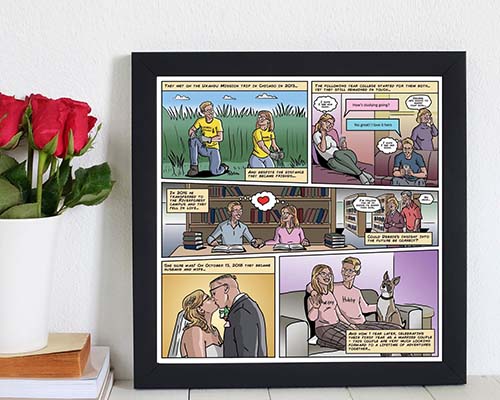 Who wouldn't want to be the subject of their very own comic?! Your favorite half will go bananas over this one: a comic based around your love story! Plus, your comic-loving friends are going to be super jealous of this one, for sure.
37. Skylight Picture Frame
Easily change the photos as often as you like, without the hassle of wrestling them out of the album, ripping them, or losing them! This clever Skylight picture frame is one-of-a-kind and you can change it up whenever and however you like – even if you don't live in the same house as the picture frame itself, just beam the pics to it, straight from your phone.
38. Personalized Fur Pillows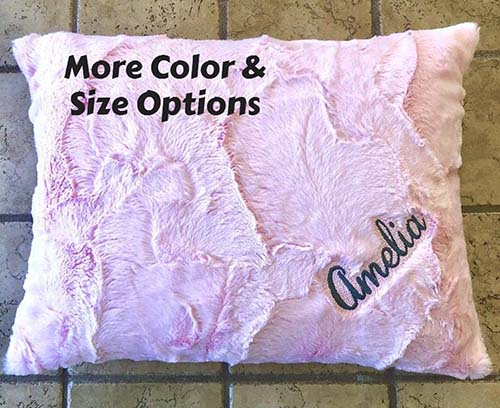 This super soft and plush pillow is reminiscent of the fluffiest fur, and even comes with your personalized name right on it. They'll love having this on their favorite armchair, on the bed, or even in the car for road trips. So sleek and soft on your tired head!
39. Citrine Candle
This pretty citrine candle is made of natural soy and has crystals, herbs, and essential oils mixed right in! They will love the soothing scent it releases and the warm glow it provides, after a long hectic day. Definitely bookmark this site: you're going to want to order more!
40. Initials and Heart Love LED Sign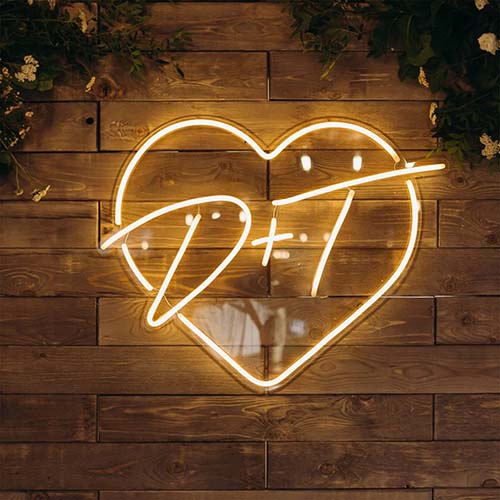 This amazing neon LED sign will turn their back patio or front porch to a happening locale! Your initials blend seamlessly with a loving heart shape that will light up the night. This is one gift that will for sure, amaze and delight everyone who sees it.
Check out: 101 Best Things to Say in Your Anniversary Card
Pin It