Let's talk about the best 15 year old gifts to celebrate a special birthday!
Fifteen is such a fun year, and truly a reason to celebrate. There's still one more year (in most places) before they get behind the wheel solo (ack!), they are still in that fun and awkward phase between kid and adult, and most of the time, they even want to hang out with you!
So when it comes time to celebrate the fifteen year old in your life, here are some great gifts that are sure to please even the quirkiest, pickiest, and most unique teens.
10 Best Gifts for 15 Year Olds
Our website is supported by our users. We sometimes earn a commission when you click through the affiliate links on our website. See our privacy policy & disclosures for more information.
1. One Day at a Time Journal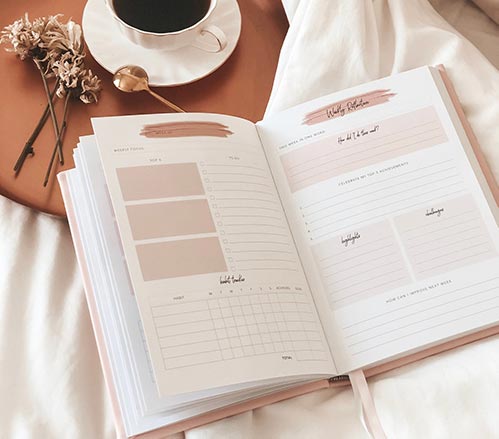 Staying organized in the best and best-looking way with this one-day-at-a-time journal and planner. He or she will love having their schedule and lists all in one handy spot. And you'll love watching them get their life in order, be on time, and never "forget" to do their homework again (we can dream, right?).
2. Wingspan Board Game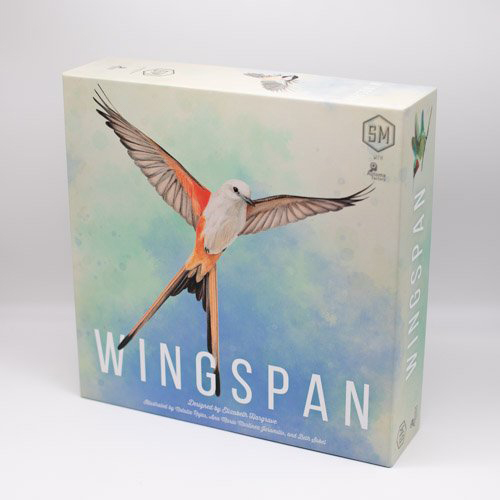 Fifteen-year-olds are too mature for Monopoly but the Bingo hall will card them! Enter in this totally unique and fun game, Wingspan. It's a competitive engine-building board game like nothing else on the market.
With hundreds of cards filled with gorgeous drawings of birds, clever strategies, and a unique birdhouse dice tower, this is perfect for your next game night. Their minds will be engulfed in this challenging and artistic game, and you will definitely want to play with them!
3. Birthday Chocolate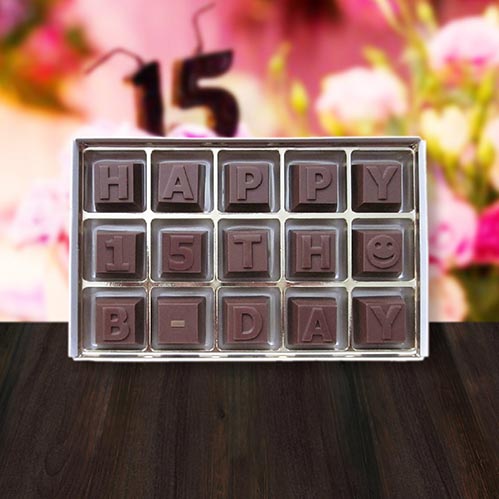 It's a fact: teenagers can eat you out of house and home! When you can't find the perfect gift, look for chocolate. It has all the answers. This cute (and tasty) Happy 15th Birthday Chocolate Bar is sure to please the pickiest of palates.
4. The Driving Book
Get your fresh 15 year old excited and educated for next year's driving test! They'll be totally prepared, thanks to this fact-filled and interesting manual. Passing that test is going to be a breeze.
5. Personalized Tumbler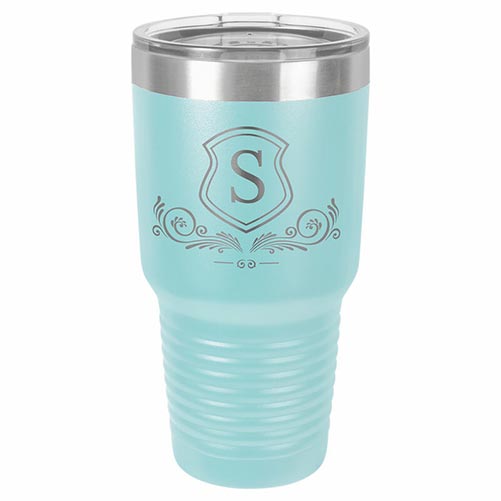 When they have a long day of studying, or a field trip, or a grueling sports practice, they'll love having this great looking tumbler at their fingertips. It keeps their water cold, their coffee hot, and will be used on the daily. You can personalize it with their name, too, so no one else will accidentally take off with it at the gym or the pool.
6. Funny Shirts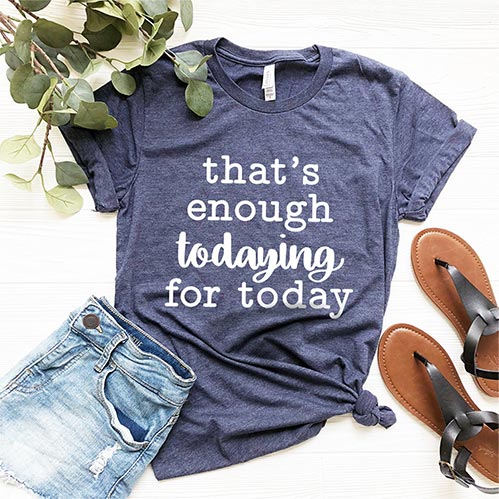 Tell it like it is, with this cute tee! Soft and sarcastic (just like a 15 year old), this shirt is bound to be their new favorite. It will match everything from jeans to a skirt, and will likely enter into their 16th year with hundreds of wears!
7. Garden Starter Kit
It's therapeutic to garden, and you know how stressed out 15 year olds can be! They'll love having their own "salad garden" with this cute set. And the best part is reaping what they sowed in a yummy salad or sandwich topping for the whole family to share.
8. Bubble Tea Kit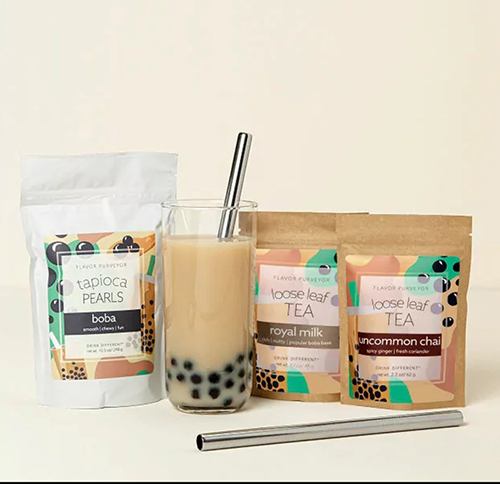 Bubble tea is all the rage these days, and for good reason. I mean, have you tried it? It's amaaaaazing. It's especially popular among teens who are looking for a sweet drink alternative to coffee.
This fun kit includes everything they might need to whip up their own delicious treat anytime they wish. They'll love you to Taiwan and back.
9. Swivel Gaming Chair
If he or she is an epic gamer, they need a great chair to take over the world in! This swivel gaming chair is perfect for keeping their posture correct, cradling their bones, and gettin' comfy in, for a long birthday weekend of games.
10. Awesome Since T-Shirt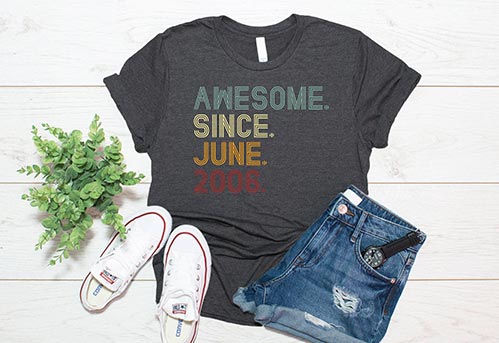 This cute tee is personalized with their birthday, and fun bonus: it will make the people around them do mental math. They'll love pairing this with jeans or shorts, and the color palate means it goes easily with any style and matches everything.
10 Great Gifts for 15 Year Old Boys
Here are our favorite picks specifically for the gents!
1. Impossible Puzzle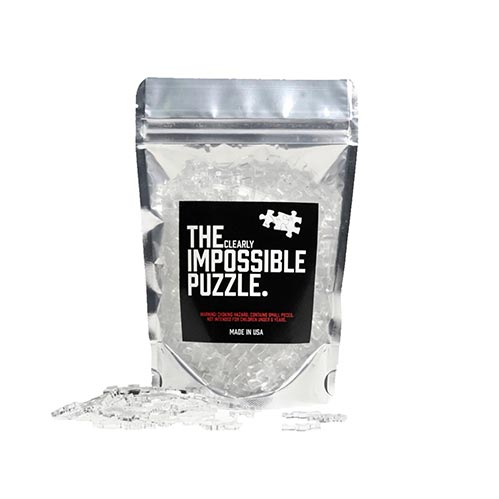 Give him a challenge he can't resist with this crazy hard puzzle! He'll be stumped for hours and might even leave those video games alone for a while. We call that a win-win.
2. Mini Fridge
He'll love having his own mini fridge in his room! Your favorite 15 year old can stock up on his favorite soda, or keep leftovers at arm's reach for those midnight snacks. Don't forget the magnets! Try these cute mini gummies ones for a pop of fun style.
3. Smart Phone Holder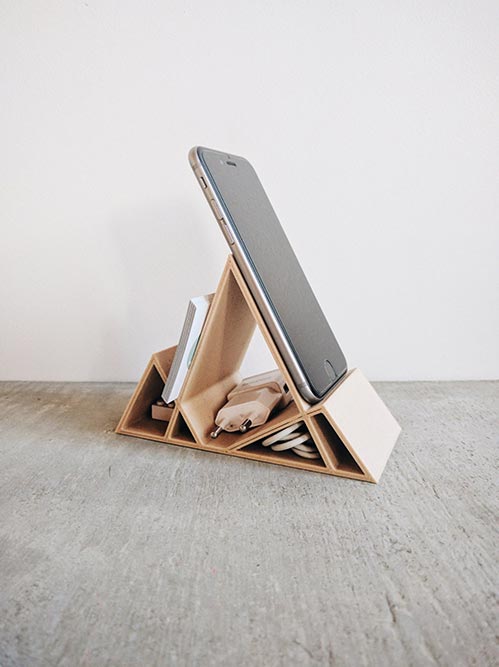 Perfect for his desk or nightstand, this wooden minimalistic stand and charging dock for his phone is a must-have. He'll wonder how he ever got along without one! The charger can be easily tucked inside as well. Anything that helps keep his room remotely clean is a good thing, right?
4. Burrito Blanket
He'll love wrapping himself up in this giant burrito blanket! It's like a warm hug… from a tortilla. Except, you know, softer and less edible. This is one his friends will be totally jealous over!
5. Personalized Katana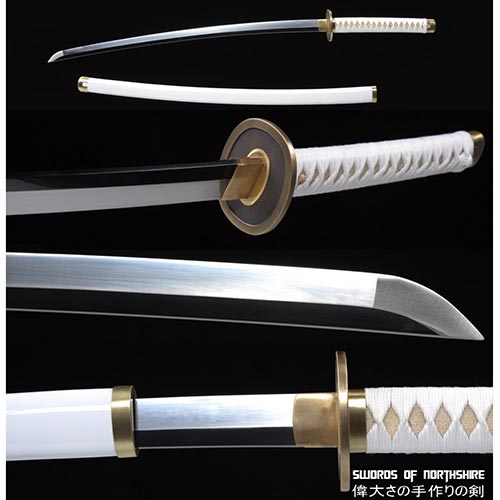 There's something about boys and weapons, isn't there? We don't know what it is, but we do know he will go bananas over a personalized Katana like this one!
6. Custom Golf Balls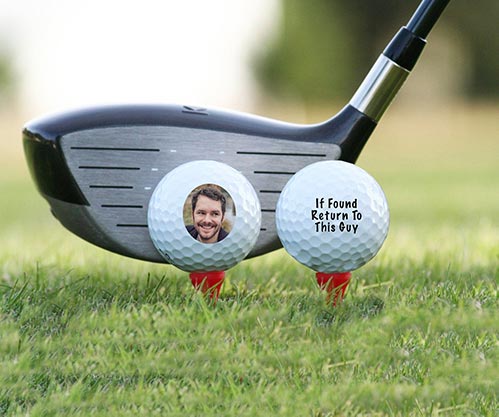 If golfing is his thing, he'll love these personalized golf balls. They have a bit of whimsy, with his face and the cheeky words: "If found, return to this guy."
Related: 21 Best Golf Gifts for Golfers Who Have Everything
7. Personalized Leather Desk Pad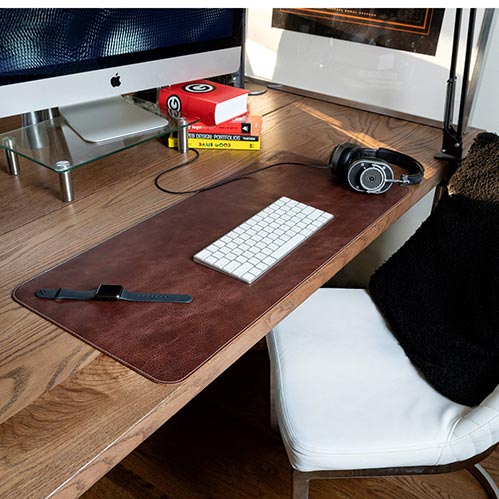 A bit rugged, a bit timeless, super stylish, and way "grown up," this leather desk pad is just the thing for a mature teenager! He'll feel extra chic as he does his algebra or research colleges.
8. Personalized USB Drive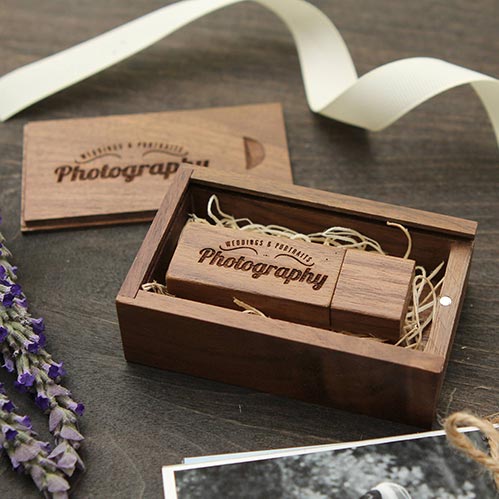 Made from walnut wood, this personalized USB flash drive set will make him say Wow! Even the box is personalized with his name or logo from his one-day business. Great for budding entrepreneurs!
9. Instant Camera
There's something magical about an instant camera, even if all of our phones come with camera capabilities! He'll love having his friends and family at his fingertips, to decorate his bedroom wall or locker, or to give to his buddies.
Related: The Artist Gift Guide
10. Personalized Neon Sign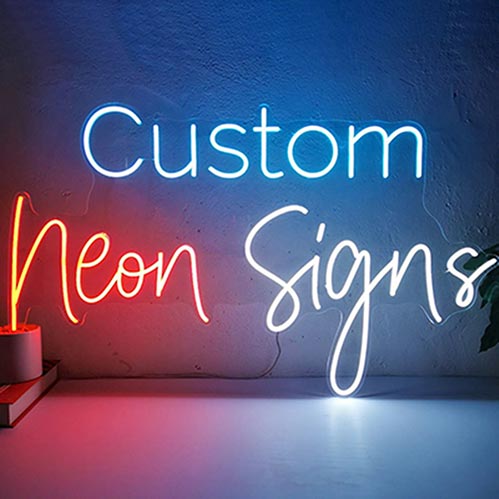 This will really spruce up his (probably very messy) room. This stellar neon sign is personalized with his name and might even make him motivated to clean up. Well… don't hold your breath on that score, but you never know.
10 Great Gifts for 15 Year Old Girls
Young ladies waving goodbye to their 14-year-old self will love to receive one of these as a fabulous15th birthday gift. Excellent ideas below, so continue reading!
1. Pink Beauty 15th Birthday Gift Box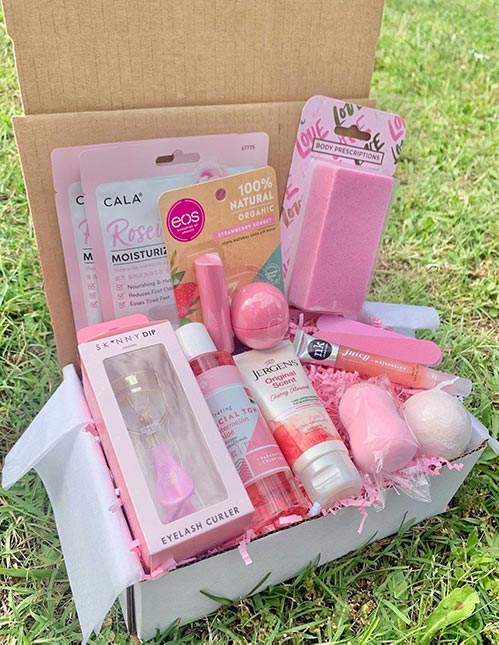 If she wears pink (and not just on Wednesdays), she'll love this super cute pink birthday gift box! It's packed full of all the good things a girl needs, from toner to an eyelash curler, makeup sponges to lip balms, and so much more. She'll love unpacking all this goodness.
2. Guac Is Extra & So Am I T-Shirt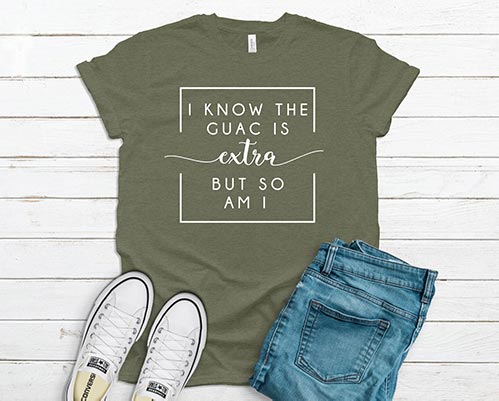 It's true, right?! For your dramatic diva, this tee shirt is a must! She'll love the sassy words, the neutral green color, and the softness of this great shirt.
3. Sustainable Boho Jewelry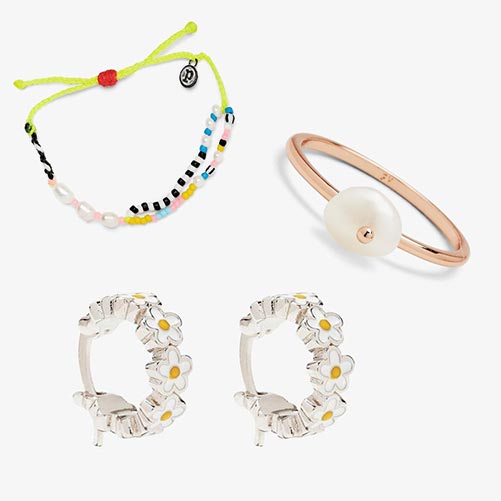 For the boho princess, these sustainably sourced jewelry accessories are just the thing. Tons of different styles to choose from means you'll have a blast picking out just the right ones for her. And they're super affordable, so why not put together a whole jewelry box for her? She'll love you forever!
4. Resin Bookmark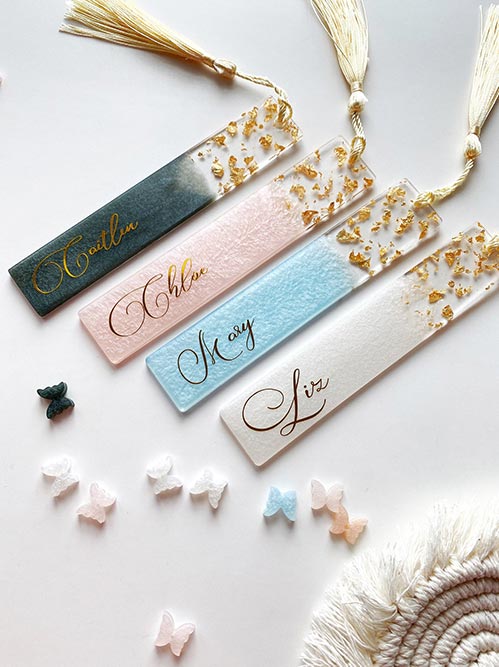 These pretty resin bookmarks are so beautiful! And they're personalized with her very own name, making them a unique and one-of-a-kind 15th birthday gift for your little bookworm.
5. Donut Making Kit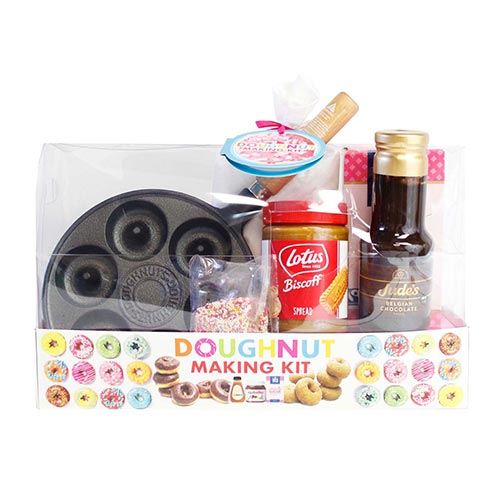 Nothing is yummier than a hot, fresh donut! So, if she's a budding chef, or just loves her desserts, she'll get a kick out of this fun doughnut making kit. It comes with everything she needs to whip up a batch of sprinkled topped goodness, whenever she's in the mood.
6. Cinema Light Box
This fun, cinema-inspired light box with really give her bedroom a glow! She'll love the interchangeable letters and the bright, cheery hue it brings. Her friends too, will love leaving little messages behind when they come over to study or hang out.
Related: 15 Unique Gifts for Alternative Girls
7. Beach Towels!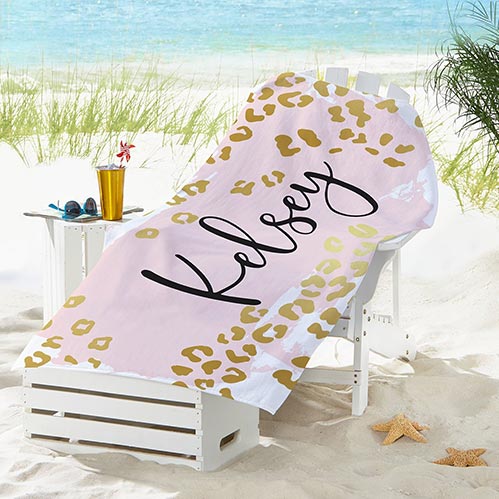 A good beach towel is a must-have for a rocking summer! These ones are a metallic leopard print, which makes them so unique and fun, AND they're personalized with her name. We bet she will use this towel year 'round, not just at the beach, but even at home after a bubble bath.
8. Personalized Makeup Bag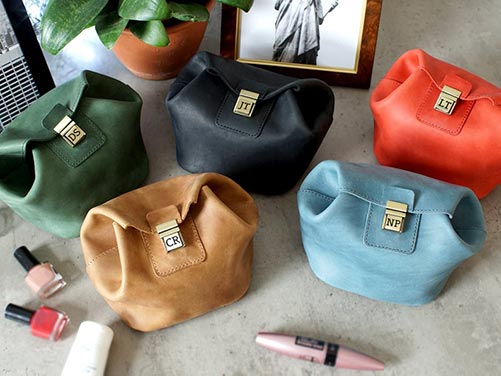 She can organize all that makeup she owns in this super stylish and chic bag that's personalized with her initials. Available in different jewel tones, this is a sophisticated and "grown up" gift that she will love, for sure!
9. 15th Birthday Necklace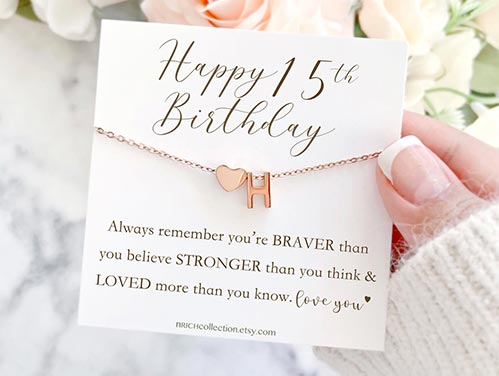 A piece of grown up jewelry is one of our favorite gifts for a 15 year old teenage girl. She'll love this pretty gold pendant, with its sweet and sentimental words on the box.
Personalized with her initial and a little heart, she'll be wearing this with all outfits for a long time to come.
10. Personalized Journal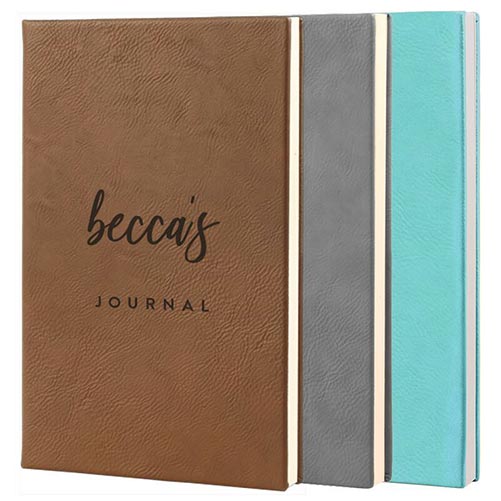 These personalized journals come in so handy for everything from journaling her feelings, making to-do lists, writing letters, doing homework, sketching, or even just doodling! She'll be reaching for this often, we sure.
Related: Quinceañera Gifts for a Beautiful 15 Year Old
15 Year Old Party Ideas
To celebrate your 15 year old the right way, you're going to need to throw an amazing party. Here are some fun 15th birthday party ideas!
Color Theme Party. Whatever her favorite color is, go with it! Have guests dress in that color, and only serve food in that hue!
Movie Night Bash. An old-fashioned movie and sleep over with the girls or boys is always fun, no matter the age.
Drive In Movie Party. Rent a projector (or buy; they're surprisingly affordable nowadays), hang a white sheet on the side of the house, and enjoy a movie outside with friends. Don't forget the popcorn, soda, and candy, and find more fun movie-themed ideas here.
Paint Ball Party. Ready, aim, get messy!
Scavenger Hunt Party. Make up your own, or download one from the internet. Make it teen-fun by adding in things like posting crazy dance moves live to their social feeds.
Chopped Party. If they love the show Chopped (like, who doesn't?!), get some baskets with whacky ingredients and give them free reign in the kitchen! Don't forget to have a judging panel and a trophy for the winner.
Murder Mystery Party. You can purchase a boxed set, or download from the internet. A super fun one for the dramatic theater loving crowd!
Escape Room. You can go to one in your town, or find a party game online that you can do at home. If you're super-duper clever, make up your own!
Celebrity Birthday Party. Have guests dress as their favorite celebrity and have a red carpet night at home.
More party ideas: 150 Birthday Party Ideas for All Ages