We're here to help you find the best friendship gift ideas!
You know the song: make new friends, but keep the old. One is silver, the other is gold!
There are plenty of sweet (sometimes sappy) expressions and quotes about friendships, but all we know is, a good friend is hard to come by, so if you find a good one, keep them close!
One great way to keep your friends close is with a well-chosen, thoughtful, and meaningful friendship gift.
What Is the Best Gift for a Friend?
First, categorize your friend. Are they from your childhood, new, a bestie, an acquaintance with promise? Figure out where they fit into your life, where you want them to fit into your future, and go from there!
Next, consider their personality. Do the two of you chatter away about everything under the sun, or quietly engage in hobbies together?
If the former, you'll want to consider a friendship gift that helps you come together, face to face – you know, a wine and movie gift basket, a charcuterie board (and "I'm coming over to help you use this!") or a matching pair of BFF bracelets.
If the two of you are more the "let's work on a project together" type, then consider a gift related to your mutually enjoyed hobbies, or perhaps something that you enjoy while you enjoy your hobbies – say, a bottle opener.
Lastly, consider your budget. Spend enough to make it meaningful, but not so much that you put yourself into dire straits or cause your friend to feel like they owe you bigtime. Be smart about it, browse our list below, and you'll find the right idea to celebrate your friendship!
Ready? Let's dive in!
10 Best Friend Gifts
Our website is supported by our users. We sometimes earn a commission when you click through the affiliate links on our website. See our privacy policy & disclosures for more information.
For the friend I text every day: Two of a Kind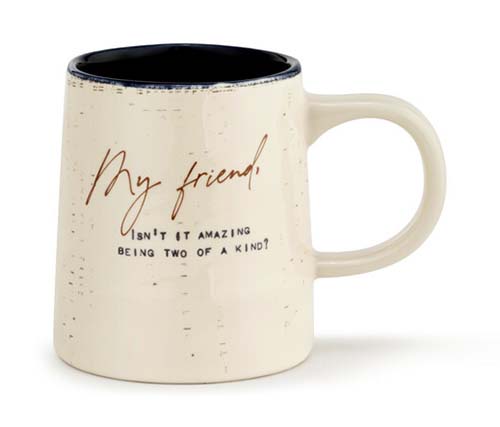 The only thing cuter than this friendship mug is two of them, so maybe get yourself a matching cuppa! These adorable mugs are just the right shape for holding in both hands, sipping tea, and having meaningful conversations together with your friend.
For the silliest friend I have: Custom Bobble Heads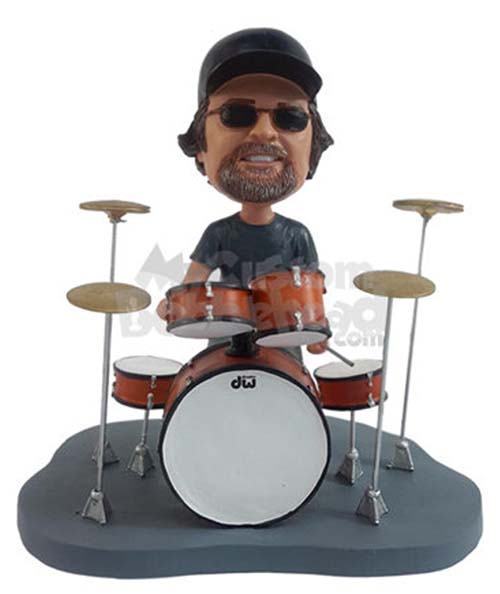 A laugh a day keeps the doctor away! These clever and hilarious bobble heads will have them sputtering with laughter once they unwrap their very own likeness. These will definitely be a hit with your silliest of friends.
Don't be surprised when even your most serious of pals gets a little jealous with this one – so bookmark the site for future purchases.
For the friend who is always traveling: Vacation Package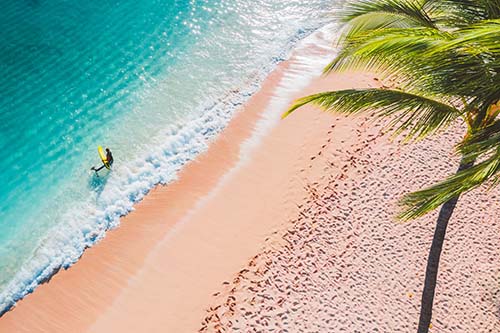 When your BFF is the kind that barely has time to unpack the suitcase before they're off adventuring yet again, this vacation package is the gift that will wow them! They'll love that you know them so well.
Whether they send you postcards from their destination or bring you along (we love that idea the most!) they will be sure to never stop thanking you for this delightful gift.
For the friends that are there through thick and thin: Skylight Frame
Especially amazing for friends who are separated through time and distance and pesky time zones, this special Skylight Frame is just magic! You can upload all the photos you like to your friend's frame, at any point, with the click of a button. This way, when you find all those great photos you forgot about, they can be just as pleased as you are remembering all those great times together.
For the friend that won't stop reading: Book Nook Shelf Insert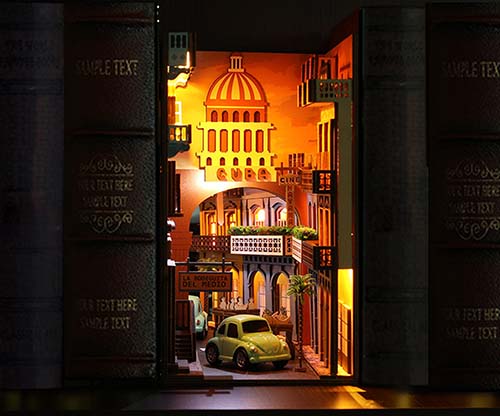 There are lots of amazing scenes to choose from, but no matter your selection, your bookish friend will be enthralled with this book nook shelf insert! It's like having a magical little fairyland sequestered in between their favorite novels. A true delight for the bibliophile!
Speaking of: 21 Best Book Lover Gifts
For the friend that is always hosting parties: Personalized Charcuterie Board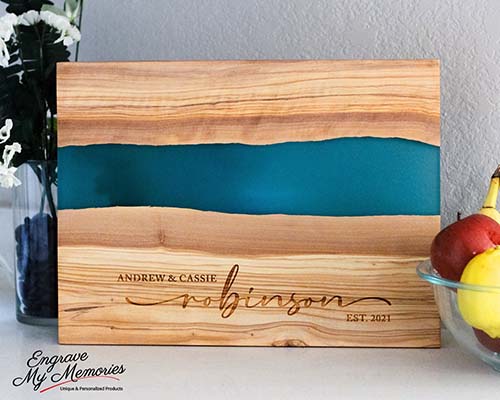 Personalized and oh-so customizable, these charcuterie boards are just the ticket for your hostess with the mostess or host with the most! They are going to love just how well you know them and their fondness for cheese… This board will see the light of day soooo many times in their dinner parties.
Related: Best Gifts for Hostess
For the friend that shares my birth month: Birth Flower Necklace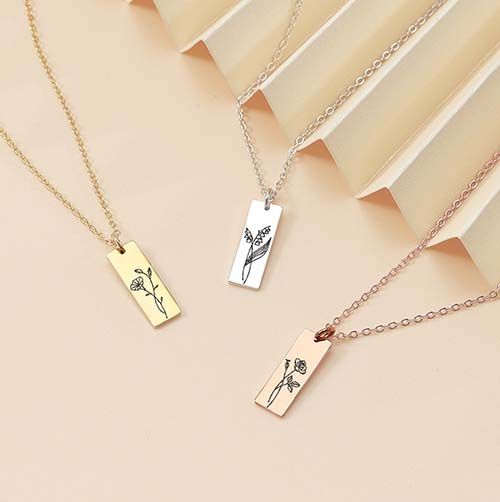 These birth flower necklaces are so pretty and quaint. We love the idea of both of you having them – kind of like those Best Friends Forever half-hearts ones we all had as kiddos! She'll love pairing this keepsake pendant with all of her outfits.
For the friend always covered in paint: Professional Portrait Painting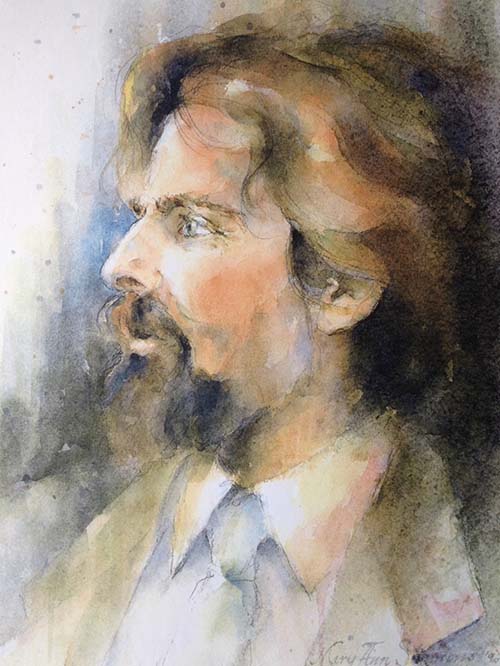 Whether you choose the more affordable or go all out for the premium package, your artist friend will adore having the two of you immortalized in paint! They will treasure this portrait forever, and it's sure to be one of their most prized possessions for years and years to come.
For my sustainable lifestyle friend: Happy Earth T-Shirt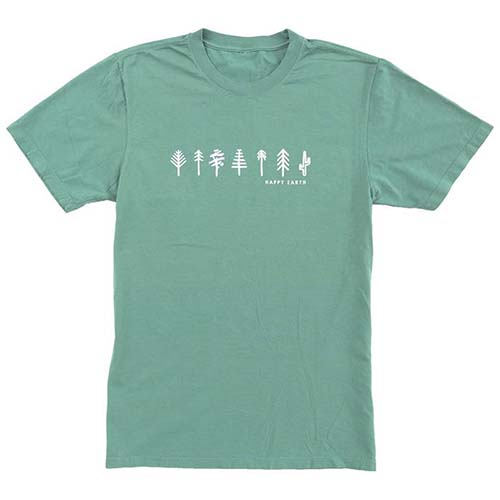 If hiking, biking, camping, going green, recycling, and hugging trees is their jam, they are going to go bananas over this cute happy earth tee shirt! The soft cotton will comfort them all through the day, no matter the weather, and the sweet sentiment tells everyone who sees it what their priorities are.
Related: Our Favorite Eco-Friendly Gifts
For the best friend anyone could ask for: Friendship Joy Box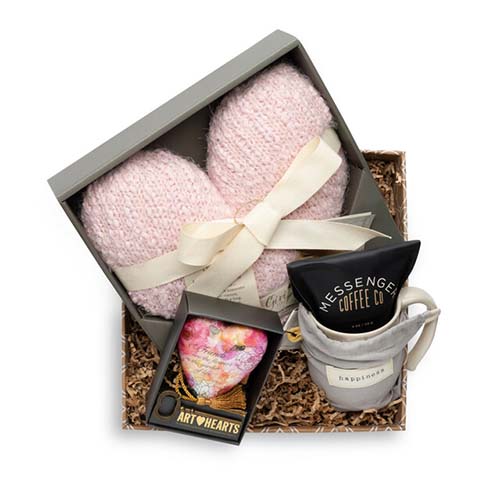 This sweet little box will bring a smile to your friend's face. It's filled with the cutest of little heart sculptures, a heart-shaped weighted pillow, and a mug with coffee. Plus (and the part they'll like best) a personalized note from you.
Gifts for Your Best Friend
For my best friend who always has it together: To Do Planner
Organizational lovers, rejoice, this one is for you! I mean, them. It's for them. This To-Do Planner will delight the senses of your most punctual and tidy friends. They'll love writing everything down in their new planner – just make sure they write in some time for you to get together!
For my "twin": One for You, One for Me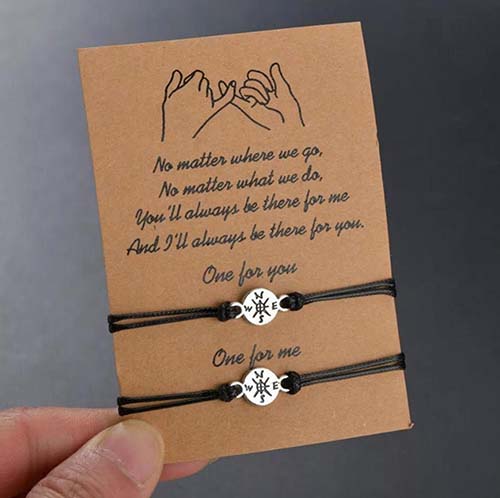 This set of two bracelets, with their N/S/E/W charm, are perfect for your friend who is more like your sister from another mister or brother from another mother! Wearing them together will be such fun, even if you're separated by distance or the busyness of life.
For my breakfast-loving BFF: Personalized Brunch Board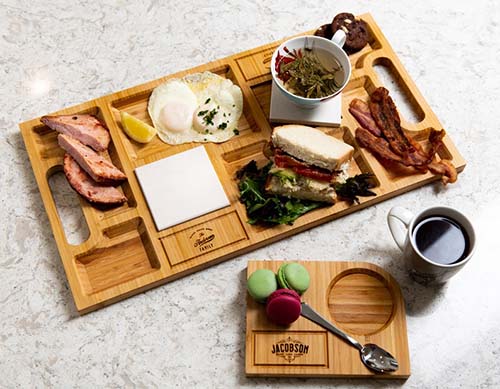 If mimosas and crepes are your BFF's love language, you can't go wrong with this personalized brunch board! Make Sunday brunches a priority the way they always should be, right? They'll love serving this for years to come.
For the BFF that never leaves your home: Their Own Bowl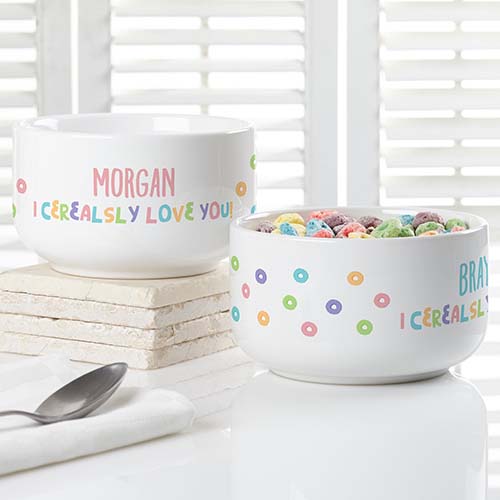 They already keep a toothbrush and an extra pair of pjs at your house, now give them their own personalized cereal bowl! Whether it's filled with cereal in the morning or ice cream at night, they'll love reaching for this cute bowl to fill to the brim. Somebody pop some corn and start the movie!
For my workout BFF that is always on the move: FitBit Versa 3 Watch
Get them what they REALLY want: a FitBit Versa 3 Watch that works as hard and endlessly as they do! They'll love sporting this cute and functional watch and wonder how they ever got along without one. Do you know your Bestie or what?!
For my BFF that works from home: Ember Mug
This pretty and stylish mug isn't just nice to look at and sip out of, it keeps their coffee or tea piping hot! For the friend that works at home, this is a dream come true. No more wondering where they left their coffee, microwaving it into oblivion, or tossing that luke-warm brew out. Now they can get all their work done and stay properly caffeinated at the same time.
For the best friend who is always late: Bed Shaker Alarm Clock
If your bestie is someone who everyone always tells to arrive an hour earlier than the party starts because we all know they're going to be late, this clever and funny bed shaker alarm clock is the perfect gift! It's a tongue-in-cheek way to say, I love you and your faults, but I'd also like not to miss the previews next time!
For my long-distance best friend: Touch Bracelets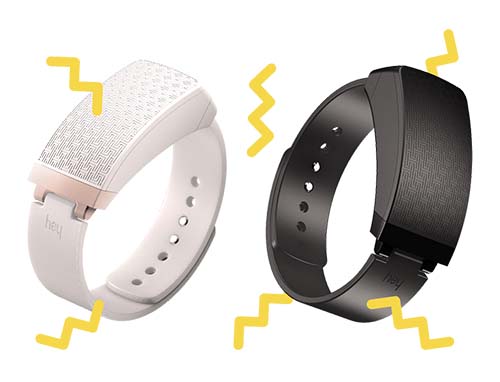 A simple touch is like a squeeze from your bestie with these sweet touch bracelets. Let them know you're thinking of them during finals week, that interview, or when you are falling asleep at night. For the sentimental BFFs, these are just perfect.
For the best friend that binge-watches Netflix with me: Netflix Binging Blanket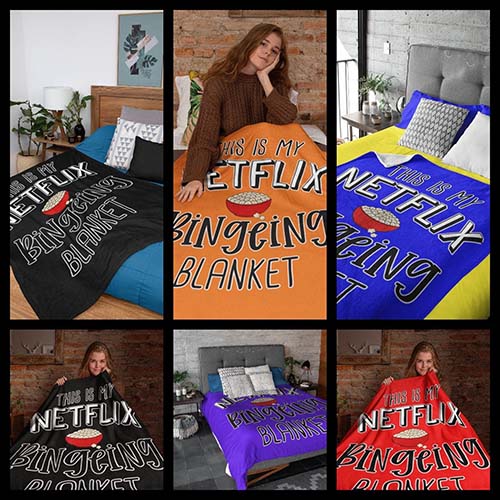 A designated Netflix watching blankie?! Heck yeah! We're into that. What a fun (and useful) addition to the couch! Now, tune up that last season of Ozarks, baby. We're here for it.
Related: Best Gifts for the Ultimate Movie Lover
For the BFF that is a espresso fanatic: Fun Espresso Cups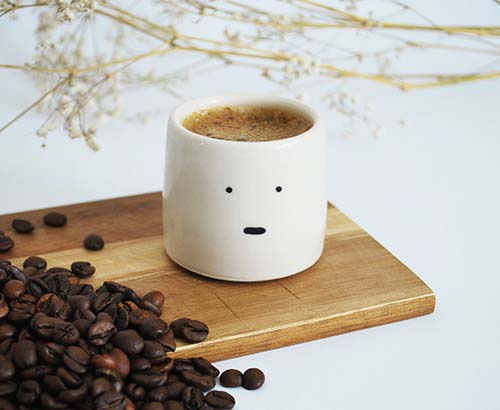 These cute espresso cups are going to be their new favorite thing! Sipping a shot of their strongest brew never looked so good. Maybe pair it with a bag of beans to really make this gift sing.
For the introverted best friends: If You Can Read This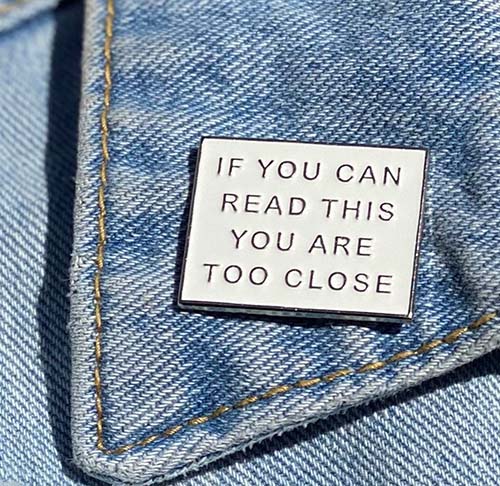 Tell it like it is with this funny (and true) pin! Your introverted bestie will love pinning this to their jacket or backpack. It's a warning to all of those extroverts out there: you're making us tired, please keep your distance!
Here are some more gift ideas that your favorite introvert will love.
For the best friend that is really into Legos: Lego Art World Map
Build your own interactive ocean-depth world map with this Legos Art set! With 11,695 pieces, they can pick from 1 of 3 totally distinct and gorgeous world maps, or rebuild it to reflect their own world perspective! They'll be so excited for this totally unique gift.
If they already have this one, here is an article with a list of every single Lego architecture set ever made (including links to the products!)
For the BFF that can really handle spicy food: Hot Sauce Roulette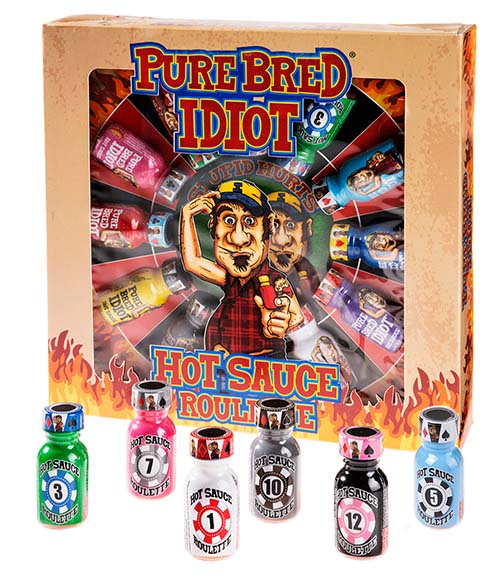 If your bestie keeps a bottle of Franks in the glove box (for emergency buffalo wings), and a bottle of Tabasco in their purse (for emergency tacos), they'll go nuts for this hot sauce roulette! They'll enjoy the taste bud extravaganza and you'll enjoy the faces they make while tasting them. This is how Influencers get famous right? Better record this one!
For my beach loving best friend: Personalized Beach House Sign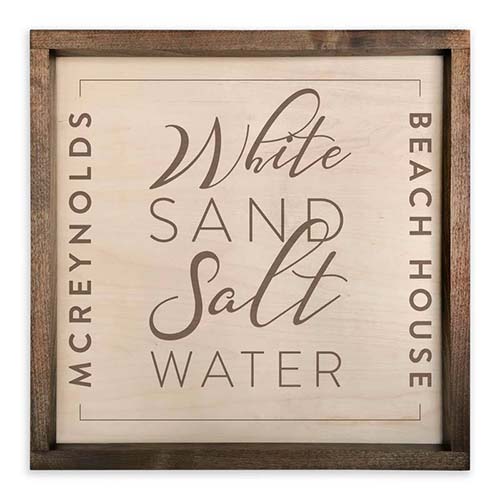 If the beach is where their heart is, your friend will love this personalized beach house sign! Even if they rarely get to their coastal retreat – or if they are lucky enough to live there full time – this sign will look sweet and adorable hanging on their porch or wall.
More: 21 Best Gifts for Boho Beach Lovers
For the best friend that can't get over The Simpsons: Duff (non-alcoholic)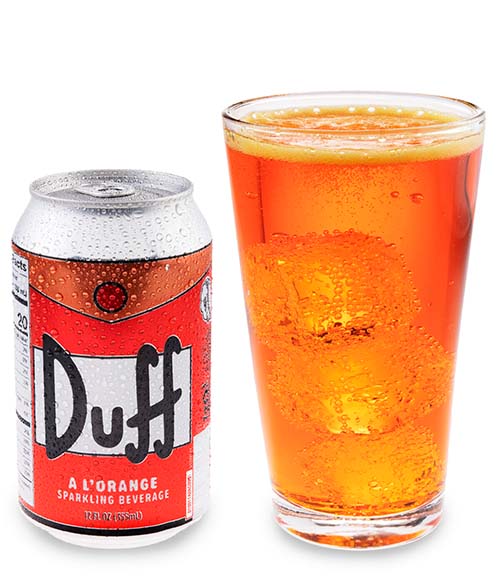 I mean, why would you want to? Get over the Simpsons, I mean. This long-running animated series made its way into our hearts just the way donuts made it into Homer. Or should we say Duff? Non-alcoholic so it's the perfect choice for any age, the Simpson lover will rejoice over this one. DOHH!
For my BF who can't get over tacos: Taco Lover Tea Towels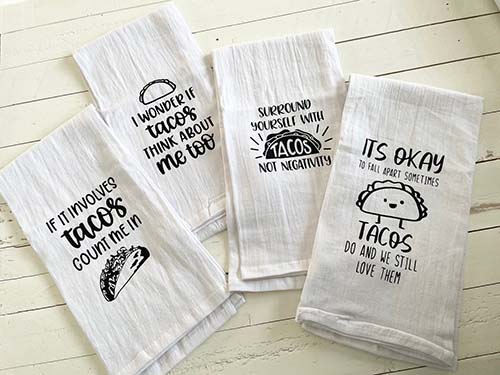 Tacos are a food group all on their own, aren't they? We stand by the petition to put them on the food pyramid where they belong. If your bestie loves tacos more than they love life (or maybe even you) they'll love these funny tea towels.
For my brunch BFF: Mimosa Sugar Cubes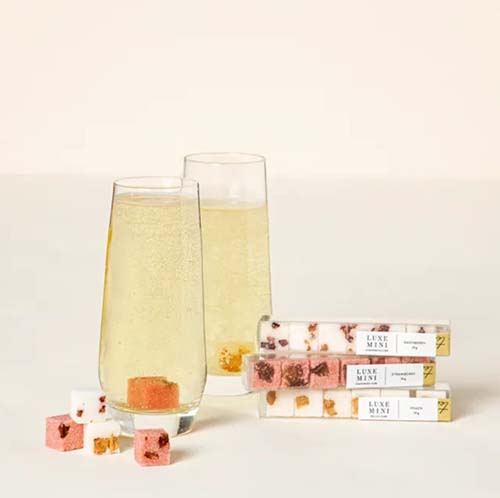 Make that weekly brunch even more special with these sugar cubes that are perfect for dropping into mimosas! Just add champagne and OJ (and you, their favorite guest. The one who brings all the best gifts).
Related: 5 Senses Gift Guide
For my best friend that can't stop doodling: DotsPen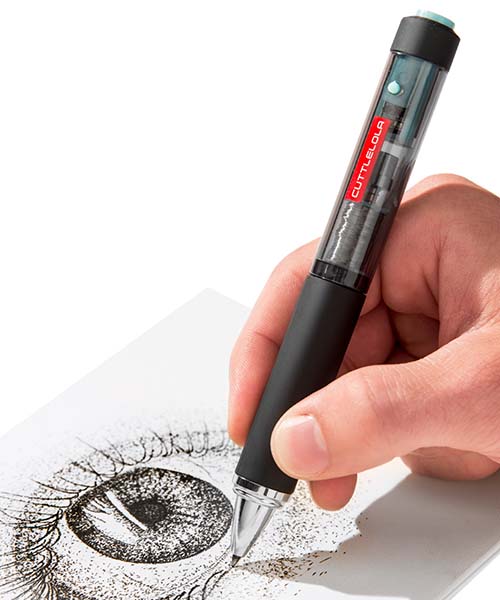 If no space is safe from their incessant doodling, they'll love receiving the DotsPen! It's electric and moves like lightning with its dots – creating art has never been so space-age, fun, and modern!
For the best friend that loves trying new things: Fun Experiences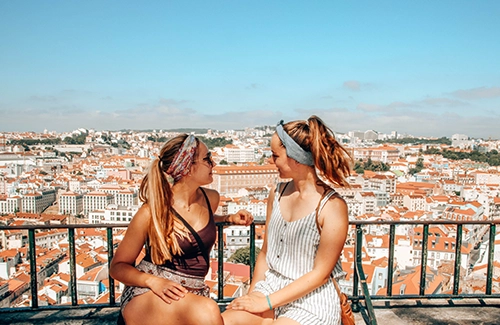 Nothing beats an adventure with your bestie. It's, like, proven or something. Go on a fascinating or exciting trip with the gift of an experience. With hundreds of options to choose from, you're sure to find just the right one to make memories that will last a lifetime.
For my best friend in college: Film Strip LED Lamp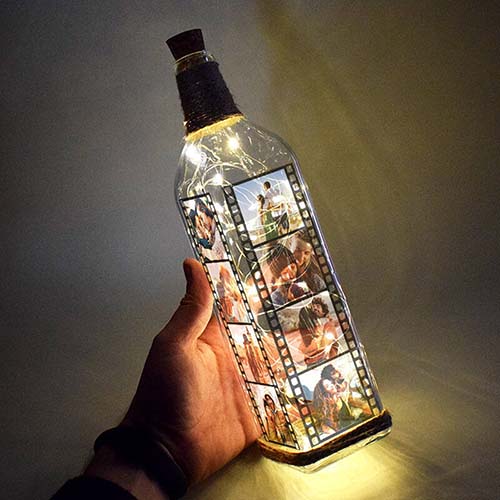 This fun film strip LED lamp won't take up too much room in their tiny dorm, but really sends a message! You're missing them and all your shenanigans you've had together. They'll definitely treasure this one-of-a-kind little lamp, long after they graduate.
Gifts for Female Friends
For the girl that loves her hair: Moroccanoil Hydration
If her mane is her glory, she'll love this decadent and luxurious Moroccan Oil! It has a pleasing scent and will make her locks shine and bounce.
For the "sister of my heart": Dear You Necklace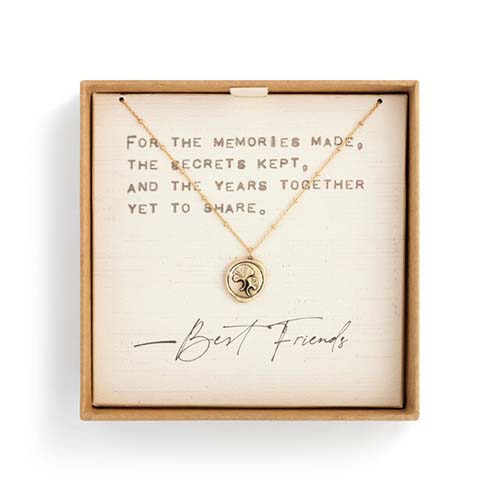 This sweet necklace is just the thing for the sentimental friend who is more like your sister than just your pal. She'll love the darling pendant and love that you thought of her when you bought it.
For the girl friend that loves her horses: Personalized Horse Cutting Board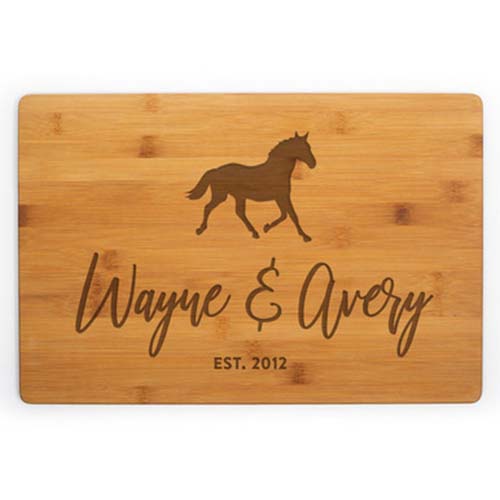 All little girls go through a horse and pony loving phase, but your bestie never left it! That's why she'll adore this personalized cutting board that also features her favorite of animals: the horse.
Related: All The Best Horse Lover Gifts
For the girl friend with the goth style: Sad Girls Club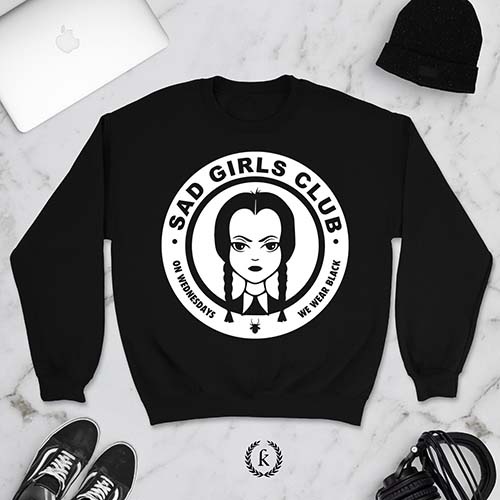 Rainbows and unicorns never been her thang? That's okay! Embrace her goth side with this clever and cute sweatshirt that features our favorite of "princesses," Wednesday Addams. Let the others wear pink on Wednesdays – and let her rock on with her black!
For my girl that always takes care of her skin: Face Rollers
If she glows with happiness, health, and all the best skincare routines, she'll love these luxurious face rollers! Roll out the wrinkles, the stress, the dryness, and the exhaustion of the week, when she uses these: a necessity for the girl who loves her skin!
Here are some more good skin scare gift ideas:
For the girl that loves her wine, mimosas, and rosé: Custom Wine Glasses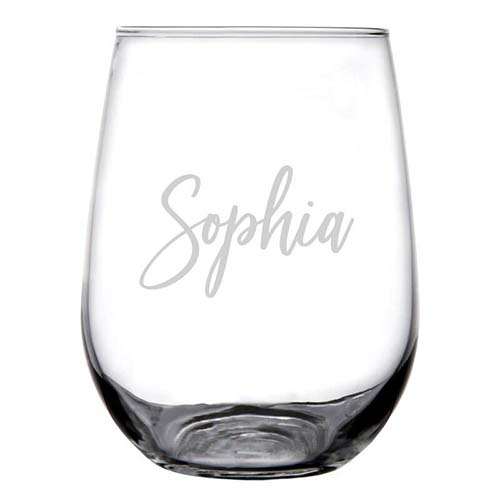 If a stemmed glass of red seems to always be in her hands (we mean that in a good way, of course!) she'll adore these custom wine glasses. Whatever her favorite vino is, there is a glass for her, so fill it up… It's wine o'clock somewhere!
For the girl that loves pink: Redeemed Nail Polish
If pink is her signature color, she'll love giving herself a mani/pedi with this pretty hue. It's non-toxic, vegan friendly, and made in the USA by a black-owned/women-owned business – who doesn't love that?!
For my cottagecore sister: Vintage French Cottage Dress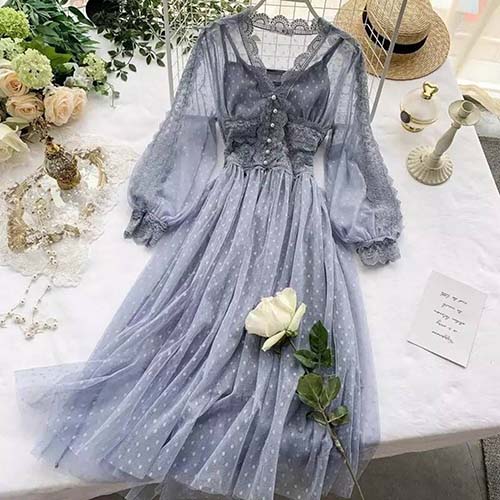 If your bestie is a romantic at heart, and is constantly losing herself in period dramas and classic fiction, then she will positively swoon over this gorgeous vintage-inspired dress! Whether she wears it to the farmer's market, to wander the moors, or just to curl up and reread Jane Eyre yet again, she'll love wearing her new (old-fashioned) dress.
When ordering, remember these are Asian sizes, so adjust accordingly.
For the gal that loves her tea: Portable Ceramic Tea Set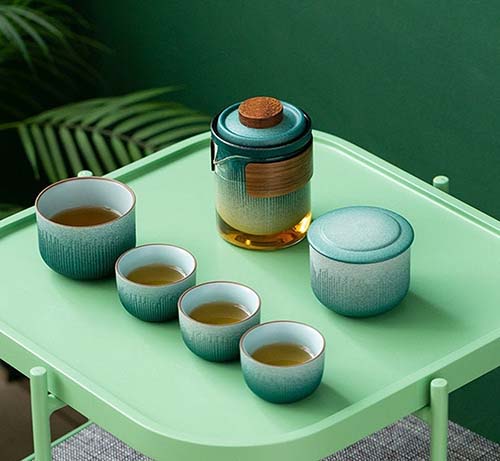 If tea time is non-negotiable she will love this portable ceramic tea stand! No matter where she is, no matter the weather, no matter the time, it's always a good time to brew a cuppa.
For my gal pal that can't stop baking: KitchenAid Mixer Bowl Cover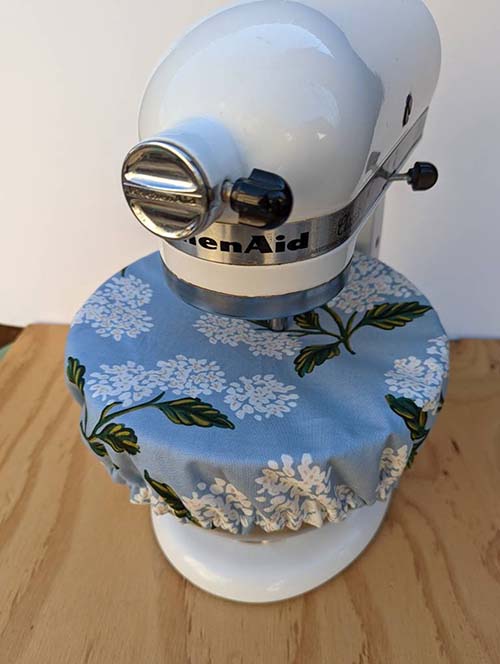 If cookies, pies, cakes, and bread are your bestie's dream life, she'll love this pretty KitchenAid mixer bowl cover. It will keep her beloved KitchenAid free from splatters when not in use, and will look great doing so! We know ours always gathers up random dust, crumbs, and even bits of random foods as it sits on the counter, so this is a genius invention.
For your biker gal: BF Ride or Die Keychain
Thelma and Louise ain't got nuttin' on you two! Give your ride or die bestie a keychain that tells the world how much she means to you.
For the friend that's an amazing mom: Custom Family Portrait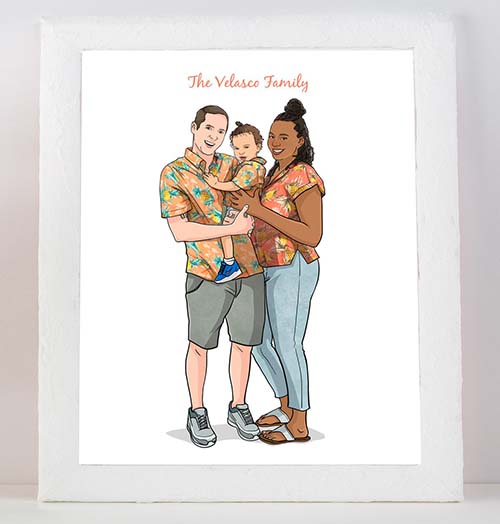 If she's a busy and dedicated mom, chances are she doesn't have a lot of time to herself or for herself! Enter you: the gift giver who always knows what to get! This year it's this thoughtful custom family portrait. She will be delighted with the result!
For the girl that is always caught in the rain: Inverted Umbrella
Fold the wet layer right into the dry layer when you finally reach your destination in the pouring rain! Whether she lives in the Pacific Northwest, or just loves long walks in the rain, she'll appreciate this umbrella that is as practical and useful as it is pretty (lots of designs to choose from, too!)
For the one always taking photos: Polaroid Camera
Sure, we all have magical and high-res cameras on our phones these days, but for the photo loving gal, you want something else! Celebrate your friendship with the gift of this Polaroid camera. She will instantly be addicted to it!
For the girl friend that always loses her jewelry: Love You Dishes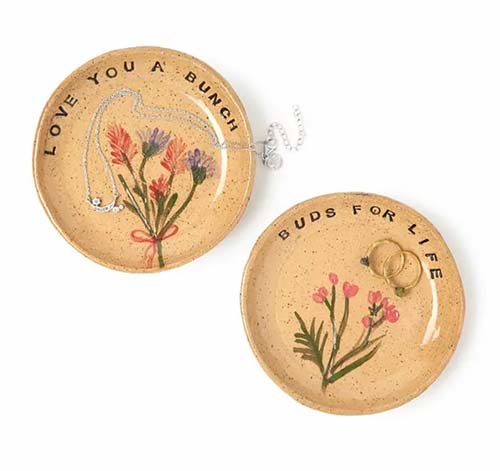 If she's been through several wedding rings but has only been married once, she needs these cute Love You dishes! Her rings and keys and necklaces and whathaveyou will never get lost again. She's going to appreciate this one (and so will her husband).
Love to give floral gifts? Check out these 25 flower gift ideas for everyone!
For the girls that are always knitting: Personalized Yarn Bird Feeder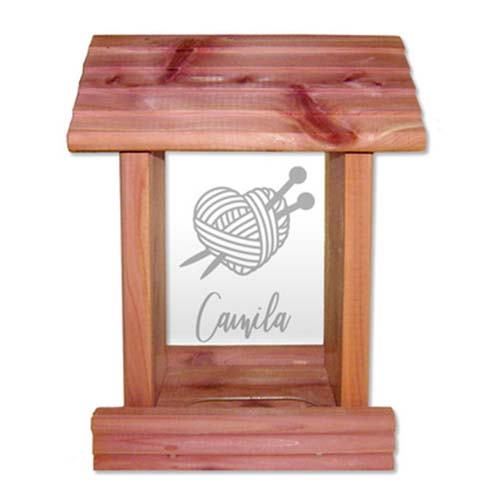 This woodsy bird feeder is personalized with her own name and the sweet etching of yarn (or anything else you want). If her favorite thing is knitting, she can now add another favorite to her list of hobbies: bird watching! Made in the US of aromatic cedar wood, with plenty of other designs available from Northwest Gifts.
For the girl that can't have enough jewelry: Floral Earrings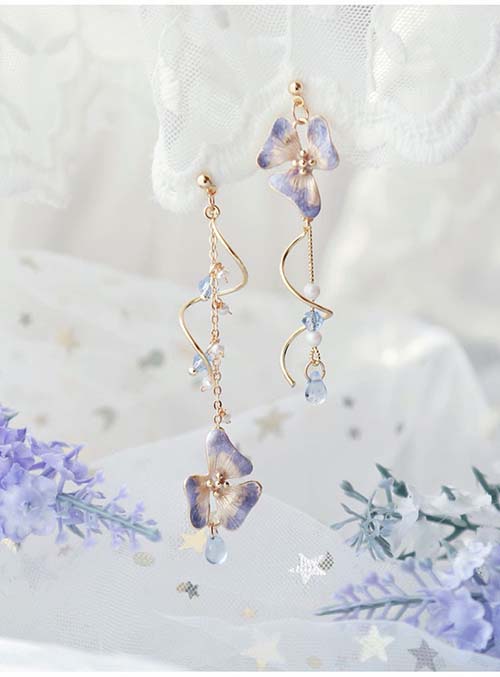 If "rubels and jewelbles" are her delight, she'll love these floral earrings! They go with everything from joggers and tees, to a night out party dress, and everything in between. We're obsessed and think she will be too!
For the friend that loves self-improvement: Wabi Sabi
Japanese Wisdom for an Imperfect Life? Um yes please! We'll take three copies, one for us, one for you, and one for your self-improving bestie. This clever little book will speak to her heart and soul and nourish both.
For the girl that never has enough Willow Tree figurines: Heart & Soul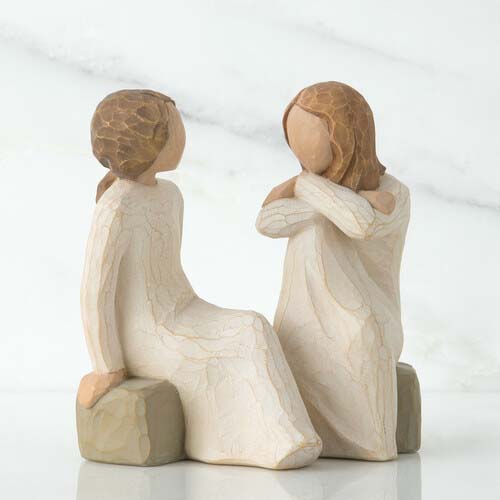 For the collector, another Willow Tree figurine is ALWAYS the best idea! She'll love this pretty one and treasure it for sure. A sweet way to show how much you know her and how much you love her, just the way she is.
For the gal friend that really loves puzzles: 1000 pc Seek & Find Puzzle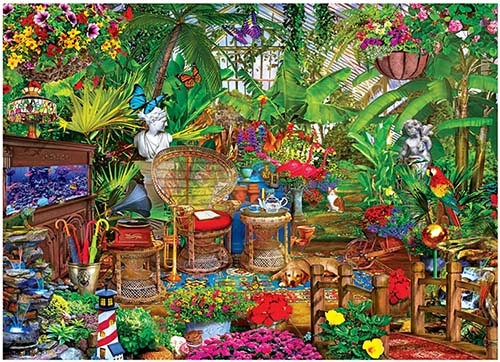 If no one has seen the top of her dining room table in years (much less dined at it!) because it's always full of puzzle pieces, she'll go nuts over this seek and find puzzle. Full of hidden wonders, it's as much fun to look at as it is to put together.
Related: 50 "Just Because" Gift Ideas
Gifts for Guy Friends
For the man that is my rock: 14k Personalized Blessing Bracelet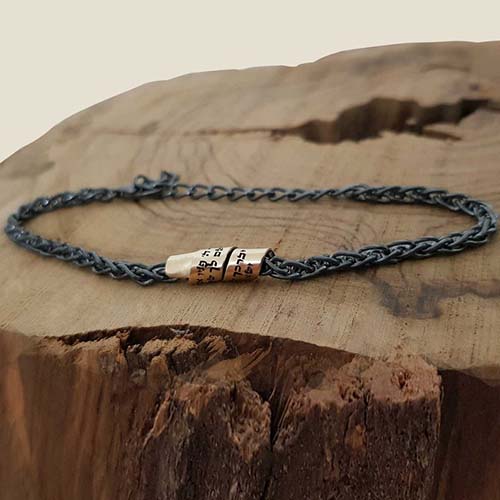 A pretty bracelet isn't just for the ladies! No, sir! This personalized blessing bracelet is made of 14k gold and will really stand out against his wrist. In all the best ways, he's going to be the prince of the ball with this one.
For the cosplaying friend that looks better than the actual character: Replica Katanas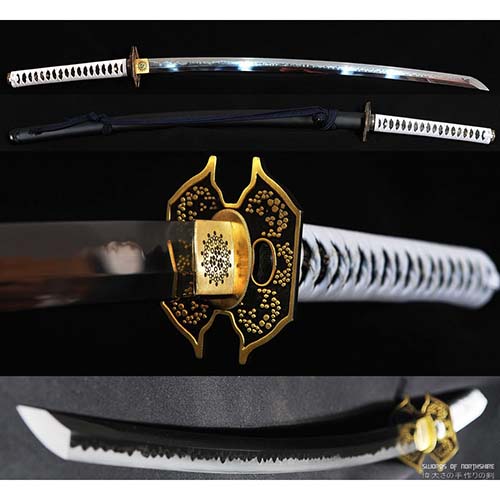 Whether he hangs this on the wall or keeps his city safe with it, these replica katanas are going to seriously float his boat! He'll be gaga over one of these and won't believe how thoughtful and downright cool you are. And yes, you can customize it to order. No wonder you're his BFF!
Related: Cosplayer Gift Guide
For my guy that eats breakfast for every meal: MANCakes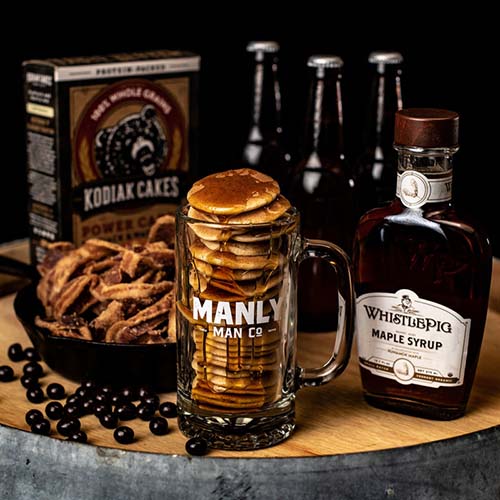 Breakfast for breakfast, breakfast for lunch, breakfast for dinner! He will be ecstatic over this amazing gift set: it includes honey pepper bacon, whiskey barrel aged maple syrup, buttermilk pancake mix (just add his favorite stout beer), espresso beans, a beer mug, coaster, and an official man card (which doubles as a bottle opener).
For the best friend that loves sharing memes: You're My National Treasure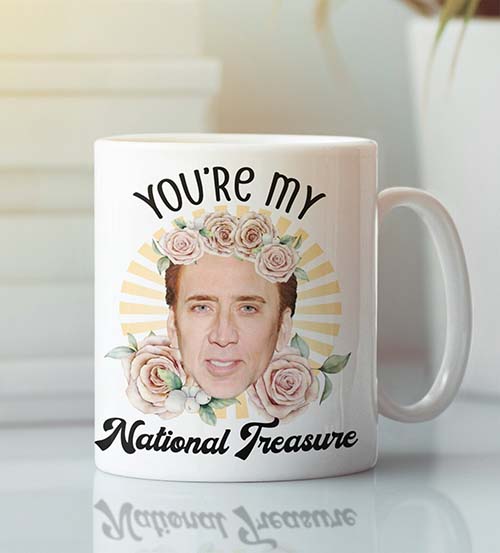 If memes are his love language and he always digs a new one, he'll love this hilarious mug featuring meme-friendly Nic Cage.
For the guy friend that always tries new things: Udemy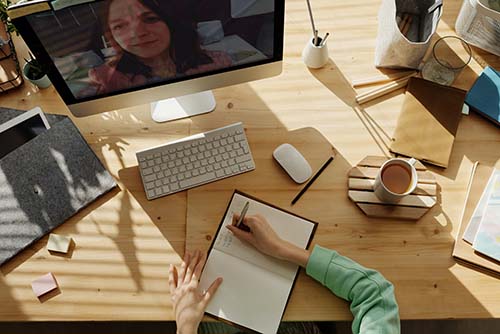 Help expand his career and/or mind with a new course in a subject he loves! Choose from 180,000 different classes, courses, and seminars, with new ones added each month. It really is the gift that keeps on giving!
For the friend who appreciates a good laugh: The Complete Calvin and Hobbes
Growing up, my siblings and I loved Bill Watterson's Calvin and Hobbes. If any one of us had received this Calvin and Hobbes book set from a friend, we would have been over the moon.
The two lovable characters from the comic are literally best buds, too, so what more could you want in a gift for a friend?
This set comes with the entire anthology of the beloved comic, from the first strip that was published in 1985 all the way to last one published in 1996.
For my best man who can't get enough coffee: Pour Over Coffee – Anywhere!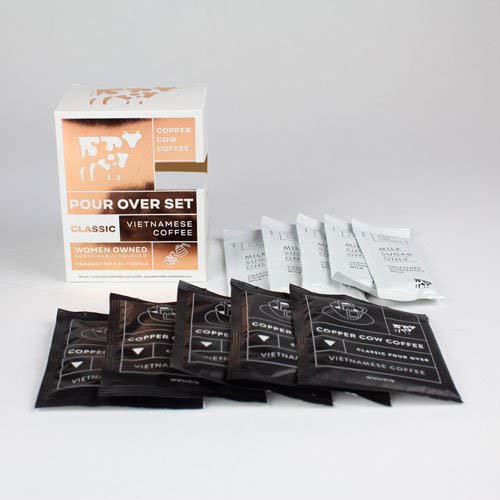 If he starts the day and ends the day with coffee (not to mention all of those pesky hours in between), he'll love this pour over coffee set! It's easy to use, totally portable for on-the-go sipping like camping and road tripping. He'll never go back to that old Mr. Coffee machine again.
For the friend who is always in the garage: Personalized Garage Clock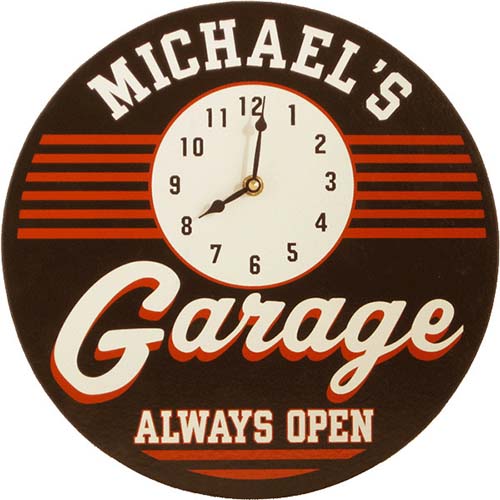 If he's a tinkerer who loves his garage more than his house, he'll love hanging this personalized clock in a prominent space! Its vintage vibe will really look great next to his latest project.
For that guy who never grew up: Pocket Sized Super Soaker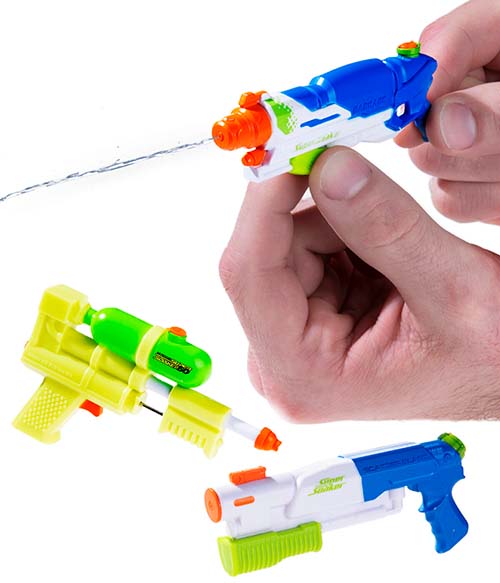 For the young-at-heart (no, we didn't say immature!) guy, this pocket-sized super soaker will delight! He'll love having this on hand for each and every BBQ, family reunion, or sports game.
For my tech friend in IT: Have You Tried Turning It On & Off Again?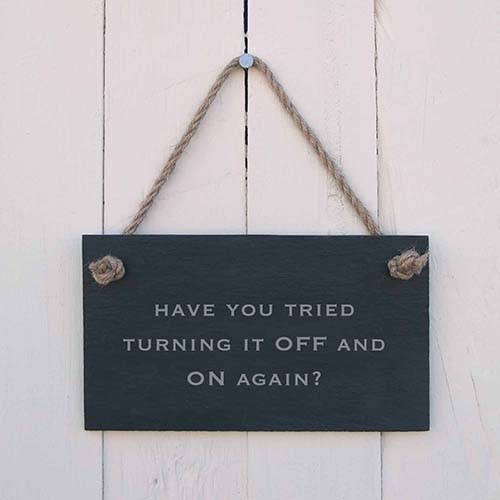 It's funny because it's true! He'll love the wisdom in this one, and we do too. After all, it's sage advice from the guys in the IT crowd!
For the guy who is always camping: Traveling Pocket Book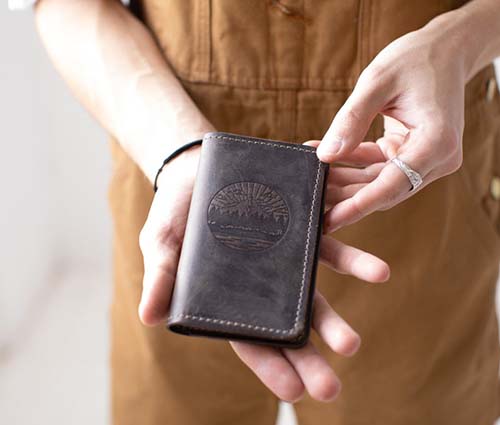 If he can't sit still and the mountains are always calling, this traveling pocket book is just the thing. It won't take up too much space but is always there when he needs to journal, doodle, sketch, or make a list.
For the man who is always in style: Gentle Herd Clothing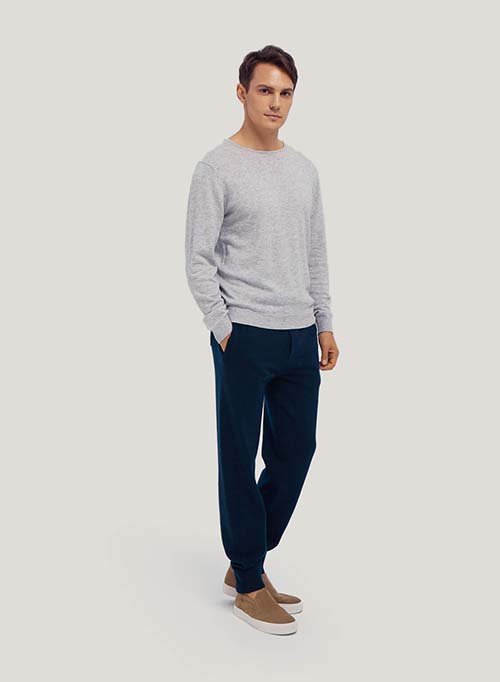 These stylish yet timeless clothes from Gentle Herd will make your guy look like a million bucks, and feel like it too! He'll love choosing from their great collections of pants and shirts, jackets and accessories. He is going to look so studly, he may need to take you out to dinner to say thanks.
For the guy friend that is the perfect dad: Say Hello to My Little Friend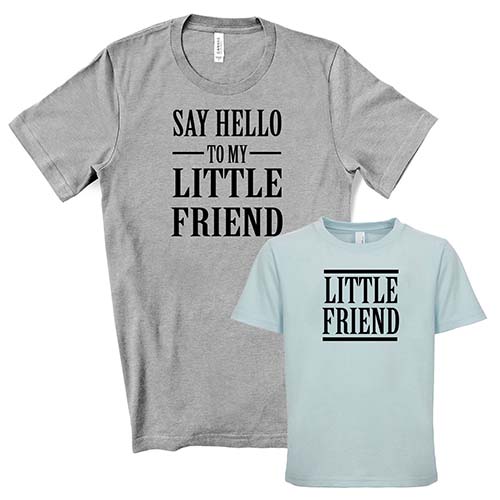 This cute set for him and his Mini Me is perfect when your bestie also happens to be an amazing father. They'll love sporting these matching tees each and every weekend.
For the guy friend that is fishes every saturday: Engraved Tumbler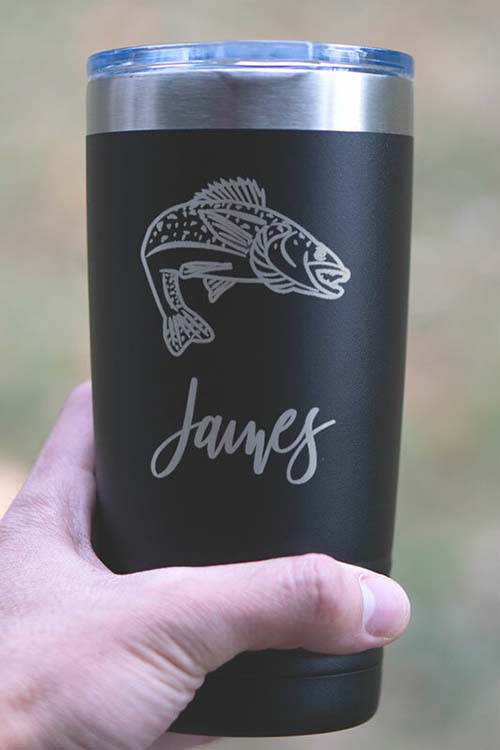 You know what they say, a bad day fishing beats a great day at work! It's so true, isn't it? He knows it too, so get him this engraved tumbler and watch his face light up.
For the gamer dude who can't play enough: Gamertag Neon Sign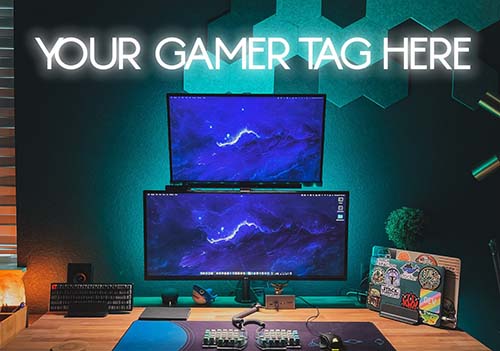 If he spends more time in his gaming world than he does in the "real" world (and who can blame him) he'll love seeing his gaming name lit up in lights!
For the man who is always working: Best Eye Massager
If he's beat at the end of the work week and needs a massage, a beer, and a therapy session, you can at least get him this: the best eye massager! It has heat and bluetooth music. Do they make a whole-body suit?!
For the guy friend that enjoys a good smoke: Cigar Subscription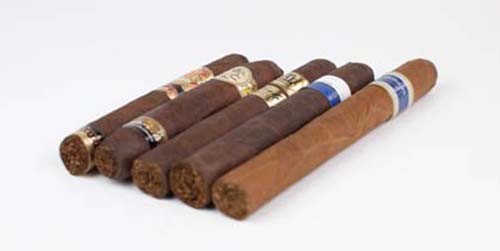 Subscription boxes are so fun and this one is the best of the best! It has some of the world's most diverse cigar selections. He'll love finding new favorites and maybe sharing some with you!
Check our unboxing review for more details!
For the cowboy friend we all have: Custom Bottle Opener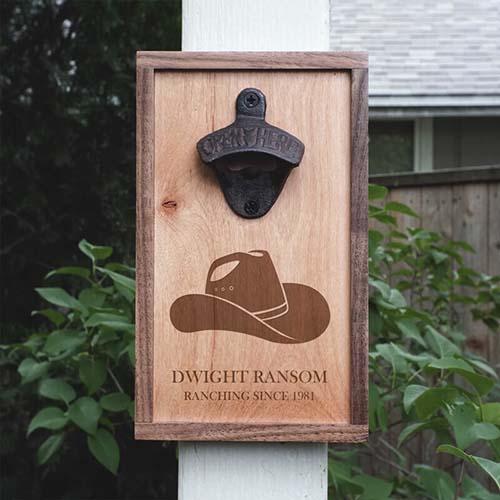 Is there nothing your fave dude friend loves more (besides hanging out with you) than to kick up his feet and relax with a cold one? Then you already know he's going to love this gift idea.
For that cowboy bestie, this custom bottle opener is perfect! He'll love having this handy for popping open a craft brew or some soda.
For the guy friend that always grills: Grill Masters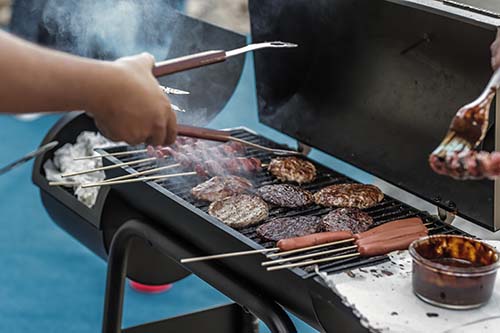 Delivered right to his door each month, this Grill Masters subscription box is full of the yummiest, freshest, most useful grilling tools and ingredients ever! He will love receiving his special box each month, eagerly looking forward to the next shipment.
For the guy friend that enjoys history a little too much: History by Mail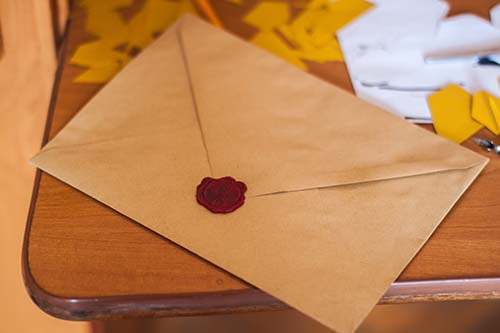 If your know-it-all bestie constantly begins each sentence with, "you know, it's a little known fact, Normy…" like Cliff Claven, then this History by Mail is just flawless for him! He'll appreciate learning things even HE never knew before.
Warning: you're going to be told about ALL OF THE THINGS. Try to look interested.
For the manliest guy I know: Primal Hunger Crate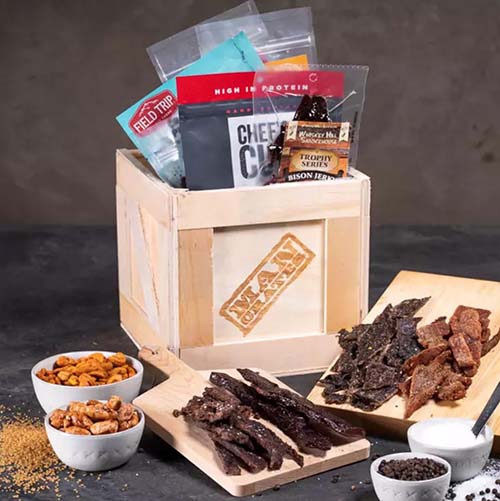 If his manliness knows no bounds, then this Primal Hunger Crate is for him. It's stuffed full of four different kinds of jerky, plus almonds and cashews. He won't be having hunger pains after devouring this puppy! (Just don't let him accidentally devour YOUR puppy. That would be so sad!)
Meaningful Friendship Gifts
For the friend that is always there: Wooden Long Distance Lamp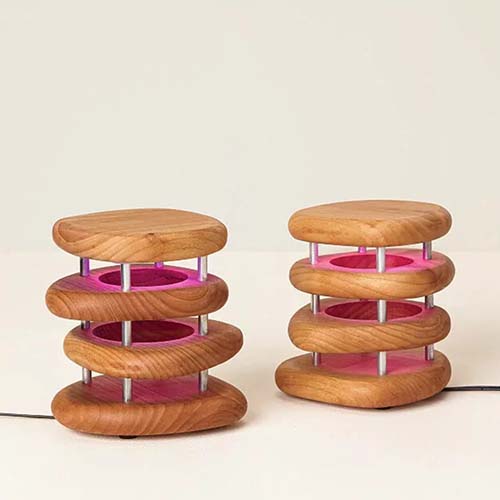 If he or she has always been there for you through thick and thin, best and worst, and through long distances, then this wooden long-distance lamp is just the thing. When you light up yours, your friend's light pops on too, and vice versa. It's the perfect way to remind each other, "I'm thinking of you today!"
Related: 60+ Long Distance Gift Ideas
For my green-thumb friends: Engraved Garden Stake Sign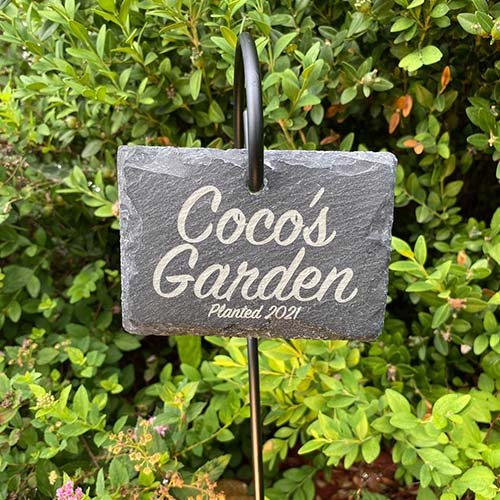 If they spend more time outside, taking care of their garden, then they do indoors (ewwww, indoors!) then they'll love this cute garden stake sign. And they'll love it even more knowing you chose it just for them.
For the friend I can call my BFF: 3D Crystal Portrait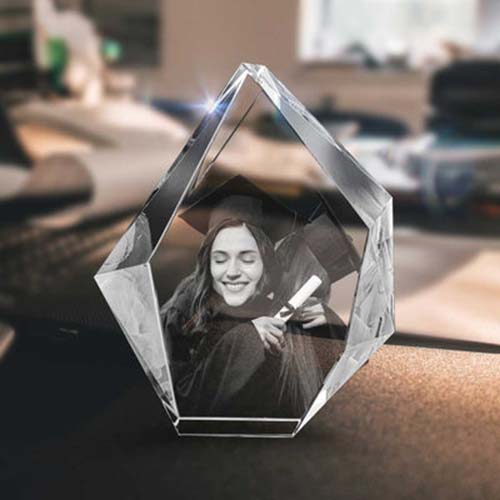 This 3D crystal portrait is both stunning and unique. They'll love having a photo of the two of you engulfed in sparkly clear crystal. So much better than a traditional wooden frame, don't you think?
For that friend that loves the little things: Butterfly Wings Necklace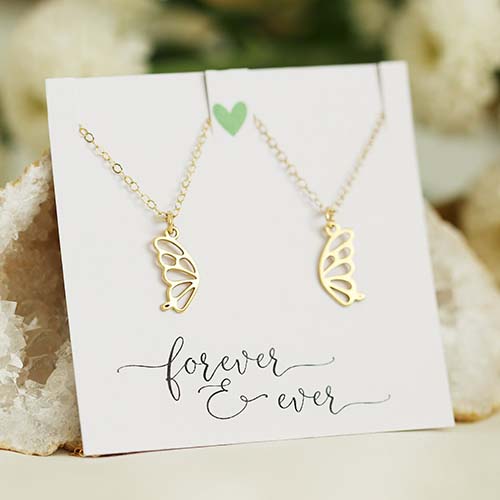 One for you and one for her. She'll love wearing her side of this butterfly wings necklace, especially knowing you are wearing the other half. So cute!
For the long-distance friend: Never Too Far to Wine Together Tumbler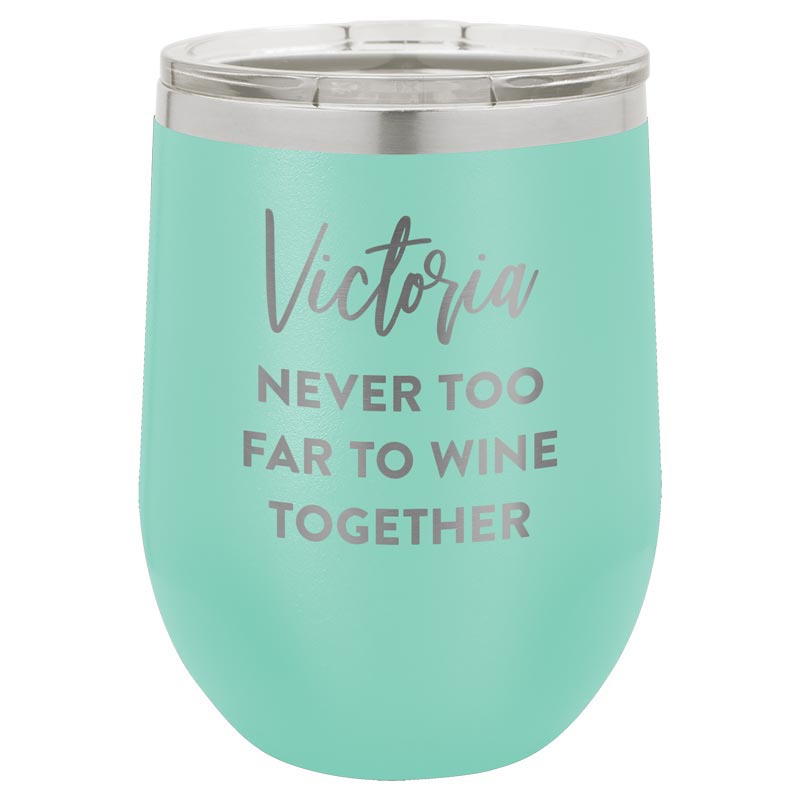 When you can't be together, you can at least still wine together, right?
Personalize a travel tumbler for your long-distance bestie. The mug comes double-walled as well as vacuum-sealed (meaning your friend's drink – whatever it is – will stay hot/cold for a lonnnnggg time). It includes personalization of name and text, plus it comes in a variety of unique colors, sizes, and styles to boot.
For the best friend that DIYs every gift: DIY Right Back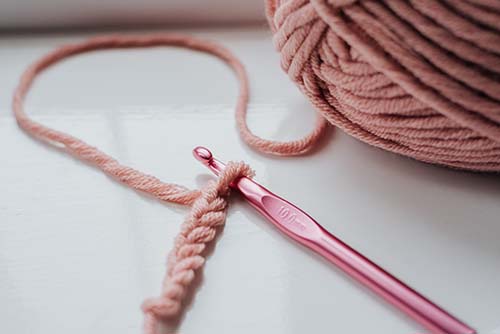 Browse through this great list of easy DIYs and impress your crafty friend! They'll be wowed at all the extra time and effort you went to present them with something they would usually give you.
For my precious friend: Knot Friendship Bracelet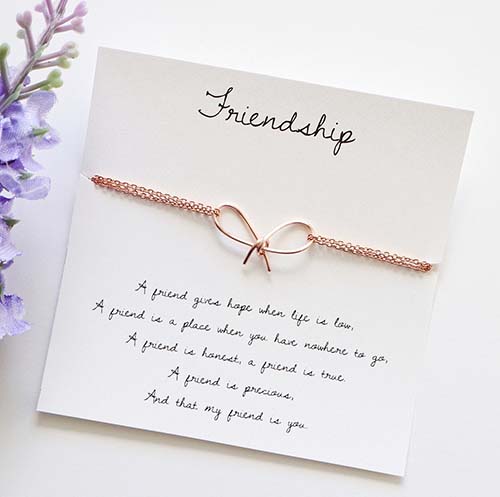 If your friendship with them is as precious as precious can be, then knot friendship bracelets are just the thing to make them smile. They'll love wearing them and will think of you each time they put them on (which is likely to be daily).
For the forever fur-parent friend: Fur Baby Photo Blankets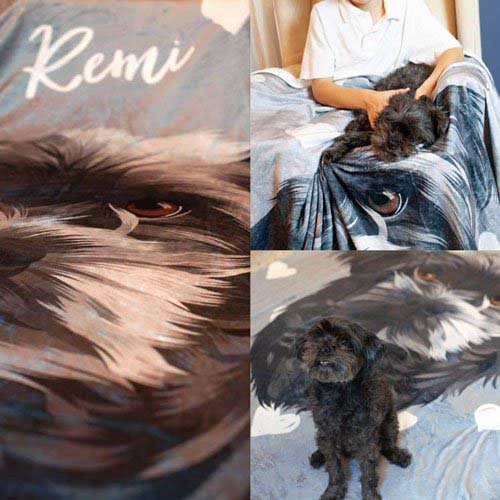 If dog or cat hair is their favorite accessory, then they'll squeal over these adorably personalized pet photo blankets! Snuggle up and watch a movie with Fido and Peaches in style.
For my friend I can always call: Plant Kindness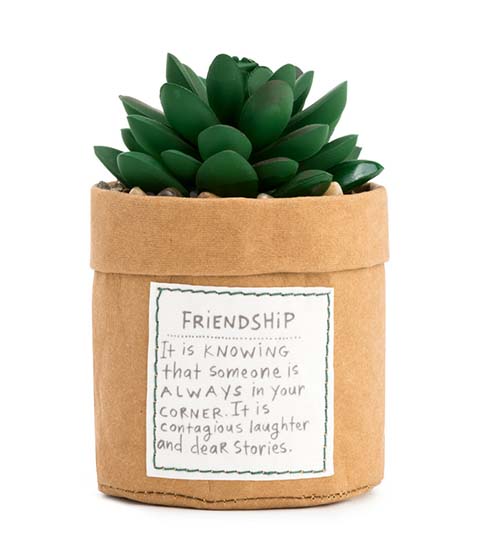 When you have a friend who will always pick up the phone when you call, having a plant to take care of is a must-have. After all, they need something to look at and water while you talk their ear off, right? This cute plant comes in a sweet little bucket with a darling sentiment.
For my music loving friend: Engraved Spotify Bracelet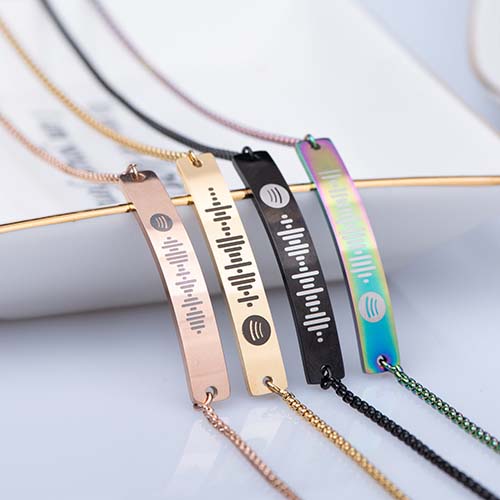 If music makes their heart sing and their world go 'round, then they'll love one of these engraved Spotify bracelets. Printed with a Spotify code for their song, it also can be personalized with their name, lyric, or a meaningful date.
For my entire group of besties: Matching Shirts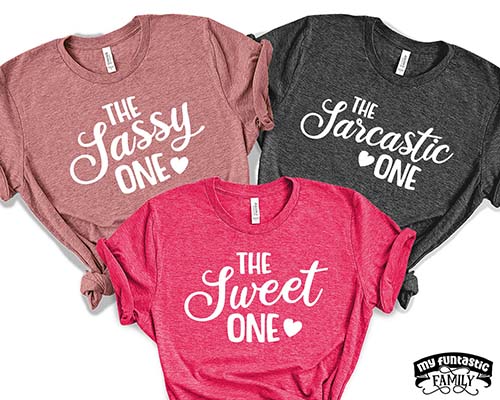 When you are lucky enough to have a whole squad of BFFs, matching shirts is a no-brainer. These ones will make everyone happy and cheery and everyone else who doesn't have one wonder what it will take to break into your friend group!
Gifts for Friends Who Have Everything
Plant a Tree in Their Name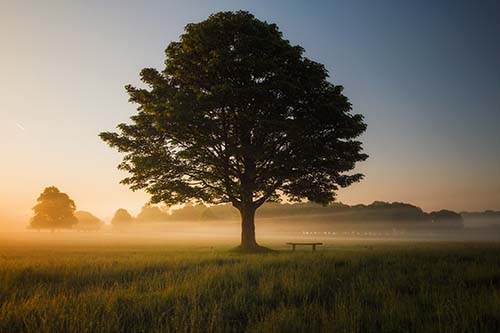 It might not fit in a gift bag, but your nature loving friend who is soooo hard to shop for, will love this one: planting a tree in their name.
No One Has Enough Weighted Blankets
A weighted blanket is like a warm hug when you need it most. They'll love snuggling under this one, with its dark gray color and cooling effects.
Designer Fire Extinguishers
You said they have everything right? Well, do they have the world's most attractive fire extinguisher? We thought not! Get them something they never even knew they wanted with one of these. And so many designs to choose from.
Pillow of Your Face
Now this? This right here? This is what they want! Yep, it's a giant pillow of your face. Oh yeah. It's happening. If they don't kiss it right on your soft, pillowy lips, we'll eat our hat.
Cookies to Brighten Their Day
Who doesn't love cookies, whether for a special occasion, a holiday, or just because they're craving a little snacky-snack? They'll love it if you make these cookies to brighten up their day.
Vintage Candy By Decade
You won't find this candy in the aisle at Walmart! No, this is carefully curated by Decade to find you the world's yummiest and sometimes forgotten candies. Nosh on!
Escape Room/Murder Mystery Games
Escape rooms and murder mystery games are always fun to play with friends! Maybe you plan on playing with your friend. Or maybe they live far away and you'll be sending one to him orher to play with their loved ones. Either way, these interactive-type mystery games are a fun way to pass the time.
World's Largest Gummy Worm
If they have everything they want, they didn't realize this was an option to own (or nibble): the world's largest gummy worm. I mean, do we really need to say anything else? It's the world's largest gummy worm!
A Dozen Reasons You're My Friend
You can totally customize the reasons yourself in this delightful box of a dozen reasons why you're my friend! He or she will love reading why you love them so, all inscribed on little wooden hearts.
Monthly Flowers
Show them you care over and over again, with these monthly flowers. They smell as good as they look and are always artfully and professionally arranged. They'll really make the living room or office pop.
You Can Never Have Enough Candles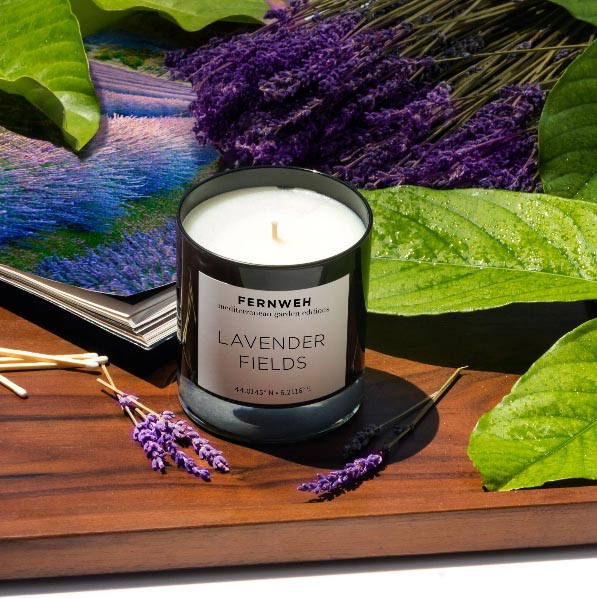 These candles are soooo fragrant and beautiful that it is true: you can never have enough of them. So maybe purchase a few. And get one for yourself while you're there!
Cheap Gifts for Friends When You're on a Budget
If They Work From Home, Make Sure They Aren't Alone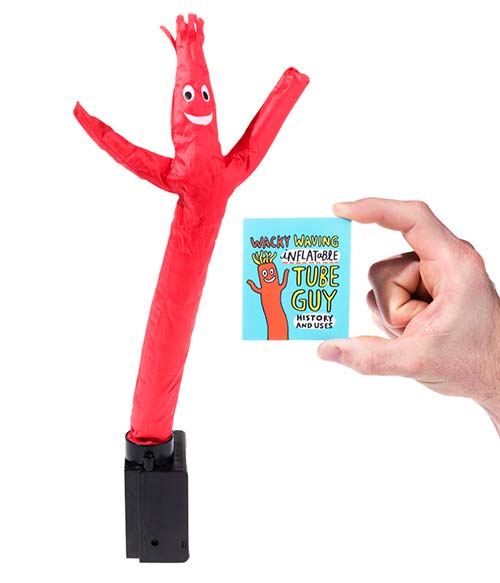 This funny inflatable desktop "guy" will really make them laugh. Sure, you're on a budget, but who says giggles are expensive?
Give an Extra Hand… Er, Mini Hand
The photo bombs abound with this funny extra mini hand! They'll have a blast using this for the funniest of reasons, from helping them eat, to brushing their teeth, to sneaking in the latest selfie to see who notices.
DIY Gift Baskets
Find their hobby or passion and make a basket out of it. DIY baskets are fun and easy and don't have to cost an arm and a leg. You'd be surprised at quickly you can fill them with items around your house, at the dollar store, or yard sales!
Why I Love You Balloon
Fill up a balloon with 50-100 notes that describe all the wonderful reasons why you love them. Then have your BFF pop it to read all the sweet affirmations!
Cook a Meal for a At-Home Friend Date
Whether it's breakfast, lunch, or dinner – surprise your friend with a sweet meal prepared with love.
Give Them a Something They Never Asked For
Like this breakfast themed… snail? Yep. You heard it here first. This could be the start of the wackiest gifts trend you never even knew you were going to start!
Give Your Cold Friends Something Cozy
What warms up your cold friend? Socks? Hot cocoa? Liquor? A soft blanket? Maybe one or two or all of the above. Click here for more cozy ideas!
Share a Simple Soda Together… Or maybe a Pie Flavored Soda
Anyone can pop the tab to a can of Pepsi, but how about sharing something more unusual, like these pie flavored pops? They'll love finding a new yummy beverage, all while you two catch up and gossip.
Make Them Something Meaningful to Their Hobbies
Let your friend know that you pay attention and care about what they care about. Create something that has to do with their favorite hobbies.
Do they enjoy bird watching? Make a bird house or seed ornaments. Do they enjoy painting? Stretch a canvas for them by hand. Do they enjoy writing? Make them paper. Do they have a favorite fandom? Paint a picture of their favorite superhero saying superhero-type things. You get the idea!
Make the Inside Joke a Reality
All friendships have inside jokes. That's part of what makes friendship so meaningful! So one great gift to celebrate your friend and the relationship you share is to make your inside joke a reality.
How? Well, that will depend on the joke, but here are some ideas:
If you're artsy, illustrate the joke as a poster, painting, sketch, or comic strip
For location-based jokes, plan an experience revisiting the location together
Get matching tattoos so you can always appreciate your special brand of humor, together
If the joke is about ice cream, scrunchies, or band-aids, get some ice cream, scrunchies… you get the idea!
Read Next: 21 Best Gifts for Friends (from BFFS to Frenemies)