Long-distance relationships are complicated at the best of times. And sometimes, they can be downright overwhelming.
How do you show him that he's on your mind, that you still get butterflies when he calls or texts?
What can you do that shows her you are thinking of her, dreaming of her, missing her?
That you just can't wait to be together again?
Well, we have put a list of gifts and surprises together to help you through these complicated times. Enjoy your shopping spree.
10 Best Long Distance Relationship Gifts
Our website is supported by our users. We sometimes earn a commission when you click through the affiliate links on our website. See our privacy policy & disclosures for more information.
1. Cities Map Print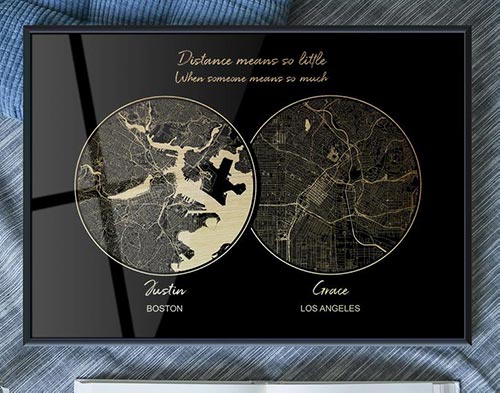 This gorgeous framed map print is the ideal gift for a long-distance relationship. It's the perfect way to show that distance is nothing but an inconvenience.
Two people, two cities. Yet together – as one – you are going to be working through this season and your relationship will come out stronger for it.
Of course, it helps that the design is stunning. Gold foil on a black background is an elegant addition to any room.
Choose from a downloadable JPG (to print yourself), a simple print, or (best of all) the printed and framed product ready to gift.
2. Infused with Long Distant Hugs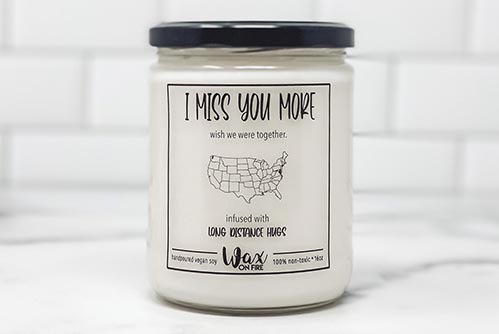 This hand-made candle comes in 29 scents. You are bound to be able to find his favorite fragrance!
Your sense of smell is considered the strongest and quickest memory inducer. All he has to do is strike a match, light the wick, and he'll instantly be reminded of all those special times.
3. Skylight Digital Photo Frame
This digital photo frame is amazing because you can upload photos anytime, anywhere, and within moments it will pop up on the screen.
Just imagine her delight when a series of photos stream in with you and your luggage at the airport, boarding the plane, your tickets and arrival time. Or maybe you can document your road trip, city by city, as the distance between you decreases.
And for all those other times, you'll be able to share you morning cup of coffee, a sweet selfie, your cat's antics, and all the other little things from everyday life that you enjoy together.
4. Long Distance Pillow
If you're in a long-distance relationship, you understand the loneliness, but at least this pillowcase can send the right message while you're apart.
This is a thoughtful gift that he or she is sure to love. So snuggle in with your long-distance pillow and sleep tight.
This 1200 TC pillowcase will fit any standard to a queen-size pillow.
5. Miles Apart… Paper Plane Reminders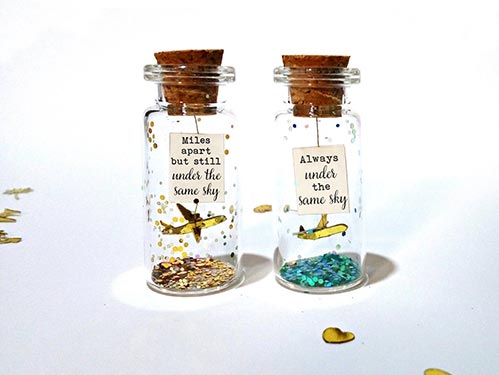 This is a cute alternative to a traditional greeting card! Instead, you can send a sweet note to that special someone in this handmade gift.
Remind your sweetheart that you still share things, even though you aren't together. This reminder is sure to warm his heart.
6. Cute Comic Story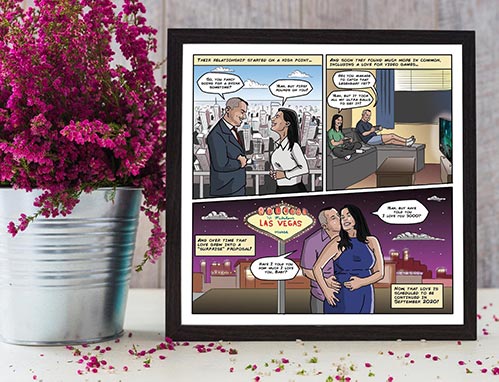 Here's an amazingly unique idea will blow your boyfriend away. Gift him with a personalized comic telling the story of how you met and fell in love!
This comic will be custom made using your story and photos.
It's a delightful way to show your comic book geek how much you love him.
7. I Cerealsly Love You Personalized Spoon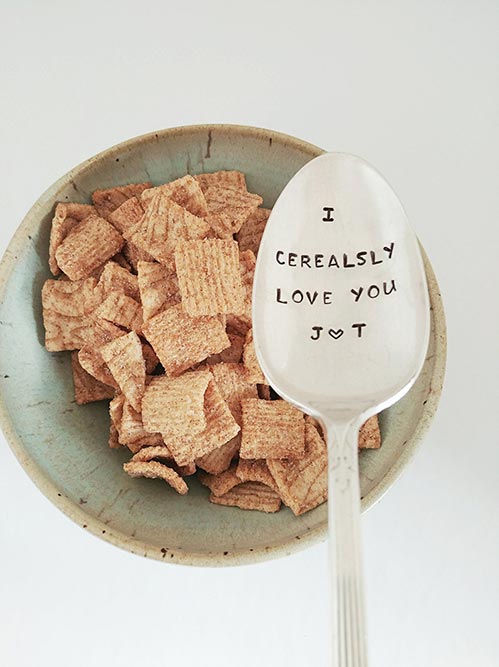 This hand-made spoon is too cute. Your boyfriend or girlfriend will smile every time they use their cereal spoon.
They might even love it so much they use it for soup and ice cream and mashed potatoes and cottage cheese and… well, everything!
Choose from a teaspoon or tablespoon and add your own text. The only thing left to do is enjoy.
8. Thinking of You Care Package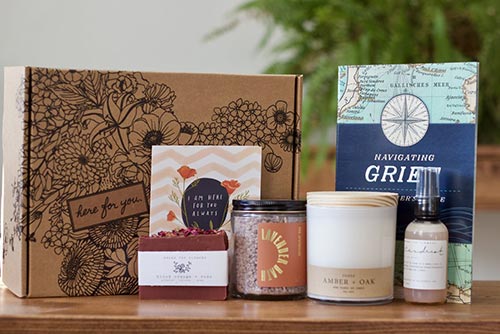 Here for You provides fully customizable self-care Compassion Packages. With dozens of products to choose from, you won't have any problems finding the perfect options!
You can add a handwritten card to add that personal touch to this care package. Your beloved will be ecstatic to receive such a thoughtful gift.
9. Personalized Wallet Insert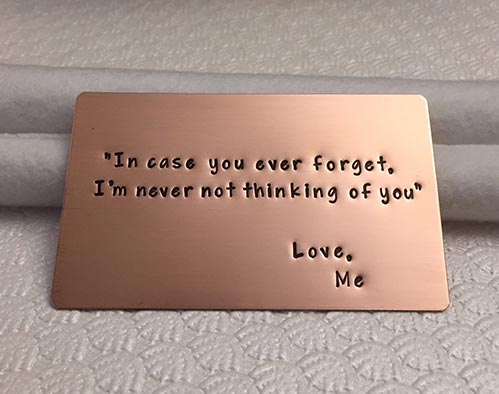 This hand-made wallet card is such a sweet reminder of the love you feel for each other. Never let your loved one be without a piece of your love.
You can pick from copper or aluminum to have your sentiments hand stamped on. This personalized long-distance card is the same size as a credit card, so it will fit into any wallet.
Choose up to 50 words to express your love. Here are some fun ideas of what to say.
10. Forever Rose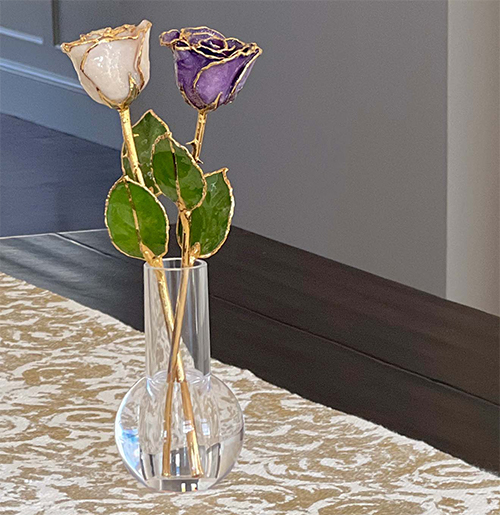 There's nothing quite so romantic and dazzling as one of these Forever Roses. Each blossom is cut at the height of its beauty, then dipped, preserved, and edged in stunning real gold.
Pick her favorite color, or perhaps the color of the first roses you ever bought her. She'll treasure this special gift for a lifetime.
Long Distance Couple Gifts
Here are ten creative gifts that help express and cultivate your couple-ness.
1. Photo Key Chain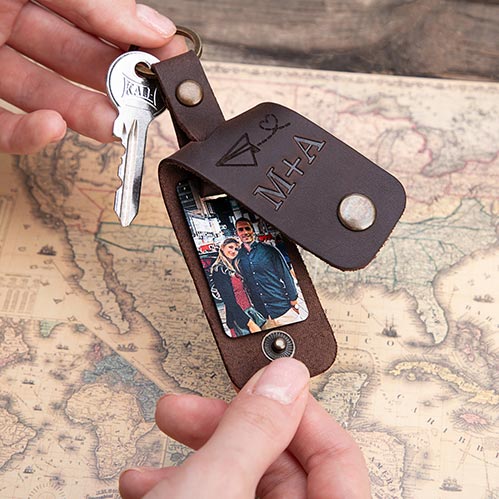 This hand-made leather key fob a gift to be cherished. Your lover will gladly carry their keys on this ring; when not in use, the fob fits in their pocket or purse.
Your photo or text can personalize the keychain. Choose from eight colors for this stylish gift.
Your loved one will always have you near with this thoughtful gift!
2. Tree in Their Name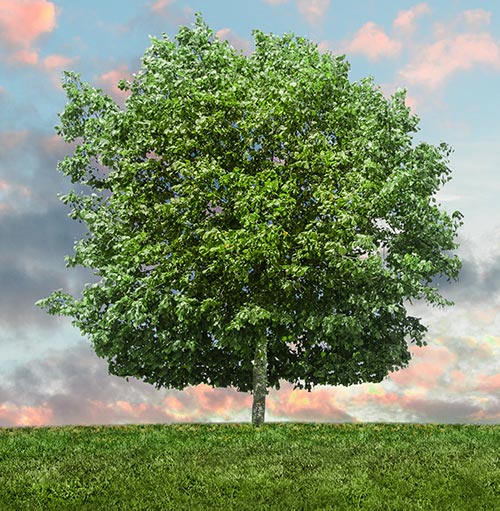 Plant a tree in your beloved's name; this is a gift that will keep on giving for decades to come. You will be helping to replenish fire-devastated national forest areas.
The United States has roughly 190 million acres of woodlands that serve as the home to many species of animals. Every tree planted makes a difference!
The recipient of your gift can go online and learn about their tree. Then, you both can use a map to find it and plan a trip to visit it. Sounds like a nice vacation in the making, eh?
Related: 17 Creative Gift Ideas to Surprise & Delight Someone Special
3. Open When… Cards for Long-Distance Relationship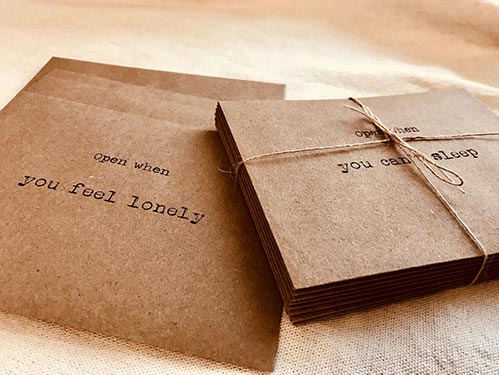 These hand-made cards and envelopes are made from 100% recycled paper. At the top of each envelope, it will say "Open when…" followed by your own reasons.
These are a wonderful pick-me-up for those times when your loved one is feeling alone. Don't hesitate to share your love.
4. State Necklaces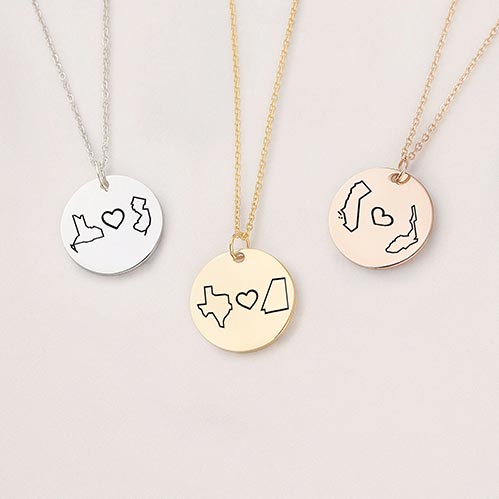 This hand-made 18″ necklace is a cute way to symbolize your long-distance relationship. This long-distance initial disc necklace is suited for everyday wear.
Distance doesn't affect your feelings; your love is strong. Let everyone know that by sporting this stylish necklace.
You can order your state necklace in silver, gold, and rose gold.
5. Hold This Blanket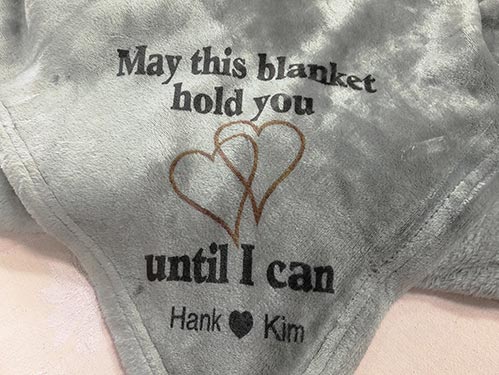 Even though you are far away from your loved one, you love you can wrap yourself in a hug. This snuggly blanket is an ultra-soft velvet plush throw that will bring you comfort on those cold nights.
You can personalize this velvety smooth blanket with your names.
In your choice of eight colors, pick one for each of you. And share a hug!
6. Custom Bobbleheads!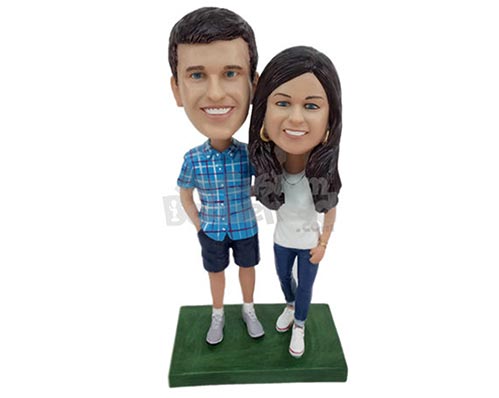 What about these customized bobbleheads? A set of hand-made bobbleheads will be a delightful surprise he (or she) is sure to cherish.
Made exactly like the bobbleheads you might buy in a store, this is an incredibly creative long-distance relationship gift that will last a lifetime…. just like your love!
Imagine the heartwarming smile every time your loved one looks at this special moment in time. Since the toy is crafted to match the photo of your choice, you can bring back those cherished memories of a first date, your first vacation, or even your wedding.
Wobble those cute little heads, and it'll be like having them right there with you!
Well, almost.
7. Pocket Hug Token
While you can't be there, you can still show you care with a little pocket hug. A sweet way to send a little love to your special someone.
This stainless steel heart is small enough to fit in your pocket and go anywhere with him/her. This token will be a constant reminder of your feelings for each other.
8. Personalized Tumblers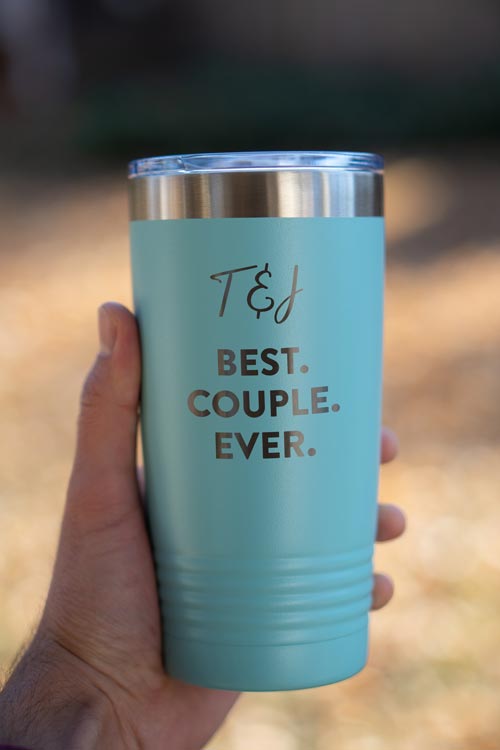 Our personalized tumblers will keep your drinks at just the right temperature for hours!
With his name, her name, both of your names, or a special love note personalized on this tumbler, every time your significant other uses it, they will be reminded of you.
Many colors available: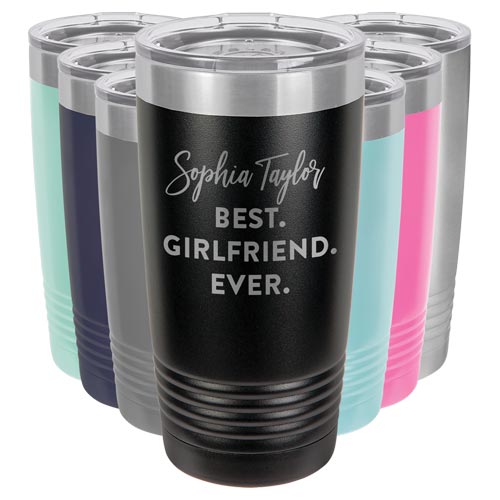 These Polar Camel tumblers are comparable to Yeti in all ways but the price (it's more affordable!). Made from stainless steel, they are built to last for years.
Customize one for each of you, get on a video chat together, and enjoy your favorite beverage from your matching personalized mugs.
9. Personalized Finger Prints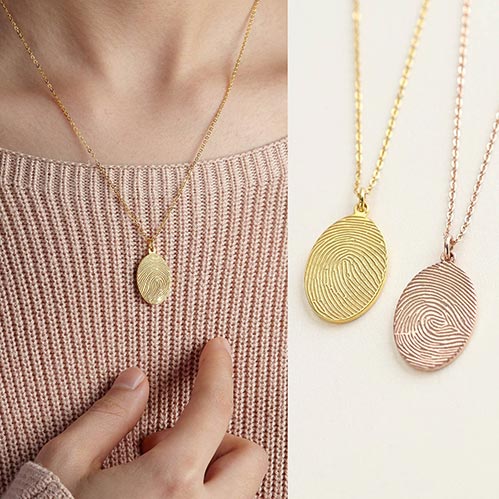 This personalized fingerprint necklace is a loving way to keep your sweetheart close to you.
Your necklace is hand-made to order, and because it is a fingerprint, no two will ever be the same. It is just like the love you share, unique from everybody else's love.
Let your lover think of you every time they touch this pendant.
10. Our Stars Custom Poster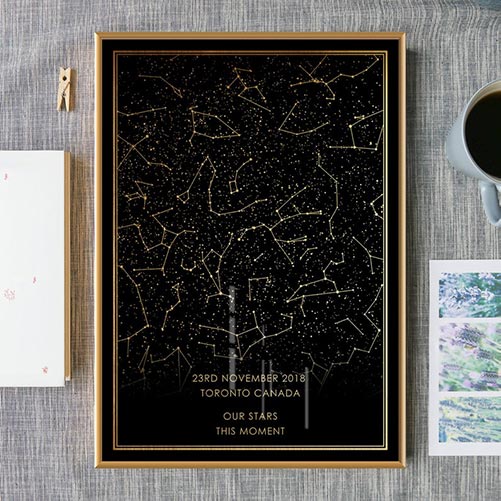 This gold foil, hand-made star map is a constant reminder of a special moment in your lives. For example, commemorate a first date, an engagement, or your wedding.
This stylish print can be hung in any decor and appreciated by all who see it.
DIY Long Distance Relationship Gifts
Give your gift that personal touch by making it yourself. Here are some thoughtful DIY ideas.
1. Photo Pillows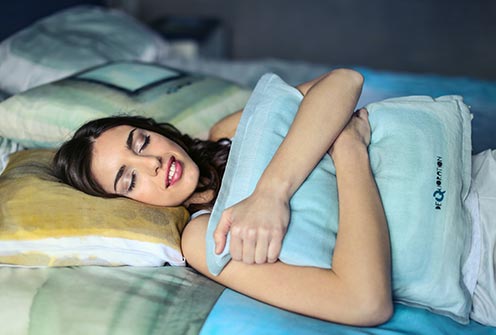 DIY photo pillows are the perfect snuggle buddy for when he/she is gone!
This project is something you can do together or surprise them with a photo pillow. Your loved one is sure to enjoy looking at this and remembering each of those special moments you shared.
Here is a great article on how to make your own.
2. Make Each Other Candles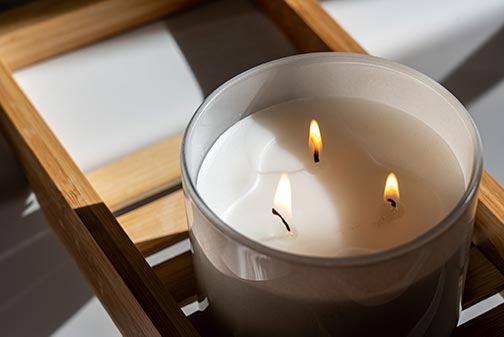 Creating a candle just for him/her is a romantic way to demonstrate your love. Make it their favorite scent; remind them of those special times.
The sense of smell is closely linked with memory. A shared scent will evoke your shared memories. So, every time you light the candle they made, you'll be reminded of the memories you share.
3. Recreate Your Hands
This is a project that you will cherish for all time. Your hands clasped in love and unity are a wonderful reminder of all you share.
Of course, you'll both need to be together to do this project. So why not send it to your special someone along with planning a trip to see each other?!
Now that would be an amazing long-distance gift.
4. Photo Album Scrapbook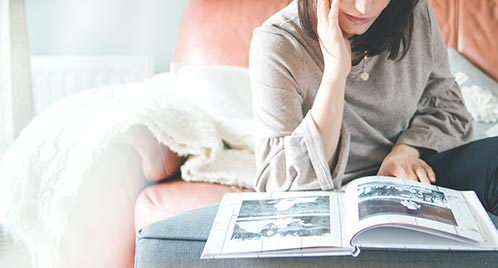 Scrapbooking is all about telling a story; so, tell your story.
Put together a scrapbook full of photos of your times together. Then, add notes or tickets of the times you went out. Finally, make a list of your goals for the future. Sounds like the perfect recipe for the perfect love; your love.
Scrapbooking really is rather fun – especially when you are doing it together. Gather all of your pictures, notes, and tokens of affection.
5. DIY Countdown Jar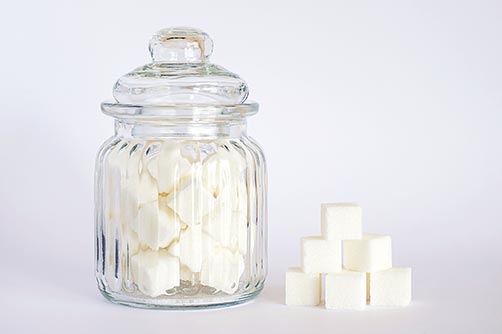 Fill your jar with notes or candies. Then, read or eat one a day to count down until you are together again.
If you go the notes route, use inspiring quotes, scripture verses, favorite memories, inside jokes, and things that you love about him/her. If you decide on candies, use their favorites.
6. Baking!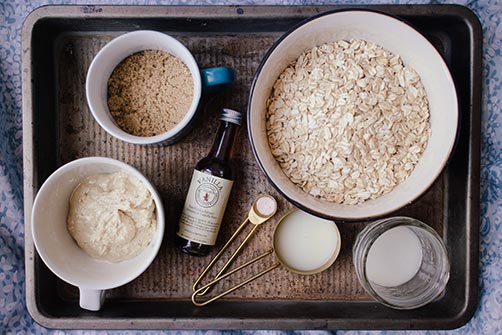 Bake them their favorite cookie or candy and mail it over! Make sure it's something that doesn't melt.
Send plenty for sharing if he feels like it. Nothing says "I love you" like freshly baked goodies
7. Out of the Blue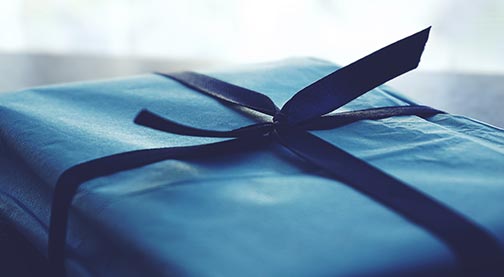 Send "something out of the blue." Fill a box up with blue items and a sweet note saying, "a little something out of the blue to remind you how much I love you."
Mmmmm, blueberry pop tarts… blueberry muffins… cookies with blue frosting…
8. Ornaments
This is a sweet reminder at Christmas time. Get a pack of fillable ornaments, then fill each bulb with photos, glitter, little tiny handcrafted panoramic scenes, or something fun and tasty like candies.
Your special someone will be reminded of you every time they look at the Christmas tree!
9. Build a Garden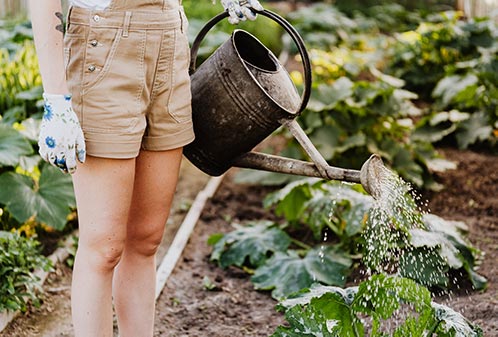 Build a garden just for them. Then, when they come back home, they will be surprised with a beautiful and thoughtful gift.
Plant their favorite veggies and some pretty flowers mixed in.
Related: 40 Great Gifts for Gardeners
10. Personal Song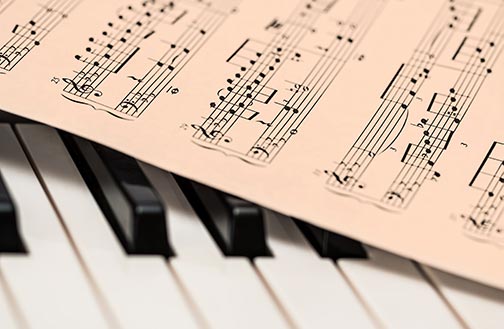 If you are a singer, record a rendition of "your" song. If you're a musician, write your own song just for her, or just for him!
Can't sing? How about making a romantic playlist and include all of the songs that make you think of them.
Long-Distance Relationship Bracelets
Get matching bracelet pairs to symbolize your unity. Wear one, give one, and always be reminded of the love you share.
1. Couples Morse Code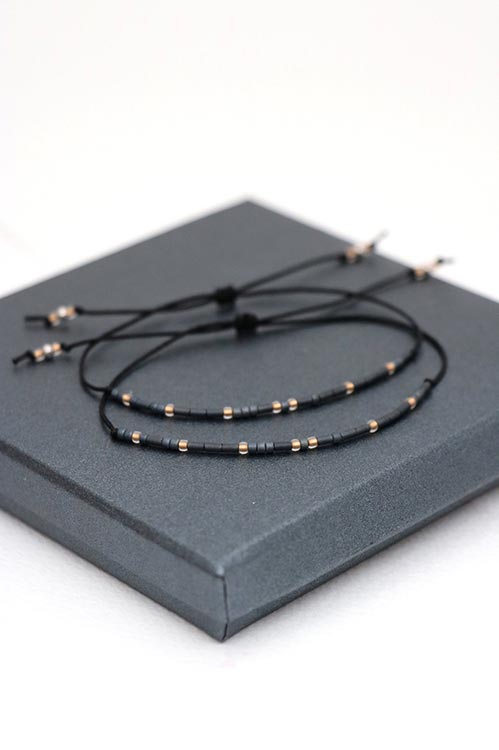 Personalize these handmade bracelets with names, dates or your own custom message for a personal touch – all in Morse code!
Made from glass beads, this is a gift with a special message to celebrate your love story.
2. Close Together or Miles Apart…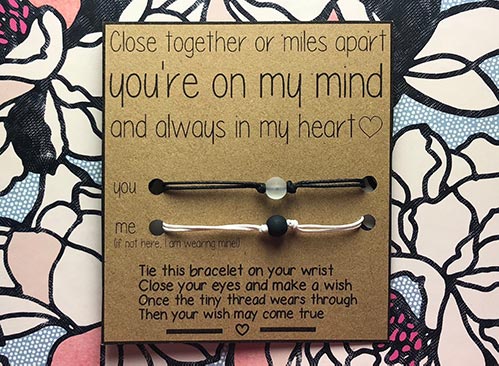 These hand-made bracelets will be a constant reminder of the true love you share!
You can tie the bracelets to fit any wrist, so whether you are close together or miles apart, your love will not waiver.
3. King and Queen Beaded Bracelets
These his and her beaded bracelets are a stylish way to demonstrate your love. No matter the time or space apart, these distance bracelets will keep you connected.
The black agate stone with a crown is for the "prince." This shows his masculinity. These agates could help to release stress.
On the other hand, the white turquoise with a crown is for the "princess." This shows her purity and beauty. These stones could help her be healthy and lucky.
4. Elegant His and Hers Steel Bracelets
Distance bracelets are meant for couples to feel connected even when they are apart.
So whether you're thousands of miles away from each other or just separated by a long day at work, they are a constant reminder of the love you share.
These stylish distance bracelets are made from surgical-grade steel. They are made to last forever, just like your love!
5. Magnetic Couples Bracelet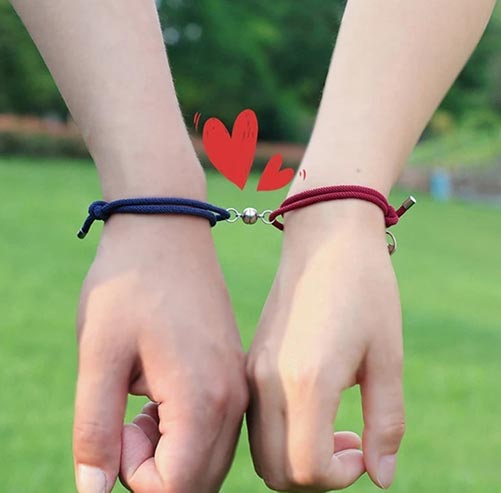 This bracelet set is a sweet way to show your connection.
You will always remember how much you love each other when you are both holding hands and your bracelets meet each other again.
A romantic way to keep each other in mind.
6. DIY Personal Bracelets
Surprise him with a charming bracelet that YOU made. Every time he sees his bracelet, he will remember the love and care you put into its creation. He will understand that it's the same love and care you put into your relationship.
Make your own matching bracelets or make them with complementary colors. Here is an easy how-to article!
7. Steel Personalized Bracelets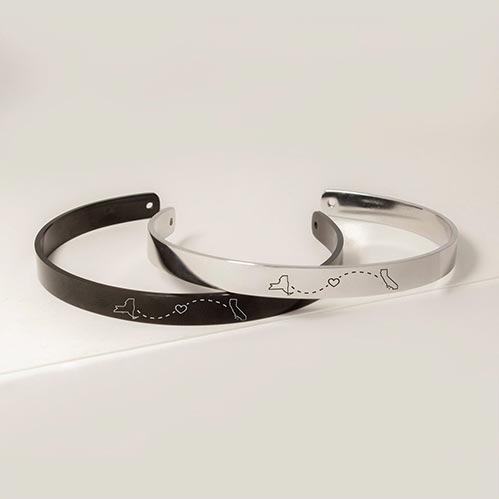 These black & silver engraved cuff bracelets are stylish and fun to wear!
This long-distance bracelet is a great way to remind yourselves that you may be apart in distance, but your hearts are always connected.
8. Black and White Energy Bead Bracelets
These are beautiful couple bracelets made from black agate and white turquoise. The bracelets are made from natural stone and can be worn every day.
This set of bracelets is a perfect match, and so are the two of you.
9. Engraved State Bracelets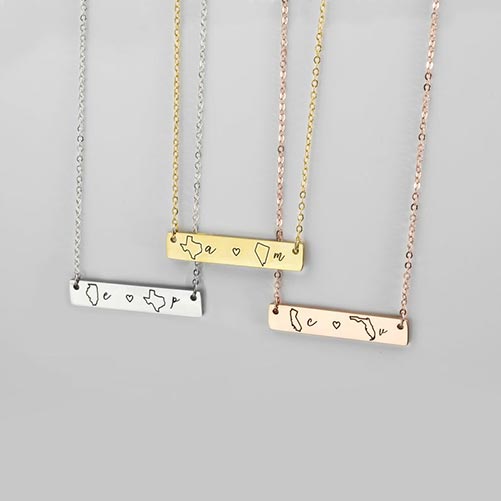 These state engraved necklaces are a beautiful reminder of your other half. Where he's in California, and you are in Florida, you are still together in your hearts.
These necklaces are built to last, and so are you.
10. Motto Engraved Bracelets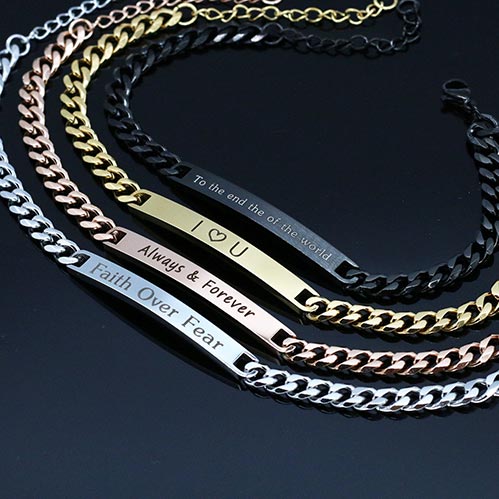 These bracelets bring to mind the old-fashioned "ID" bracelets.
The motto engraved bracelet lets you personalize with your own message. Let your loved one know how you feel by engraving a message on the front and the back of this stylish piece of jewelry.
Every time they glance at their bracelet, they will be reminded of the love you two share.
Long Distance Touch Gifts
Thanks to the power of the internet, you can quite literally "stay in touch" in real-time with these creative long-distance gifts.
1. Instant Photos
Enjoy all the perks of a modern digital camera and the fun of a polaroid.
You can take and instantly share photos digitally or print them off to share once you are back together.
A fun and modern way to make and share your memories.
2. Long Distance Touch Lamp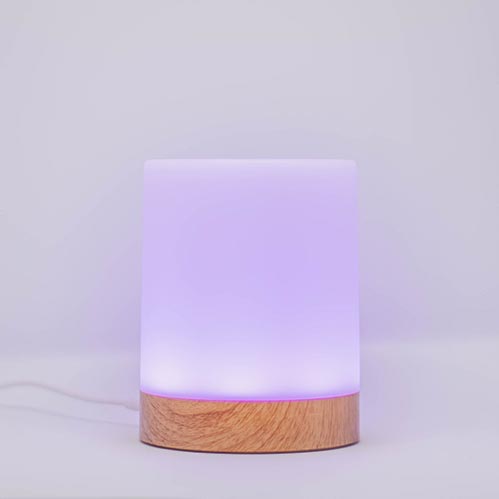 These unique lamps are an incredible way to stay connected with the one you love, even across the world.
Buy a pair of friendship lamps and keep one in your own house. Then, send the other one to your sweetheart.
Follow the easy set-up instructions and connect the lamp to your Wi-Fi. You'll link the lamp to your unique couple's ID and set the color of your choice.
The lamp will light up with a single touch and connect with the other lamp on the network. The other lamp will switch to your chosen color.
This is an instant way to let your significant other know you are thinking of them.
3. Touch Bracelet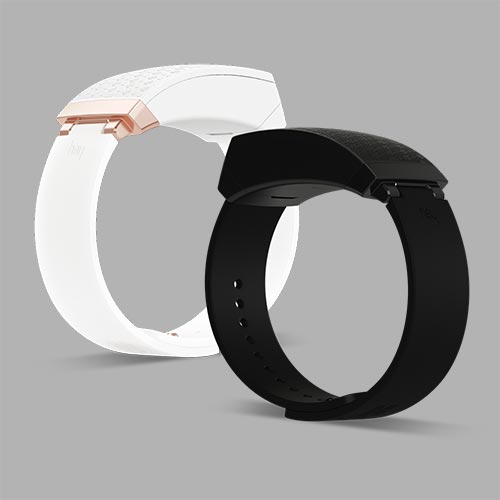 Keep the sense of togetherness that can be challenged by distance. With the Hey Bracelets, you can send a touch and receive a gentle squeeze in return.
The bracelet doesn't buzz or vibrate but gives a tender little hug.
Stylish enough to be worn with any fashion. Quick and easy to set up.
4. Classic Long Distance Lamps
When you touch your friendship lamp, their lamp lights the same color as yours. However, when they respond by touching their lamp back, the two lamps will light a new color.
Easy to set up through your home's Wi-Fi. Choose your perfect color from more than 200 options.
You will stay connected with the one you love, no matter where they are in the world.
5. Love Light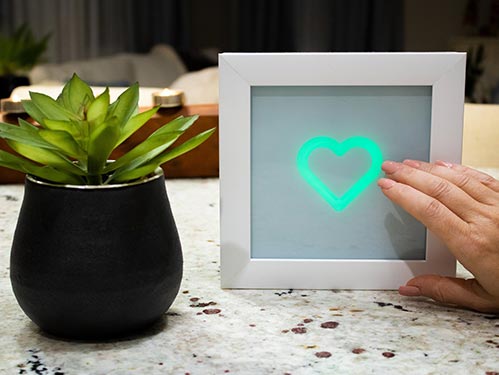 When you touch your LoveLight lamp, anyone you've linked your light to, lights up!
LoveLight connects to any WiFi network and can be managed with an intuitive mobile application. So, you can touch your light even when you're not at home.
Let them know your heart is theirs every time you touch your LoveLight.
6. Pillow Talk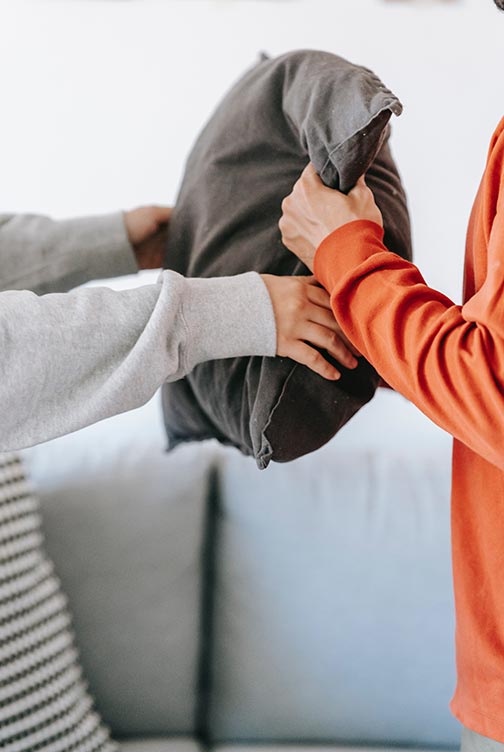 You can bring back the intimacy to long-distance relationships with Pillow Talk. You will wear a wristband that picks up your heartbeat and sends it, in real-time, to your loved one.
They will be able to listen to your heartbeat in their pillow, and you can hear theirs.
Feel connected, feel intimate, and feel loved!
Virtual Gifts for Long Distance Relationships
Since a big part of your long-range relationship will be communicating virtually, why not add a bit of fun, flair, and flavor to your online discourse?
1. Custom Digital Portraits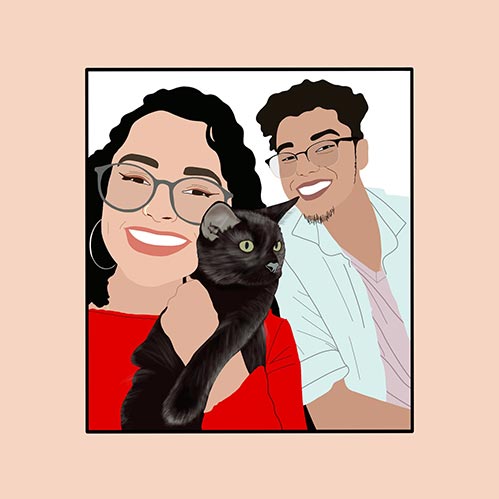 A custom digital portrait is a thoughtful way to demonstrate your love. Send your sweetheart this digital file, and they can print it out for themselves, no matter where they are.
He/she will feel your love every time they look at this fun portrait.
2. Online Games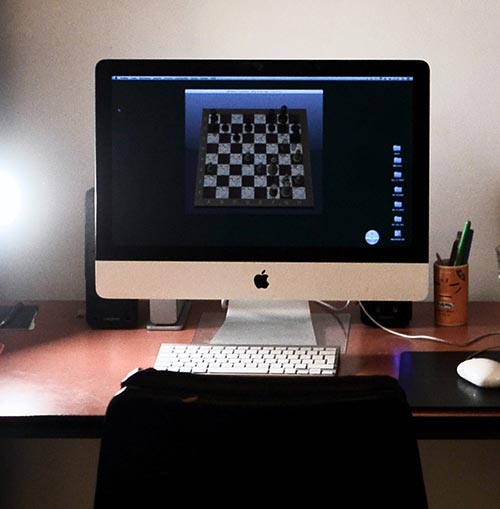 Playing online games is a great way to have fun together. It doesn't matter where either one of you is living. Play games in real-time and chat with each other too.
There are hundreds of games to choose from. Anything from simple card games to MMO's, just have fun together.
3. Listen to Books Together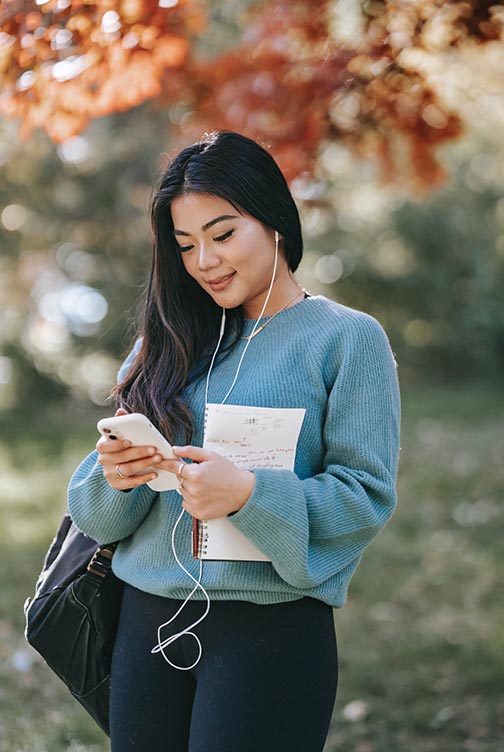 Share digital books through Audible. A wonderful way to spend time together; you can listen to history, bios, or a romance novel. Explore the classics, share your favorites, or discover new favorites.
This is a perfect way to spend time together. Sit down with a cup of coffee and enjoy your time with each other.
4. Personalized Videos!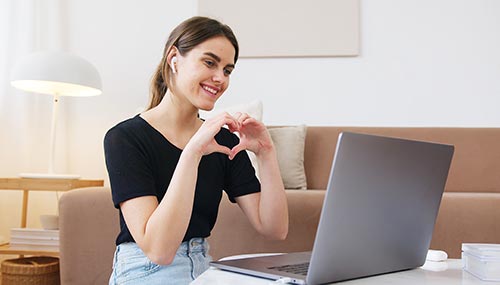 Have a blast creating a personalized video for your significant other. Record yourself saying all the reasons why you love them, singing happy birthday or a cherished song.
Give them validations of why you think they will pass the test or ace the job interview. Let them know you have all of the faith in the world in them.
Long-distance romances can be complicated; let them know the reasons why you two will make it work.
5. Online Beer/Wine Tasting Tests!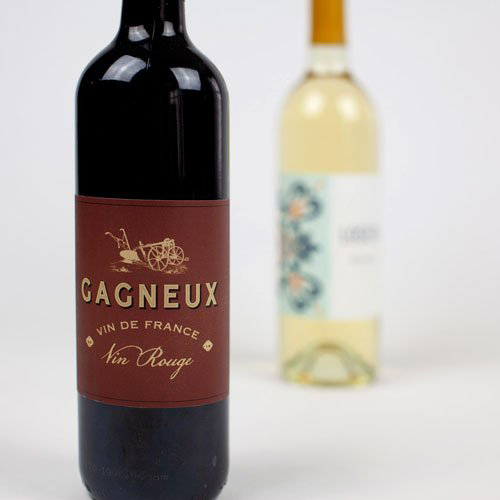 Judge beer or wine together through your favorite video-sharing tool. Beer tasting or wine tasting, the choice is yours to make.
You the supplied links to make sure you will each be testing the same beverages together. Every month you will both receive two full-size bottles of premium wines from the Wine Monthly Club and 12 full-sized bottles of hard-to-find, premium-quality craft beers from the Beer Monthly Club.
Sit back and enjoy a long-distance date night.
Curious about this great idea? Then make sure to check out our reviews– Beer of the Month Club Review
Long Distance Date Ideas
How do you date each other – and keep the romance alive – even when you're far apart? Here's how!
1. Plan Ahead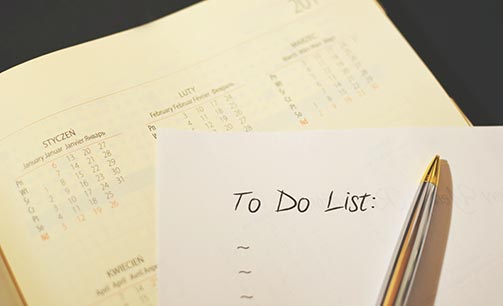 Plan your future together. Put to paper what your wedding will be like, where your home will be, your future children's names, and so much more.
You will both feel secure in the knowledge that you are planning a permanent future together!
2. Monthly Date Cards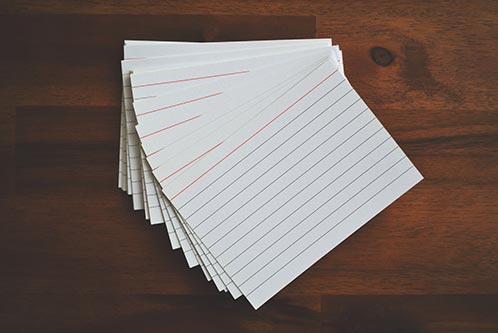 Both of you will make up some monthly date ideas; place them in a decorated box. Then, take turns picking out a card. Whatever you pull out is what you will do on your date that night.
A fun way for each of you to be creative with time spent together.
3. Share Recipes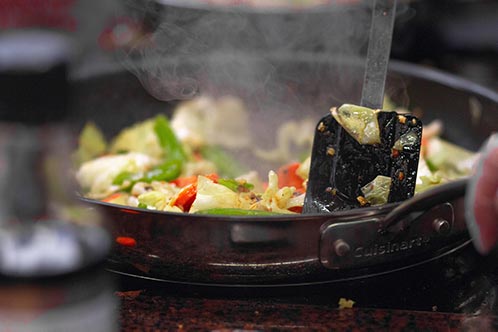 Use your favorite video conferencing tool and cook together. Talk each other through your favorite recipes and enjoy the delicious food together. Plus, you will learn how to make each other's favorite dishes.
Sounds like an ideal date night.
4. Movie Night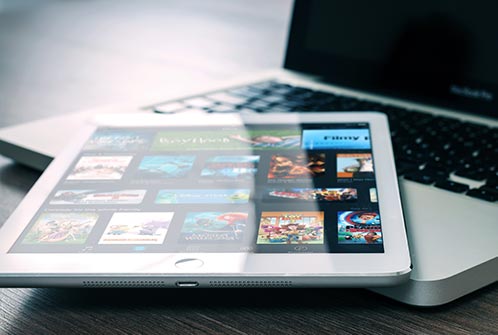 You can share screens on your favorite video-sharing site. Watch a movie or binge on your favorite show while enjoying some snacks and drinks.
Related: 50 Best Movie Night Ideas
5. Paint Together with Bob Ross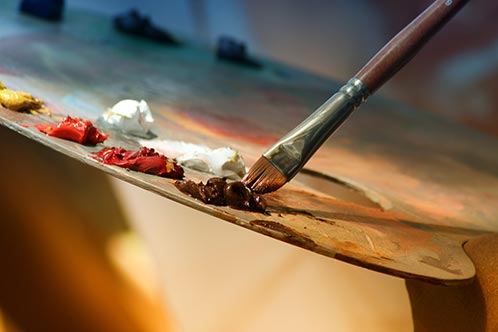 Pull up a painting lesson with Bob Ross. Bob had a TV show called 'The Joy Of Painting' which aired over 31 seasons – 403 episodes. His calm and soothing voice will help you to relax and enjoy the experience.
Learn from a master. Get ready, get set, paint, and have fun.
Surprises for Long Distance Boyfriend
If you're looking to surprise him out of the blue with the perfect gift, choose one of these to send to the best boyfriend ever.
1. Send Him a Barrel to Age Whiskey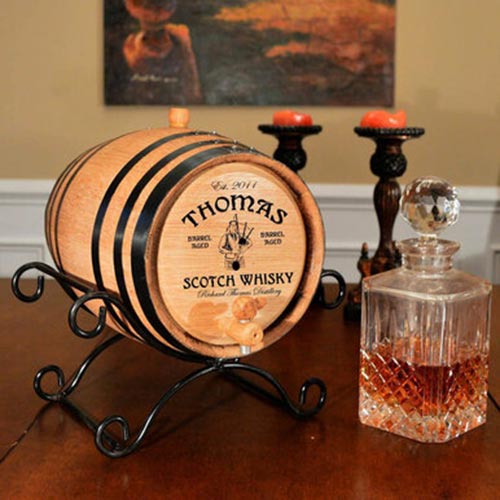 These genuine and functional oak aging barrels can be used for more than just whiskey. So if your preference is rum, tequila, beer, wine, or anything else, you can age it in our barrel.
The personalized solid oak barrel is made in the US and has a medium interior char. You can add his name to make this gift extra special.
Share your own special brew the next time you are together.
2. Remember When… Memory Box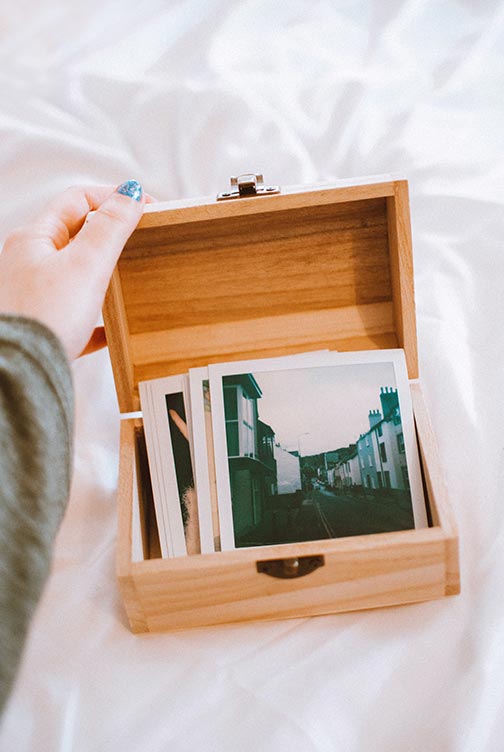 Keep a memory box together. Add all your ticket stubs, receipts, notes, and so much more. Save a little something from every date you have.
You will have fun looking through your memories together.
3. Custom Funko Pop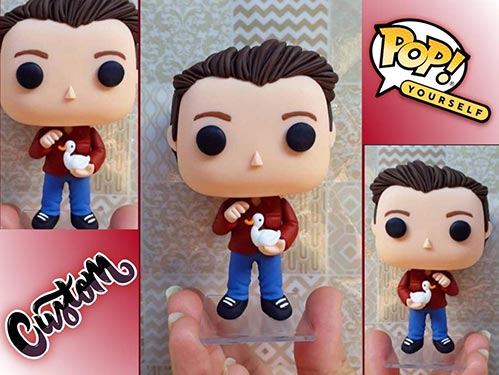 Get a custom-made Funko POP of yourself for your sweetheart! Imagine his surprise when he opens his gift, and it is a cute replica of you. It is sure to warm his heart every time he looks at it.
This adorable Funko is hand-made and stands about 4″ tall.
4. For When You See Each Other Again!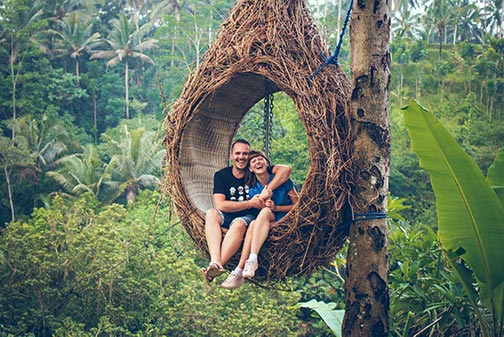 Plan a get-away; "Experience" gifts are a great way for couples to have the vacation of a lifetime.
Whether you want a nice, quiet, and romantic experience or an adrenaline rush, Tinggly has what you desire. With hundreds of experiences to choose from and no expiration dates, you have no worries.
Like Tinggly say, "Give stories, not "stuff."
Here's how it works:
You purchase a gift package, which is essentially a gift card for the experience of their choice
Prices range from (give or take) under a hundred bucks up to about $300
They redeem for whatever adventure they choose, which could be rock climbing at a nearby gym, a wine tour within easy road trip distance or snorkeling in Hawaii/Mexico/Florida Keys (they'd just need to get themselves there)
5. Ultimate Care Package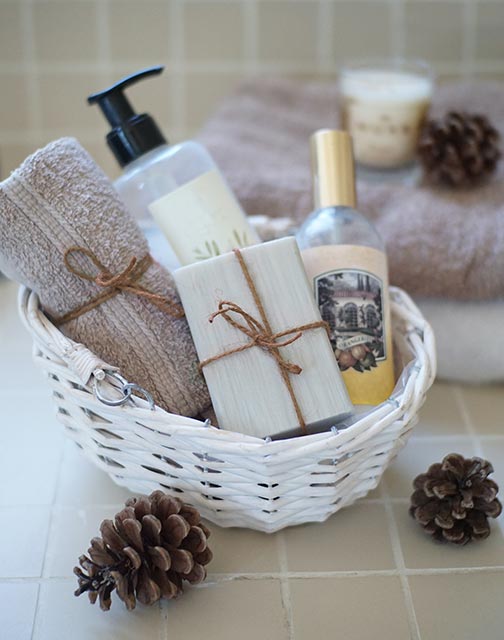 Make him a personalized care package. Show him some extra love by putting together a spa package to help him through the tough days without you.
Include lotions, aromatherapy shower bomb, loofah pad, manicure kit, and don't forget some snacks too.
He'll thank you after a stress-filled day.
Related: 100 Gift Basket Ideas for Men
Surprises for Long Distance Girlfriend
Trust us, the best way to stay in your lady's heart is to surprise her with a thoughtful gift. Here are some of our favorite ideas.
1. Send Them a Telegram!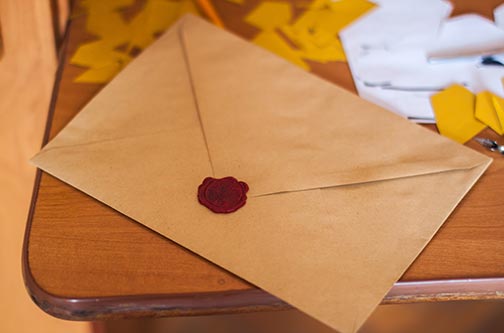 Who knew you could still send telegrams? But, yes, you can.
So have fun with this old-school form of communication. Telegrams are still a smart way to send important messages that are hand-delivered right to the door.
2. Create Quizzes for Each Other!
How much fun is this? Learn more about each by creating quizzes! Here is a book to help you come up with some! You can share dozens of fun questions, from favorite movies to hobbies and bucket lists.
A playful way to remember why you fell in love, and why you intend to stay that way.
3. Personalized Journal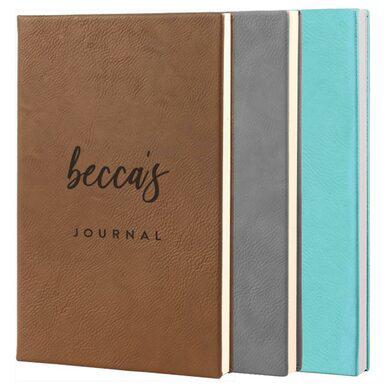 Take the time to fill out the journal with all your thoughts and love notes about your significant other. Make some doodles, write some poems, and let her know why she is the one for you.
Then surprise her with it when you are together! This is a thoughtful and romantic gift that she will cherish forever.
4. Virtual Yoga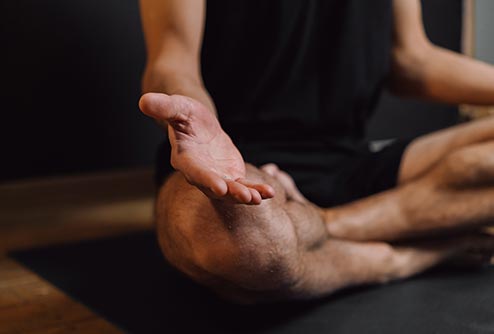 Set up a virtual yoga date. Whether you are an expert or a beginner, this would be a fun experience for both of you.
Yoga is good for the body, mind, and soul. You will benefit from the workout and the time spent together.
5. Surprise Her with Beautiful Flowers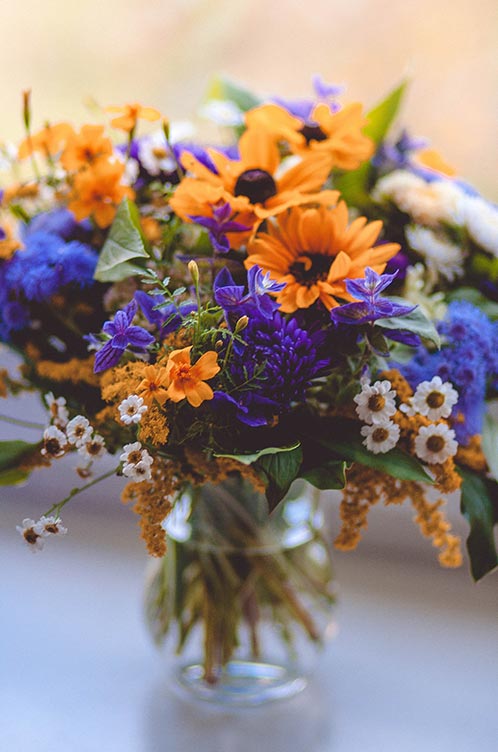 Imagine her smile lighting up her beautiful face as she realizes you sent flowers! Flowers will brighten her day, no matter what she is going through.
When a girl receives flowers, she becomes the envy of everybody else. You have told the world that she is special.
Every time she looks at her flowers or catches a fragrant smell, she will be reminded how extraordinary you make her feel.
Related: Cute Gifts for Cute Girlfriends
Long Distance Quotes
Some quotes for cards, text messages, or for your own inspiration and motivation!
1. Who's the perfect couple? We are!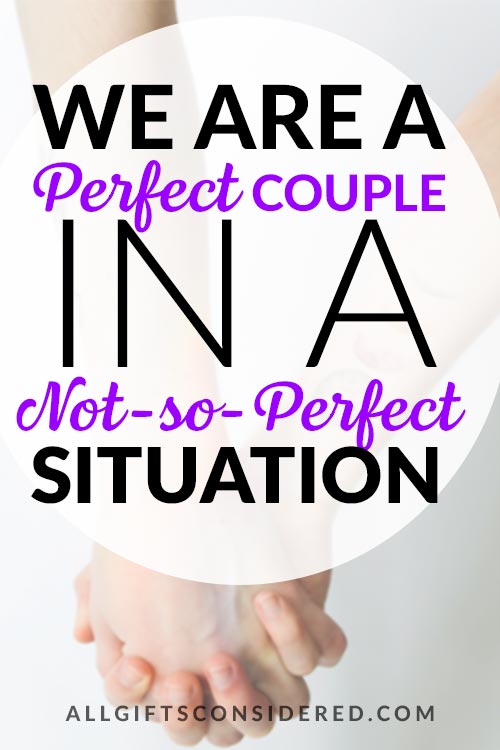 We are a perfect couple in a not-so-perfect situation.
2. Jealous (in a good way)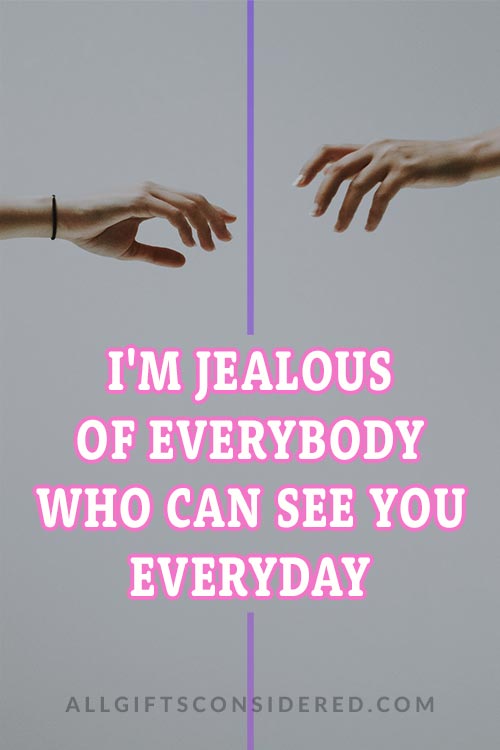 I'm jealous of everybody who can see you everyday.
3. Here's what I want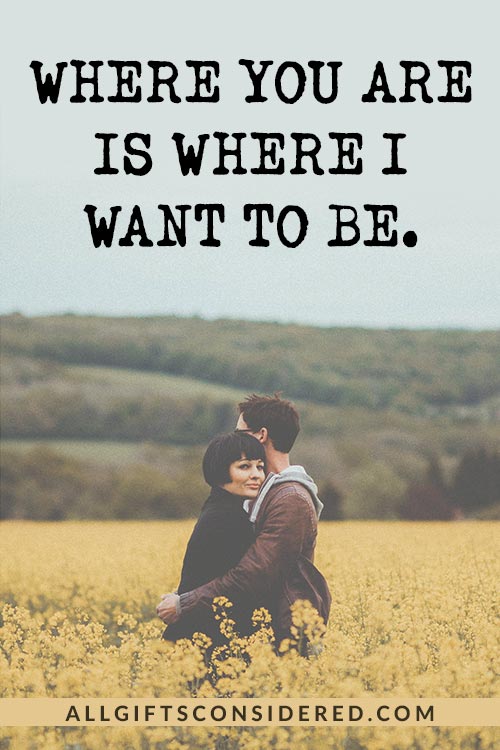 Where you are is where I want to be.
4. Always on my mind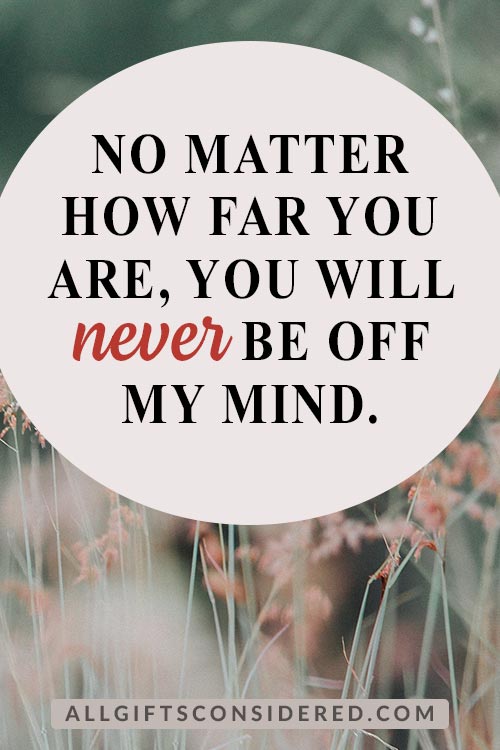 No matter how far you are, you will never be off my mind.
5. You, me, us.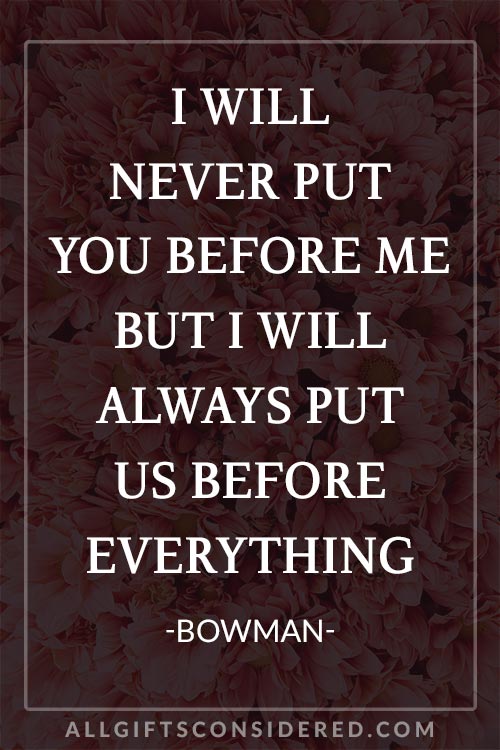 I will never put you before me but I will always put us before everything.

Bowman
6. If only you could see my face right now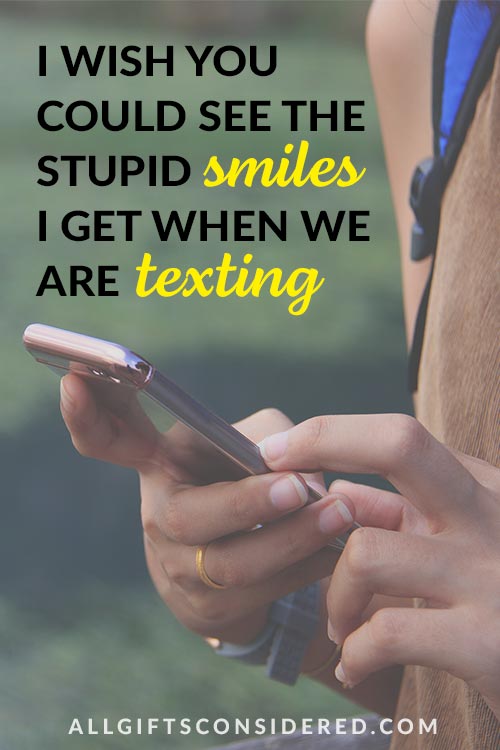 I wish you could see the stupid smiles I get when we are texting…
7. My heart is doing what my arms cannot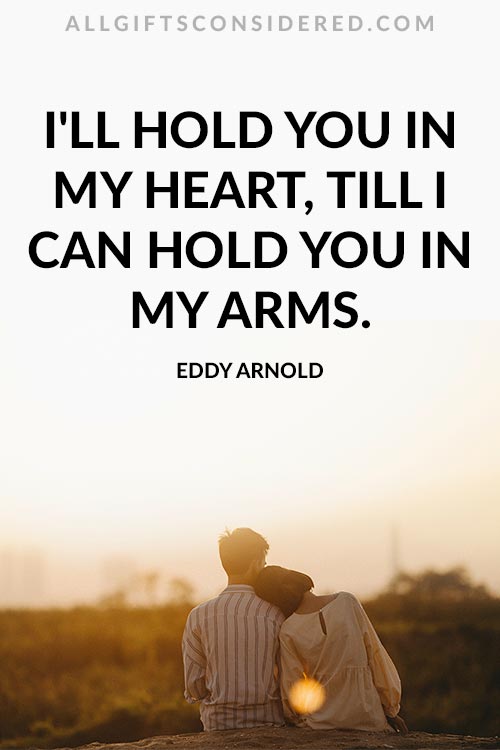 I'll hold you in my heart, till I can hold you in my arms.

Eddy Arnold
8. Absence makes the heart grown fonder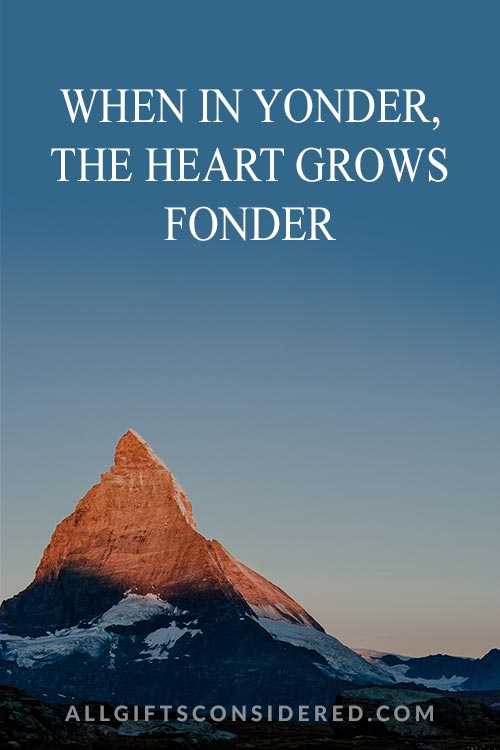 When in yonder, the heart grows fonder.
9. Easy? No. Worth it? Yes.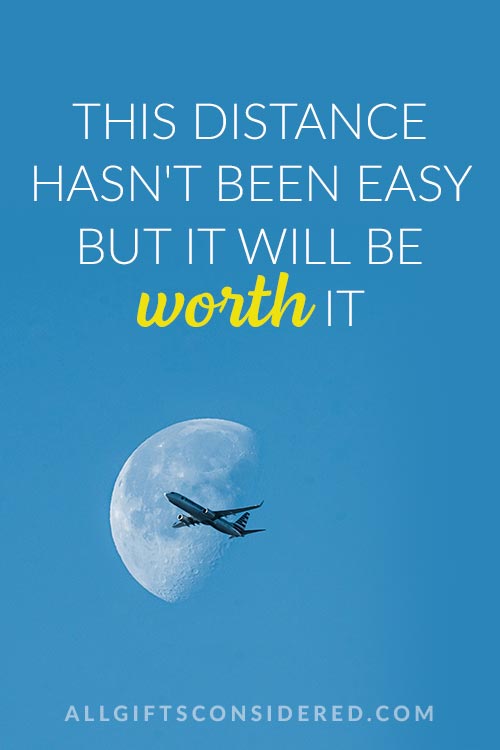 This distance hasn't been easy but it will be worth it.
10. Greater than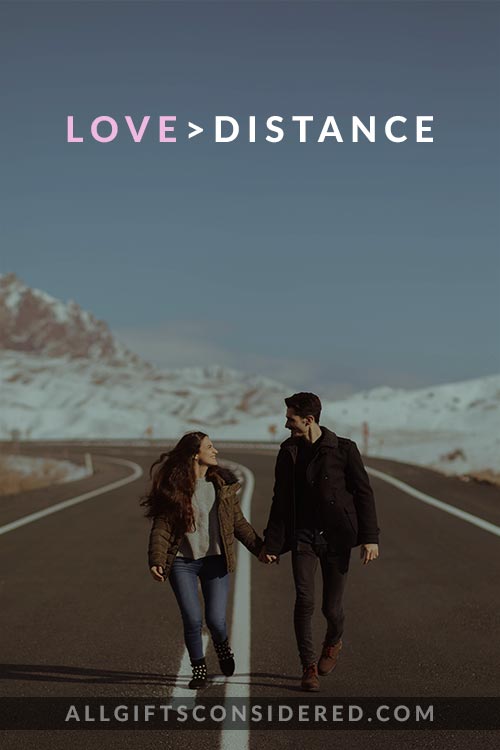 Love > Distance
After going through our extensive list, we are confident you could find a numerous items to suit your needs. Take comfort in the fact that long-distance relationships can and do last.
Read next: The Couples Gift Guide
Pin It