Hmm, when should you bring a hostess gift? This is an age-old question with an answer that seems to change with the changing times.
In this article, we're going to answer the question "Should I bring a hostess gift?" We'll explain a simple rule to help you decide when to bring a hostess gift, go into detail on some scenarios, and wrap up with 10 inexpensive hostess gift ideas.
Sound good? Let's begin.
Should I Bring a Hostess Gift?
This is probably your situation:
You've just received an invitation to a get-together with family, friends, or co-workers. Perhaps the party is at someone's home. Maybe it's at a restaurant. Maybe it's even at reception hall or event center.
So, you're considering showing your appreciation for the hospitality by getting the hostess a gift.
That's very thoughtful, of course. But you are not quite sure if it's appropriate to bring a hostess gift to this particular party. So, when exactly is it appropriate to bring a hostess gift? And what are some quality yet inexpensive hostess gift ideas?
Here's the basic rule of thumb for deciding whether or not you should bring your hostess a gift:
Yes if you're attending a relatively small, close-knit gathering.
No if you'll be attending a large formal party, such as a corporate dinner.
It's as simple as that.
In either case, remember that it is always your decision. Sure, it's good etiquette to bring a gift, but it's not a requirement.
When to Bring a Hostess Gift
Not all gatherings are created equally. Sometimes it is traditional to bring a gift to the hostess, and other times it is completely up to you.
In some situations, not everyone who is invited to a party is going to have the means or wherewithal to bring a gift. A gracious hostess will understand this.
Let's take a look at common scenarios.
Formal Parties
If you're debating whether or not to bring a hostess gift to a more formal party, just keep in mind in the rule of thumb above:
Do bring a hostess gift if you are attending a smaller, close-knit gathering.
Don't bring a hostess gift if you attending a larger event.
If it will be a large party, whether at a home or elsewhere, foregoing the gift makes it easier on everyone; on you because you don't have to search for and find the hostess to give her the gift, and on the hostess herself because she will most likely be preoccupied with her, well, hostess-ing duties.
Housewarming
If you'll be going to a housewarming party, this is a perfect opportunity to take a gift for your hostess.
A gift at a housewarming party traditionally shows your appreciation for the invite. At the same time, it also provides your hostess with a little something new to add to her new home.
If you're struggling to think of the perfect housewarming gift, be sure to see our list of hostess gifts below. A gift that the hostess could put to use right away in her new home (such as the #4 coasters) would be most appreciated.
Showers, Weddings, & Other Events
Attending a wedding or baby shower? If so, whether or not you should bring the hostess a gift is entirely up to you. The center of attention at a shower should be placed on the bride or mother-to-be, of course, so you'll most likely be taking a gift for her.
That said, it would not be inappropriate to offer the hostess of the shower a gift, if you find it in your heart to do so. She has, after all, worked very hard to make this a special day for the person of honor!
If you are particularly close to either the honoree or the hostess, a hostess gift is a great idea. It's a simple gesture that shows your appreciation for their work and friendship.
For any other events or get-togethers, such as casual dinner parties, cocktail parties, birthdays, retirement and graduation parties, or holiday gatherings, simply follow the "General Rule of Thumb" above and you'll be covered. Click here for a full list of holidays you can gifts during.
Hostess Gift Etiquette Tips
Before we take a look at specific gift ideas, let's go over just a few easy-to-remember gift-giving etiquette tips.
Try to give your gift in private, if you can. Remember that it's not about you…others don't have to know that you gave anything.
Go the extra mile with your gift. Sure, the classic gift of a bottle of wine is perfectly fine. But taking that extra step, like finding out your hostess's favorite wine beforehand, would make it that much more special.
Don't apologize for your gift! For example, don't say, "I'm sorry, this was all I could find that I thought you might like!" Even if you're not sure if your hostess will honestly like what you got her, just offer the gift sincerely. It's truly the thought that counts.
For even more gift-giving etiquette tips, see here.
Now that that's taken care of, it's finally time to take a look at our gift ideas! Let's begin.
Top Ten Hostess Gift Ideas
Our website is supported by our users. We sometimes earn a commission when you click through the affiliate links on our website. Learn more here.
1. Custom Engraved Thermal Tumbler Hostess Gift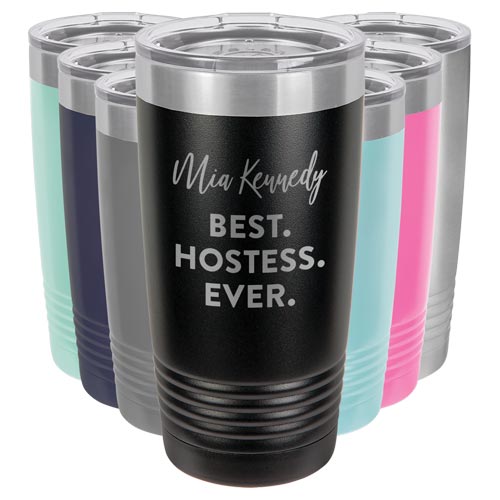 First up on our list of inexpensive hostess gift ideas is this custom engraved tumbler from Northwest Gifts. This Polar Camel tumbler is both vacuum-sealed and double-walled, making it perfect for both hot and chilled beverages.
Personalize it with your hostess's name, a fun quote like "BEST. HOSTESS. EVER." Choose any text you like and we'll engrave it, then watch her face light up when you give it to her.
2. Personalized Wood Bottle Opener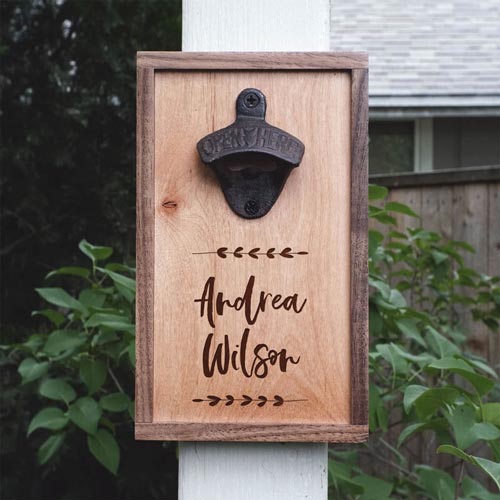 This unique wood bottle opener would make a lovely hostess gift for almost any kind of get-together. It is constructed of quality walnut and maple wood, and the opener itself is of sturdy cast iron that reads "Open Here."
The best thing about this bottle opener is that we can personalize it with the name of your hostess, making it a pretty, practical addition to her kitchen, home bar, or back patio.
3. Magnolia Table Cookbook
In this modern classic, Joanna Gaines of HGTV fame shares with us family recipes as well as favorite dishes straight from her family's Waco, Texas restaurant.
If you know that your hostess is one for cooking up new things, Magnolia Table may be the perfect addition to her cookbook collection.
4. Personalized Bamboo Coasters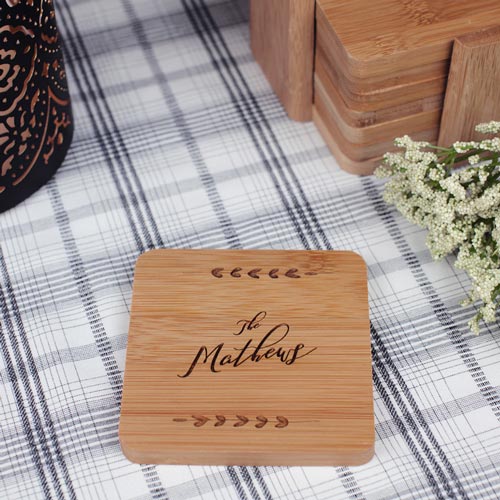 For a thoughtful, practical hostess gift that is also economical, you can't go wrong with this personalized bamboo coaster set from Northwest Gifts.
Just like almost all the products we offer, we are able to personalize your hostess gift coaster set to add that extra special touch. Allow us to add your hostess's name, or any other text that you'd like.
5. Ceramic Fragrance Warmer
A ceramic fragrance holder is a great hostess gift idea because it's something that she can start using right away.
This "Home Sweet Home" fragrance warmer includes the warming bulb and easily plugs into an outlet. No flame required!
6. Gourmet Salt Sampler Kit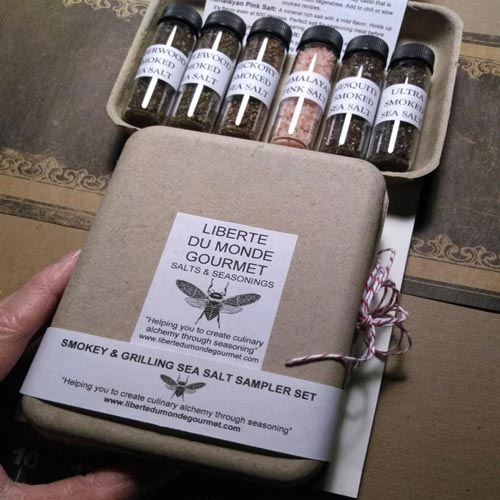 Another great gift idea for the hostess who likes to cook! Gift her with this unique gourmet salt sampler featuring six different flavors of sea and pink Himalayan salts. It's perfect for smoking, grilling, baking and searing.
Making it an even better gift for the environmentally conscious, the set comes in a recyclable paper pulp box.
7. Hostess with the Mostest Wine Glass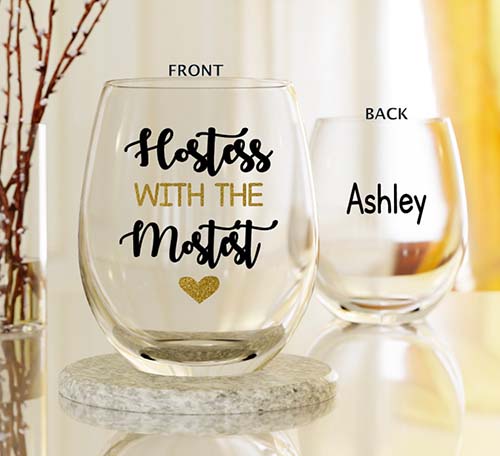 "Hostess with the Mostest" is a popular maxim for hostess gifts right now, so this cute custom wine glass is sure to go over very well when you give it!
It's easy on your wallet, she can use it right away, and best yet, it comes personalized with her name.
8. Tea Honey Spoons
After a long day of tirelessly ensuring the happiness and comfort of her guests, the hostess is sure to want to settle down and relax.
If she's more of a tea-drinker than a wine-drinker, consider gifting her this set of delicious tea honey spoons. Individually wrapped and packaged perfectly for gifting, these teaspoons are made using real clover honey.
9. Cheese Board Set
Imagine seeing the smile on your hostess's face when she receives a fun cheese board set from you!
This charcuterie serving board is unique in that it contains a hidden, magnetized drawer in which she can keep cutting knives as well as cheese markers.
It's perfect not only for serving cheeses, but also meats, fruits, veggies, breads or crackers, and even sushi.
10. Personalized Dish Towels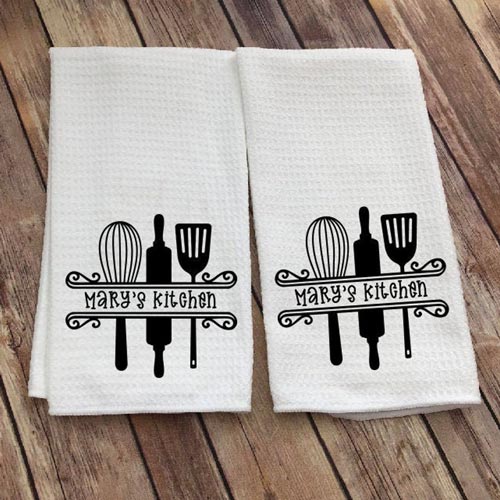 Dish towels are always useful and therefore make the perfect gift for almost any occasion.
These cute dish towels can also be personalized, making them that much more special. Add your hostess's name to a set of dish towels and she'll be proud to display them in her kitchen.
21 More Gifts Your Favorite Hostess Will Love
11. Best Shower Ever – Wine Label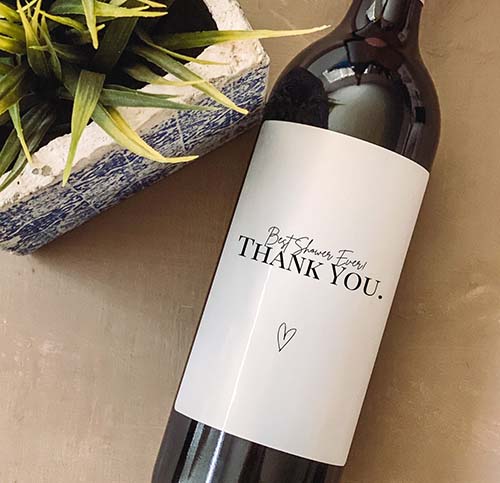 Wine is a traditional (and well-deserved) hostess gift. Go the extra mile to show your appreciation by selecting a good wine and adding a personalized wine label.
The best part is how easily they peel and stick – so you can redo it if you don't place it on straight the first time. Plus, your hostess can remove and save the label and be able to see the original winery label beneath. A win for everyone!
12. Personalized Apron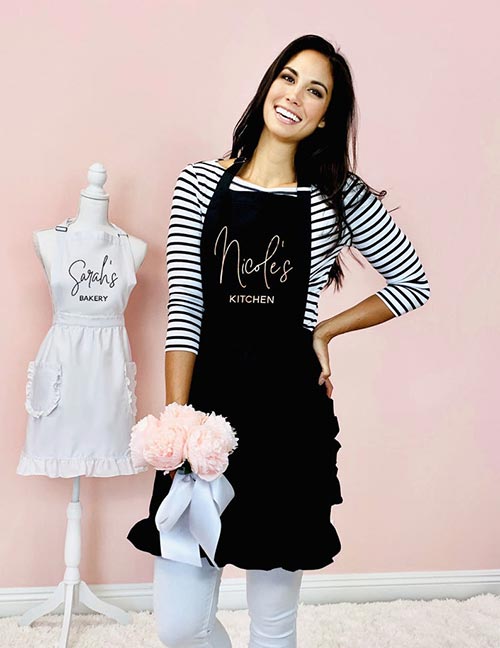 You really can't go wrong with a personalized hostess gift! This one becomes much more than a simple apron when you add your hostess's name to it.
Handmade from durable poly cotton, your hostess' custom vintage-style apron is sure to be used and loved on for years to come. Choose between a white or black apron, and either black or metallic lettering.
13. Organic Beeswax Candle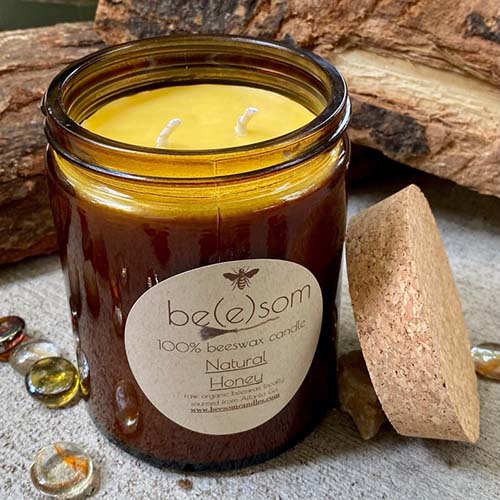 After she's been doing so much to guarantee the comfort of her guests, offer your hostess a gentle reminder to relax with this 100% organic beeswax candle from be(e)som.
The artisan sources the beeswax locally, and hand-pours each order into a 10 fluid ounce amber jar. You choose the scent.
Besides the lovely calming effects, beeswax candles are believed to release negative ions into the air. These negative ions are thought to counter positive ions that are all around, relieving conditions such as allergies, asthma and even anxiety.
14. Decorative Dessert Cups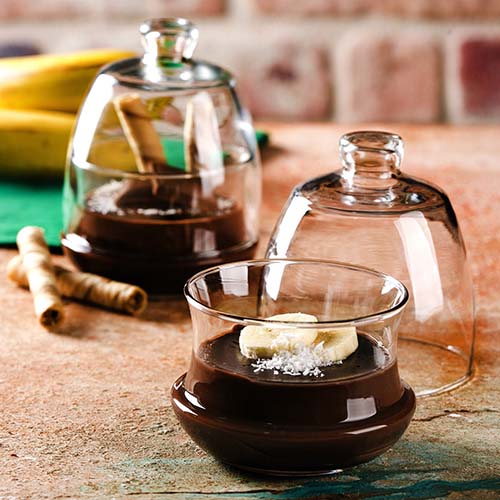 A truly gorgeous way to serve desserts. Anyone will appreciate these glass dessert cups, but the sophisticated hostess with a taste for elegance (not to mention a taste delicious treats) will appreciate them even more.
15. Natural Soap Bar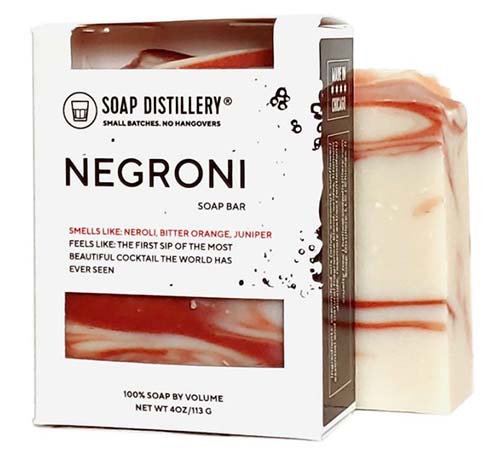 These plant-based bars will allow your hostess to freshen up without the harsh chemicals that are found in traditional soaps. Made with no phthalates, preservatives or palm oil, these sweet, orange-infused bars are handcrafted in the USA and provide you with a perfectly relaxing gift idea for the hostess in your life.
Related: Lake House Gifts (Hostess Gifts, Too)
16. Personalized Bamboo Cutting Board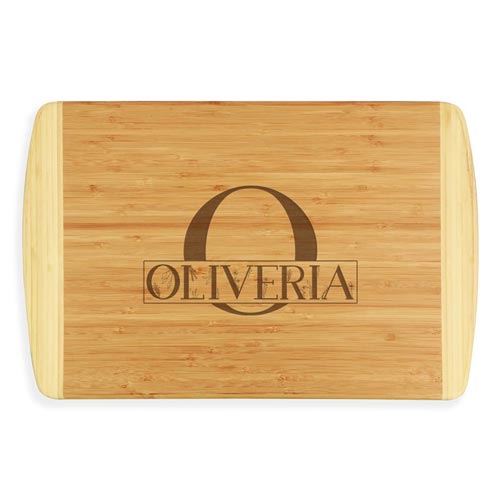 A cutting board is a classic hostess gift, but this one kicks it up a notch with gorgeous custom engraving.
Crafted from sturdy and sustainable bamboo wood and measuring a hefty 18″ x 12″, this cutting board takes the cake with free personalization.
Just one of many available designs, all fully customizable.
17. Wine and Whiskey Chilling Stones
Whether she's one for sipping on a glass of wine throughout the evening, throws back a shot or two, or prefers a refreshing LaCroix, these beverage chilling stones will be a welcome addition to your hostess's home bar.
Chilling stones provide the same cooling effect that ice blocks do, only they don't melt over time and they won't water up her drink.
18. Best Host Ever Bird Feeder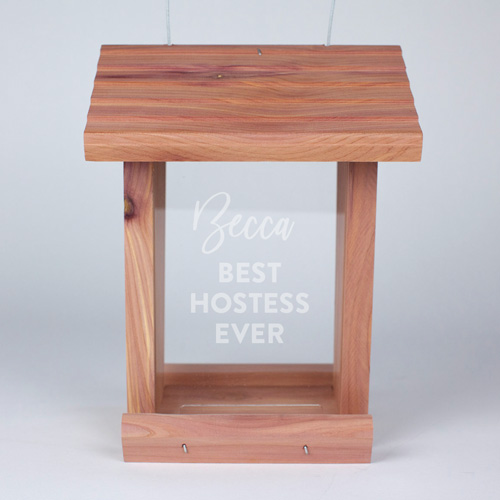 Tell your friend that she's the BEST. HOSTESS. EVER. with this personalized bird feeder! You know that she keeps her indoors decorated and tidy in a way that's particularly suited to her tastes and style. So, what can you give her that won't mess up her indoor feng shui? A gift that goes outside, of course!
That's why this bird feeder is such an amazing gift idea for a hostess. She can set it up anywhere outside and appreciate the birds, all while keeping her home exactly the way she wants it (and she won't feel guilty shoving your unused gift in a drawer).
Click here for more personalized gifts that are just for her.
19. Luxury Chocolates Gift Box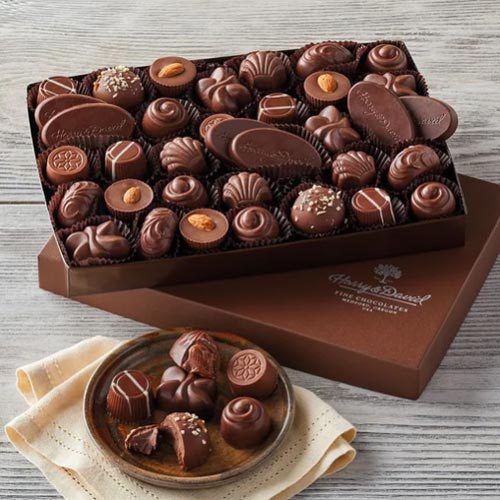 For the hostess who is also a chocolate lover, what could be a more perfect gift than a high-quality chocolate gift box?
This luxury gift box from Harry & David includes 35 milk chocolate delicacies, each carefully perfected in their candy kitchen.
20. Recipe Box
When it comes to finding the most memorable hostess gifts, it can help to think outside the box… the recipe box, that is!
Or maybe inside… hmm…
Show your hostess you appreciation for her excellent cooking or baking skills with this metal citrus floral box in which she can keep all her favorite recipe cards.
21. Spice Blends Gift Box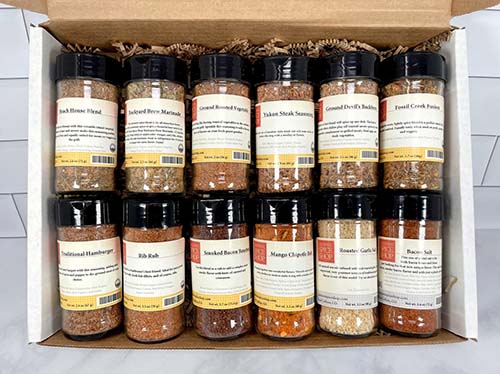 If your hostess is one for gourmet cooking, or simply likes to experiment in the kitchen with different spices and seasonings, she is sure to appreciate a spice blends gift box from the Old Town Spice Shop. This hostess gift includes 12 artisan spice blends, all best-sellers and wildly popular – not to mention delicious!
22. Indoor Herb Garden Kit
Does your hostess have a green thumb? If cooking is also her thing, cater to both those passions with this indoor herb garden kit.
Each kit comes complete with soil pellets, seeds (cilantro, chives, parsley and basil), biodegradable plant holders, plant markers and instructions. A wooden box is included for easy garden setup.
23. Organic Loose Leaf Tea Gift Set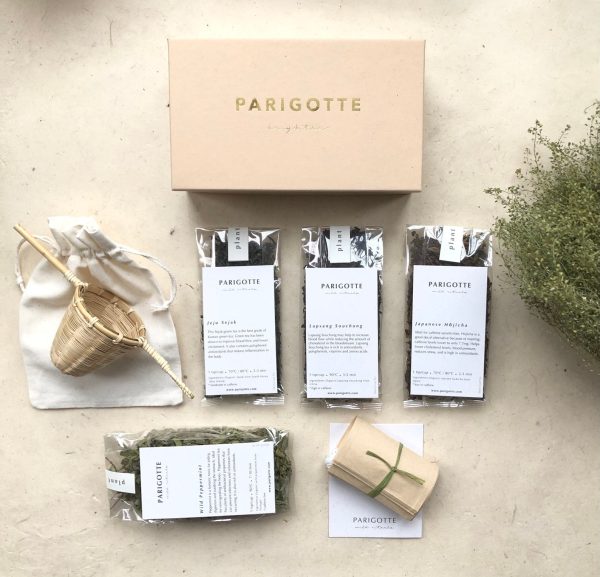 Give your hostess some deliciously soothing tea, and she will be able to relax the night away while still tending to her hostess-ing duties.
If you choose this loose-leaf tea gift set (certified organic by the Soil Science Society of America, no less) you can rest assured that your hostess will be receiving top-notch quality.
Each hostess gift set comes with seven different types of tea, packed in biodegradable, GMO-free tea bags.
24. Rustic Wine Rack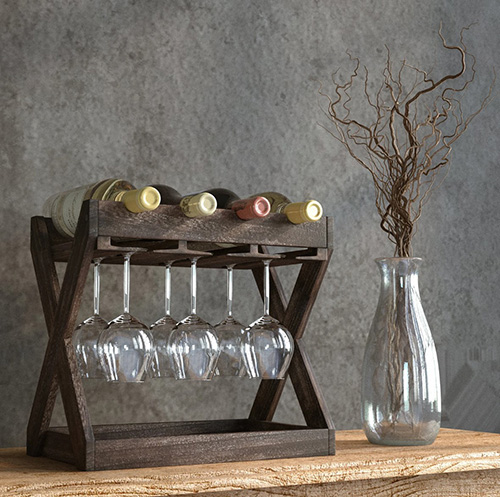 This rustic wine rack would make such an incredible hostess gift. In fact, it's so neat you may want to order one for yourself while you're at it. Crafted from the lightweight yet strong and sustainable Paulownia wood, it can hold up to four bottles of wine and six fluted glasses.
And it has an area below for cork storage! You know you've always wanted to start collecting those things…
25. Unique Cookie Cutters
Cookie decorating parties are all the rage these days, especially around the holidays.
If you'll be attending one of these festive get-togethers, and you know that cookie dough will be present, surprise your hostess with these fun frame-shaped cookie cutters.
You'll receive 10 cookie cutters in your order, and she'll be able to use them year after year for virtually any holiday or party.
26. Himalayan Salt Tequila Glasses
Your hostess will love these unique tequila glasses, which provide a fun and different twist to the usual party or get-together.
This set includes four glasses which are hand-carved from real pink Himalayan salt.
Related: 21 Margarita Gifts That Will Keep All Y'All Tequila Lovers **IN THE CUPS**
27. Engraved Utensils and Tea Towel Set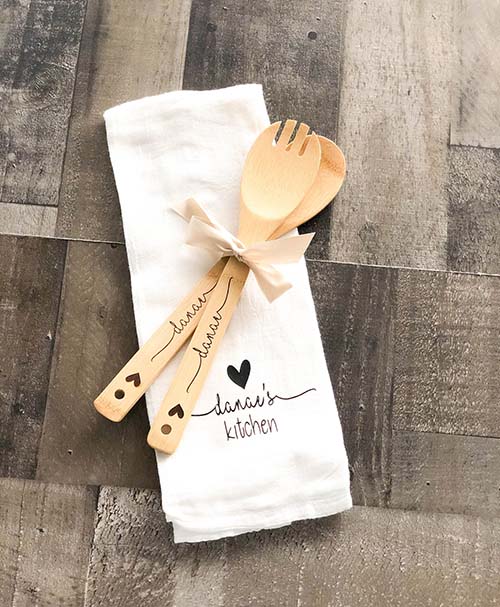 When preparing for her next party, your hostess will find mixing and stirring much more enjoyable with these cute, personalized utensils! This set comes with two custom engraved wooden serving utensils plus a personalized towel.
28. Pioneer Woman Measuring Bowls
As you can see, when it comes to picking a gift your hostess is sure to adore you just can't go wrong with beautiful cooking or baking supplies.
These Pioneer Woman Measuring Bowls are a perfect example of that. Brighten up your hostess's kitchen with these colorful ceramic bowls, which come four to a set.
29. Let's Toast the Host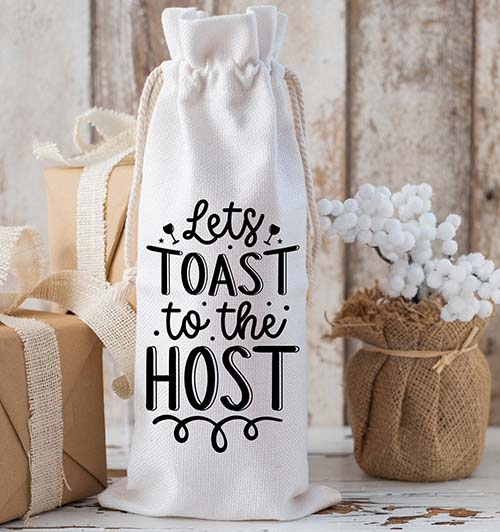 "Let's Toast to the Host" is a popular maxim and a super fun way to show the amazing hostess in your life how much you appreciate her.
Add a bottle of her favorite wine to this drawstring wine bag, which you can also personalize with her name, and watch her face light up when she receives it.
30. Mezzaluna Knife
I don't know about you, but I love getting little kitchen accessories like this. It's one of those things you never think about before, but then you wonder how you lived so many years without it. So, make your hostess gift a Mezzaluna Knife – she'll be using (and appreciating) it for years!
31. Personalized Pink Flask Hostess Gift Set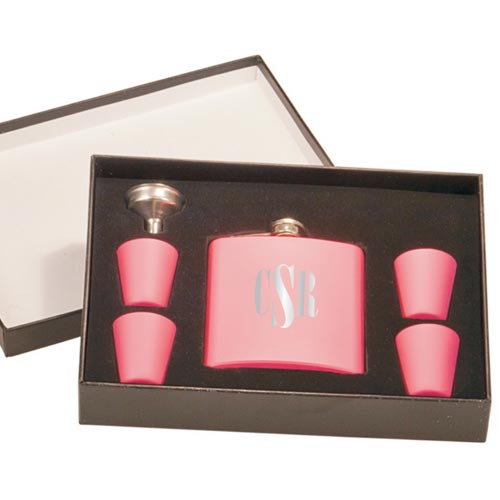 Last (but certainly not least!) on our list of memorable hostess gifts is this personalized flask gift set from Northwest Gifts.
No matter what her beverage of choice is, we're willing to bet your hostess will love the fact that this flask is A) pink, and B) personalized with her own initials.
The flask itself is stainless steel and holds up to six ounces. It, as well as the four accompanying shot glasses, can be personalized with monogram-style initials, or almost any other text you desire. More flask colors and styles are available here.
Hostess Gift Presentation
When it comes to gifts, presentation is everything! So before you go, we want to offer you some tried-and-true gift-giving etiquette advice. Follow these tips, and your hostess's gift is sure to be that much more memorable:
If you can, give your hostess her gift in private. Remember that no one else has to see that you got her anything… it's not about you, and others may not have been able to bring anything.
Don't be afraid to go the extra mile! Are you planning to buy your hostess a bottle of wine? Then go ahead and find out what her favorite is ahead of time. Or maybe offer to stay and help clean up after the party's over. A little thought really does go a long way.
Don't apologize for the gift you chose. It's simply not good etiquette to say, "I'm sorry about your gift! It's all I could find on such short notice. Hope you still like it!" Always remember that it's the thought that counts… all you have to worry about is being sincere when you give your gift.
For more ways to express your appreciation to the hostess, read our Thank You Gift Guide.
---
We hope that you enjoyed this article! It's our goal that you found this gift-giving information helpful. While we hope to have helped you find the perfect hostess gift too, in the very least we are confident that you've received some inspiration as you continue your search.
If you would like even more gift-giving ideas, most of which can be personalized with your hostess's name, check out all of the great products we have to offer at Northwest Gifts today!
Pin It