Let's talk about family Easter gifts! Easter is a time for family – extended, immediate, and those we lovingly call family.
Who remembers Aunt Darla's marshmallow salad at brunch? Sunrise service in your Sunday best? Hats for the ladies, pastel suits for your little brother? Baskets of eggs and treats, and for some reason, a bunny? It never gets old, right?
All of these things lead to a celebration, because the resurrection of Christ is always worth celebrating. When you think of a celebration, you think of joy, feasts, and gifts. These things contribute to a wonderful and memorable time for the whole family. Joy comes from the Lord, feasts come from everyone pitching in and cooking, and gifts come from… well, see below!
We've rounded up some great Easter gifts that go beyond the typical plastic eggs and candy. You're welcome!
17 Best Easter Gifts for Families
Our website is supported by our users. We sometimes earn a commission when you click through the affiliate links on our website. See our privacy policy & disclosures for more information.
1. Create an Easter Basket for the Whole Family
If you're feeling like getting down with your crafty self, why not learn how to weave an actual basket from scratch? It's a skill passed down from generation to generation but if your family was more of the shopping-at-the-Dollar-Tree kind, sometimes you need a little help.
The video above is a great tutorial to get you started on the fabulous new hobby of basket-weaving.
Here are some creative gifts to add to your Easter basket:
For more Easter basket gift ideas, click here!
2. Easter Egg-Stravaganza Flower Bouquet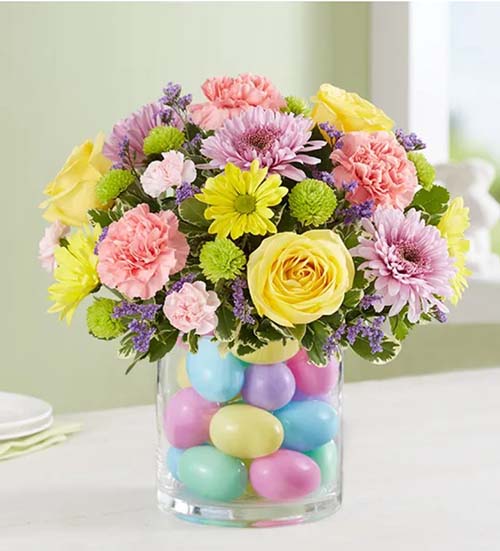 This oh-so pretty Egg-Stravanganza flower bouquet is absolutely exquisite and is perfect to bring to your mother-in-law's family supper or brunch. It's tasteful, whimsical, and will light up the table.
And if you can't be there with your family this year, it's a wonderful gift to have delivered in place of you!
3. Custom Family Carrot Patch Sign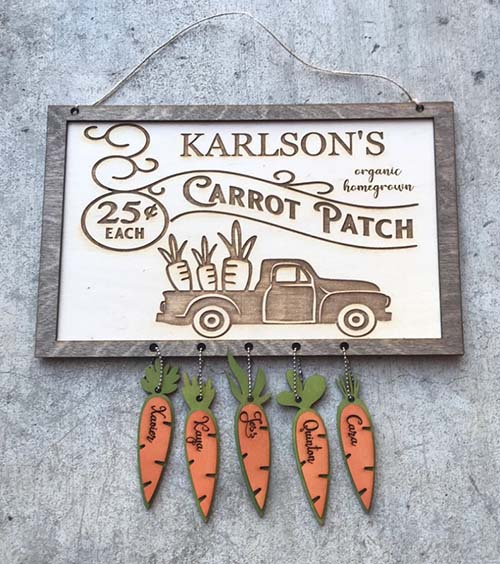 This adorable custom family sign will delight the recipient! With the cutest of carrot tags, engraved with each family member's names (don't leave out the fur babies!), and their surname up top, this sign might need to stay out all year 'round. It's too sweet to put away in a box the rest of the months!
4. Send the Family on an Easter Scavenger Hunt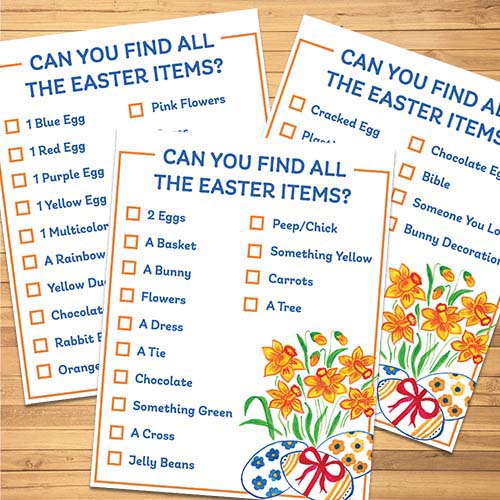 Keep the family from the temptation to scroll on their phones all day with these great printable scavenger hunt items! It's easy to pass them out along with pencils, set a timer, and hey, don't forget some prizes for the winners. Adults and kiddos alike will have fun with this one (or pair up for those youngsters who aren't quite reading yet).
Check out our Easter shop for more!
5. Watch Easter Movies Together
Getting all gussied up is a fun part of Easter! With these cute bunny shirts your family will be begging for the camera. Perfectly comfy for that crazy competitive Easter egg hunt, but just as cute paired with your best pants and skirts for church. Get ready to be the cutest family on the block!
7. Personalized Easter Poems with Seeds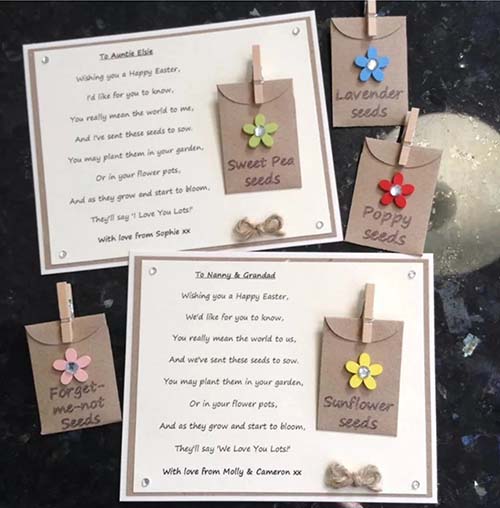 Either buy these adorable ones we found here, or write your own sweet Easter poems for each other. Such a kind gift for grandparents as well, from their grandkids. And the best part is planting those seeds together! Easter is a great time to do some family yard work, so get outside already!
8. Outdoor Easter Games
Easter just begs to be celebrated outdoors, doesn't it? Create new Easter traditions and keep the brood busy and laughing with some great outdoor games like these:
The best part about family Easter games like these? Everyone is off their screens and making memories together. So great for extended family as well, a family reunion, or at the campground.
Related: Easter Games & Activities
9. DIY Faberge Egg Kits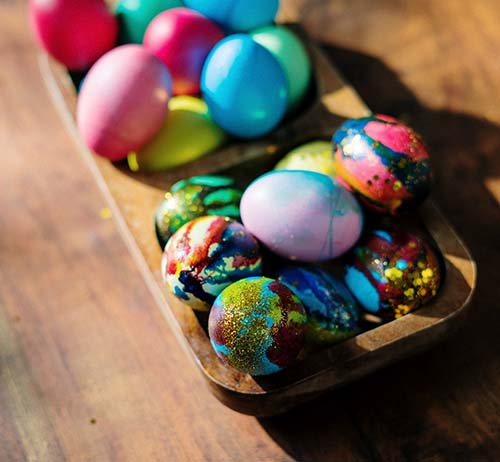 Anyone can put together some plastic eggs with some stale candy, but not you! This year, we're making our own DIY Faberge eggs! That's right. All hail, the Queen of Easter! This may be the best new tradition yet. Don't be surprised if you catch the Faberge bug!
10. Customized Family Bird Feeder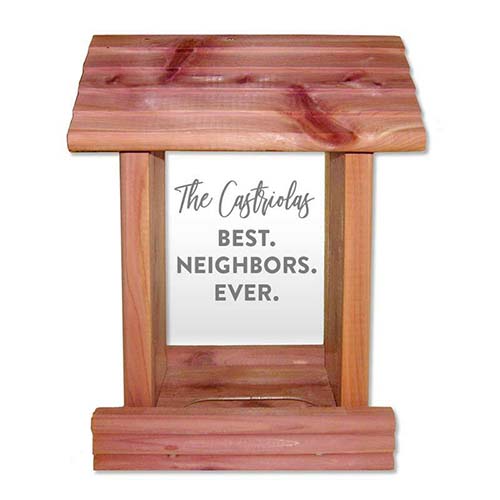 Hang up this stunning customizable bird feeder and watch all your favorite spring critters running to eat the seeds. It's a fun Easter gift that keeps giving back all year around. The cedar wood is so pretty against the backdrop of each and every season, and you can customize the engraving to be as straightforward, sentimental, or silly as you like.
Related: Best Easter Gifts for Adults
11. Do You Really Know Your Family?
Spend the cool evening or the frosty morning really getting to know your kiddos, teens, and even adults! Sometimes we think our family members know one another, but especially kids and grandparents sometimes need some prodding!
This fun game of icebreakers and conversation starters is just the thing to break out when the casserole needs some more time to bake.
12. Easter Books for the Family to Read Together
We used to bring out special books during each holiday season, and it was always one of my favorite memories of holidays!
Who can forget the Christmas stories picked from Little House or Amelia Bedelia? There are great Easter books out there too, just waiting for you and your little ones to discover. Like these ones!
Related: 23 Books to Read with Your Kids
13. Give Everyone Their Own Rain Boots!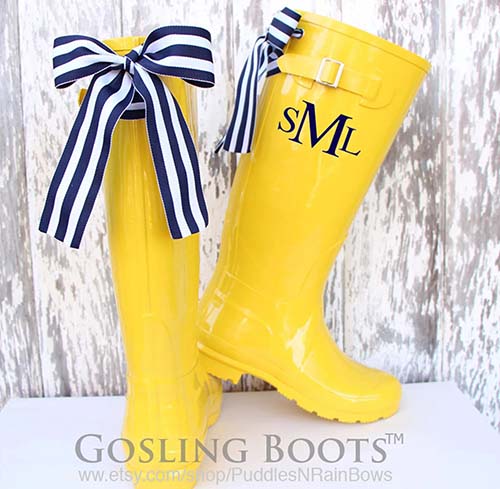 You know what they say, "April showers bring May flowers!" Get the whole family ready for some splashing in the puddles with matching rain boots. This is a fun tradition you can do each year (because goodness knows, those kids' feet sure grow fast). And don't even get me started on how many adorable family photos these boots will inspire!
14. Easter Egg Treasure Hunt!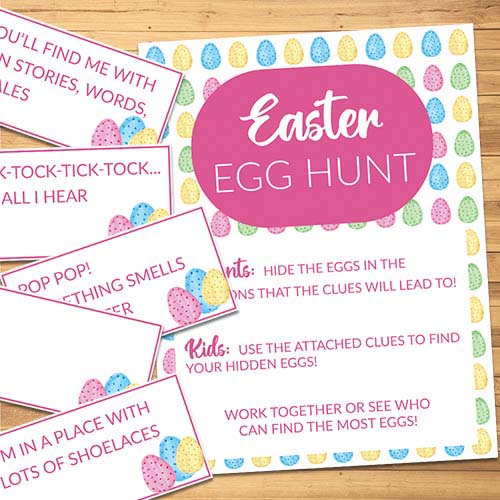 There's nothing more fun for the whole family than a tried and true Easter egg hunt! Transform your backyard into a war zone – er, I meant, playground. Yes, playground. Whether your family is ultra competitive or not, everyone gets their heart rate up after that yummy brunch with a fun treasure hunt.
15. Complete This Box of Family Activities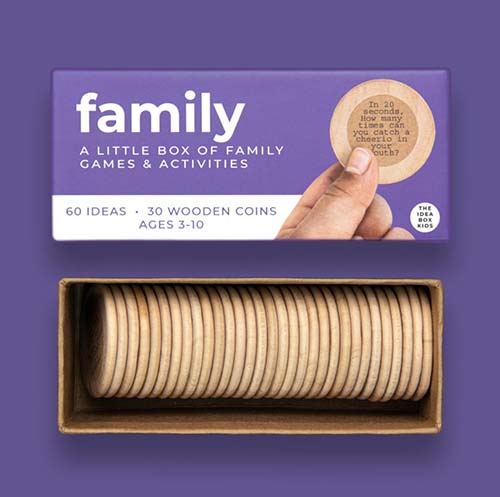 The key to having a successful family day, with little-to-no complaining or phone scrolling, is having some fun things to do together, like this Little Box of Family Games & Activities.
These family-friendly ideas only take a few minutes each, are kooky and wacky, and each family member will be cracking up as they scurry to perform each one. The kids will anticipate pulling out this fun family box each year as a favorite Easter tradition, and the wooden chips will last for years upon years.
16. Personalized Easter House Flag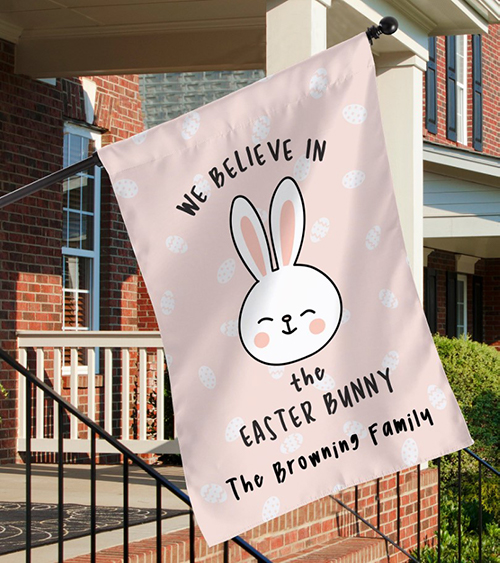 How cute are these Easter house flags? We can't get enough of the soft, spring pastels and cute sayings. You can choose from several different sayings, and then have it customized with your family's name.
A perfect option to bring a touch of festive, seasonal decor to the front porch.
17. Treat the Family to a Memorable Adventure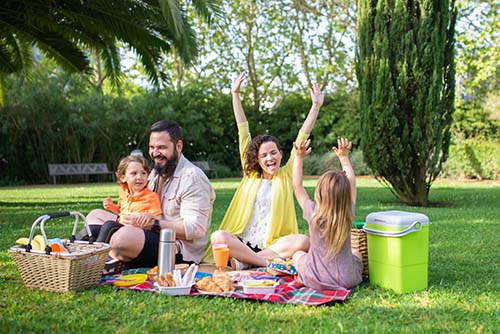 Instead of giving things, what if you gave an experience? Take a trip of a lifetime, or just a sweet picnic to your local park! What about spending the weekend camping, waking up to nature as you watch the Easter morning sunrise. And who says you can't spend Easter Sunday on the beach?!
Whether you spend a little or a lot, drive a short or long distance, put some thought into it and treat the family to a really memorable and special adventure.
Read Next: One Gift for the Whole Family
Pin It