If you're looking for beach gifts for beach lovers, you've come to the right place….
I love the beach! I think it would be safe to say I may be part dolphin. Give it to me wild and stormy, rocky or sandy, windy or calm. I love it all!
I love it so much my family up and moved all across the country to live in a small Florida beach town. Here, we swim in the clear warm water of the Gulf Coast, and soak up that amazing Florida sun.
Let me tell ya, it's grand. There is nothing like diving under those turquoise waves, seeing dolphins and sea turtles in the wild. Sigh.
Now that we live near enough to the beach to go whenever we want we have slowly built up a supply of beach gear, accessories, and decor.
I'm also a sucker for beach jewelry, recycled items, boho beach style, and ocean conservation companies. I follow so many small business on Instagram that create beautiful gifts for the ocean lover.
If you know someone who pines for the beach hopefully these gift ideas will give you some good ideas on things to get for them.
At the very least it will be a nice Christmas list for my husband!
Haha.
21 Great Beach Lover Gifts
Our website is supported by our users. We sometimes earn a commission when you click through the affiliate links on our website. See our privacy policy & disclosures for more information.
Practical, Fun, Frisky
I'm seriously in love with all these beach gifts. I've tried to pick an array of ideas that your beach lover will use (practical!), enjoy owning (fun!), and get excited about (frisky!).
My family has most of these, and the rest are things I want. So, if you're shopping for beach lover gifts for that beach bum in your life, I don't think you could go wrong with any of the gifts below!
1. 4ocean Dolphin Bracelet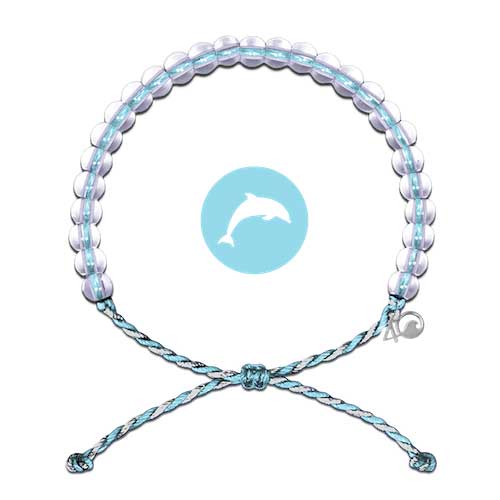 I've been eyeing these bracelets for a while, and not just because they look cool.
4ocean is a company that is committed to cleaning up our oceans and preserving marine life. They remove one pound of trash for each bracelet purchase.
This bracelet, the "Dolphin," is made from recycled glass and plastic pulled from the ocean. I think the dolphin one is super cool, since I now live near dolphins, but they also have bracelets dedicated to plenty of other seafaring animals as well.
This would make the perfect gift for the ocean and nature lover.
2. Best Beach Hammock
I received this hammock as a gift for Christmas a few years ago, and I love it!
These beach hammocks are easy to set up, coming with everything you need to hang them, and they fold up to be stored in a teeny tiny bag, which we usually just toss in our big beach tote. We like to hang ours at the beach pier, and sit and listen to the waves.
This particular hammock can hold two people, so it would be a sweet gift for the beach lover or beach loving couple in your life.
We currently have it hanging in our back porch, and it's ready to unclip and go anytime we need some beach bummin' time!
3. Personalized Beach Lover Tumbler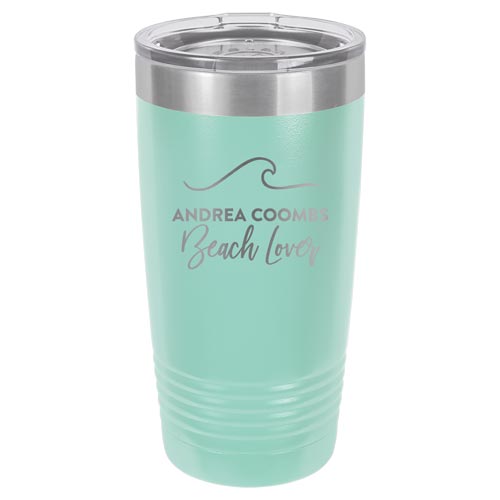 This custom Beach Lover Tumbler is a sweet insulated beachy travel mug. Available in "seafoam green" as shown or a variety of other colors to personalize for the beach lover in your life.
Keeps your drink cold (or hot) for an entire day of fun in the sun. You can personalize any part of it with as much or little text as you like. These are great mugs!!
4. Sand-Free Beach Towel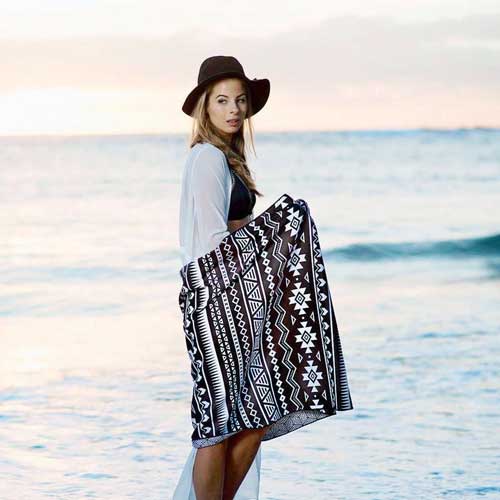 Can someone say "yo holla?!" I love sand on my bare feet as much as the next person, but I do not love sand on every other part of me, which is why I think these Tesalate towels are amazing.
They are everything a beach lover wants: pretty and practical, dry quickly, and don't get sand all over. If you know someone who regularly visits the beach, this would be a great gift.
BTW… I have one of these, and love it. See my review here.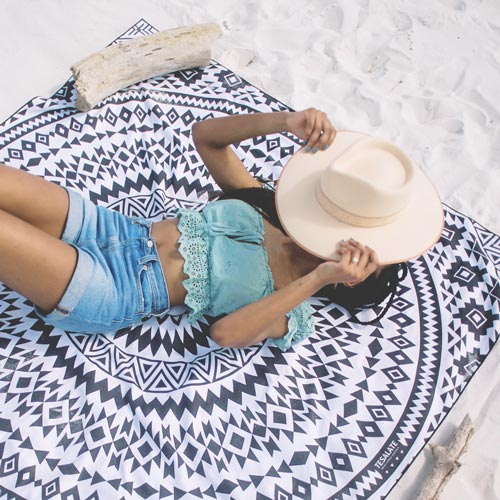 5. Sand-Free Beach Picnic Blanket
We have this beach picnic blanket, and it has been such a great purchase! It fits in a teeny tiny bag, but is huge when you stretch it out. You put the four tent type pegs in the ground, and bam! Beach picnic in style.
It dries super quickly, and you can just shake the sand off and shove it back in the bag to store. If you know someone who goes to the beach often to relax in the sand, they would definitely love this.
6. Natural Sunscreen Kit
Want. This organic sunscreen set has everything you need to care for your skin when spending time at the beach. COOLA products are good for your skin, non toxic, and come in a handy little bag.
The kit also includes care for your lips, plus after sun lotion. I would definitely love getting this as a gift. (Hint hint!)
7. Sea Glass Necklace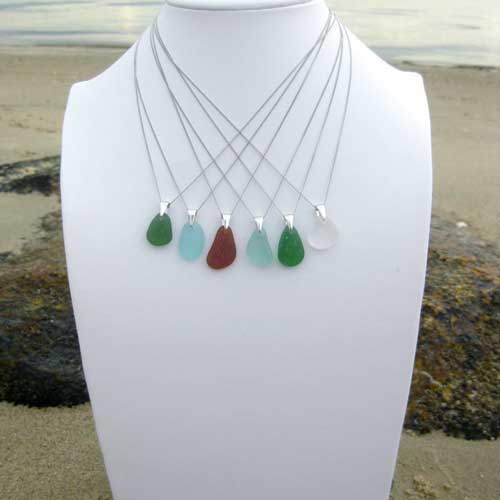 Sea glass. Sigh. So lovely! If you know someone who adores the beach, these sea glass necklaces would make the best presents.
You can choose from the different colors of sea glass (seafoam, amber, white, etc) to suit each taste. Drool.
8. White Sand, Salt Water Beach House Sign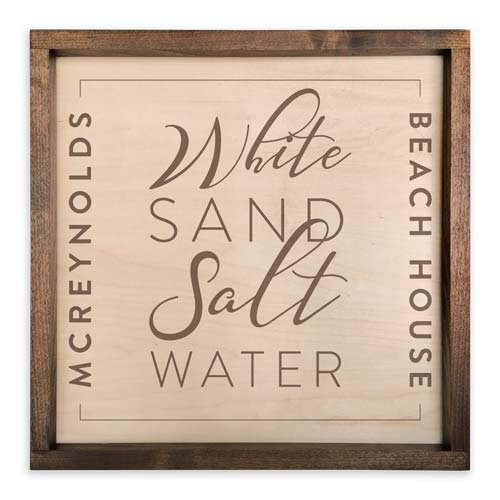 Ahh, the feel of the white sand between your toes, that ineffable scent of ocean spray from the salt water coming in on the breeze… it's enough to make you want to dive in!
This wooden sign is the perfect gift idea for a beach lover's home. Even if it's not an *actual* beach house, you can make them feel like it is when you give them this gorgeous wood sign personalized with their name!
It's made in the USA from real wood, with a lovely modern dark-stained frame and custom etching of "White Sand, Salt Water" plus their family name. Get yours here!
Check out more Personalized Beach, Sailing, and Nautical Signs
9. Inflatable Beach Lounger
Okay, I've been wanting one of these inflatable loungers for ages because they look like the ultimate chill. You just wave the thing through the air to inflate, and babam! Oceanside comfort.
Sign. Me. Up.
Plus, you can also float on it. Yep. It's like beach magic. If you give this to someone, though, be prepared to never see them again, because they will not want to leave the beach. They'll probably just float away into never ending bliss. *Sigh.*
10. Underwater Sports Camera
We love our underwater camera, especially now that we live near the clear beaches of Florida and can actually use it all the time.
The camera pictured above is newer and better than ours – it goes up to 4k! Plus it comes with tons of accessories like a wrist strap, so you can strap the sucker on and go swimming. There's also plenty of mounting options, remote control and dual rechargeable batteries.
My favorite time with ours so far was taking pictures of rays swimming by us this summer.
Here are a few samples of photos we have taken with our camera: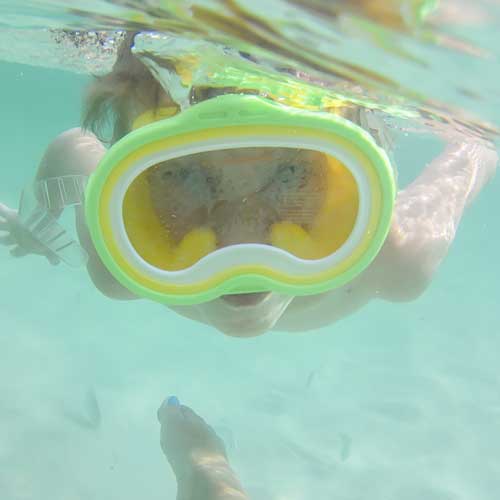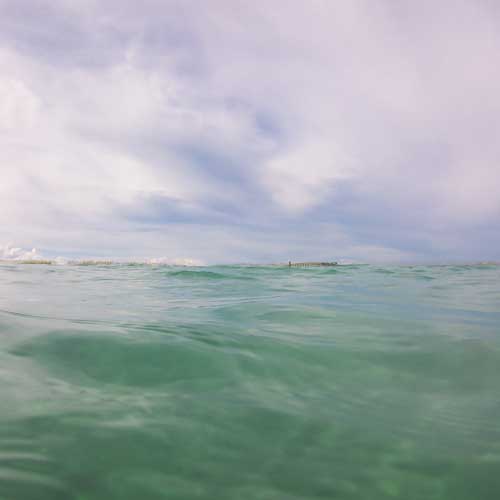 11. 30a Recycled Coast Tshirt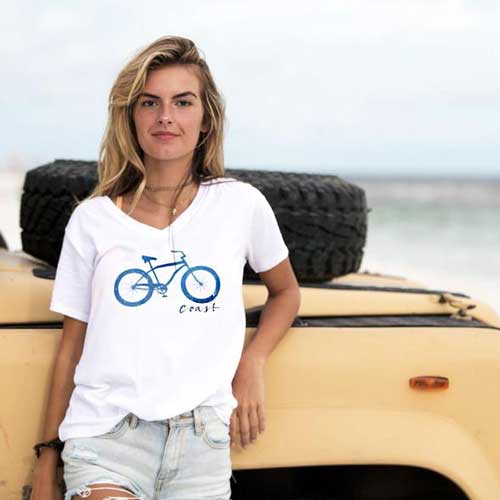 This coast t-shirt is cool for a lot of reasons. It is made from cotton blended with recycled plastic bottles, which could otherwise end up polluting our ocean.
It's made local to us, so I may be a bit partial. I've actually been following this company since before we decided to move across country to Florida. Yay, 30a.
But what it comes down to is, this is just a super cute beach lover t-shirt.
Update: This particular design appears to be no longer available. You can browse all the 30A shirts here (lots of cute ones!).
12. Beach Tote with Cooler
Here is a beach tote bag that looks super handy for beach days. Not only can it store your beach gear, but it has an insulated snack pouch built in AND a picnic blanket.
Living at the beach makes me realize that packing light is key… unless you have a donkey, large wagon, or your own private entourage to haul your stuff for you.
This is a super practical beach gift. We have a similar one (but no cooler pouch, so I'm totes jealous!) and use it every time we hit the sand.
13. Beach Shade Tent
We all love a day at the beach, but nobody wants skin cancer. This easy-pop-up shade tent is perfect for bringing your shade with you to the beach.
Our family has one of these, and they actually do pop open easily (like, 2-second setup) while collapsing to store in a small bag (the collapsing can be a little tricky, but once you get the hang of how to twist it you can do it in 10 seconds).
There is usually plenty of room for our family of four plus all our gear in the tent. Definitely a good gift idea for a beach lover who regularly spends days in the sun!
14. For the Oceans Bracelet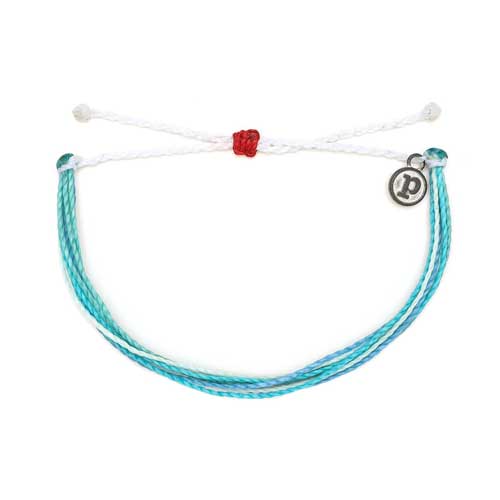 Just look at that! Shut up and take my money.
But for real, I can't resist Puravida bracelets. I have so many and I still want more! They look great layered together in multiples, plus they are waterproof.
A portion of sales go to different causes and small businesses. This specific bracelet benefits the Ocean Preservation Society. K.
Need more bracelets now! Definitely the right choice for any fashionable ocean lover.
15. Natural Succulents & Driftwood Decor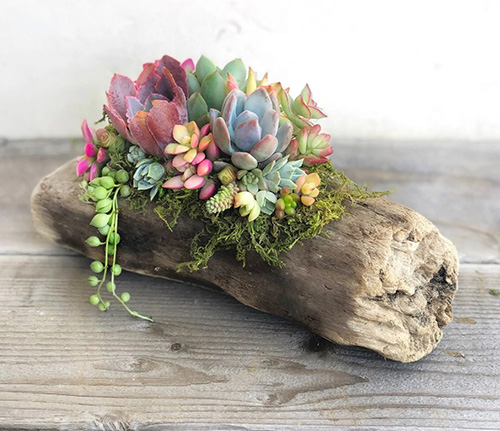 Your nature loving, beach going, sand treading friend or family member with go nuts over these beautiful driftwood decór pieces. Stunningly crafted by hand, each driftwood piece is uniquely planted with a gorgeous selection of succulents to create a one-of-a-kind gift that will delight them.
16. Sand Dollar & Shell Ornaments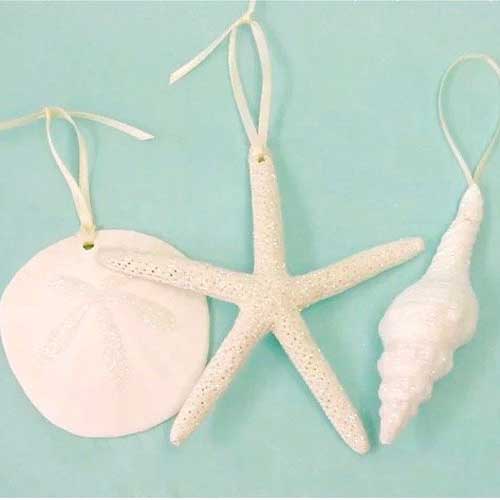 We haven't done this yet, but I love the idea of decorating the Christmas tree with beach ornaments. These ones are really pretty, and come in a set with all three types.
Seashell Christmas ornaments would be a great beach-themed gift for a gift exchange party, or a housewarming party.
17. Starfish Wine Stopper
Wine and the beach: what a great combination! …which makes this starfish wine stopper the perfect gift.
Of course, you may just down the whole bottle, but if you are like us, we usually get through about half, and then wish we had a wine stopper, instead of having to be tacky and use plastic wrap. Keep it classy, ya'll.
18. Personalized Tiki Hut Sign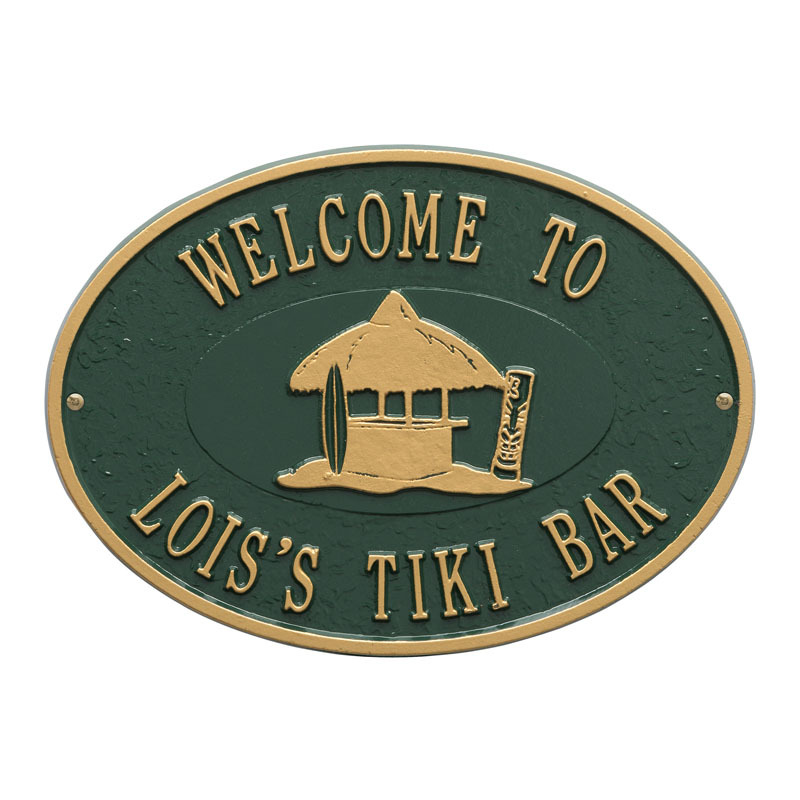 If you happen to live near the beach, this tiki bar sign would be super cool. It's personalized, solid metal, and approved for outdoor use in all weather.
Since moving to Florida last year I have grown to love tiki huts, so this would be great for a little beachy flair.
19. Mermaid Tail Blanket
If you can be anything, be a mermaid. Or at the very least you can look like one as you watch Netflix.
This mermaid tail blanket is super cute, and comes with a bonus necklace and a lil' tote bag to store it in. Good for those cold mornings which cause you to pine away for warm beach days of summer.
20. Sea Glass Ring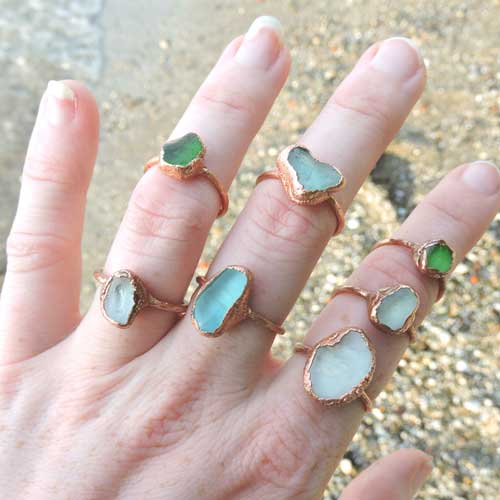 These sea glass rings are stunning!! The artist uses this process called electroforming which uses electric currents to shape the copper around the glass, giving each ring a natural and unique look.
I am smitten.
Are you in love with a beach bum? This is a gift for a beach lover that will utterly sweep them away.
21. Beach Hair Don't Care Trucker Hat
Now you can hang at the beach any old time (and look cute while you're at it) in this "beach hair don't care" hat.
Some of us have amazing beach hair, and others…. like, ahem, me… feel better slapping a hat over those salty tresses. This hat will do the trick and plus it is ADORABLE.
---
In conclusion I would just like to say, let's all buy Airstreams and move to the beach!
But seriously, I love the ocean, if you couldn't already tell, and I hope this list of gift ideas has been helpful. If so, feel free to share this post. Cheers to all of the beach bums receiving gifts that make their hearts oh-so-happy.
Need more beach lover gift ideas? Check these out.
Read Next: Best Gifts for Surfers