The Cigar of the Month Club from Monthly Clubs sends you (or your gift recipient) five boutique hand-rolled cigars each month.
With two subscription variations (Standard and Rare), your choice of frequency (ranging from monthly to quarterly), and easy gifting options, this is a great gift idea for the cigar enthusiast in your life.
Read my review and see what's inside the box below.
Our website is supported by our users. We sometimes earn a commission when you click through the affiliate links on our website. See our privacy policy & disclosures for more information.
Also, I received a free cigar subscription box for review. I'll do my best to provide an honest opinion.
What is a Cigar of the Month Club?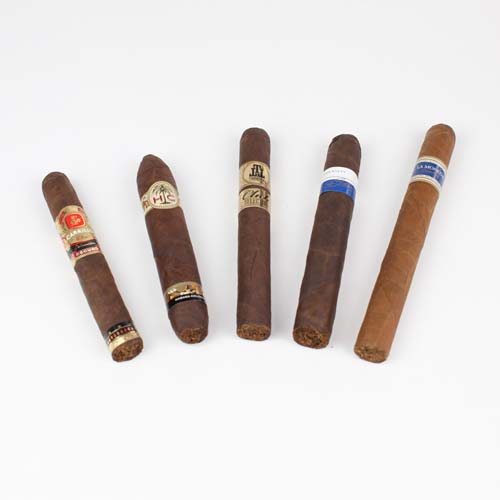 A cigar club, cigar subscription box, or "Cigar of the Month" club is a paid membership where you receive a monthly delivery of curated cigars.
Each cigar club is different. Some only send certain brands or cigars from specific regions.
Some focus on high-end small-batch cigars while others provide good but affordable stogies.
You'll find options for number of cigars per box (five is pretty typical), subscription length or frequency, and of course a wide range of prices.
The goal of a cigar of the month club is to provide the aficionado with some fun, unique, and flavorful smokes that he or she would not typically find at their local store.
It's a curated experience designed for the cigar lover, and as such it makes a great gift.
And… since you order it online, it's great to give for someone living in another state, or as a last-minute gift.
(Seriously. You can order this while the birthday cake is being cut, and by the time they get to the presents you can say "check your inbox for my gift." It's that simple.)
What is the Best Cigar of the Month Club?
There are many cigar clubs available, and I'm only reviewing one.
However, I've experienced many different monthly clubs, and I can tell you that – while the products might change – they're all about the same:
Good, enjoyable items
Fun to receive as a gift
Nice packaging
Occasional "great" products that you truly love
A memorable experience
The differences between each club comes down to:
How many items you receive
How often you receive them
The level of quality you choose; "premium" vs "budget-friendly"
So, which cigar of the month club is the best? The answer will depend on your personal tastes, budget, and goals for the subscription.
Real quick-like, let's compare three.
Cigar of the Month Clubs: Comparison Chart
|
This one
(Cigar Month Club)
Rare Cigar Club
Cigar Club (Amazing Clubs)
Main Feature
Premium hand-rolled cigars
Small-batch cigars
Premium hand-rolled cigars
Cost w/ Shipping
$32.95
$48.95
$35.95
# of Cigars
5
4
5
Discounts for longer membership
No
No
Yes
Audience
Cigar lover
Connoisseur
Cigar lover; budget-conscious
Production & tasting notes
Yes
Yes
Yes
Frequency options
Yes
Yes
Yes
Gifting Options
Yes
Yes
Yes
To Order
You can find many more cigar subscription boxes, but let's take a look at the one from MonthlyClubs.com.
Sidebar: I like MonthlyClubs.com. They've sent me two boxes, the Rare Beer Club and this one for cigars. They've both been pretty great. They also do wine, cheese, chocolate, and more.
Cigar of the Month Club Unboxing
All right, let's unbox this thing!
Here's the video of the unboxing:
And for those who prefer the sequential pictorial version, we'll start with the box I received: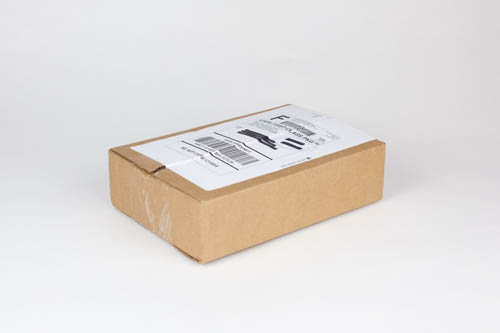 When opened, we find… (**gasp!**)
Typical, decent packaging material.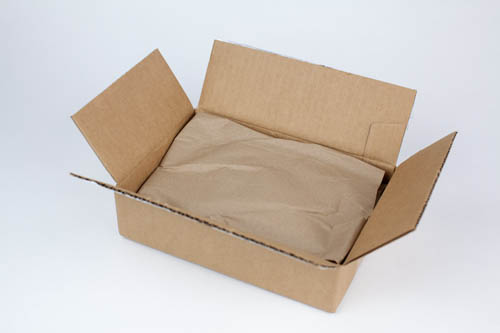 Exciting.
Underneath the brown paper, the first thing I saw was the welcome letter and gift note. This is where your gift note would show up if you're sending this as a gift.
Plus they briefly describe how the club works – you'll receive five cigars per month for X months, etc.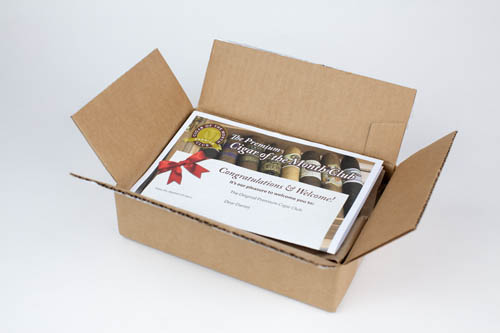 Beneath the gift note there's the "Society Brief," which is their monthly newsletter filled with descriptions, cigar maker profiles, tasting notes, country of origin, and more.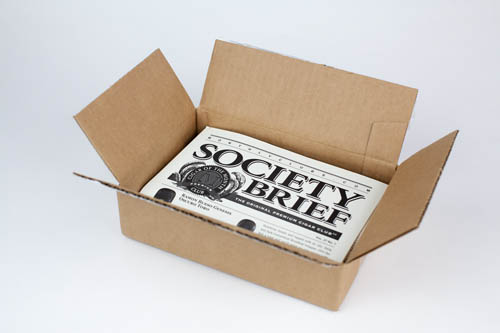 Beneath that, we finally get to the cigars. They're inside a nice little branded protective baggie.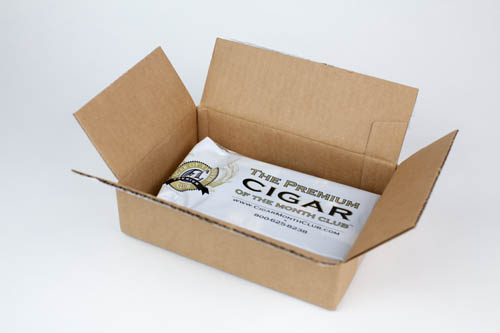 Here's the package by itself: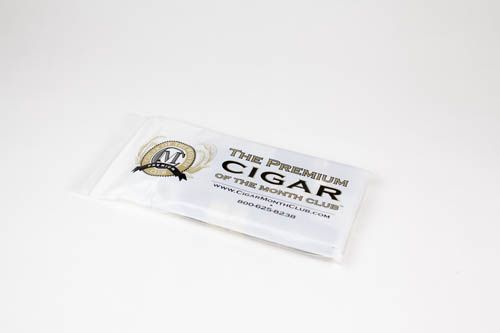 Inside, each of the five cigars are individually wrapped in resealable plastic sleeves.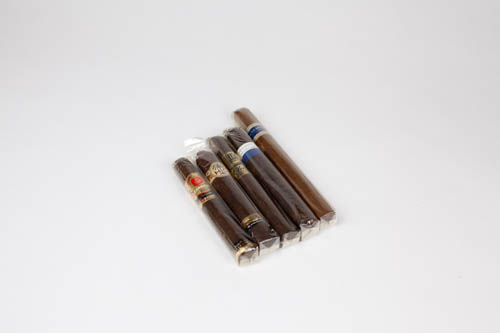 There's also a humidity control packet inside the plastic bag, which preserves the cigars during their journey through the post.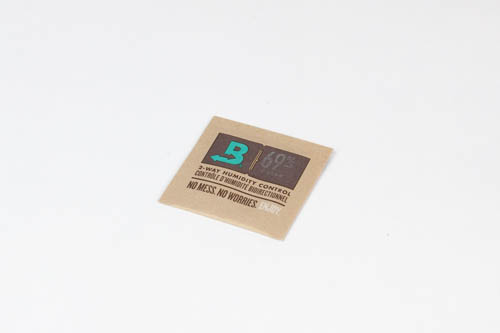 Here's all five cigars, fully unwrapped and on display: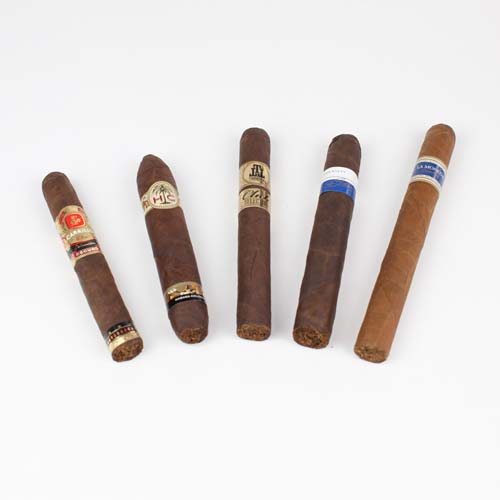 Looks fun, huh?
As soon as I received my delivery, I messaged my group of guys who get together for pipes and cigars every now and then, and arranged a bonfire & smokes night.
I'll talk about how these actually smoked below, but first, let's look a little more closely at the cigar club particulars.
Cigar of the Month Club Details
Club Levels
Standard Club (what I received): Five high-quality, hand-rolled cigars from around the world, individually valued in the $6-12 range
Rare Cigar Club (the super-premium version): Four small-batch, super-high-end, hand-rolled cigars from around the world
Price
Standard Club: $27.95 plus $5.00 shipping per delivery ($32.95 total). Each of the five cigars are individually valued in the $6-12 range.*
Rare Cigar Club: $43.95 plus $5.00 shipping per delivery ($48.95 total). Each of the four cigars are valued at about $12-25 per item.
*Note: The prices check out. I price-searched each of the cigars that I received, and to have one of each delivered would cost way, way more than the monthly subscription cost. Even 5 of the same type (to save on shipping costs) would have cost more because you would either have to buy 10 at a minimum, or they simply cost more. Now, you might find a better bargain here and there, but I can say for sure that this club is a good deal because you get high-end cigars at a really reasonable price and don't even have to shop around.
Variety
Each club level includes cigars from different regions. Mine were from Honduras, Nicaragua, and three from the Dominican Republic.
As you can see they include a variety of sizes, shapes, and styles
Different tobacco types and blends
Small boutique, mid-range, and large-scale makers
Gift Options
When you go to order, they'll ask if it's a gift. Just say "yes" and follow the directions – it's that simple.
Your gift announcement can be emailed right away to the recipient, scheduled for a particular day, sent to you so you can print it out yourself, and of course it will also be included in the gift box.
Timing, Frequency, & Payment
Start it right away or choose a month in the future
Choose number of shipments (any number from 2 to 12, or ongoing)
Select frequency (monthly, every other month, or quarterly)
Pay in full ahead of time or pay as each shipment is sent
Cigar of the Month Club Review
All right, now for my review. Here are plenty of images to give you an idea of what you'll receive. (Tap to embiggen.)
The Experience
Receiving and unboxing a gift is always fun, isn't it? So, in brief, I liked it.
The selection was nicely packaged. I got to experience that unique, earthy, bitter-yet-strangely delicious aroma that comes from good cigars as I opened the box.
It was also a good experience to share with friends. Sitting outside in the crisp fall air, enjoying fellowship and brotherhood, smelling the smoke from cigars, pipes, and a bonfire, having a few beers and laughs – it's the good stuff in life.
The Quality
Again, the packaging is top-notch. Online reviews for the individual cigars put each one close to five stars. My friends and I relished each one.
As a non-aficionado, I rate the quality as just what I would want in a cigar. Each one smelled great, was thoroughly enjoyed, and resulted in a good, long smoke.
The Flavors
I tried the Trinidad Club Selection Toro.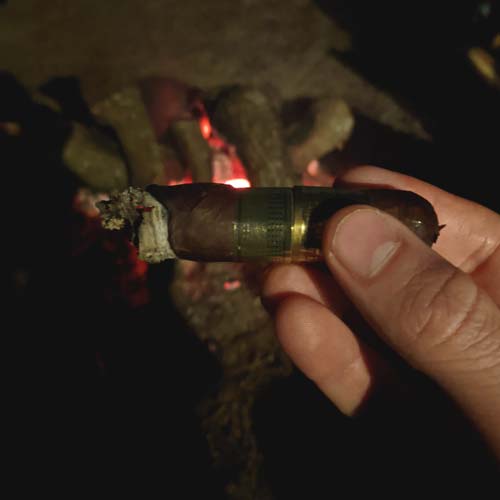 I'm no aficionado, but I've had a handful of pretty decent cigars. This was in my top two.
(My #1 is associated with some great memories, but that's a story for another time.)
It smoked smoothly, and was easy to keep going. The aromas were rich and nutty, and paired with a Sam Adams Octoberfest, it was the perfect accompaniment for sitting around a fire on a crisp October evening.
Other online cigar reviews note hints of pepper and spices, which I can definitely identify in retrospect but couldn't pin it down at the time. It had that sharp smoky flavor from the spice, but was still very smooth.
As for the other cigars? Well, since I passed them out to some bros I got excellent feedback:
Bro 1: "Man, this is really good."
Me: "C'mon, be more specific. How does it taste?"
Bro 1: "Uh… uh… nutty…"
Bro 2: "Savory and tart, very leggy with a sweet tannin finish."
Me: "Dude, that's wine."
Bro 3: "Sort of an oaky afterbirth…."
All bros: Laughter
So…. yeah, I didn't get any great insight from my guys. But they certainly enjoyed the smokes and we had a great time with it.
The Verdict
The Cigar of the Month Club is the perfect gift for someone who enjoys cigars on occasion and wants to expand their palate and experience.
For the true connoisseur, I'm sure they'd enjoy this too but I would level-up to the Rare Cigar Club.
Either way, it's really fun to receive a mystery box subscription package like this. Whether you enjoy it all yourself, share it with friends, or give it to someone special in your life, it's a unique, worthwhile, and reasonably affordable idea that any cigar lover will appreciate.
Get it here!
Pin It