How can you become more sustainable and eco-friendly with your gift giving?
After all, no one needs yet another blender, toaster, gift card, or jelly of the month subscription. (One jelly of the month subscription should be enough, amirite? C'mon, people.)
This is important for all of us, and especially for your friends who are a little more green. You don't have to be a full-on tree-hugging extra-crunchy-granola hipster to know the difference between excess and minimalism, and to want to care for our planet and its natural resources.
So when it comes to gifting that special someone who just really isn't into bling or bourgeois things, we've got some pretty great eco-friendly gifts for sustainability folks.
And no, there's no jelly subscription.
(They probably already make their own.)
Best Sustainable & Eco-Friendly Gifts
Our website is supported by our users. We sometimes earn a commission when you click through the affiliate links on our website. See our privacy policy & disclosures for more information.
1. Tree Donation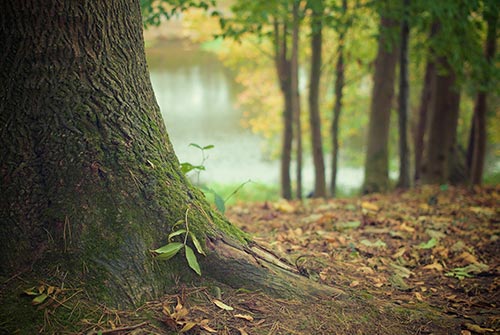 You don't have to hug them, but they sure are great to appreciate, climb, look at, use… oh, and they're kind of important for you know, breathing air.
So when a gift wrapped present with a fancy schmancy bow just doesn't seem like the thing to give, try this instead: a tree donation in their name.
The recipient gets a nice card and the geolocation for where the trees get planted. Even the name itself sends a sweet and important message: Trees For a Change.
2. Natural Face Lotion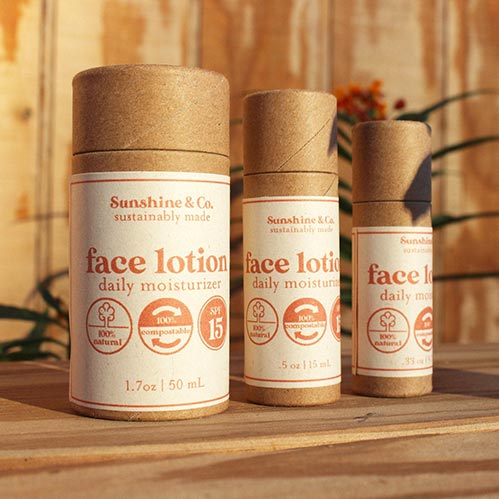 It's not just selfcare or selflove – it's ridiculously important to moisturize that beautiful face! But so many beauty products are loaded with questionable ingredients, chemicals, parabens, and just a ton of not-so wonderful additions, all disguised in pretty bottles and "natural" terms.
So try this! Sunshine and Company is sustainably made, 100% natural, 100% compostable, has SPF, has yummy scents, and comes in zero waste packaging! Seriously, you could search for a long time before you find something that matches that kind of strict criteria.
And the cherry on top? It's soooooooo very affordable.
3. Zero Waste Planner
Living sustainably – creating that green and eco-friendly environment – won't just happen all its own! It takes planning. That's where this sweet journal comes in. Stay on track and keep all your plans to save the world (or just your own backyard) well-organized.
You can journal out your prayers for the world, make lists of sustainable items you need for the future, keep a running tally of your gardening supplies and orders, sketch out a tiny house, keep track of your budgets… the possibilities are endless!
4. Biodegradable Phone Cases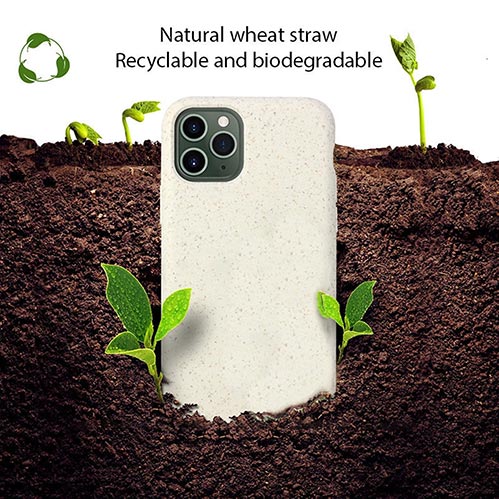 When you start thinking about all the plastic in the world, it's easy to get overwhelmed and stressed out. But how to eliminate things like… phone cases, for crying in the night?!
Well, surprise, surprise, this amazing biodegradable and eco friendly phone case really fits the bill. You've nothing to feel guilty about when you upgrade your phone to a different size, or want to switch it out for another color.
They're made from wheat straw (say whaaaaa?), come in a variety of colors, are shipped in non-plastic recyclable packaging, and are scratch-resistant. And check out those reviews!
5. Reusable "Paper" Towels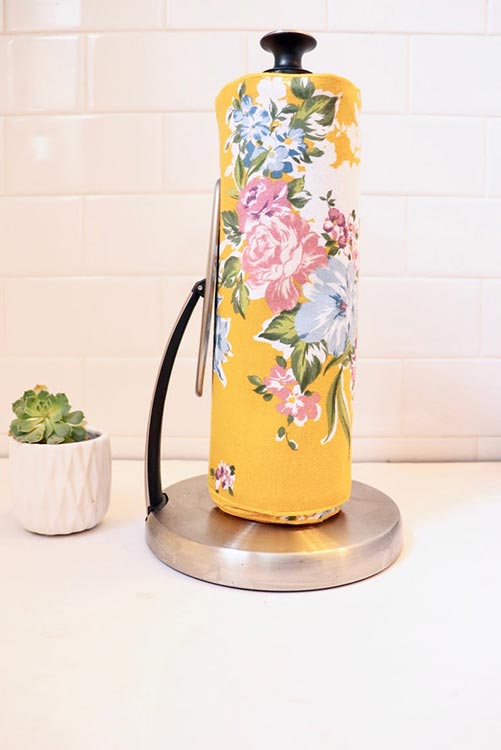 Not only do they help save the environment and trees, but they look gorgeous doing so! These reusable "paper towels" are just the bee's knees.
Hint: They're washable cotton. Hence the air quotes around "paper towels". They work the same, you just don't throw them away!
Bright and cheery, they'll brighten up your kitchen or dining table and guests will be delighted with them too. Strong and absorbent, they're going to withstand the test of time… and grime. Hahaha!
6. Making Natural Soaps Guide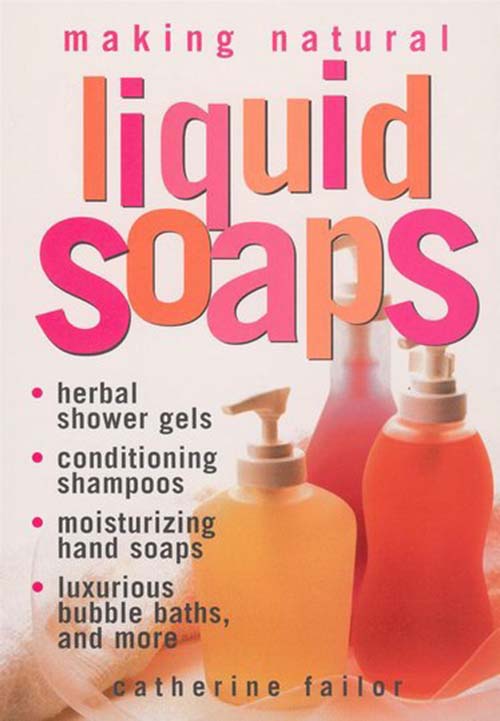 So much more than just the basics, this beginner's guide includes how-to tips and recipes for hand soaps, shower gels, baby washes, pet shampoos and more. One hundred and thirty-four pages of detailed instructions with pictures will set them on the track to becoming a class A soaper!
And they'll never have to wonder what harsh chemicals are in their products ever again.
7. Sustainable Jewelry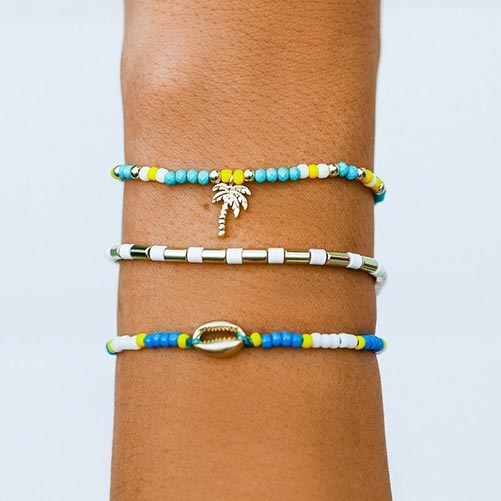 Just because you may be a bit of a minimalist, doesn't mean you don't want to look pretty with just a touch of bling here and there!
These dainty bracelets are perfect when you're looking for sustainable jewelry for that special someone in your life. With bright colors and a happy, beachy vibe, she or he will love these lightweight and responsibly-made bracelets.
8. Natural Coconut Bowls & Spoons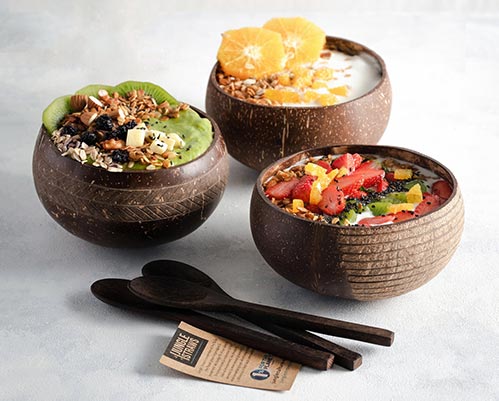 Yum! From piping hot chili in the winter to a cool and refreshing poke bowl in the summer, this set of coconut bowls with spoons are handmade and absolutely stunning! Zero waste is key when it comes to these bowls which are handmade in Southern Vietnam.
Ice cream… cereal… smoothie bowls… oatmeal… these are going to get so much use!
9. Plant Your Pencil
If you look closely at the tips of these fabulous pencils you'll spot a tiny seed. Once your pencil is too small for use anymore you get to literally plant your pencil! Up will sprout a variety of plants or herbs.
What a neat idea! This is a great set for a teacher or professor, an artist, someone who loves making lists, students, well anyone really.
Lead free and made from sustainably harvested wood (that means whenever a tree is used, another is planted).
Related: 21 Affordable Gifts for Teachers
10. Zero Waste Kitchen Brush Set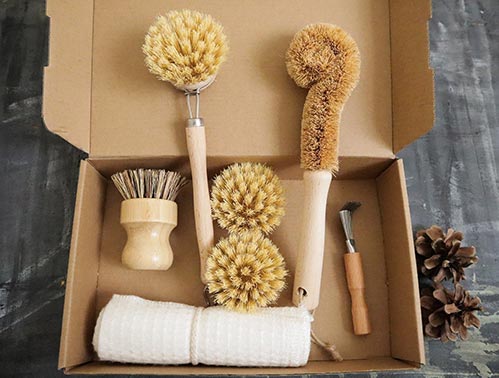 These rustic looking brushes and cleaning supplies not only look amazing, but work just as well too. With a variety of tools that really get the job done – whatever that job may be – these are long lasting, easy to clean, and will leave behind a sparkling surface.
Whether you use them for your kitchen, in the sink, doing dishes by hand, in the bathroom tub, or in any other room of the house, these will become your new best friends.
Also a great gift for housekeepers, professional cleaners, or as a house-warming gift.
11. Eco-Friendly Gift Box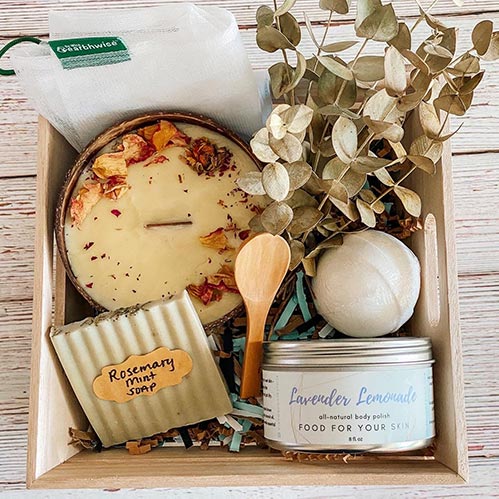 Mmmm, we're not sure what sounds better: rosemary mint, or lavender lemonade. We'll take lavender lemonade for a thousand, Alex!
This delightful and delicious eco-friendly gift box will be so appreciated. The recipient will feel pampered and yummy when they enjoy the locally sourced eucalyptus shower steamer, the body polish, the coconut-oil candle, the adorable measuring spoon, soap, all packaged in a lovely wooden box with a mesh bag.
12. Wooden Slide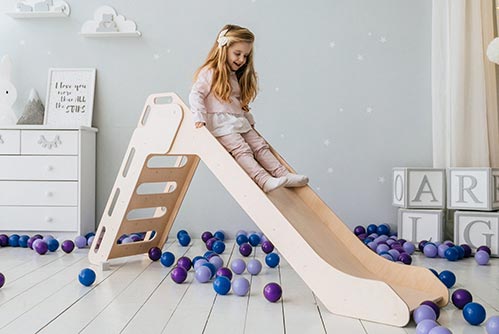 This eco-friendly wooden slide will give the children hours of fun. Smooth as butter, it can be set up outside under a tree, or indoors on those rainy days.
The climbing ladder is perfect for little bare feet. Not to heavy to move around, it can be in the playroom during the winter, and then placed strategically at the kiddie pool in the summer.
Built to last, we can see those small children growing up and wanting it for their own kids someday.
You may also enjoy: 100+ Non-Toy Gifts for Kids
13. Natural Skincare Products Made from Food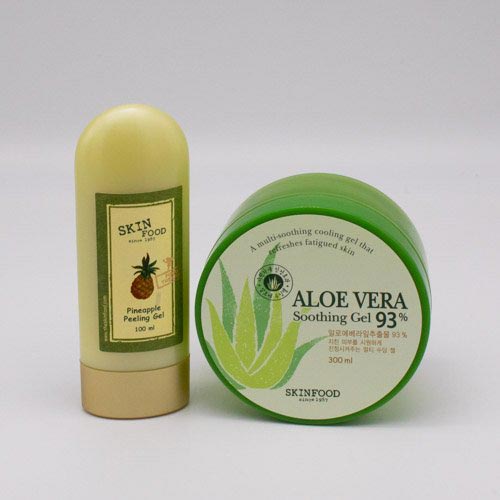 When you've been out saving the planet or the whales, or gardening for your own produce, or building houses, your skin needs some TLC.
Enter these SkinFood products!
SkinFood is just like what it sounds – food for your skin, made from natural, edible things.
This set features soothing aloe vera (perfect after a day of too much sun or wind) plus other natural and beneficial ingredients, like royal honey, egg whites, carrots, brown sugar, and grapeseed.
Suddenly we're getting hungry…
There are so many fun products to choose from and try (hair products too).
14. Recycled Paper Notebook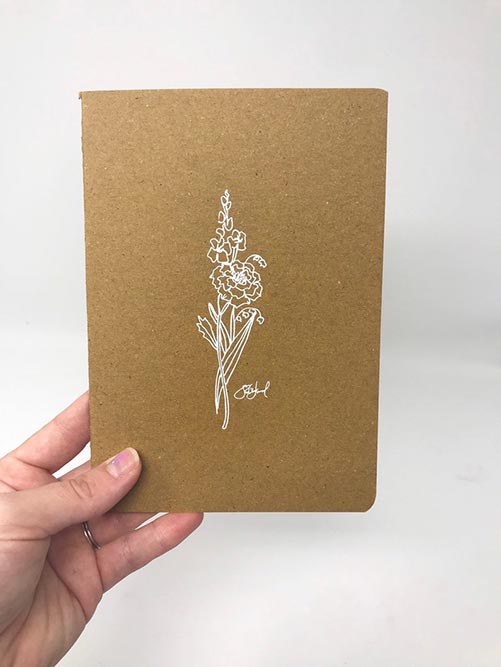 This lovely notebook is just the thing for dreamers, doodlers, list makers, authors, and students.
The perfect size for tucking into a purse or backpack or glove compartment, it'll be no time at all before it's filled up with important notes, to-do lists, poetry, or the next great American short story. The cover is smooth and sweet, and the paper is creamy and soft.
HINT: this would be a great bundle when paired with the Plant a Pencil pencil set above!
15. Herb Garden Kit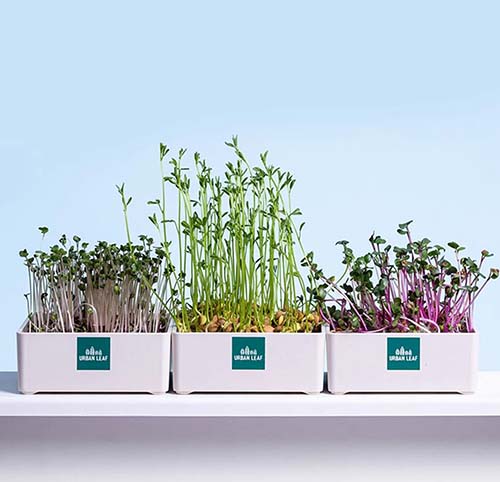 Let's face it: we all knew getting rid of straws was for the best, but secretly we really missed them! No worries, metal straws are here to stay. These ones can be personalized with names or dates or a party to remember, whatever you want to say.
They're easy to slip inside the silverware drawer for making and sipping smoothies at home, or kept in your glove box for those drive-thru coffee days. Not to mention, margaritas in the backyard, root beer floats at birthday parties, or sweet tea on the porch!
16. Natural Jute Yoga Mats
Say hello to these fantastic, jute yoga mats. Let's face it, yoga is difficult and can really push your body to its limits. But! There's no reason that the floor should cause you more pain than your exercise of choice.
These natural jute mats are kind to your body and the environment, giving ample support and stability while being constructed of non-toxic, earth-friendly materials. It's the best of both worlds.
17. Parks Collection Candles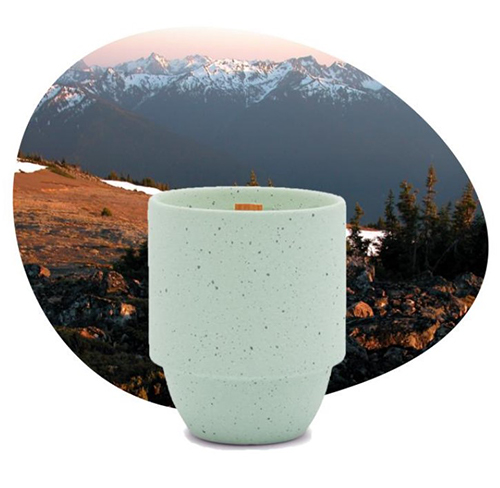 The nature collection from Paddywax is sure to please your favorite eco-conscious friends and family.
Made from sustainable materials, the sales from these lovely, outdoor inspired candles and car scents help support our National Parks Foundation.
18. Organic Mascara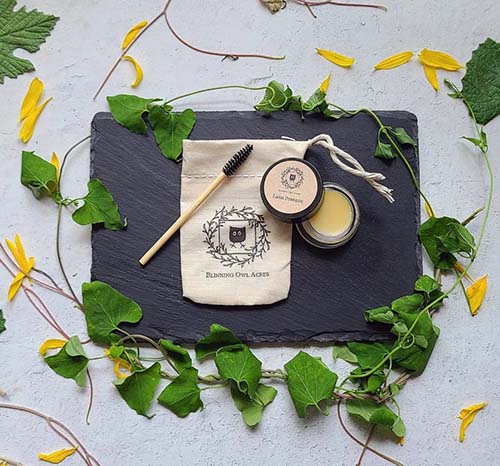 When it comes to going organic, makeup and facial products should be top on our conversion list. So many products on the market are chuck-full of nasty, toxic ingredients. Not so with this wonderful lash and brow pomade!
Made of organic ingredients like natural oils, silk, and beeswax, they'll love how nourishing it is. Not to mention how lovely it smells.
19. Upcycled/Recycled Clothes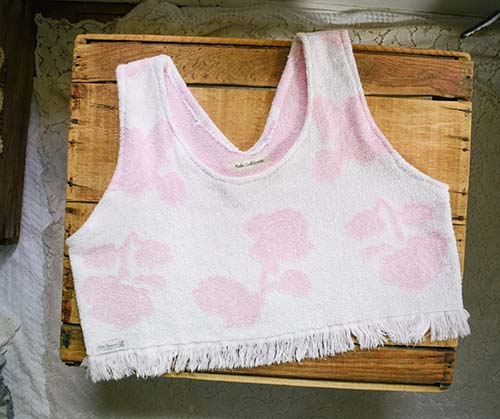 Save money and the planet at the same time! Sounds like an amazing deal if you ask me. Upcycled and recycled clothes are always in fashion, as fashions are recycled decade by decade anyway!
And talk about options… So many options. Clothes can be repurposed into almost anything.
20. Reusable Tea Bags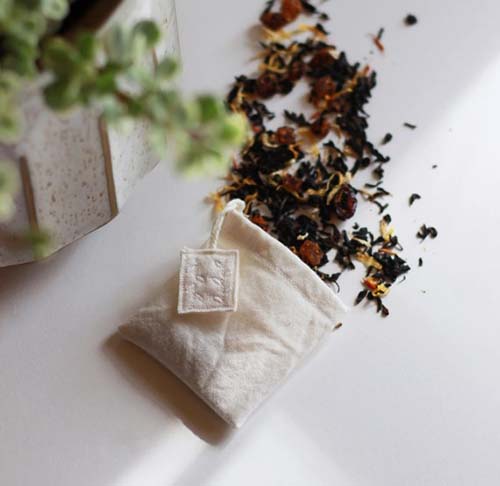 These reusable teabags are just too cute. Not to mention practical! These 100% organic cotton teabags are preferable to metal tea strainers as they retain even the finest bits of loose-leaf teas. Use again and again and again, and if you notice any build up simply boil them in hot water, let them air dry and wah-lah!
21. Practical Eco-Friendly Bath Products
Okay, so maybe they reaallllllyyyy want to high-tail it onto that sustainability train, but just don't know where to start? Or maybe the big choices have been easy for them, but it's the little daily life choices that are difficult (or expensive). Then how about getting them started with a basket full of sustainable, everyday use items?
You can fill a [nice, reusable] basket or recycled container with bath items like shampoo, towels, soaps and more. They'll love having this assortment of items to launch them into their new, conservation-minded lifestyle.
Here are some sustainable products you can include:
22. Eco-Friendly Nordic Wooden Cup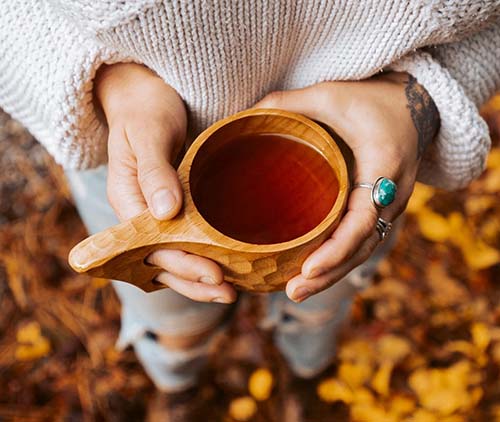 Send them back in time with this traditional, Nordic wooden cup. With craftsmanship worthy of any Viking king or queen, they'll feel a little more regal with every sip. Handcrafted of the finest hardwoods, this "Kuska" — as it's called — will bring them years of joy at home or 'round the campfire.
Related: Best Gifts for Hikers and Campers
23. Cute Cactus Farm Fresh Dish Soap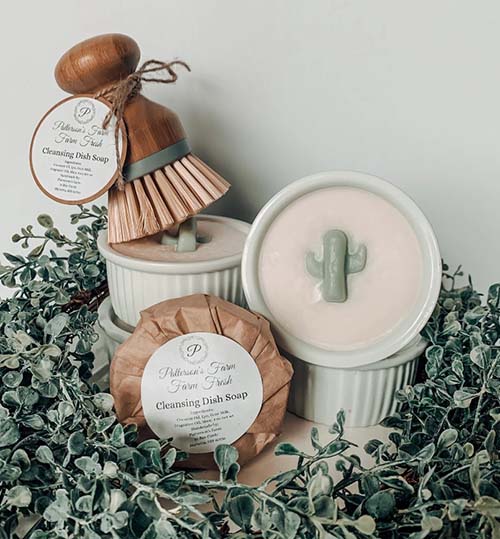 How precious are these environmentally friendly dish soaps? We spend so many hours each week with our hands submerged in dishwater, that it seems almost like a no-brainer to make sure the soaps we are using are safe for us — and the planet!
Just a handful of simple ingredients formulate this powerful, all-in-one kitchen cleanser, and the refillable ramekins are too cute for words.
24. Organic Bath Salts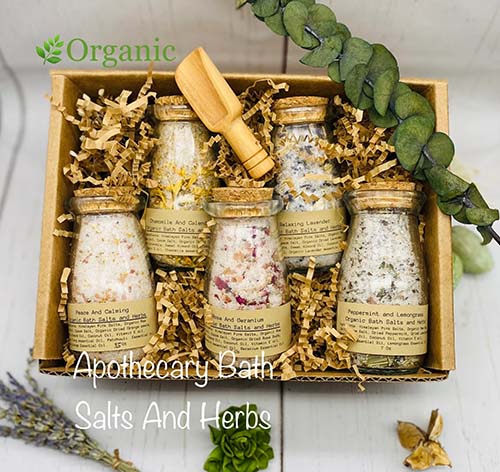 Treat them (or yourself) with this luxury bath salt set. Worries and cares will melt away with the blissful aromas of organic essential oils and the finest natural salts. So pretty and beautifully packaged, this set of five makes an excellent gift for almost any occasion.
25. Reusable Plastic Free Produce Bags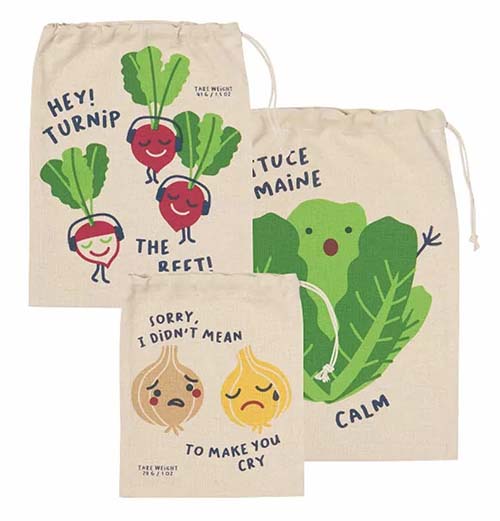 Give them (and the checker at the grocery store) a good chuckle with these adorable, plastic free produce bags. Reduce the impact on the environment by cutting dozens of plastic bags from your life each week.
Made from 100% cotton, these cuties are machine washable to be used over and over.
26. Organic Food-Grade Lipstick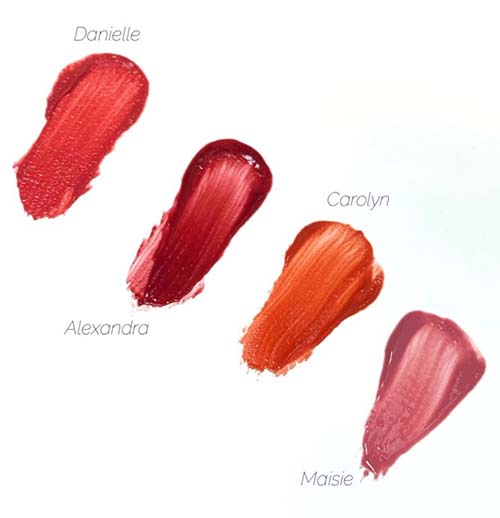 Sometimes we don't even want to think about the products we put on our lips… like you're literally eating that stuff. Worry no more! These organic lip stain pots are food grade, so lick you lips as much as you want.
They're available in four pretty shades and can be used on the cheeks and eyes as well! We love that the glass pots are refillable, too!
27. Paddywax Candles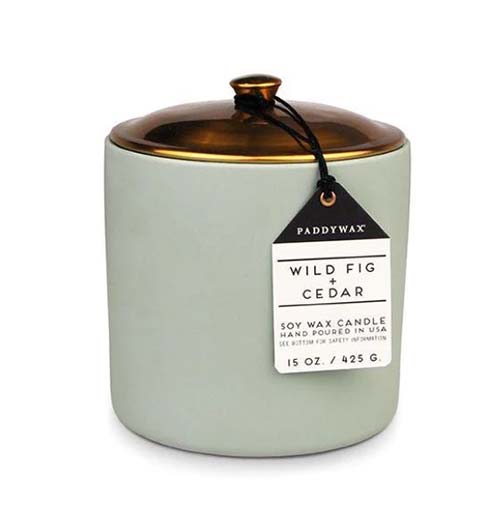 Paddywax has the most wonderful assortment of organic wax candles, as well as oil diffusers and accessories. There are scents and jars to suit every style and taste out there, so no matter your friend's (or your) vibe, you are sure to find the perfect choice.
Check out Paddywax's sustainability page to learn how your purchase can help the environment!
28. Natural Plant Based Eye Shadow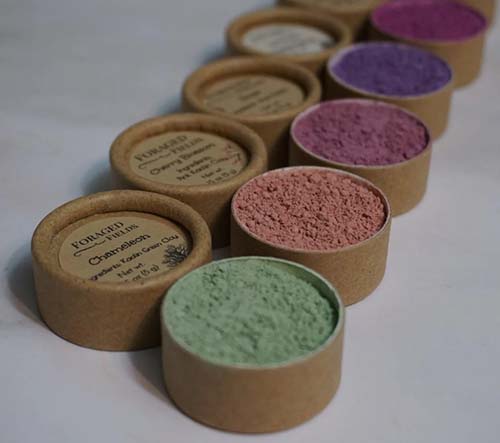 These eye pigments are so, so attractive in every way. Beautiful colors, natural ingredients, no additives or preservatives, easy to remove… The list goes on and on. The containers are made of recycled cardboard, too, to reduce environmental impact. We just love these.
29. Reusable Produce Bags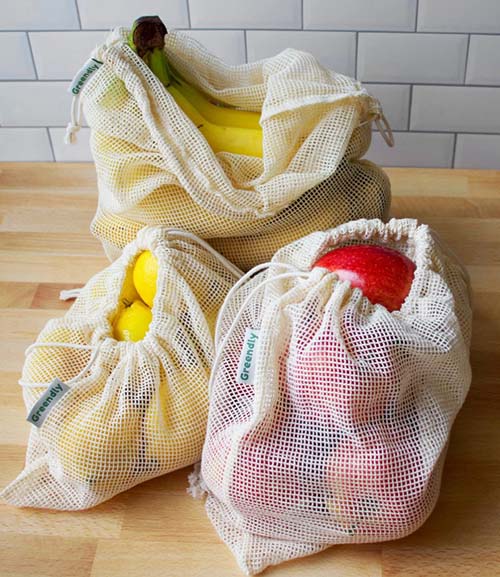 Strong, lightweight and environmentally friendly! These mesh, reusable produce bags are just what they (and the world) needs.
Eliminate dozens of plastic bags from the eco-system every month while utilizing a much healthier and more reliable alternative in the meantime! Made of 100% organic cotton, these bags are machine washable to be used over and over again.
30. Personal Indoor Garden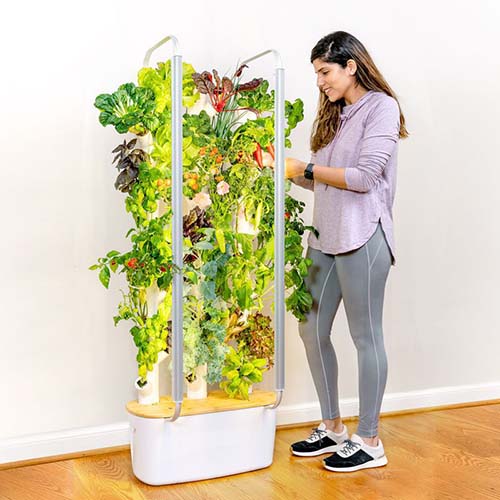 We are having a hard time getting over how cool this in-home garden is! I actually don't think we will… How could we though when you can grow 30 different large produce plants in just 2 sq. ft.?! Eliminate their veggie budget almost entirely, and allow them to grow fresh, pesticide free produce in their own home.
Available in one or two-year harvest subscriptions.
Related: 40 Best Gifts for Gardeners
31. Zero Waste Starter Kit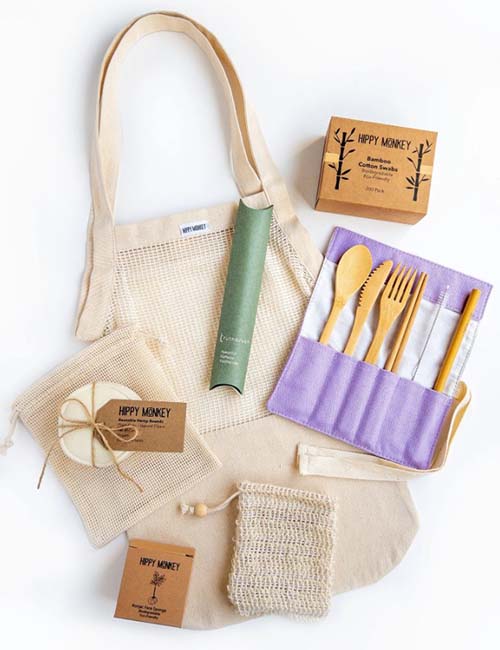 Help them on their sustainability journey with one of these sweet sets. Allow them to swap out several assortments of daily use plastic items with products made from responsibly sourced, organic alternatives.
This is perfect for someone just starting out on reducing their impact on the planet.
32. Kitchen Compost Bin
Waste not want not! Quite literally! This handy, kitchen compost bin is outfitted with charcoal filters to lock in odors of food waste until you're ready to dispose of it. It's plenty large (1.3 ga.), but still elegant and countertop friendly! Easy cleanup, too!
33. Hand-Powered Clothes Spinner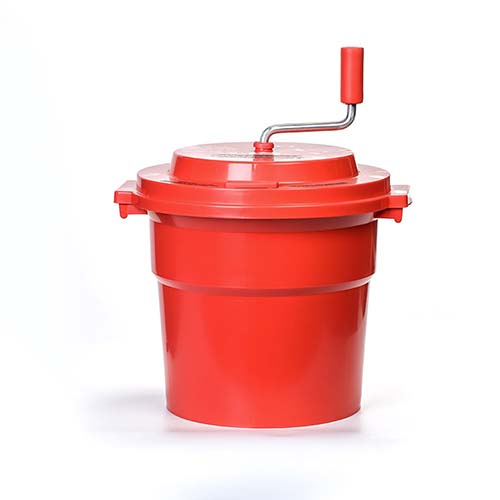 Now someone was thinking! If you're anything like me, you've washed plenty of "dry clean only" items in the sink at home (that tag is more of a guideline than a rule anyway, right?).
Well, whether you have lots of delicate items, or just prefer doing your wash by hand, this clothes spinner is a must. It really beats trying to wring them out by hand, and definitely reduces drying time significantly! Too cool.
34. Cute & Reusable Wool Dryer Balls
Folding laundry is few people's favorite task. Brighten up their afternoon chores with the presence of these adorable, wool dryer balls.
Equally useful as they are cute, these guys reduce drying time 20-40% to help reduce energy consumption (and save money!). Made of 100% pure New Zealand wool, these hand-felted helpers are one of our favorites.
35. Plantable Seed Paper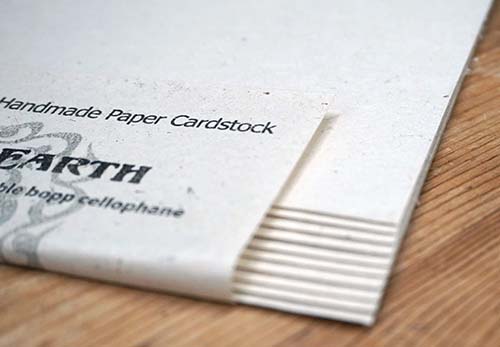 Beautifully crafted, this handmade cardstock seed paper can be utilized almost endlessly, Perfect for crafting, invites, merchandise tags, packaging… The list goes on.
Crafted of 50% recycled materials and 50% natural fibers, you can even plant this paper and grow a variety of wildflowers from it. Now THAT is neat.
36. Reusable Glass Straw
At this point, we are all conscious of how damaging plastics, especially straws, can be for wildlife and the eco system. Reduce your impact with these fabulous glass straws! I can say from experience how wonderful they are, as well as how easy to clean they are.
The glass construction allows you to put them in the dishwasher without fear of rust or hidden grime (sorry stainless). Top notch turtle saving if you ask me.
37. 100% Natural Pour-Over Coffee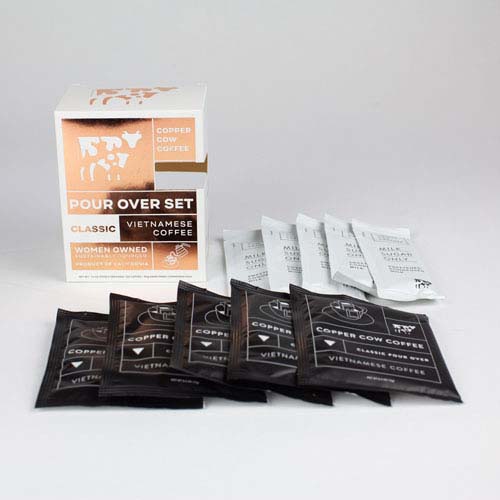 Do they consume coffee almost 24/7 like the rest of us? If yes, then make sure they're drinking the good stuff! Copper Cow Coffee supplies 100% natural, ethically sourced instant coffees in more varieties and flavors than you can shake a stick at.
Convenient and super delicious, they can even subscribe to keep the java flow constant.
38. Organic Goodies Box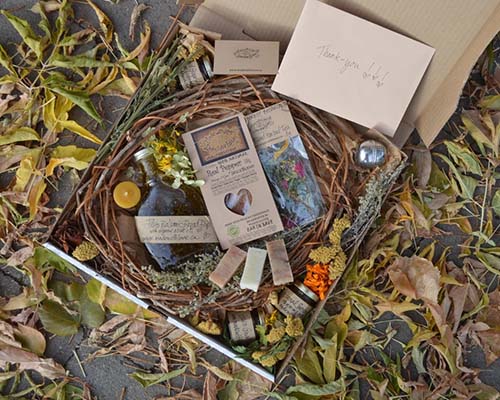 Know that you want to get them an assortment of things, but don't know where to start? Look no further than this lovely, organic goody box! Perfect for the organic foodie in your life, this beautiful box is chock-full of delights including tasty preserves, teas, bread mixes, pesto and more. Bon appétite!
39. Repurposed Sari Windsock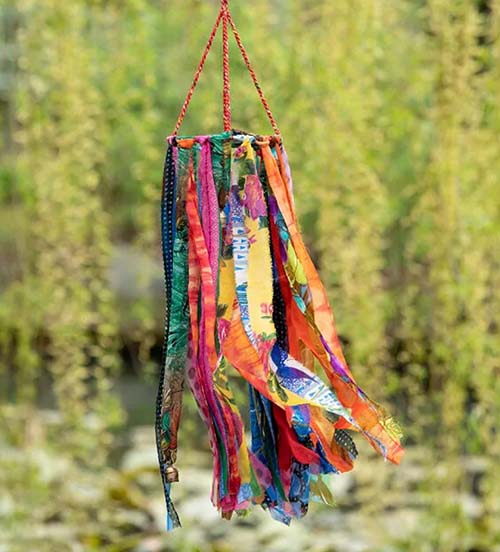 So colorful and full of whimsy! This vibrant windsock is made up of recycled saris, so each one is a completely unique work of art. Hang it on the porch, or hang it indoors to brighten up your interior space. Let yourself relax and unwind as it dances delightfully in the breeze.
40. Gift of a Cleaner Ocean
There's nothing more meaningful than a gift that supports a higher purpose! These beautiful bracelets are made of reclaimed and repurposed materials, and each purchase funds the removal of one pound of trash from the world's oceans and coastlines. What could be better than giving back with a cleaner ocean?
41. Make Your Own Beeswax Food Wrap Kit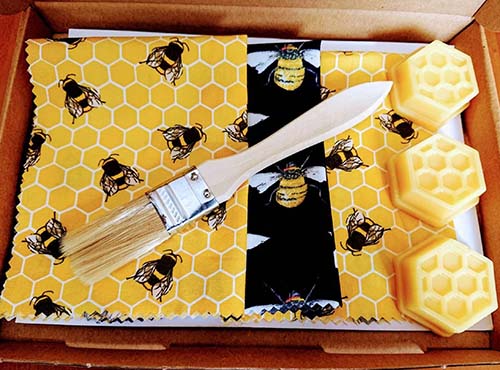 A fantastic alternative to single use, plastic cling wrap or harsh chemicals. This DIY food wrap kit includes everything they need to make 3 of their very own reusable wraps. An adorable set made with eco-conscious materials, this makes a perfect gift for any occasion.
42. Secondhand Shopping Experience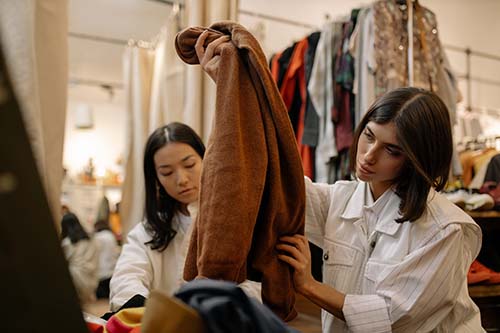 Take them out on a second-hand shopping date! Spend this fun day finding some new vintage favorites, supporting your local farmers market, and enjoying the sun at a park with your natural pour-over coffee.
43. Eco-Friendly & Recycled Puzzles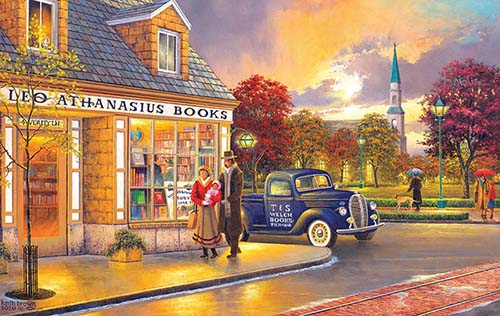 How adorable are these themed puzzles? Keep them and the fam entertained for hours with these jigsaws made from recycled materials and printed with soy-based inks. You're never too old for puzzles, I say.
44. Support Countries with Pura Vida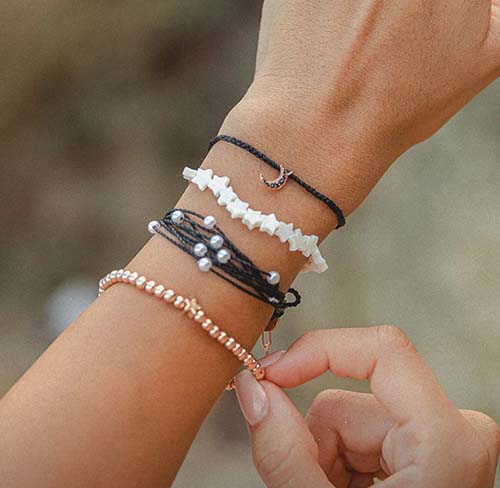 Pura Vida has been a top name in giving back for over a decade now. Their beautiful, responsibly made products and gifts support over 200 charities worldwide. So with every purchase you, too, are helping give back. It's a win-win for everyone!
Click here to learn more about their impact.
45. Sustainable Bamboo Sheets
These beautiful, luxury sheets will outshine all others in the linen closet. Softer than 1000 thread count Egyptian cotton, these stunners are made of 100% bamboo viscose and are thermal regulating, too. Available in five gorgeous colors to suit any living space.
Read Next: Eco-Friendly Earth Day Gifts