When it comes to beautiful flower gifts, it's hard to compete with the bounty of God's creation! When the someone you love really, really, really loves flowers, your go-to is always a pretty bouquet.
I'm not knocking that route (because it is an excellent choice), but here are some variations and other options that will let your admiration for the nature-loving whimsical person in your life bloom in full flower.
25 Best Flower Gift Ideas
Our website is supported by our users. We sometimes earn a commission when you click through the affiliate links on our website. See our privacy policy & disclosures for more information.
1. Classic Rose Bouquet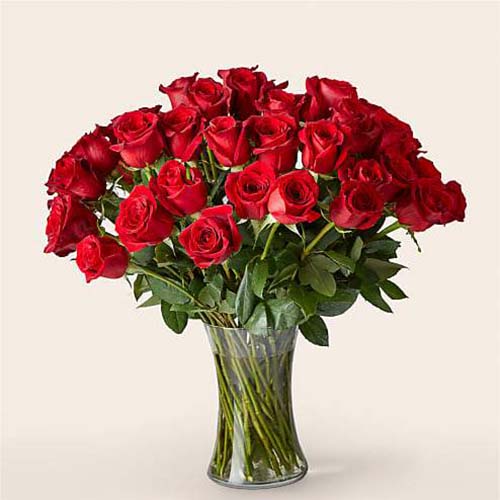 It's classic for a reason! Is there anything lovelier than a huge bouquet of long-stemmed red roses? If there is, I can't think of what it might be. This bouquet is pretty as a picture and oh-so-romantic. The scent will fill your flower lover's house with an unbeatable fragrance.
2. Dried Flower Bouquet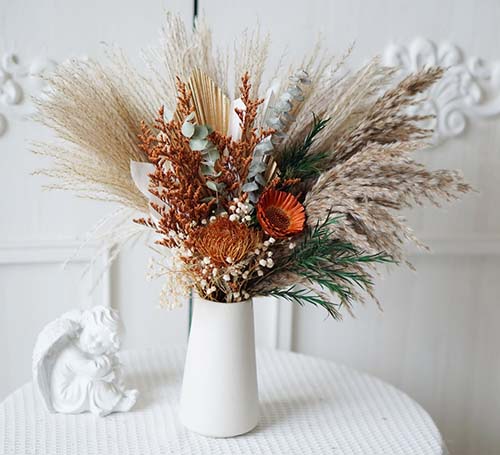 A bit more boho in style, and made to last, a dried flower bouquet like this one will make her space so much more homey – almost like the living room could be on the cover of Better Homes and Gardens! Choosing her favorite blooms has never been easier, or more long-lasting.
Bonus: it won't be wilting and dying in a week like a fresh bouquet. I love the colors in this one: it's contains eucalyptus leaf, pampas grass, sargassum thunbergii, babysbreath, lavender, nutshell flower, ear of wheat, and dried flowers.
3. Glass Flower Garden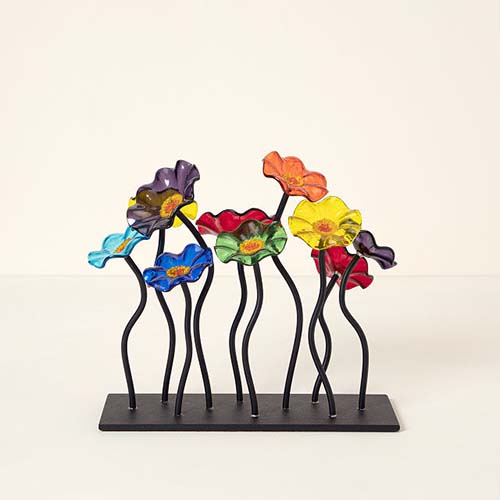 Made to last forever (just don't drop it!) this lovely little glass flower garden will be so pretty in an entrance hall, on the dining room table, or set out on the windowsill. The bright, pretty colors sparkle like jewels! You could also weave photos in between the stems for a darling little display.
4. Beef Jerky Flower Bouquet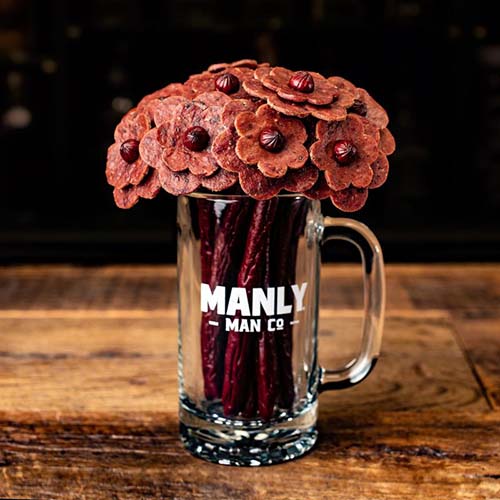 Who says he doesn't like flowers?! He (or she) will adore this clever bouquet of – yes, you read it right – beef jerky!
I'm going to out on a limb here and say it smells every bit as delightful as your normal daisies, roses, or tulips. Just, you know, a little different. Mmm, beef!
5. Pressed Flower Earrings
These dainty pressed flower earrings will surely make her smile! The sweet little blooms have so many colors it will instantly match (and brighten up) her outfit, whether it's jeans and a sweater, or her best date night dress.
6. Flower Christmas Ornaments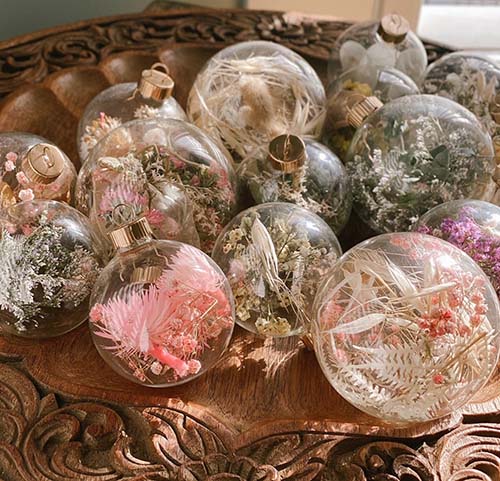 Who says flowers only bloom in summer? Keep your garden and love of nature alive, even in the dullest of winters, with these beautiful flower ornaments! They will totally transform your Christmas tree into something out of a fairy tale, especially once you add in the strings of light to make them glow and shine.
7. Galaxy Rose Flower Gift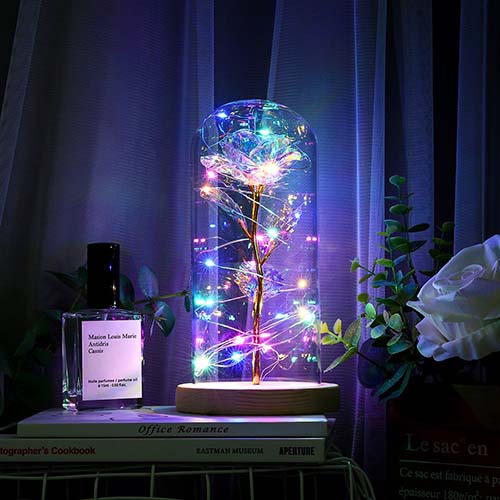 This galaxy rose is so perfect for the old soul, the rose lover, and that someone who is so hard to shop for. They'll love the unique and gorgeous way this sparkles and shines. Reminiscent of Beauty and the Beast! Filled with 20 LED fairy lights, this flower gift will brighten up the room and make life a just a little more magical.
8. Ocean Breeze Orchids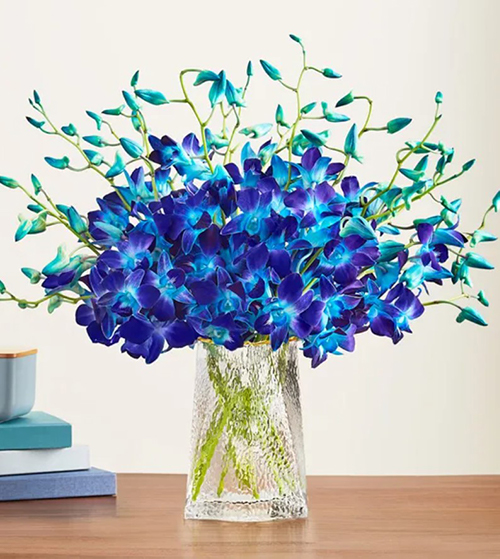 We can't get over how absolutely breathtaking these Ocean Breeze Orchids are! I mean, have you ever seen something so effortlessly beautiful?
If they are a lover, or even connoisseur, of fine blossoms they'll be absolutely delighted with these little beauties. And you can choose from several options like how many blossoms, type of vase, and if you would like to include a matching windchime.
9. Personalized Flower Necklace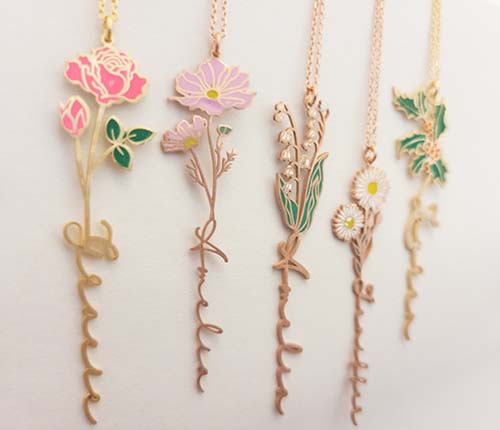 It would be pretty enough, this sweet little birth flower necklace, but it's made even more charming with the addition of her name spelled out in calligraphy. If she loves jewelry and flowers, this is one flower gift idea that is a no-brainer! It's sure to become most favorite accessory, worn and displayed every single day.
10. Gold Dipped Forever Rose
There are fresh roses (which will die) and chocolate roses (which will be eaten posthaste), but here's another alternative for your flower lover: a dipped gold rose!
She'll love this sweet and beautiful gift, which will be displayed proudly on her bookshelf, desk, or vanity. 24-carats is a golden way to say I Love You. It's also the perfect gift for engagements: a ring would fit nicely around the stem, don't you agree?
Related: Unique Engagement Gift Ideas
11. Floral Embrace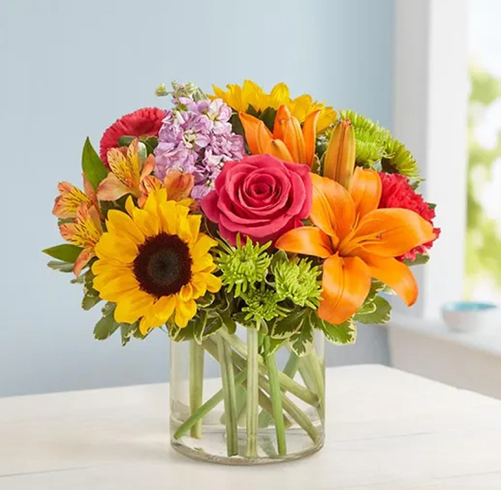 This vibrant bouquet is so warm and lovely, and will perfectly convey all of your thoughts, wishes and emotions. Add a bright touch of sunshine to their home or office on even the most overcast of days, and they will love you for it.
12. Birth Month Flower Growing Kit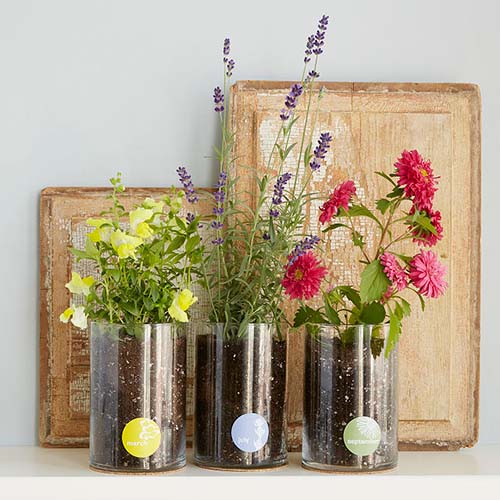 This clever and pretty little "grow it yourself" garden adds instant charm to your windowsill or kitchen counter. When you don't have the space outside to cultivate your green thumb, an indoor flower bed is a must-have. They will love watching their own birth flowers spring to life and make their home interior a little more like nature intended.
Related: 40 Best Gifts for Gardeners
13. Lavender Skin Mask
There's nothing better than soothing lavender at the end of a long day! Unless of course, you can literally smear it right onto your face… well, now you can!
This lavender mask from SkinFood will calm even the most stressed out of skin, leaving you with a glowing, healthy, soft, contented face. Made with only the purest of ingredients (as in, stuff you'd eat), so it's safe for even sensitive skin.
14. Handmade Floral Bookmark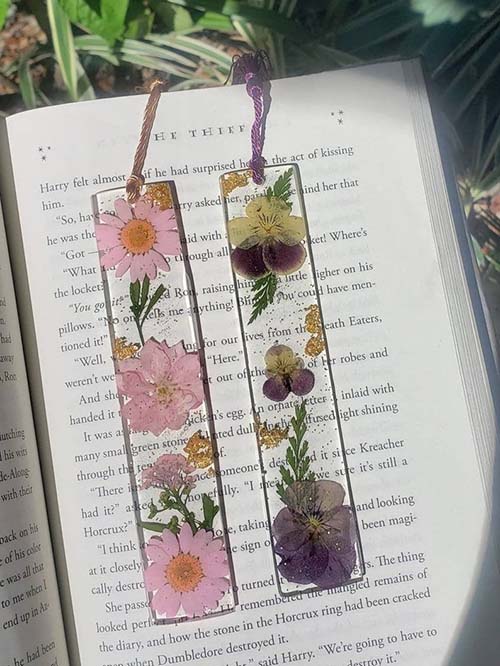 For the bookworm amongst us, this unique floral bookmark is just the thing! Your flower lover will admire it every time she opens her novel to read "just one more chapter." Also great for students as a way to liven up and beautify a textbook!
Related: Best Gifts for Book Lovers, Librarians, and Readers
15. Minimalist Flower Necklace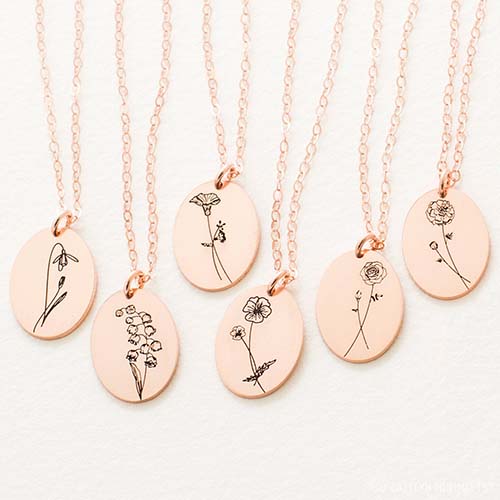 These oh-so pretty floral necklaces are a minimalist's dream come true! With their rose-gold hue – which is so trendy and hot right now – and the addition of your birth flower (or your favorite bloom), this pendant will really brighten up a dull outfit. Whether she's seven or 77, she'll love this necklace.
16. Framed Pressed Flowers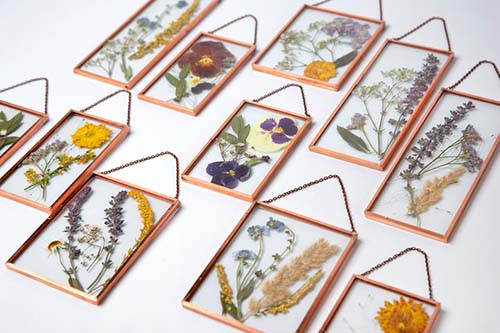 Choose one or several to create a set: these pressed flower framed botanicals will look amazing on the wall! Filled with actual pressed flowers and framed in a pretty copper frame, you could hang these in your home, office, or lobby to really transform the space into something beautiful and soothing.
17. 24k Gold Leaf & Pressed Flower Lollipop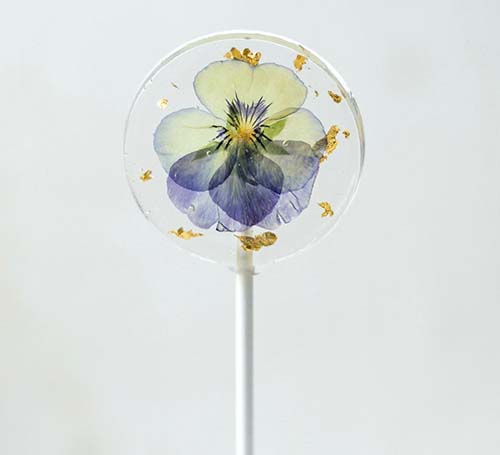 Yes, you read that right! These 24-carat gold and viola/pansy flower lollipops really are edible and made to be snacked on! They come in a box of eight, making them perfect for bridesmaid's gifts, baby shower tokens, or a small dinner party. Such a unique and delightful gift for the flower lover who also has a sweet tooth.
18. Kaleidoscope Roses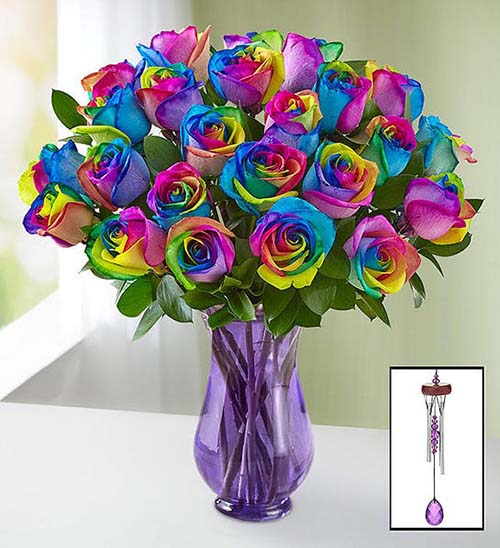 You've never roses this bright and psychedelic before! They'll love this amazing bouquet and so will everyone who sees it, so make sure to put the vase in a prominent spot! Watch her face light up with these kaleidoscope roses, that can be ordered with or without the matching purple windchime.
19. Rose Petal Candles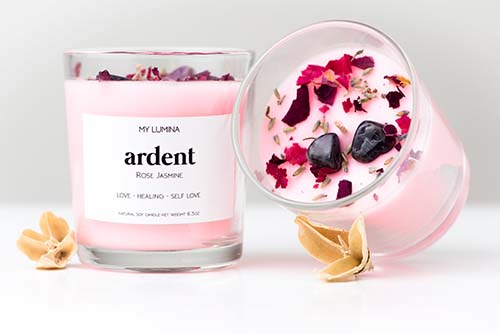 For a rose scent that will last for hours and hours, this pretty pink rose candle is perfect. With real rose and jasmine petals, it will fill the house with a soft, never overpowering, fragrance, even in the dead of winter.
20. Rose Flower Bear Centerpiece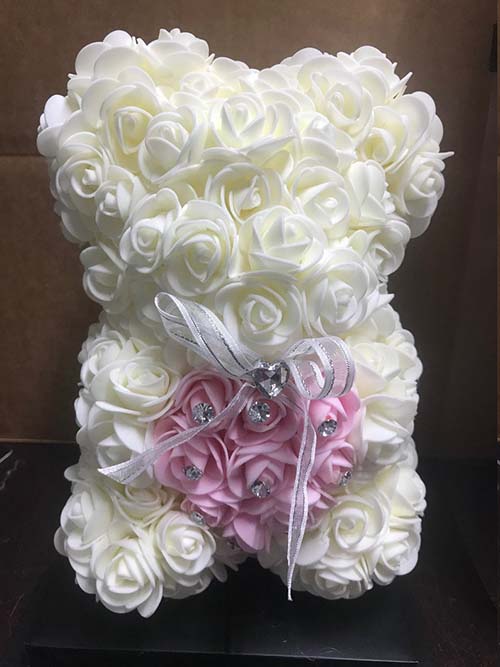 When he or she loves bears and flowers, what's a significant other to do? With this cute flower bear you don't have to choose! Crafted completely with artificial roses (so it lasts forever), and with a sparkly rhinestone "bling," this is the perfect gift for a little girl or a full-grown boyfriend. Choose your own color: white, red, pink, or burgundy.
21. Blossoms & Wine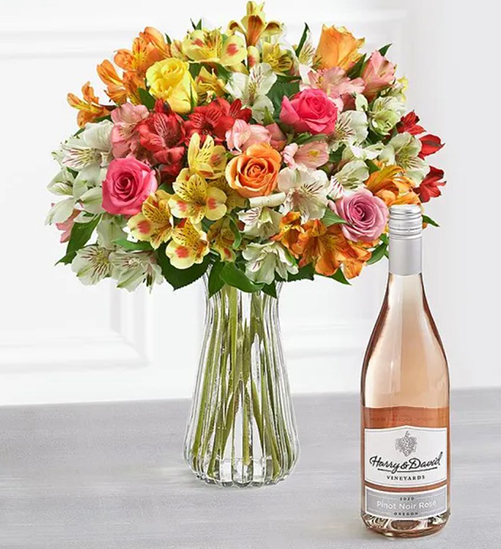 What goes perfectly with a pretty bouquet of blossoms? Why, a delicious bottle of wine, of course.
Choose from four gorgeous bouquets paired with four equally delightful wine selections, and you'll have a gift on your hands that is sure to please. I mean, who doesn't love flowers and wine?
22. Solar Garden Lights
Light up your walkway, garden path, or patio with these pretty rose-shaped solar lights! They will instantly transform your driveway, garden, or backyard into something truly special. Waterproof and made to last throughout the seasons, these can be a charming addition to an outdoor wedding or party.
23. Cherished Blooms & Drizzled Strawberries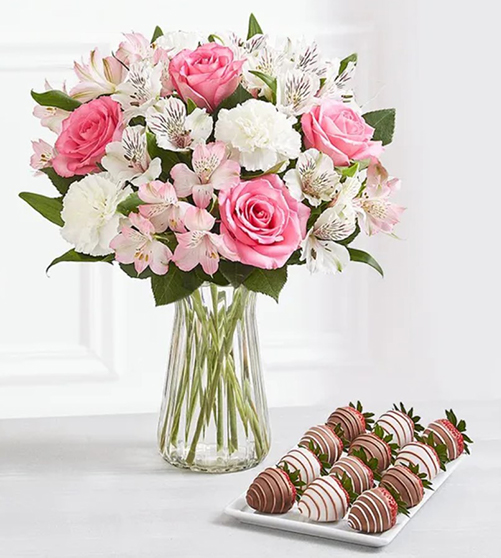 Flowers and chocolate are a timeless combination for a reason! This pretty combination of delectable chocolate covered strawberries and vase full of lilies, roses and carnations will bring a smile to their face. Maybe even a twinkle to their eye, if that's what you're shooting for.
24. Mini Flower Soaps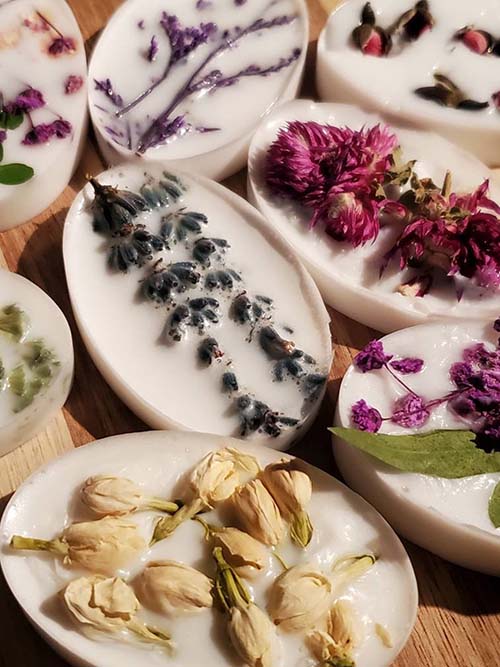 These pretty little floral soaps are so charming you'll want a few in each bathroom! Almost too pretty to use up, these soaps are totally unique and make great party favors, thank-you gifts, or just something you treat yourself to. Washing up was never so lovely!
25. Farm Direct Ethically Sourced Flower Subscription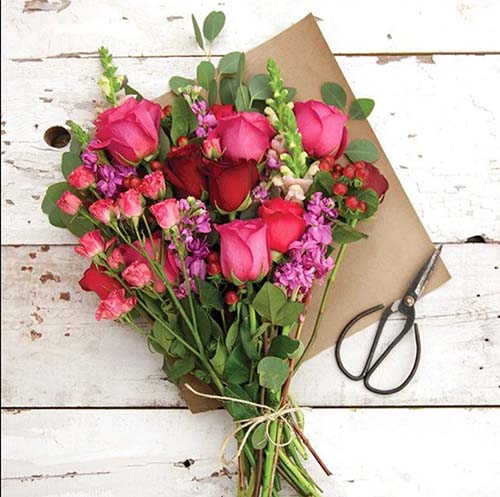 A flower subscription is the gift that keeps giving and this one is the best! Ethically sourced, which means you have nothing to worry about, each bloom is beautiful and unique. Farm fresh, these bouquets are totally customizable to meet your budget, desires, and tastes. I think that's a win-win for everyone involved!
Read Next: How to Give Thoughtful Gifts
Pin It