So you know a cosplayer, and are looking for a cosplay gift… but where do you start? What the heck even is this thing where people dress up as their favorite character?
If you don't know what cosplay is, well, you're not alone. But not for long! It's actually a rather intricate and absorbing hobby which is becoming increasingly popular all over the world.
Encouraged by the rise of "fandoms" and many hit movie, TV, book, and comic franchises that used to be considered for nerds only, geek culture has crossed over into the mainstream and cosplay is one way that people enjoy and live out their favorite fictional worlds.
So let's explain this phenomenon for all y'all newbies, and give you enough insight that you can confidently pick a cosplayer gift that will blow their character's boots right off.
Our website is supported by our users. We sometimes earn a commission when you click through the affiliate links on our website. See our privacy policy & disclosures for more information.
What Is Cosplay?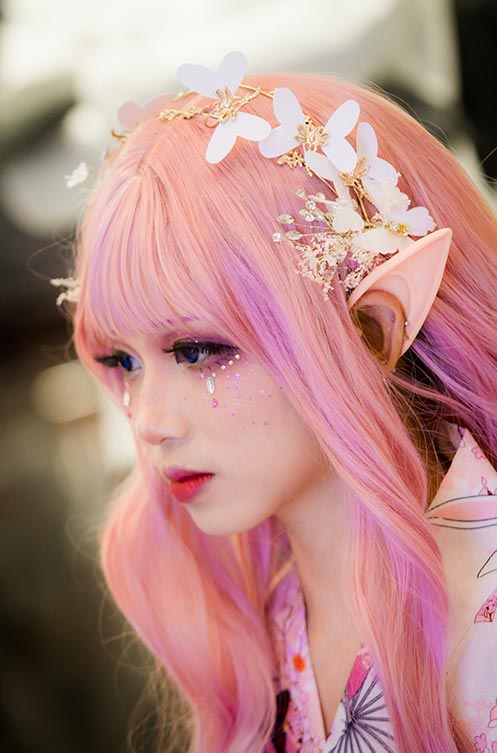 Cosplay is a combination of "costume" and "play." It's the practice of wearing a costume – usually of a favorite TV-show or video game character but it can also be as unique as dressing up as the Morton Salt Girl – and play acting as that character while attending a convention, movie premiere, or just for fun.
While you can buy pre-made cosplay outfits, true enthusiasts find more fun and authenticity in making their own. So DIY (do-it-yourself) is very popular in this niche, and many cosplayers are actually incredible artisans in the realms of sewing, makeup, and replica-making.
What Are Some Popular Cosplay Characters?
Fans of just about anything love to dress up as their favorite character, and often the more unique and obscure, the better. Still, there are some popular go-to characters that get cosplay'd all the time.
Here are some of the usual suspects you'll likely see at a nerdy convention:
Batman
Little Mermaid
Harley Quinn
Yuuki Asuna
Samus
Princess Leia
Madoka Kaname
Black Panther
Where's Waldo
Cruella de Vil
Elsa
Lara Croft
Eren Yeager
Groot
Jack Skellington
Kratos
Kaoru & Hikaru Hitachiin
Persona 5: Joker
Best Cosplayer Gifts
As we go along we'll get into more detail about what interests a cosplayer. But here's an overview of the types of gifts we'll include:
DIY Cosplay Materials
Replicas
Convention Care Packages
Non-Cosplayer Gifts
Japan Appreciation Gifts (for Weebs!)
Special Occasions
Best Gift: Join Them!
Ready? Let's dive in!
Materials for DIY Cosplayers
Most people that cosplay will make make their own outfits. There is just something more to admire when a fan puts in time and dedication to make the outfit as realistic as possible, or puts their own cool twist on it. Even if it's something as small as crocheting your own Natsu scarf or folding paper to create the Sim's iconic plumbob, we all appreciate a well-crafted DIY outfit.
This means that a gift basket, filled with their favorite (and much-needed) materials will be a gift that they appreciate and use!
Here are some cosplay material ideas to get you started as you fill up the perfect cosplayer gift basket.
1. Nerdy Gift Boxes
Creative people can make just about anything they need with whatever they have around them. And cosplayers are often exactly that type!
Give them a hand by adding tools that they perhaps weren't expecting but will later wonder how they ever lived without. We're talking about PVC pipes and fittings, a good heat gun (for bending pipe), paint, glue, a pipe cutter and helpful precision knives. PVC can be cut, assembled, and painted to create all sorts of fun replicas, accents, and character accessories.
While we are on talk of tools, what about storage for said tools? Leather wraps like this personalized leather brush holder is perfect for keeping their personal crafting brushes safe.
And don't forget the crafting supplies! These hand dyed yarns are not just any yarn, these are handmade from merino wool. Special yarn for special cosplays.
BTW… like the box? Here is the link. Or make your own! They'll love it.
2. Sewing Machine
The Brother XR9550 computerized sewing machine will be the only sewing machine they will ever need. Not only is Brother an amazing brand, but it literally has all the electronic stitching and button sizing you can image. Perfect for creating any and every cosplay outfit they will ever wear.
Add an extra touch by including much-needed accessories like measuring tapes, thread, and this cool adjustable mannequin! This is one of the best cosplayer gifts because they will use it forever and ever.
3. Makeup Pack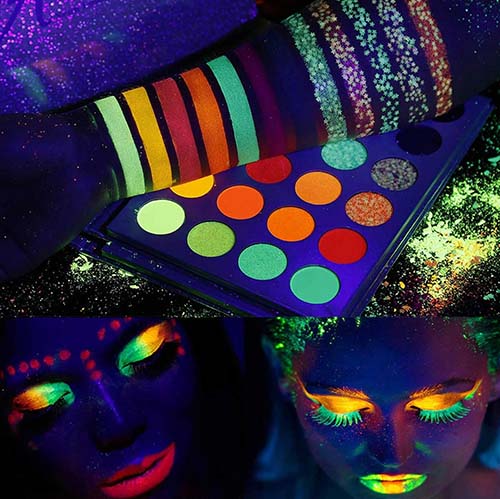 Makeup is an essential cosplay material. From glitter to fake eye lashes, having unique makeup just for your cosplays, that adds a whole other level to the adventure.
Anyone can buy Urban Decay, but something magical like this glow in dark eye shadow will really make them scream with excitement! And since cosplayers tend to travel or change into multiple outfits, having a personalized makeup bag will not only help them not forget their most important makeup but also know it's theirs!
Don't forget to include these blinged out brushes. *wink wink*
4. Leather Kit
This Leather Kit includes everything needed to work, shape, cut, stitch, and repair leather for any and every type of costume.
No more plastic knockoffs for your cosplayer – only the best, genuine leather! And with this gift, they'll be able to work it into the perfect character accessories and outfits.
5. Jewelry Set
For many characters, jewelry is integral to their look and even the plotline. Think of the Evenstar from LOTR, the Mockingjay pin from Hunger Games, the Auryn from Neverending Story, just to name a few. With a jewelry creating set like this one, your DIY-cosplayer will be ready for anything.
Bonus idea: Adding metals/stones that are unique and special to your cosplaying friend will help show just how much you know them. This shop is full of beautiful stones to help you choose from. I think even Thanos would be jealous!
Cosplay Replica Gifts
If they're not into the DIY/crafty angle (or if they already have tons of stuff and you're not sure what they might need for craft tools and supplies), then go with a replica of a famous weapon, hat, bracelet, ring, or any other type of prop.
Here are a few great replica gifts for cosplayers!
1. Tattoos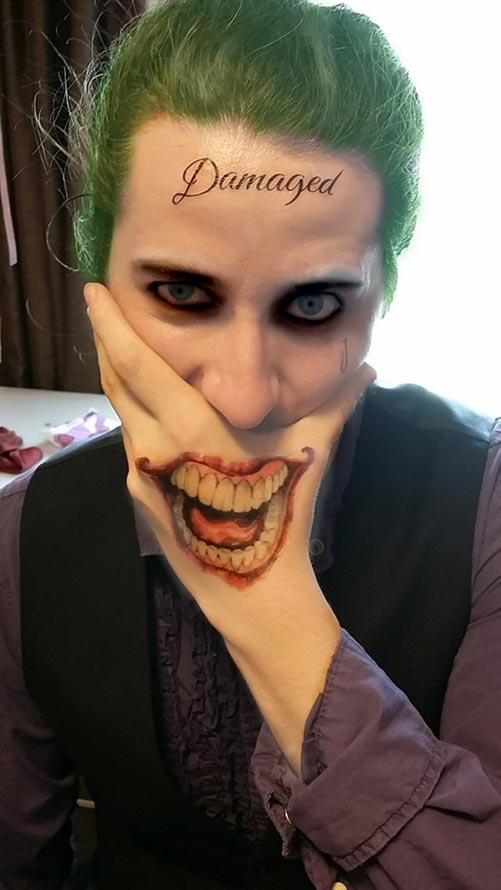 Some of us are too young to get the real deal, or are not sure if we want to jump on the Fairy Tail Guild tattoo yet (am I the only fan without one?).
Temporary tattoos are the perfect way to make your cosplay come to life whether it be some cool Viking ruin tats or the creepy laughing Joker smile.
Or you could spring for the permanent version, and take them to the tattoo shop! Either way, they'll be thrilled.
2. Weapons & Shields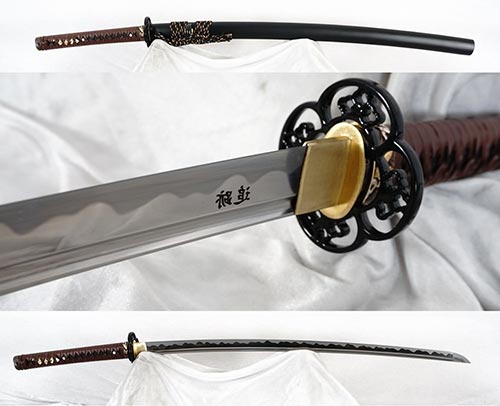 There is no limit to amount of weapons that can be used in cosplay. From magic spells to medieval swords, something from our list below will be sure to fit a wide variety of outfits!
Note: Whether you plan on buying or making your own weapons, be sure to check your next conventions guidelines on what materials your weapon can be made from. They want to keep everyone safe!
3. Jewelry/Props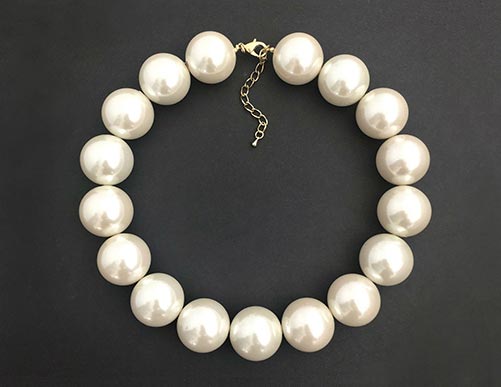 Here's one example you might not think of right away: For a fan of The Simpsons, how about Lisa Simpson's chunky white pearls? These were a gift from her mother, who also wears the orange version of these same pearls.
4. Wigs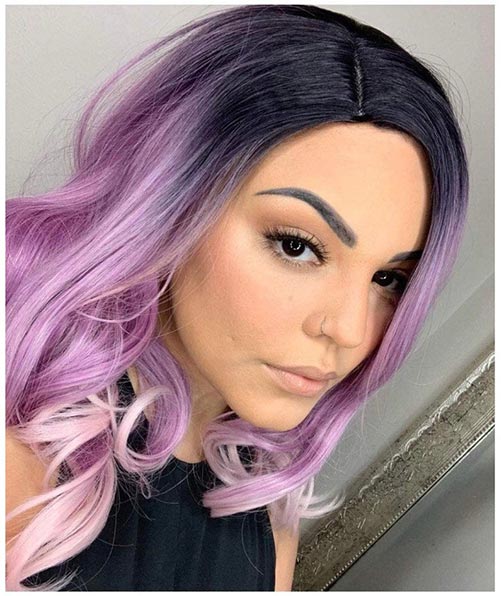 Let's face it. You probably don't have hair like Jon Snow from Game of Thrones, Washu Hakubi from Tenchi Muyo, or Sailor Moon's insane bun-plus-ponytail. But you can wig it!
If your cosplayer is crafting a wig to look like, say, Radagast the Brown with birds in his hair, then don't forget important supplies like these cute birds nests.
Convention Care-Package
Chances are, if you're cosplaying then you're at a convention! And if you have ever been to the famous conventions like A-Kon or GameFest you'll know just how exhausting it can be to roam around all day (especially if you got the 3 day pass!).
These care packages inserts will not only help support you as you do your routine 5 cosplay outfit changes but also your 1st time friends who won't know what to expect.
Here are a few ideas:
1. Character-Themed ID Holder
Trust me, you don't want to lose that pass ID! Especially when you planned on being there the whole weekend. And of course you know by now that there are plenty of options beyond just Harry Potter. Find the one that's perfect for your favorite character, or for your cosplayer geek friend!
2. Backpack
You are going to be walking around all day carrying around Pocky Sticks, soda, and all the merch you can get your hands on. You're definitely going to want a bag to hold it all and bonus points if that bag matches your cosplay!
3. Merch to Sign
Before you head out to your next convention, check online to see if you favorite voice actor will be there and how you can get a signature from them! Don't forget something for them to sign like this awesome Black Butler Undertaker Hoodie.
Not Into Cosplay? Don't Worry. Here are 14 Cosplay-Adjacent Gift Ideas
Maybe you're still not seeing it, or perhaps you're looking for a gift for a non-cosplayer geek friend.
After all, just because you don't wear the Leaf Forehead Protector doesn't mean you aren't a true Naruto fan. (Don't worry if you don't get that one… your nerdy friend will.)
Anyways… We have 14 non-cosplay gift ideas that any true fan – cosplayer or not – would love to receive.
1. Props
One of the key things we geeks love about anime shows like One Punch Man, or movies like Lord of the Rings, is how immersed we become in the world just by watching it.
Giving your friend replica props from their favorite show can really add to immersion! Especially when it actually plays like this Ocarina of Time Flute from Legend of Zelda! Bonus points if you learn how to play a song on it for them.
2. Fan Art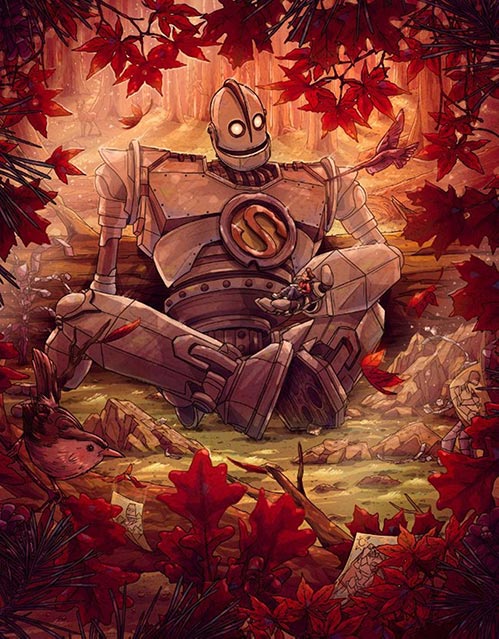 Original movie posters are always good, but if you want to take your gift to the next level, you'll want something original and unique. Thankfully there are plenty of talented artists out there creating art for all the greatest fandoms!
For instance, the animated children's/family feature Iron Giant was considered a flop on release, but due to stellar animation, strong characters, and an original yet timeless storyline, it's gained a reputation as one of the best animated films of all time. Above you see some fan art created by Rose Makes Art, which you can purchase for your Iron Giant-loving cosplay geek friend.
3. Mugs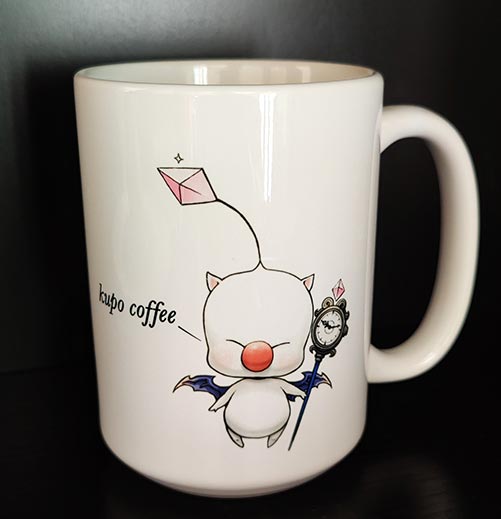 What's better? Awesome fan mug or play on words? Why not both!! This "Kupo Coffee" Mug (sounds like cup-o-coffee) is a fun, useable gift for any Final Fantasy fan!
4. Manga
Manga is a form of Japanese comic books, which are typically done in the anime drawing style.
Anime can have arguably some of the most beautiful illustrations, in many of them you can actually find the inspirational artwork in the architecture and nature across the real world!
While Death Note is an action-packed anime show that they can watch, there is something about the manga's artwork and storyline many of us manga collectors love to see! Let's be honest, who doesn't want Ryuk in their life?
5. Figurines
Figurines are a great way for fans to decorate their office space or home with their favorite characters!
These range from child friendly Spock rubber ducks like the one shown above to the well-known figures like this Bulbasaur Funko Pop. (Dare I say Funko Pops are the beanie babies of our generation?).
From realistic to silly (again, see the rubber ducky above), there are collectible figurines of all types and styles. If you're at a loss on how to find the perfect figurine, here's what you do:
Find out their favorite series or fantasy world/fandom
Look up the characters from that world
Choose one or more (the more obscure, the better)
Decide whether you want to play it straight or do something off-the-wall (like the rubber ducky, above)
Make or buy figures in that style
If you want to give a gift that won't just stay on the shelf, there are also these cool Dragon Ball Z car air fresheners! It's a gift that will travel with them, and
Appreciation for Japan
Most people who are into these topics usually have an appreciation for the Japanese culture and its language (because who watches dubbed?). If you know someone who falls into this category, these are the perfect gifts to help bring part of their beautiful culture into our homes.
6. Lucky Cat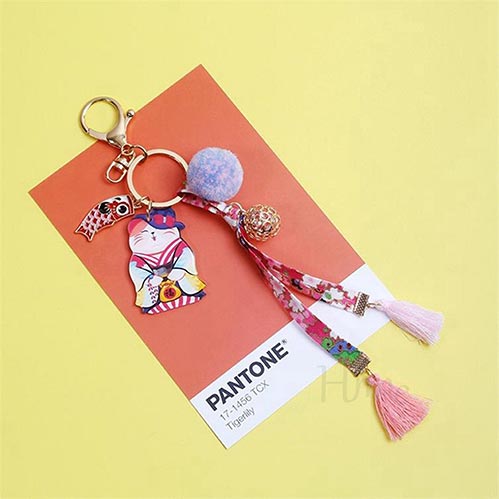 Chances are, you have seen the very popular Fortune Cat, also known as a Maneki-neko, at some point in your life. This fortune cat keychain is not only super kawaii (cute), but a cherished charm for people that want to bring a little bit of luck around with them!
Curious about the meaning behind the color of the fur or what the cat is carrying? This great article goes over the ins and outs of these special kittens!
7. Vintage Japanese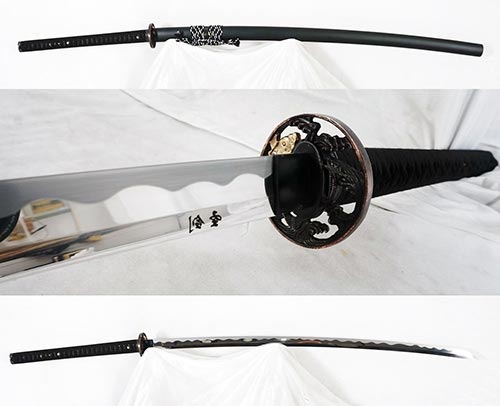 Vintage products from Japan's time-honored culture are always a big hit with anyone who is into cosplay.
Japanese culture has influenced everything from Star Wars (via Akira Kurosawa) to James Cameron's massive hit Avatar (via Hayao Miyazaki). Godzilla and Pokemon are direct imports, and anyone can spot the influence of Japanese culture on The Matrix and The Karate Kid.
For any cosplayer who is interested in Japan, two choices stand out as among the best gift ideas. For everyday use, we suggest a gorgeous tea set. With a more ceremonial and dare we say even more dangerous element, consider an authentic custom Katana sword.
8. Wabi Sabi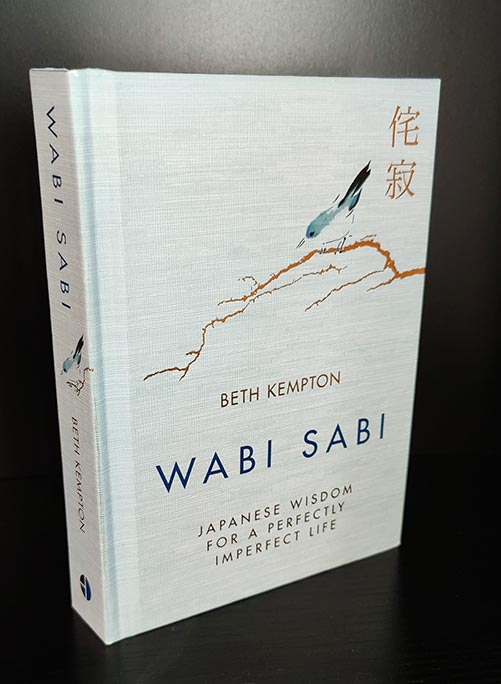 While the people of Japan don't speak of this feeling much (there isn't even an official definition), the essence of Wabi Sabi is found all throughout the culture. From pottery to traditional tea ceremonies, you'll find Wabi Sabi hiding in the history of it.
The book Wabi Sabi: Japanese Wisdom for a Perfectly Imperfect Life is a perfect gift for anyone who loves learning about the beautiful culture of Japan.
9. Pagoda Lantern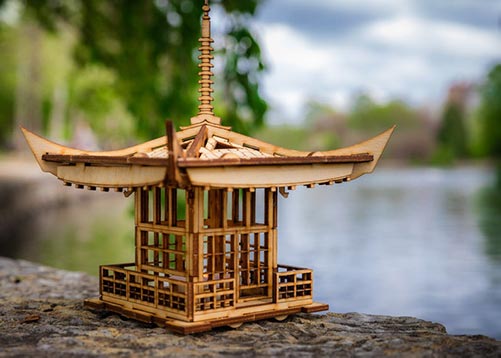 In Japan, many paths are lined and illuminated with these beautiful lanterns. This wooden pagoda lantern kit is a fun and relaxing way to add a bit of Japanese vibe into your home.
10. Noodles, Noodles, Noodles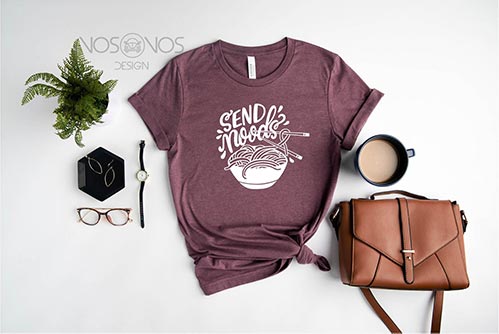 Ramen is well known as a staple food for college students but these noodles also known as the soul food of Japan. If you go to Japan, eating their traditional ramen will have to be on your bucket list! But for now, you can just enjoy this quirky Send Noodles shirt until you can go.
Special Nerd-ccasions (nerd + occasions, get it?)
Ok, maybe you have to be REALLY nerdy to find that funny. Well… consider our nerd cred established!
Anyways, here are some cosplay gift ideas for special occasions.
11. Weddings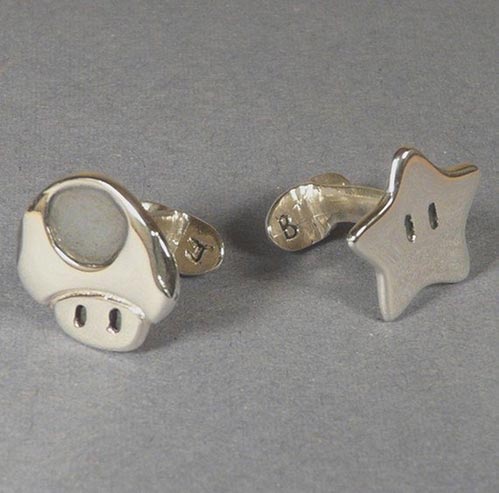 Add that special touch to your wedding with Elvish rings or these Mario themed cufflinks
Related: 70 Best Gifts for Gamers [Chosen By Gaming Expert]
12. Valentines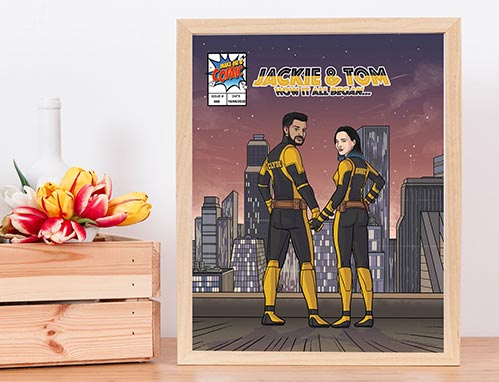 You can DIY your Valentine's card or you can have a professional draw you and your boo in a personalized super hero comic!!
13. Birthdays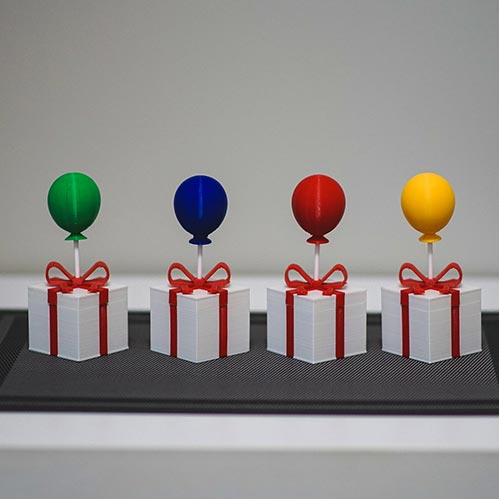 In the game Animal Crossing, floating balloon presents drift across the sky every five minutes for you to shoot down. When you do so, you get whatever is them (rocks, items, materials, money, or recipe cards). Each color represents what may be inside the box.
The floating balloon gifts pictured above are almost as cool: Inside, each one can hold a micro-SD card or Nintendo Switch game. It's the ultimate way to keep track of all those little things!
14. Christmas Stocking Stuffers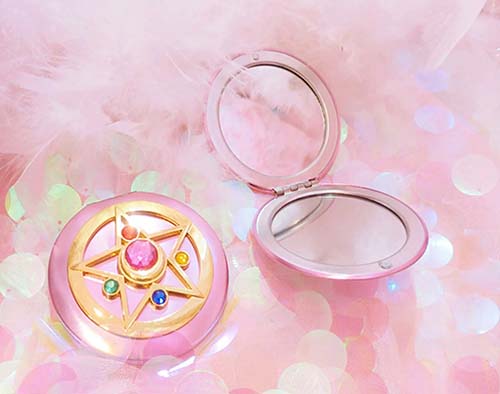 Not only do these Sailor Moon Crystal Star compact mirrors make a great addition to their cosplaying gear (we need to make sure our makeup is on point!), but their size makes the perfect stocking stuffer! Their high quality and very accurate design will make any Sailor Moon fan smile with delight!
Everyone won't want a bright pink and gold compact mirror in their stocking, we get it! Here are some more cool ideas to help fill up your stockings-
Maybe the Best Cosplay Gift of All: Join Them!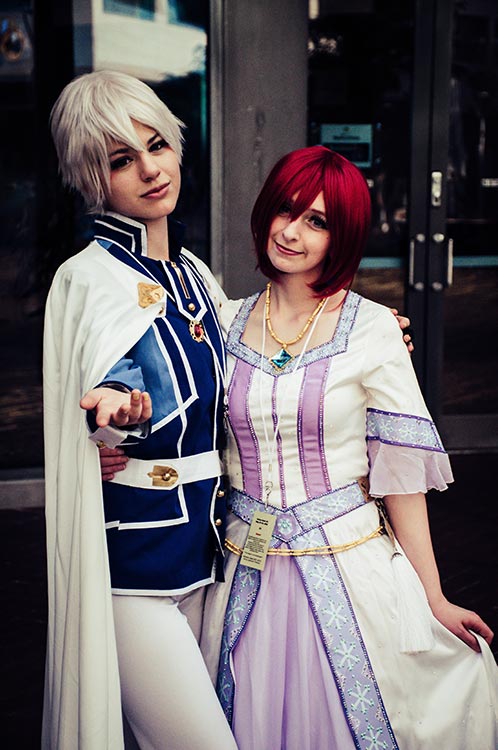 Can you think of anything better than having someone to share your interests and appreciate the hard work you do in making your hobby come to life?
Seriously, stop and think about it. What are you into? Coin collecting, gardening, football, photography, fishing? Whatever it is, don't you just love it when someone will ask questions about your hobby, listen with interest, and let you show them how to do it well? And what more do you treasure than inspiring someone to take up the hobby themselves?
Now apply this to your cosplayer. Of course you should still get them a gift. But in addition to that, make it even better by learning about their favorite fandom world and participating in the fun. Read the books or watch the show. Create themed costumes together, then go to a convention with them.
Even if it's really not your thing, take the time to appreciate their enthusiasm for it. Trust me, you will begin to notice depth where you didn't see it before! And in doing so, your relationship with your cosplay/geek friend or family member will deepen and flourish.
Stuck on what to cosplay as? We have some pretty cool ideas to help spark your imagination.
1. Gender-Bender!
One fun way to put a twist on cosplay (and fit in with whatever your friend is doing) is to go as the opposite gender version of a favorite character. This could mean dressing up as a female Mario or Luigi, or a male version of Lara Croft.
You could take this idea literal and cosplay the female version of Futurama's Bender, or you could take a cool twist on a Pokémon trainer like Misty and work those shorts! (can't leave out her wig!)
2. Be Loud!
Who says cosplay as to just be clothes and a sword? Take it to the next level with cool add-ons like these stilts to become life-size or these fabric lights so you can sparkle just like Cinderella's ball gown dress (that isn't just my childhood dream, right?).
Maybe the fantasy part isn't your thing, but c'mon, creating something big, bold, and magical is fun no matter who you are.
3. Children's Cosplay
Children LOVE dressing up, they are cosplaying all the time and don't even know it!! If you have your own little family of Hobbits then cosplaying with costumes like these may lead to a fun family day at your favorite convention.
Older kids can even help out with making the costumes which just adds to the adventure. Sure, watching 12 seasons of Firefly* might bore you to tears, but a fun family activity that you can all do together is surely something you can get behind.
*We wish there were 12 seasons.
4. Cosplaying Pets
Pets are as much as part of the family (if not more for some people) than kids! So why not include them with cute cosplay outfits like this Batman costume or the always favorited Scooby-Doo collar.
Your family pup is especially ideal as a Pokémon character or Lupin/a patronus/Sirius from Harry Potter, but be careful – always treat your pet with respect and don't overburden them!
If you're the pet-lover type, this could be a fun way to get involved in the cosplay scene along with someone who is special to you.
5. Think Outside the Box
The most creative cosplays are the ones we don't expect (but appreciate we were able to see). I'm talking about reality-altering cosplaying, time-freezing to make it look like the wind is at high speeds while inside, and outfits that just make you go "woah… how did they do that?"
If you're the crafty, creative, or engineering type who takes things apart just to see how they work, then this might appeal to you.
These cosplays definitely call for some creativity and strong crafting skills but cool props, such as these fireballs (which would be perfect for photoshoots) or this gorgeous wing starter kit where you can add on whatever feathers you need to complete the look, can really help make you stand out.
Read Next: 21 Unusual Gifts for Men Who Are Quirky
Pin It