Maybe they can't leap tall buildings in a single bound, but librarians pretty much are super heroes in our book. (Get it? Book? Yup. That happened.)
These delightful bibliothecaries are full of mysterious knowledge, know how to work the Dewey decimal system blindfolded, and we're convinced they actually do keep the streets safe at night when we're sleeping.
People who adore, love, swoon over, and drool over, books in general, well, they're our kind of people, and we think they deserve a wonderful gift.
Our website is supported by our users. We sometimes earn a commission when you click through the affiliate links on our website. See our privacy policy & disclosures for more information.
21 Best Gifts for Librarians
Of course, you can always go with the obvious gift: a book. They won't be mad.
Here are some more librarian gifts to give along with the book of your choice.
1. Personalized Coaster Set for Their Coffee/Tea Mugs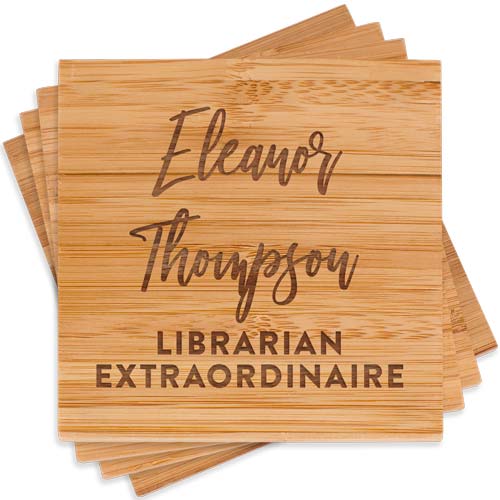 The highlight of every book lover's day is sitting down with a warm mug or a frosty beverage, and a great book. And we've watched them before when they're at that page-turning, twist of an ending: they absentmindedly place their cup aside without looking, and suddenly it's missed the coffee table, and spilt on the floor.
Make it a little easier for them with these pretty, engraved coasters. They can strategically place a few around the house, in case of a sudden bout of books and beverages.
2. The Librarian Book Scented Candle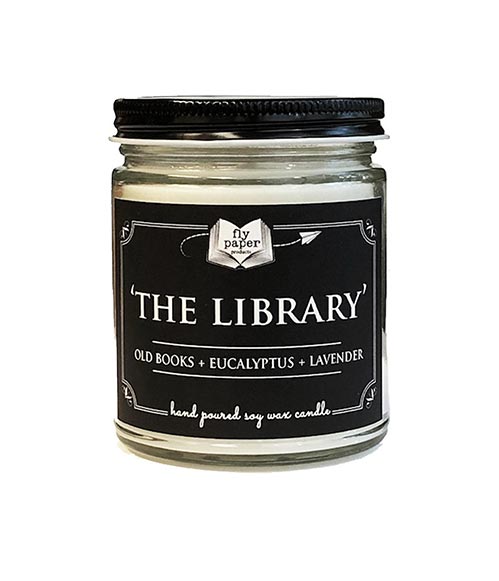 The only thing better than holding an old vintage book in your hands is smelling it. It's a thing! Book smelling! Just enter into a bibliophile's lair and watch them sniff away.
Give them an easier way to get their odiferous fix with this gorgeous looking, and even better smelling, candle.
3. Personalized Book Stamp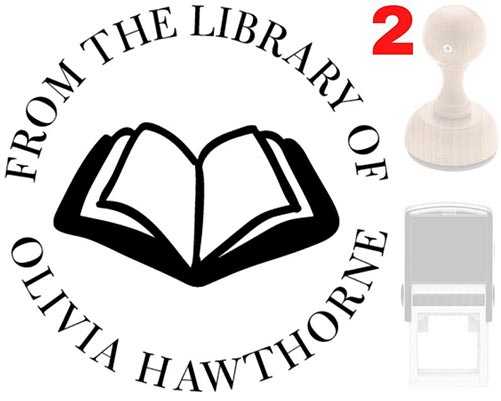 Librarians and book lovers alike get a stabbing pang of worry when they are asked to let their book babies out. The fear of never seeing them again is real!
Put their fears to bed with this personal and personalized book stamp. They can merrily stamp away in their massive collection (do we need to buy more ink?), and know their borrowed tales will soon be returned safely home.
Best Librarian Ever Personalized Tumbler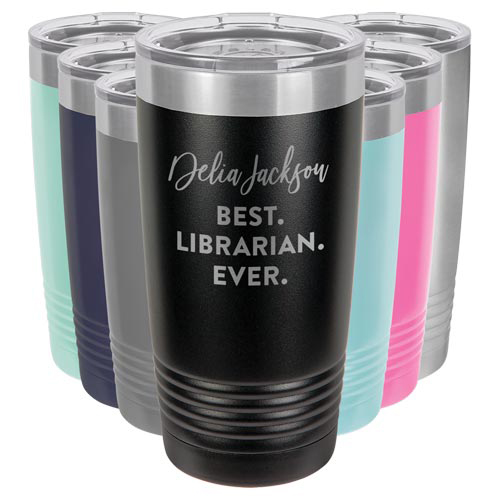 It's important to keep your librarian hydrated! We don't want them getting irritable or suffer from dry-mouth, do we? Of course not! They have things to do, and they won't even have to miss a step with this insulated and personalized tumbler.
It's always a good idea to suck up to your local librarian, so we recommend going with Best Librarian Ever, but you can always just stick to their name as well.
5. History by Mail Subscription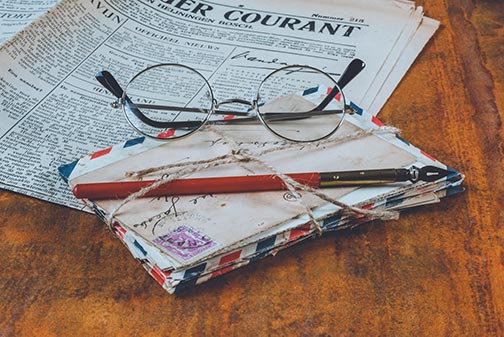 There's something old-fashioned about libraries and librarians, and that's one of the reasons we think they'll love this History by Mail subscription!
Every month, they'll receive a special delivery which includes gorgeous reproductions of historical documents with various themes like Presidential Transfer of Power (example: Nixon's resignation letter) and the Civil Rights Movement (example: Rosa Park's arrest documents, complete with fingerprints). Plus background and context info.
Checking the mail has never been so fun! Just expect the historical section at the library to be completely redone, re-shelved, and popular once again, because inspiration is bound to strike.
6. Mini Library Model Kit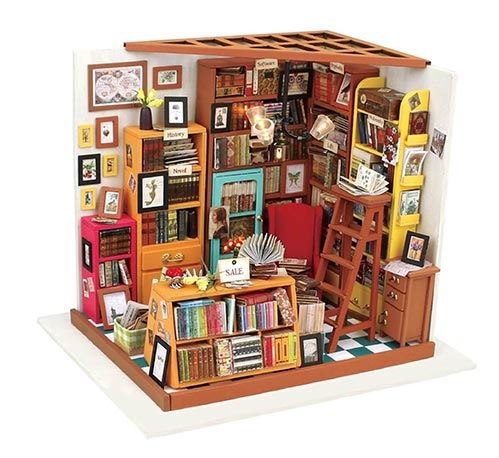 The more you look at it, the more you see! Sure, you can't judge a book by its cover, but you sure can judge this amazing little library model kit by its outside appearance.
It's going to look perfect on their desk, or at home on their bookshelf. Wait. What are we saying? Bibliophiles don't have any room on their bookshelves. Zero. Nada. Zilch. On their desk then.
7. Just One More Chapter T-Shirt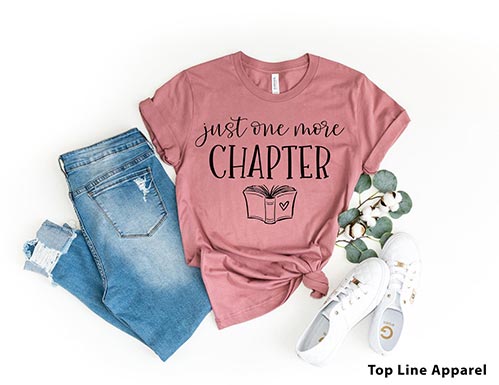 It's bound to be their new favorite shirt! Get it? Bound? Like, book bindings? No? We're reaching.
Well, okay, all puns aside, this soft pink tee is going to make them and everyone who sees it, smile. It is, after all, pretty much their mantra … just one more chapter …
8. Personalized Wooden Librarian Plaque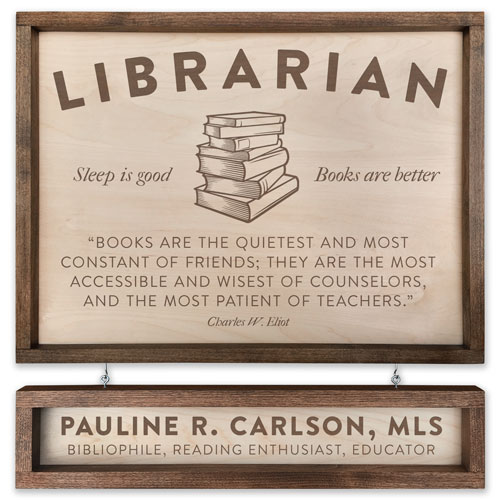 It's always good to give a gift that won't take up the much coveted space on the bookcase shelf, and instead hang on the wall.
This personalized wooden librarian plaque is just that thing! Not only would it look wonderful hung over their desk at work in the library, but it would really add some flair and fun to their home library/den/reading nook (knowing them, they have all three).
9. Wine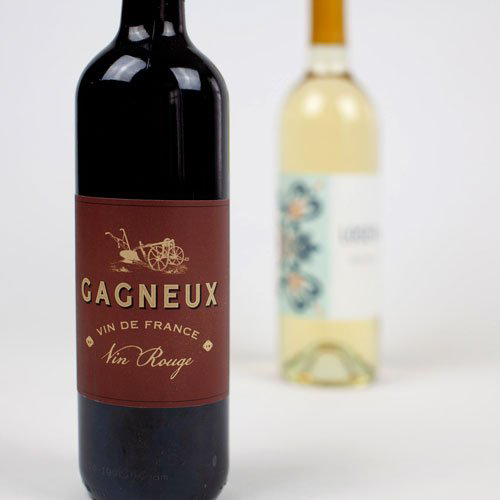 How classy do you feel when you have a glass of a lovely vintage in one hand, and a good book in the other? You know they already have the book, so give them the wine!
A few carefully placed questions about their favorite varietals will make you feel like their favorite patron. Always appreciated if they've just closed another Summer Reading Program with the kiddies too.
In fact, maybe two bottles wouldn't be amiss… or how about a Wine Club subscription with two bottles delivered right to their door, every month.
10. Personalized Wine Glasses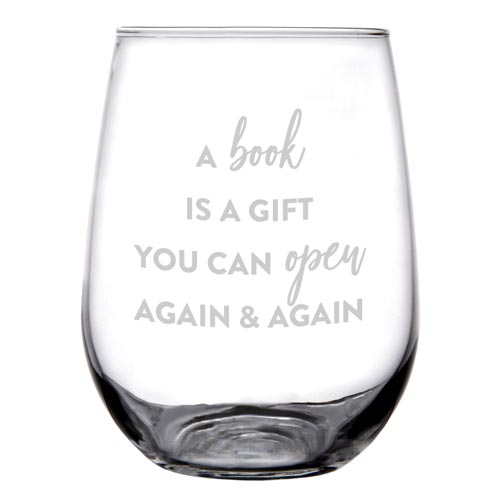 Make boring wine glasses a thing of the past with these personalized wine glasses. Add your favorite quote (about books, naturally) or use this one from Garrison Keillor. Your librarian will be ecstatic to receive this!
11. Lady Macbeth's Guest Soap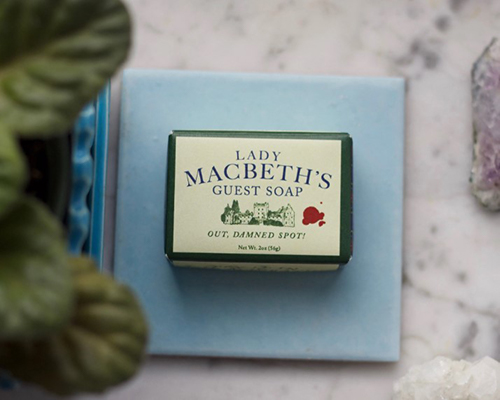 For the literary lover in your life, these hilarious hand soaps are just the thing. We just hope their guests won't need them quite as much as Lady Macbeth would have… Ick.
Delightfully scented and extras sudzy, these quality bathroom bars are perfect next to the sink, or in the shower or tub.
12. Book Lover Casual Shoes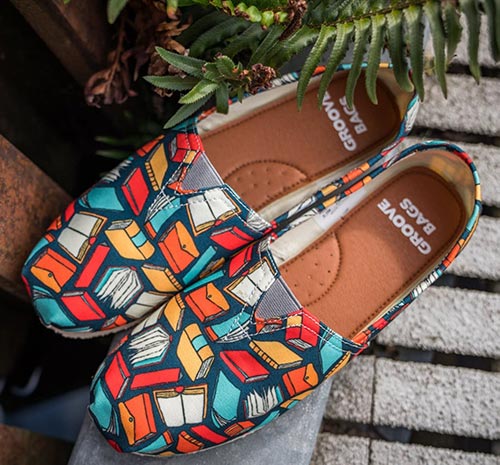 They spend a lot of time on their feet, our intrepid librarians, so why not make sure those feet are comfy and stylish? These adorable and whimsical flats will be the favorite part of her outfit, guaranteed. You might want to include where you found them because she's going to be asked all the time, "Where did you get those great shoes?!"
Check out our review on these comfy slip-ons!
13. Read More Books Casual Shoes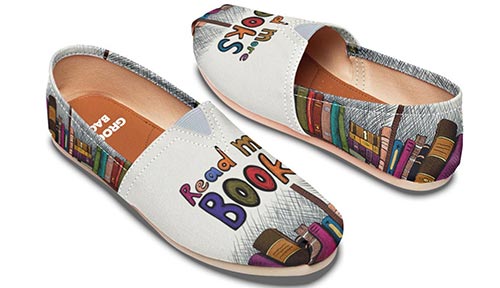 Perfect to pair with shorts, jeans, or a peasant skirt, these casual but still chic slip-ons are just the thing for running errands or going for a walk. All the sweet colors mean they'll match any outfit, and the cheeky words (Read More Books) will inspire everyone they walk by.
14. This Is How I Roll Librarian Coffee Mug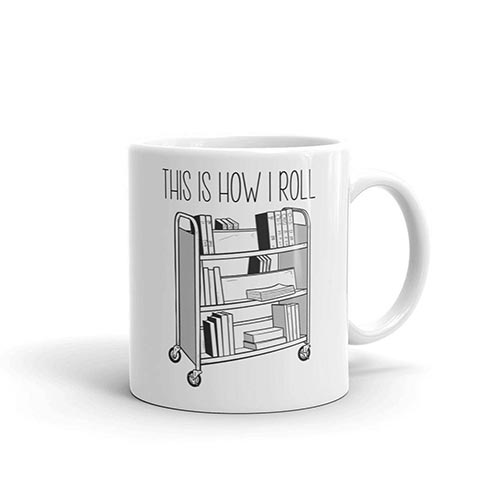 Make them laugh with this clever coffee mug, perfect for librarians! The humor is on point and the black and white sketch is the best illustration. Pair it with their favorite bag of coffee beans, a box of tea, or a good vodka (we won't tell).
15. Coffee-Themed Decorative Fire Extinguisher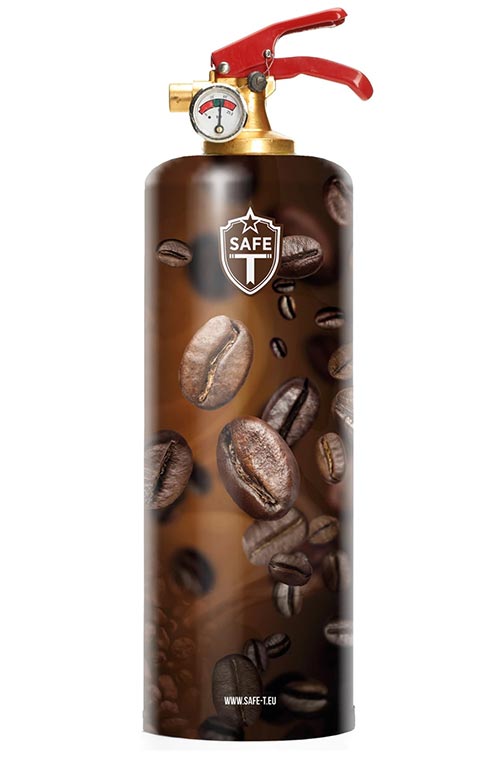 Safety first! You can almost hear the librarian say that, can't you? So they'll love the thought behind this unique fire extinguisher. It's useful, pretty, and practical … just like your librarian!
16. Book Page Holder
It's the gift they never even knew they needed, and soon won't be able to live without! This charming wooden handmade page turner is an awesome gift for that special someone who always has a book in their hands.
What's worse than losing your place in a who-dunnit and accidentally skipping ahead to the big reveal? Let that travesty be a thing of the past!
17. Wisdom Willow Tree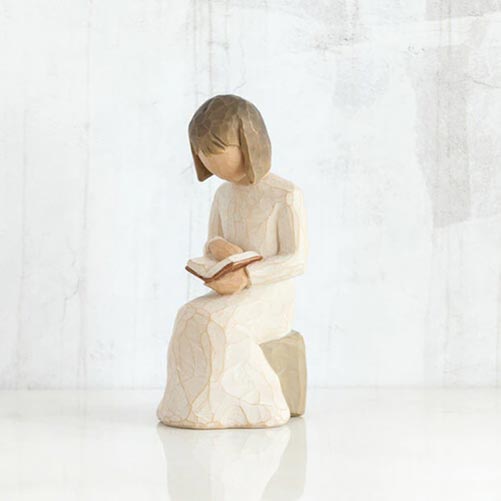 Elegant but rustic, this sweet figurine from Willow Tree is just the thing to brighten up her desk or reading nook. We think it'll definitely be a new family heirloom for sure.
Related: 21 Thoughtful Gifts for the Woman Who Wants Nothing
18. Personalized "From the Desk Of…" Notepad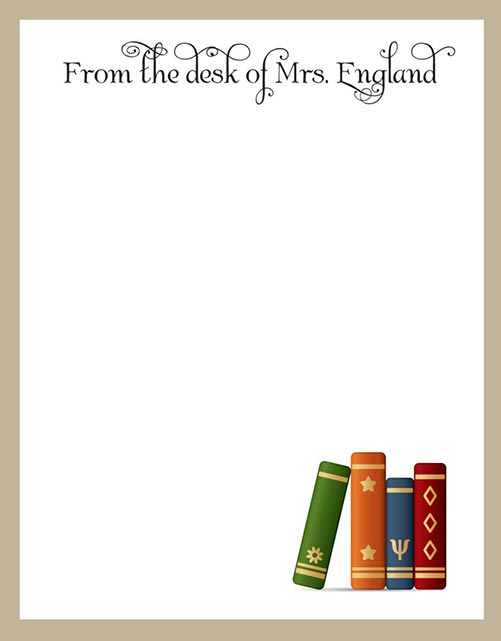 With colorful drawn books to brighten up the white space, this personalized notebook will be just the ticket for your librarian. After reading books, after all, they love making lists! Whether it's the running TBR list (so. many. pages.), groceries, To-Do, or what have you, they'll find themselves reaching for this pad again and again.
19. I Like Big Books- Adult Coloring Book
Make them laugh and soothe their souls at the same time, with this snarky adult coloring book. Filled with humor that librarians especially will find relatable and amusing, it's both clever and practical at once.
Pair it with a pack of markers and watch them cheerfully get to coloring!
20. Librarian Appreciation Necklace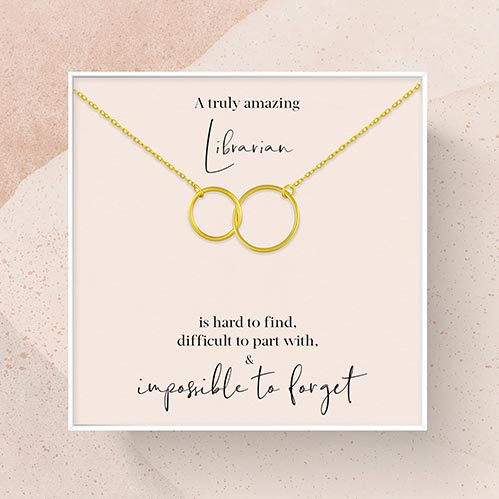 This pretty and dainty gold necklace is a great idea for the librarian with impeccable taste. It will pair well with whatever she wears, from a sundress to a sweater-set, and the sentiment behind it might just make her misty-eyed.
21. Open Book Name Sign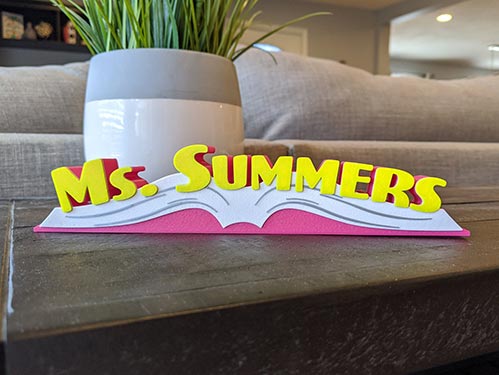 They'll love claiming their workspace with this cheery open book sign that is personalized with their name. Whether they work at the school library or the public library, this sign will fit right in with the décor and make them smile. And it helps the little ones read as they sound out his/her name!
Read Next: 25 Best Gifts for Writers
Pin It