It's a happy day for them, but a sad day for you! You're losing your favorite coworker — well, not losing them per se, but not seeing them each and every day? Unfathomable.
But of course you're pleased as punch for them, and super excited for what their future holds. To help them celebrate, you'll definitely want some great retirement wishes to help send them on their way. Here are 100 ways to say "Happy Retirement" and let them know how dearly they'll be missed!
Happy Retirement Wishes
1. It's the day you've been looking forward to for YEARS! Enjoy your newfound freedom.
2. Wishing you nothing but peace and happiness in your retirement years.
3. You've earned sunshine and rainbows for all of your days!
4. Toes in the water, toes in the sand! That's what I see in your future…
5. Happy news — you're retired! Now go have some fun.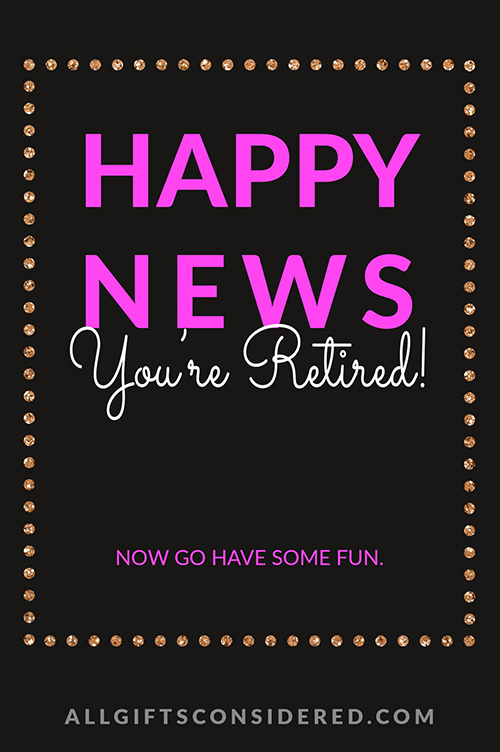 6. Nothing but sunny days ahead — it's forecasted!
7. Hoping you enjoy your days and get to put your feet up!
8. When it comes to deserving happiness, you're at the top of the line.
9. We are hoping retirement life is all it's cracked up to be!
10. Whatever you're looking forward to the most — I hope you get it!
11. You've been daydreaming of this moment for so many years. We're so happy for you!
12. Wishing and hoping and dreaming and praying. Happy retirement!
13. Our loss is your gain. We will miss you!
14. So many vacations to take, so little time…
15. Enjoy your time relaxing and playing with your grandkids!
16. Time to put away the suit and tie and embrace the socks with sandals look.
17. Wishing you all the best on this, your retirement day.
18. We're so happy to see YOU so happy!
19. It's practically a national holiday — you're retiring!
20. All of the best wishes for you and here's hoping all your retirement dreams come true!
Happy Retirement Wishes for Coworker
21. This place will not be the same without you… Reconsider? Pretty please?
22. You can't leave me here without you! Take me with you.
23. The office will feel so strange without you. So don't be a stranger!
24. Happiest of retirement wishes to my favorite coworker (don't tell the others).
25. I've been dreading your last day for as long as you've been looking forward to it!
26. I miss you already! Be sure to visit me in all of your free time.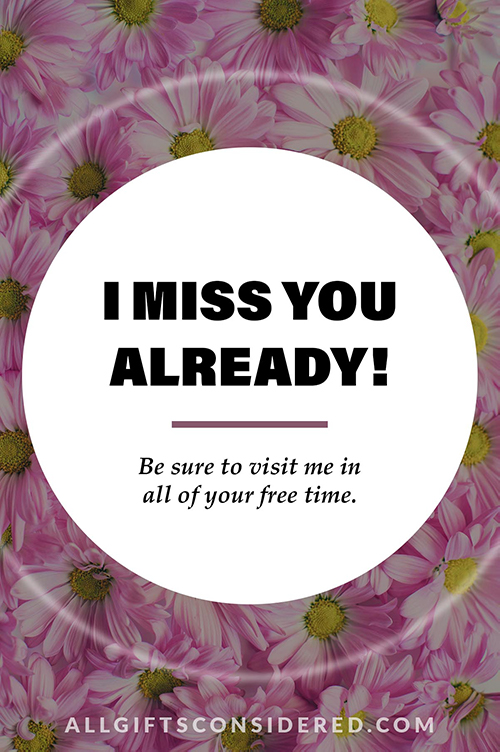 27. You're really the best and will be sorely missed around here!
28. Will you at least come in for Casual Fridays?
29. You've earned this! So happy for you!
30. All your hard work has paid off – wahoo!
Related: Work Approved Retirement Wishes
Best Retirement Wishes for Bosses
31. So happy to see you retire after all of your hard work and dedication to your team!
32. Sad to see you go, but wishing you all of the best!
33. You've been an inspiration and a true team leader. Happy retirement!
34. It's certainly a tragedy for you to leave us behind, but we wish you all the best!
35. Thank you for working so hard for all of us for so many years. Happy retirement!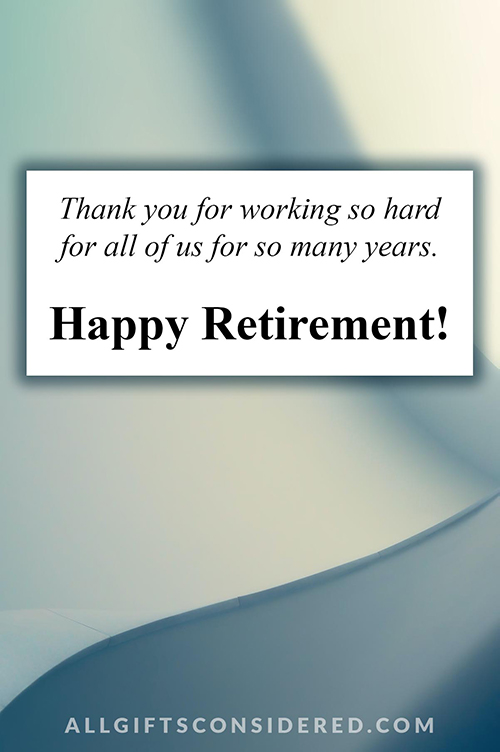 36. Best wishes and happy retirement to a wonderful person and an equally wonderful boss.
37. On this, your retirement day, know that you made a difference here.
38. We will feel the hole you leave behind! Go out there and relax for a change!
39. Excited to see you enjoying retirement — you've certainly earned it!
40. All of our best wishes and fond hopes for happiness in your retirement!
Related: Retirement Messages for Your Boss
Funny Retirement Quotes
41. "The trouble with retirement is that you never get a day off." — Abe Lemons
42. "Work is the curse of the drinking classes." — Oscar Wilde
43. "You have to put off being young until you can retire." — Unknown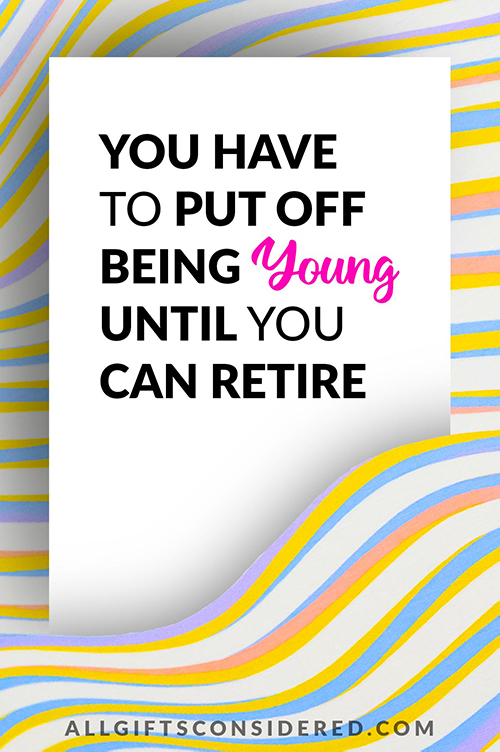 44. "Retirement is not in my vocabulary. They aren't going to get rid of me that way." — Betty White
45. "A retired husband is often a wife's full-time job." — Ella Harris
46. "My retirement plan is to get thrown into a minimum security prison in Hawaii." — Julius Sharpe
47. "There's never enough time to do all the nothing you want." — Bill Watterson
48. "Retirement: it's nice to get out of the rat race, but you have to learn to get along with less cheese." — Gene Perret
49. "Retirement is when you stop lying about your age and start lying around the house." — Unknown
50. "Working people have a lot of bad habits, but the worst of those is work." — Clarence Darrow
Related: Funny Retirement Wishes & Quotes
Thoughtful Retirement Quotes for Friends
51. "Happiness is being like you — retired!" — Catherine Pulsifer
52. "There is a fountain of youth: it is your mind, your talents, the creativity you bring to your life and the lives of people you love. When you learn to tap this source, you will truly have defeated age." — Sophia Loren
53."I found out retirement means playing golf, or I don't know what the hell it means. But to me, retirement means doing what you have fun doing." — Dick Van Dyke
54. "A thriving new beginning can be and should be a time for amazing engagement, growth, connections, contributions, and amazing possibilities." — Lee M. Brower
55. "For retirement brings repose, and repose allows a kindly judgment of all things." — John Sharp Williams
56. "For many, retirement is a time for personal growth, which becomes the path to greater freedom." — Robert Delamontague
57. "Often when you think you're at the end of something, you're at the beginning of something else." — Fred Rogers
58. "As your life changes, it takes time to recalibrate, to find your values again. You might also find that retirement is the time when you stretch out and find your potential." — Sid Miramontes
59."You don't stop laughing when you grow old, you grow old when you stop laughing." — George Bernard Shaw
60. "Living each day as if it were your last doesn't mean your last day of retirement on a remote island. It means to live fully, authentically and spontaneously with nothing being held back." — Jack Canfield
Best Retirement Poems
65. Lucille Clifton, Won't You Celebrate with Me?
66. John Greenleaf Whittier, My Triumph
67. Alicia Ostriker, The Blessing of the Old Woman, the Tulip, and the Dog
68. Lorine Niedecker, Poet's Work
69. Trumbull Stickney, Love Blindly and Upon the Hour
70. Henry Wadsworth Longfellow, The Tide Rises, The Tide Falls
Short Retirement Wishes
71. Congratulations on a retirement well-earned!
72. Dude. I'm jealous!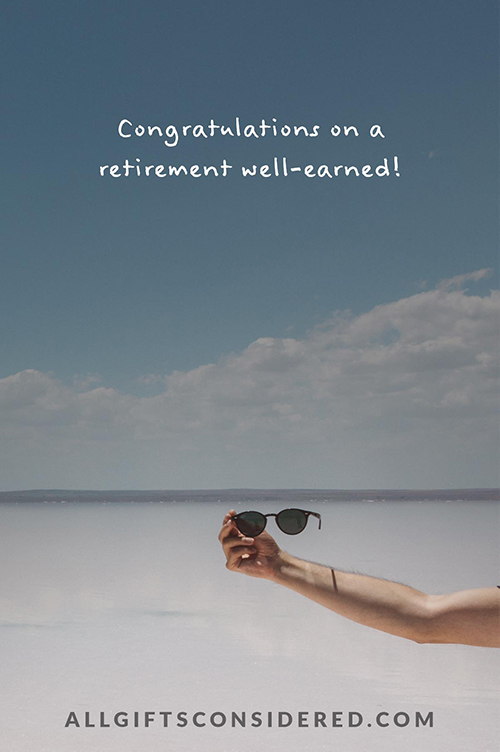 73. Cheers to you and your retirement!
74. Let's toast to you!
75. So happy for you.
76. Can't wait to hear all the stories from your retirement days!
77. Eeeeeeeeek!
78. Happy for you — you deserve the best!
79. Put your feet up already!
80. Enjoy your days off to the fullest.
Best Retirement Cards
Our website is supported by our users. We sometimes earn a commission when you click through the affiliate links on our website. See our privacy policy & disclosures for more information.
81. Paper Cut Happy Retirement Card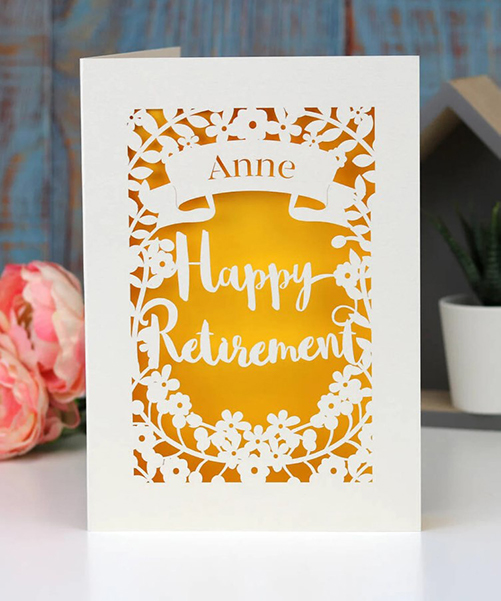 82. Personalized Retirement Years Card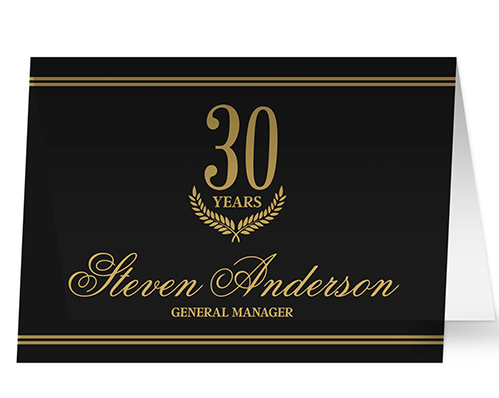 83. Time of Your Life Retirement Cards
84. As You Retire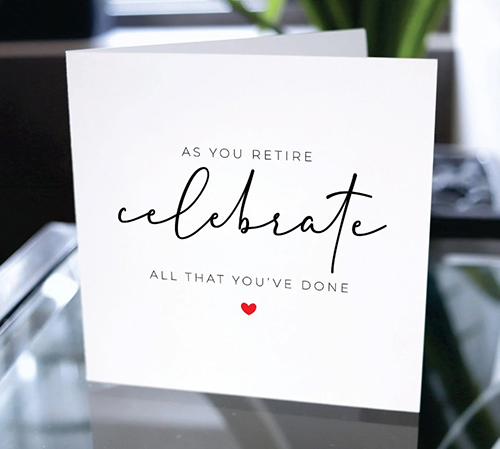 85. What Do You Call a Person
86. Enjoy Your Retirement
87. Kinda Rude That You're Leaving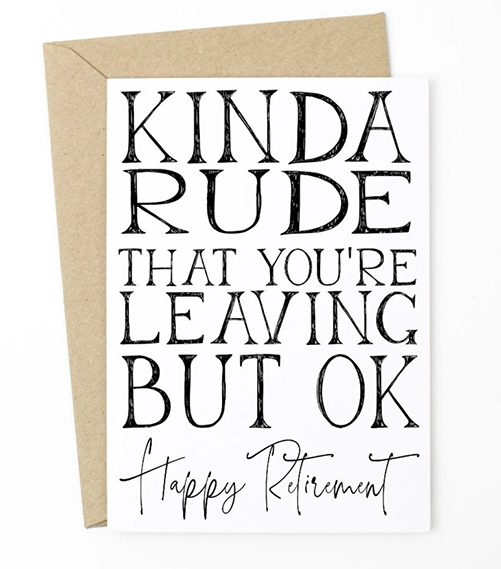 88. Happy Retirement Personalized Card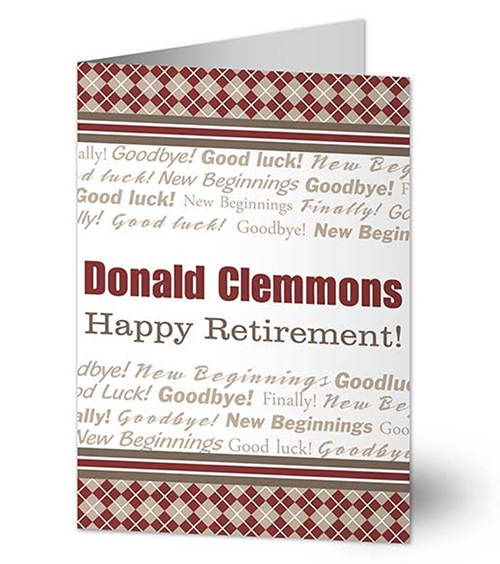 89. A Wise Woman Once Said
90. Your New Business Card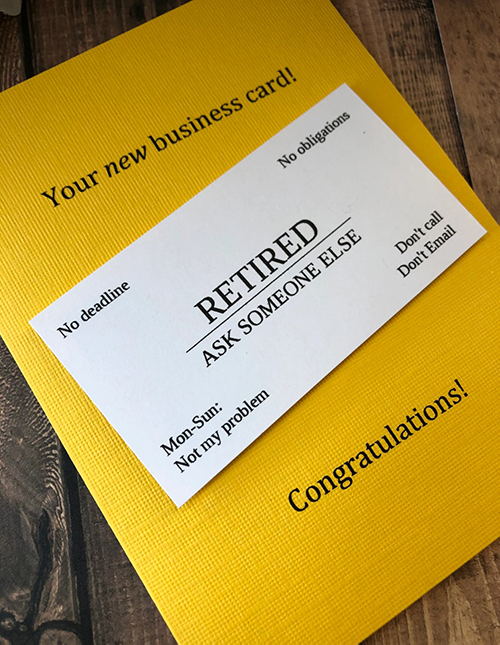 91. A Toast to Your Retirement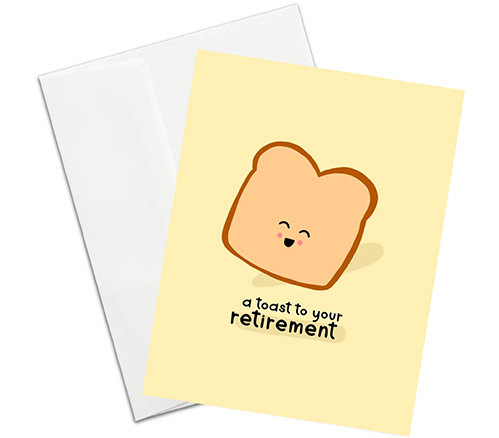 92. Rocking on the Porch
93. Way to Hang In There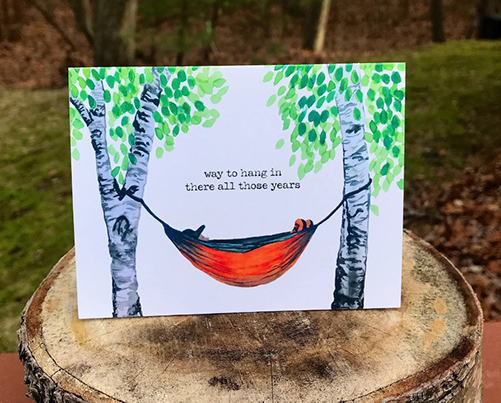 94. Extra Large Retirement Card
95. You Worked Your Whole Life for This Card
96. I Feel Sorry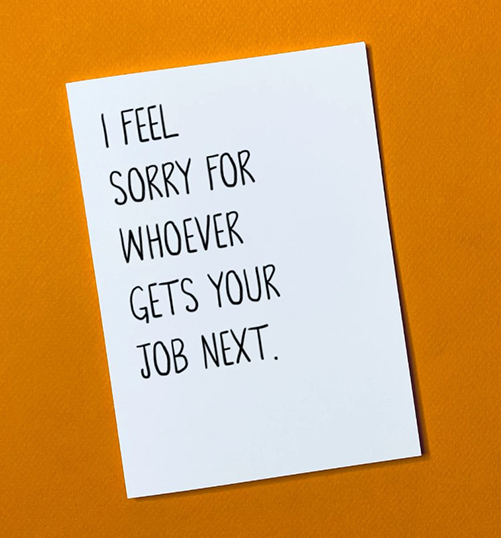 97. Black and Gold Congrats Card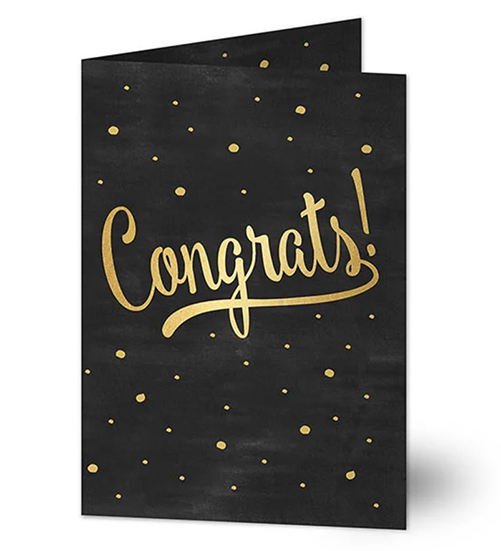 98. Pop Up Beach Retirement Card
Related: Best Beach Quotes
99. You're Going to Love Your New Boss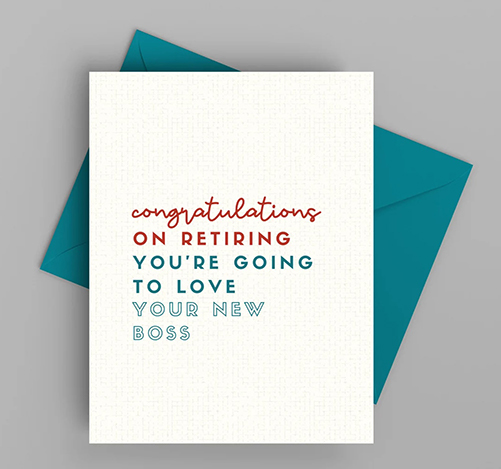 100. Happy Trails to You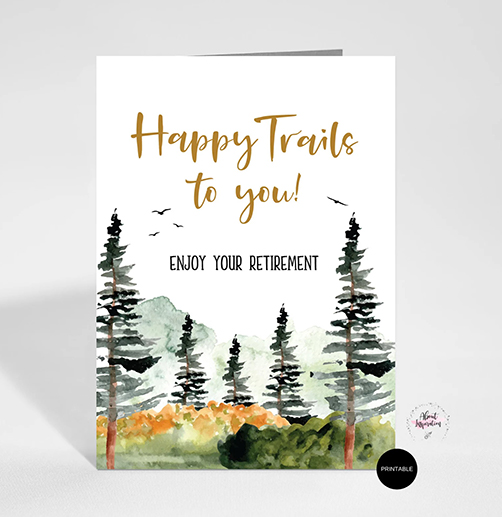 Is It Appropriate to Congratulate Someone on Retirement?
Absolutely! It's well-earned and a happy day for them! A strong handshake, or even a hug wouldn't be remiss. They'll feel special and acknowledged and will love knowing that you support their endeavors — whatever those may be!
Related: Best Retirement Party Ideas
How Do You Congratulate Someone On Retirement?
A clap on the back, a handshake, a hug, or even throw them a party! It's been so many years of them serving in their chosen field; now they get to sleep in, spend time with their family, and travel. What's not to love about that? Tell them earnestly how much you admire them and how you're looking forward to hearing about all of their new adventures.
What Do You Get Someone for Retirement?
Do they have something in particular that they love most? What hobbies will they finally have time for? Think about what they adore the most: from being a foodie, to fishing, to RV life, to wandering for hours in a bookstore — tailor your gift accordingly.
Here are some great options:
Read Next: Best Retirement Gifts for Every Coworker or Boss