When "The Big Cheese" is up for retirement, it's a mixed bag of feelings! After all, he or she is #1 in your book, and they'll be so dearly, dearly missed.
But also, it's a time to be proud of them and all they've accomplished! Not to mention happy that they get some much earned time to themselves for a change.
When it comes time to attend that retirement party, show up with some well thought-out and meaningful messages to put in your card. Or say them face to face! To help get you started, here's our list of the best retirement messages for your boss.
Best Retirement Wishes for Your Boss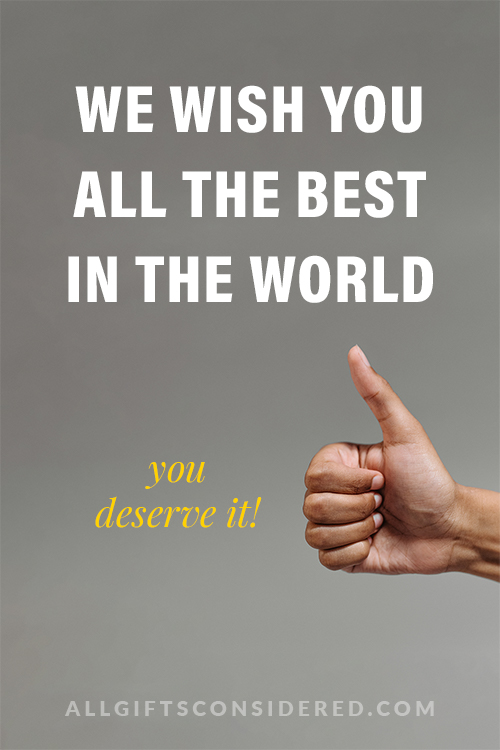 1. We wish you all the best in the world — you deserve it!
2. So happy to see you retiring after all the good work you've done!
3. Our loss is terrible, but we sure are happy for you.
4. The building won't be the same without you in it everyday. Don't forget to come by to say hello!
5. Only the best for you because you've been the best!
6. Terribly sad to see you go, but so ecstatic for the things you will get to do next!
Related: Perfect Retirement Gifts
7. You've been the King/Queen of the office and will be so, so missed.
8. Best wishes to you — my boss, mentor, example, and friend.
9. I can't wait to hear of all the adventures you're going to have next!
10. Wishing you only the best in these, your retirement years.
11. I see great things in your future: things like fishing, napping, traveling, and putting your feet up!
12. Wishing you the best in this next chapter of your life… retirement!
13. I can't help but be jealous and want to follow in your footsteps (but what else is new?).
14. When it comes to being the boss, you've been the very best. Happy retirement to you!
15. You've earned years and years of happiness and contentment. Go get 'em!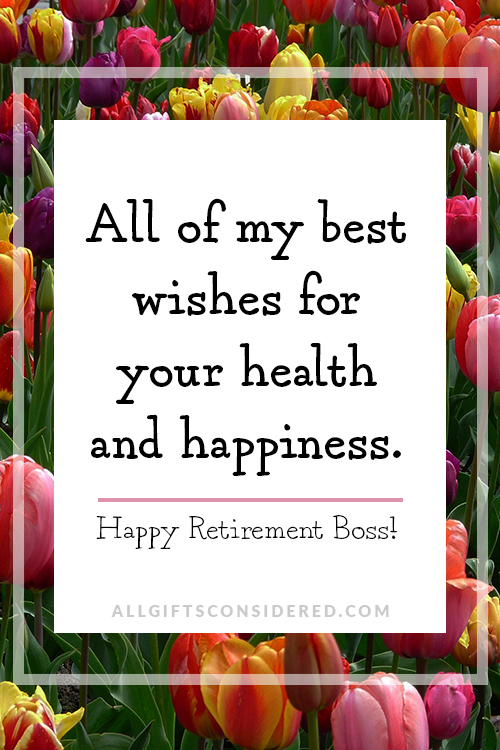 16. All of my best wishes for your health and happiness. Happy retirement, boss!
17. I know you've been dreaming of this day for years! I hope it's everything you've wished for and more!
18. Best wishes to the best boss a person could ever hope for.
19. You've been such an example to us all. Happy retirement!
20. It's here! It's here! The day you've been waiting for! Best wishes on your retirement.
Related: Co-Worker Retirement Gift Ideas
Retirement Quotes for Your Boss
21. "The trouble with retirement is that you never get a day off." — Abe Lemons
22. "There's never enough time to do all the nothing you want." — Calvin and Hobbes
23. "It's better to live rich than to die rich." — Samuel L. Jackson
24. "If people concentrated on the really important things in life, there would be a shortage of fishing poles." — Doug Larson
25. "Go forward and make your dreams come true." — Ralph Waldo Emerson
26. "Often when you think you're at the end of something, you're at the beginning of something else." — Fred Rogers
27. "To be idle is an excellent way of being busy." — Thomas Carlyle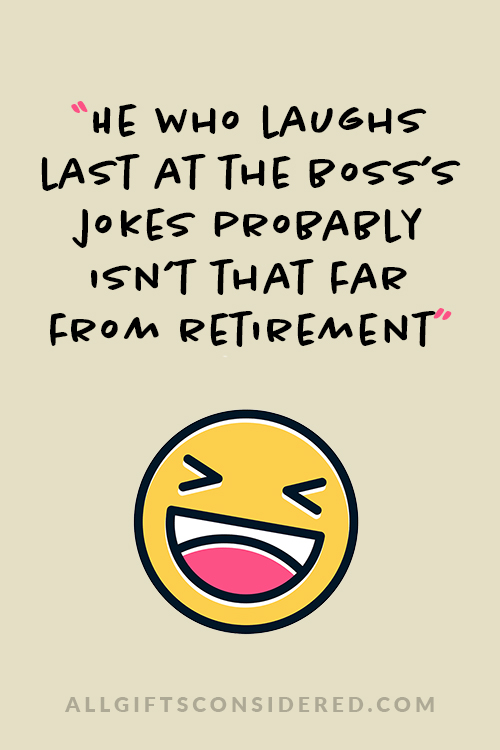 28. "He who laughs last at the boss's jokes probably isn't that far from retirement." — Unknown
29. "Retirement is when having a good time is your only job." — Unknown
30. "There are three ways to ultimate success. The first is to be kind. The second is to be kind. And the third is to be kind." — Fred Rogers
Related: Best Retirement Gifts for Principals
Creative Retirement Messages
31. I've never admired and wanted to be you more than I do right now. Congrats on your retirement!
32. You've been the bee's knees for so long. We will miss you here at the office!
33. What an example you've set! Who will I look up to now?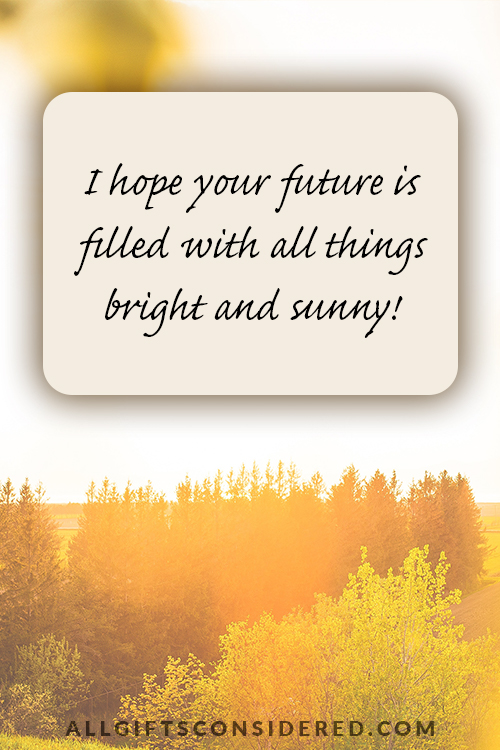 34. I hope your future is filled with all things bright and sunny!
35. Congratulations on your retirement, you wonderful thing, you!
36. You've been such a blessing to me all these years. You've earned a wonderful retirement.
37. Don't forget us little people when you leave! Come back to shoot the breeze anytime.
38. I know my workdays won't be the same without you in them. Mourning my loss, but celebrating your retirement plans!
39. So happy to see you doing what you love most. Have the most fun ever in your retirement years!
40. I've learned so much from you, boss. Don't be a stranger!
Related: Work Approved Retirement Messages
Funny Retirement Messages for Boss
41. Run! Don't look back! Save yourself!
42. Welp. This is it. This is goodbye. Don't forget the little people.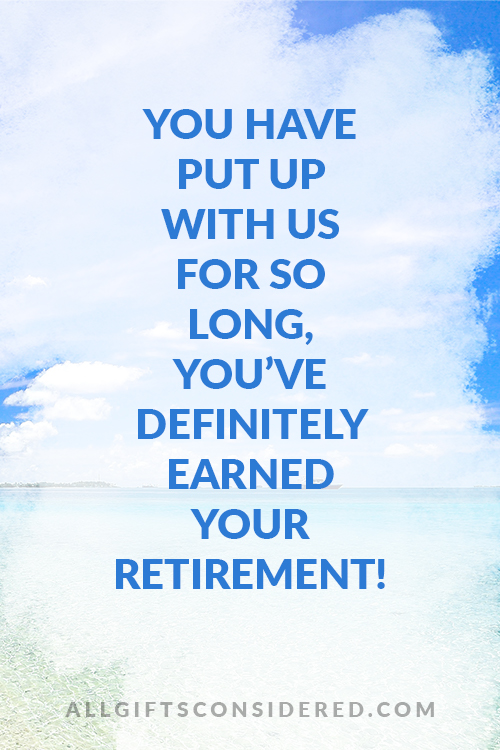 43. You have put up with us for so long, you've definitely earned your retirement!
44. Quick, go, before we change our minds!
45. Have fun doing nothing, you slacker-to-be.
46. You're dead to me now. Hope you're happy.
47. What? You couldn't just take a couple weeks off? You're gonna leave us FOREVER?!
48. Go ahead and shed a tear. We're waiting.
49. TAKE ME WITH YOU.
50. You've put up with our shenanigans long enough, I see.
Related: Funny Retirement Wishes & Quotes
Best Retirement Cards for Your #1 Boss
Our website is supported by our users. We sometimes earn a commission when you click through the affiliate links on our website. See our privacy policy & disclosures for more information.
51. May You Be Proud of the Work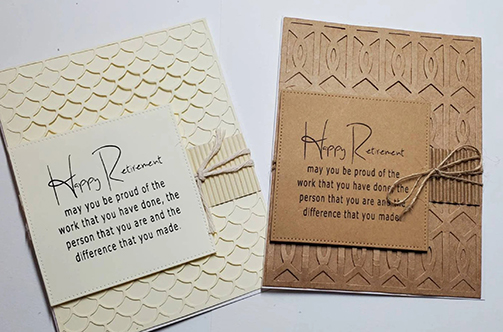 52. Personalized Retirement Card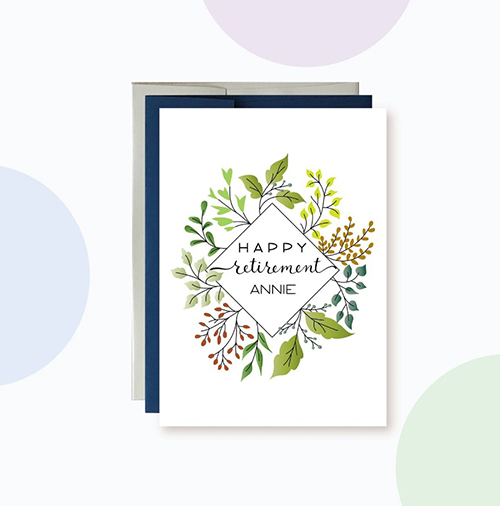 53. Truly Amazing Boss is Hard to Find
54. Gonna Tell a Joke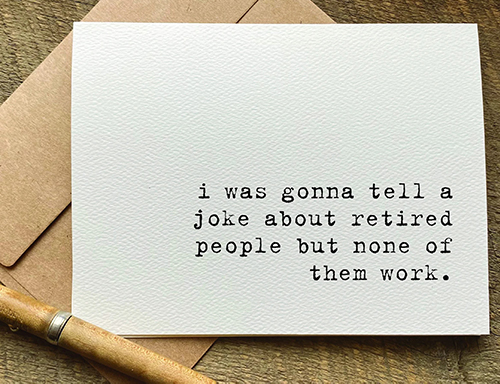 55. Congrats on Your Retirement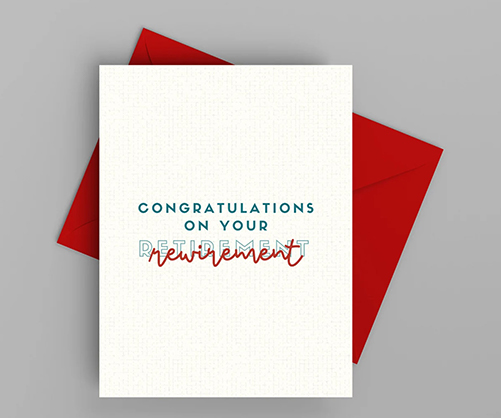 56. Your Survived All the Meetings
57. Floral Retirement Card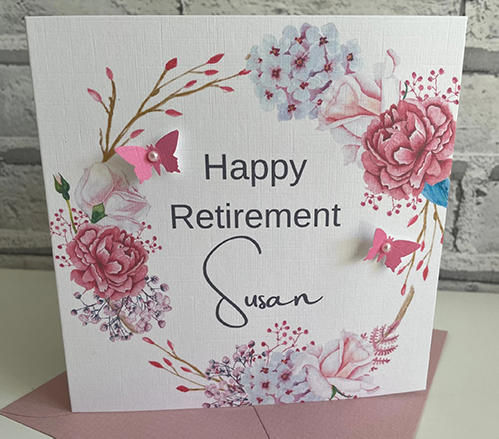 58. Your New Schedule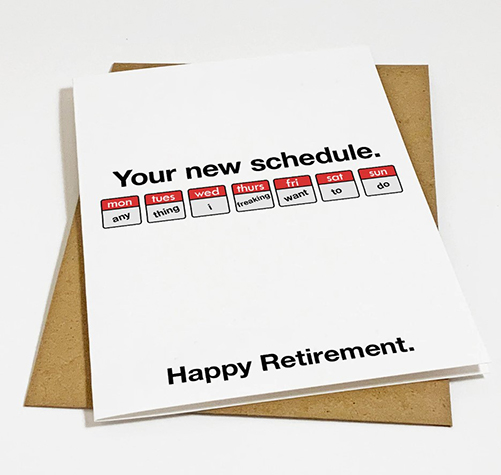 59. The Difference Between Workplace & Nice Place to Work
60. Goodbye Tension Hello Pension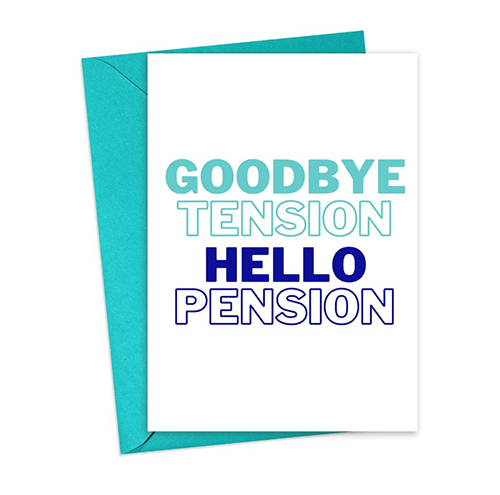 Read Next: Retirement Party Ideas